Truck Camper Magazine reviews a Phoenix Mini Max, a fully self-contained pop-up for short bed mid-size and full-size trucks.  With the Mini Max, Phoenix has pushed the short bed envelope – but have they gone too far?

Again and again, Phoenix Camper customers kept ordering a short bed, fully self-contained, pop-up to match either a mid-size or full-size truck.  Phoenix Campers got the hint.  After building a number of campers that fit this description, they created the Phoenix Mini Max as a production model.
For the October of 2017 debut, Robby Rowe, Co-Owner of Phoenix Campers, explained what it meant to make the Mini Max a production model; "Customers can literally call us and say, "I'd like the Mini Max" and we can build their camper."  Compared to the design process most Phoenix Campers require, the Mini Max is practically a drive-through order.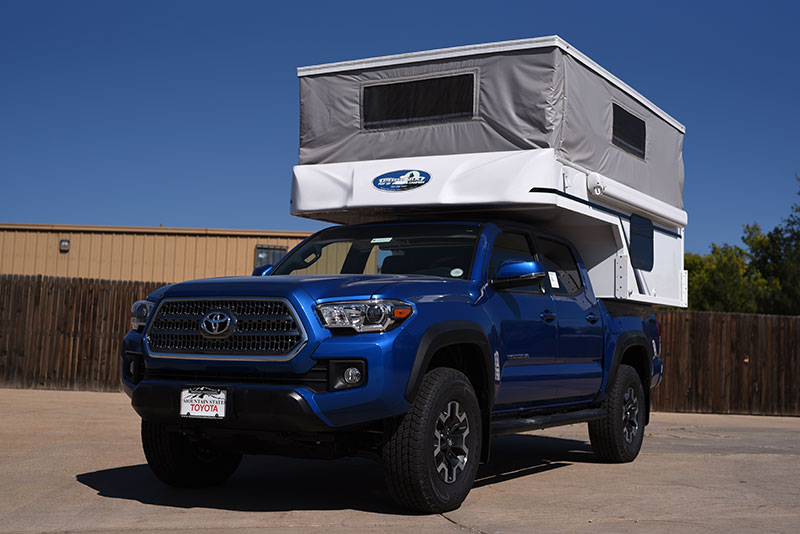 So what was it that attracted so many custom customers to the Mini Max concept and floor plan?  "The Mini Max is fully self-contained including a fresh water tank, grey tank, and cassette toilet," stated Robby.  "There's even a shower, toilet, and water heater in the small Mini Max footprint.  We took a mini-sized camper, and designed it to the max."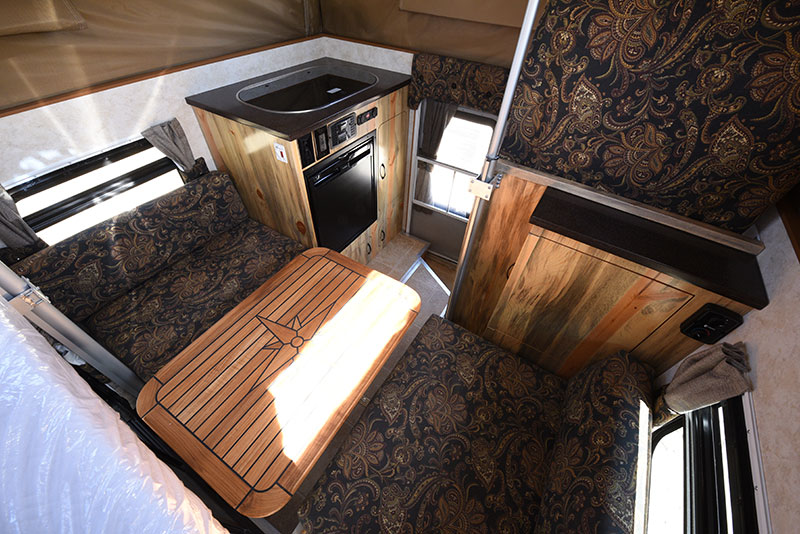 It's this last point that really sets the Phoenix Mini Max apart; maximum camper, minimum footprint.  Perhaps no other truck camper on Earth has as many features in as little space as the Mini Max.  Let's just say they named this camper right.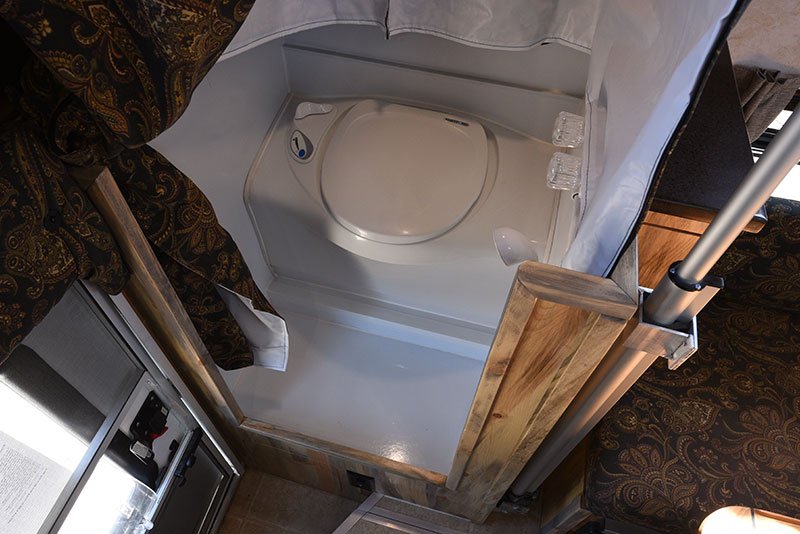 Being a production unit doesn't mean the Mini Max is built on a production line.  Customers still need to order a Mini Max to fit their truck.  For example, the Mini Max under review was built for a Toyota Tacoma, but you're not limited to that truck, or that size.
"We can absolutely make a Mini Max for a half-ton truck," said Robby.  "For that matter, we could build it for a Chevy 2500, Ram 3500 – or whatever.  We can build the exact same floor plan and package for almost any pickup truck."
Phoenix can also match the payload requirement of a customer's truck, a critical element of a proper truck and camper match.  "We can build the Mini Max to meet a customer's payload requirements, but it will not be as feature-loaded.  The nice amenities are where the weight comes from."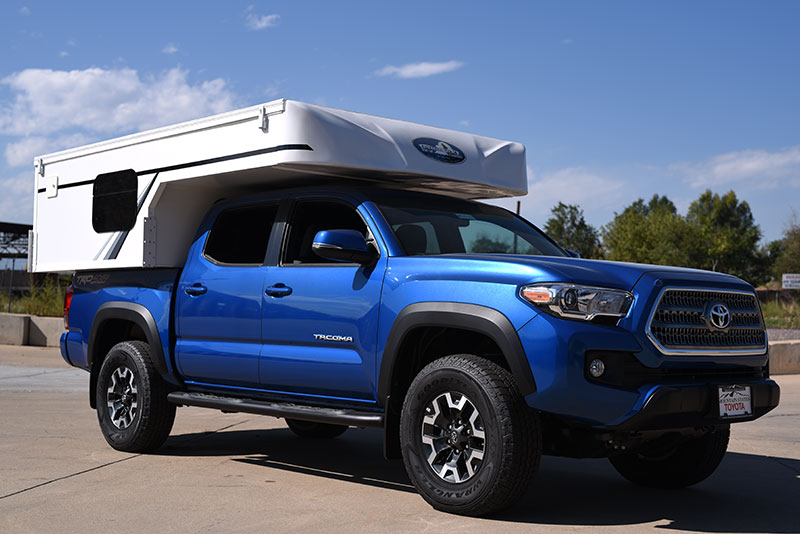 The Mini Max is constructed the same way all Phoenix Campers are built; double-welded aluminum frame with aluminum gussets, foam board insulation, insulated floors and lower sidewalls, laminated inner and outer walls, and an all-aluminum and composite (no wood) structure.
While we were impressed at the sheer utility per square foot the Mini Max presented, none of that would matter if the camper didn't come together as an intuitive, functional, and robust product in real life.  To get a grip on this compact camper, we visited Phoenix Campers in Commerce City, Colorado, and gave the Mini Max a thorough inspection.  Let's dig in.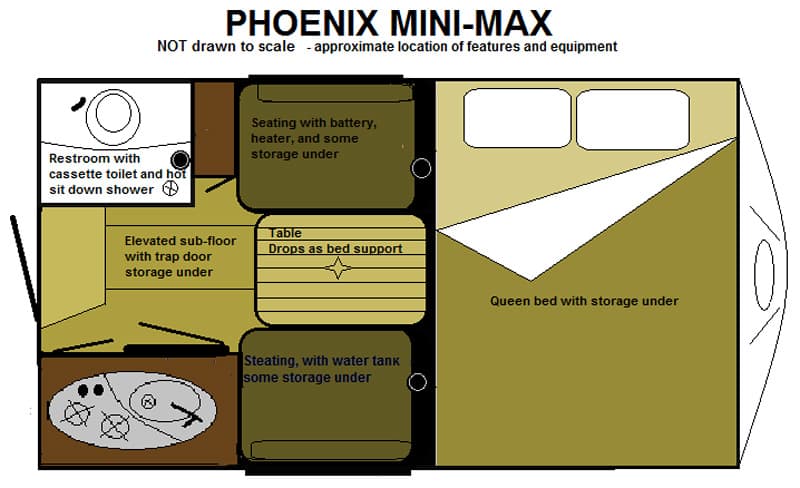 The Phoenix Mini Max features a 42-inch tall entry door (see below). To enter or exit the camper, you simply bend down.  This can take some getting used to, but should quickly become second nature.  At 6'3" tall, I was going in and out of the Phoenix all day during the photoshoot and review analysis – without issue.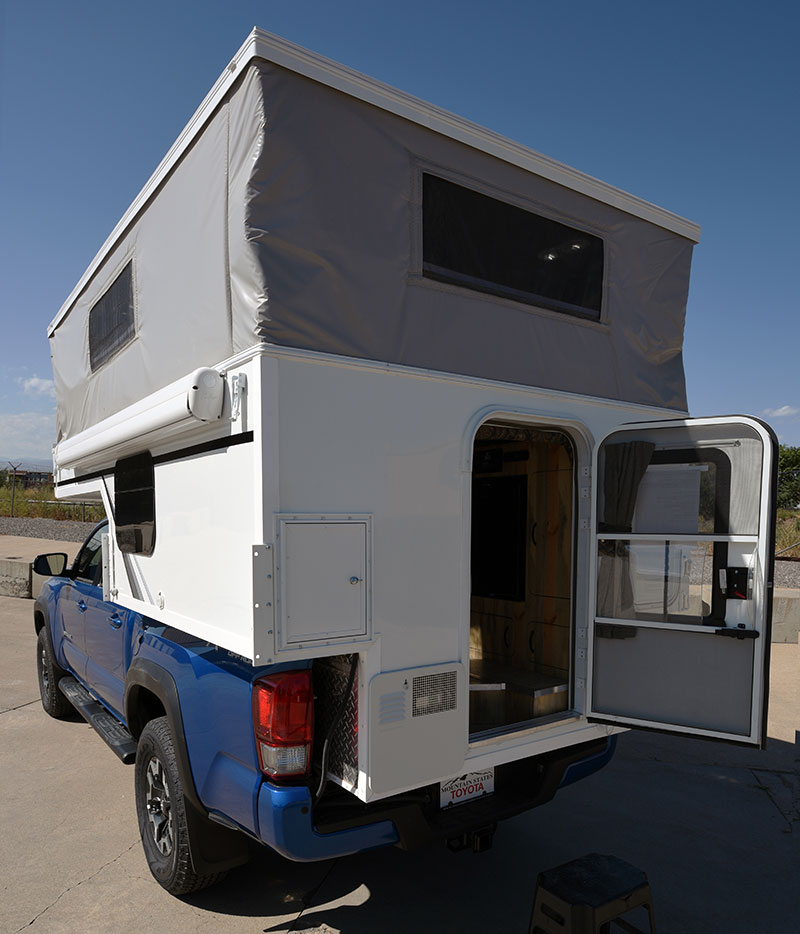 While you're looking at the above photograph, note the standard 8-foot Carefree Freedom III side awning, cassette toilet door, and water heater on the driver's side and driver's side rear.  For entry steps, Phoenix recommends an inexpensive and lightweight step stool, but scissor steps are also available.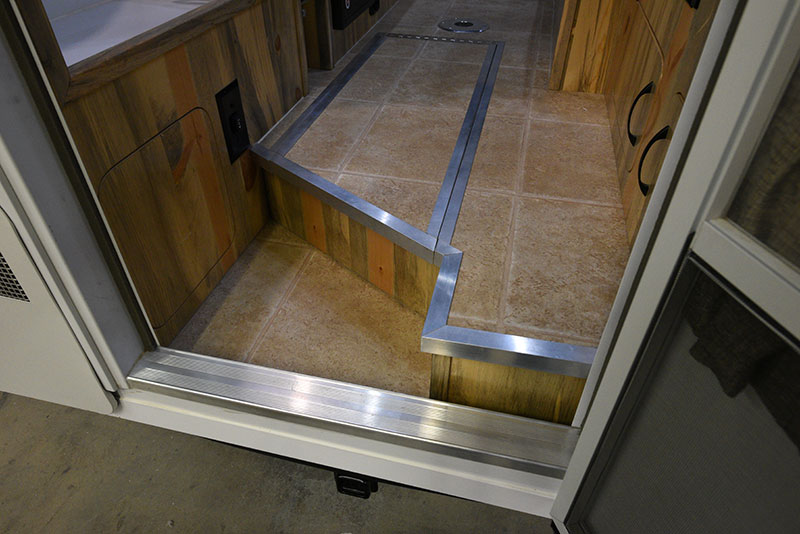 Lift-Up Basement Storage Nook?  Yes, Please!
Immediately inside the Mini Max entry door is something we have never seen before; a lift-up basement storage area.  This is a wonderfully convenient spot for storing flashlights, dog leashes, umbrellas, and other outdoor items.
The metal banding in this area is quite attractive, but the corner that protrudes at the front of the entryway and at the front of the lift-up basement door is quite sharp.  Considering that this is a high traffic area, these sharp corners should ideally be covered in a soft plastic, or otherwise de-sharpened.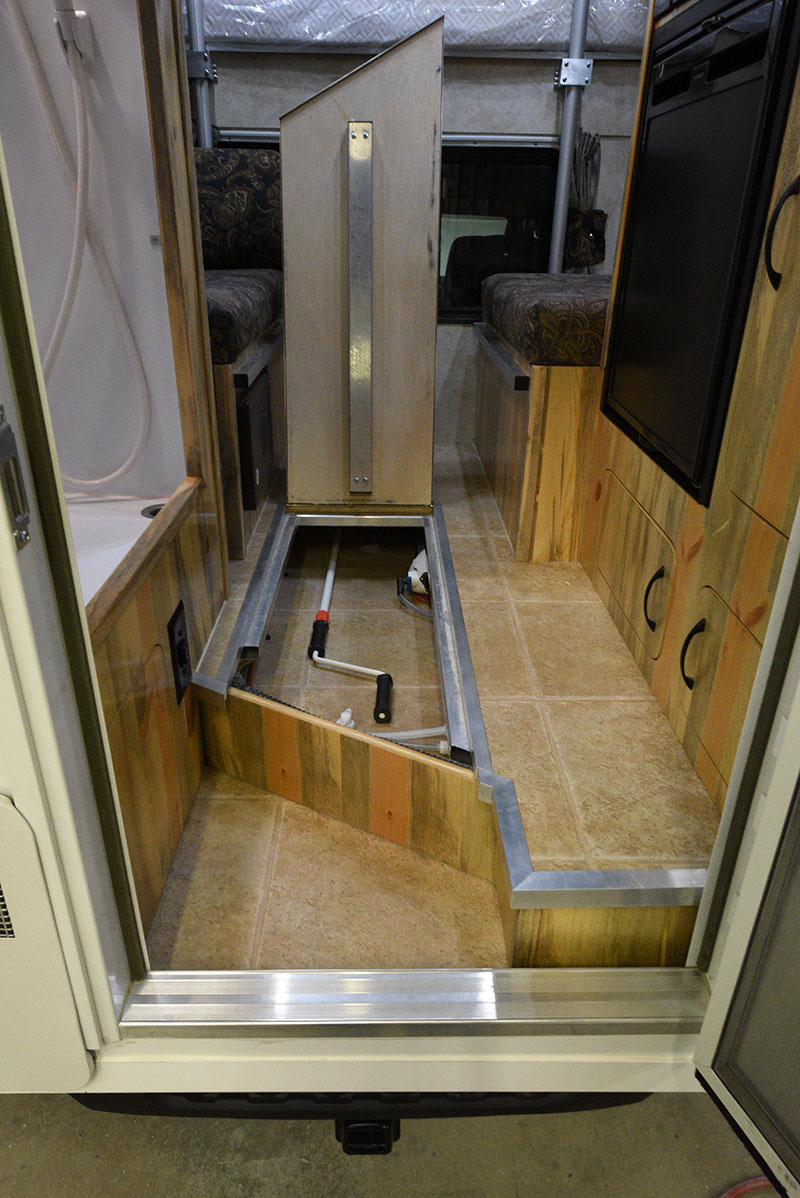 Lift up the basement storage area and there's a nice amount of storage space.  The design sensibility and attention to detail here is fantastic.  We have often wondered why hard side truck camper manufacturers haven't attempted basement storage access doors.  Lift up basement storage nooks?  Yes, please!
The black and white crank shown in the basement storage area is for the standard awning.  You can also see the aluminum framing employed by Phoenix Campers in this photo (and below).
This photograph was taken inside the basement storage area and shows the plumbing, copper, and electrical lines that run through this space.  While not the neatest presentation we've ever seen, the lines are well secured for off-road durability.
If you do place objects in this storage area, you will need to be careful about anything that could impact these lines.  I prefer to see these lines enclosed and protected in their own box/channel leaving the storage space open for storage of loose items.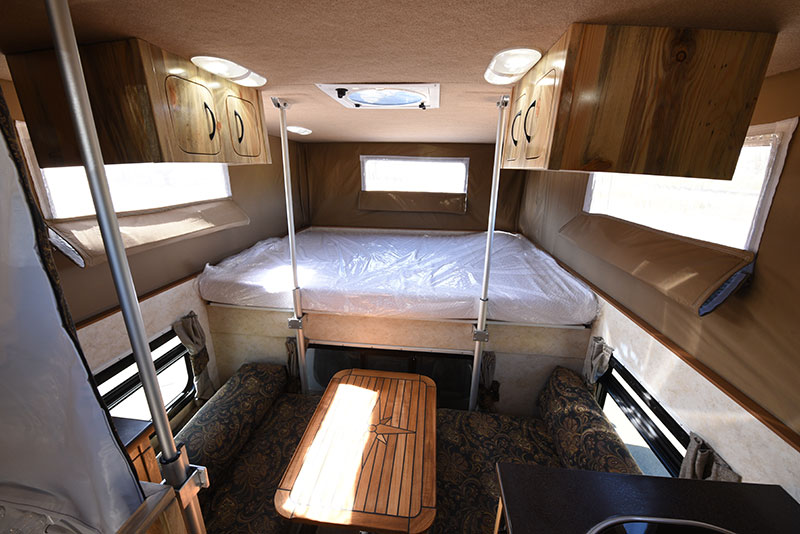 This image was taken immediately inside the entry door, standing up, and facing towards the front of the camper.  Just out of frame is the kitchen on the passenger's side (right) and the wet bath on the driver's side (left).  Forward of these two features is a face-to-face mid-dinette, and then the cabover bedroom with a queen-size mattress.
Standing at the doorway, it's remarkable to see how much utility and comfort Phoenix has squeezed onto the back of a mid-size short bed truck.  This is what they meant by Mini Max.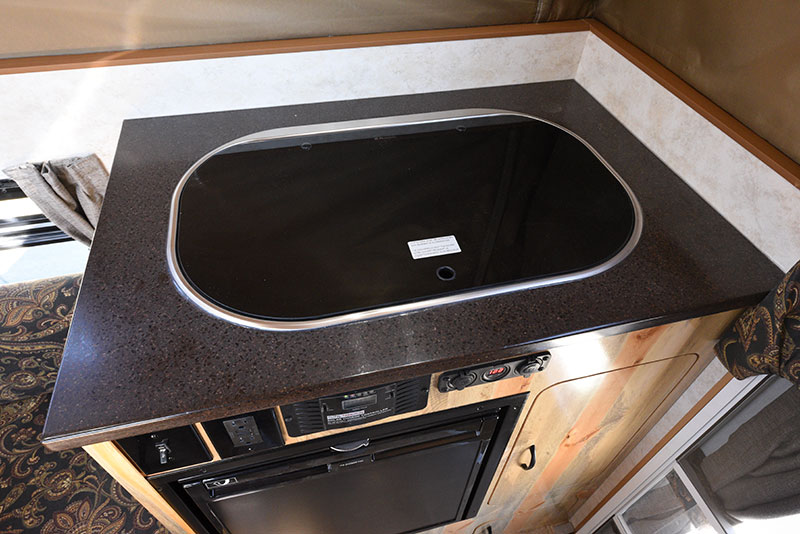 Phoenix Mini Max Kitchen
Turning toward the passenger's side we find the kitchen.  Phoenix employs a solid surface material called Staron for their countertops. It's a similar acrylic material to DuPont's Corian but made by Samsung.  When you order a Mini Max, you pick the Staron color you want, along with an interior fabric.
Since the Mini Max targets mid-size and full-size short bed trucks, it might make sense to install a lighter-weight countertop material.  Mid-size trucks are notorious for their relatively anemic payload capacities; especially compared to heavy-duty three-quarter and one-ton trucks.  Fortunately, Phoenix would be more than happy to use a lighter-weight countertop material, if that's what you need.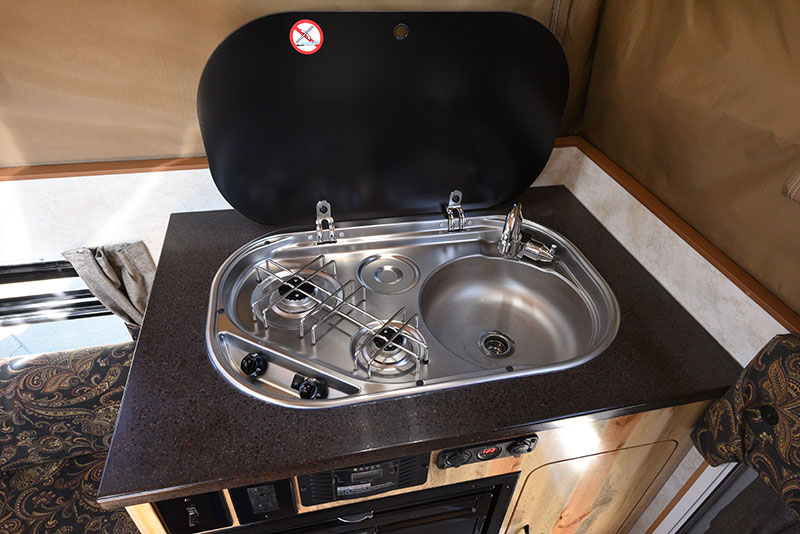 The combination two-burner and sink in the Mini Max is a model of maximum function in a minimal space.  It's as if this unit was made specifically for the Mini Max, or was it the other way around?  I can see Robby holding this combination stove-sink and saying, "We could make a really cool camper with this".
I tried to imagine what it would be like to prepare food and wash dishes with this kitchen set-up.  In our much larger project camper, we mostly prepare simple one-pot meals for minimal cleanup and dishes.  For the Mini Max, we would take this strategy to the next level.  It's amazing how much you can do with one pot.
It seems unfair to criticize the available counter space in a compact camper like the Mini Max.  If you're looking to prepare large gourmet meals, you're probably asking too much for a fully-self contained camper that can be on the back of a Tacoma.
On the front face of the kitchen and just under the solid surface countertop is an attractive row of switches, outlets, and monitors.  Left to right is the water pump switch, 110-volt outlet, Global Solar Hanergy solar charge controller, and combination USB-outlet, battery monitor, and a 12-volt outlet.
Having all this functionality in one location is great, but Mini Max owners will need to prioritize their activities.  For example, it's probably not advisable to have devices plugged in and charging – and be cooking or washing dishes.  Folks will probably make dinner, clean up, and then charge their phones (or vice versa).  No big deal.
One useful mod that could be easily added to this area is a phone charging shelf or pocket just to the right of the combination USB outlet and battery monitor.  Most of us need to charge our smartphones daily, and a shelf or pocket in this location would be perfect.  I can even see a tablet-sized cradle on the large cabinet door face.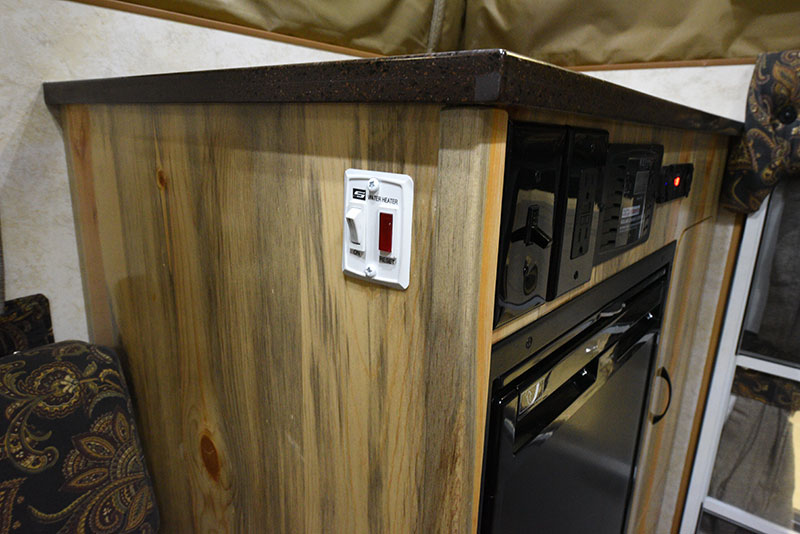 This picture was taken when the Mini Max was inside the Phoenix Campers production facility.  It shows the difference between the optional Beetle Kill Pine wood in LED lighting (shown above) and the natural daylight (shown below).  The Beetle Kill Pine wood is still attractive in LED light, but it's stunning in the daylight.
I took this picture to show where the Suburban water heater switch is located.  This switch turns on the propane water heater.  The red light reminds you that it's activated.  Once fully heated, water will stay quite hot for many hours – even with the water heater turned off.
If we're off-grid, we typically turn on the water heater in the morning, shower, and then turn it off.  Unless we're camping in very cold weather, the water stays warm enough for washing hands and dishes all day.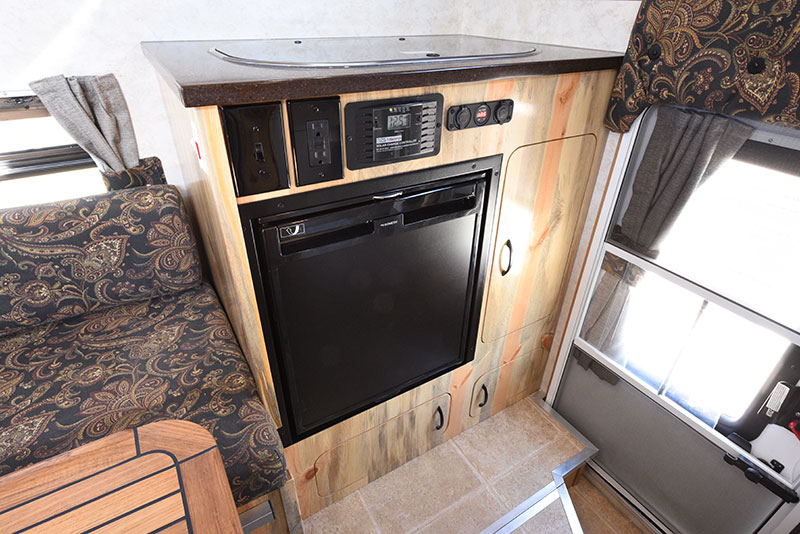 Dometic CRX 65 Compressor Refrigerator
The Phoenix Mini Max features a 1.9 cubic foot Dometic CRX 65 compressor refrigerator with a Dan Foss compressor and multiple storage shelves (see below).
Compressor refrigerators are well known for their incredible efficiency, non-sensitivity to being parked at angles, and nearly silent operation.  For a camper like the Mini Max, the Dometic CRX 65 is a fantastic standard feature.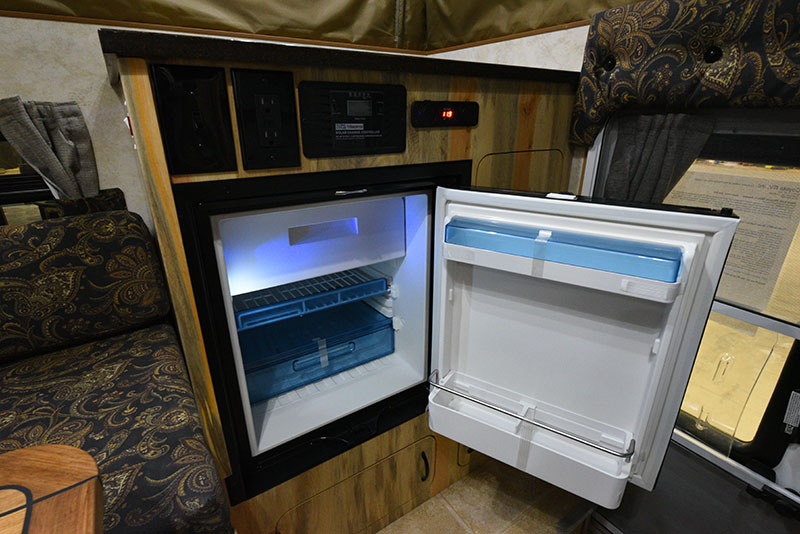 This Dometic has a particularly neat trick up its sleeve.  You can remove the freezer compartment (the top third) to create a larger refrigerator or freezer.  That's right, you can turn the CRX 65 into a larger refrigerator or freezer depending on where you set the temperature.  Kicking things up a notch, the temperature control panel is located inside the unit and features built-in LED lighting.
It wasn't that long ago that a small pop-up camper was limited to an icebox.  Now you get a quiet and robust 12-volt compressor refrigerator/freezer with integrated LED lighting.  A mini-refrigerator taken to the max?  You bet.
The Beauty of Beetle Kill Pine
The cabinetry in the Mini Max is available in different stained woods and materials. The cabinetry in the review unit was made from Beetle Kill Pine.
Throughout the Western United States and Canada, the mountain pine bark beetle has killed over 88 million acres of timber.  We have driven our truck camper rig through these dead-standing forests and it's disheartening, to say the least.  Fortunately, the dead pine trees can be used for wood products if they're harvested within five years.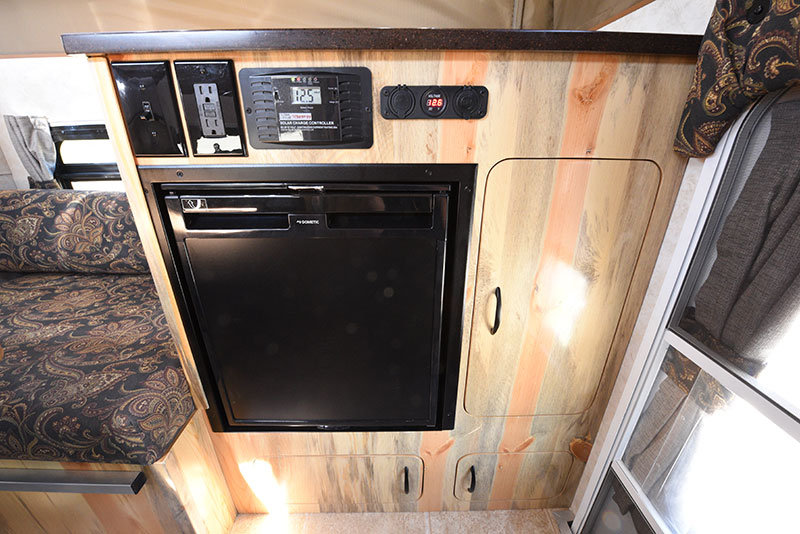 The resulting boards retain their full structural integrity and have a fascinating natural blue stain – a direct result of the beetle infestation.  The stain can appear blue, purple, brown, orange-red, and even pink.
Robby and Cari Rowe have used Beetle Kill Pine in a number of Phoenix builds to great effect.  Not only does the use of this wood help to sequester the potential carbon release and prevent forest fires, but it looks great.  We didn't even know Beetle Kill Pine existed until Robby and Cari started using it in their campers.  Well done Phoenix!
With the exception of the lift-up under-bed storage area (more on this later), nobody is going to argue that the Phoenix Mini Max has tons of storage.  That stated, Robby has made sure to take advantage of every possible space.  The lift-up basement sets the stage, and the theme continues with the beautifully cut cabinetry in the kitchen.
Where do your silverware and kitchen utensils go?  I have no idea, but thinking differently is something of a requirement for a uniquely compact camper like this.
Mini Max Wet Bath
Turning 180-degrees to the driver's side, the Phoenix Mini Max features a Thetford C402C cassette toilet with an electric push-button flush, 4-gallon flush tank, and 5.1-gallon removable black tank/cassette.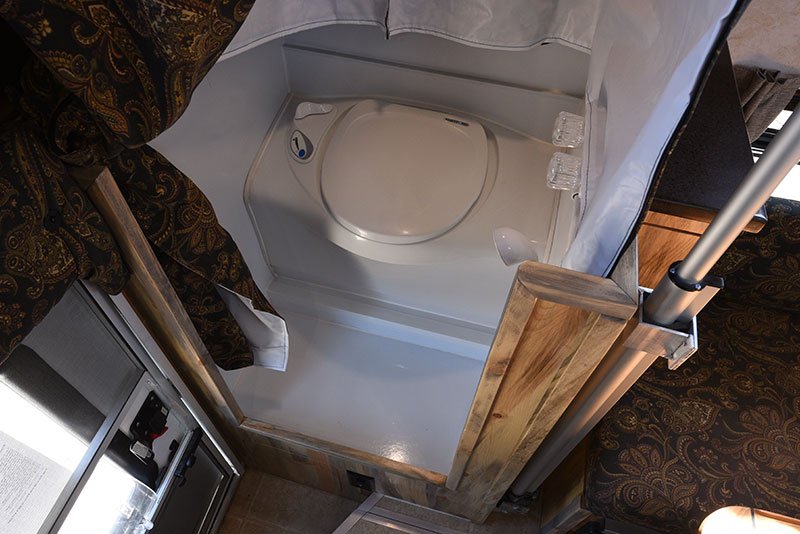 The bathroom itself is formed by a stitched vinyl and fabric enclosure that expands to create the bathroom and shower space when the camper roof is lifted into the camping position.  To enter and use the bathroom, simply open the fabric envelope, step into the bathroom, and zipper the two sides together for privacy.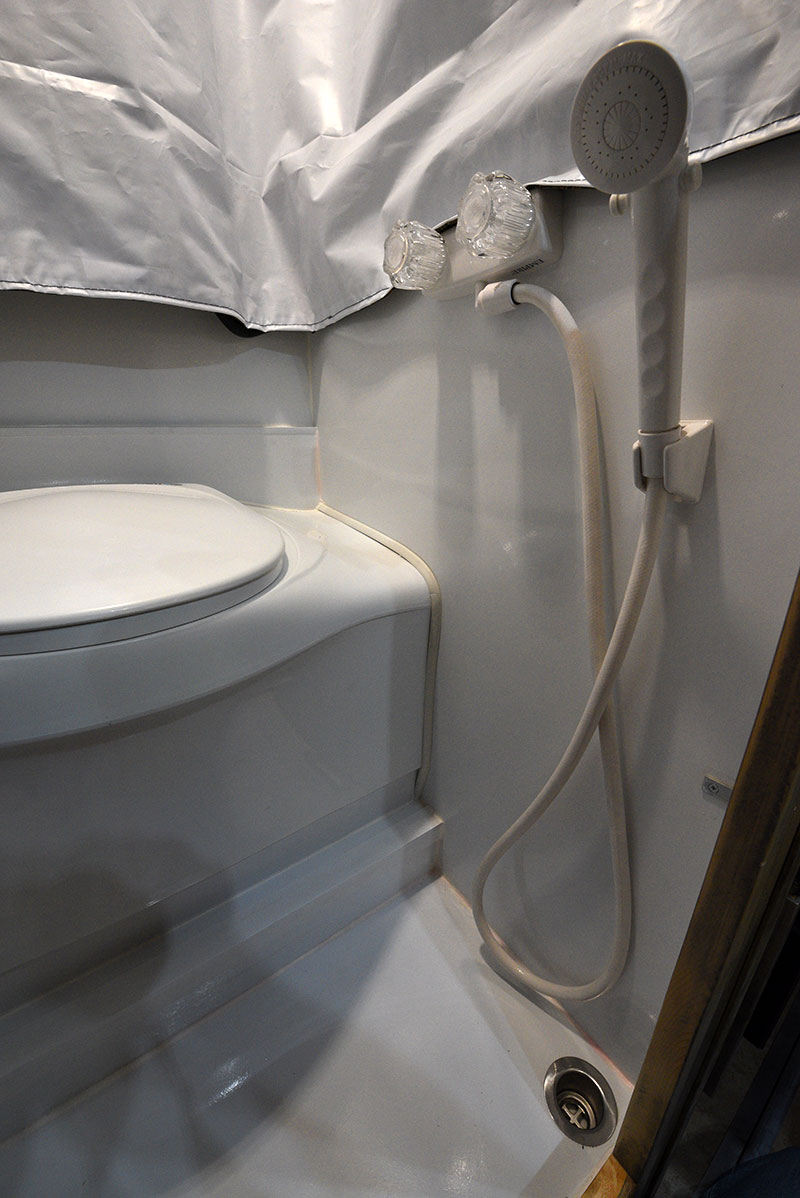 The heavy-duty white vinyl inside the bathroom is waterproof for sit-down indoor showering.  You can see the shower controls and hand-held shower head on the right side of the shower stall.
While the two-layer fabric wall doesn't create the same level of privacy or water barrier that a hard wall bathroom would provide, it offers a lot more privacy than a porta-potty in the middle of an open camper or an outside shower for that matter.
No doubt many readers are wondering what it's like to actually be inside this bathroom in real life.  Well, it's small, but the bright LED light on the ceiling and white vinyl walls make it feel bright and inviting.
There was just enough legroom to sit down comfortably (but no more).  Once sitting, there was obviously plenty of headroom and I never felt closed-in.
I'll sum up this way; I would take this small fabric bathroom every day of the week over a porta-potty and/or an open-air outside shower.  It's also critical to remember that this camper is designed for super short bed trucks.  To have a private flush toilet and sit-down shower in a camper package this small is simply awesome.  Yeah, we get this excited about bathrooms in the truck camper world.
All-Electric, Push-Button, Actuator Lift System
The Phoenix Mini Max utilizes an all-electric, push-button, actuator lift system to automatically raise and lower the pop-up roof.  In the following photograph, you see one of the electric motors for the lift mechanism.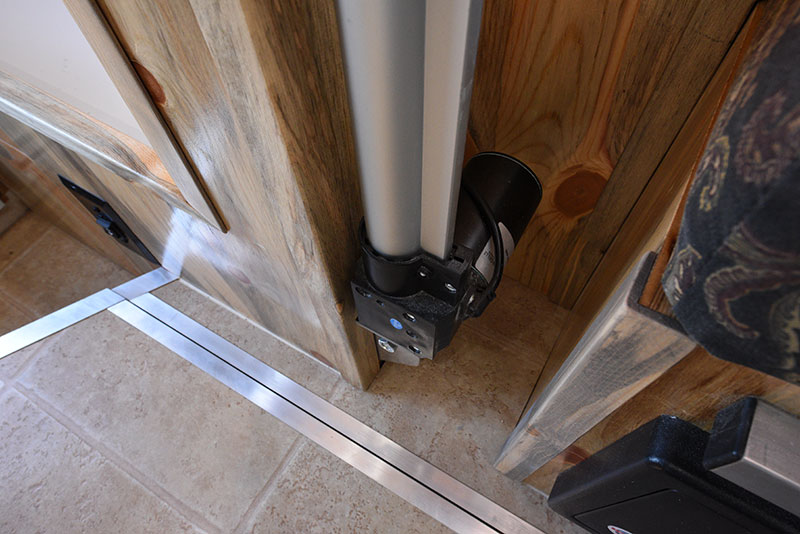 We can confirm that the lift system is relatively fast.  We were able to lift or lower the Mini Max roof in under 90-seconds.  That's about the same amount of time some larger slide-outs take to open and close.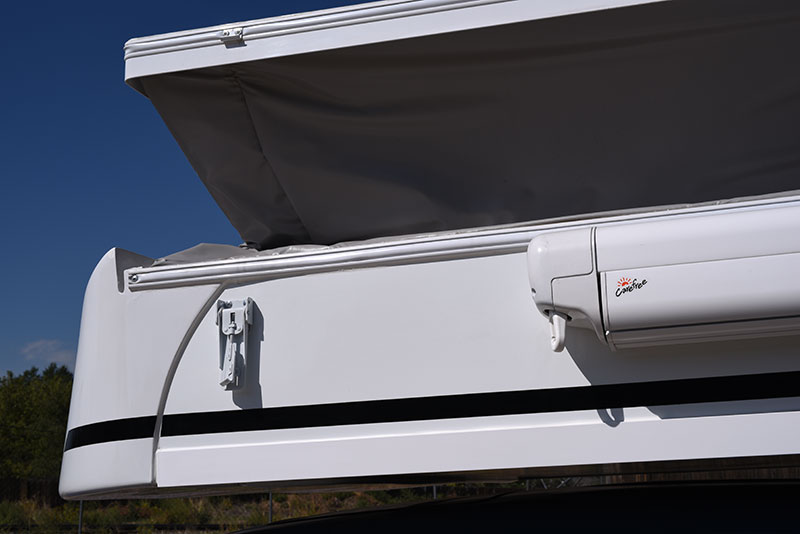 Being able to lift and lower the roof with the push of a button was convenient and easy.  Just make sure you remember to release the roof latches first or you could damage your camper.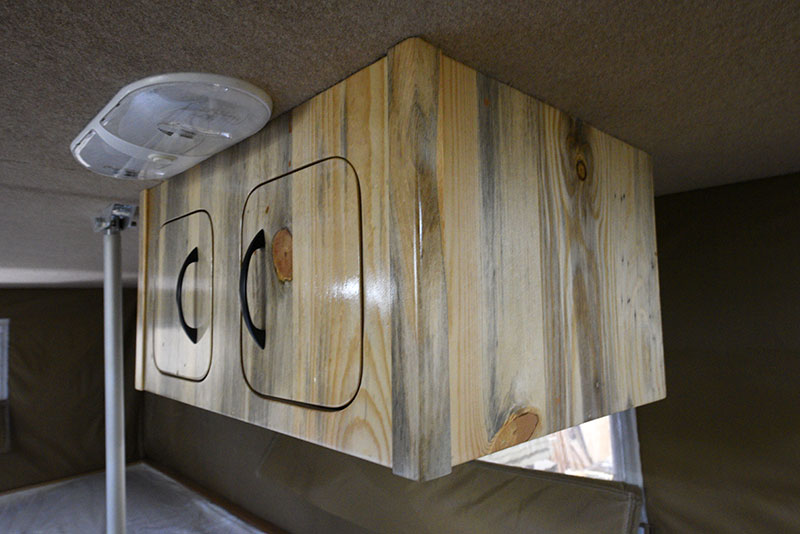 The Mini Max features two upper cabinets, shown here in the aforementioned Beetle Kill Pine.  These are small cabinets, but would be perfect for smaller items that you want to access all the time.
Just off the top of my head, we might keep coffee, coffee mugs, and our french press in one cabinet.  Fast and easy morning access to these items is something of a priority in our camper.  How else do you think all of these articles get written?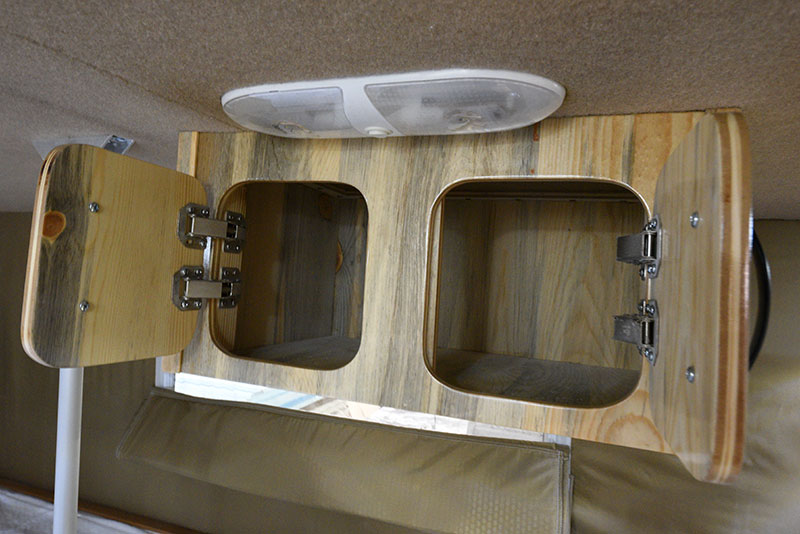 All of Phoenix's cabinetry is hand-made in-house.  From the Mini Max announcement, we learned that Robby, "…hand draw(s) the cabinet doors and drawers with a straight edge and stencil" and then, "…carefully cut(s) the holes with a jigsaw" and, "…sand(s) on it forever until it looks right."
In case you're wondering, nobody in the truck camper marketplace puts that level of custom craftsmanship into their cabinetry.  Other companies may have equally attractive cabinetry, but only Robby and the Phoenix team draws each cabinet out and custom builds them one at a time.  Insane?  Maybe.  Beautiful?  Absolutely.
On balance, the all-practical and no-fun side of me wants the cabinet doors and cabinetry openings to be much bigger.  These are small cabinets.  Give us the largest possible opening.  You know, mini max it.
Sleeping For Three Adults
I can hardly believe I'm going to write this, but it's possible for three adults to sleep comfortably in the Mini Max; two in the cabover and one in the dinette made into a bed.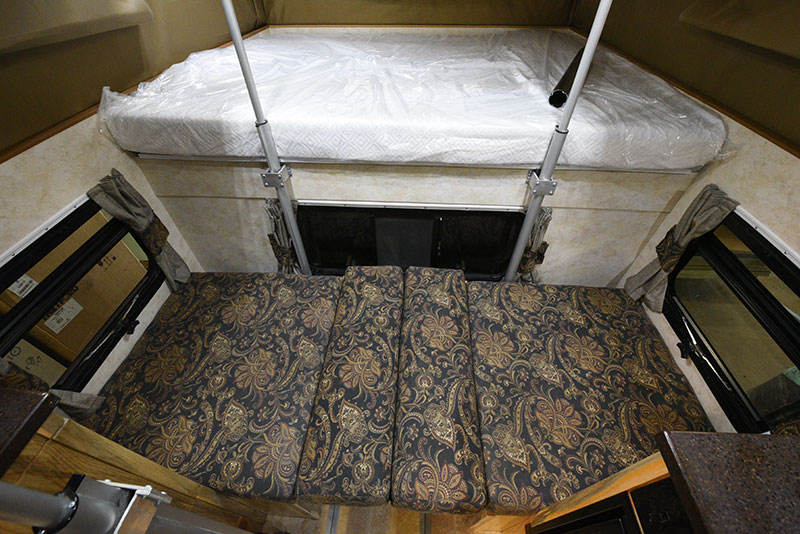 That's a lot of folks sleeping in a small space, so no snoring, and certainly no pork and bean dinners.  Safety first people.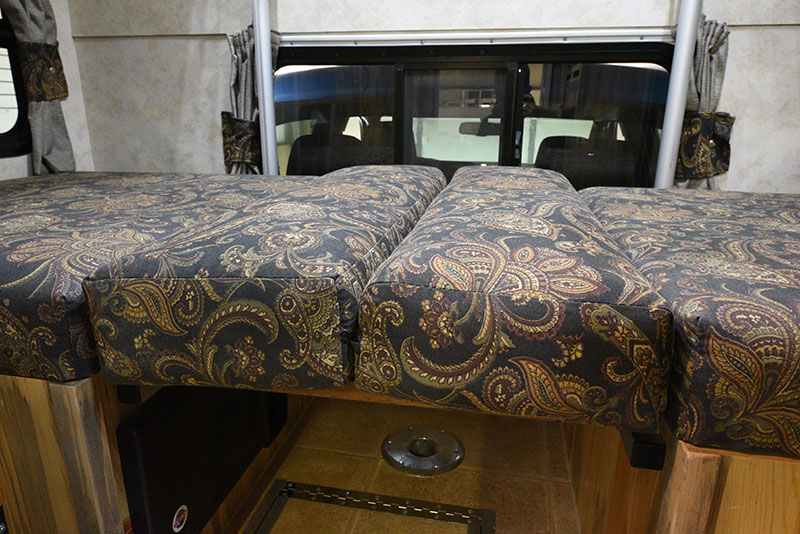 This may later be filed under user error, but the dinette cushions did not lay entirely flat when I made the dinette bed.  Phoenix Campers is welcome to reveal what I did wrong in a Manufacturer's Response, but it appears that the dinette table pushes the somewhat thicker back cushions up and uneven.  Maybe the dinette table lip could be lowered to make the cushions lay flat?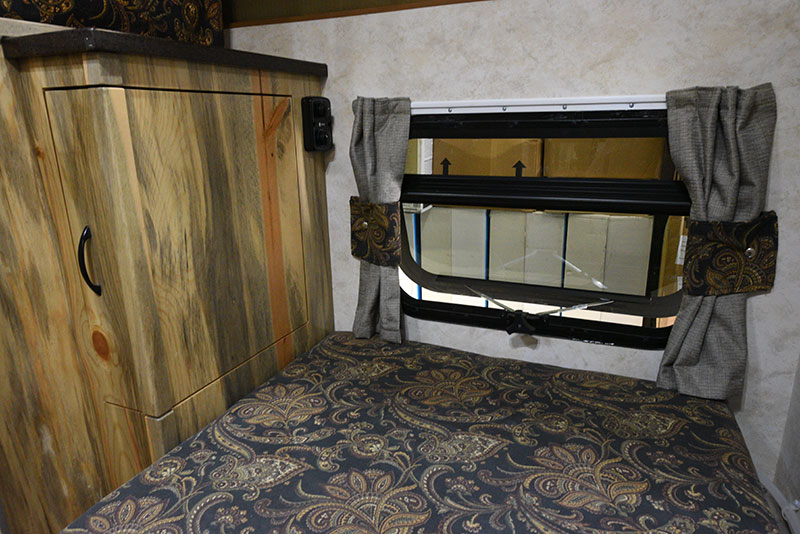 This photograph shows the passenger's side window open all the way for ventilation.  I like the way "frameless" windows look (especially from the exterior), and how they can remain open during a rain storm, but I wish they opened out further.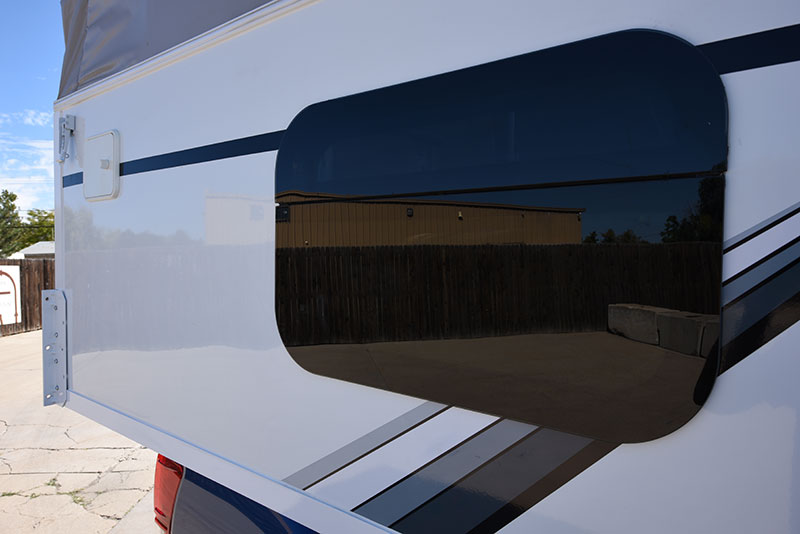 This limitation is not the fault of Phoenix Campers, but I might ask what other window options are available when placing an order.
A Unique L-Shape Cabinet
This is the most unique truck camper cabinet we've seen in a very long time.  Look at the four hinges holding the L-shape door.  It's like a horizontal Gull Wing.  Perhaps Robby was inspired by a Mercedes-Benz 300SL, DeLorean, or – for a more modern example – the rear doors of a Tesla Model X.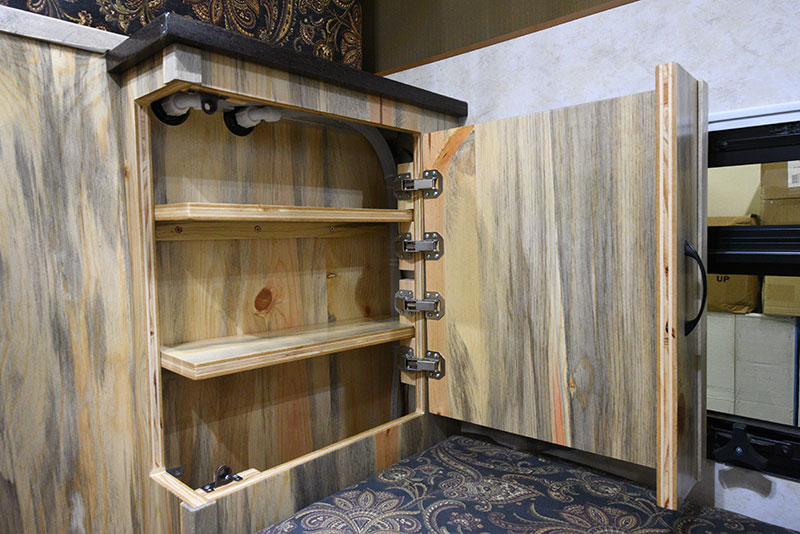 Look at the two shelves and lower well.  Once again, I have no idea what this storage space would be used for (okay, maybe a spice rack), but it's just neat.  I love it!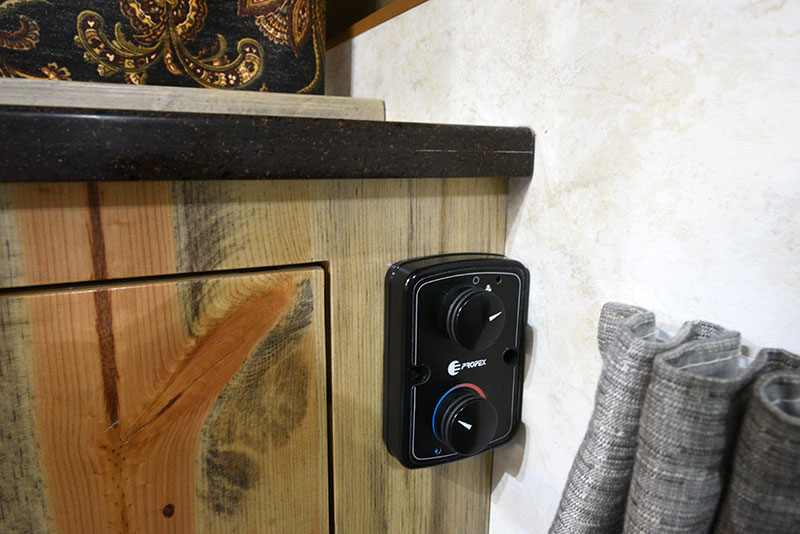 Evidence of Phoenix's unique and fiercely independent approach to truck camper design is just everywhere in the Mini Max.  For another example, take the ProPex HS2000 propane furnace.
ProPex's thermostatically controlled propane heaters were used in Volkswagen Vanagons for years and present a compact and fuel-efficient solution for heating a small camper.  Rated at 6,500 BTU of heat output, the 12-volt HS2000 consumes 1.9 amps of continuous current.
We have not camped with a ProPex heating system, but Robby has been installing them in Phoenix Campers for years.  Based on ProPex's positive reputation with VW bus enthusiasts, they must be doing something right.
Marine Style Teak Table
The marine-style teak wood table in the Mini Max is a stunning focal point.  It's literally the first thing most folks will notice when they want into the unit, and this table doesn't disappoint in person.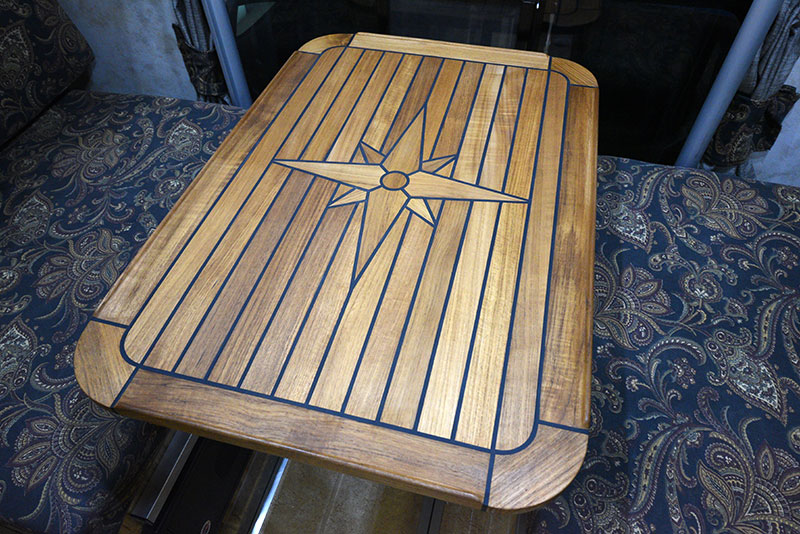 Robby told us they do not make this table in-house, nor is it inexpensive, but he had to have it in the Mini Max.  I can see why.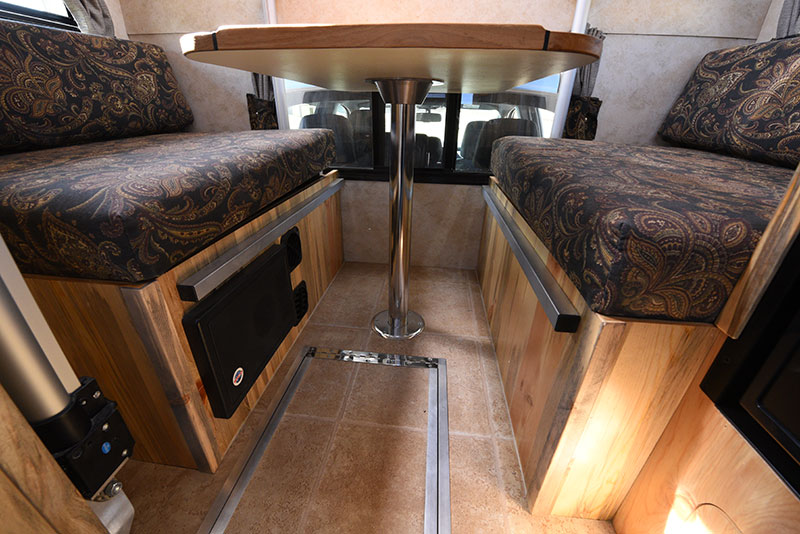 The single post table leg removes easily to turn the dinette into a bed and maximizes the available leg room.  I always want table legs to be more firmly supported than a single post can provide, but this table was larger and more stable than I would have ever expected in the Mini Max.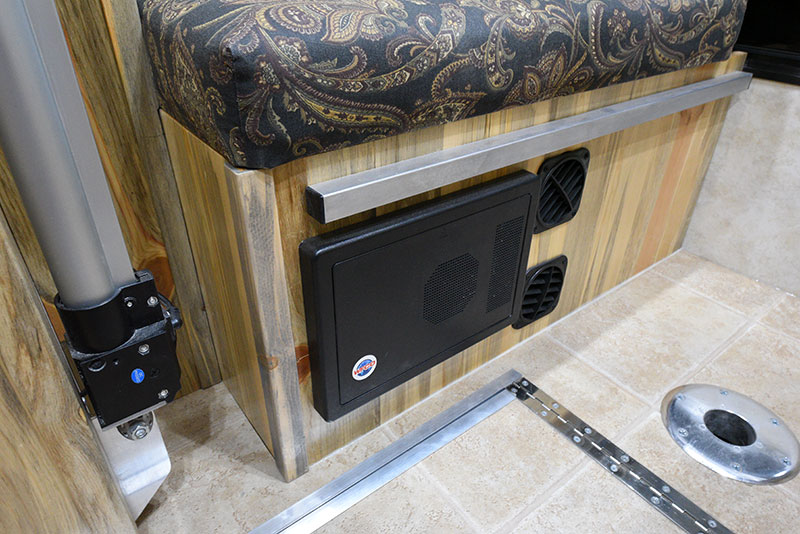 The lower face of the driver's side dinette features the fuse panel and converter, and two heat vents from the ProPex system (shown) below.  This is a good location for the fuse panel as fuses never fail to blow when you're in the middle of nowhere, in a rain storm, at night.
Note to self; always have extra RV fuses easy to access and ready to go.  Note to self two; always check the fuse box for any electrical problem first.  Chances are the problem is there.
The heating vent location might singe a few leg hairs (do you smell something?), but I don't know how Phoenix could do better with the location.  Mid-ship and low makes a lot of sense for heating vents in a small camper.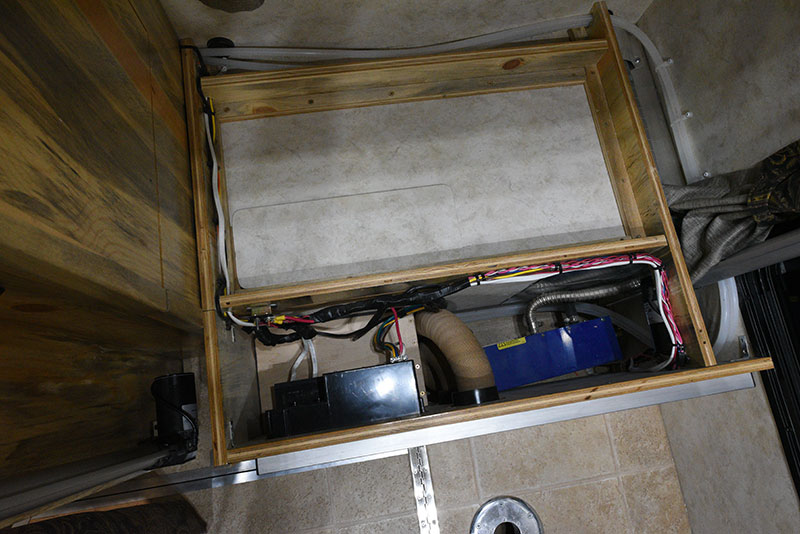 Under the driver's side dinette seat (left to right) is the back of the fuse panel and converter, and the ProPex HS2000 heating unit.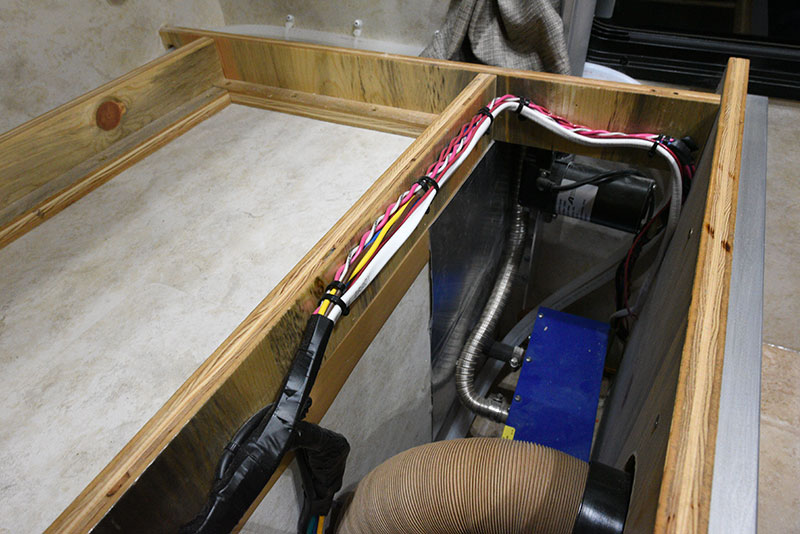 Wherever we encountered electrical wiring and/or installations, wires were taped, fastened together, and secured. Overall the work is more custom and handmade than what we see from production manufacturers, but that's exactly what this wiring (and everything else in a Phoenix Camper) is; custom and handmade.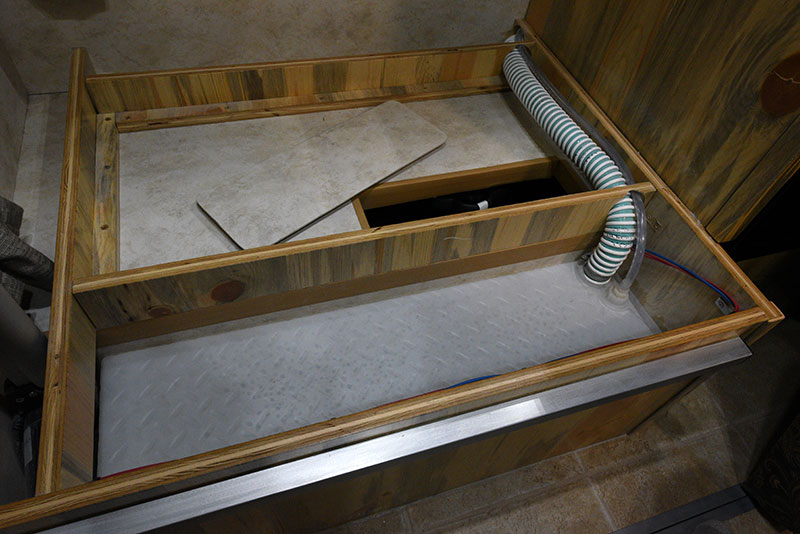 Under the passenger's side dinette seat is the 15-gallon fresh tank (foreground), a storage area (background), and a maintenance access panel.  These under-seat storage areas might be a bit inconvenient to access day-to-day, but would be great for maps, books, and other flat items.
Lucid Memory Foam Mattress
The Phoenix Mini Max features a queen-size 5-inch Lucid-brand memory foam and gel mattress.  Lucid mattresses are strongly recommended by Truck Camper Magazine readers.  We have a similar memory foam mattress in our project camper.  Considering the minimal mattresses some RV manufacturers install in their products, the Lucid is a welcome discovery.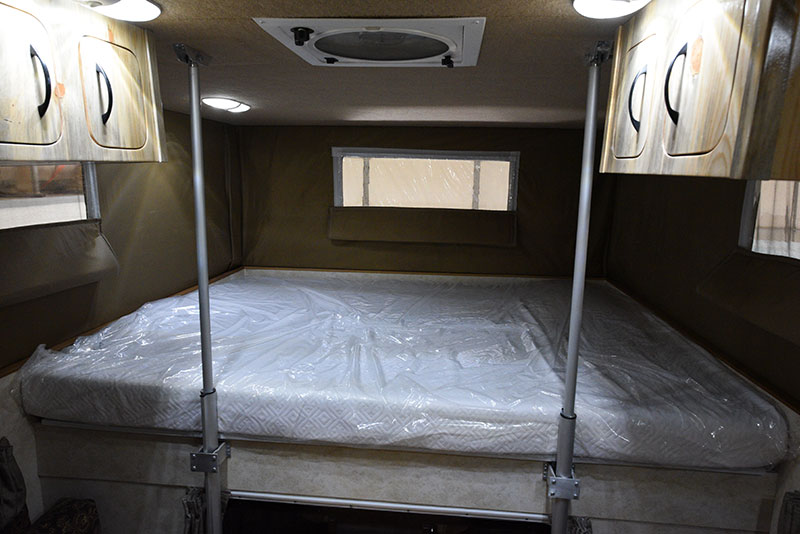 The metal bars in the photograph above are part of the Phoenix lift mechanism.  Mini Max owners would quickly adjust to their location, but newbies may be put-off by these mid-ship obstructions.
If you're concerned about this element of the Mini Max design, I highly recommend visiting Phoenix Campers in Commerce City, Colorado.  Just be sure to call ahead to make sure they have what you want to see on hand.
Underbed Cabover Storage
There really isn't a lot of storage in the Phoenix Mini Max, until you lift the cabover bed.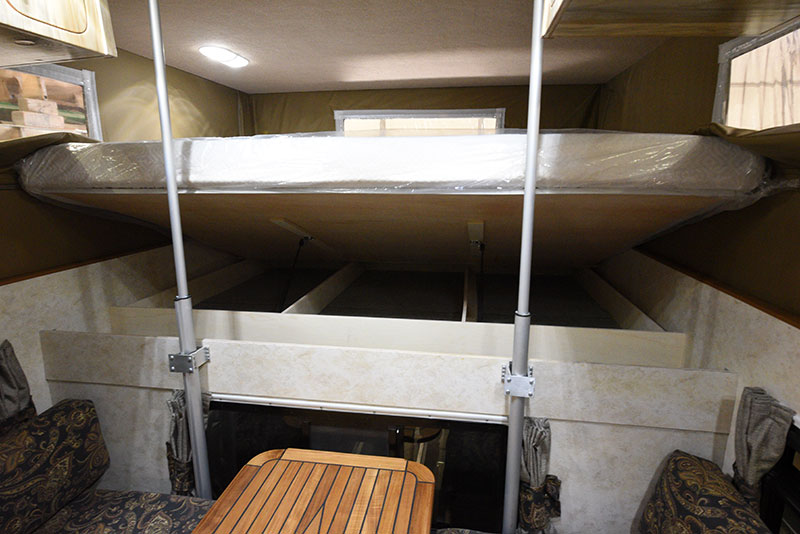 Under the bed, there's a large space for clothing and supplies.  This space will no doubt create the bulk of built-in storage for Mini Max owners.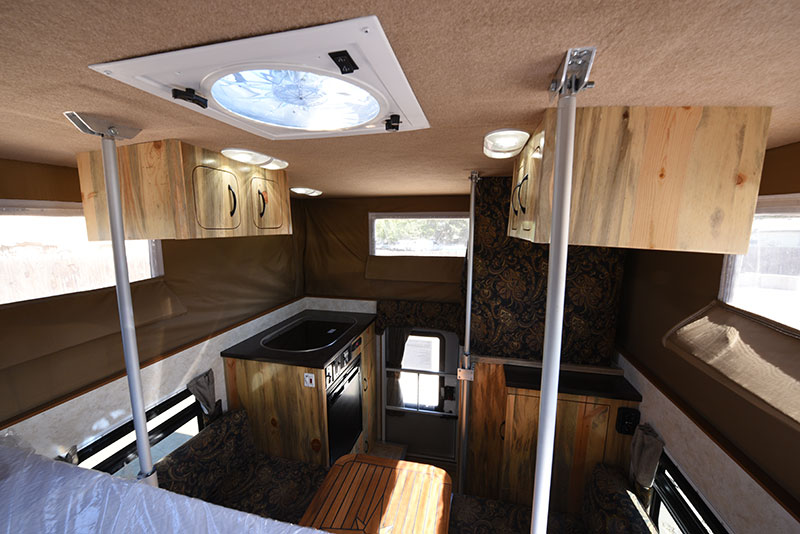 Normally I am looking to see a roof fan in certain locations; above the kitchen area, in the bathroom, and possibly in the cabover.  In the Mini Max, the Fantastic Fan is dead center in the camper and pretty much hits all those targets – all at once.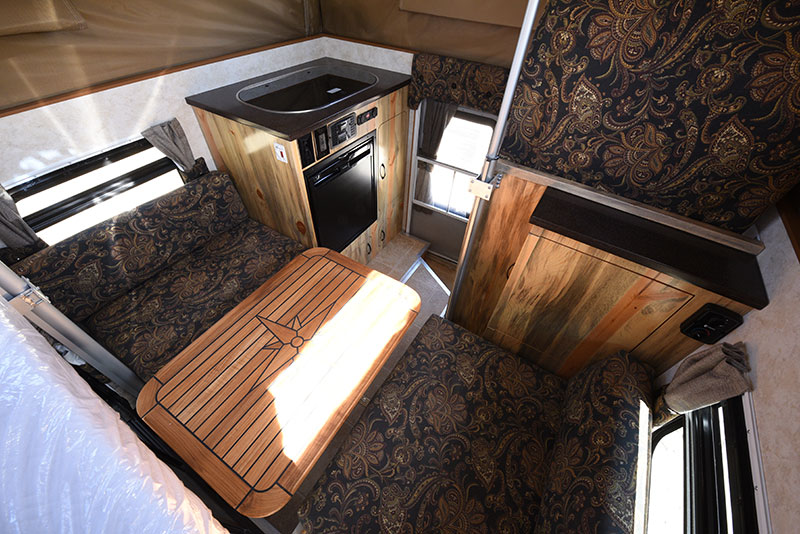 Here it is, my signature turn-around shot. After going through every truck camper I review, I like to look back and take in the camper – just as one would every morning after waking up in the cabover.
The Mini Max might be the most appropriately named truck camper on the market.  There is no extra space here, but the feature set is simply remarkable for a pop-up camper designed to fit on the back of a midsize truck.
Phoenix Mini Max Specifications
As a custom-ordered and built camper, performing an analysis of the Phoenix Mini Max specifications is an interesting challenge.  After all, the weight, floor length, overall length, width, interior height, exterior height, and center of gravity could all vary depending on the truck the customer wants to fit.
Specifications
Dry Weight
1,209.9 pounds
Wet Weight*
2,035 pounds
Floor Length
72.5″
Overall Length
12'0″
Width
85″
Interior Height
6'3" top up
54″ top down
Exterior Height
53″ top down
Center of Gravity
18″
Truck Type
Short Bed –
Mid-Size or Full-Size
To keep things simple, I will focus on the Mini Max under review.  Please keep in mind that this analysis represents one Mini Max build, and is not indicative of all Mini Max truck campers.  Your Mini Max may vary.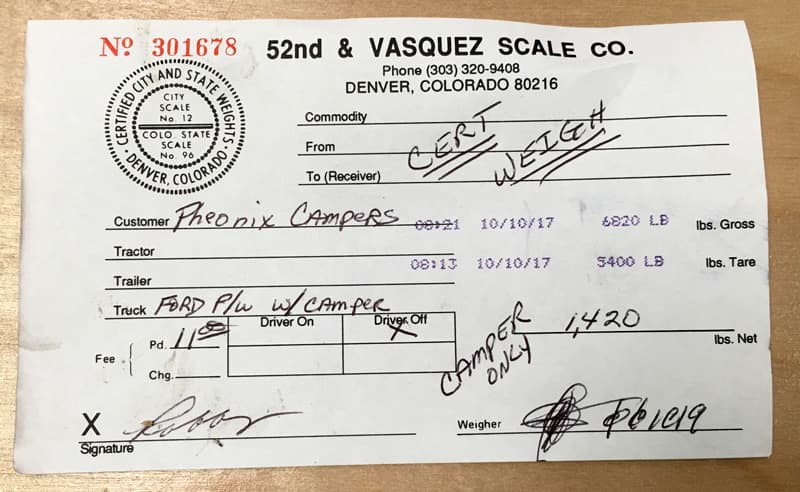 For the Phoenix Mini Max debut, Robby took the camper to a local certified truck scale and weighed it.  Since we reviewed the exact same camper featured in the debut, we can verify the stated weight of this Mini Max is accurate.
The 1,420-pound weight of the camper includes full water (125.1 pounds), full propane (20 pounds), and a battery (65 pounds).  To get a true dry weight of this Mini Max, we need to subtract the water, propane, and battery weight.  That brings the dry weight to 1,209.9 pounds.  We use this dry weight for the wet weight calculation.
As a magazine, we want to encourage Phoenix Campers to invest in a set of Intercomp racing scales for accurate on-site weights.  We have personally tested dozens of Intercomp systems at truck camper manufacturer and dealer locations over the years.  At under $1,000, the Intercomp SW-500 (wired) system is something of a truck camper industry standard.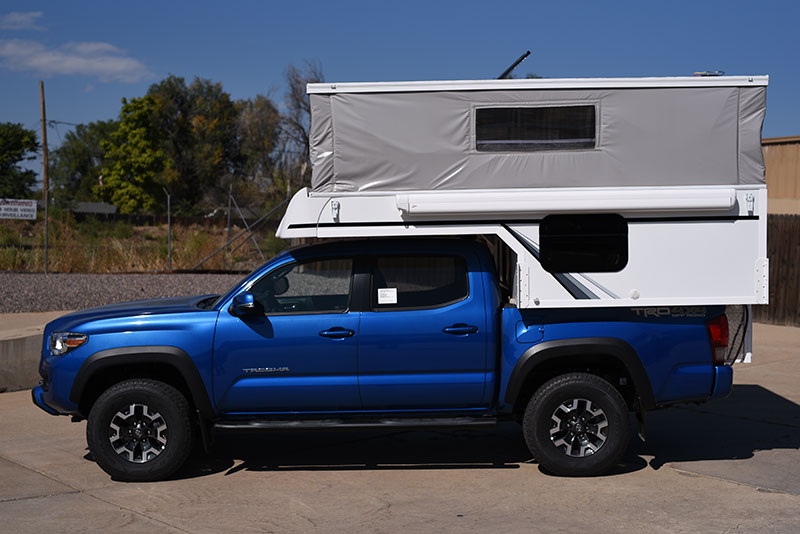 The length, width, and height specifications of the Mini Max are what sets it apart.  To have a wet bath, kitchen, 6.5-foot full-booth dinette/bed, and a queen-sized bed in a pop-up camper with a 72.5-inch floor length is remarkable.  To the best of our knowledge, the Mini Max is the shortest and narrowest fully self-contained pop-up camper to have all of these features.
Phoenix reports the center of gravity for the Mini Max at 18-inches from the front wall.  That is a remarkably short center of gravity.  It will be well in front of the rear wheels on all trucks.
While this is a spectacular center of gravity location when the Mini Max is loaded on a truck, it may be too far forward for cabover use when the camper is off the truck.  I would welcome Phoenix Campers to address this concern in a Manufacturer's Response.
Mini Max Capacities
| | |
| --- | --- |
| Capacities | |
| Fresh | 15 gallons |
| Grey | 7 gallons |
| Black | 5 gallon cassette, 4 gallon flush |
| Water Heater | 6 gallons |
| Propane Tanks | 20 pounds |
| Batteries | 1 Group 24 AGM 90AH |
The fully self-contained Phoenix Mini Max has enough holding tank capacity for an extended weekend of off-grid camping.  The 15-gallons of fresh capacity is augmented by a 6-gallon water heater bringing the total fresh water capacity to 21-gallons.  That's an impressive amount of fresh water for a camper this size.
The limiting factor is the 7-gallon grey tank.  Mini Max owners can get around this by draining the grey tank into a portable container.  This is how pop-up campers without grey tanks collect grey water.  Collected grey water can then be disposed of in a campground toilet, just like a cassette.
If you dump the 7-gallon grey tank twice, you can use all 21-gallons of fresh water on tap (7, 7, and 7).  If you conserve water (navy showers every other day, etc.), 21-gallons could last two adults through three to four days.  That's amazing for a compact short bed pop-up.
Cassette Toilet Convenience
Another possibly limiting factor is the cassette toilet capacity.  We have camped with cassette toilet systems on a number of occasions; some extended, and others short-term.  What we learned is that a 5-gallon cassette will last an adult individual about four to six days of exclusive use.  Cut that in half for adult couples; two to three days.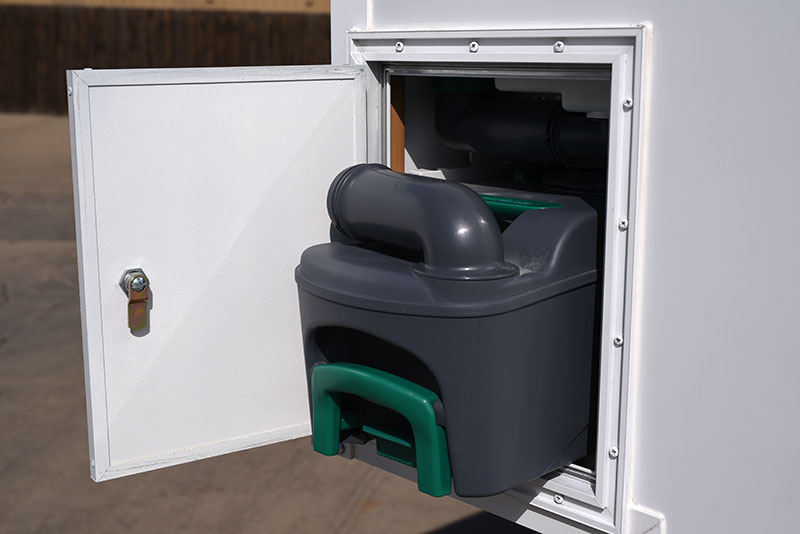 Then you will need to find a residential toilet to dump the cassette.  If there's a toilet nearby, you can dump the cassette and captured grey water.  That would be ideal.
The sheer convenience of being able to dump a cassette in any residential toilet cannot be overstated.  Many cassette toilet owners go camping for weekends and simply dump their cassette when they get home.  Others use campground toilets, porta johns, and even standard dump stations.  The versatility of a cassette toilet system is unmatched.
On the flip side, dumping a cassette full of human waste can be both strenuous and a bit too "up close with gross" for some folks.  In practice, it's actually a very fast and painless experience, but the weight and concept of a cassette is something to consider before committing to a purchase.
Our standard cassette toilet advice is to go to a dealer with a cassette toilet camper, have them fill it with fresh water, and then experience pulling the full cassette out and dumping it in a residential toilet for yourself.  After that, you will have an excellent idea of what cassette toilet ownership is like, and whether it's for you.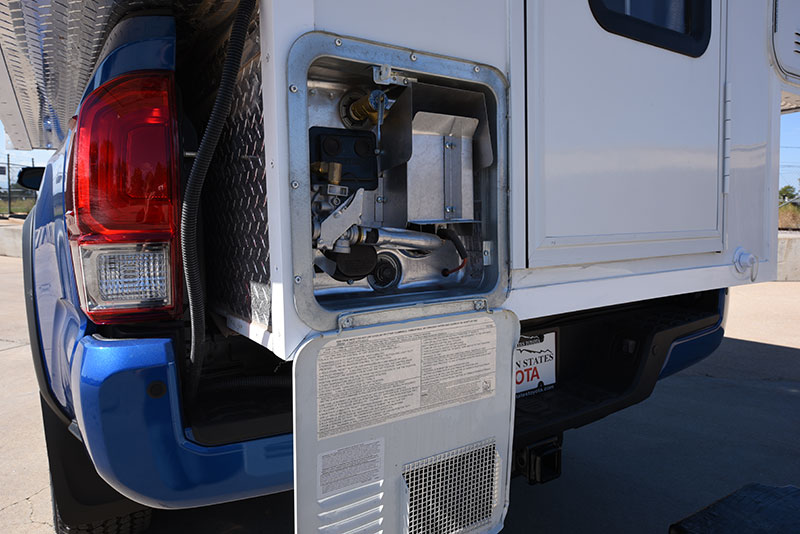 The 6-gallon water heater may actually be overkill. Other manufacturers who target mid-size and short bed half-tons have moved to 4-gallon water heaters, a move that seems to have very little downside while reducing weight.  That said, it's nice to have two additional gallons of water on board.
One 20-Pound Propane Tank and One AGM Battery
The Mini Max has one 20-pound vertical propane tank and one Group-24 AGM battery standard.  This is plenty of propane and battery capacity for a camper this size, but owners will need to get in tune with their propane and battery use.  Welcome to the Zen of truck camper holding tank and battery systems.
The majority of Phoenix Campers are 100-percent custom designed and built to a customer's specifications.  These campers literally start with a customer idea or drawing and get translated into a physical camper by Phoenix Campers.  When Phoenix Campers says 100-percent custom, they mean 100-percent custom.
In contrast, the Phoenix Mini Max is a set floor plan.  The Mini Max is already designed and ready to go.  When a customer orders a Mini Max, they specify what truck they have (or want) and Phoenix adjusts the Mini Max floor plan to that truck.  Then the customer selects options and what interior countertop and fabrics they want, and Phoenix builds the camper.
What that means is that the Mini Max camper under review does not necessarily represent the Mini Max another customer would order and purchase.  It all depends on the truck you're targeting, and the options and interior materials you want.  The part that's set in stone with the Mini Max is the floor plan and overall design.
Wet Weight Calculation of the Mini Max
With that out of the way, let's run the numbers on the Phoenix Mini Max under review.  This particular example of the Mini Max was built for a mid-size truck.  Phoenix actually borrowed a Toyota Tacoma for the photoshoot.
Using the standardized Truck Camper Magazine wet weight calculation, let's run the numbers on this Phoenix Mini Max.
Base Dry Weight – built and optioned as reviewed
Phoenix Mini Max dry weight, 1,209.9 pounds + 15 gallons fresh, 125.1 pounds + 6 gallon full hot water heater, 50 pounds + 1x 20 pound full propane tank, 20 pounds + 1 battery, 65 pounds + stuff, 500 pounds = 1,970 pounds
Mini Max Truck Recommendations
As a short bed pop-up truck camper designed for mid-size or full-size trucks, we are going to adjust the above stuff weight to a more realistic 250 pounds.  Given the limited size of the Mini Max, and its relatively limited storage (compared to larger hard wall models), 250 pounds of stuff is much more in line with what folks will actually pack.
Taking the stuff weight from 500 pounds to 250 pounds changes the base wet weight of the Phoenix Mini Max to 1,720 pounds.  Keep in mind this weight only represents the Mini Max under review; fully wet, fully optioned, and fully loaded.
Should The Mini Max Be On A Tacoma?
A 2018 Toyota Tacoma SR, 4×2, Access Cab, 4-cylinder, 6-speed automatic has a maximum payload capacity of 1,620 pounds.  Change that exact truck to a more popular configuration – 4×4, Double Cab, V6 – and the payload drops to 1,175 pounds.
So there's good news and bad news here.  The bad news is that the Phoenix Mini Max under review is not a recommended match for a Toyota Tacoma.  Unfortunately, there isn't a Tacoma configuration possible that offers enough payload for this particular Mini Max build.
The good news is that Mini Max customers are in no way limited to (a) Toyota Tacomas and (b) the configuration of the Mini Max under review.  When the Mini Max debuted, we asked Robby about this very important point.
"We can absolutely make a Mini Max for a half-ton truck.  For that matter, we could build it for a Chevy 2500, Ram 3500 – or whatever.  We can build the exact same floor plan and package for almost any pickup truck.  The difference for full-size trucks would be a wider and taller base floor and an adjusted front wall.  Other than that, it's the same Mini Max."
For those of you who have your hearts set on a Toyota Tacoma, there's another way forward.  As a custom shop, Phoenix Campers can build a version of the Mini Max to match the payload you have available.  Robby elaborated, "Most customers who contact us with lighter duty trucks ask if we can build a unit within the payload capacity of their truck."
What's The Best Truck For The Phoenix Mini Max?
Just for fun, let's say that you don't have a truck now, and want everything Robby and the Phoenix Camper crew have designed into the Mini Max.  The Mini Max under review was fully optioned and loaded at 1,720 pounds.  That may be too much for a Tacoma, but it's peanuts for our favorite half-ton configuration.
A 2018 Ford F150 XL 6.5-foot short bed, 4×4, Super Crew, 3.5L EcoBoost V6 with the Heavy-Duty Payload Package and 18-inch wheels offers 2,870 pounds of payload capacity.  With the Mini Max, that would give you approximately 1,150 pounds of payload to spare.  This would be one heck of a truck and camper combination.
After publishing Truck Camper Magazine for nearly 12 years, it was wonderful to finally get the opportunity to review a Phoenix Camper.  "What took so long?" you ask.  Well, Phoenix campers are custom built and usually get picked up by their owners almost immediately after completion.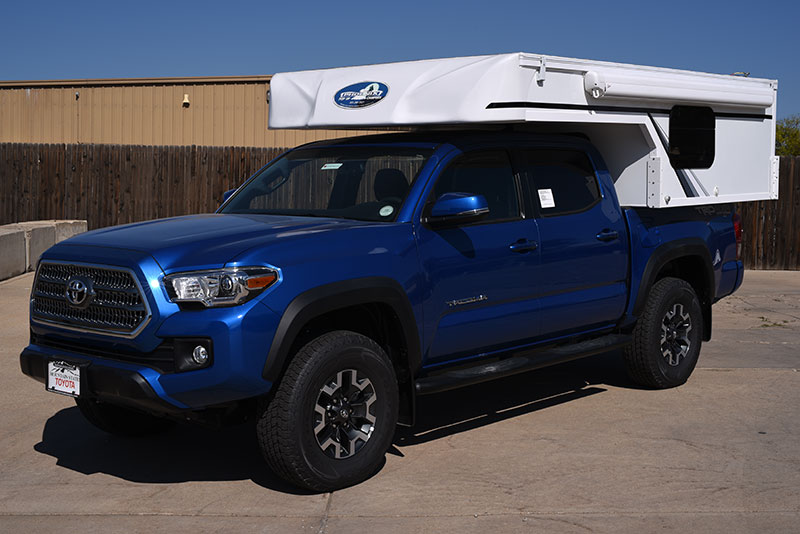 Furthermore, as custom units, many Phoenix Camper builds don't make sense for a review that targets the entire readership of Truck Camper Magazine.  Getting access to a finished Phoenix that made sense to review has proved to be quite challenging, until now.
The Verdict
Having spent some time with the Mini Max, one thing is clear.  The Mini Max is another bold and remarkable achievement for Robby Rowe and Phoenix Campers.  By all measures, it's the smallest fully-featured and fully self-contained pop-up truck camper on the planet.  If you want the most pop-up camper utility and features in the most compact space, the Mini Max is it.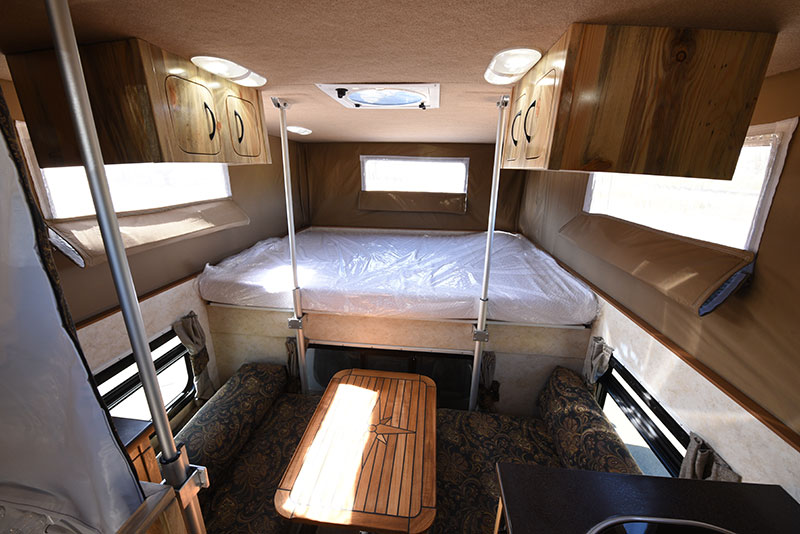 Perhaps my favorite thing about the Mini Max is the fact that it can be ordered for any truck size and payload weight.  This means you can call up Phoenix Campers and say, "Yeah, hi. I'd like a Phoenix Mini Max for a 2018 Ram 2500 short bed.  Can you make that under 2,100 pounds wet and loaded?  Thanks!"  Try that with a production line manufacturer and you'll be speaking to a dial tone.
There are two trade-offs to custom manufacturing that must be aired; build tolerance and price.  Where Phoenix campers are beautifully built by experienced craftsmen who deeply care about their work, they are not CNC perfect.  That's the trade-off of total creative freedom.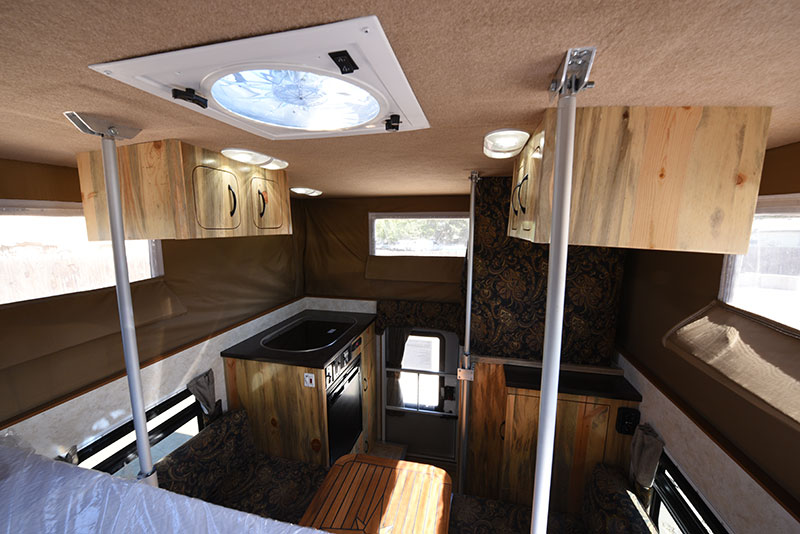 The second trade-off is also related to custom manufacturing.  At $37,000, the Mini Max is priced as a premium, custom-made, pop-up truck camper – exactly what it is.  Since every camper is custom ordered, there are few opportunities for Phoenix to take advantage of economies of scale, automation, or outsourcing; all strategies employed to significant effect by the greater RV industry.
While the Mini Max may not be a bargain, there is very little that directly competes with it, and nothing self-contained with identical features at anywhere near its size.  The Mini Max is unique.  It's custom-built to be unique, right down to the exact truck dimensions, countertop material, and fabrics you want.
A full-booth dinette in a short bed mid-size camper?  Almost impossible!  A wet bath with cassette toilet and shower?  Practically unthinkable!  A kitchen with a sink, two propane burners, and a refrigerator/freezer?  Inconceivable!  And yet, here it is.  Boom!  Truck camper magician Robby Rowe strikes again.  Well done Phoenix.
Pros
Fully-self contained and extensively featured for a small pop-up camper
Can be ordered to fit a customer's truck bed size and payload requirements
All-electric, push-button roof lift mechanism standard
Lift-up under bed storage is huge, and augments limited storage elsewhere
Gorgeous and uniquely designed custom cabinetry all built in-house
Standard 1.9 cubic foot Dometic CRX 65 compressor refrigerator
Cons
At $37,000, the Mini Max is premium-priced custom pop-up truck camper
Extensive standard feature set and high-end materials add considerable weight
Metal lift-up basement door edges need to be de-sharpened
12-volt, USB and 110-volt outlets are limited throughout unit, but kitchen offers all three
Roof lift mechanism bars are mid-ship and obstruct the cabover transition
Low entry door may take time to get used to
Model Information
2018 Phoenix Mini Max
MSRP: $37,000
Warranty: One year bumper-to-bumper. Two year on lift mechanism, liner, and frame. Individual appliances have their own warranties.
Phoenix Pop-Up Campers
Phone: 303-286-3921
Request A Phoenix Mini-Max Brochure
Web: phoenixpopup.com
Quality, Customer Service, and Long-Term Reliability
Truck Camper Magazine inspects all reviewed truck campers for design, material, and quality issues and reports what we find.  However, since Truck Camper Magazine reviews only brand new truck campers, our reviews do not address long-term quality, customer service, or reliability.
To learn about a brand's long-term quality, customer service, and reliability, Truck Camper Magazine recommends talking directly with truck camper owners at truck camper rallies and online via truck camper forums and truck camper owners groups.
Please be sure to balance your gathered feedback across multiple sources including direct correspondence with the truck camper manufacturers and your closest truck camper dealers.  If you are new to truck campers, start in the Newbie Corner.