It all started when we drove into a field with a Northstar Escape Pod to join the North-East Truck Camping Jamboree.  Then things got hot, ballooned, and exploded. Here is our Northstar Escape Pod Review and Experience.

With three laundry baskets full of assorted camping gear in our Ford Focus, we set out at 7:30am from Lancaster, Pennsylvania to Truck Camper Warehouse in West Chesterfield, New Hampshire.  About seven hours later, we arrived to pick up a Northstar Escape Pod 750 and a Chevrolet Colorado.
Our mission was to attend the North-East Truck Camping Jamboree at the 2011 South County Hot Air Balloon Festival.  The weekend's weather forecast was for near 100 degree heat, and that's before you factor in the oppressive humidity.
"We're going to fry," I said to Angela.  "You'll be fine," she quipped.  Bill Penney, Owner of Truck Camper Warehouse, didn't help much when he added, "It's going to be oh-my-God hot!"  Then he installed an air conditioner on the Escape Pod 750 and loaned us a Honda eu2000i generator for the weekend.  In that moment, Bill made my top ten most awesome people list.
We have covered the Escape Pod 750 here in TCM before, but this is the first time we've had the opportunity to actually camp in one.  What would it be like to drive a Chevy Colorado flat bed with a camper on the back?  What would camping in a flat bed truck camper be like?  There's only one way to find out.  Let's camp.
Click here to contact Northstar with questions about this camper.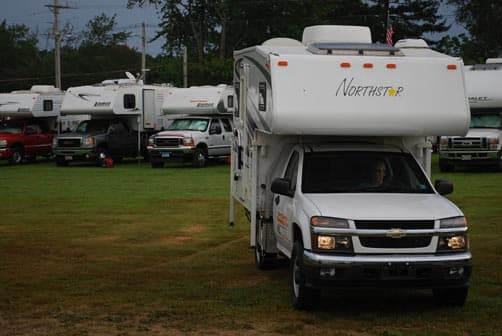 The North-East Truck Camping Jamboree
The next morning we drove three hours to Wakefield, Rhode Island.  The first summer North-East Truck Camping Jamboree was already heating up.  We were the sixteenth truck camper to arrive.  Before night fell, two more rigs joined us and one more arrived that night to make nineteen.  It's always fun to see so many truck campers together.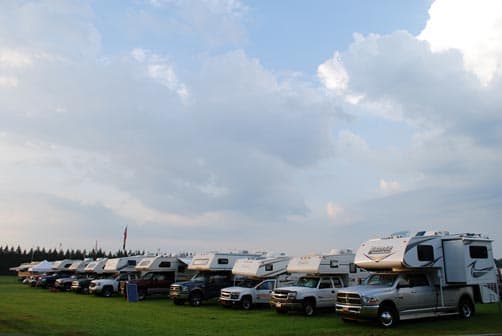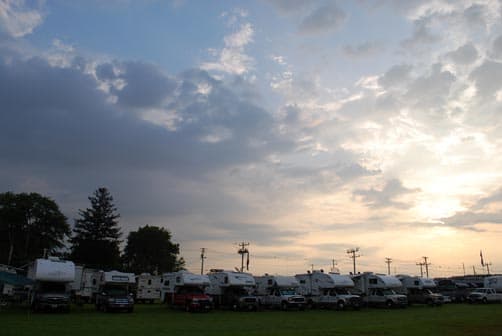 As we stepped out of the truck, a small crowd began to form around the rig and comment about the Colorado and Escape Pod 750 combo.  The ladies said, "It's cute" and "adorable".  Then one of the guys called it a, "Tonka Toy" and another asked, "When are you getting a real truck camper?"
None of these reactions surprised me.  The Colorado and Escape Pod 750 combination is very different than your standard truck camper rig and challenges many time tested and proven concepts about truck campers.  For example, you never see hard side truck campers on a Chevy Colorado, you hardly ever see truck campers on a flat bed, and you very rarely see truck campers on regular cab trucks.  And this rig is only seventeen feet long!  How can it possibly be taken seriously?
I will get to that very question, and a few more, at the end of this article when we dive deep into our experience with both the truck and camper.  What we found may surprise you.  It certainly surprised me.
Hot, Hotter, and Hottest
We spent most of the afternoon getting to know the Escape Pod 750, putting things away, and socializing with everyone.  It was unbelievably hot and most of the conversations revolved around generators, air conditioners, refrigerators, and the next frosty beverage.
The whole campground was buzzing with generators and air conditioners.  You could hardly hear the quiet Honda eu2000i generators over the lawn mower loud Onans.  Hopefully more efficient air conditioners, like the Coleman Mach in the Escape Pod 750, and quiet generators, like the Honda eu2000i, are directions we're all going in.  The Onans works well, but the noise they make is ridiculous.
At one point Mikeee suggested to us that we put our Honda eu2000i generator on the ground instead of the generator compartment.  Once on the ground, we could hardly hear the generator inside the camper at all.  Very impressive, and we were plenty cool and comfortable in the camper with the Coleman Mach.  Mikeee also said that with the Honda switched to it's Eco mode, it could run the Coleman Mach in the Escape Pod for at least a couple of days with one gallon of gasoline.  Like I said, this is the way to go.
That evening Mikeee led a gaggle of rally happy folks to see the lantern glow of the balloons.  When we arrived on the balloon field, there were about a half-dozen tethered balloons intermittently igniting.  They were beautiful to watch.  Then Mikeee smiled his devil smile and said, "Let's get back and have a real lantern send off".  Oh no.  What's he up to this time?