Jeff Johnston reviews a Four Wheel Camper Fleet SC, a self-contained pop-up truck camper for short bed trucks including the Toyota Tacoma and Nissan Frontier.

Every Four Wheel Camper model we have used has had some new design innovations as part of its package.  Company Owner, Tom Hanagan, and crew don't rest on their laurels.  They're constantly tweaking and adjusting the products to better suit customers' needs.  Some ideas spring from the fertile minds at the factory, others are from customers in the field.
The new 2012 Four Wheel Camper Fleet SC, or Self Contained, not only has a shower and built-in cassette toilet (a combined $3,200 option package), but it manages to fit these items into a camper designed for small short bed trucks including the Toyota Tacoma and Nissan Frontier.  That's a heck of a shoehorning job considering all the features in this model, which has a $12,395 base MSRP and was stickered at $21,865, including options.  For more information on the Four Wheel Self Contained Camper, visit the Four Wheel Camper Buyers Guide.
Four Wheel Camper for a Tacoma
Before evaluating the Fleet SC, we ran the numbers to make sure the camper was indeed a good match for the Toyota Tacoma and Nissan Frontier, two trucks that are normally far off the radar screen for truck camper rigs.
Four Wheel Campers reports the base dry weight of the Four Wheel Camper Fleet SC at 795 pounds.  To calculate the wet weight, we added 20 gallons of fresh water (166.8 pounds), two batteries (130 pounds), and two ten pound propane tanks (20 pounds) for a total of 1,111.8 pounds.
Truck Camper Magazine's standard stuff weight, including people weight, camper options, clothing, food, and personal belongings is an additional 500 pounds.  That brings the wet weight of the Four Wheel Camper SC to 1,611.8 pounds.  In reality, that's probably quite high as most Four Wheel Camper Fleet SC owners will not have 500 pounds of stuff weight, will rarely travel with a full water tank, and may only need one battery.  This is, after all, a small pop-up truck camper.
According to Toyota's website, the maximum payload of a 2012 Toyota Tacoma is 1,510 pounds (2012 Toyota Access Cab, 4×2, PreRunner, 2.7L 4-cylinder, 4-speed automatic).
According to Nissan's website, the maximum payload of a 2012 Nissan Frontier is 1,524 pounds (2012 Nissan Frontier SV, 4×2, V6, manual transmission).
With the weight of the truck tailgates removed, and the above mentioned lower stuff weight, it is more than possible to assemble a properly matched 2012 Four Wheel Camper Fleet SC to a 2012 Toyota Tacoma or a 2012 Nissan Frontier.  As always, run the exact numbers for your truck, camper, and stuff weights before assembling a rig.
Four Wheel Camper Fleet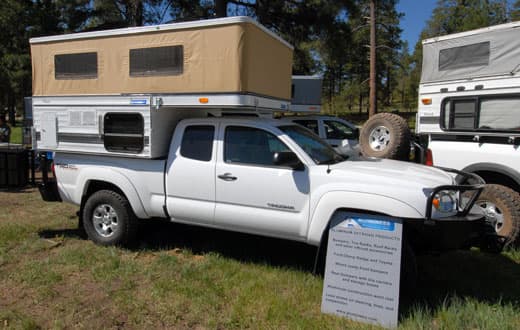 When we were given the chance to take a look at the new Four Wheel Camper with a built-in shower at the 2012 Overland Expo, we naturally jumped at the opportunity.  And not just because we have an extraordinary need for showers or anything.
Four Wheel Campers has a shower in its Keystone model, a model that's designed for use on full-size trucks, but the shower unit is portable and designed to be stowed away between uses.  The Fleet SC shower is permanently built-in, a first for Four Wheel Campers.  More on the built-in shower and it's creative implementation later.
One item that never changes is how well Four Wheel Campers are built.  From the welded aluminum frame, to the new one-piece roof, these products are built to withstand the rigors of long highway miles or serious off-pavement travel.  That feature makes them popular with adventurers, world travelers, wildlife photographers, and others who wander past the pavement.  Truck campers typically see more rugged use than your average towable or motorized RV, so durability is a key selling point.
A look at the exterior of the new Fleet SC reveals there's not much new going on outside to distinguish this camper from a standard, non self-contained Fleet.  On the right (passenger) side there's a window abutting the dinette, the refrigerator vent, and an LP-tank storage cubbyhole.
In the lower rear corner of the inside below-bedrail wall, there's a fitting to attach the shower's grey water hose drain.  As with the sink, the user supplies a separate outside bucket or container to catch and dispose of the grey water.  At the Overland Expo, the Four Wheel Camper crew set up a short garden hose emptying into a five-gallon bucket with a small hole in the lid as a sink-water receptacle.  A similar setup takes care of the shower drain waste water.
TCM reader Bill Harr has very clever modification for his Four Wheel Camper to capture the grey water in a truck bed mounted tube making his rig, if not his camper, more self-contained.
The camper's left (driver's) side is a bit more interesting.  The water heater access panel, gravity and city freshwater connections, and outside shower faucets with quick-release fitting for the hose and head, are prominently visible.  There's also a garden hose-style grey water drain connection because there's no grey water holding tank in this camper.  The furnace exhaust vent and 120-volt AC power cord socket are also strategically placed on the drivers side.
There's a new feature between the dinette window and water heater access door that's also present on the passenger side.  It's a strip-style security light with LED bulbs, part of the optional exterior light package ($250.00) that can be fired up via an inside switch.  The pair of security/work lights on the back wall have also been changed to LED-equipped units.
We had a chance to check out how both lights functioned after dark, and they work great, as well as drawing significantly less power than their incandescent predecessors.  LEDs have come a long way and are quickly becoming mainstream in today's RVs.
The back wall is standard Four Wheel Camper issue with one exception.  Just right from the door there's the access hatch for servicing the cassette toilet holding tank.
Just inside the camper door, lower left, are light switches so you don't need to climb into a dark camper.
At the Overland Expo, Four Wheel Camper's truck for the Fleet SC was fitted with an Aluminess rear bumper, Jerrycan, and storage unit assembly.  This is a smart move for a Fleet-equipped small truck due to the need for every available storage area.
The Fleet SC was on a stock-height Toyota Tacoma, so it wasn't a long climb up.  Four Wheel Campers offers removable step units that fit the hitch receiver that make even a short climb easier.  A variety of step numbers and heights are available to fit many truck sizes and configurations.  Considering the half-wall-height door opening, and the need for a tallish user to bend and scramble into the camper, the extra-secure steps are a good idea.
Step Inside a Fresh Four Wheel Camper Floorplan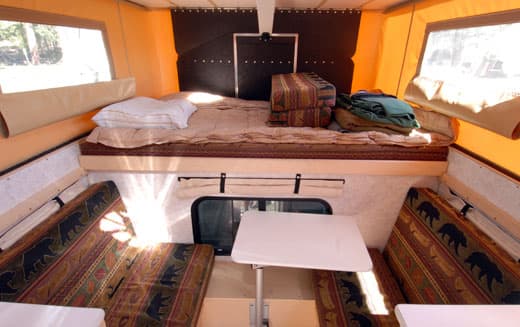 The SC has a new floorplan that's a bit of a departure for the company.  The dinette is located forward, abutting the front wall, with two opposing seats flanking an adjustable center table.  There's the standard cabover bed platform that slides back to expand the bed space into a queen-size north-south bed.  The galley is split in back with the sink and stove streetside and the refrigerator curbside.  The fridge cabinet is shared by the cassette toilet cubbyhole.
Four Wheel Campers chose to use a heavy-duty adjustable table mount that includes a swing arm and pivoting table mount up top.  The table's position can be adjusted relative to each of the end seats as well as rotating the tabletop to the most convenient angle.  When the area is needed for use of the shower, or breaking the seats down into a bed, the table assembly can be easily removed.
On either side of the dinette footwell/shower pan there's a speaker with a heavy protective grille cover.  Given my tendency to sling my oversize feet around, that mesh grille is a really smart idea.
When storage space is limited in a camper, we haul our clothes and whatnot in small duffle bags.  With the Fleet roof collapsed for travel, the dinette seat and floor area would be an ideal location for such bulk cargo storage.
Our Take on the Shower
The shower is located directly between the dinette seats, dead center in the middle of the truck camper.  Needless to say, this an extremely unusual location for a camper shower.  It's also extremely clever as this implementation is what makes having a real shower in the relatively small Fleet SC possible.
The details of the shower form and function are equally clever.  A plastic drain pan is mounted in a slightly raised platform and topped by a slatted wooden standing surface.  The wood slats support the user while allowing the shower water to drain via the plastic collector pan beneath.
To set-up the shower, first the wood slat surface is removed from the drain pan and a plastic shower curtain enclosure is hung from hooks strategically placed in the ceiling.  The hooks are spaced so the top of the curtain room is wider to accommodate human shoulders, which is a nice touch.  For the second step to set-up the shower the bottom of the curtain is draped into the plastic pan to control water runoff, and the wood slat unit is replaced in the pan to hold down the curtain lower edge.
The handheld shower head hose connects to a quick-release fitting with hot and cold faucets located in the front cabinet wall in the kitchen area.  The Fleet SC is fitted with a twenty-gallon freshwater tank plus six gallons in the hot water heater, so shower users should be mindful of water conservation.  The optional water heater package ($595) includes the outside shower and is further upgraded with the optional DSI water heater feature ($155).
What we just described is the form and function of the Fleet SC shower, but how about practicality and the experience of using the Fleet SC shower.  The shower is, after all, one of two key features of this exciting new product.
Before assembling the shower in the Fleet SC, the user needs to clear the dinette area and move any items that cannot get wet from the middle of the camper, including electronics and paperwork, to a safe distance or contained storage area.  While the shower curtain should protect the camper interior from getting wet during use, exiting the shower and taking the shower curtain down are sure to get a little water here and there.
The only real concern is that the set-up, use, clean-up/drying, and take down process of the shower may render the shower an unused feature after a few experiences.  Then again, having an inside shower available in the kinds of "go anywhere/camp anywhere" environments a Four Wheel Camper is designed to reach is nothing short of incredible.
In reality, the shower setup and breakdown process sounds more difficult when described, than it is to perform.  While this is not a feature that's important to me, as we generally use the campground shower when available, or other options when in a non-shower-equipped rig.  I can see it being valuable to some people.  And in many cases, it's a darn sight better than nothing.
If the shower feature is important to you, our best advice is to visit Four Wheel Campers in Woodland, California, or at one of the RV shows or Sportsman's Shows they attend, and pretend to take a shower in the unit.  If you're particularly bold and have a towel and bail money ready, you could even take a real shower.  Either way, we recommend trying this remarkable feature out first.  Of course always call ahead to make sure a Four Wheel Camper SC will be on display.
Big Storage for a Little Camper
There's a storage compartment located under the streetside dinette seat.  Like many truck camper storage spaces, it's tucked in between other bulkhead and wall elements, but it's still useful for smaller items.
Likewise, the streetside dinette seat lifts to reveal another compartment.  Both areas have neatly routed and secured wiring or plumbing lines nearby, but they're out of the way and unlikely to be damaged by shifting cargo.
These compartments illustrate an interesting point about Four Wheel Camper products; the inside of the storage spaces is as well-finished as what's normally visible.  For us, that means a lot.
Adjacent to the dinette in the streetside galley cabinet there's a central access door next to a variety of system controls, monitors, and the stereo.  Pop the door, which effectively abuts the back of the water heater, and you're faced with the water pump and associated plumbing.  I've spent time on my knees in front of a cabinet, my elbow and wrist bending in creative ways, trying to repair water pump plumbing trouble that's barely in reach, let alone visible.  As such, I genuinely appreciate the easy access to this vital piece of RV hardware.  Good move, guys.
The half of the kitchen cabinetry located streetside houses the two-burner stove and single-bowl stainless steel sink.  Both are glass topped and fold mostly flush with the countertop, which opens more space for other non-cooking functions.
A silverware drawer and storage cabinet are located just below the countertop appliances.  Both are really useful in design.  At floor level, the cabinet houses the battery compartment and some related hardware.
This floor plan is a split kitchen with the optional Waeco 65-liter refrigerator ($990) curbside, adjacent to the dinette seat.  Below the fridge there's another low-profile storage space.  This floor plan does a nice job of clustering important features for the cook and somewhat separates someone seated at the dinette from the cook's activities.
Cassette Toilet Camper Convenience
Just right of the entry door, aft of the refrigerator cabinet, is the "closet space" that houses the Thetford cassette toilet and a couple of storage compartments.  The toilet abuts the back wall and the service door for emptying the holding tank, which is next to the main entry door.
When not in use, a fabric curtain hangs in front of the cassette toilet so it's not an eyesore.  The curtain folds up and the top of the cabinet folds up and back adding extra headroom for the head.  When stored, the toilet bowl faces fore and aft, but in use it rotates 90 degrees left so the bowl is oriented towards the aisle space.  This feature makes the toilet functional for us humans with more-or-less normal-size body parts like legs that have to be placed somewhere when using facilities.
Thetford's cassette toilet system is a dandy compromise between a Porta-Potti and the complexity of a built-in freshwater flush RV toilet setup.  The cassette/holding tank is easy to remove and install, but can be a little heavy and unwieldy when full.  The most the cassette in the Fleet SC can weigh is about thirty-three pounds (four gallons black).
You could always ask Four Wheel Campers to fill a cassette toilet tank with water so you can try loading and unloading the tank when full.  You could also take that full tank to a rest room and practice emptying the tank.  We've dumped plenty of full cassettes during "live fire" exercises and it's no big deal, but your opinion and experience may vary.  For comparison, go through the same drill of disassembling and emptying a standard porta-potti and I think you'll find the cassette model, which doesn't require you to first wrestle with the freshwater reservoir, is a preferred option.  Remember, cassette toilet systems use the same types of chemicals as RV flush toilets making the smell and aesthetics of dumping the tanks much less interesting (a very good thing).  Overall, the Thetford cassette toilet is a robustly-built system that's reliable for the long haul.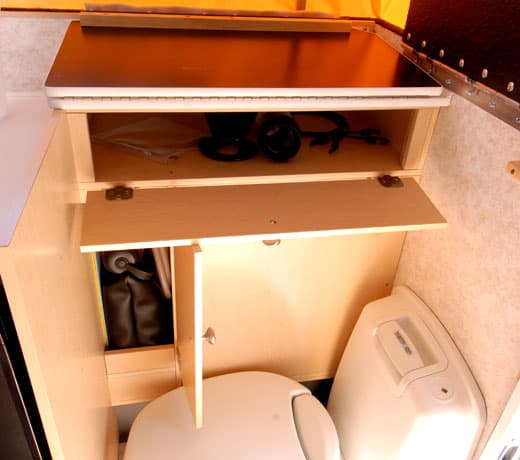 Four Wheel Camper Impressions
The addition of a shower and built-in toilet brings a new level of civility to the Four Wheel Fleet SC camper.  Those are both features we can technically live without during our camping ventures, but they're sure nice to have on hand, and make life easier all around.  Combined with the usual cool features of a Four Wheel Camper, the Fleet SC becomes a pretty attractive package.
Quality, Customer Service, and Long-Term Reliability
Truck Camper Magazine inspects all reviewed truck campers for design, material, and quality issues and reports what we find. However, since Truck Camper Magazine reviews only brand new truck campers, our reviews do not address long-term quality, customer service, or reliability.
To learn about a brand's long-term quality, customer service, and reliability, Truck Camper Magazine recommends talking directly with truck camper owners at truck camper rallies and online via truck camper forums and truck camper owners groups.
Please be sure to balance your gathered feedback across multiple sources including direct correspondence with the truck camper manufacturers and your closest truck camper dealers.
If you are new to truck campers, start in the Newbie Corner.
For more information on Four Wheel Campers, visit www.fourwheelcampers.com.  Click here to request a free Four Wheel brochure.