Jeff Johnston reviews a Four Wheel Camper Fleet SC, a self-contained pop-up truck camper for short bed trucks including the Toyota Tacoma and Nissan Frontier.

Every Four Wheel Camper model we have used has had some new design innovations as part of its package.  Company Owner, Tom Hanagan, and crew don't rest on their laurels.  They're constantly tweaking and adjusting the products to better suit customers' needs.  Some ideas spring from the fertile minds at the factory, others are from customers in the field.
The new 2012 Four Wheel Camper Fleet SC, or Self Contained, not only has a shower and built-in cassette toilet (a combined $3,200 option package), but it manages to fit these items into a camper designed for small short bed trucks including the Toyota Tacoma and Nissan Frontier.  That's a heck of a shoehorning job considering all the features in this model, which has a $12,395 base MSRP and was stickered at $21,865, including options.  For more information on the Four Wheel Self Contained Camper, visit the Four Wheel Camper Buyers Guide.
Four Wheel Camper for a Tacoma
Before evaluating the Fleet SC, we ran the numbers to make sure the camper was indeed a good match for the Toyota Tacoma and Nissan Frontier, two trucks that are normally far off the radar screen for truck camper rigs.
Four Wheel Campers reports the base dry weight of the Four Wheel Camper Fleet SC at 795 pounds.  To calculate the wet weight, we added 20 gallons of fresh water (166.8 pounds), two batteries (130 pounds), and two ten pound propane tanks (20 pounds) for a total of 1,111.8 pounds.
Truck Camper Magazine's standard stuff weight, including people weight, camper options, clothing, food, and personal belongings is an additional 500 pounds.  That brings the wet weight of the Four Wheel Camper SC to 1,611.8 pounds.  In reality, that's probably quite high as most Four Wheel Camper Fleet SC owners will not have 500 pounds of stuff weight, will rarely travel with a full water tank, and may only need one battery.  This is, after all, a small pop-up truck camper.
According to Toyota's website, the maximum payload of a 2012 Toyota Tacoma is 1,510 pounds (2012 Toyota Access Cab, 4×2, PreRunner, 2.7L 4-cylinder, 4-speed automatic).
According to Nissan's website, the maximum payload of a 2012 Nissan Frontier is 1,524 pounds (2012 Nissan Frontier SV, 4×2, V6, manual transmission).
With the weight of the truck tailgates removed, and the above mentioned lower stuff weight, it is more than possible to assemble a properly matched 2012 Four Wheel Camper Fleet SC to a 2012 Toyota Tacoma or a 2012 Nissan Frontier.  As always, run the exact numbers for your truck, camper, and stuff weights before assembling a rig.
Four Wheel Camper Fleet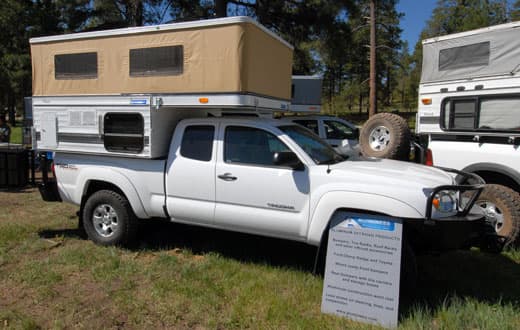 When we were given the chance to take a look at the new Four Wheel Camper with a built-in shower at the 2012 Overland Expo, we naturally jumped at the opportunity.  And not just because we have an extraordinary need for showers or anything.
Four Wheel Campers has a shower in its Keystone model, a model that's designed for use on full-size trucks, but the shower unit is portable and designed to be stowed away between uses.  The Fleet SC shower is permanently built-in, a first for Four Wheel Campers.  More on the built-in shower and it's creative implementation later.
One item that never changes is how well Four Wheel Campers are built.  From the welded aluminum frame, to the new one-piece roof, these products are built to withstand the rigors of long highway miles or serious off-pavement travel.  That feature makes them popular with adventurers, world travelers, wildlife photographers, and others who wander past the pavement.  Truck campers typically see more rugged use than your average towable or motorized RV, so durability is a key selling point.
A look at the exterior of the new Fleet SC reveals there's not much new going on outside to distinguish this camper from a standard, non self-contained Fleet.  On the right (passenger) side there's a window abutting the dinette, the refrigerator vent, and an LP-tank storage cubbyhole.
In the lower rear corner of the inside below-bedrail wall, there's a fitting to attach the shower's grey water hose drain.  As with the sink, the user supplies a separate outside bucket or container to catch and dispose of the grey water.  At the Overland Expo, the Four Wheel Camper crew set up a short garden hose emptying into a five-gallon bucket with a small hole in the lid as a sink-water receptacle.  A similar setup takes care of the shower drain waste water.
TCM reader Bill Harr has very clever modification for his Four Wheel Camper to capture the grey water in a truck bed mounted tube making his rig, if not his camper, more self-contained.
The camper's left (driver's) side is a bit more interesting.  The water heater access panel, gravity and city freshwater connections, and outside shower faucets with quick-release fitting for the hose and head, are prominently visible.  There's also a garden hose-style grey water drain connection because there's no grey water holding tank in this camper.  The furnace exhaust vent and 120-volt AC power cord socket are also strategically placed on the drivers side.
There's a new feature between the dinette window and water heater access door that's also present on the passenger side.  It's a strip-style security light with LED bulbs, part of the optional exterior light package ($250.00) that can be fired up via an inside switch.  The pair of security/work lights on the back wall have also been changed to LED-equipped units.
We had a chance to check out how both lights functioned after dark, and they work great, as well as drawing significantly less power than their incandescent predecessors.  LEDs have come a long way and are quickly becoming mainstream in today's RVs.