Ford continuously wins our bi-annual Dream Truck Survey, so I matched the Milner under review to a 2017 Ford F150 with the specifications our readers want; crew cab, and four-wheel drive.  According to the Ford website, a 2017 Ford F150 XL short bed, 4×4, Super Crew, 3.5L EcoBoost V6 offers 2,650 pounds of payload capacity.  This payload capacity requires Ford's Heavy Duty Payload Package with 18-inch wheels.  Just be careful to not load this truck configuration with more than 634 pounds of additional options and packages.  It's amazing how that can happen.
The Verdict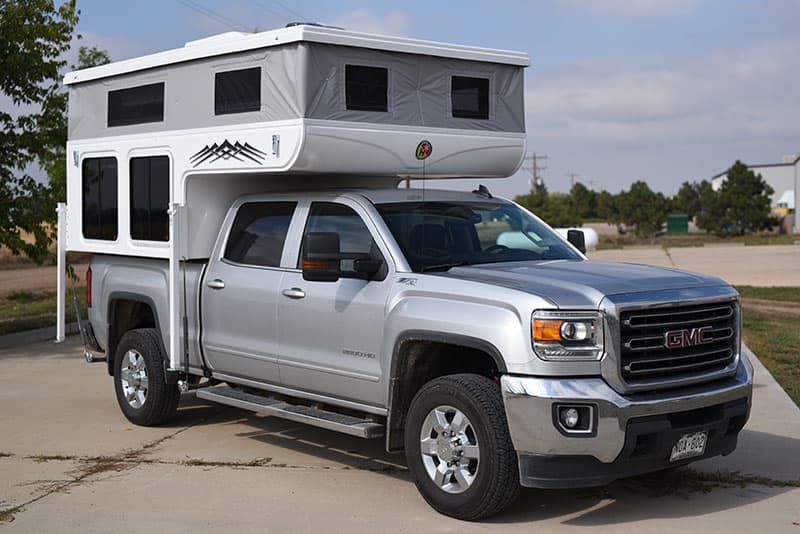 I presented a very direct question in the introduction to this review, "After nearly a half-century of evolution and refinement, is the Hallmark Milner still competitive?"  After a thorough evaluation, I believe this question sells the Milner short.  Not only is the Milner competitive, but it clearly represents a state-of-the-art in traditional pop-up truck camper design.
Keeping things in perspective, the Hallmark Milner is not the lightest in its class, nor is it the most affordable.  That stated, the Milner offers a level of build material (the incredible molded fiberglass exterior walls and phenomenal one-piece molded fiberglass roof), cutting-edge appliances, and overall comfort that the lighter and/or more affordable competition can't match.  You definitely get what you pay for with the Hallmark Milner.
This is not to say that the Milner is perfect.  I was disappointed to not find a battery disconnect by the entry way door.  Yes, you can pull the fuse under the cabover step, but that seems unwieldy for a premium camper.  I also have an issue with the size of the dinette table that comes with the optional Lagun table system.  We would certainly want a bigger table.
We also nit-picked the possible fragility of the LED lighting under the optional upper cabinetry, the location of outlets, and the practicality of the removable rug.  Some of this is obviously my personal opinion, and other items are ripe for a Manufacturer's Response.  Either way, there is always room to improve a truck camper, even one that has evolved for 48-years.
If I had one piece of advice for anyone who orders a Hallmark Milner it's this; think long and hard before adding too many options.  The base Milner design represents decades of feedback from thousands of Hallmark customers.  Talk to the Hallmark team about exactly what you want to do and let them advise you on what options you truly need and – more importantly – which ones you can skip.  As a third-generation family-owned company that really uses their products, they are the experts on the campers they build and the lifestyle it represents.
For the traditional pop-up truck camper enthusiast, the Hallmark Milner is a must-see.  You will need to travel to Hallmark in Fort Lupton, Colorado to experience a current Milner in person, but that comes with the added benefit of meeting the Hallmark team and touring their factory.  Just make sure you're serious about a Hallmark before you go.  After seeing a Hallmark Milner in person, you'll probably be placing an order.
Pros
Half-ton compatible if carefully matched – see Truck Matching above
Extremely high build quality throughout the unit
Excellent quantity and quality of interior storage
Molded fiberglass exterior walls and one-piece fiberglass roof are class-leading
Standard compressor refrigerator and two 6-volt AGM batteries
48-years of design and material evolution are clearly evident
Cons
Battery disconnect would be better located by the entry door
Optional Lagun table system is highly versatile, but table top may be too small
LED lighting under upper cabinetry appears vulnerable to bumps
Odd storage cubby behind forward facing dinette needs definition
Outlet locations could be more convenient and offer additional USB
Removable snap-in carpet seems impractical (dirt) for daily use
Model Information
2017 Hallmark Milner
MSRP: $26,900
Warranty: 5-year structural warranty
Hallmark Manufacturing, Inc.
12524 Weld County Road 25.5
Fort Lupton, CO 80621
Phone: 1-877-659-5753
Request A Hallmark RV Brochure
Web: hallmarkrv.com
Quality, Customer Service, and Long-Term Reliability
Truck Camper Magazine inspects all reviewed truck campers for design, material, and quality issues and reports what we find.  However, since Truck Camper Magazine reviews only brand new truck campers, our reviews do not address long-term quality, customer service, or reliability.
To learn about a brand's long-term quality, customer service, and reliability, Truck Camper Magazine recommends talking directly with truck camper owners at truck camper rallies and online via truck camper forums and truck camper owners groups.
Please be sure to balance your gathered feedback across multiple sources including direct correspondence with the truck camper manufacturers and your closest truck camper dealers.
If you are new to truck campers, start in our Truck Camper Newbie Corner.