Truck Camper Magazine reviews a 2016 Rayzr FB, a hard side cabover-less short bed truck camper targeting half-ton trucks.  Can this concept compete in the increasingly crowded half-ton camper market?

In September of 2015, Travel Lite shocked the truck camper industry and community by launching Rayzr, a new truck camper brand, and debuting not one, not two, but three all-new cabover-less truck campers.
Without a doubt, the most shocking element of the Rayzr line was the cabover-less design and aesthetic.  Looking more like a semi-sleeper than anything in the truck camper marketplace, the Rayzr was a bold vision for the lightest weight, lowest price, most half-ton compatible hard-side truck camper Travel Lite could build.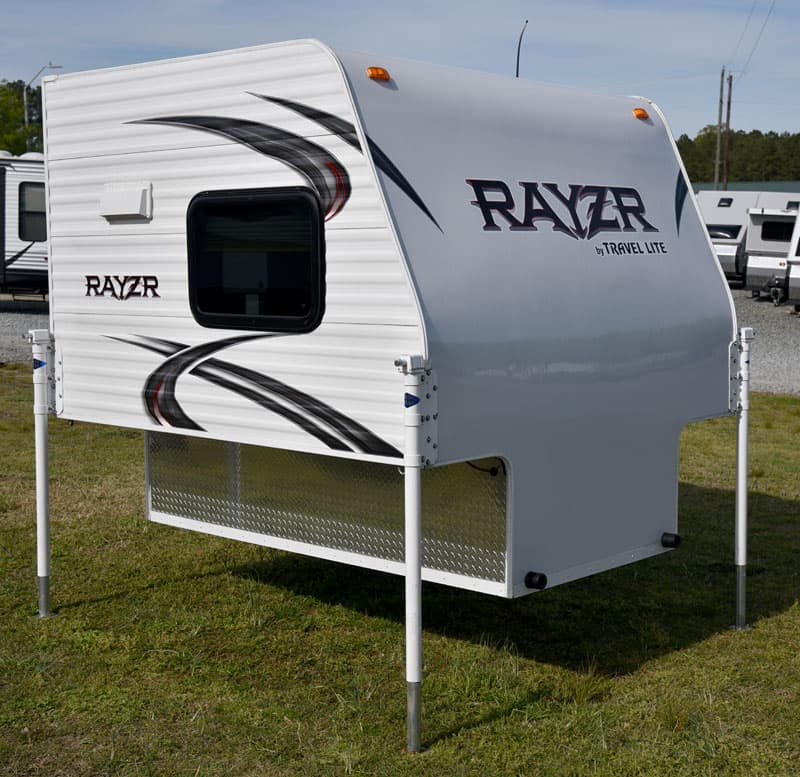 Above: The Rayzr FB does not feature a cabover bedroom area
As Dustin Johns, President of Travel Lite, explained, "With the Rayzr, we are targeting half ton short bed trucks.  Every model will match the payload capacity of a half-ton.  By the Rayzr being both short and long bed compatible, and extremely light weight, it will work with almost anything the customer already has."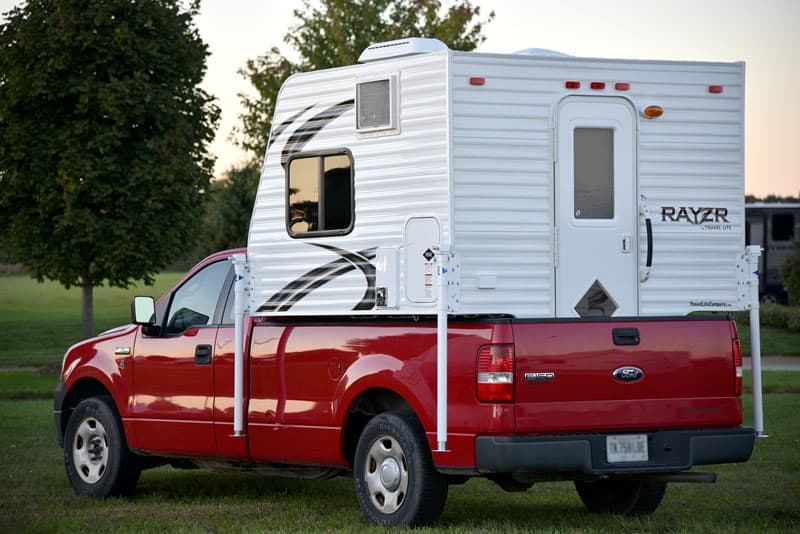 Above: The Rayzr FB on Travel Lite's Ford F150
To achieve the lightest weight, lowest cost, and broadest truck compatibility possible, Rayzr campers are non-basement designs, framed with kiln dried Banak wood, hung wall constructed, and feature netting instead of cabinet doors in many locations.  "We kept the Rayzr simple and didn't design in anything extra.  We didn't want to overcomplicate this product," stated Dustin.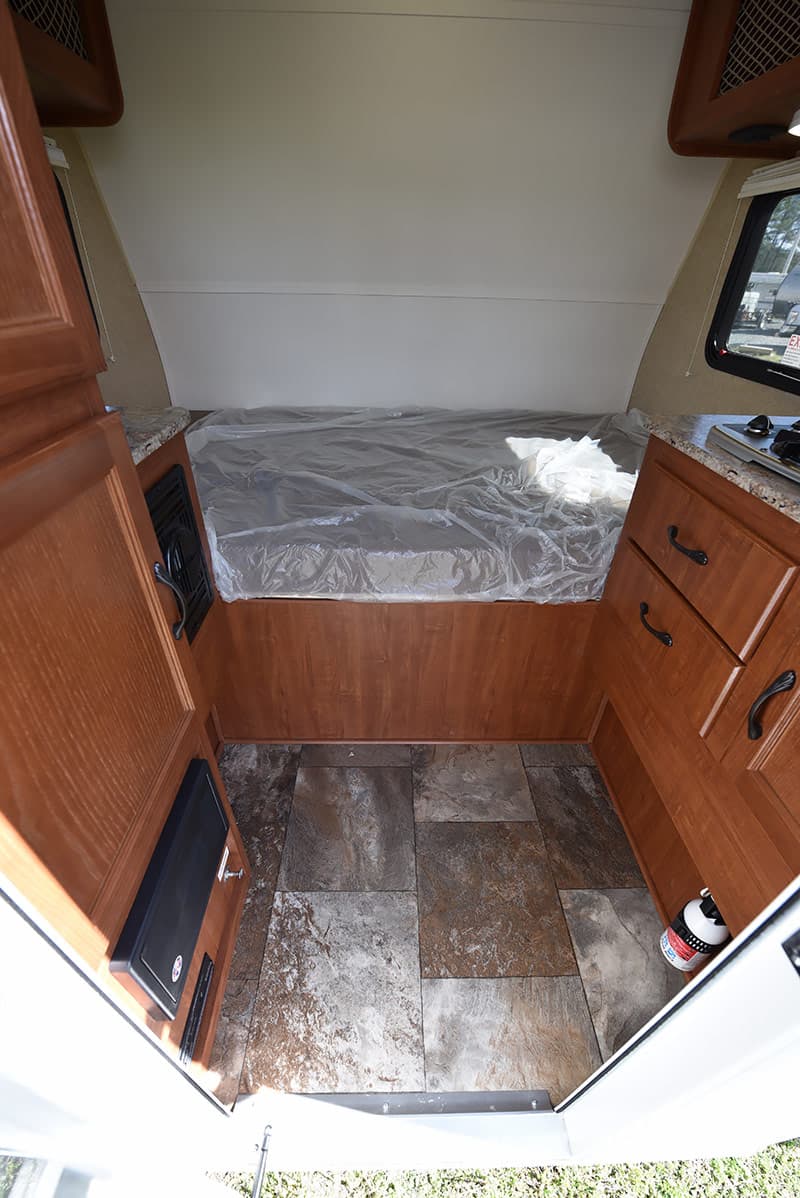 Above: Standing at the door and looking into the Rayzr FB
In his introduction for the Rayzr FB model, Dustin said, "The FB is our Front Bed model.  It has a sink, a nine gallon fresh water tank, propane stove, and a propane heater.  There's space under the bed area to store a cooler.  The FB would be perfect for a weekend trip."  He went on to suggest the FB was his favorite Rayzr.
Our question is this; Does the cabover-less Rayzr FB really make sense for truck camping?  All too often ideas look great on paper (or electrons) but don't translate into the real world.  It's time to dig deep into the Rayzr FB and find out if this concept can compete in the increasingly crowded half-ton camper market.
For this review we traveled to at D&H RV Center in Apex, North Carolina.
Floor Plan Evaluation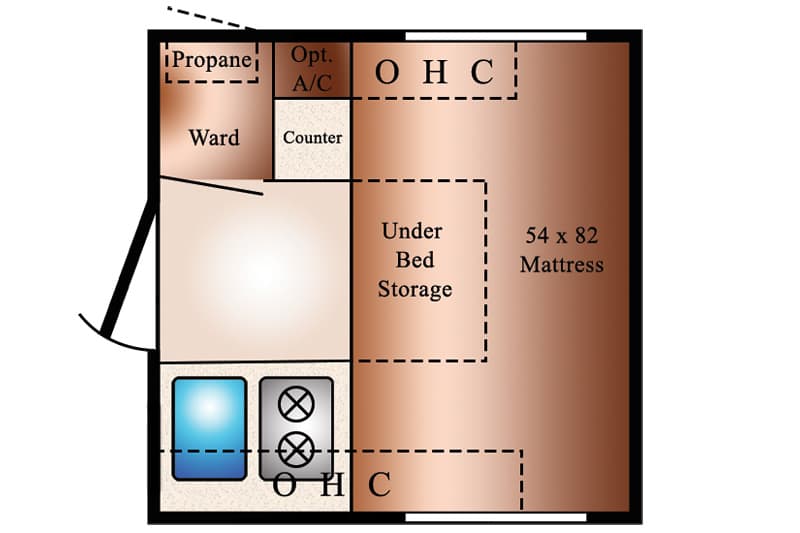 During my college years and the near decade that followed, I lived in an oddly coincidental series of 9-foot by 9-foot rooms.  It became almost comical as dorm rooms and then rented rooms were nearly the same dimensions.  I bet if I had been arrested during that time period (you know, for being so funny – looking) my prison cell would have been exactly 9-feet by 9-feet.  The only difference being that I'd been sharing my precious square footage with Bubba, who might find my humorous appearance a little too attractive.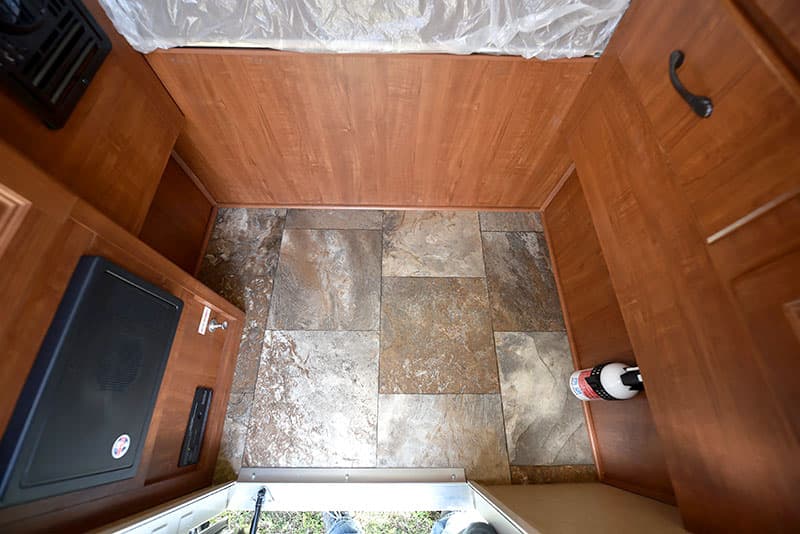 Above: The floor space in the Rayzr FB
Standing in the center of the Rayzr FB, I found myself reminiscing about my 9 by 9 days.  At just over 7-feet square, the FB is 2-feet shorter and narrower, but the relatively small dimensions were quite comfortable.
With a bed, kitchenette, propane heat, optional air conditioner, and plenty of storage opportunities, nearly everything one could need was literally within an arm's reach.  The only thing that's really missing is a bathroom.  To date, no Rayzr model has a bathroom.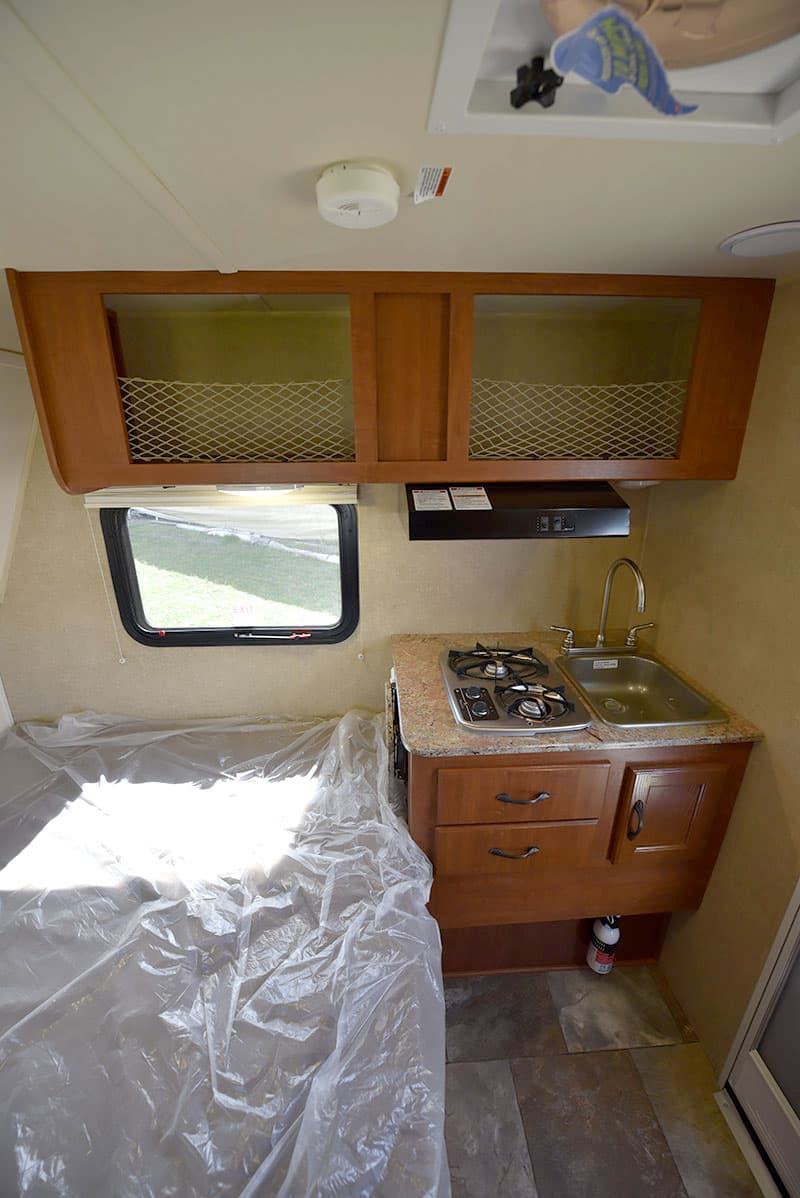 Above: The passenger's side of the Rayzr FB
Just inside the entry door on the passenger's side is the kitchenette featuring a generously-sized two burner cooktop and sink.  As you can see in the photographs, these features are about an inch apart and take up the majority of the available counter space.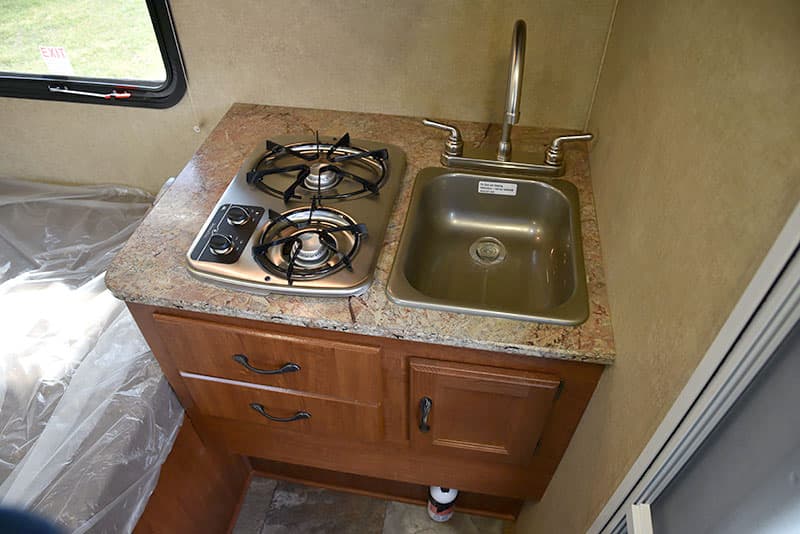 Above: The Rayzr FB's cooktop and sink
To address the need for more counter space, a small counter extension pulls-up on the left side of the kitchenette.  This certainly helps, but I envision Rayzr FB owners using the driver's side counter space for setting down any pots, pans, or dishes.  As a side note, the counter extension must be down before lifting the bed to prevent damage.
Given the understandable limitations of the available counter space, it might make sense for future Rayzr FB models to change to a sink and cooktop combination unit.  This may add cost to the unit, but would likely reduce a bit of weight while taking up significantly less counter space.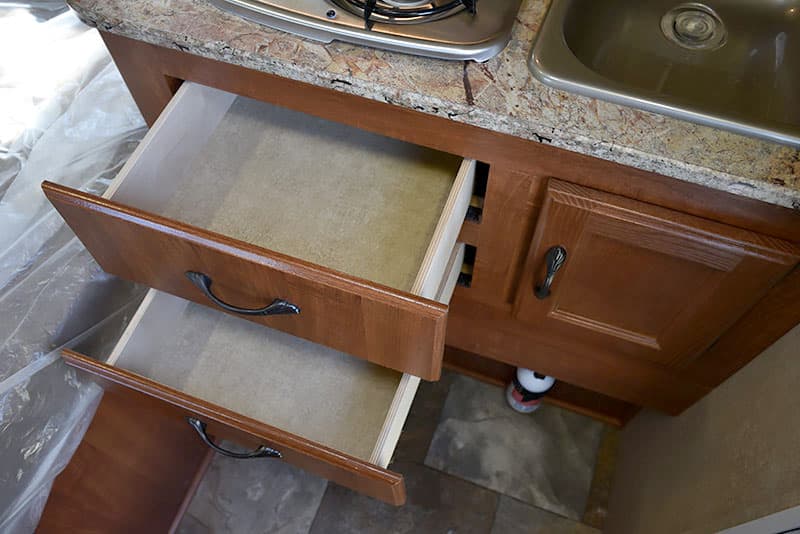 Under the countertop are two pull-out drawers and a cabinet with an actual door.  The location of these awesome storage options are shouting, "Silverware, utensils, cups, plates, and dishes go here!"  I love it when storage opportunities are the right type in the right place.  Too many much larger, much heavier, and much more expensive truck campers get this wrong.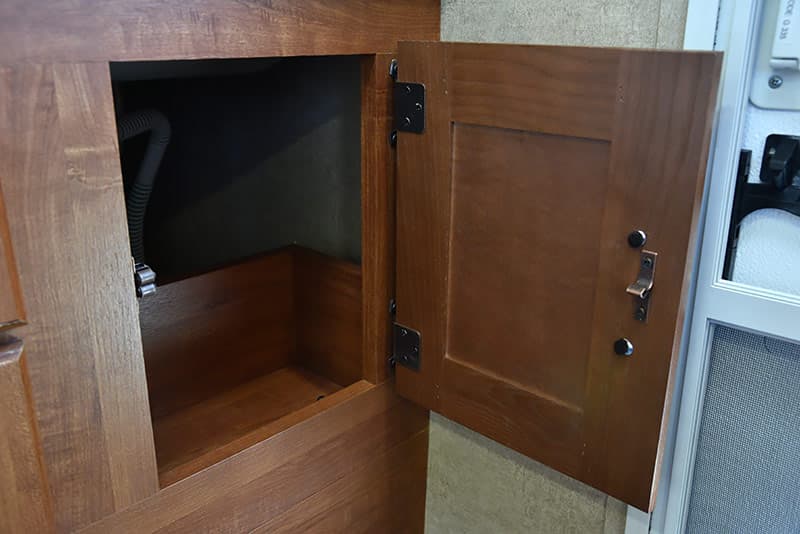 Opening the lower cabinet reveals a shallower storage area than I'd hoped to find, but this space is limited by the plumbing features located behind it.  It would be really cool if a trash can could be either sourced or built to fit in this location turning this compromised space into a more practical feature.  As it is, it's still useful and welcome storage.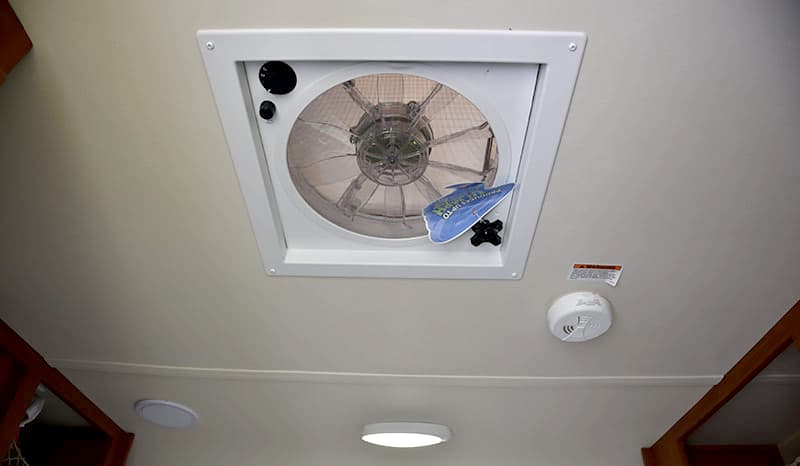 Above: Vented fan, fire alarm, speaker, and light on the ceiling
Above the cooktop is a range hood with a light and a vented fan.  The light in this range hood might be all you need at night for a little ambiance and the vented fan will be helpful to take the heat and odors of cooking out of the unit.  The ceiling mounted fan immediately above the kitchen will help out even more.  With the smoke detector also mounted over the cook top, these dual fans may come in handy, especially if you always cook on high – like I do.
One thing that's missing from the Rayzr FB kitchen is a refrigerator.  If a refrigerator is a priority for you, you could get a portable 12-volt compressor refrigerator (like the models from Dometic, ARB, Engel, Whynter, and National Luna) and put it in the back seat area of your truck, or possibly under the pull-up Rayzr FB bed.
We have several friends who have portable 12-volt compressor refrigerators in their truck camper rigs and swear by them.  The only catch is that portable 12-volt compressor refrigerators can be quite expensive.  If that's a problem, get a cooler and put it in your truck or under the bed.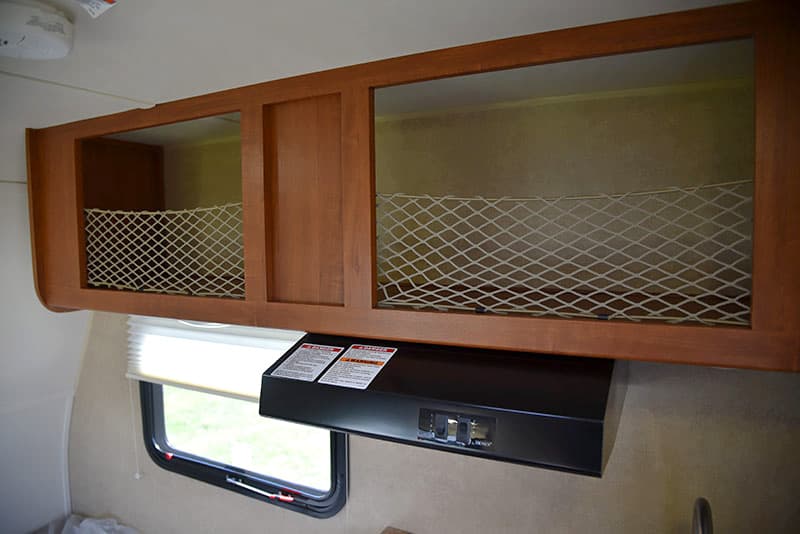 Above: Upper cabinet storage nets on the passenger's side
Spanning the floor length of the Rayzr FB on the passenger's side is a large upper cabinet with netting to save weight.  Just as the two lower kitchen drawers and single cabinet seemed perfect for kitchen items, these cabinets appear to be perfect for clothing and/or dry food items.  So far I'm really impressed with the storage opportunities in the Rayzr FB.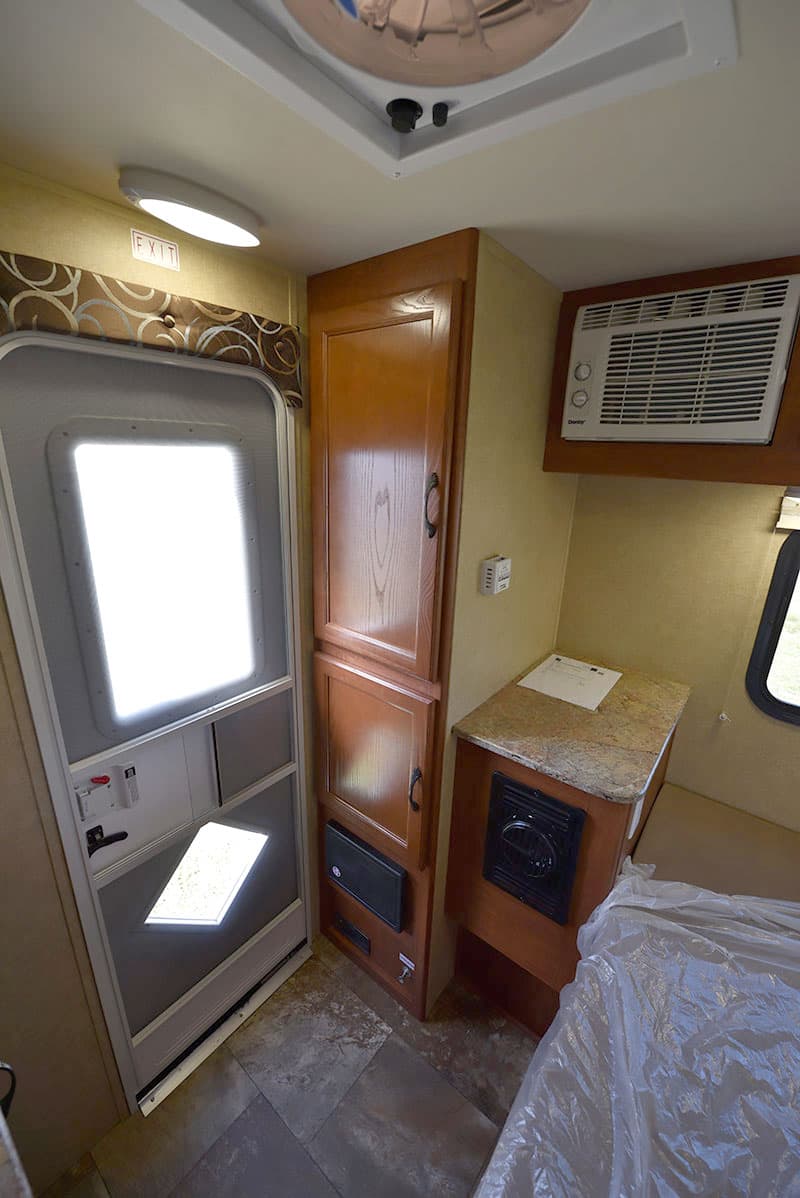 Above: The driver's side rear storage area
Turning 180 degrees to the driver's side, there's an honest to goodness hanging clothes closet directly across from the kitchen area, and another smaller cabinet with a hardwood door.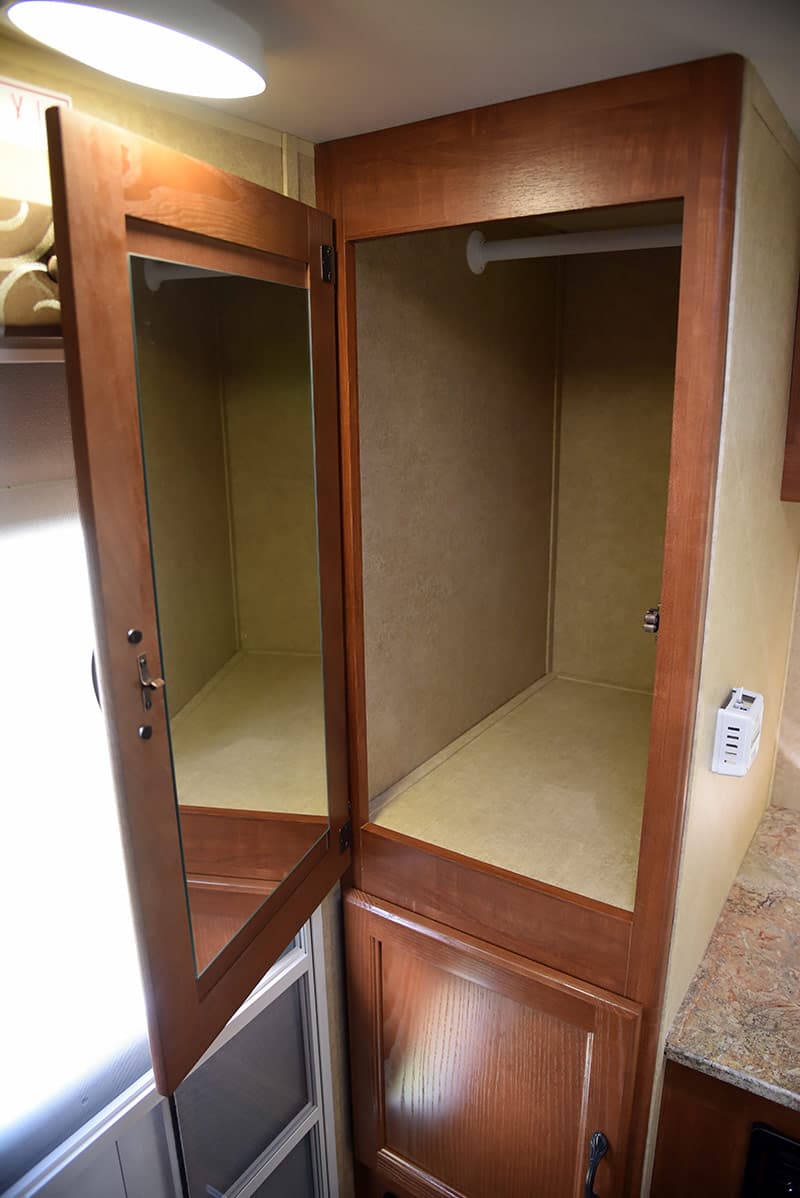 Opening the hardwood door of the hanging clothes closet reveals an actual clothing rod with enough height to hang shirts and jackets, and a generously-sized mirror on the inside cabinet door.  Again; right features, right place, obvious function.  Love it!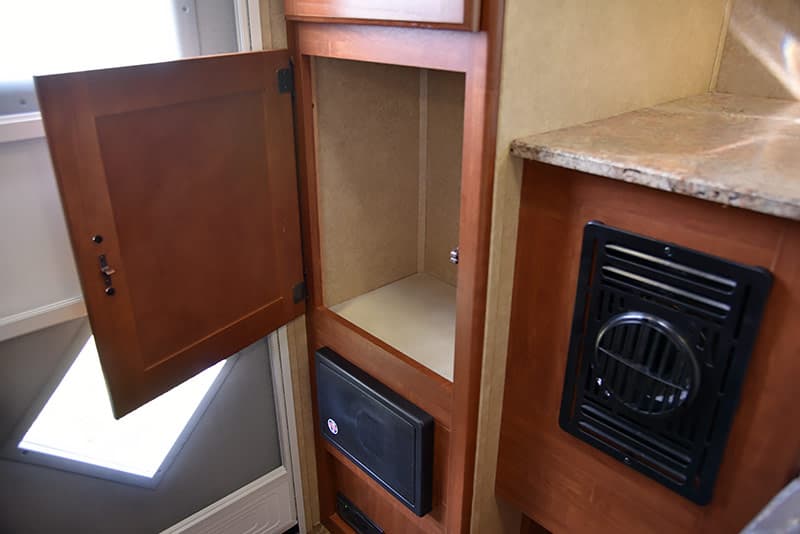 Under the smaller cabinet is the fuse panel, a combination carbon monoxide (CO) and propane gas (LP) detector, and battery disconnect switch.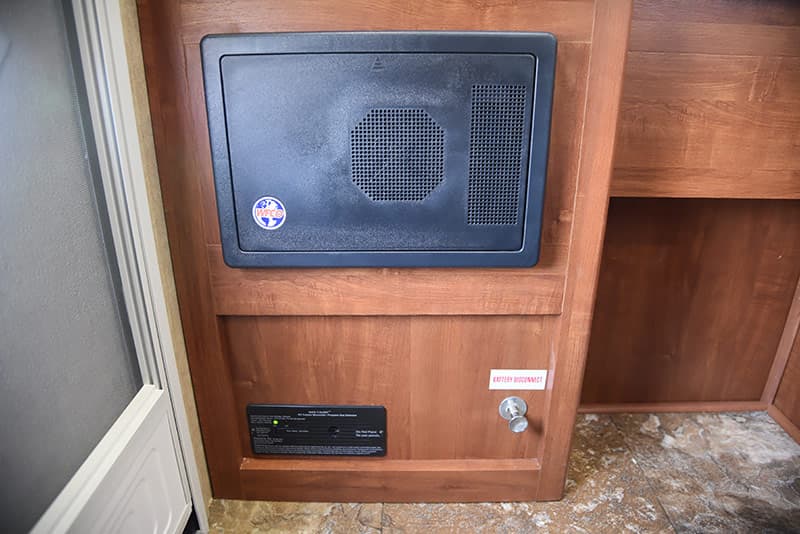 Above: Rayzr FB fusebox, carbon monoxide (CO) and propane gas (LP) detector, and battery disconnect switch
The location of all of these items seems right, especially having the battery disconnect just inside the entry door.  We wish every truck camper (including ours) had the battery disconnect just inside the entry door.
Above: Notice the heater and the air conditioner in the Rayzr FB
Moving forward, the middle and lower driver's side interior features the thermostat, another small countertop space, and the propane heater.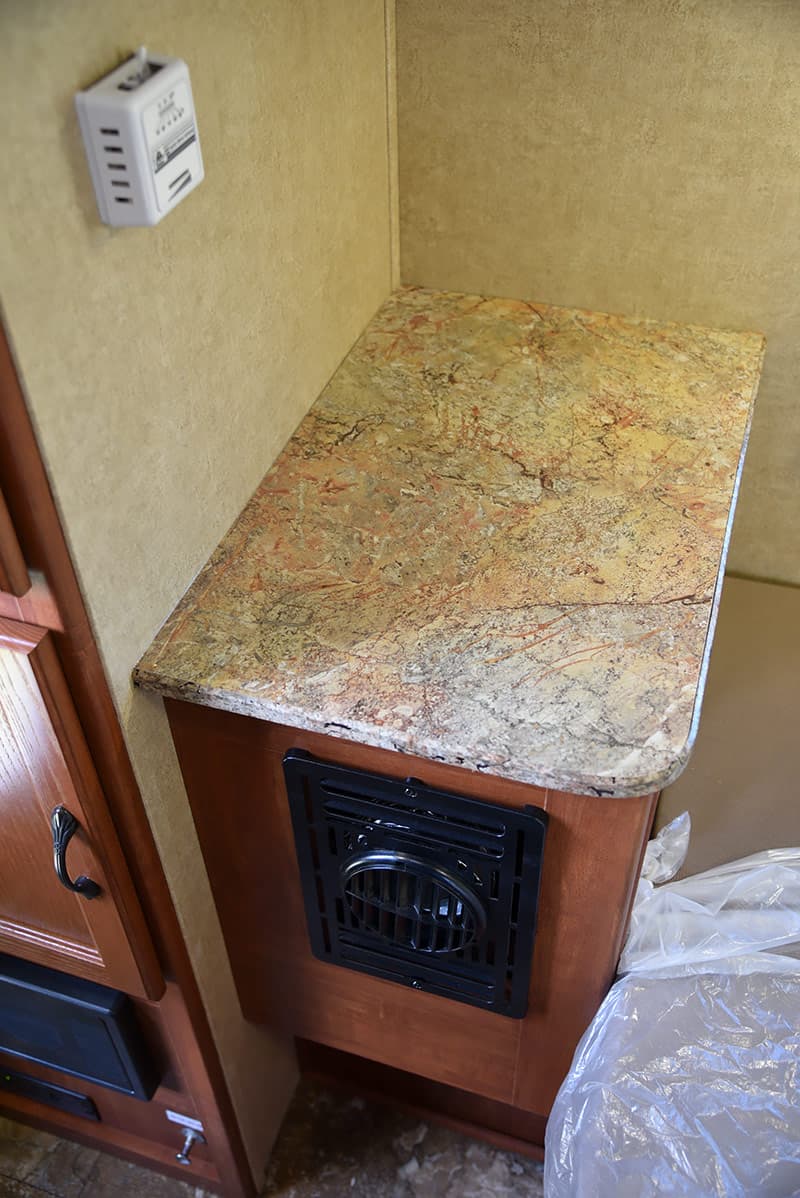 Above: Heater vent, thermostat, and countertop next to the bed in the Rayzr FB
The non-ducted heater will provide plenty of heat for a unit this small.  In fact, you could easily roast yourself, if that's your thing.  Bake and boondock.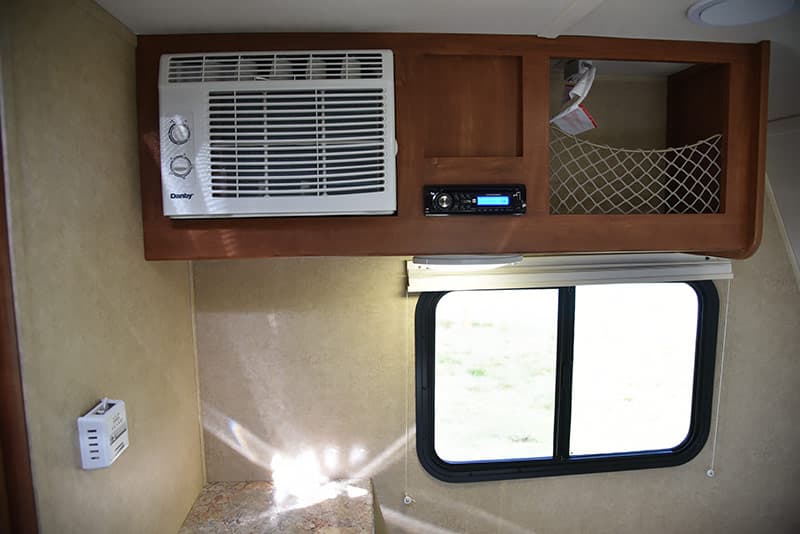 Above the aforementioned counter surface is an upper cabinet where the optional wall-mounted Danby air conditioner and dual AM/FM/CD stereo system are installed.  If you pass on these options, you will have two netted upper cabinets for more storage.  As folks who (a) travel with a cat, and (b), love music, we would definitely opt for these two features.  Besides, you're about to see that the additional storage area taken by the air conditioner is hardly needed.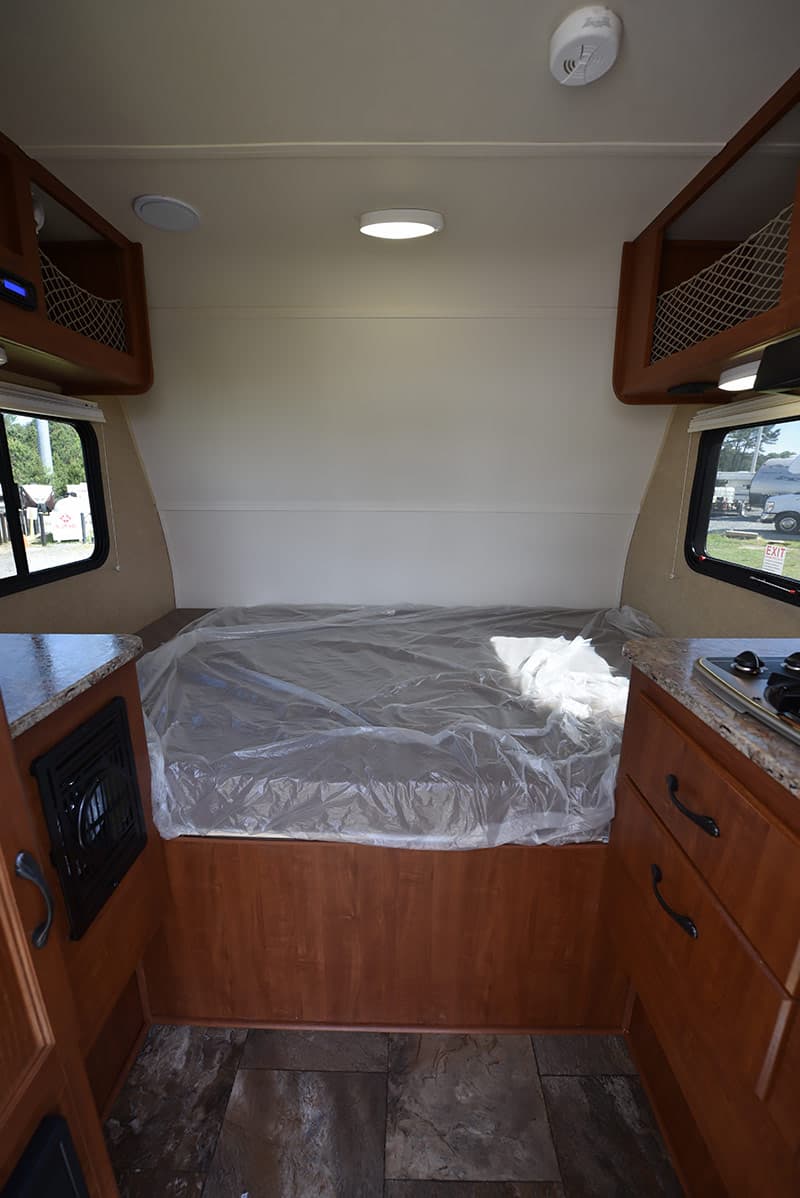 Above: The east-west bed in the Rayzr FB
Talking up about half of the available floor space in the Rayzr FB is an east-west bed.  If you're a tent camper looking to get off the ground and sleep in a comfortable, dry, and warm bed, this is what you've been waiting for.  Flanked by two windows for light and ventilation, this bed, along with the propane heater, storage, and basic kitchen, will be a match made in heaven.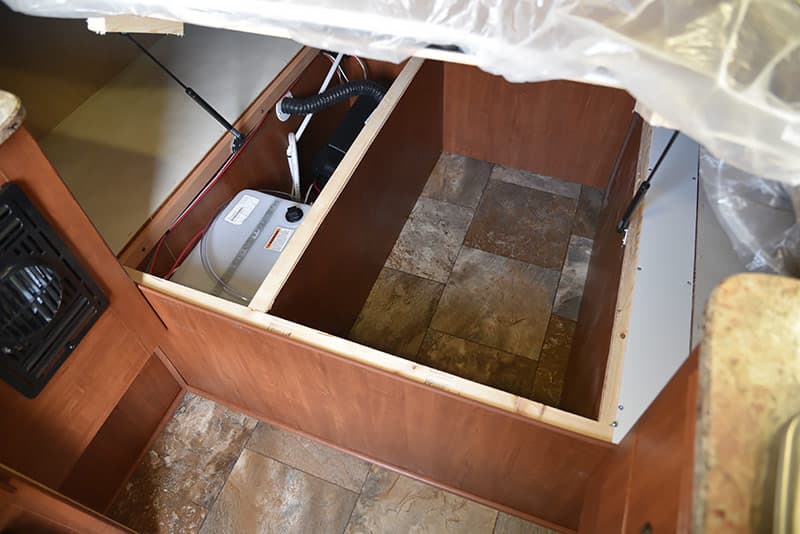 Above: The bed lifts up, and reveals a lot of storage room
What's even more uplifting is how the bed literally lifts up to reveal a nine gallon fresh water tank, a ventilated single battery box, and enough storage space for the compressor refrigerator, or a cooler, or about a month's worth of food, clothing, and supplies.  Just look at this space and ask yourself, "How many truck campers have a storage space this big anywhere in their designs?"  Very, very impressive!
When it comes down to it, with a 12-volt compressor refrigerator under the bed, the only major missing item would be a bathroom with a toilet and shower.  A porta-potti addresses half of this missing element, and might be all that some campers need to complete a very cost and weight efficient package.
Specifications
| | |
| --- | --- |
| Specifications | |
| Dry Weight | 1,070 pounds |
| Wet Weight* | 1,730 pounds |
| Floor Length | 7'3″ |
| Overall Length | 7'5″ |
| Width | 7'2″ |
| Interior Height | 6'2″ |
| Exterior Height | 6'6.5″ |
| Center of Gravity | N/A |
| Truck Type | Long or Short Bed |
Travel Lite reported the initial dry weight of the Rayzr FB at 1,070 pounds.  This weight was the lowest possible dry weight of a Rayzr FB, without options, at the time of the Rayzr launch.

The weight on the exterior weight sticker on the Rayzr FB under review stated a dry weight of 1,125 pounds, a difference of 55 pounds from the reported weight.  We are tempted to state that this difference reflects option weight, but the 55 pound difference isn't enough for the options included on this unit.  It's more likely that the extra 55 pounds reflects changes to the Rayzr FB that occurred since the final prototype was weighed.  This is fairly common with a new model debut.
The exterior weight sticker also shows that Travel Lite is not including the weight of fresh water in the fresh water holding tanks, or the propane in the propane tank.  Not reflecting the fluid weights is highly unconventional for an exterior weight sticker, but at least Travel Lite is transparent in disclosing this decision.
Although we have never personally seen scales at the Travel Lite manufacturing facility, the stated 1,125 pounds of the Rayzr FB under review seems within the ballpark given the size and manufacturing specifications of the unit.  Never the less, we caution readers against believing exterior weight stickers.  All too often the industry under reports the true dry weight of a unit.
Above: The Rayzr FB has a 7'3″ floor length
The 7'3" floor length of the Rayzr FB is 1'3" feet longer than the Rayzr SS or Rayzr FK models making it the longest cabover-less Rayzr floor plan.  The resulting 7'5" exterior length is also well over 1'3" longer than the other models.
Above: The Rayzr FB is 7'2″ wide
At 7'2", the Rayzr FB is the same width as the other Rayzr models, and the same interior height at 6'2".  Standing at 6'3", I did not find the interior roof to be low, which reminds me that I need to work on my posture.
Capacities
| | |
| --- | --- |
| Capacities | |
| Fresh | 9 gallons |
| Grey | N/A |
| Black | N/A |
| Water Heater | N/A |
| Propane Tanks | 20 pound |
| Batteries | One Battery |
Nine gallons of fresh water seems ridiculously low, until you remember that the Rayzr FB doesn't have an inside shower, exterior shower, or a flush toilet.  The only thing hitting the fresh water supply is the kitchen sink.  From experience, nine gallons of fresh water could last for a week of dishes, hand washing, and teeth brushing – especially if you conserve.
Just remember to put a bucket or container out to catch the grey water as there's no grey water holding tank on the Rayzr FB.  With the light-weight and low-cost goal of the Rayzr series, both the cost of a grey holding tank and the weight of its contents would be a step backwards.  And that tank would likely take up some of the precious storage under the bed.  There are always trade-offs in truck camper design.
Travel Lite is not currently offering a water heater for the Rayzr FB, which isn't a big deal since there's no shower, but will make dish and hand washing cold water only.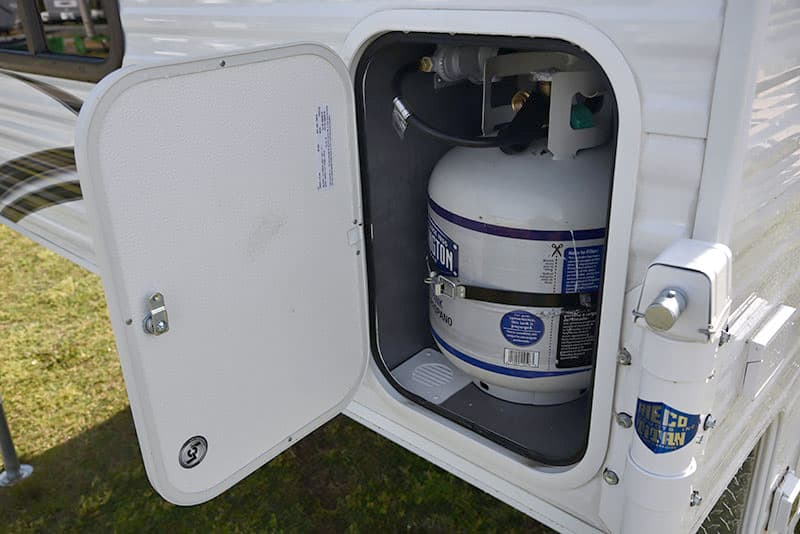 Above: The Rayzr RB has one 20-pound vertical propane tank
Like most half-ton targeting truck campers, the Rayzr FB has space for one 20-pound vertical propane tank, and one battery.  The capacities of the single propane tank and battery will not likely be an issue with a camper this size, but needs to considered if you intend on boonkdocking for an extended period, or camping off-grid in cold weather and running the power hungry propane heating system (darn furnace fan).
Of course 20-pound propane tanks can be found at every Walmart, grocery store, gas station, big box hardware store, and petting zoo from coast-to-coast.  If only dump stations were as easy to find as propane tank exchanges.
Batteries can also be added with sealed AGMs, or the Torklift Hidden Power system.  With how little power a camper like the Rayzr FB should require, a 100-watt solar panel might be a sensible alternative to an additional battery.
Wet Weight Calculation
Using the standard Truck Camper Magazine wet weight calculation, let's run the numbers on the Rayzr FB.  To be conservative, we are going to use the 1,125 pound dry weight from the review unit.
Base Dry Weight – special factory order only
Rayzr FB: dry weight, 1,125 pounds + 9 gallons fresh, 75.1 pounds + 20-pound full propane tanks, 20 pounds + 1 battery, 65 pounds + stuff, 500 pounds = 1,785.1 pounds
The above dry weight reflects the lowest possible weight of the Rayzr FB; no options.  Again, almost no dealer will stock a Rayzr FB (or any truck camper) as a base model without options.
Standard Build Options – most dealer orders
The reviewed camper featured a number of popular options including roof fan, air conditioner, AM/FM/CD player, and inside and outside speakers.  These options are likely to be ordered by most dealers for their Rayzr FB inventory.  The only available options not found on the review unit was fiberglass siding, and Rieco-Titan electric corner jacks.
We conservatively calculate that the added options on the review unit add approximately 75 pounds to the weight of the Rayzr FB.  That puts the well-optioned Rayzr FB at 1,200 pounds.  Let's run the wet weight numbers again, starting with this weight.
Rayzr FB: dry weight, 1,200 pounds + 9 gallons fresh, 75.1 pounds + 20-pound full propane tanks, 20 pounds + 1 battery, 65 pounds + stuff, 500 pounds = 1,860.1 pounds
Truck Recommendations
The above wet weight probably has Travel Lite's leadership team assembling in their top secret Travel Lite situation room and plotting my imminent demise.  Let's just say I won't be opening my front door for a "candy gram" any time soon.
Well, call off the landsharks Travel Lite.  To be fair, the standard 500 pounds of stuff weight (gear, food, clothing, etc.) used for all wet weight calculations is probably too high for the short bed, 7-foot by 7-foot, cabover-less Rayzr FB.  Unless you travel with an antique anvil collection, chances are you won't bring 500 pounds of stuff with you in a Rayzr.
To keep our feet planted in reality, while remaining conservative with our data, we are going to recalculate the wet weight of the Rayzr FB with 250 pounds of stuff weight.  We have done this for all of the short bed, half-ton, no-bath campers for 2016, so we're staying consistent.  This adjustment puts the base wet weight of the Rayzr FB at 1,535.1 pounds, and the standard build wet weight (review unit) at 1,610.1 pounds.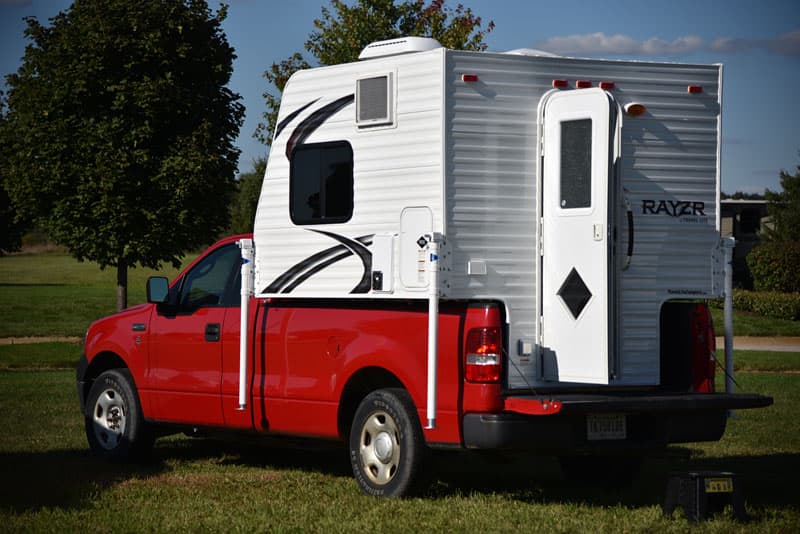 Above: Payload matching the Rayzr FB to a half-ton truck is possible
Even at the 1,685.1 standard build wet weight, it should be easy to match the Rayzr FB to a half-ton truck.  That said, many short bed half-ton trucks fall short of the required 1,685 pounds of payload.  You will need carefully check the payload numbers of any selected truck.  Locating (or special ordering) a suitable short bed half ton truck for the Rayzr FB is just a matter of making 1,685.1 pounds of payload (or more) a priority.
Having worked with hundreds of folks over the years, our highest recommendation is to buy a truck with the most payload possible to give you the most options in the future.  For example, you may decide you want a bigger truck camper in three years, or that you want to tow a boat.  Time and time again we have learned to recommend that readers buy more truck than they need, and to plan for what they might want to do in the future.
Rayzr FB or Travel Lite 625?
We have been reviewing a lot of small half-ton truck campers this year.  Why?  Because the industry has been producing a lot of new half-ton truck camper models.  Like we stated in the introduction, the half-ton camper market is getting more and more competitive.  This is good news for the half-ton camper consumer as competition should drive forward innovation, drive up quality, and drive down cost.
Perhaps the biggest competition to the Rayzr FB comes from its parent brand, Travel Lite.  Specifically, the Travel Lite 625 offers every thing you get in a Rayzr FB, and adds an east-west cabover.  As Dustin explained, "The Rayzr concept was out of the blue and completely new, but we did start with the successful floor plan from our 625.  All we did was take out the front bed and change the cabinets slightly.  Once we had that one done, we designed the (Rayzr) SS and FB."
Talking to dealers who sell both Travel Lite and Rayzr, customers are often torn between the Travel Lite 625 and the Rayzr FB.  The Travel Lite 625 is about 150-200 pounds more than the Rayzr FB, depending on options.  The major difference is the cost with the Travel Lite 625 MSRP ($10,495) being $3,500 more than the Rayzr FB ($6,995).  Oddly enough, one dealer reported that the higher cost of the 625 sometimes helps a sale as it's easier to get financed than the sub-$10K Rayzr.
If you're between these two models (or any two truck campers for that matter) our advice is to look at both models in person and to calculate a proper payload match with your truck.  Chances are the decision will be made by the numbers, and your in-person experience with the units.
The Verdict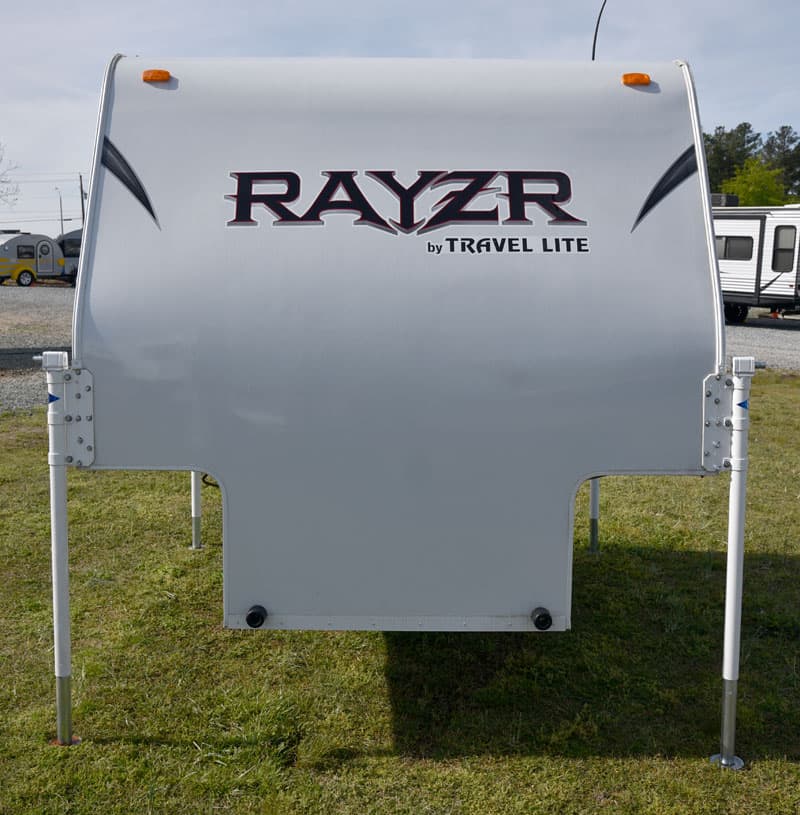 The Rayzr FB must be considered within the goals the Travel Lite team set out with when designing the new camper line; lowest possible weight, lowest possible cost, and maximum truck compatibility.  With those three criteria in mind, the Rayzr is an unequivocal success.  If you're in the market for a low-cost hard side truck camper for a short bed half ton, the Rayzr should be on your list.
There are a number of inherent compromises to the Rayzr series.  Obviously, you don't get a cabover bed and the comfort and storage that offers.  You also forgo a bathroom with a private toilet area and shower (although a porta potti is an option).  And finally, the features that are available in a Rayzr are miniaturized compared to a full-size cabover truck camper model.  That's the "cost" of the Rayzr's low weight, low price, and cabover-free design.
For the right customer, with the right truck, the Rayzr FB is a no brainer.  For under $40,000, you could have a brand new Rayzr FB mounted on a brand new half-ton short bed (Ford, Chevy, GMC, or Ram).  That half-ton short bed instantly doubles as a daily driver and family vehicle.  That fact makes the Rayzr FB almost an impulse buy compared to heavier and more expensive truck campers, never mind that those campers require even more expensive trucks.
Tightening up our reviewer hat, the Rayzr FB needs refinement.  In our opinion, the kitchenette would greatly benefit from a combo sink and cooktop unit for more counter space.  The kitchen counter extension is an accident waiting to happen as it conflicts with the pull-up bed.  And the addition of a hot water heater, exterior shower, and a larger fresh tank would push the FB's appeal even further.
Finally, I'd like to see a more robust job on the exterior seals.  The exterior seals on the Rayzr looked okay, but a wood-frame unit like the Rayzr needs excellent seals for longevity.  Seals are something that can be improved by the customer after purchase, and should be on the minds of everyone who buys a new or used camper.  For more information on properly sealing a truck camper, check out, "How To Inspect and Repair Camper Seals".
Other than those nit pics, we're smitten with the Rayzr FB, especially in the context of its low cost, low weight, maximum truck compatibility focus.  Context, in this case, is everything.
Does the cabover-less Rayzr FB really make sense for truck camping?  If you're a tent camper looking to get off the ground and into hard-side truck camper comfort, or a weekend truck camper looking for fishing and hunting accommodations, or just want a simple truck camper that will fit on a short bed half ton and not break the bank, the answer is easy; absolutely yes!
PROS
Half-ton compatible if carefully matched
Quantity of interior storage opportunities is excellent
Two-burner cooktop and sink are ample for a unit this size
Queen-size bed does not require set-up for sleeping
Optional propane heater and air conditioner for weather flexibility
Battery disconnect just inside entry door
CONS
No bathroom, toilet, or shower – porta-potti is optional
No refrigerator – a 12-volt compressor fridge could fit under the bed
No grey tank – grey water requires external container
No water heater option
Single propane and battery may require conservation
Exterior seals could be more robust
Model Information
2016 Rayzr FB
MSRP: $6,995
Warranty: 1 year from time of purchase
Travel Lite, Inc.
71913 Country Road 23
New Paris, IN 46553
Phone: 574-831-3000
Request a Rayzr Brochure
Web: RayzrCamper.com
Quality, Customer Service, and Long-Term Reliability
Truck Camper Magazine inspects all reviewed truck campers for design, material, and quality issues and reports what we find.  However, since Truck Camper Magazine reviews only brand new truck campers, our reviews do not address long-term quality, customer service, or reliability.
To learn about a brand's long-term quality, customer service, and reliability, Truck Camper Magazine recommends talking directly with truck camper owners at truck camper rallies and online via truck camper forums and truck camper owners groups.
Please be sure to balance your gathered feedback across multiple sources including direct correspondence with the truck camper manufacturers and your closest truck camper dealers.
If you are new to truck campers, start here.