As I write this, we are keeping cool during a record-setting Northwest heatwave for a few days with a Coleman Mach 8 on 30-amps.  While this situation is unusual, surprise heat waves happen and having 30-amps increases the margin of safety while running a roof top air conditioner for hours on end.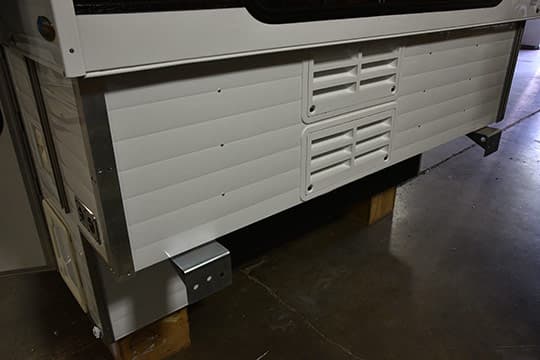 The passenger's side only has two refrigerator vents.  Everything you need to access on this Alaskan is on the driver's side and rear of the camper.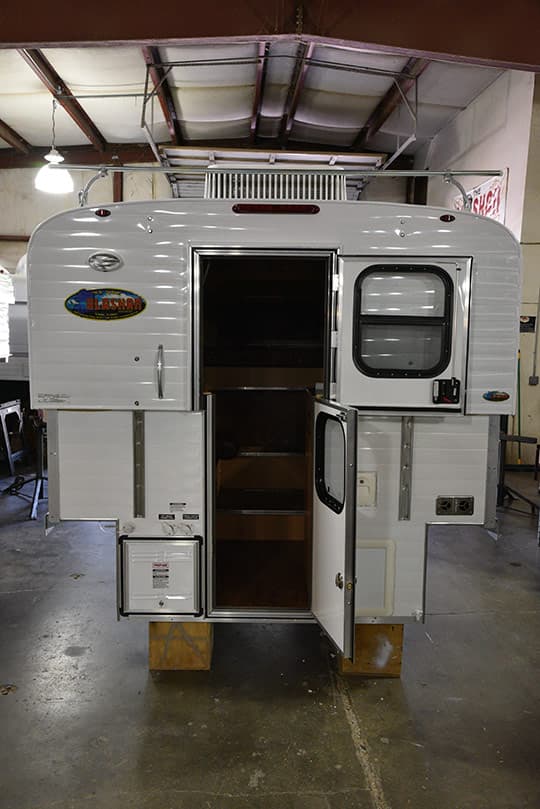 The upper rear of the camper features a porch light (top left) and small entry handle.  The rear entry door is split to accommodate the upper and lower halves of the pop-up design.

The driver's side rear of the Alaskan 7 features the grey water drain, city water connection, fresh water fill, and propane compartment for one 20-pound horizontal tank.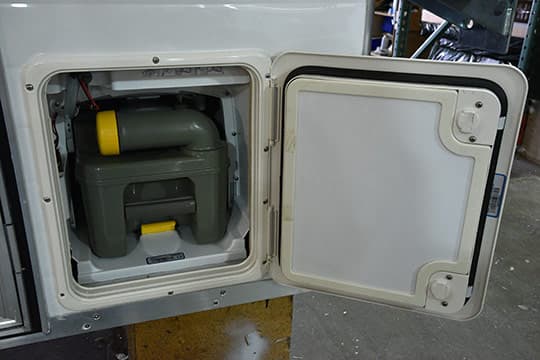 The cassette toilet is accessed on the rear passenger's side.  The cassette in the Alaskan 7 features a 4.5-gallon removable black tank that can literally be emptied into any residential toilet, pit toilet, or potty on the spot.  We have even, very carefully, dumped cassette toilets at RV dump stations.
Weekend campers can dump their cassette at home on Sunday evening.  When the RV dumps are all closed for the winter, cassette toilet owners can dump at a public restroom.  While not everyone's first choice, cassette systems really are the most versatile "Go Anywhere, Camp Anywhere" toilet solution.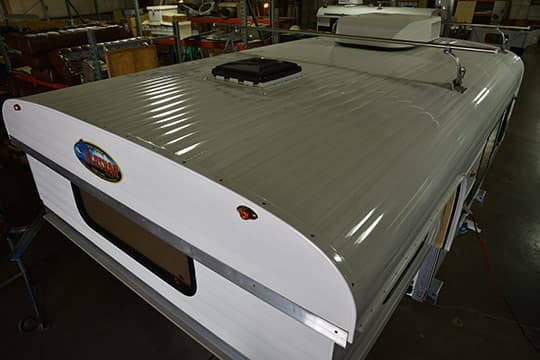 The curved shape of an Alaskan Camper roof is an iconic part of this classic design.  During the manufacturing process, the wood framed roof is injected with urethane foam insulation and skinned with the same aluminum as the rest of the camper.  Making a complete roof takes one dedicated craftsman one full week to build.
The Alaskan 7 under review was ordered with a roof rack system, Coleman Mach air conditioner, and a Maxxfan in the cabover.  If this were my camper, I would add Sikaflex 715 sealant around the roof rack brackets and Maxxfan to protect the screws from the elements.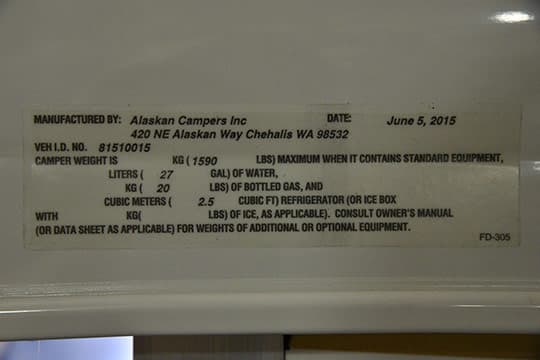 Unless you're uncomfortable with the wood frame construction, or can't stand the idea of a camper that's 100% hand made without SolidWorks or CNC routers, there's really not much to challenge about the quality of an Alaskan Camper.
The main issue I have with Alaskan Campers has nothing to do with the camper itself, but rather the all to common failures of industry weight reporting, and the casual attitude too many truck camper purchasers have towards truck and camper matching.
If you've read any of my truck camper reviews over the past few years, you know not to trust truck camper weight stickers.  That goes for every truck camper brand and every truck camper model, period.  Truck camper owners who have scaled their rigs will tell you; truck camper weight stickers are almost always under reporting the true weight, sometimes significantly.
Matching A Truck To The Alaskan 7 Camper
The Alaskan Camper weight sticker on the model under review reported the weight at 1,590 pounds.  Not having scaled an Alaskan Camper myself, that's certainly possible, but I have no doubt this camper will be well over 2,000 pounds when loaded with options and stuff; food, clothing, supplies, and your infamous dog, Brutus, the rabid ankle-biting Scottish Terrier.
That puts this camper into the three-quarter ton territory, especially if you want a diesel engine, four-wheel drive, and a trim package, or two.  If you're buying a truck for an Alaskan, I would go one step further and get a one ton.  That way you can forget payload concerns, and have enough payload and towing capacity for that 1954 18-foot Chris Craft Riviera you're about to crave.  You'll thank me then.
If you must have a half-ton truck, it is possible to get a half-ton with enough payload for this Alaskan build, but you're going to have to custom order it very carefully to have that kind of capacity.  Personally, I don't see the point in that approach when the cost of a one-ton truck isn't much more, and you get so much more payload.  For the long run, and your personal safety, get the biggest truck you can.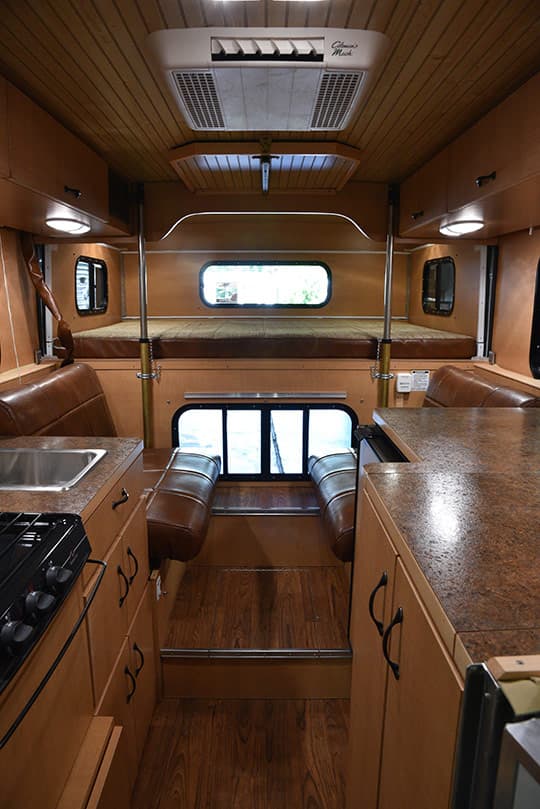 First ← Previous 1 2 3 ... Next → Last Read Entire Article