We take a 100% wood-free, all-aluminum and composite 2012 CampLite 6.8 truck camper and a 2012 Ford F-150 Ecoboost out for a four day test and review.

The concept of the CampLite 6.8 is simple, but a bit long winded.  First, start with a 100% wood-free, all-aluminum and composite truck camper.  Second, build it so that it ends at the tailgate for maximum flexibility and towing.  And third, make it completely self-contained with a wet bath big enough for real human beings, a fully-featured kitchen, dinette that turns into a bed, and a clever north-south sleeping overcab bedroom with the most convenient midnight snacking refrigerator location ever conceived in a truck camper.  More on that later.
In short, the 2012 CampLite 6.8 is everything you need in a rot-free camper that ends at the tailgate.  The concept is strong, so how about the experience of actually using the 2012 CampLite 6.8?  It's time to load up, head out, and run this camper through some real world paces.
The 2012 CampLite 6.8 that we borrowed from Truck Camper Warehouse in New Hampshire smartly matched the 2012 Ford F-150 Ecoboost.  From the front the rig looked very tall, but the silver color and graphics of the CampLite were a knockout on the Ford.  It's great to see CampLite truck campers in colors other than white.  In fact, you can order CampLite truck campers in just about any color you can imagine, including the silver-grey shown above.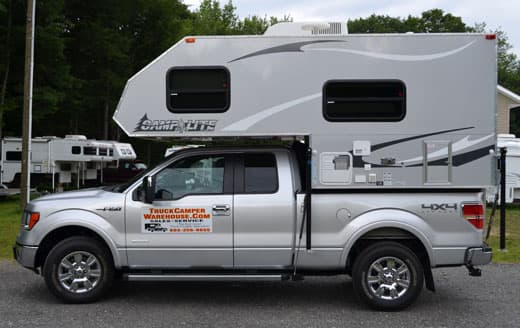 The side profile of this rig really shows how the camper comes just past the tailgate.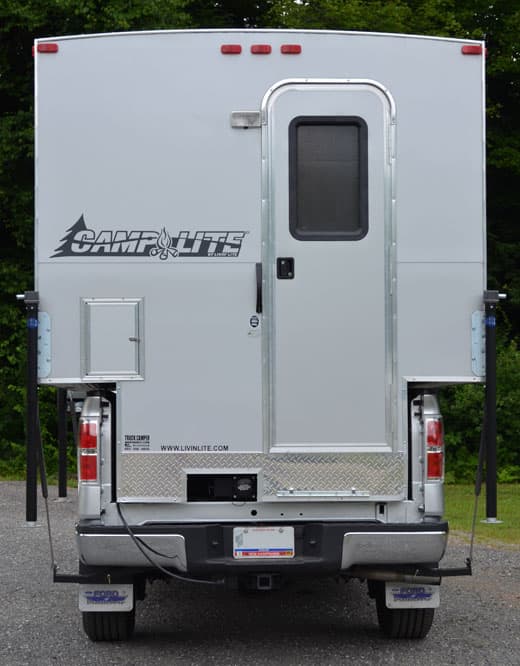 From the rear you can see how tall this camper looks.  While the height might suggest a high center of gravity and the possibility of sway, the rig handled well.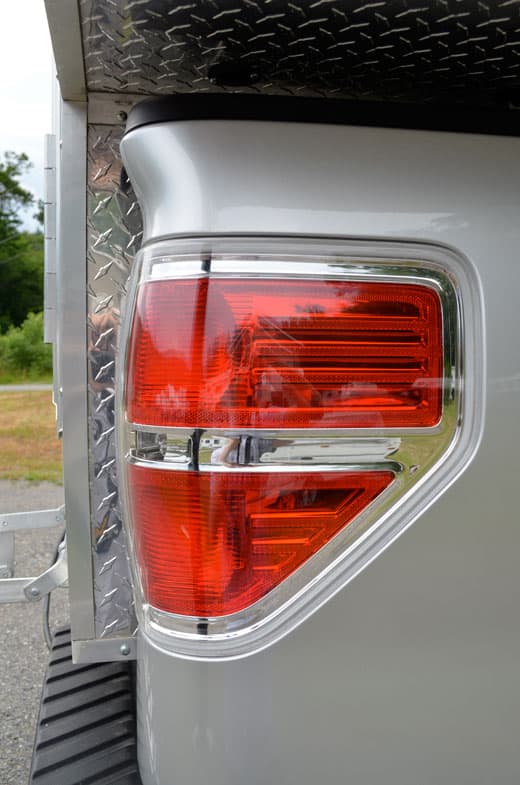 For anyone who doubts how this camper fits in the truck, take a look at this picture.  While you cannot close the tailgate, the camper is inside the rear bumper.
Ford  F-150 EcoBoost Camper Match
We called ahead and asked Truck Camper Warehouse to mount the 2012 CampLite 6.8 on the 2012 Ford EcoBoost they had in inventory.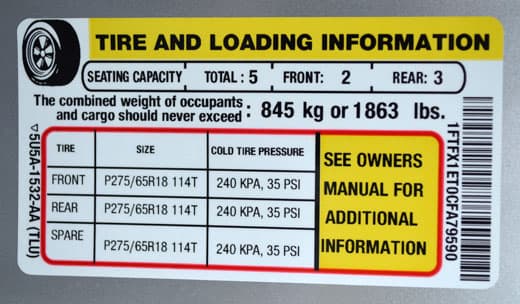 When we arrived, we checked the truck and camper payload match.  We started with the Ford F-150's tire and loading sticker on the driver's side door.  The payload read 1,863 pounds.  We added 50 pounds for removing the tailgate and we got 1,913 pounds.  We recently learned that the manufacturers do not add passenger weight so that's the total payload for you, the camper, wet with options, and your stuff.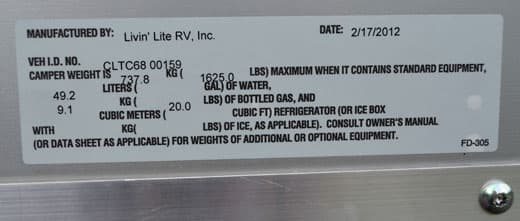 The dry weight of the 2012 CampLite 6.8 is very impressive at 1,496.58 pounds.  To get this dry weight, we subtracted the fresh water weight (13 gallons fresh, 108.42 pounds) and 20 pound propane tank weight (20 pounds) from the above weight sticker that includes both fresh water and propane weight.
Using the Truck Camper Magazine wet weight calculation, the CampLite 6.8 came to 2,240 pounds wet and loaded.  Here is the TCM wet weight calculation:
Camp Lite TC6.8: dry weight, 1,496.58 pounds + 13 gallons fresh, 108.42, + 6 gallons full hot water heater, 50 pounds + 20 pound full propane tank, 20 pounds, + 1 battery, 65 pounds + stuff, 500 pounds = 2,240 pounds.
This specific 2012 CampLite 6.8 overloaded this specific 2012 Ford F-150 EcoBoost.  Again, we asked for this truck and camper to be assembled so this is a case where the weight police should be arrested.  We admit it, guilty as charged.
The good news is the 2012 CampLite 6.8 and 2012 Ford F-150 EcoBoost most certainly can be a payload match, but you would need to very carefully custom order the truck.  According to Ford's website, you can order a 2012 Ford F-150 EcoBoost short bed 4×4 with 2,810 pounds of payload.  Of course it's a regular cab model with minimal options, but it is possible.
If you go 4×2, your Ford F-150 EcoBoost options increase and the payload numbers push into the 3,000 pound range.  In other words, the 2012 CampLite 6.8 and 2012 Ford F-150 EcoBoost combination is very possible, but you would need to order the truck with payload as your priority.
On balance, this rig did handle well on the road, but we never recommend overloading.  We would prefer to see this camper on a truck with at least 2,240 pounds of payload, or more.
Ford F-150 EcoBoost
The 2012 Ford F-150 EcoBoost loaned to us for this review was loaded up with just about every possible luxury option including a sunroof, heated and air-conditioned leather seats, dual climate controls, a Microsoft Sync USB system, six-way electric seats, and more.  This is one fantastic truck.  Just keep in mind that each and every one of these optional features adds weight to the truck and removes payload.
Of all the possible truck cab configurations, the extended cab offers the best balance. Not only do you get the multi-passenger capabilities of a back seat, but you also get the storage that area provides.
What's not often mentioned is that an extended cab can be easier for loading campers than crew cabs as you can better see the bed of the truck.  Regular cabs are even easier to load as you're that much closer to the truck bed, but offer no rear-seat storage and can be awkward for the visibility of street lights.  Extended cab is the way to go, unless you need the space and room of a crew cab, or extended cab is unavailable.
The interior of the 2012 Ford F-150 EcoBoost really impressed us.  It also immediately reminded us of the interior of the 2012 Ford F-350 Lariot Truck Camper Warehouse loaned us earlier this year.  Ford really has their interior aesthetics dialed in.  Anyone who hasn't seen the inside of a new Ford truck in a while is in for a real treat.
The CampLite 6.8 Short Bed Camper
Walking around the exterior of the CampLite 6.8, it was clear that this is a simple yet fully-featured truck camper.  On the driver's side we found the vent for the hot water heater, the 13 gallon fresh water fill and city water connection, outside outlets, cable connection, shore electrical connection, and heater vent.
The passenger's side features a twenty-pound propane tank compartment and the refrigerator vent.  Just under the rear door of the camper is the grey water sewer connection and knife valve.  The Thetford cassette toilet compartment is to the left of the door.  Rieco-Titan manual camper jacks are found at each corner.  Remote electric jacks are optional.
Newbies should find the exterior of the CampLite 6.8 a relatively easy camper to learn.  Everything is straight forward and easy to find.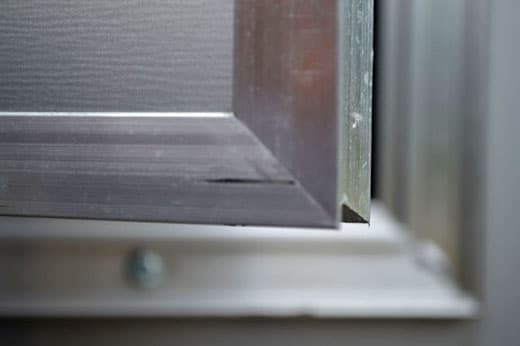 The biggest complaint among Truck Camper Magazine readers about CampLite truck campers is their sharp aluminum edges on corners and cabinet doors.  During our week with the CampLite 6.8, we actually had a few run-ins with sharp aluminum edges which resulted in us literally bleeding for our journalistic efforts.  None of the injuries were more than superficial, but we feel very strongly that CampLite needs to address this issue.
Within thirty seconds of Google searching this problem, we found simple handheld tools designed to deburr aluminum edges.  In addition to these tools, we learned that files and steel wool would make aluminum sharp edges much less dangerous.  Please CampLite, take care of these sharp edges and cabinet doors.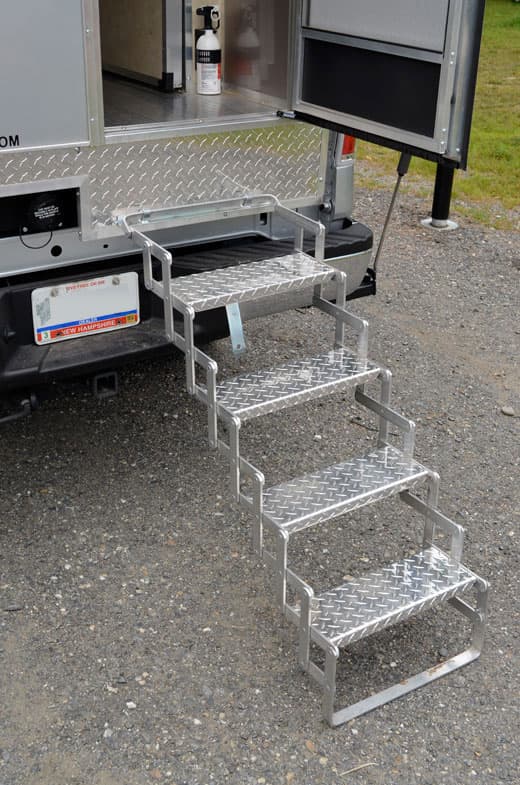 We are not big fans of scissor steps, but they are almost mandatory for a camper design that ends at the tailgate like the CampLite 6.8.  In practice, they work well as long as you pay attention when entering and exiting the camper.  When we packed up to travel, we put the steps on a towel just inside the rear door so they would not scratch the aluminum camper floor.  This worked well and the steps did not move.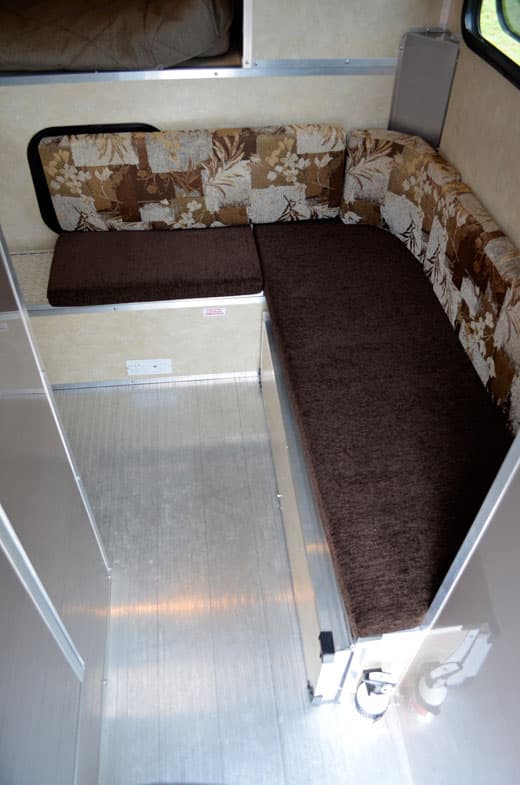 The 2012 CampLite 6.8 isn't a phone booth, but it's not a triple-slide either.  Angela and I found that one of us could be walking around if the other was sitting, in the bathroom, or in the overcab bed area.  If we were both walking around we had to almost choreograph our movements, like playing Twister, only without the pretty color circles, spinner, and late 60's flashbacks.
In all seriousness, we were quite comfortable in the CampLite 6.8, but we would not consider the CampLite 6.8 a cross-country, multi-week, or multi-month trip candidate.  That said, the size, capacities, and amenities of the 2012 CampLite 6.8 are perfect for weekend hunting and/or fishing trips and the occasional week long adventure.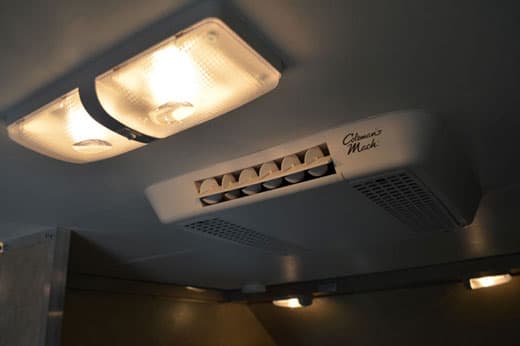 All hail the Coleman Mach air conditioner!  This beauty works like a champ on a Honda EU2000i generator and is all you need to cool down all but the biggest truck campers.  Excellent choice CampLite.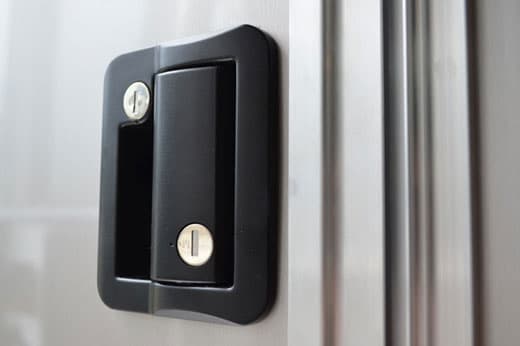 The bathroom door handle appears to be a design normally used for an outside door.  This was one bathroom door that we didn't worry about popping open as we drove down the road.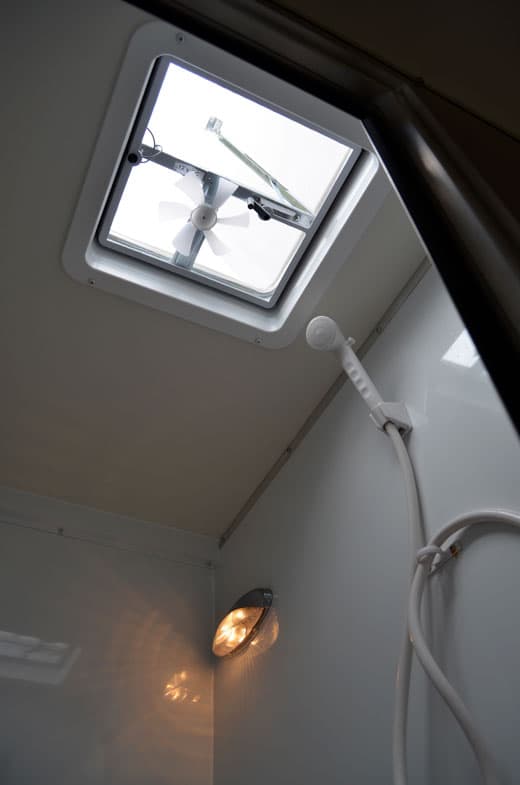 The wet bath is one of the best surprises about the CampLite 6.8.  While it's fairly spartan in its appointments (there is no sink for example), it's positively huge for a truck camper this size.  To think that a truck camper that doesn't go past the rear bumper has a wet bath that we found comfortable to shower in is simply amazing.
The one caveat about the bathroom is the tall Thetford cassette toilet that will have the feet of all but the tallest of folks dangling like a toddler on the potty.  This is very awkward and can make certain necessary activities uncomfortable.  A solution is to bring a little step stool or an upside down laundry basket (not that we tried this) into the bathroom.
Much has already been written in Truck Camper Magazine about the Thetford cassette toilet system.  In a nutshell, a cassette toilet allows you to dump your black tank into any residential style toilet.  For winter camping, when traditional dump stations are closed, this can be a major benefit.  And not all of us live in areas where dump stations are available making the cassette option almost mandatory.
For more information about the Thetford cassette toilet, check out our feature length article, "Thetford Cassette Toilet Systems".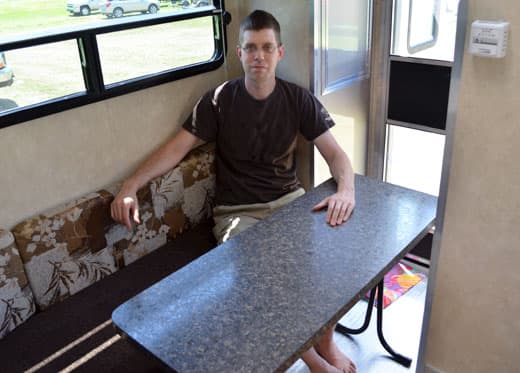 Since there is no table in the CampLite 6.8, CampLite provides a portable table to use as a dinette.  In theory this would be fine, but the table almost fills the center isle in front of the dinette making the main camper walking area impassable.
Perhaps CampLite is using a table for the 6.8 that was originally designed for a larger camper or travel trailer.  Whatever the case may be, we found the included table too big.  If this were our camper, we would leave this table at home and find another solution, or learn to live without a table.
We both liked the large dinette jalousie-style window.  While not an insulated design, the crank open windows won't let in the rain and feature screens to keep out the bugs.
We did find the location of the window a little high on the wall.  Angela couldn't see out of the camper when sitting in the dinette area.  I could look out kinda like the Home Improvement neighbor talking over the fence to Tim Allen.
The cabinetry above the dinette continues the aluminum and Azdel composite construction concept of the camper.  While the cabinetry is certainly not warm aesthetically, the style is modern and functional.  One huge benefit of CampLite's construction methods and materials is that there is not one lick of plastic gimp in their camper.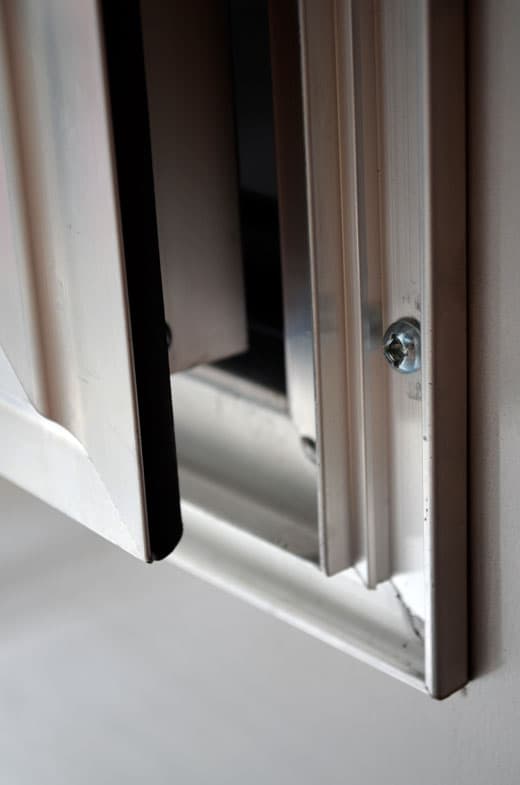 The issue of sharp aluminum corners and doors continues inside the CampLite 6.8 including the cabinetry corners.  If this was going to be our camper, we would deburr, file, and steel wool these edges and corners smooth.  It would probably take a few hours to make these sharp corners and edges much safer, a worthwhile modification if there ever was one.
Even the cabinet latches are aluminum.  They're also adjustable so they can be made easier or more difficult to open depending on the owner's needs or preferences.
CampLite brought a 10.0 model to the 2012 Mid-Atlantic Truck Camper Rally last April and some attendees commented that the latches were too loud or too difficult to open.  While the latches do make a solid metal on metal sound when they open and close, they were not difficult to open once properly set.  One thing is for sure, these metal latches are designed to last.
The European style flush mount Smev range top is a nice touch in the CampLite 6.8 kitchen.  The stainless steel sink looks great, but it's a little narrow during use.  Of course if CampLite had made it any wider we would be complaining about the total lack of counter space.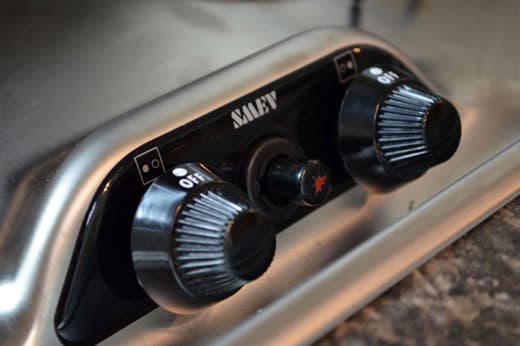 Given the delicate balance of what CampLite was attempting to do, they probably got it right.  There's a lot of useful kitchen functionality in a very small area.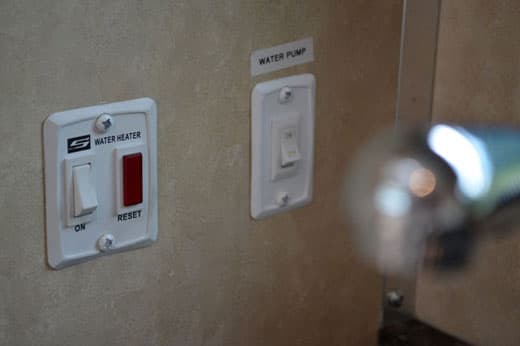 Just past the blurry sink nozzle in the photograph you can see the hot water heater and water pump switches located on the left wall of the kitchen area.  This is a good location for these controls.
We would like to see a fresh and grey water holding tank monitor here too, but the CampLite 6.8 doesn't have one.  There's no battery monitor either.  At least the Thetford cassette toilet has an LED to tell you it's full.
In practice, this could be an issue with complete newbies who are not yet in tune with the ways of water, holding tank, and battery power conservation.  More experienced truck campers will basically know where they are on these systems and only run out or over once in a while.  Still, it would be better to have tank and battery level indicators.
It should be possible to install these monitors after purchase.  For example, See Level makes excellent sensor boards and tank monitor panels and there are many companies who manufacture RV battery voltage monitors.  If this is a concern, talk to your dealer about ordering and installing these products.
We would be so impressed with the idea of putting the refrigerator in the overcab if we didn't know that it originated at Six-Pac truck campers with the D650.  Yes, the RV industry steals, we mean borrows, design ideas liberally from each other.  Half of what goes on at the annual industry show in Louisville, Kentucky is not-so-subtle industrial espionage.  Sometimes it's so blatant as to be funny; "Say, is that a measuring tape in your pocket or do you really like our truck campers?"
Putting the refrigerator in the overcab bed area is the key that makes this floor plan possible.  Move it anywhere else, and the balance and versatility of the camper is gone.
That's the good news.  The bad news is that having the refrigerator in the overcab is why this camper is so tall.  It also raises the center of gravity of the camper and puts that weight to one side high and on the passenger's side of the camper.  As we stated earlier, the rig handled fine, but it's something to be aware of when assembling a rig around the CampLite 6.8.
CampLite 6.8 Review
Let's pull back to the 50,000 foot level and look at this camper in perspective.  The CampLite 6.8 is a wood-free, all-aluminum and composite truck camper built to last.
The floor plan and overall design of the CampLite 6.8 is also extremely practical and versatile.  The fact that this hard-side fully self-contained truck camper ends just past the tailgate and inside the rear bumper is amazing and a fantastic benefit to anyone who wants to tow or just wants a compact fully-featured solution.
The sizable wet bath is also a stunning achievement for a relatively small camper.  The 13 gallon fresh holding tank, 32 gallon grey water, and Thetford cassette toilet add to the impressive capacities of the camper.
Finally, you get a north-south overcab bedroom and a Honda EU2000i generator friendly Coleman Mach air conditioner.  All of this adds up to a camper that's had a lot of smart and experienced thinking go into it.
We are concerned about the sharp edges and corners on all CampLite truck camper products.  We believe an hour or two at the factory with a deburring tool, file, and steel wool would fix this problem, but the consumer can certainly make this change themselves.  It would be our first order of business if we bought a CampLite.
Quality, Customer Service, and Long-Term Reliability
Truck Camper Magazine inspects all reviewed truck campers for design, material, and quality issues and reports what we find. However, since Truck Camper Magazine reviews only brand new truck campers, our reviews do not address long-term quality, customer service, or reliability.
To learn about a brand's long-term quality, customer service, and reliability, Truck Camper Magazine recommends talking directly with truck camper owners at truck camper rallies and online via truck camper forums and truck camper owners groups.
Please be sure to balance your gathered feedback across multiple sources including direct correspondence with the truck camper manufacturers and your closest truck camper dealers.
If you are new to truck campers, visit the Newbie Corner.