Check out the winning truck camper modifications of 2017 and vote for the best of the best.  Before we begin, we explain why there are 13 mods in the running, and why we added second and third place prizes.  Vote now!

Voting for the 2017 Truck Camper Mod of the Year starts today and ends at 11:59pm PST next Thursday, December 14th.  The winner will be announced the following day; Friday, December 15th.  Who will be the 2017 World Champion Truck Camper Mod Maker?  It's time to vote.
CLICK HERE TO VOTE FOR YOUR 3 FAVORITE MODS
How We Got To 13 Monthly Winners
When we were putting together the 2017 Super Mod Cup World Series vote, we counted not 12, but 13 monthly winners.  We counted again and again, and kept coming up with one extra mod contest winner.  What happened?
The Ninja Cats made us do it!  No, that's not going to work.
The truth is we ran one monthly mod contest too many.  We started the Super Mod Cup contest last November and should have stopped the monthly contests in October.
Instead we ran one more mod contest in November, making 13.  We apologize to the contestants for the additional contest as this added one more competitor to the mix.
To help make things right for the contestants, we are adding second and third place prizes.  Prior to the miscount there was only one prize, the Grand Prize.
The Grand Prize is still a Truck Camper Magazine Super Mod Cup Trophy and a $250 gift certificate to Home Depot, Lowes, or the big box hardware store of your choosing.
Second Place will now be a $100 gift certificate to Home Depot, Lowes, or the big box hardware store of your choosing.  Third Place will now be a 2018 TCM Calendar and a TCM T-Shirt of your choosing.
Again, we apologize for the additional month.  Obviously we love truck camper mods with the mod contest we got ahead of ourselves.  When it comes to truck camper mods, we always want more.
Congratulations to Tracy and Steve Schuster (first place), Wes Hargreaves (second place) and Arlyn Verlo (third place) for winning the 2017 Super Mod Contest!
1. Tracy and Steve Schuster, Superior, Colorado
Moveable Dinette Table With Storage
2015 GMC 3500
2012 Lance 992
Our dining table was a bit too low, especially after adding memory foam to the seat cushions.  The table edge was also too far away from me to work or eat comfortably.
I needed a solution that would not only raise the table, but also make it closer when I needed it to be without making it impossible to get in to and out of the dinette seat.
We created a box for the base of the table that is about 1 ¾ inches deep, and the approximate size of the original table (24-inches by 30-inches).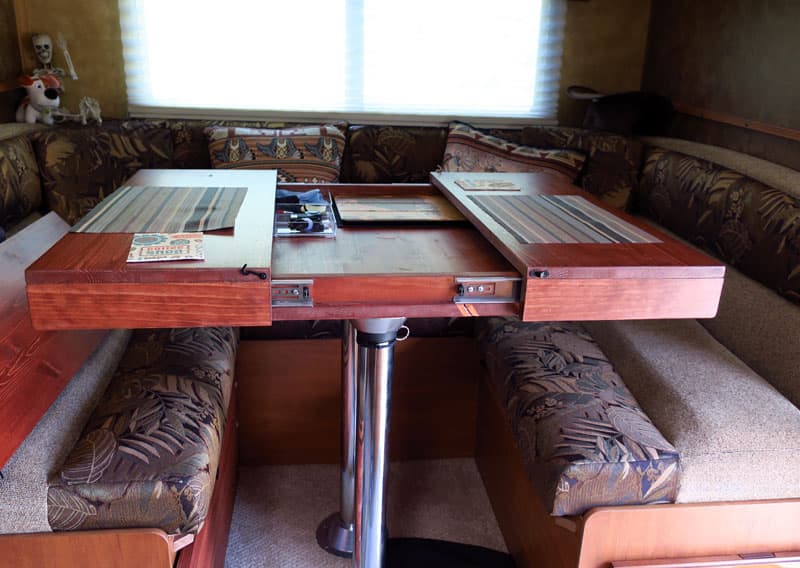 We then ordered two sets of 8-inch long drawer slides and attached them to the sides of the table base box.  For the top, we used two 30-inch by 12-inch boards and attached side skirts that serve as attachments for the outer half of the drawer slides.