Bryan Appleby, the Extreme Boondocker, takes us through the steps of installing a solar panel system on a truck camper roof rack.  Ready to unplug this summer?  Bryan shows you how.

Truck campers are truly the Swiss Army Knife of recreational vehicles.  They offer capabilities to camp off-the-grid in four season weather, travel down roads far from the reaches of designated campgrounds, and tow just about anything.  In fact, many of us have chosen a truck and camper rig because of this unique versatility.
As a full-time truck camper with extensive off-road and off-the-grid boondocking experience, I have recognized five essential elements that make extended dry camping – my favorite truck camper capability – both comfortable and enjoyable.  This list includes:
1. Shelter and safety
2. Source of fresh water
3. Source of warmth
4. Adequate food supply
5. Source of reliable power
For this article, it is my intent to focus on a relatively easy and affordable solution to the fifth element; a source of reliable power.  From a straight forward approach, I will demystify installing a solar panel system on a truck camper.
What makes this solar panel installation different from any other?  Simple!  I am providing a power survey template to help you to determine your solar power needs, a complete parts list, and a cost budget for your installation.
But what really sets this article apart is where the solar panel installation takes place; a truck camper's roof rack.  Many truck campers have roof racks installed as standard from the factory, and these racks can make excellent platforms for a solar panel installation.
While many have demonstrated this use and application, my approach is a different in two ways.  First, I keep the installation to no more than two inches above your existing roof rack.  Second, my installation approach provides protection from the inevitable tree branch collision.
Most truck camper owners and dealers attach accessories to roof racks, including solar panels.  With this type of installation the solar panels are typically six to eight inches above the existing roof rack.  Mounting a solar panel in this fashion subjects the solar panel to wind, thus potentially stressing the panel, mounts, and wiring.
My installation drops the solar panels below an attachment bar (Unistrut) and only two to three inches above the existing roof rack.
Utilizing a Unistrut is key to this installation.  There are many aluminum alloy struts available online, but I prefer the lower cost and strength of steel Unistruts.  Unistruts are also easy to replace and there are numerous Unistrut attachments available at big box hardware stores and electrical supply stores, easily found along anyone's route or home base.
If you have ever considered adding solar to your truck camper tool belt, and you have a roof rack installed on your truck camper, this is the solar installation project for you!  Let's get started.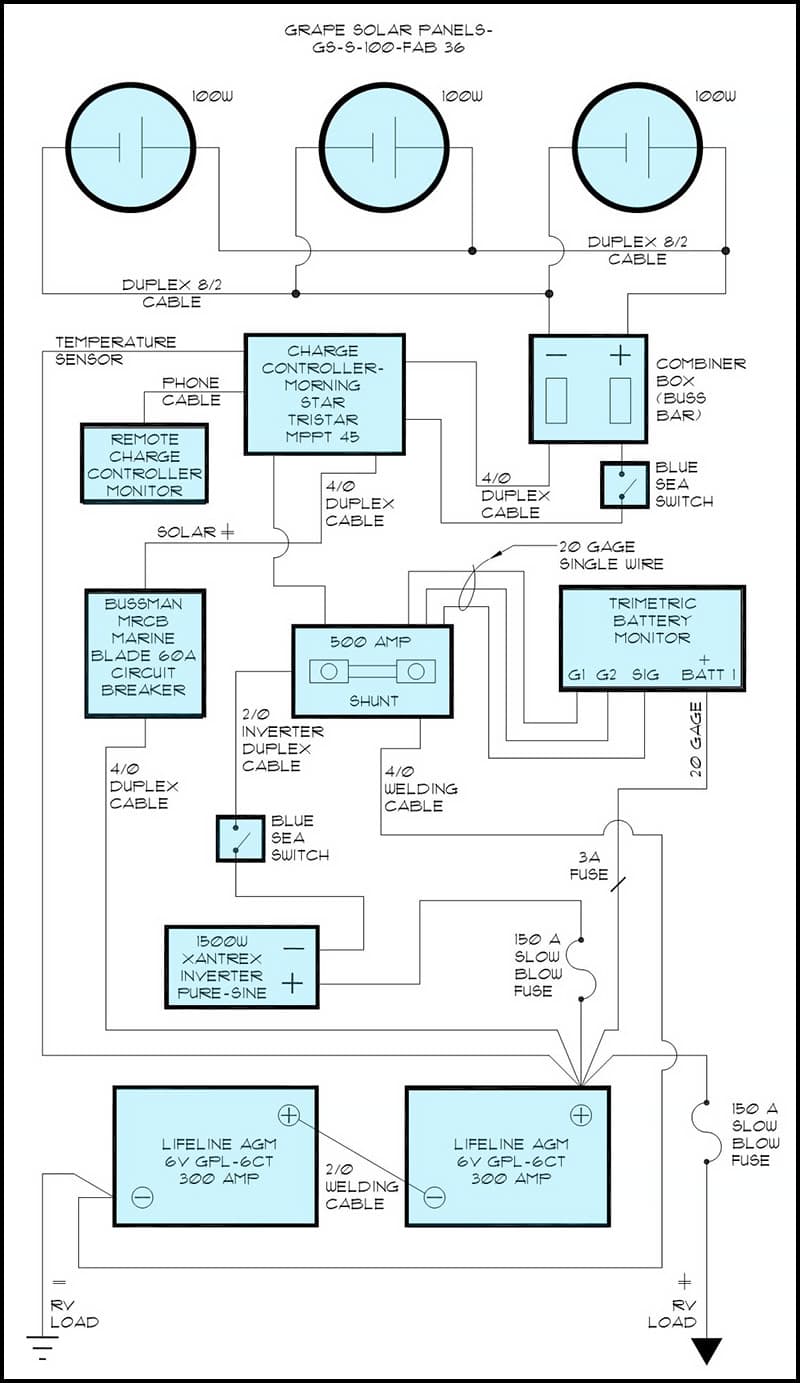 Above: Bryan's roof rack solar installation schematic by Frank K.
1. Complete a power use survey
Prior to purchasing a solar panel system, it is critical to complete a power survey to determine what your solar power needs will be.  By knowing what your power needs are, you are able to ensure that you install the correct size and amount of solar panels.
Click here to download my power supply survey.  You can increase the size of the survey by changing the size in the PDF.
2. Required parts and tools