Truck Camper Magazine installs a 150 watt Zamp solar panel system on their project camper and takes a big step towards cutting the cord and camping off-the-grid.

Last Spring we attempted an impromptu experiment to see how long we could camp without 110 volt shore power.  At the time, we were camping in a Northstar 8.5 Arrow U with a 150 watt Zamp solar panel and controller, one Group 27 battery, and all LED interior and exterior lighting.
Above: The Northstar 8.5 Arrow U in the Outer Banks during the solar test – click to enlarge
To properly challenge the solar and battery system, we operated the camper as normal, charging the laptops daily, using the propane furnace in the morning, and running interior lights and fans as needed.  We even watched a couple movies at night with the installed television and entertainment system.
During our experiment, Angela monitored the Zamp ZS-30A solar charge controller.  Every few hours, Angela noted the battery voltage readings on the built-in LCD screen.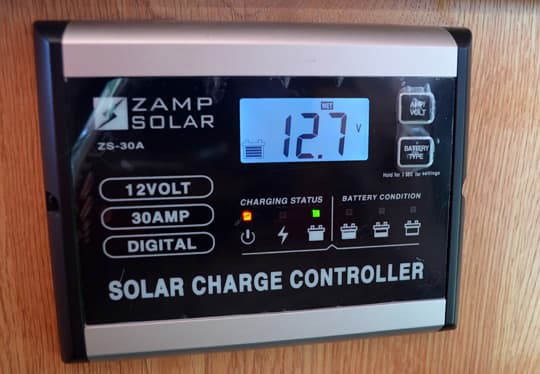 At 7:00am every morning, the battery voltage read between 12.0 and 12.2 volts.  These were the lowest readings gathered during our experiment and occurred as we were running the heat to take off the morning chill.
Between 10:00am and 12:00 noon the battery voltage read 14.6 or 14.7 volts.  During this period of time, the solar charge controller was in bulk charge mode sending the highest voltage the installed solar panel and charge controller were rated for.
Once the controller detected the battery bank was at 85% charge, the controller changed to absorption charge mode.  Absorption charge mode charged the battery bank to 100%, decreasing the current as the battery reaches 100%.
By early to mid-afternoon, the single battery had reached its float charge of 13.1 volts.  When a battery is on float charge, it is fully charged and maintaining its full charge from the solar panel.
These results impressed us, especially considering the fact that the weather had varied during our experiment between full sun and partly cloudy.  Even on cloudy days, the system reached float charge, but did so later in the day.
A few months later we found a decade old camper in Oregon that fit our requirements for a camper project.  It was a non-slide hard side floor plan – our personal preference.  The camper needed routine maintenance, and lacked amenities and features we could add, study, and document for the magazine.  For what we were looking for, it was perfect.
Given its impressive performance on the Northstar, a Zamp solar panel system was high on the list for our new-to-us camper.  Even before the project camper arrived, we acquired a 150-watt Zamp solar panel system and solar controller.
Zamp Deluxe 150 Watt RV Solar Kit
We installed a Zamp Deluxe 150 Watt RV Solar Kit (ZS-150-30A-DX).  The MSRP for the Zamp Deluxe 150 Watt RV Solar Kit is $899.
Above: 25-feet of 8 gauge wire was included in the kit – click to enlarge
Above: A three-port solar panel junction box was also included in the kit – click to enlarge
This kit includes a 150 watt Class A mono-crystalline solar panel, a 30-amp 5-stage PWM (pulse width modulation) solar charge controller with LCD display, 25-feet of 8 gauge wire, a three-port solar panel junction box, and all required nuts, bolts, washers, fuse holders, fuses, splice connectors, and ring connectors.