Whether you need a porch for Pointers, stool for Shorkies, step for Samoyeds, ramp for Rat Terriers, or some other mod for your beloved mystery mutts, these seven truck and camper changes are sure to get Bella, Luna and Max's tails wagging.  Here's 7 for the K-9.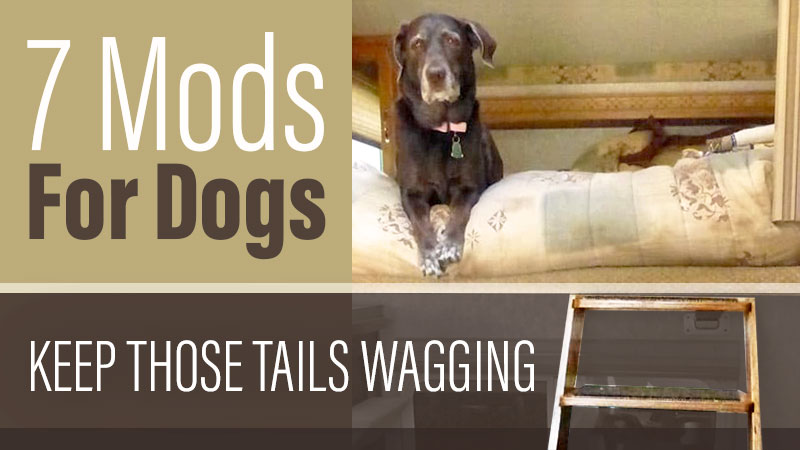 Over the years we've seen some extremely clever truck and camper modifications for our favorite co-pilots and travel companions.  After watching our best friend struggle to get into the camper, you build a hound-height ramp.  When your new puppy needs a safe outdoor site, you build a combination porch and kennel.  It seems there's nothing we won't retrofit for fido.
Thank you to everyone who sent in these wonderful dog mods.  You should all take a well deserved bowwow.
1. Ramp For Dog To Enter Camper and Stairs To Enter Overcab
by Tim Zeh, 2005 Chevrolet 3500, 2007 Arctic Fox 1150
We have a nine-year old Chocolate Lab who is having trouble getting up in the camper and into the bed.  Lifting up a 60-pound dog was not acceptable.  We needed a way to allow her to climb into the camper and the bed.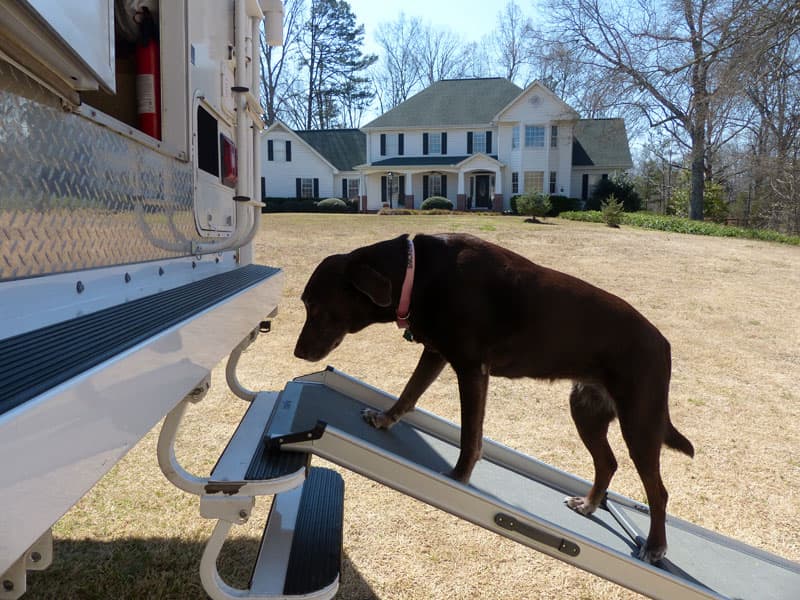 We had an old dog ramp that we had for an older dog who passed several years ago and was able to prop it up on the top step.  With coaching, Snickers was able to walk up and down the ramp and into the camper.  One problem was solved.
Getting into the bed took a little more thought.  She can still go up and down stairs so I decided to make a set of lightweight stairs that would attach to the bulkhead below the mattress.  Our Arctic Fox 1150 has a removable counter that attaches to the bulkhead.  I was able to use that bracket to anchor the stairs to the bulkhead.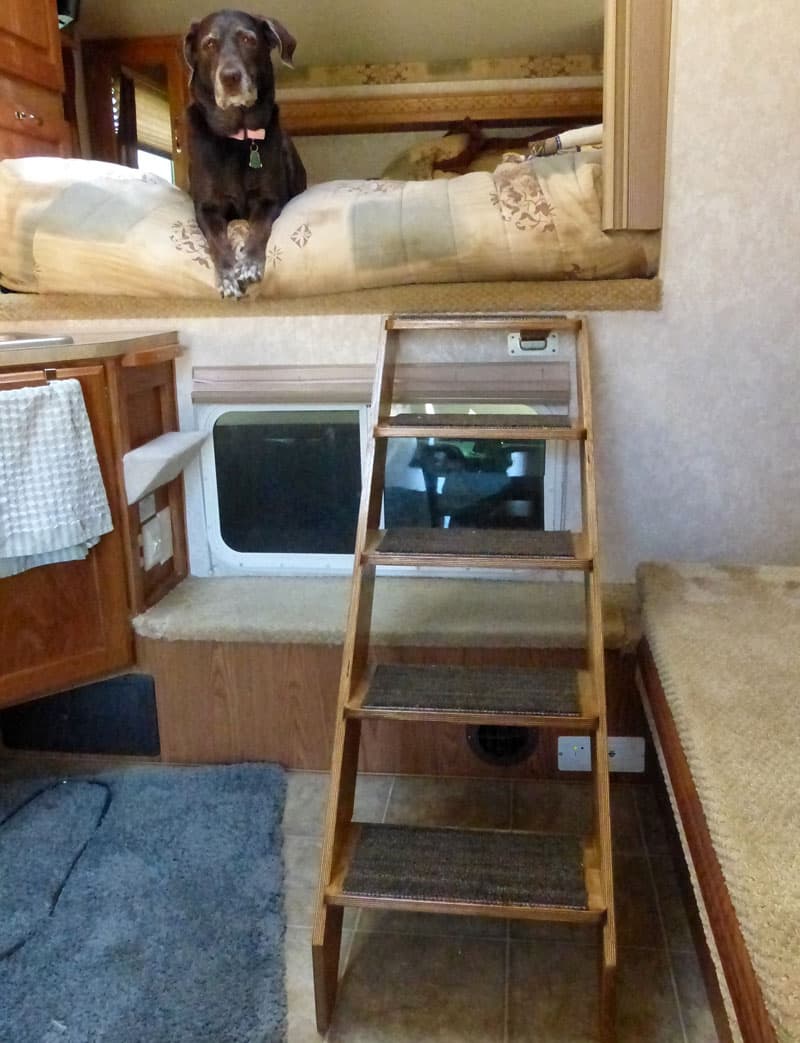 For the interior stairs, I wanted a set of steps that were strong and lightweight.  They needed to fit by the side of the kitchen area still allowing room to get into the refrigerator.  They also needed to be easy to remove when bringing the slide-out in.  The steps had to be similar to standard building dimensions.  The total rise was 35 inches.
I decided to use a simple 7-inch rise by 7-inch run with five steps.  I used 5/8-inch birch plywood and was able to make the stairs out of one 5-foot x 5-foot piece.
I cut out five 7-inch x 14-1/2-inch steps and two side stringers.  The risers were dadoed using a dado blade on a table saw to accept the steps and make a stronger joint.
I glued and screwed the steps together, stained, and finished them with polyurethane to match the cabinets.  I glued on carpet runners with contact cement and added non-skid pads to the bottom of the stairs.  The mounting bracket was made from a block of wood and a small angle that fit into the existing counter bracket.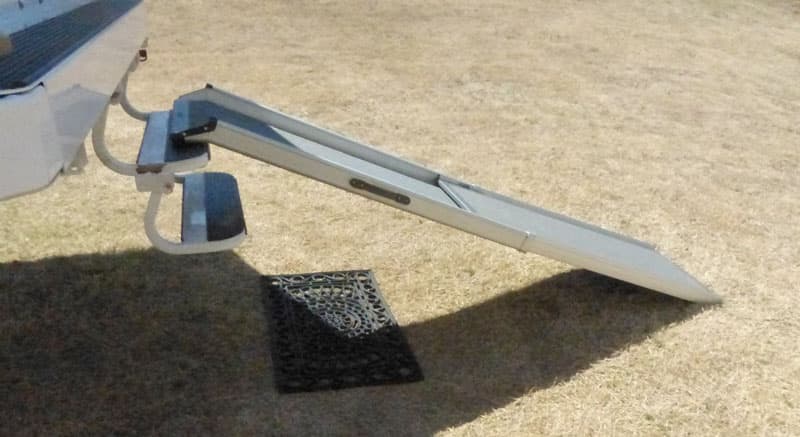 The ramp was a no brainer.  Snickers now goes up and down the ramp with ease.  We started out with a leash and treats and after a few days, she was hooked.
We used the same technique with stairs to the bed.  Remember that older dogs can't jump up and down like a cat, so we need to help our best friends from hurting themselves in their old age.
This was a great improvement to our camper.  Next is deciding what to do to make it easier for us to get into the camper.  Maybe a porch, landing scissor steps, or a combination of them all?
It took me eight hours to build and finish the stairs and cost me $75 for the ramp and $40 for the stairs.  In my opinion, the skill level of this modification is hard because you need to use woodworking equipment.
2. Enclosed Deck For Dogs
by Darci Kroes, 2000 Chevy Silverado, 1994 Somerset Camper
I travel with two dogs.  My camper has only 8-feet of floor length, so I needed extra room for carrying essentials.  I also wanted a deck for my dogs that is off the ground.  I would use the deck when we are parked overnight in places like Walmart.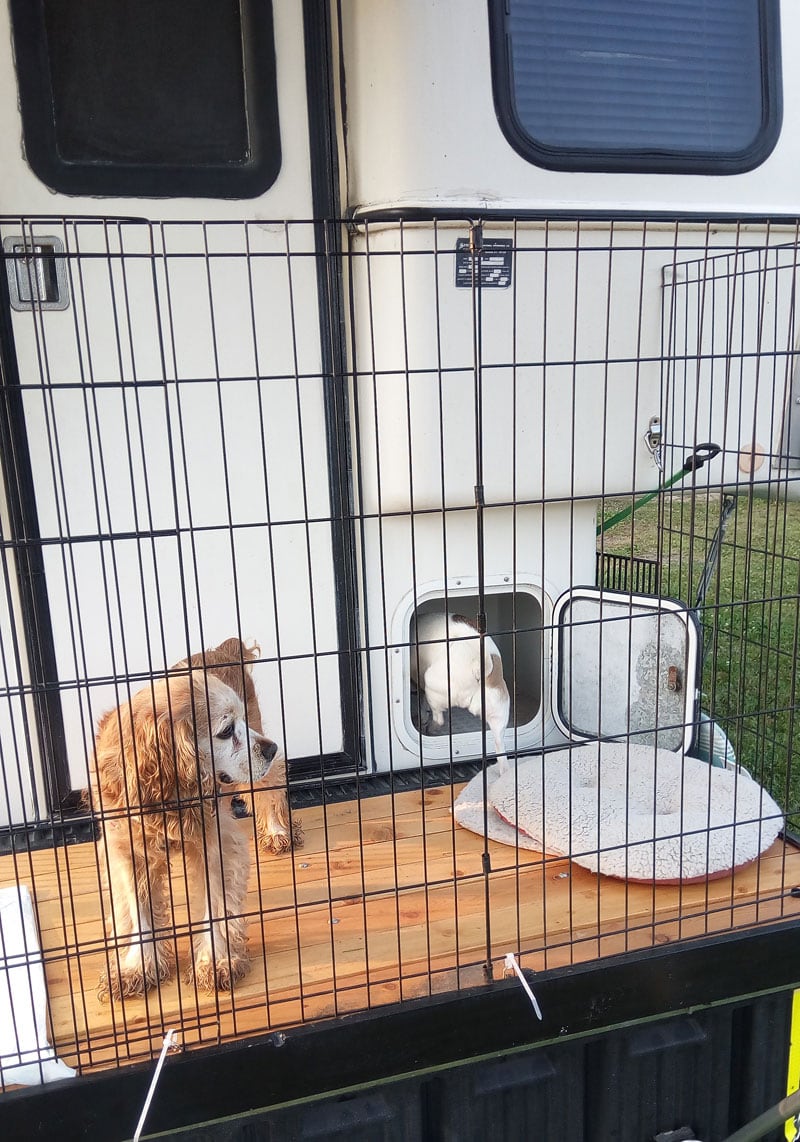 I decided to build a deck top that is bolted to the top of the storage box.  The deck-top can be easily lifted for access to the storage area.
I used wood slats so that the dogs' feet don't get hot in the summer.  There is a lip around the top of the deck with clips.  A secure pen can be put up when we are camped.  It folds up and goes in the box when we're traveling.
The cargo door on the right side of the deck opens to a doggy door.  I inserted it on the inside under the table.  Now the dogs pass through at will.
If they have to go to the bathroom at night, they go out to their pee pad on the deck and do their business.  It simplifies life for all of us.  The cargo box is bolted to a hitch cargo carrier.  The chains are there to give extra stability for walking around.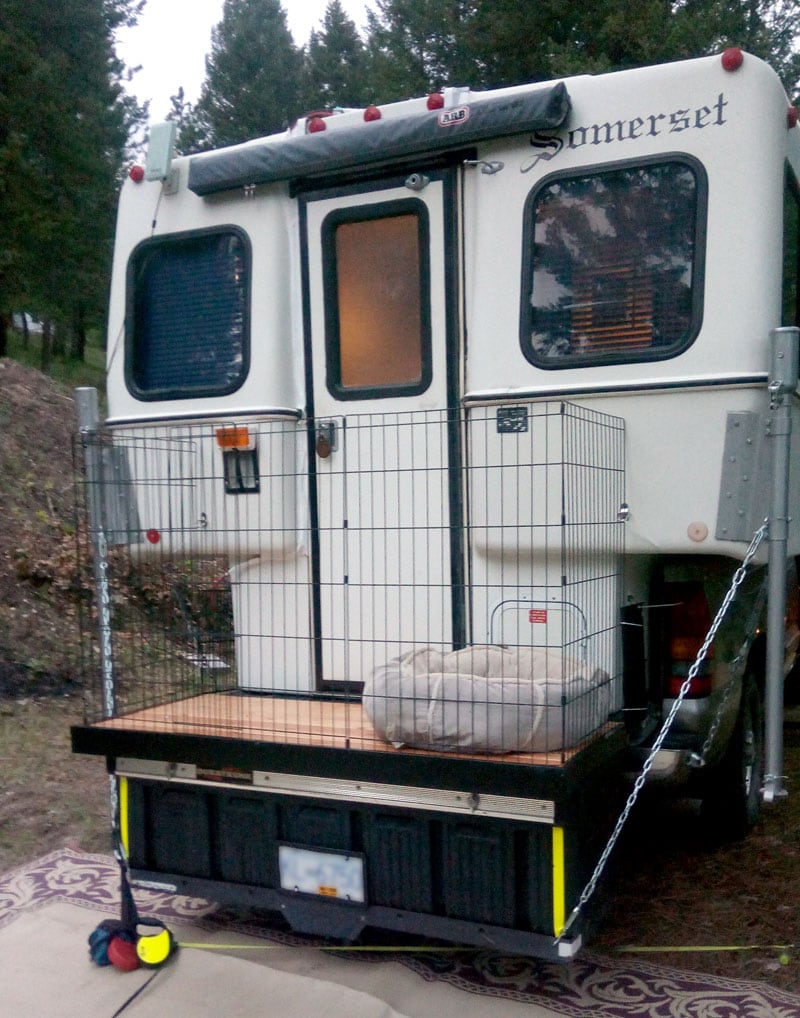 The deck is so wonderful!  There is lots of storage.  Now the camper is not stuffed full.  When we dry camp, our cocker spaniel and chihuahua go in and out at will.
I can go visit friends or do laundry and they sit on their deck and watch things.  I know they are secure and safe.  I also enjoy not having to get out of bed at night or early morning when they want to go out and pee.
It took me eight hours to complete this modification and cost me $100.  In my opinion, the skill level of this modification is easy.
3. Dinette Storage Box For Dog To See Out Window
by Sean Calcote, 2014 Ram 3500, 2015 Cirrus 820
My wife and I have a Chihuahua.  The first time we took her camping we left her inside the camper when we went fishing.  She wanted to see out and would jump onto the dinette table to look out.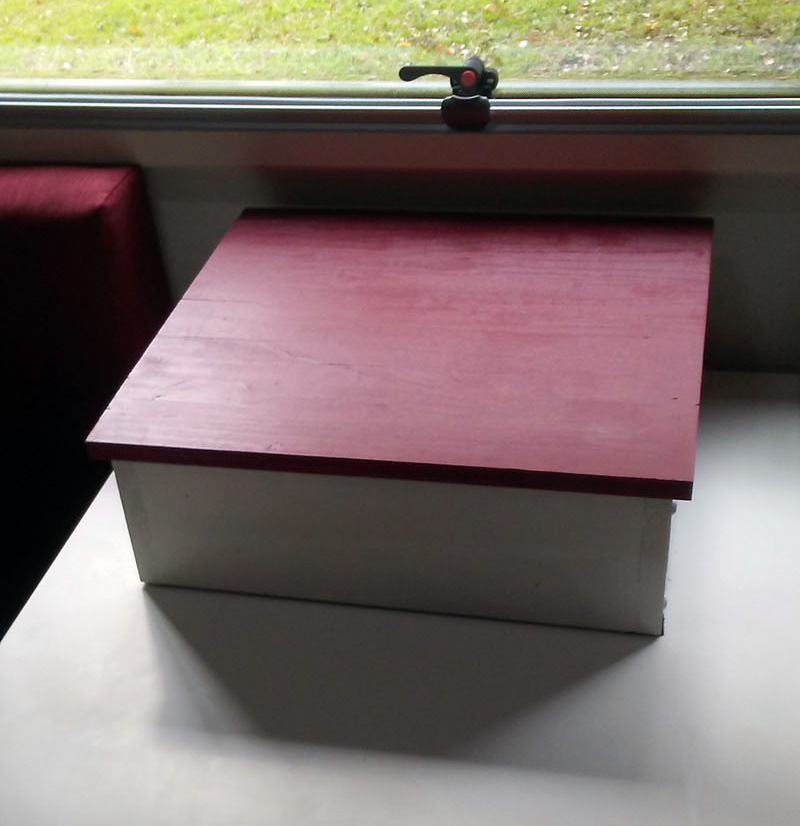 Putting her bed on the dinette table wouldn't let her easily see outside, so I made a box to elevate her bed and provide a little storage for hand towels and other items.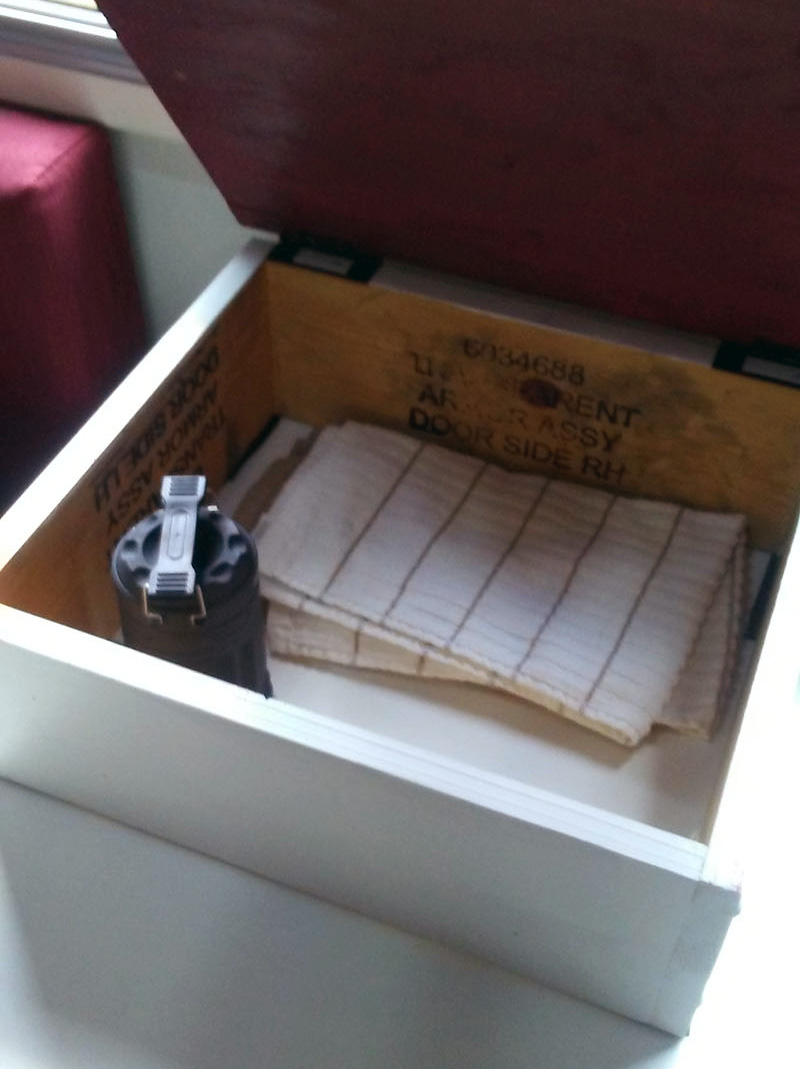 I used velcro, which is ridiculously strong.  I only used four little pieces and will probably make another hole so I can pull from both sides at once.  Scrap wood was used for the body.  I painted it the same color as the interior and attached some hinges.
The box cost less than $10 and took maybe an hour, plus the paint drying time.
4. Sturdier Screen Door
by Barry Yocom, 2015 Ram 3500, 2015 Arctic Fox 811
The screen in the entry door of our camper was being torn up by our dog.   We wanted a solution that would prevent further damage to the screen door.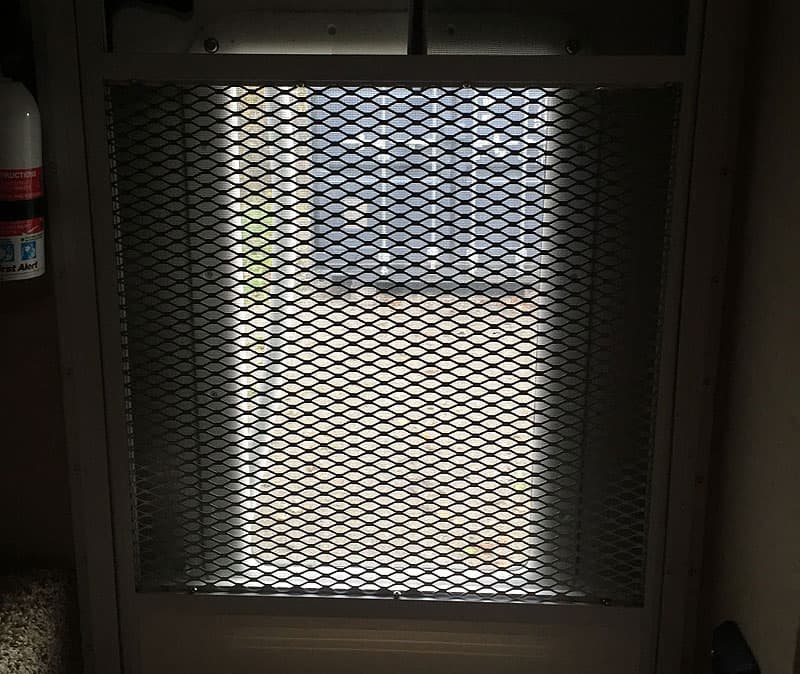 I installed an expanded metal grid (diamond pattern) over the lower screen area that prevents the Chihuahua from further scratching damage.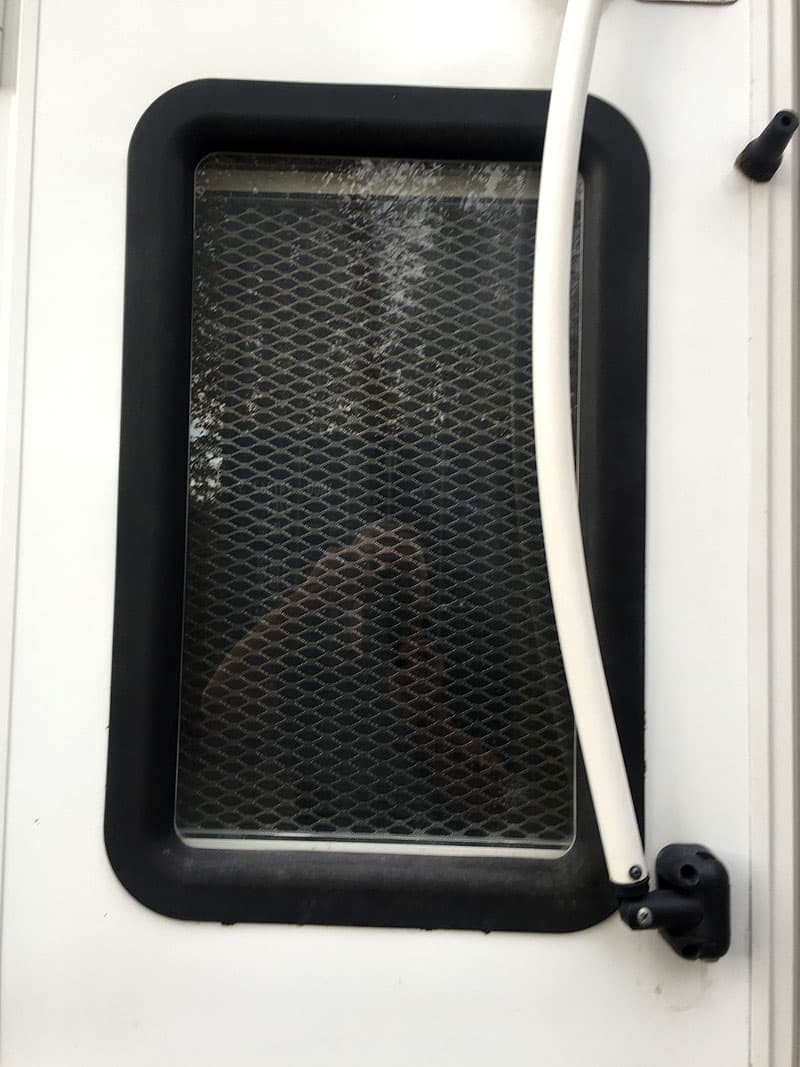 It took me 1.5 hours to complete this modification and cost me $20.  In my opinion, the skill level of this modification is easy.
5. Truck Step For Dogs
by Tim Zeh, 2005 Chevrolet 3500, 2007 Arctic Fox 1150
Snickers, our older Chocolate Lab, couldn't get in or out of the truck.  The running boards made it harder for her to get up and down into the back seat of the crew cab.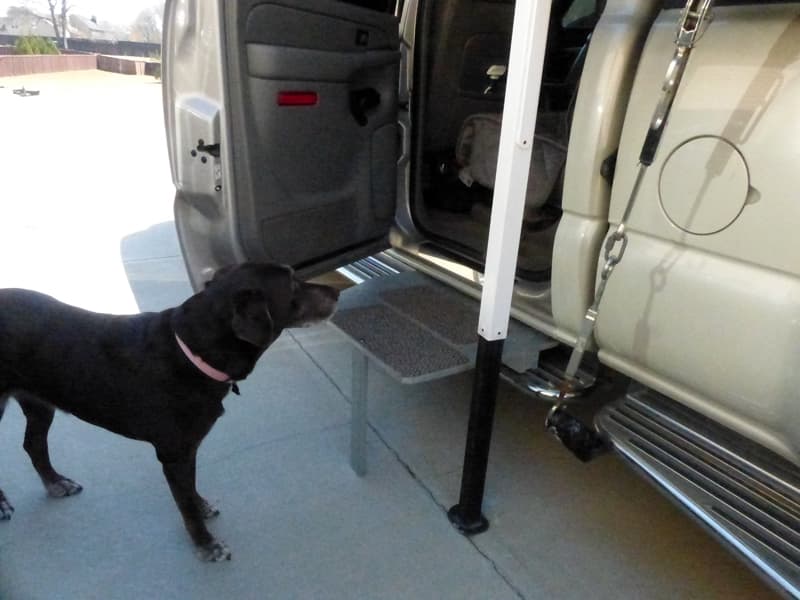 I had a 2-foot by 2-foot piece of plywood in the scrap pile and made a diving board for her to get up and down from the truck.
I was able to wedge the plywood between the truck and the running board, but the wood was at an angle and wasn't too sturdy.  I added a piece of 2×4 with a groove in the back which fit over the rails of the running board.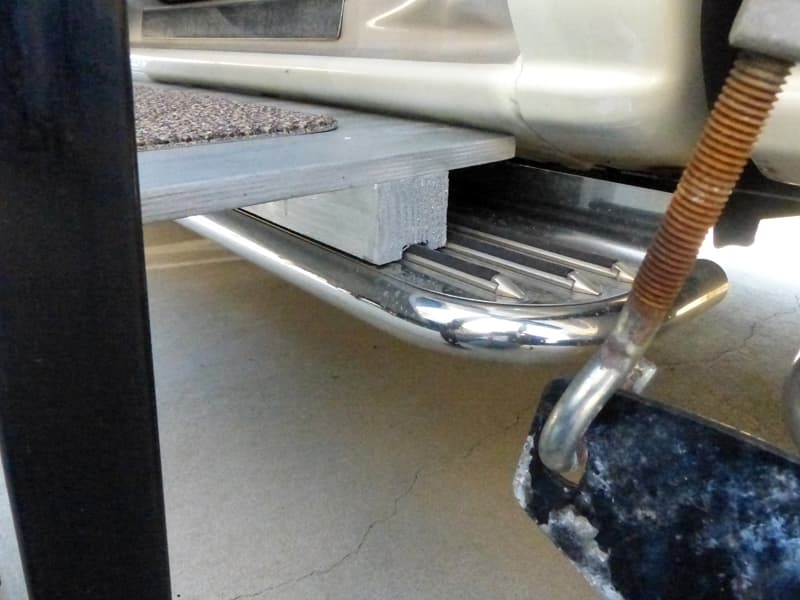 I cut the door's edge to eliminate overhang.  The step still had too much bounce so I made a support block which I pinned in with a 1/4-inch by 2 1/2-inch carriage bolt.  I finished the step with paint and added carpet stair treads to keep Snickers from slipping.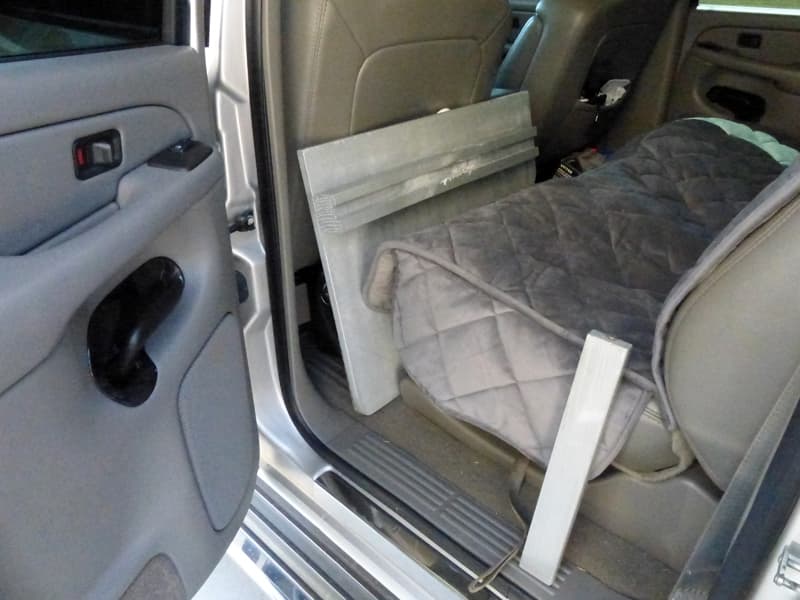 Snickers loves the step.  The support block made a real difference.  The step stores easily behind the front seat and sets up in seconds.  The things we do for our pet children.
It took me one hour to complete this modification and cost me $5.  In my opinion, the skill level of this modification is medium.
6. Haul Master Step Stool Adaptation
by Mike and Kathleen Oliver, 2007 Dodge Ram 3500, 2015 Lance 1052
We, along with our Pomeranian dogs, found it a bit difficult to step up into our camper with the factory step alone, especially when using leveling blocks on the rear of the truck.  The distance was too high.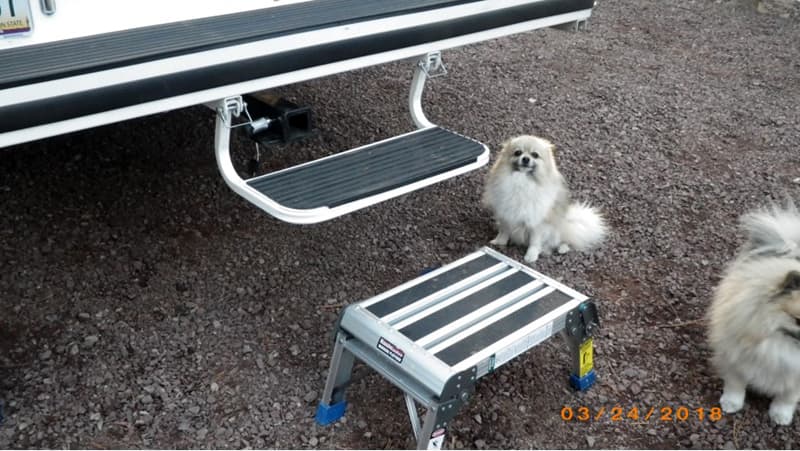 I purchased a Haul Master step stool/working platform at Harbor Freight on sale for $19.99.  As purchased, the step is over 13-inches tall, so I drilled out each of the rivets holding the rubber feet, removed them, and cut 3-inches off of each leg.  I then re-installed the feet, drilled new holes, and riveted them in place.
After the first trip out, we learned that the aluminum surface is rather slippery when wet, so I installed non-slip tape strips.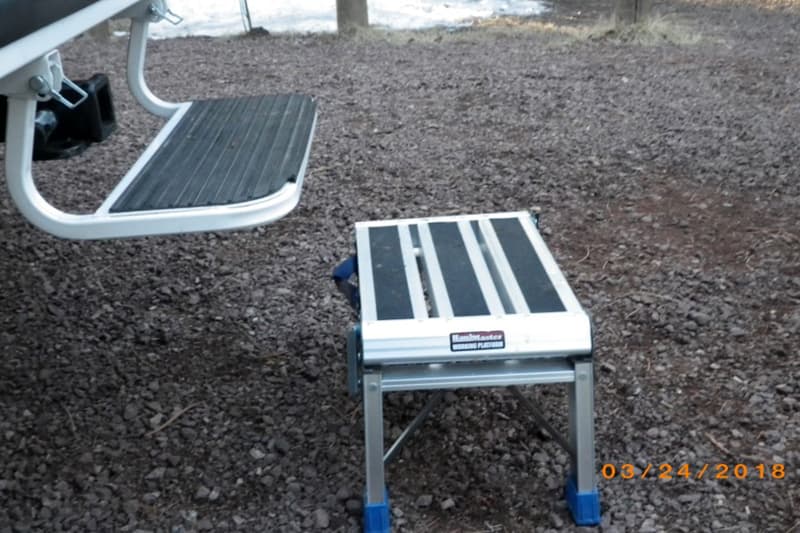 The resulting step is a knee saver.  The dogs have no trouble going in and out of the camper, and I use it to access my higher outside storage areas.
It took me one hour to complete this modification and cost me $25.  In my opinion, the skill level of this modification is easy.
7. Pet Paw Protection
by Mike and Nancy Pohl, 2015 Ford F250, 2015 Lance 855
It all started with our second truck camper.  It was a 1999 Ford F-150 and a 1985 American Pilgrim 8.5 hard side.  That's when we acquired Oliver the cat (aka Bubba).  He travels everywhere with us.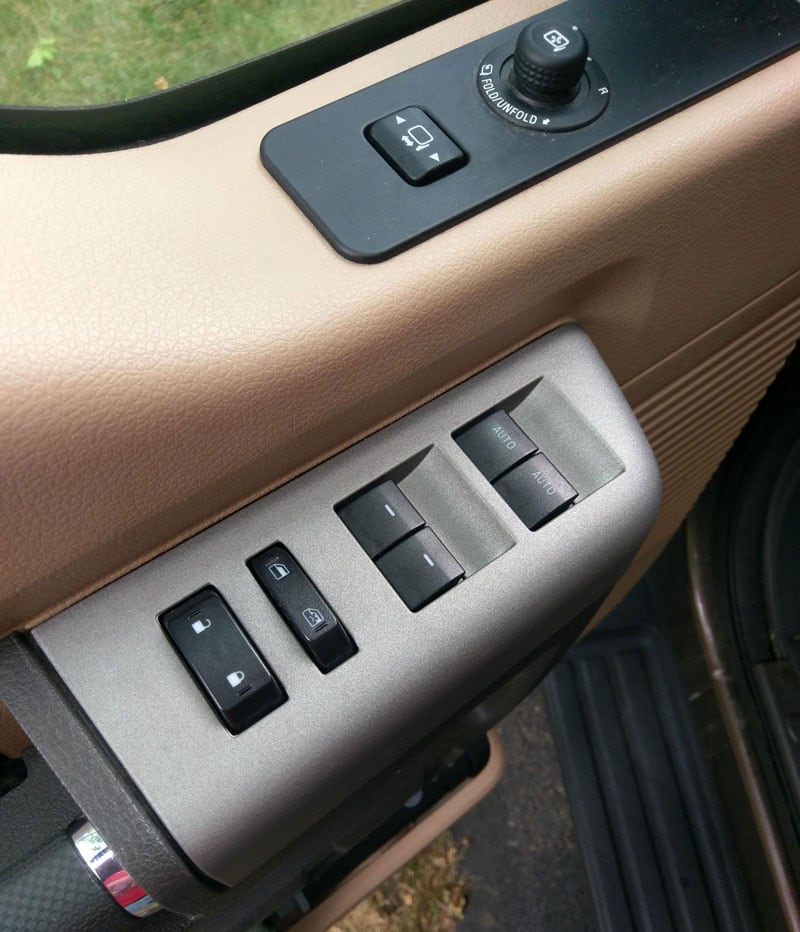 On our first trip, we arrived back at the truck to find that the front cab was unlocked.  I know that I had locked it.  When we were traveling down the road Oliver crawled into my lap, put his paws on the armrest, and down come the windows.  Ah-ha!  So, that is how the truck got unlocked.
When we got home I made covers to go over the armrest window and put lock switches on both doors.  Last year I upgraded to a 2015 Ford F-250 that also had armrest window and door lock switches.  So, I made a set for our new truck.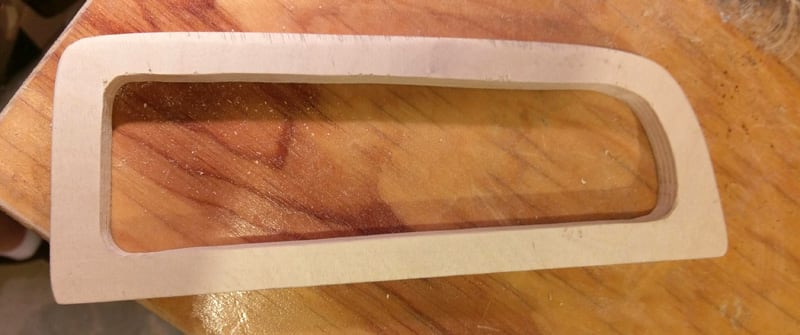 To make the cover I made a template of the armrest area.  Then, I transferred it to a 1/2-inch thick piece of wood then cut out the center to allow room for the raised switches.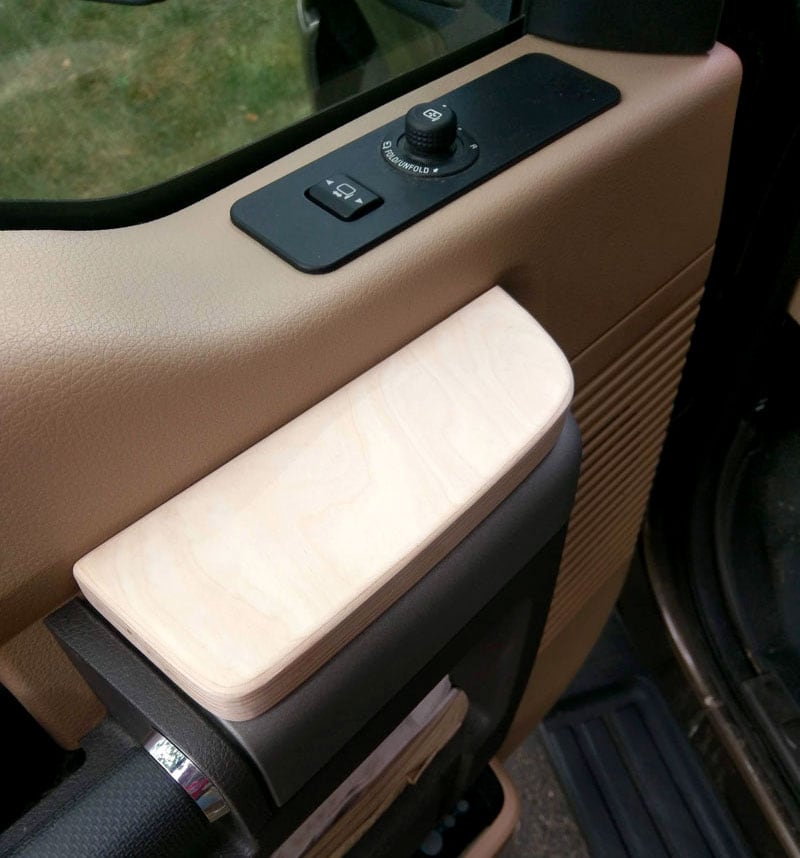 A solid piece of the 1/2-inch wood was used to make a cover.  It was sanded and painted to match the interior.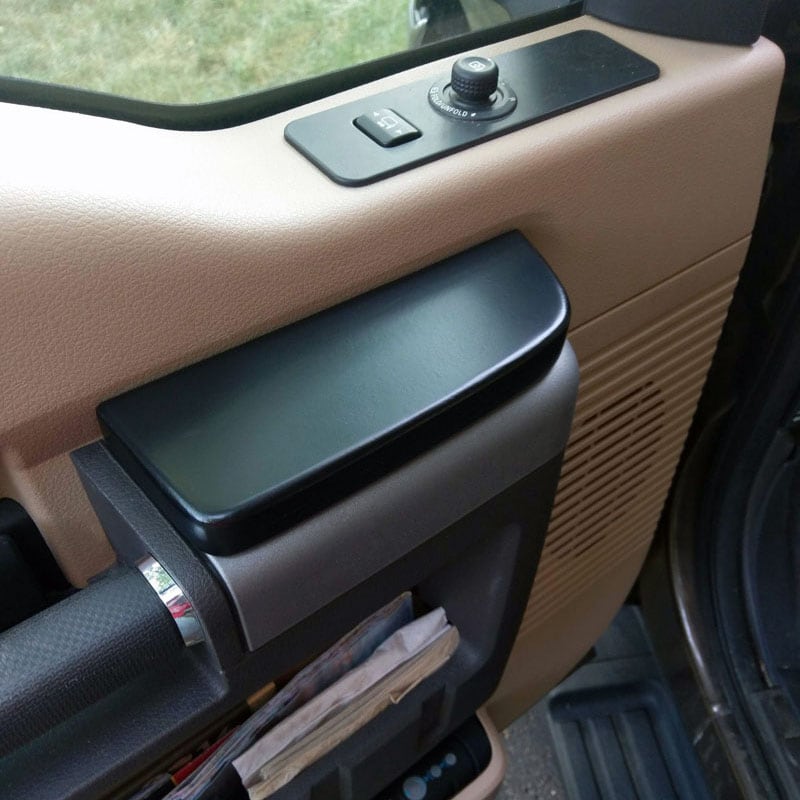 A strip of velcro was added to make it stay in place.  It's easy to lift when we unlock the doors or run the windows down.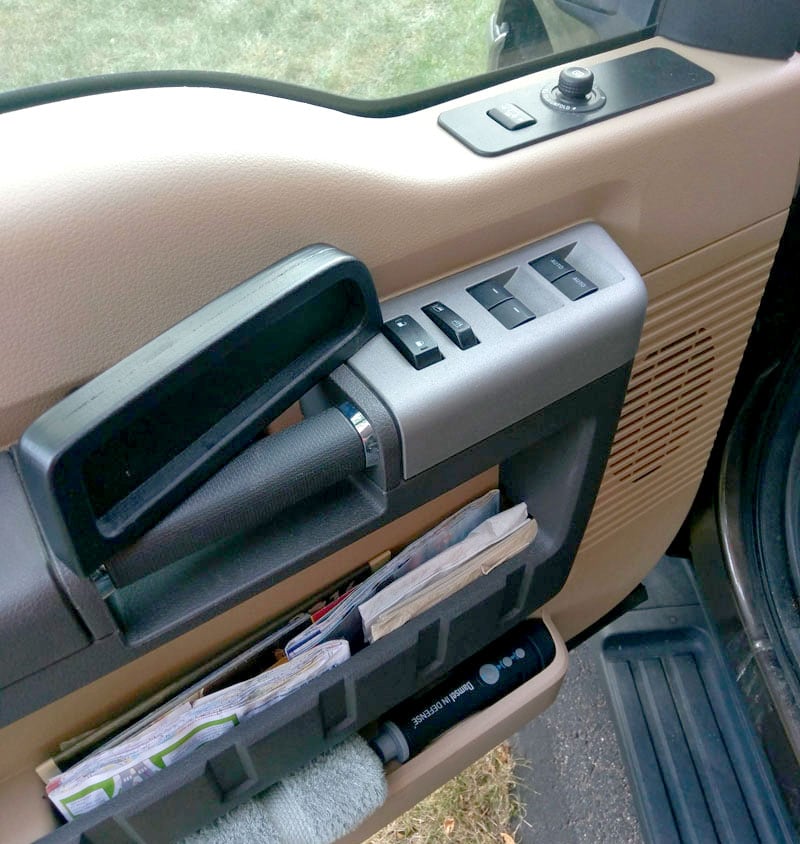 This mod has worked out great.  We lock up the truck and be sure that it is still locked when we get back.  Also, while traveling, we don't have the windows going down from the cat looking out the window or moving around the cab.  I do lock all the windows with the driver's side main switch.
This mod will work for any truck that has switches for a cat or dog can put a paw on.
It took me two to three-hours (including one-hour to watch the paint dry) hours to complete this modification and cost me about $3 for the paint since the 1/2-inch Baltic Birch was leftover.  In my opinion, the skill level of this modification is medium.
Disclaimer: The modifications above are submitted by Truck Camper Magazine readers. It is your responsibility to make sure that any do-it-yourself modification project you undertake is safe, effective, and legal for your situation.