Bathrooms in truck campers can be small.  Having an extra space to dry off, while also providing privacy, are reasons for having a dressing room area.  Five TCM readers show us different ways to accomplish that goal.
1. Privacy Curtain For A Slide-Out Camper Using An Adjustable Rod
Submitted by: Alain Larose, 2011 Ford F-450, 2004 Lance 1181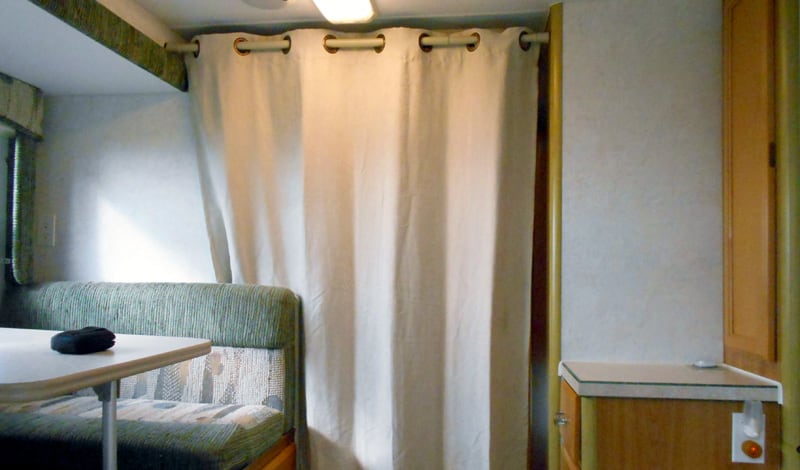 Our camper's bathroom is small for big guy like me.  When I get out of the shower, I need more space to dry in privacy!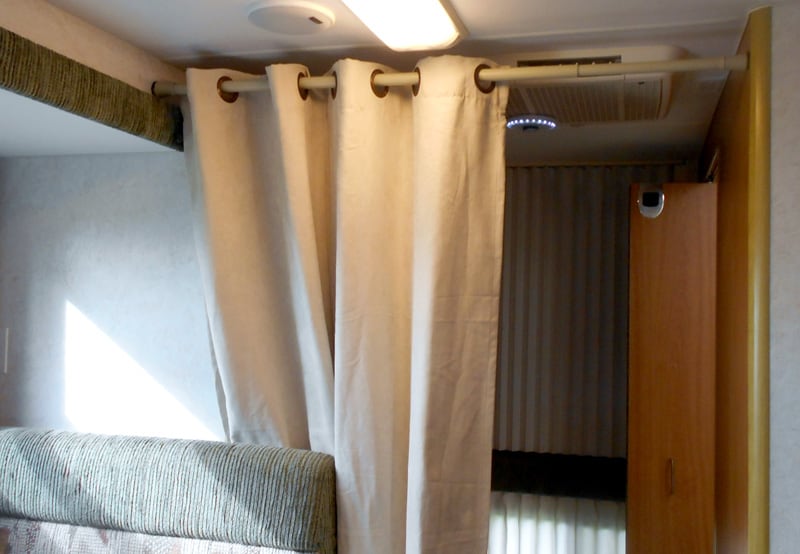 We bought a curtain, a telescoping pole, and some anti-skid material (auto-adhesive velcro) at Walmart.  The pole doesn't move.  The curtain goes in and out with the slide-out.  The left top end fabric of the curtain is screwed with a mini SS-screw.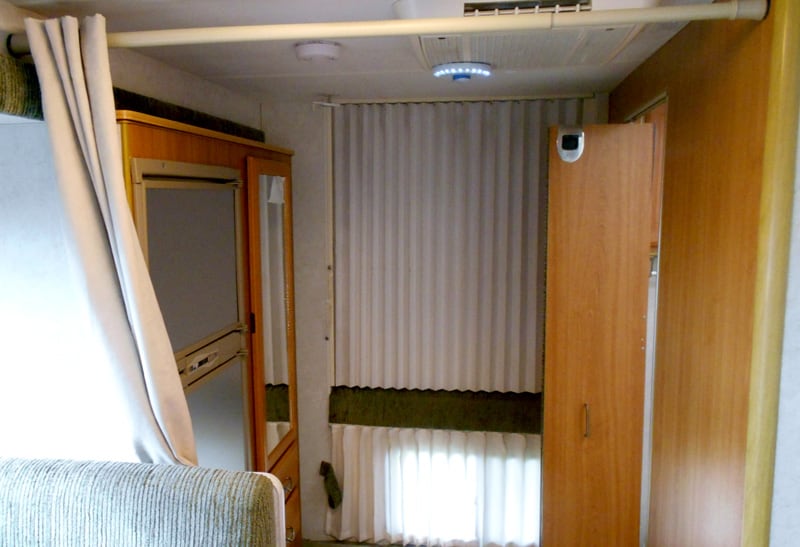 Since the curtain is on a telescoping pole, it goes in and out with the slide.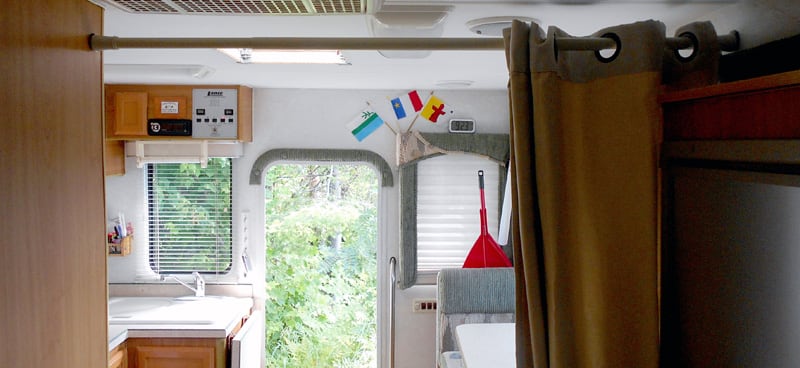 This mod has worked out well and is super simple!
It took me an hour to complete and cost $30.  In my opinion, the skill level of this mod is easy.
2. Double Roller Shades For Privacy
Submitted by: Mike Stephan, 2012 Dodge Ram 2500, 2015 Northstar Arrow U
First, I replaced the exterior door glass in our truck camper with clear glass and wanted a simple way to provide privacy.
I had some simple roller shades left over from another window installation and used one over the exterior door of the camper, mounting it just below the ceiling.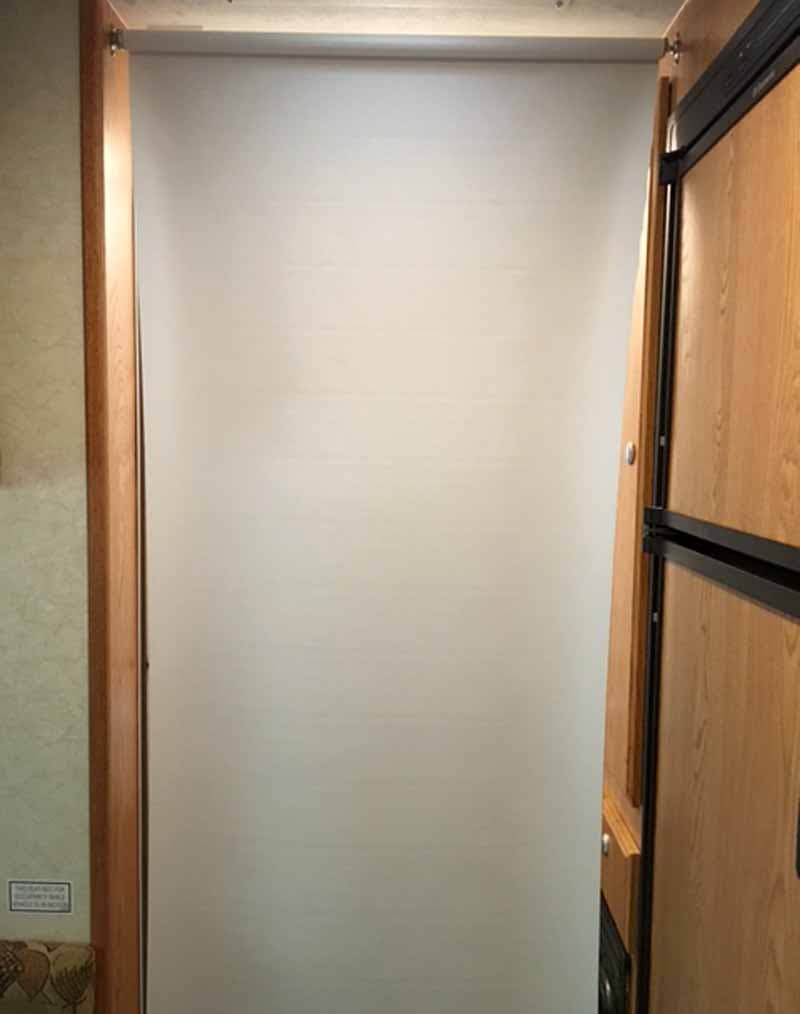 That led me to think that another roller shade mounted outside the wet bath/shower would provide some privacy while getting out of the shower and provide a little dressing room area.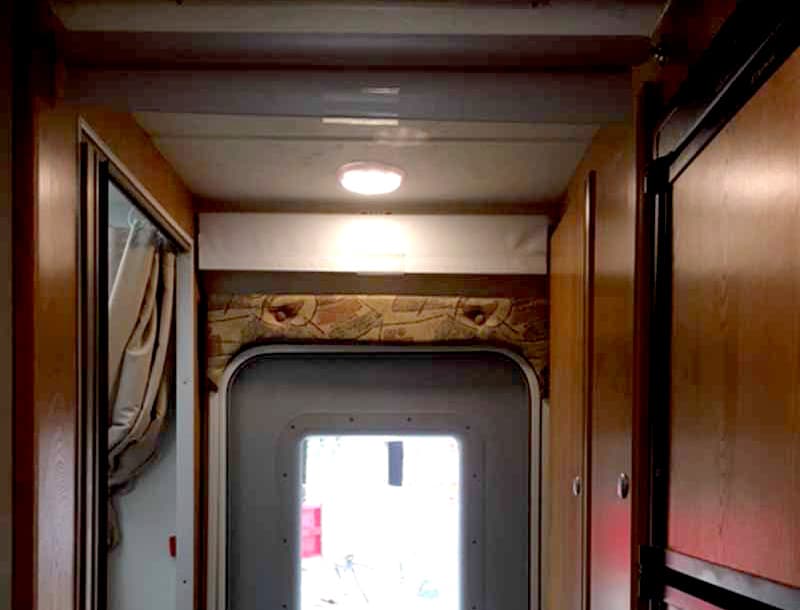 Above: Two roller shades attached near ceiling; one by the door's window and one on the other side of the bathroom
I mounted a second roller shade near the ceiling between the wardrobe and the refrigerator.
Now when we take a shower, we draw both shades.  One covers the window while the other can be drawn from the ceiling to the floor, providing a private area for drying off from the shower and for dressing.  It has worked out great!
This mod involved getting the existing roller shades cut to measure at Home Depot.  They did for free as I had purchased the roller shades there.  Then I had to mount the brackets with two small screws in each bracket.

Above: Roller shade attachment points
It took me about fifteen minutes to mount the brackets and place the shades.  The mod didn't cost me anything because I had shades on hand.  They are not expensive and are cut to size when purchased.  In my opinion, the skill level of this modification is easy.
3. Command Hooks To The Rescue
Submitted by: Kathy Dresbach, 2015 Ram 3500, 2016 Eagle Cap 1165
I wanted a dressing room; a place to get dressed without having to pull down all the window shades.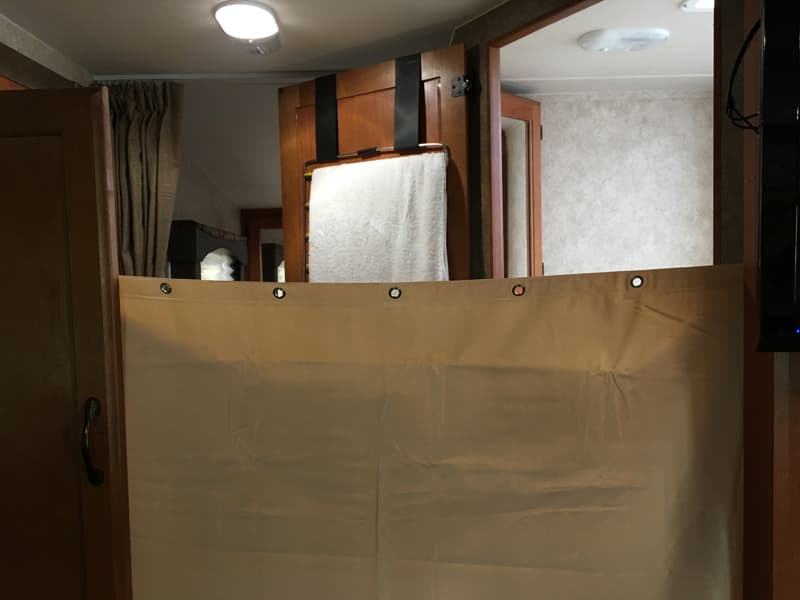 I put up two Command hooks.  One hook is on the back of the wardrobe cabinet and one is next to the door of the bathroom.  I bought a shower curtain at Walmart and hang it on the Command hooks.
It's great!  It's easy set up and take down.  A dressing room is sometimes necessary when we have guests or don't want to put down the shades.
It took me five minutes to complete this modification and cost me under $10.  In my opinion, the skill level of this modification is easy.
4. Changing Room Using Ceiling Track
Submitted by: Dave and Dora Donovan, 2007 Chevy Silverado 3500, 2012 Chalet TS116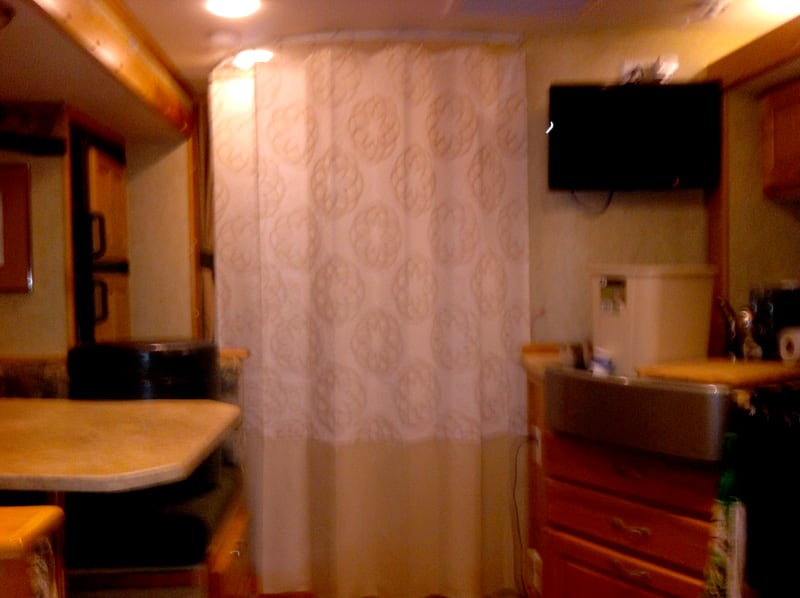 It is pretty hard to take a shower and get dressed with any modesty in our Chalet TS116 camper.  The getting dressed is the hard part.  There is not that much room.  So I decided to make the bathroom bigger. All it took was a curtain track attached to the ceiling and an appropriate color matched shower curtain.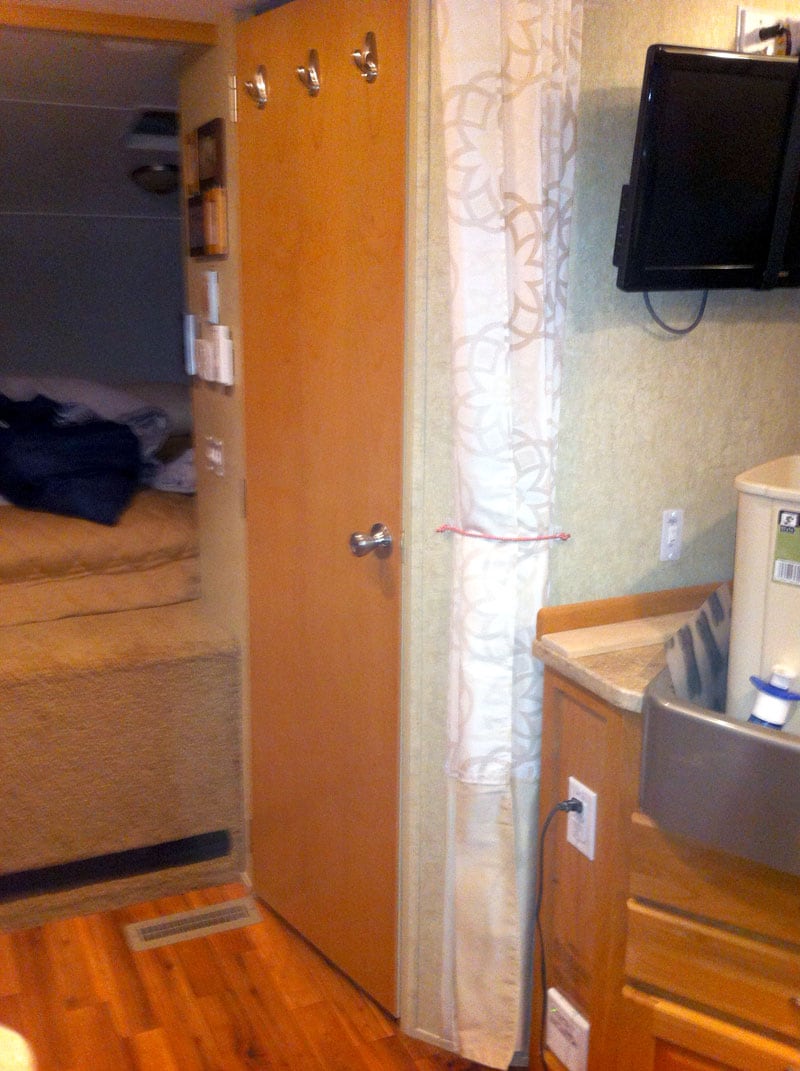 You can fold it up completely out of the way when not in use and to close up the slides.  Problem solved.
5. Shower Curtain Instead of Bathroom Door Saves Weight
Submitted by: Sue and Don Graf, 2008 Ford F350, 2013 Arctic Fox 865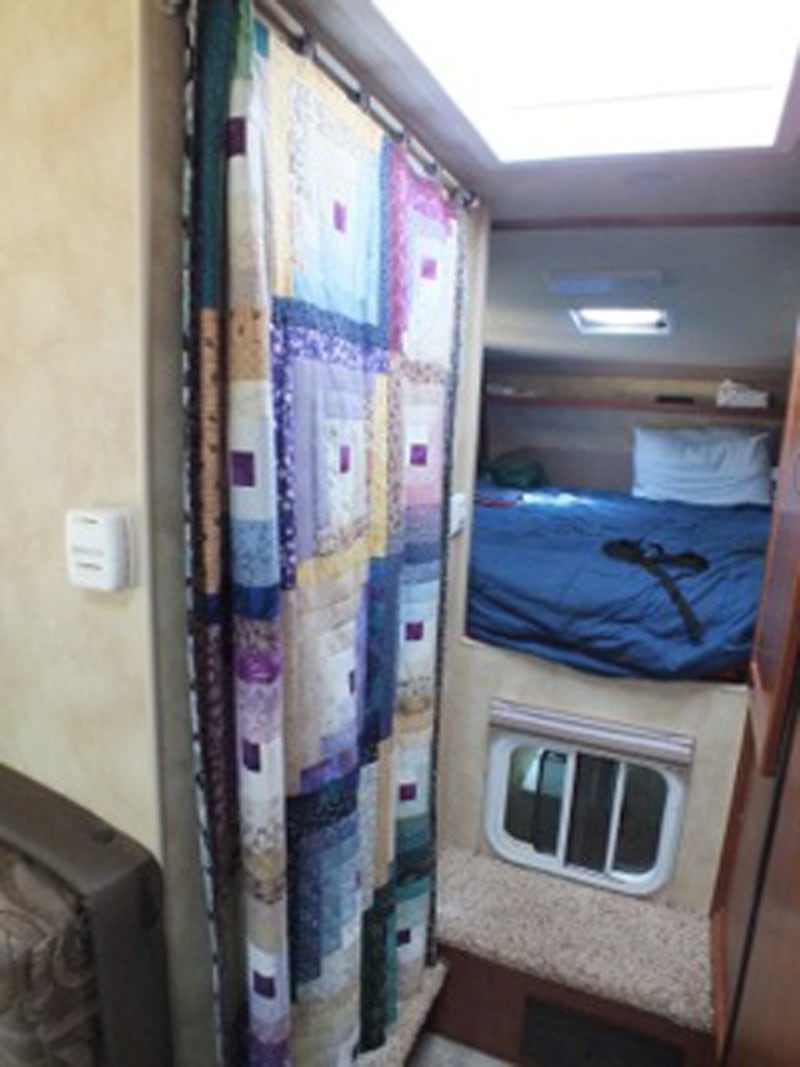 We removed the bathroom door.  In place of the door, we made a log cabin quilt curtain with tabs which we mounted it on a swing out curtain rod.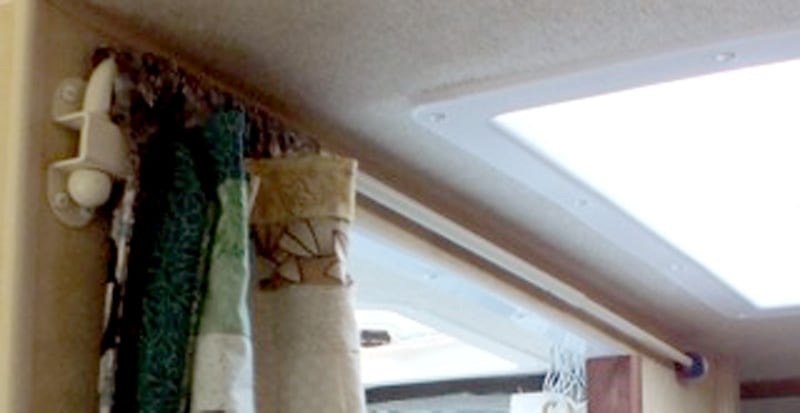 In the in position it acts as a door to the bathroom.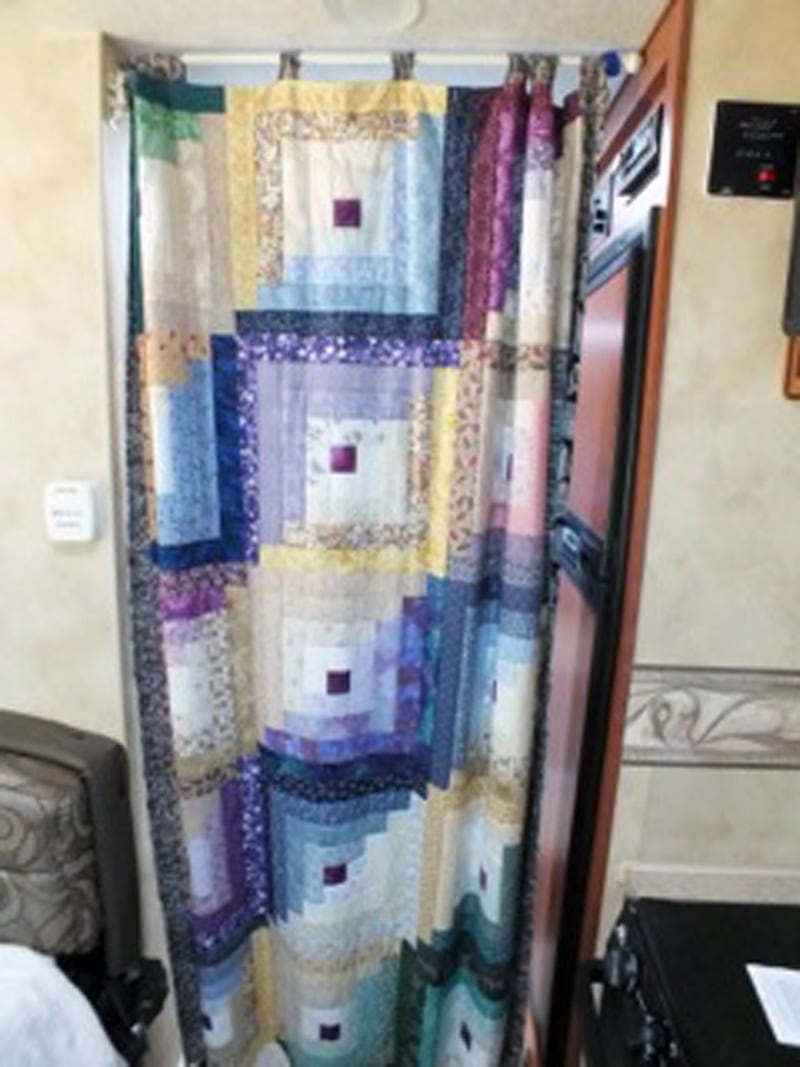 When swung out, it provides privacy from the front of the camper and creates a dressing space.  After a shower it is nice to have a dry space to step out into.