Welcome to the second entry in February's Medium Mod Contest.  One Medium Mod will be published in every Email Alert in February.  At the end of the month we'll hold a reader vote to determine February's winner.  Click here for information about the 2020 Mod Squad Contest, including how to enter.
Neil and Yoly Mullen, Dawsonville, Georgia
Truck Camper Big Screen Experience
2016 Ram 2500HD
2018 Travel Lite 840 SBRX
We've always preferred to add our own television to our campers. It saves a lot of money and the end result is more personalized. We are also big fans of big screens and opted for a 32-inch TCL Roku LED TV in our current truck camper.
The television only weighs 11-pounds, but that weight can be significant when it comes to large potholes and the laws of physics. I also wanted to connect our Playstation 4, so that weight had to be taken into account as well. I purchased a very stout pivoting mount rated for 88-pounds that I was confident would handle the application.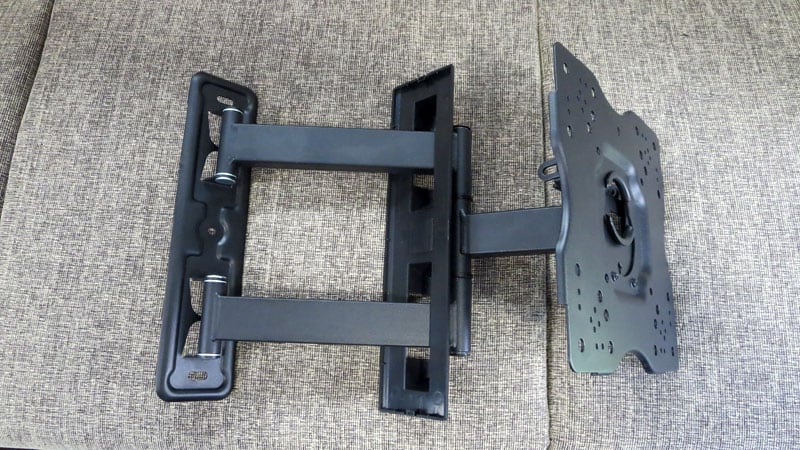 The heavy duty mount itself weighs 10-pounds, but it is the strongest and most functional mount I've ever installed.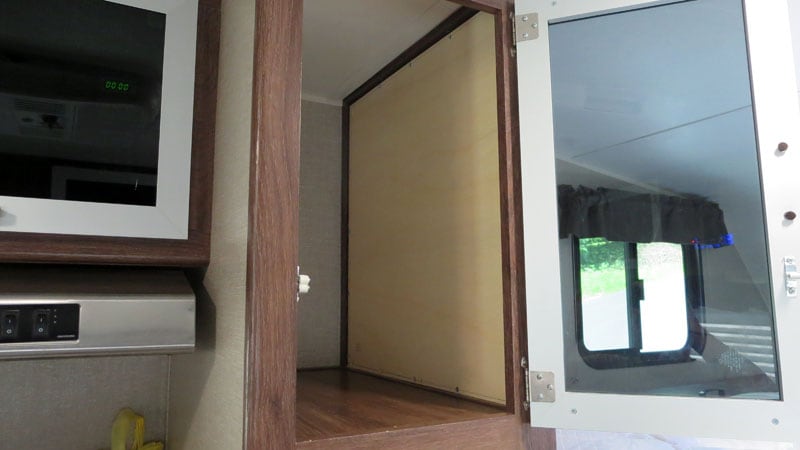 The most suitable placement was on the bare wall of the pantry cabinet facing forward which is a common truck camper television attachment area.  Naturally the thin minimal cabinet wall covering was far from suitable for supporting the inevitable loads.
I carefully cut a half-inch thick piece of birch laminate to fit tightly within the confines of the cabinet wall framing and then screwed this around the entire circumference of the framework.  This single cabinet wall is now very strong and up to the task.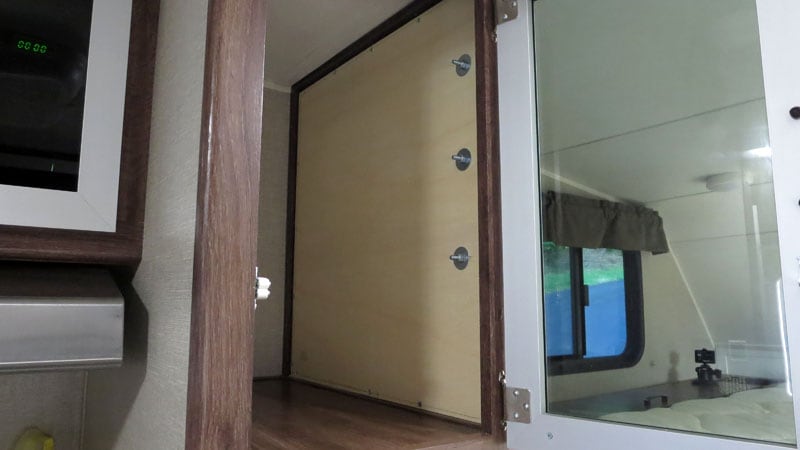 The three mounting holes were drilled and the mount secured by through bolting 1/4-28 bolts with large fender washers and nylock nuts.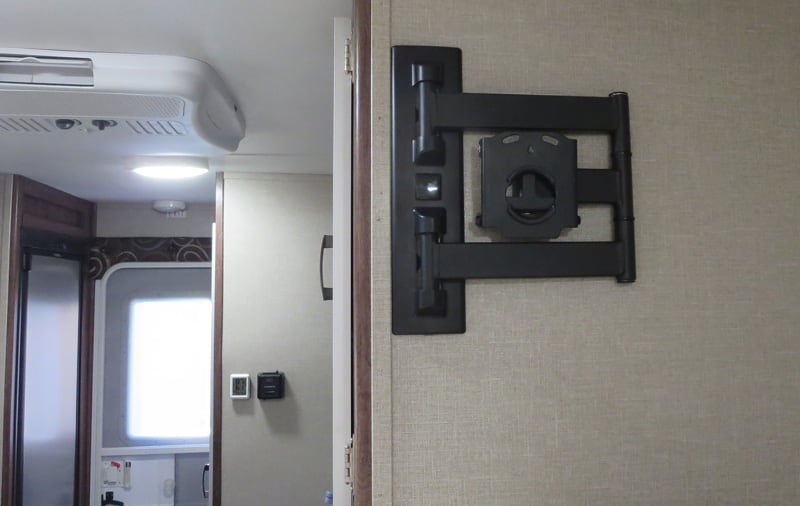 Above: The mount shown in place.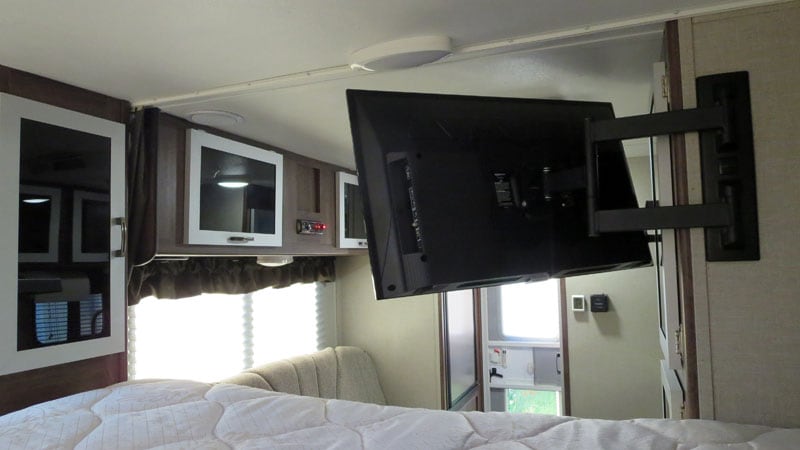 Above: TV mounted and set for dinette viewing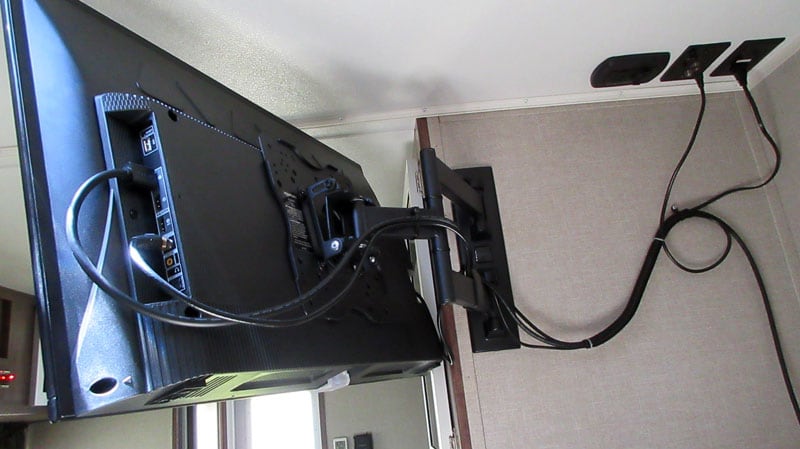 Above: Backside of TV showing connections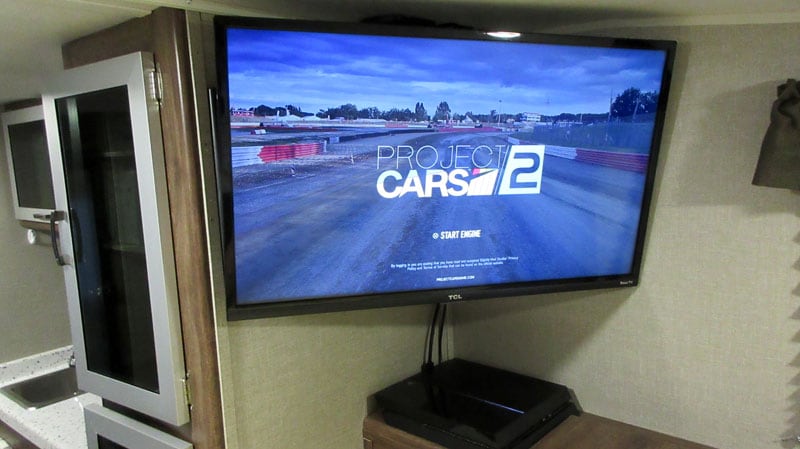 Above: First video game testing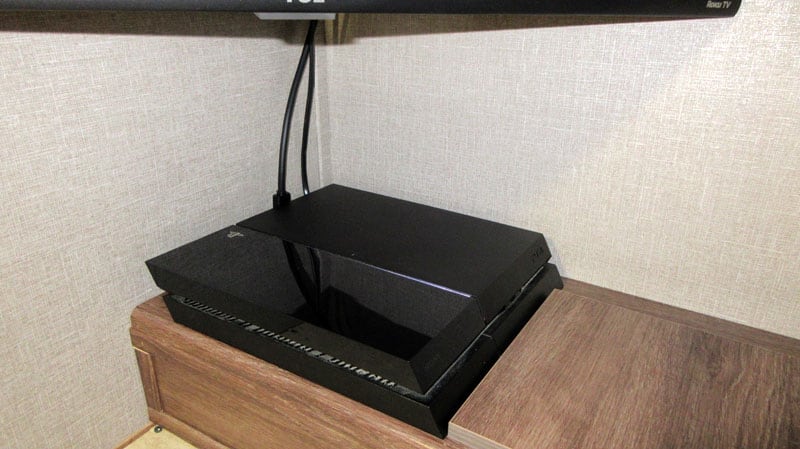 The PS4 placement was perfect.  The unit is literally held in place by the confines of the bedside storage cubby lid and interior walls.  I slip a small throw pillow between the mattress and the PS4 when traveling to secure that escape route.  It did require a 90-degree HDMI connector on the backside of the PS4 to fit the space.
We can swing the TV out to almost the center of the cabin for bedroom viewing.  We also have perfect line of sight when seated on the couch.
We love the big screen sensation when watching science fiction, fantasy and nature programs.  When mother nature forces us to stay inside for 24-hours, having this entertainment outlet is something we prefer.
Most of the smaller 19 to 25-inch TVs have pretty small speakers with marginal sound so I liked the idea of this TV incorporating a nice 10-watt speaker system.  Unfortunately, the 15,000 BTU air conditioner unit is so loud even those are just a bit hard to hear.  We have always found it difficult to hear dialog when running the air conditioner at full capacity.
In the past I have installed small stereo sound bars in the forward section of the cabover's ceiling.  That works well.  This has worked great in all three previous applications.  Having the sound 24-inches from your head eliminates the air conditioner drowning out the sound. I t also has allowed us to listen to movies in the wee hours of the morning with the volume set so low that not even dogs could hear it outside, but we could hear it fine.  It's nice to know we're not bothering anyone else.
The drawbacks have been that the overhead proximity seems to attract Yoly's noggin on an occasional basis.  And they have required routing power and audio cables.
This time I searched for a bluetooth soundbar that would connect to the TV wirelessly.  Although advertised as such, none of the three soundbars I tried would pair with the Roku TV.  These soundbars typically have two 5-watt speakers and cost less than $50.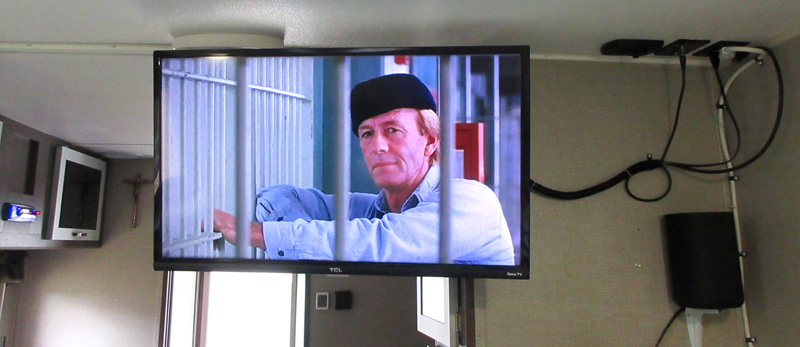 In searching for an alternative, I chose to add a set of Roku home theater speakers.  They are made for the Roku TV and pair effortlessly.  They include two bluetooth remotes with voice command so you can call up programming and movies by name.  They weigh 4-pounds apiece and have 3.5-inch sub-woofers in them.  I cannot find any wattage specs anywhere on the internet.  They list for $200 but can be had routinely for $150.  They do require 110-volt for power.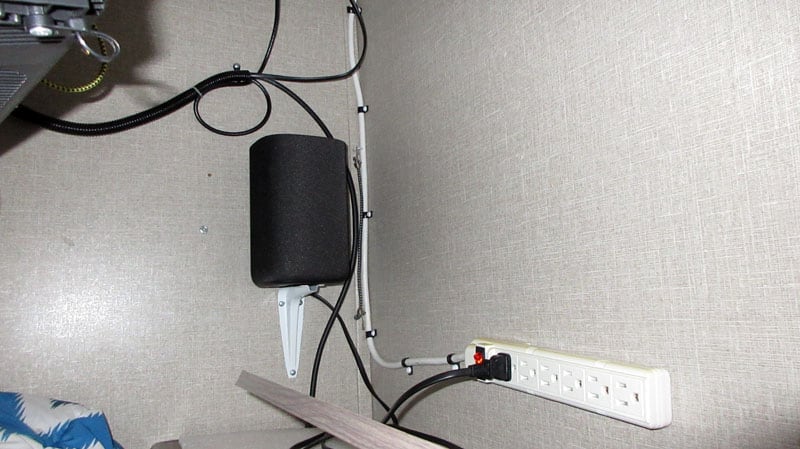 The upside is that they do not encroach on headroom space and since they're made for a home living room, they are as loud as you could ever possibly need.  We had been watching the TV with the built in speakers at the maximum 100 setting.  The Roku speakers are much louder set at 20 (out of 100).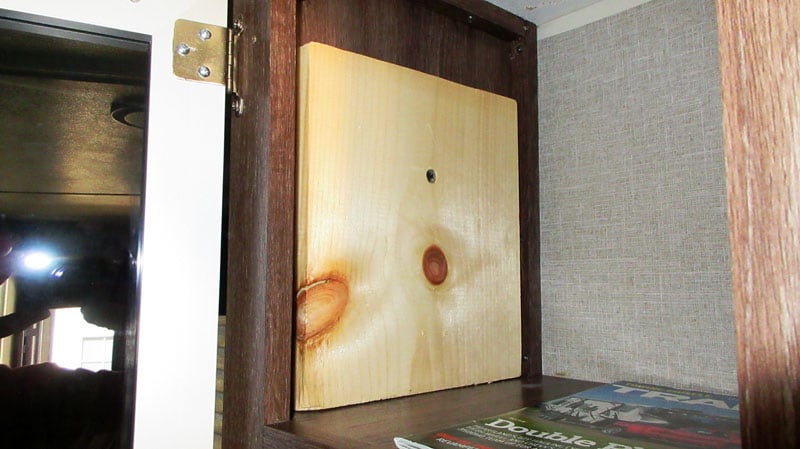 They typically rest on a flat surface but come with a 1/4-28 nutsert built in to the back of the housing for wall mounting. This is quite secure with the 3/4 inch wood backing that I've added on the inside of the cabinet walls where they're mounted.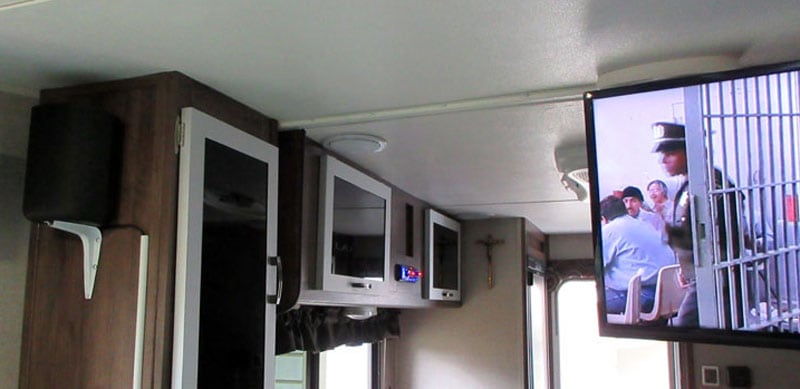 Knowing the road conditions in this country and the shock loads involved, I also added steel shelf brackets to support their weight in addition to the provided wall mount design.  Just for test purposes, I turned them up louder than we could almost stand and went outside. Since all the windows were closed (air conditioner running on max) I was totally blown away by the absence of sound outside.  I literally couldn't hear a thing 3-feet from our truck camper's entire perimeter. I would not have thought that to be the case, but we love it!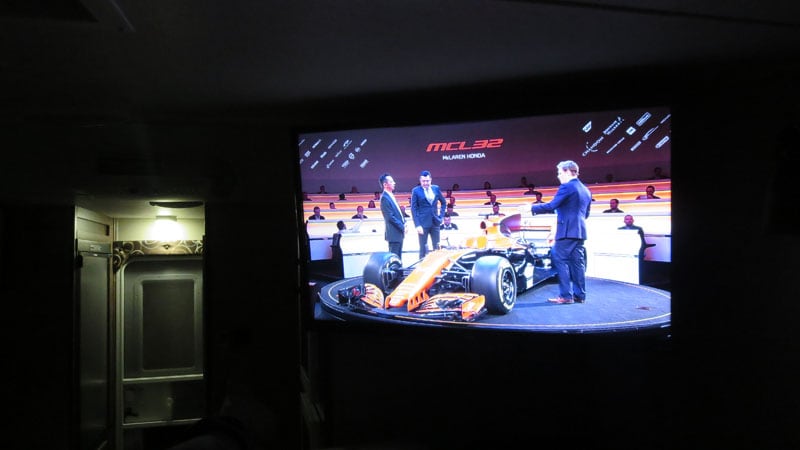 It took me three hours to complete this modification and cost me $180.  In my opinion, the skill level of this modification is easy.
Disclaimer: The modifications above are submitted by Truck Camper Magazine readers.  It is your responsibility to make sure that any do-it-yourself modification project you undertake is safe, effective, and legal for your situation.
Enter Your Mods Now!
If you'd like to enter a modification you've done on your truck camper, click here.  You can enter as many mods as you want, at any time.  Good luck mod makers!