Welcome to the second entry in April's Mega Mod-Ster Contest.  One enticing Mega Mod will be published in every Email Alert in April.  At the end of the month we'll hold a reader vote to determine April's winner.  For information about the Mod-Ster Contest, including how to enter, click here.
Charles Coushaine, Punta Gorda, Florida
Truck Bed Stop and Impact Solution
2001 Ford F350
2012 Chalet DS116RB
I have owned the same truck and camper for six years now, and started to notice the front wall of my truck bed had become significantly bowed outward.
After close inspection, the front bed wall was dented outward toward the cab of the truck about 1-1/8-inch. It was at the point that my truck camper's rubber bumpers touched this area during loading.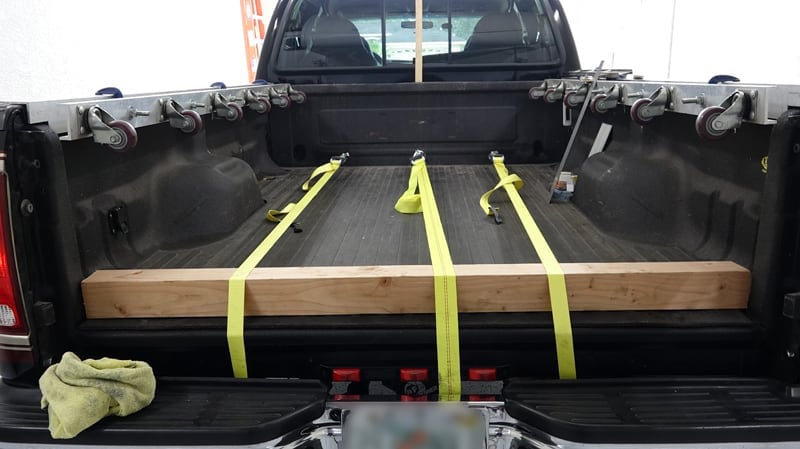 Above: Charlie attached ratchet straps to pull the bow out of the front sheet metal
Although I just barely touch these bumpers during loading, the weight of my camper pushes the truck bed wall's sheet metal causing the deformation.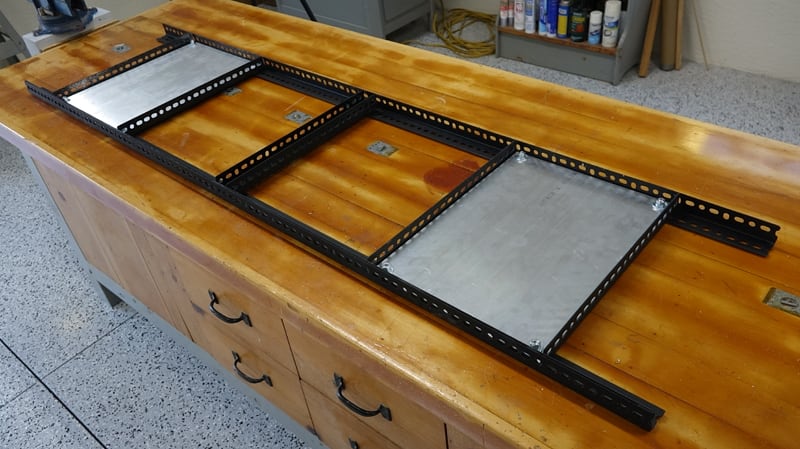 To remedy the situation, I built a metal frame out of perforated steel angle iron onto which I attached some 3/8-inch thick aluminum plates for the camper to bump up against. The design was such that the force of impact during loading will now be spread out between the top bed rail and the bottom of the truck bed – both of which are the strongest areas.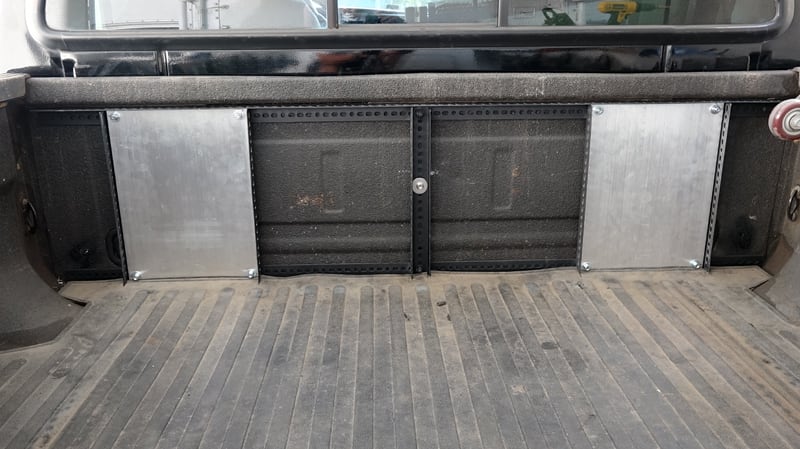 Another goal of this design was to make the bump stop very thin (only 1/2″ thick) so that I do not push the camper too far back. I wanted to maintain the center of gravity of the camper in front of the rear wheels.
Please watch the video to see the build and test:

I have tried this bump stop design multiple times and it works great! As seen in the video above, the camper now bumps against the aluminum plates and the force is spread throughout the entire perforated metal frame without any damage to my truck.
It took me six-hours to complete this modification and cost me about $175.  In my opinion, the skill level of this modification is hard.
Disclaimer: The modifications above are submitted by Truck Camper Magazine readers. It is your responsibility to make sure that any do-it-yourself modification project you undertake is safe, effective, and legal for your situation.
Enter Your Mods Now!
Click here to enter a modification on your truck camper.  You can enter as many mods as you want, at any time.  Good luck mod makers!