Welcome to the second entry in May's Mega Mod Contest.  One Mega Mod will be published in every Email Alert in May.  At the end of the month, we'll hold a reader vote to determine May's winner.  Click here for information about the 2023 Mod Contest, including how to enter.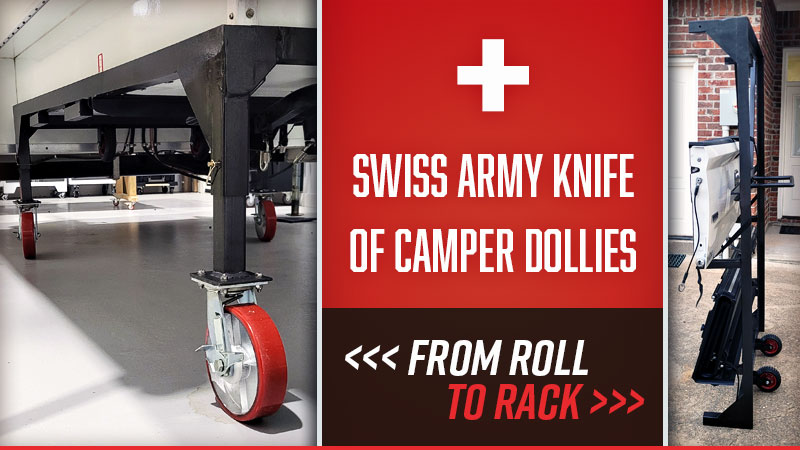 David Romero, Shreveport, Louisiana
Swiss Army Knife of Camper Dollies
2017 Ram 2500
2017 Cirrus 820
I decided to make a camper dolly for my Cirrus Camper when it's in my RV garage.
First things first, I looked at the Rieco-Titan dolly, but it is expensive. I also wanted to make mine a little more functional. I am calling it the Swiss Army Knife of Camper Dollies.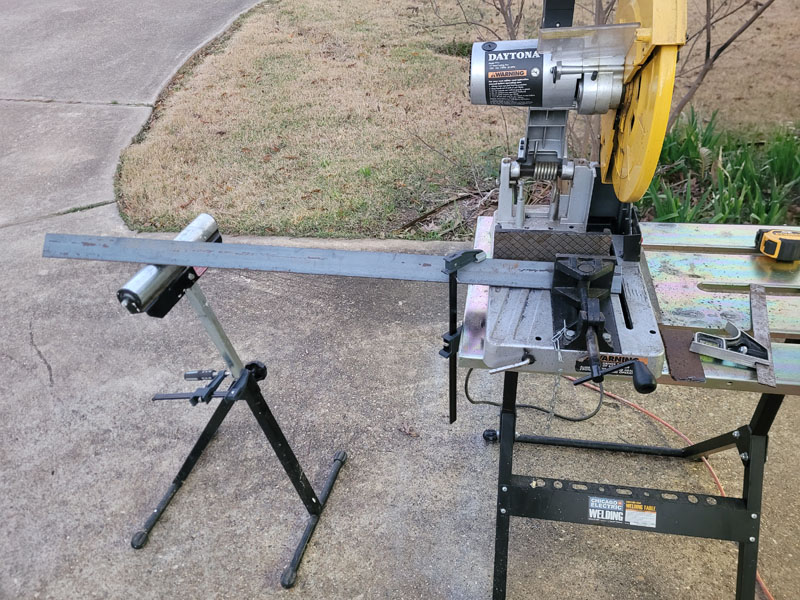 I acquired 2 x 2 inch angle iron, some 2 x 2 inch square metal tubing, and some 1.75 x 1.75 inch square metal tubing. I made four legs out of the square tubing and four leg holders. I have 10 inches of height adjustment.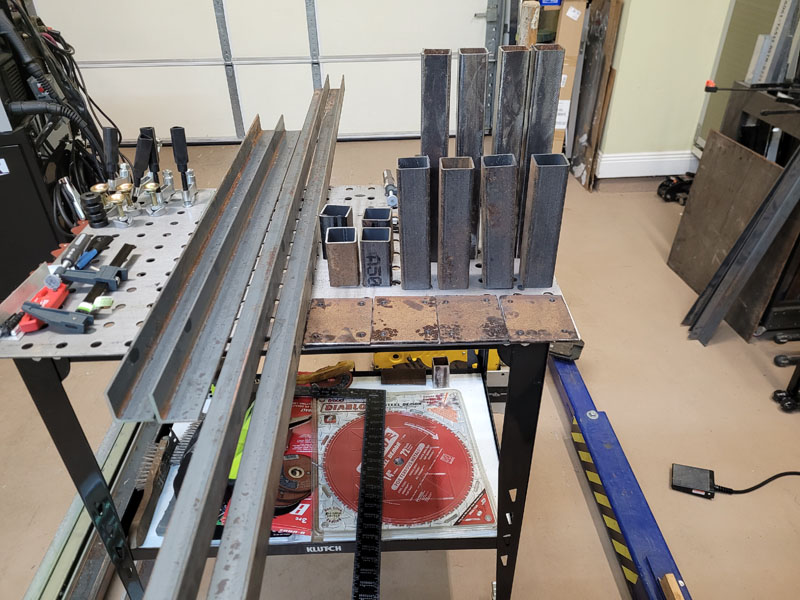 I live in a high-humidity area of Louisiana. So, for my adjustable removable legs to not experience rusting, I decided to use black oxide on the leg tubing.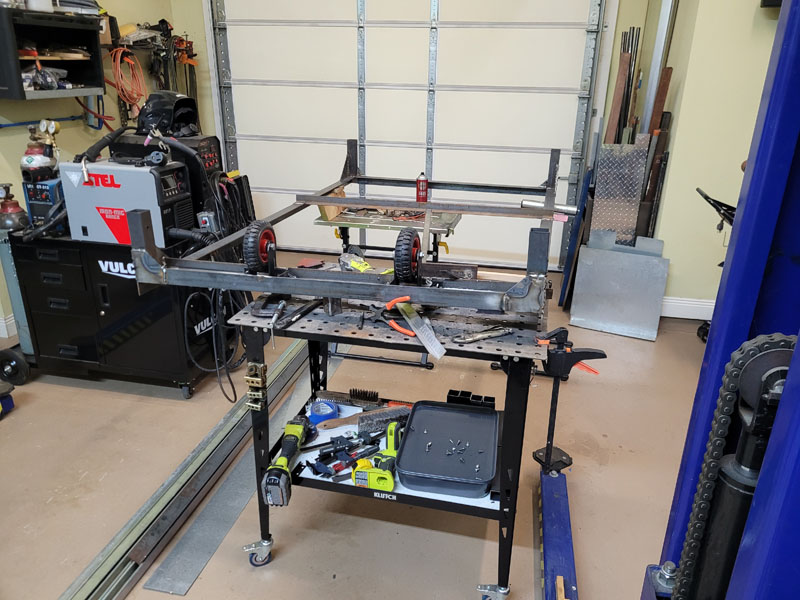 I used my Cajun crawfish boiler and Dep purple degreaser to boil the metal component. I never thought about taking a picture of boiling metal in a Cajun Crawfish boil pot. Hmm?
Then, I began the oxidizing process. After cleaning with the boiling degreaser, I used a rust remover to ensure no rust remained on the metal items.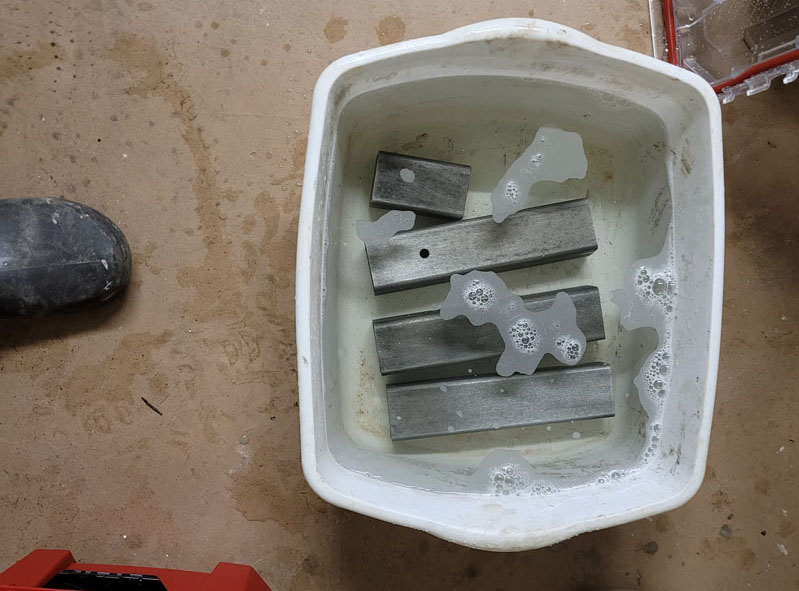 Then, I rinsed the components well in distilled water and then put the items in a rust remover solution and let them sit overnight. After that, I rinsed them off in distilled water.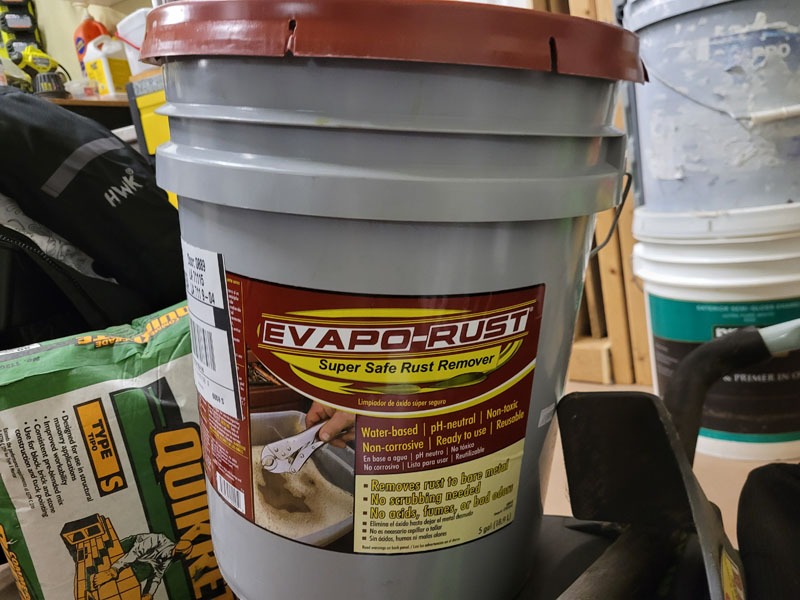 At this time I started placing items in the black oxide solution and let them acquire a strong oxide-concentrated coating. After that, the items were removed and again rinsed in distilled water. I purchased a special oil that permeates the oxide coating to help inhibit any rust formation in the future.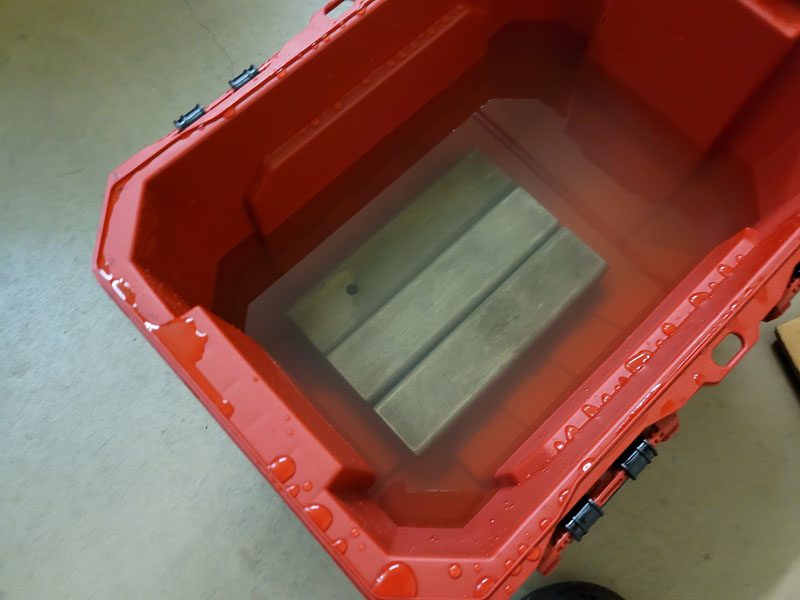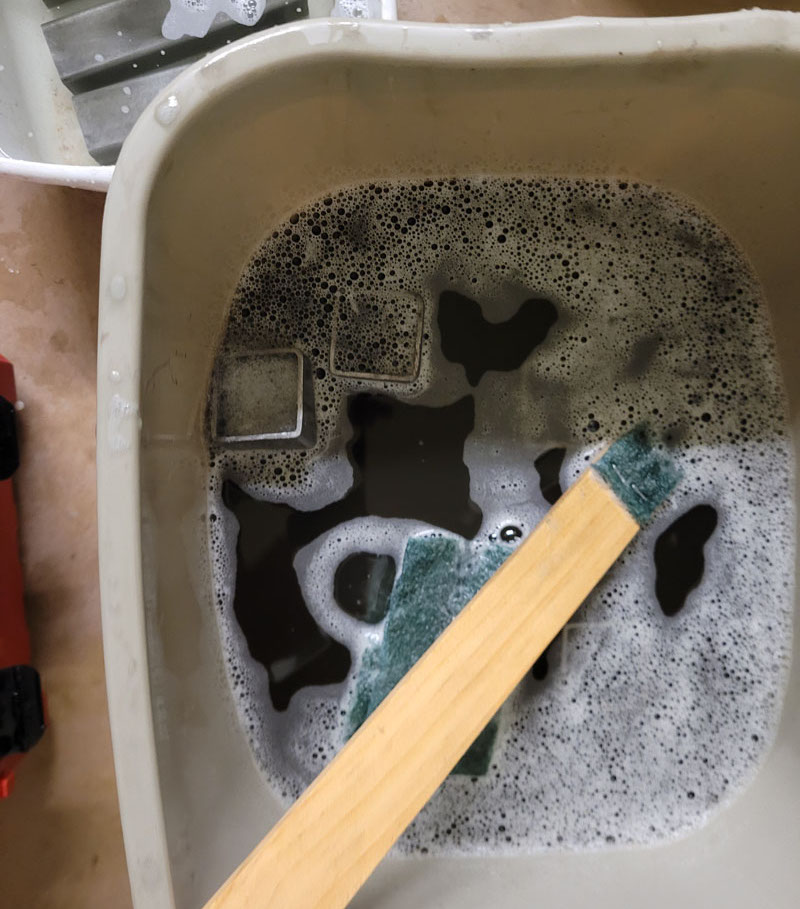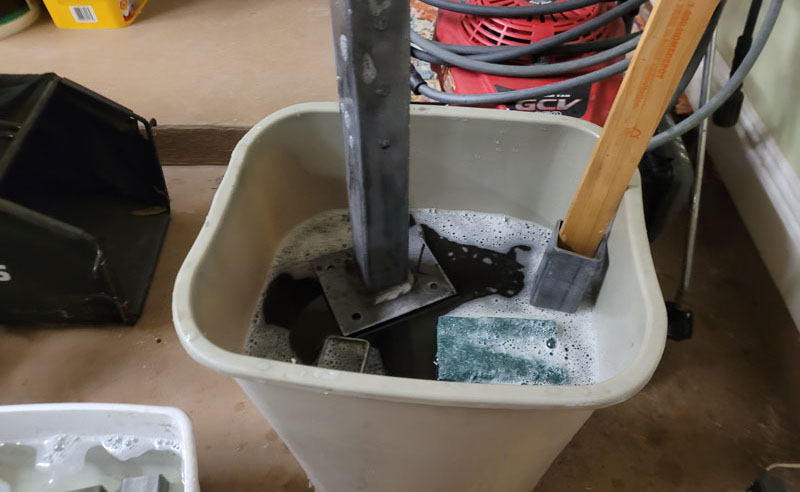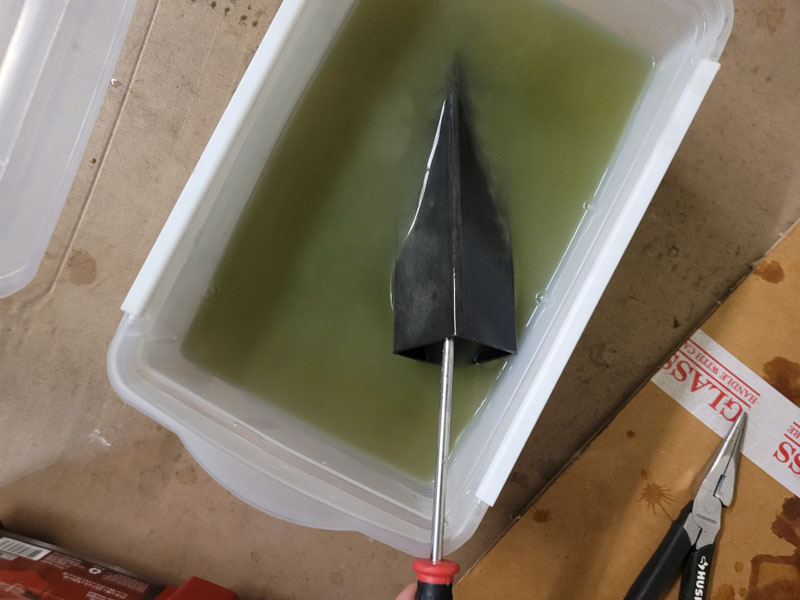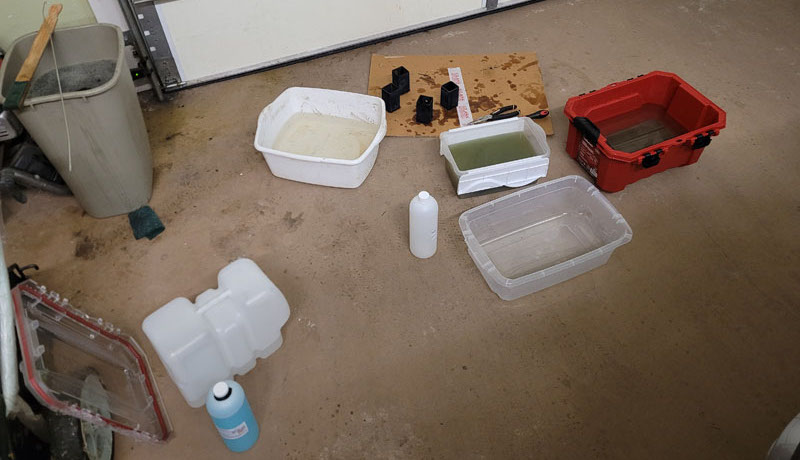 I welded a frame with adjustable legs. The frame is 48 inches wide and 84 inches long. It will accommodate most large slide-in campers. My camper as it sits with my generator, equipment, and a full load of water is just over 4,000 pounds. The dolly supports the unit very well. With that said, I can roll it, but it does take effort with all of that weight.
I wanted this dolly to do several things; store my Torklift truck tie-downs, store my truck tonneau cover when removed to load the camper, and store the biggest item; the tailgate.
Not only did I want it to hold the tailgate, but I also wanted it to be easy and convenient for me to remove and reinstall the tailgate. I have to unplug the backup camera as I remove the tailgate and this would make this process a little easier. I always had to put down a blanket on the garage floor and carry the tailgate over and tilt it against the wall. Again, I wanted to have this a little quicker and simpler.
I decided to add another set of dolly wheels that were removable or should I say repositionable.  I settled on a design that, when the camper is removed for use, I can remove the four heavy-duty swivel casters on the dolly legs, flip the small fixed casters on the other side, and flip the dolly frame up. I can then use it as a large dolly to hold and move the tonneau cover and tailgate.
I positioned a set of smaller fixed dolly wheels that slide out of slots. These wheels then flip and are reinserted to make the frame an upright dolly.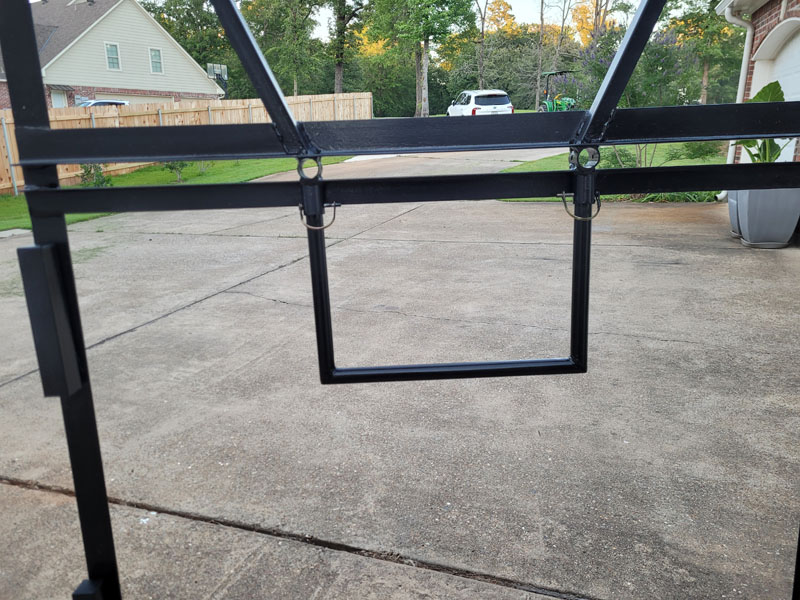 Above and below: Handle in the stored position and the Torklift tie-downs stored on the frame.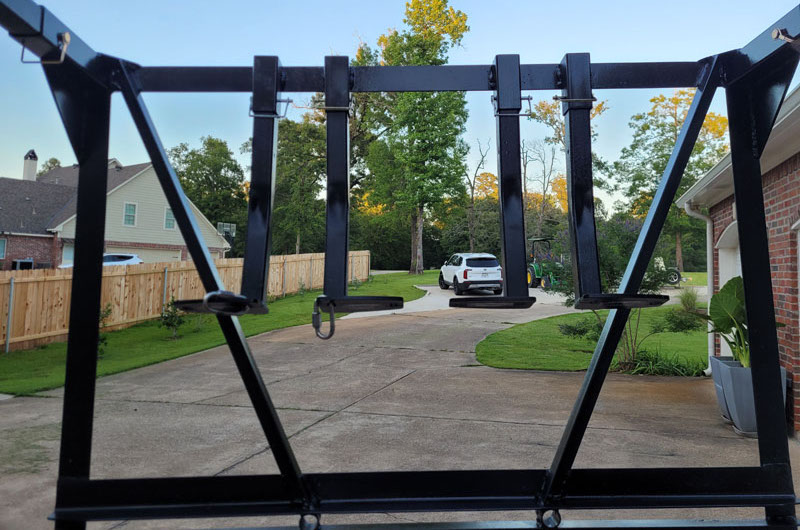 I added a handle to make this work like a dolly. The handle is moved from a flat stored position to a regular handle position for the use of the dolly frame as an upright dolly.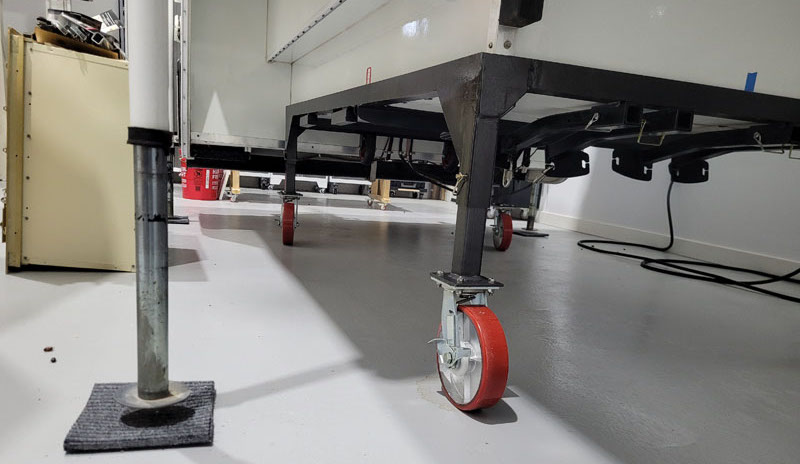 Above: Underneath look at the camper dolly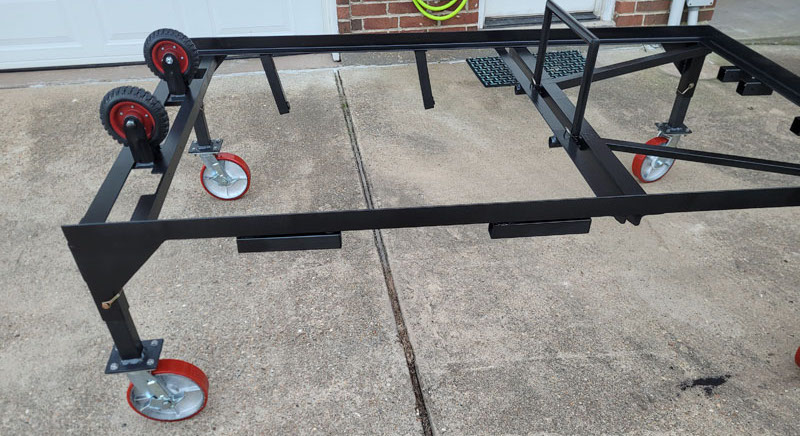 Above: Transforming to a tonneau and tailgate carrier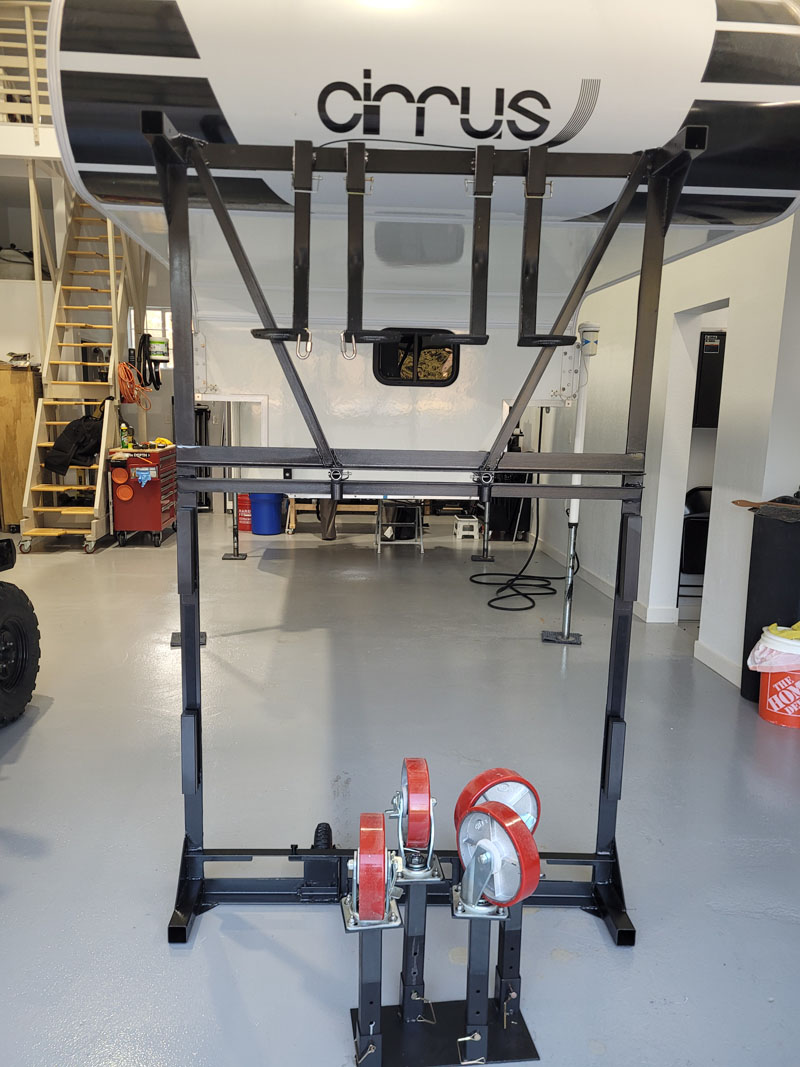 Above: Transformed to an upright dolly with the casters stored in the storage rack I made.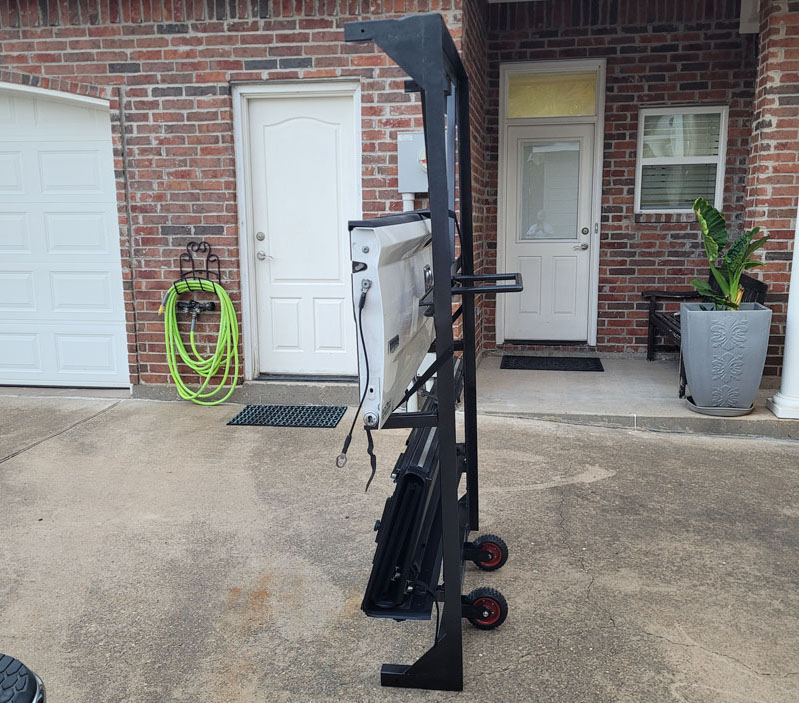 Above: The dolly with both items stored.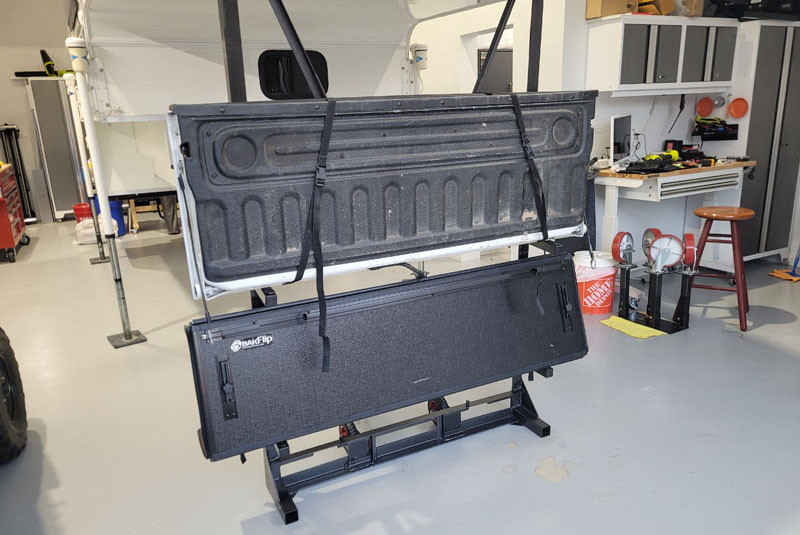 A placement of flip-down arms to hold the tonneau cover and the tailgate were added. The arms, when not in use, are held shut with magnets installed at the ends of the arms. When open, they hold the items easily and are lined with 1/8 inch rubber to protect the tailgate and tonneau cover.
I realize that my 2017 Ram 2500 truck has a rather high stock height for the truck bed. I only added a set of tires that increased the height by about 1.5 inches. The original tires were 33 inches tall and these are 35.5 inches tall. My truck box height is approximately 42 inches high, which is pretty much the stock height. There are no suspension modifications on this truck.
With that in mind, I set the transformer dolly to accept my tailgate at 42 inches and the tonneau cover sits nicely below that on another set of fold-down arms. The tonneau cover is a hard cover BakFlip brand, but really is quite light and easy to remove and replace.
I find it takes only about five minutes to transform the dolly and it is very handy moving the tailgate around. I no longer need to carry it across the garage, do not have to set it down, or lift it off the floor. It just makes getting the truck ready for a trip much easier.
This mod cost about $200 in materials. It took me a few weeks to build on nights and weekends. I would imagine the entire build would have taken two days. It is difficult to build because of the required ironwork.
Disclaimer: The modifications above are submitted by Truck Camper Magazine readers. It is your responsibility to make sure that any do-it-yourself modification project you undertake is safe, effective, and legal for your situation.
Enter Your Mods Now!
If you'd like to enter a modification you've done on your truck camper, click here. You can enter as many mods as you want, at any time.  Good luck mod makers!