Welcome to the first entry in March's Mini Mod-Ster Contest.  One tantalizing Mini Mod will be published in every Email Alert in March.  At the end of the month we'll hold a reader vote to determine March's winner.  For information about the Mod-Ster Contest, including how to enter, click here.
Laurie Heimbigner, Pullman, Washington
Hidden Pillow Storage For Cold Weather Gear
2013 Ford F-550
2013 Phoenix Pop-up
We are traveling long term and always need to be prepared for colder temperatures. That means additional jackets, blankets and sleeping bags. The challenge was where to store these bulky items. Then I looked closely at our throw pillows.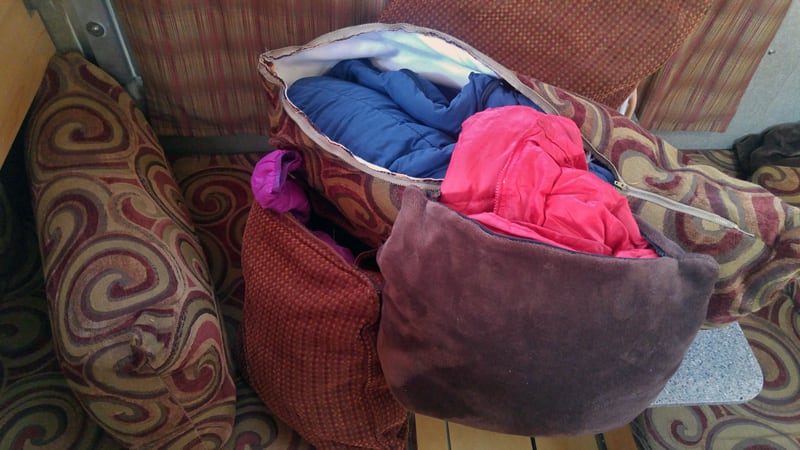 In less than 30-minutes, I ripped open each pillow's seam and installed a zipper in its place. The throw pillows became our jacket and blanket storage. Then I took leftover upholstery fabric and made two zippered bolsters, each large enough to hold a sleeping bag.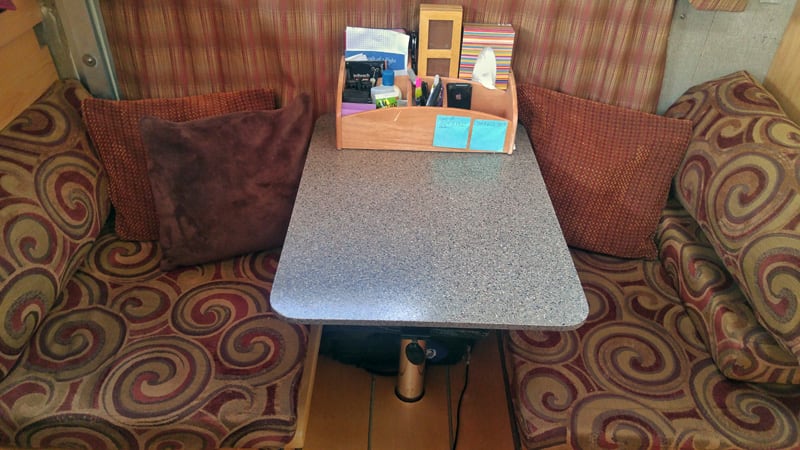 Problem solved! All of our cold weather gear is conveniently stowed away, yet quickly accessible, and we're actually more comfortable with the additional pillows and bolsters.
It took me 4-hours for 4 pillows and 2 fully-lined bolsters. I already had the fabric, so all I was out was about $20 for the zippers. In my opinion, the skill level of this modification is easy. As long as you can sew a straight seam on each side of the zipper, you've got it.
Disclaimer: The modifications above are submitted by Truck Camper Magazine readers. It is your responsibility to make sure that any do-it-yourself modification project you undertake is safe, effective, and legal for your situation.
Enter Your Mods Now!
If you'd like to enter a modification you've done on your truck camper, click here.  You can enter as many mods as you want, at any time.  Good luck mod makers!