Welcome to the seventh entry in July's Medium Mod Contest.  One Medium Mod will be published in every Email Alert in July.  At the end of the month, we'll hold a reader vote to determine July's winner.  Click here for information about the 2023 Mod Contest, including how to enter.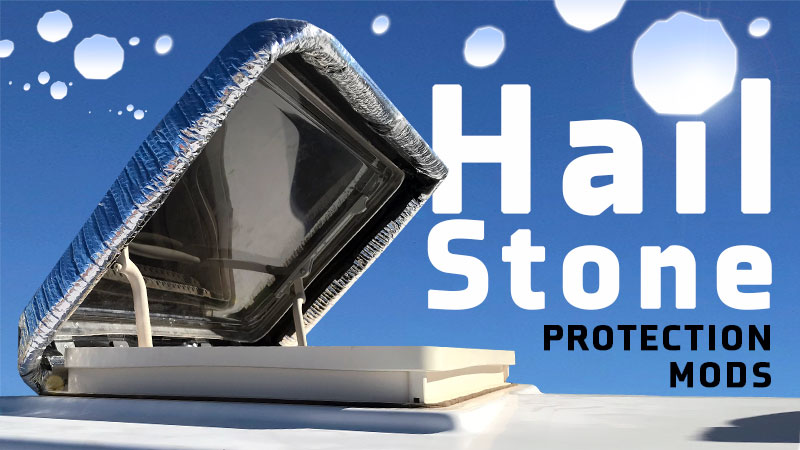 Gaston Belanger, Peoria, Arizona
Hail Stone Protection Mods
2017 Ram 3500
2017 Northern Lite 9-6-Q-SE
On a sunny day last year in Brian Head, Utah came a hail storm. The 1/4-inch size stones broke through the kitchen and bathroom vents on my Northern Lite camper.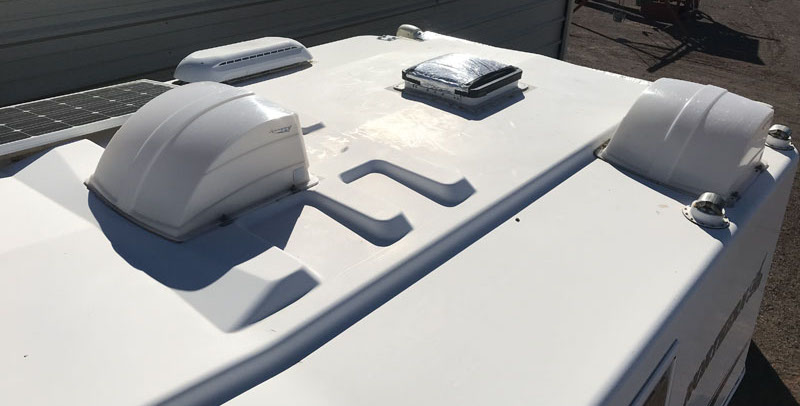 I replaced the two busted-up vents with durable Camco vent covers, but the camper vent I was most concerned about is the big double-pane escape hatch over the bed. I was also concerned about the truck's windshield.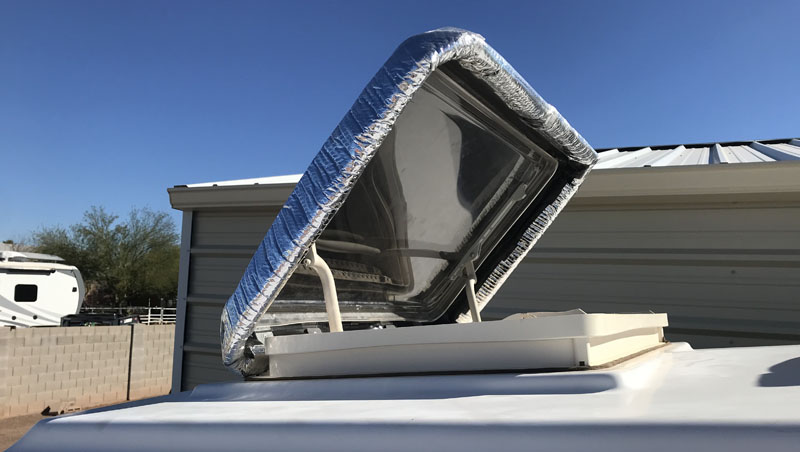 To prevent big hail stones from busting or blasting through the double pane bed vent, I wrapped it over and under the vent's lip with a Yoga mat. You have to remove the vent to do this on a table. I used Gorilla Tape to secure the Yoga mat "under" the lip.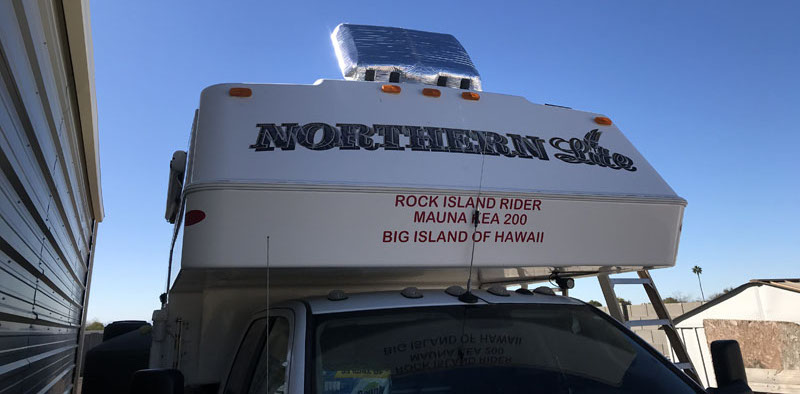 Then I put a layer of Reflective foil over the Yoga mat using Permatex gasket glue spray to bind the two. Again, Gorilla taping that under the lip as well. The Gorilla tape is under the vent's lip out of the sun's hot rays and wind.
The Reflective foil protects the black Yoga mat and stops the sun's rays. Both layers act as a cushion to absorb big hailstone hits. I also did this to the Fantastic Fan vent cover.
Note: I can no longer lay in bed looking up at the starry nights. This mod blocks out the sun's heat and the cold winter snow/ice chill, and saves on my air conditioner and heat use.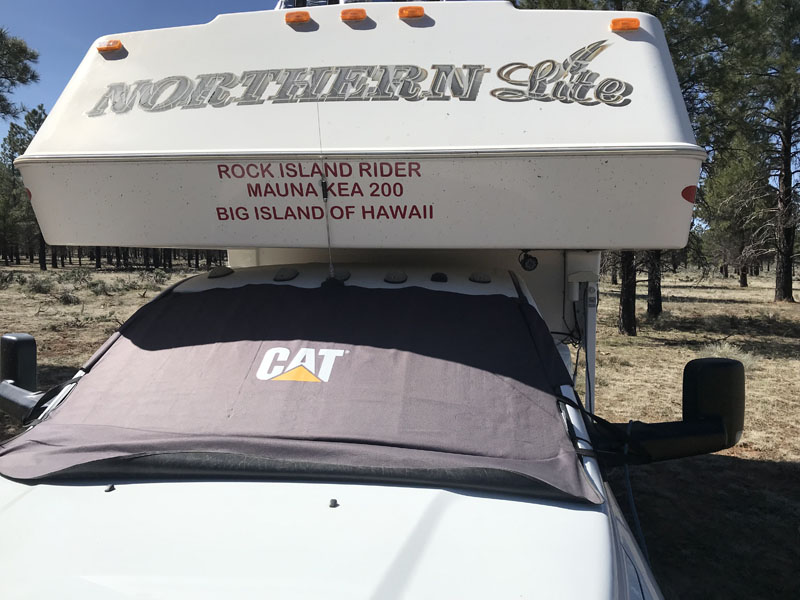 To protect the windshield on my truck, I got a CAT snow/ice windshield cover. Using Permatex gasket spray glue, I glued it to the underside of the CAT shield as a cushion to absorb hailstone hits and to insulate it from the sun's heat.
I chose the CAT windshield cover because it has heavy-duty industrial strength quality. Also, I used two strong 30-pound strength magnets to hold down the edges of the cover to the hood from high winds.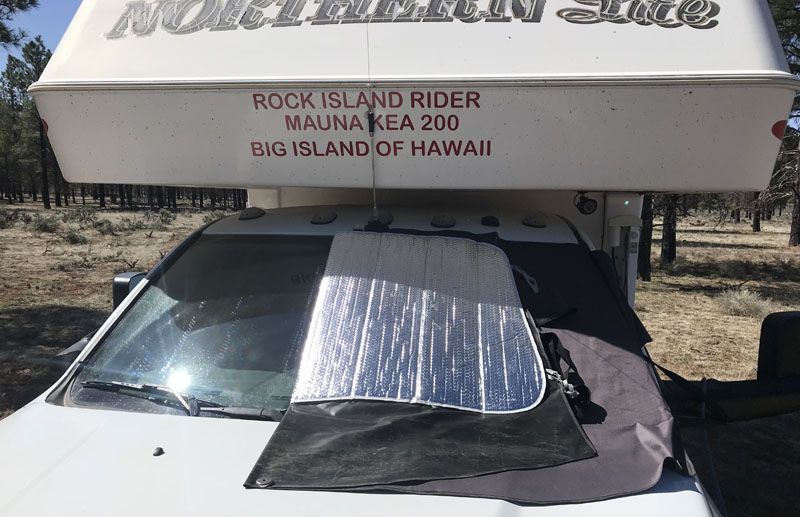 FYI, I've been on the road full-time going on six years now encountering all kinds of weather. You've gotta prepare for anything.
In conclusion, the big bed roof vent covering stops heat and cold over the bed and protects from hail damage. The Camco vent covers allow the vents to be open during heavy rain, snow, hail, and wind. The CAT-insulated windshield cover keeps heat out and saves windshield breakage from large hail stones, and eliminates scraping off snow and ice.
All parts were bought from Walmart.
1. Camco 40433 RV Roof Vent Cover (White) – $38.43
2. Wallmart Direct Deluxe 1/4-inch Yoga Mat, Black – $14.98
3. Reflectix BP24010 Series Foil Insulation, 24-inch by 10-feet – $18.38
4. Gorilla All Weather Black Tape, 1.88-inch by 25-yard Roll – $12.98
5. Permatex High-Temp Red RTV Silicone Gasket, 7.25-ounce Automatic Tube, Red -$33.50
6. CAT Frost Guard, Toughest Car Windshield Snow Cover for Ice Sleet, Winter Protection – $27.90
7. Wideskall Car Windshield Sunshade Reflective Sun Shade for Car Cover Visor – $8.59
8. Super Strong Rare Earth Magnets, Heavy Duty Neodymium Magnet Mini Powerful three Layer Plating, 10 pieces – $8.94
It took me about eight hours to complete this modification and cost me $202.04.  In my opinion, the skill level of this modification is medium.
Disclaimer: The modifications above are submitted by Truck Camper Magazine readers. It is your responsibility to make sure that any do-it-yourself modification project you undertake is safe, effective, and legal for your situation.
Enter Your Mods Now!
If you'd like to enter a modification you've done on your truck camper, click here. You can enter as many mods as you want, at any time.  Good luck mod makers!