Welcome to the first entry in August's Medium Mod Contest.  One Medium Mod will be published in every Email Alert in August.  At the end of the month, we'll hold a reader vote to determine August's winner.  Click here for information about the 2020 Mod Contest, including how to enter.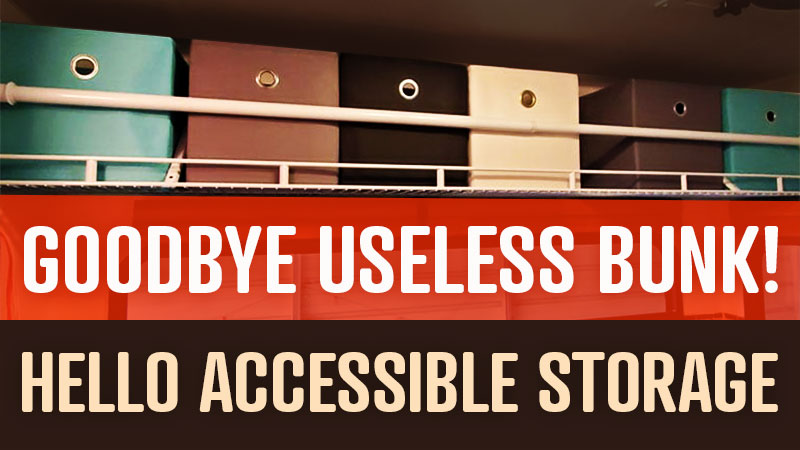 Barbara Buhler, Dallas, Oregon
Goodbye Useless Bunk and Hello Accessible Storage
2004 Ram 2500
2002 Alpenlite Cimarron 8.5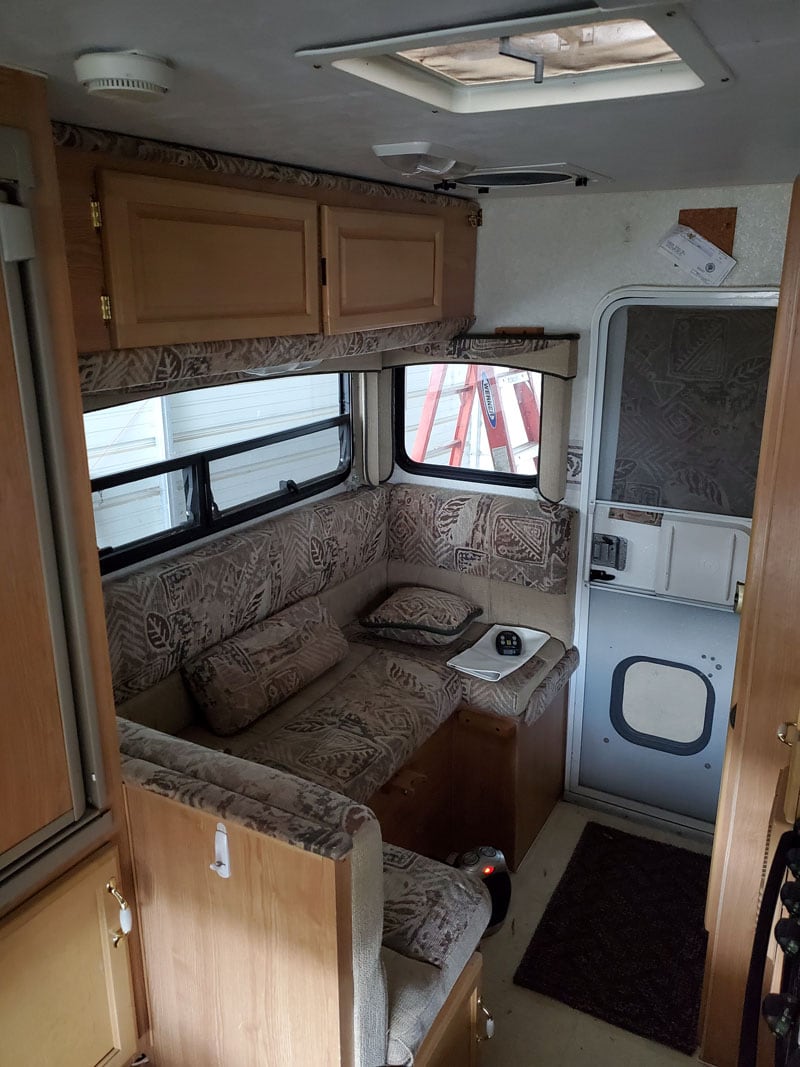 Above: The bunk before the modification
The bunk area above our camper dinette wasn't practical to be used as a bunk. There were only 12-inches of headroom and that was without a mattress. It was also limiting the sunlight into our camper. The goal was to improve the area into organized and easy to access storage.
When I first started the modification, I didn't plan on removing the whole shelf. However, the more I started removing, the better I liked how it looked. I used a cordless drill and basically just started removing screws until the entire bunk was gone (pictured below).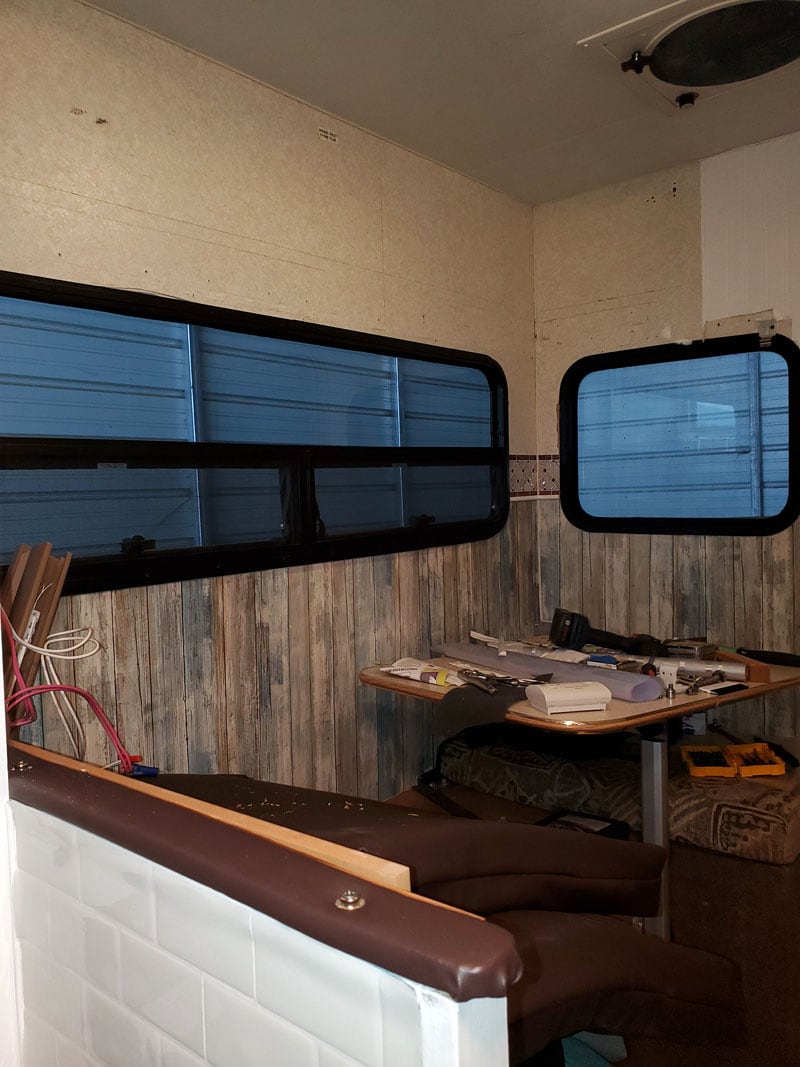 Once the bunk was gone, I installed a 12-inch wire shelf upside down so that it would provide a lip to hold my 10-inch fabric storage cubes. When traveling, I use a telescoping shower curtain rod across the cubes to keep them in place.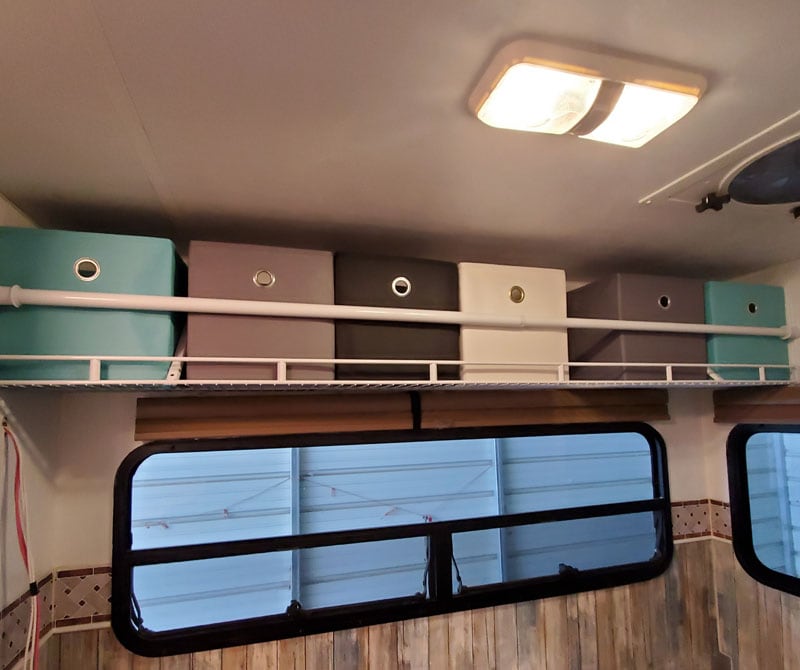 There was a 12-volt light over the dinette that I will use for another dinette light. As of right now, I haven't installed it.
What a huge difference this has made in the overall feel of inside the camper. It allows more light to come in and I can access my storage cubes easily. Everything is organized instead of just thrown into the cupboard.
It took me approximately three hours to complete this modification. The wire shelf was $15, the storage cubes were $5 each and the telescoping shower curtain rod was $20.
In my opinion, the skill level of this modification is medium. It's not necessarily difficult, but the bunk pieces were heavy and awkward to remove. Installing the wire shelf was a two-person job.
Disclaimer: The modifications above are submitted by Truck Camper Magazine readers. It is your responsibility to make sure that any do-it-yourself modification project you undertake is safe, effective, and legal for your situation.
Enter Your Mods Now!
If you'd like to enter a modification you've done on your truck camper, click here. You can enter as many mods as you want, at any time.  Good luck mod makers!