Welcome to the fifth entry in May's Medium Mod-Ster Contest.  One engaging Medium Mod will be published in every Email Alert in May.  At the end of the month we'll hold a reader vote to determine May's winner.  For information about the Mod-Ster Contest, including how to enter, click here.
Rob Buell, Calgary, Alberta
Gas Cooktop Pull-Out Tray
2012 Ford F-150
2007 Adventurer 76R
This modification was done so that I could eliminate the need for a portable barbecue when camping. The portable barbecue was heavy and required separate propane bottles to be taken on a trip.

I started by building a lightweight frame with two heavy duty 26-inch long drawer slides. As the rear wall of the camper was created from another mod, I was able to cut a hole and install a weatherproof door for the unit.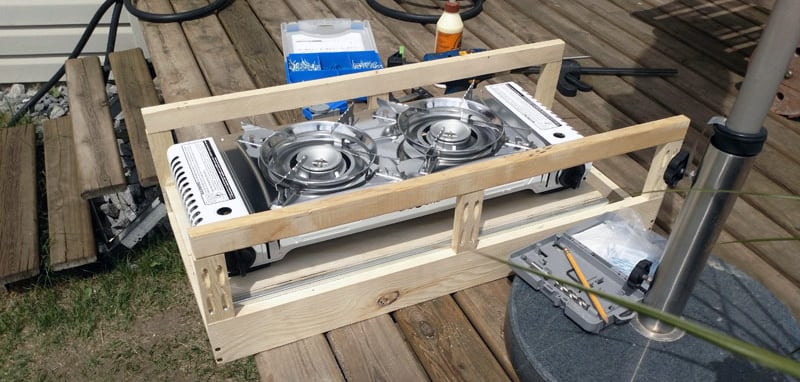 The frame was built with 1-inch by 2-inch spruce boards that were secured with pocket screws and glue. The top cover for the box inside the camper uses 1/4-inch luan and matching vinyl flooring. A piano hinge allows for access to the cooktop from inside the camper.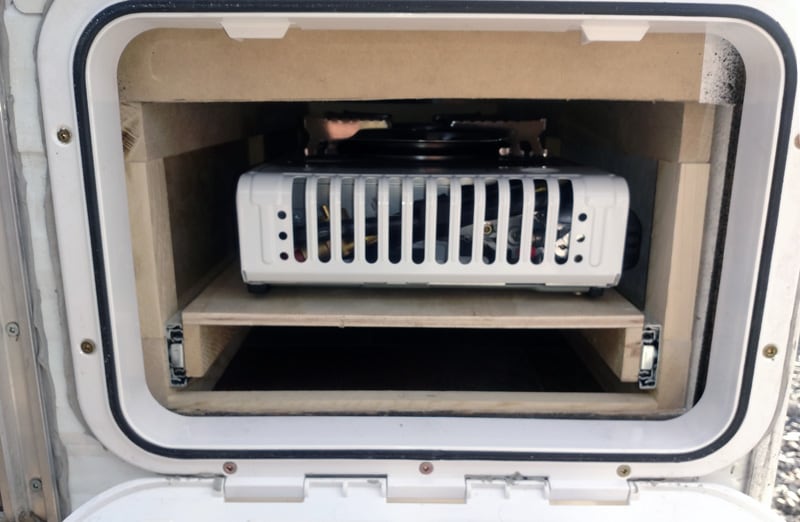 A 6-foot propane hose adapter was purchased from a local propane distributor so the cooktop could be used with the existing camper's 20-pound bottle. I added a lock to the door from a four pack kit. I used the same kit to replace all my camper locks to one key. Materials were purchased from Home Depot and Amazon.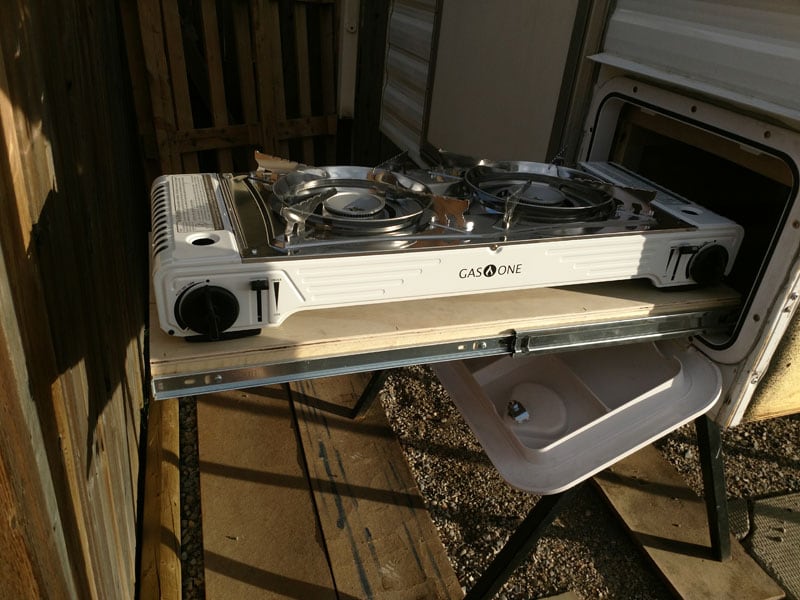 My gas cooktop pull-out tray has worked great. Set up takes less than a couple minutes. My awning covers me when cooking and, if the weather suddenly changes, it can be put away very quickly. As a bonus, the total weight of the unit including the cooktop is five-pounds less than the weight of the barbecue alone. That doesn't even count the extra propane that needed to be brought along.
It took me eight hours to complete this modification and cost me $250 including the dual-fuel cooktop.  In my opinion, the skill level of this modification is medium.
Disclaimer: The modifications above are submitted by Truck Camper Magazine readers. It is your responsibility to make sure that any do-it-yourself modification project you undertake is safe, effective, and legal for your situation.
Enter Your Mods Now!
If you'd like to enter a modification you've done on your truck camper, click here. You can enter as many mods as you want, at any time.  Good luck mod makers!