Welcome to the fifth entry in February's Mini Mod Contest.  One Mini Mod will be published in every Email Alert in February.  At the end of the month, we'll hold a reader vote to determine February's winner.  Click here for information about the 2023 Mod Contest, including how to enter.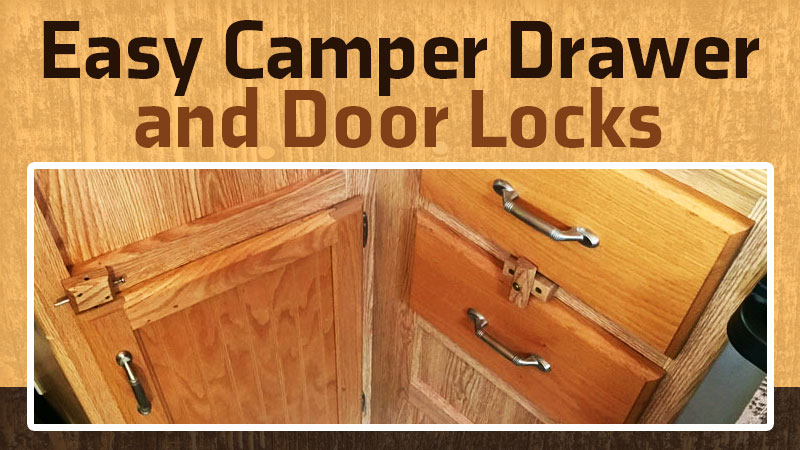 Kevin Mooney, Nimpo Lake, British Columbia
Easy Drawer and Door Locks
2014 Ford F-350
2006 Okanagan UDB106
Our older truck camper came with a type of drawer-locking slide that is no longer available for replacement. I shopped high and low to try and find one, but no such luck. I wasn't sold on the spring-loaded slides as I couldn't see how they could keep a heavily loaded drawer from sliding out when traveling off-road.
I looked at many different types of locking mechanisms, but they were either ugly, or wouldn't mate well with my drawer type. So, after much procrastination and head-scratching, I finally came up with something that was simple, yet tasteful, at least to me and my better half.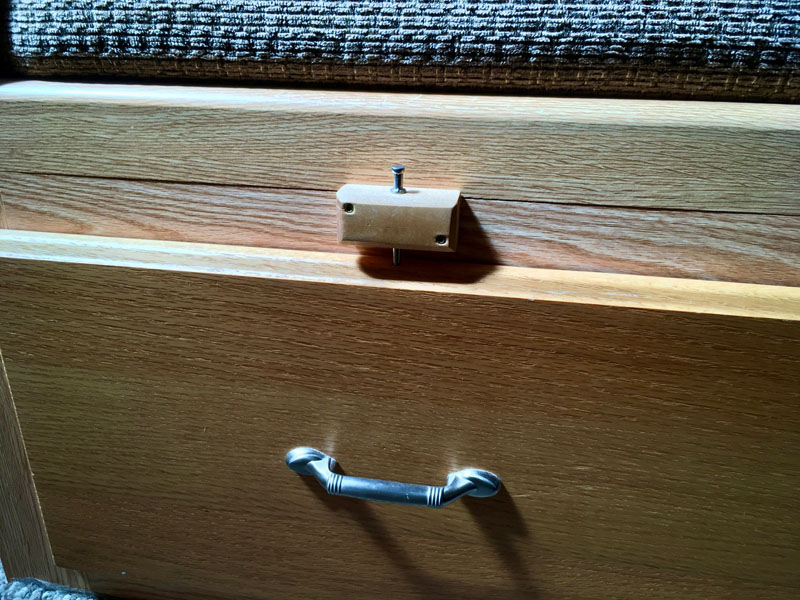 After spotting a Duplex nail in my tickle trunk, the idea struck me. I could use a small block of wood that I could make to look like the drawer wood, drill a hole through it and the drawer, and the nail would hold it in place.
Editor's Note: Between 1967 and 1996, a Canadian children's television program called Dresssup featured a large red (and magical) steamer trunk that acted as Mr. Dressup's portal to a world of imagination; a Tickle Trunk! The popular show was Canada's precursor to Mr. Rogers.
I decided I could use this on doors as well, but what do you do with a bunch of loose round nails when they are not being used? "They are just going to get lost," I thought.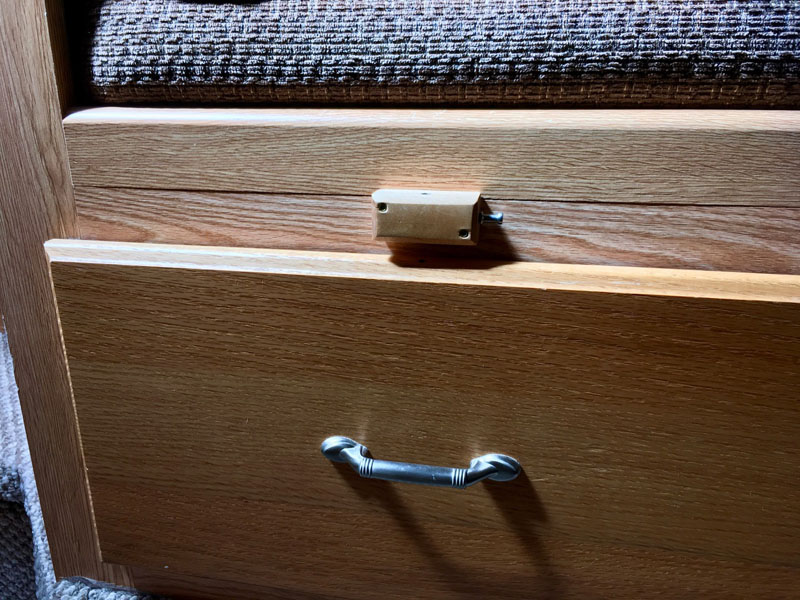 Then I thought what if I drilled a hole through the top down to fit into the drawer or door, and also drilled a hole horizontally? Then when I park and wish to have everything unlocked, I can simply slide the nail into the hole sideways and it won't roll away or get lost.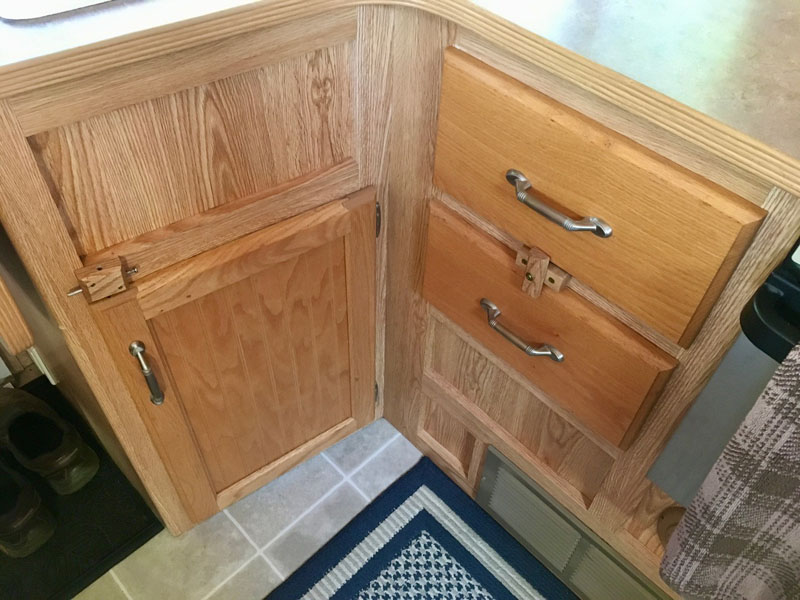 So far it has worked flawlessly. We have yet to have any of the drawers or doors come open while driving off-road with the camper, even after many miles of washboard. I'm sure a number of us remember what it's like to have the medicine cabinet pop open while traveling and everything is rolling around on the floor. It's a serious pain in the butt with a slide-out and trying to fish everything out so nothing jambs.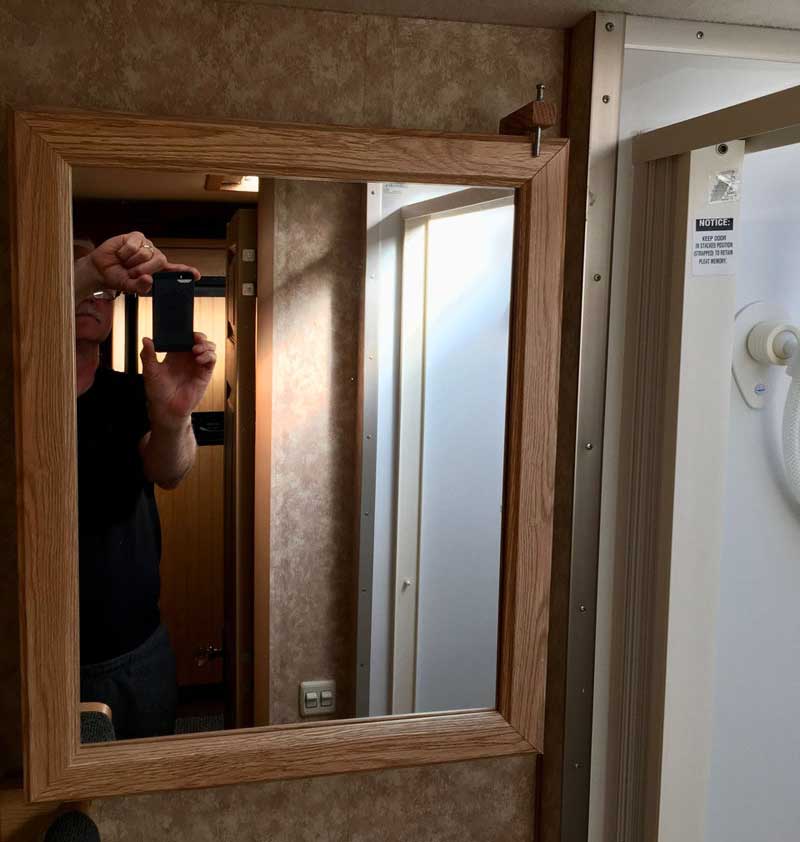 I'm sure that anyone could adapt this to just about any kind of camper. Whether you like the look or not is up to you.
The blocks of wood were just some scrap I had kicking around, I beveled the edges a wee bit on the table saw to make them look a little nicer, sanded them smooth, added some stain, and was good to go. Take note that you have to fasten the blocks in the corners or the nails won't fit horizontally as well as vertically. I have found that two finishing-style screws have been plenty strong. On the medicine cabinet, where the body is made of plastic, I screwed from the inside through and into the wood block on top, just be gentle when tightening the screws and you should be fine.
On the wooden toggle that I made for between the two kitchen drawers, I screwed the inner block to the cabinet, and then used a single washer head screw for the pivoting toggle. Occasionally this screw will want to back out a tiny bit, but not enough to release the drawers. It's a small price to pay to grab a screwdriver every few months and snug it up.
It took me a couple of hours to complete this modification and cost me nothing because parts were on hand. If you had to purchase the nails and screws, it would probably be less than a coffee at Starbucks.  In my opinion, the skill level of this modification is easy.
Disclaimer: The modifications above are submitted by Truck Camper Magazine readers. It is your responsibility to make sure that any do-it-yourself modification project you undertake is safe, effective, and legal for your situation.
Enter Your Mods Now!
If you'd like to enter a modification you've done on your truck camper, click here. You can enter as many mods as you want, at any time.  Good luck mod makers!