Welcome to the third entry in September's Mega Mod Contest.  One Mega Mod will be published in every Email Alert in September.  At the end of the month, we'll hold a reader vote to determine September's winner.  Click here for information about the 2020 Mod Squad Contest, including how to enter.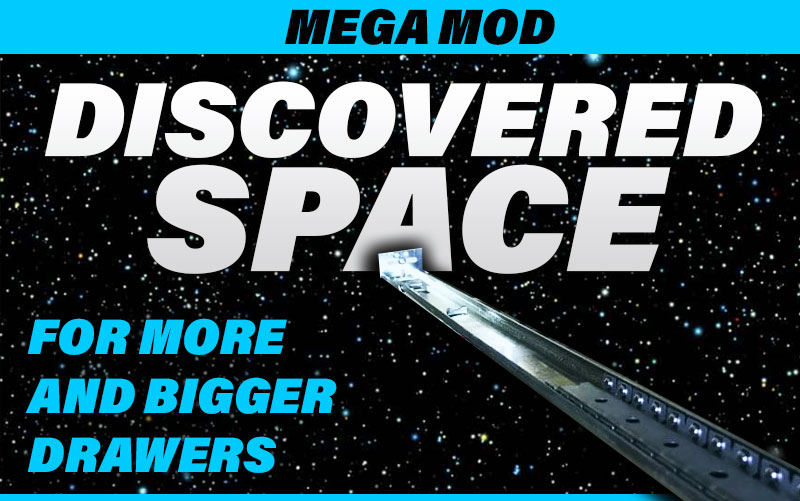 Max Baute, Hartsville, Indiana
Found Space For More and Bigger Drawers
2016 Chevy Silverado 2500
2017 Travel Lite 960 RX
After finally tracking down a water leak that has plagued my camper since new, I finally found a pinhole in the water fill line into the fresh water tank under the refrigerator.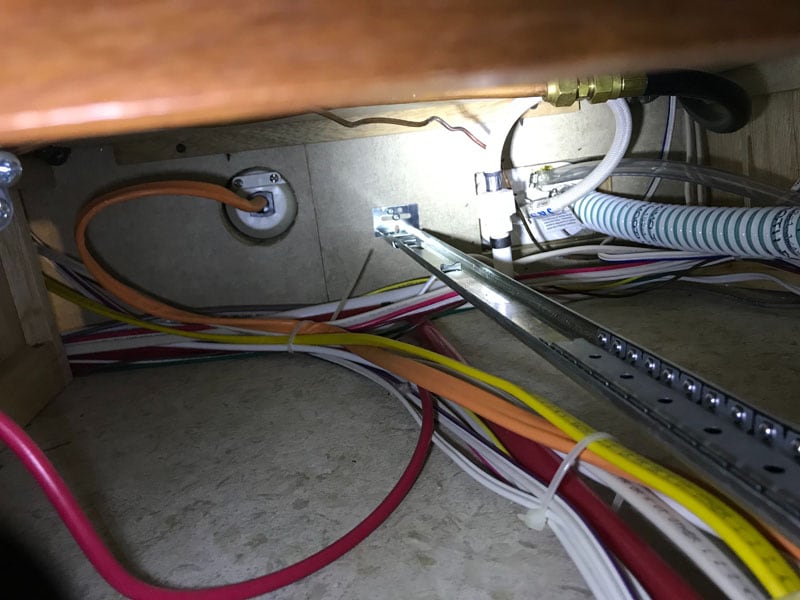 In doing that, I discovered a lot of valuable unused space behind the blank panel and behind two drawers. After replacing the hose, I spent some time tidying up the routing of the wiring in this area and loosely tie-wrapping it in place (pictured above).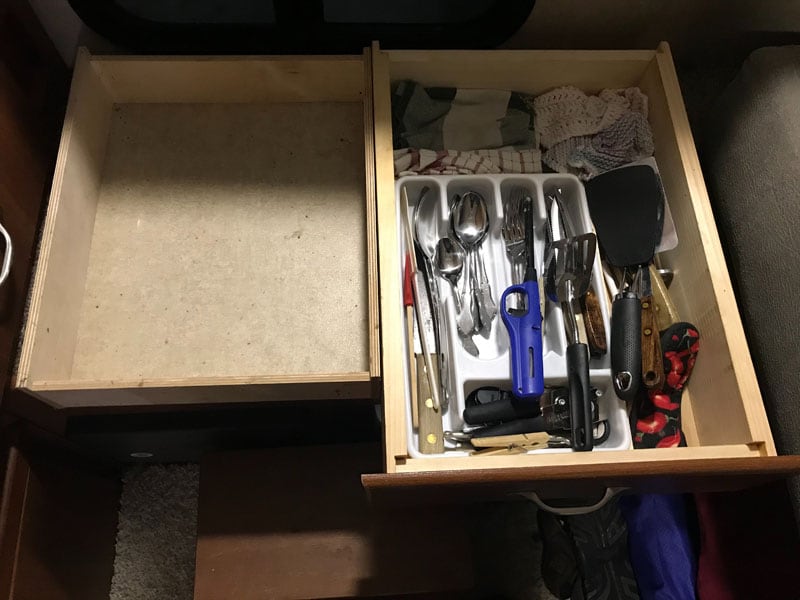 I then measured and found that I could rebuild the two drawers about 4-inches bigger than the originals (pictured above).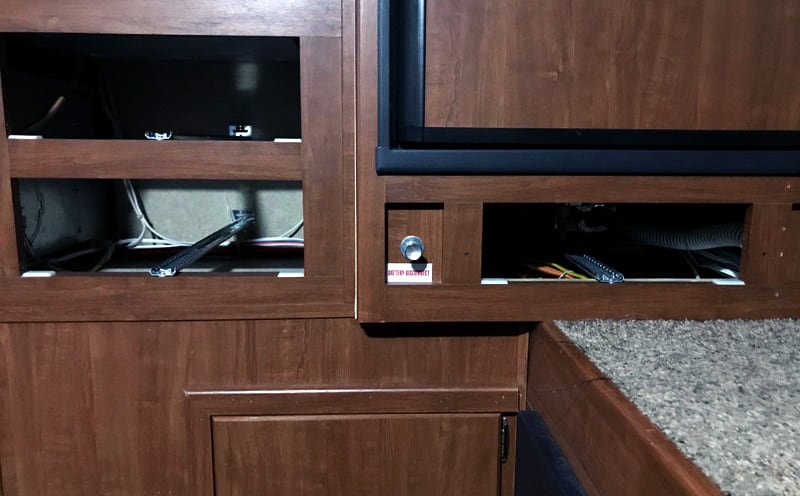 I also made a third drawer to fit behind the blank panel under the refrigerator. It had to be smaller due to all the wiring and plumbing in this area. Ball-bearing drawer guides were purchased to upgrade from the original plastic guides. I also replaced the pulls so all of the drawers would match.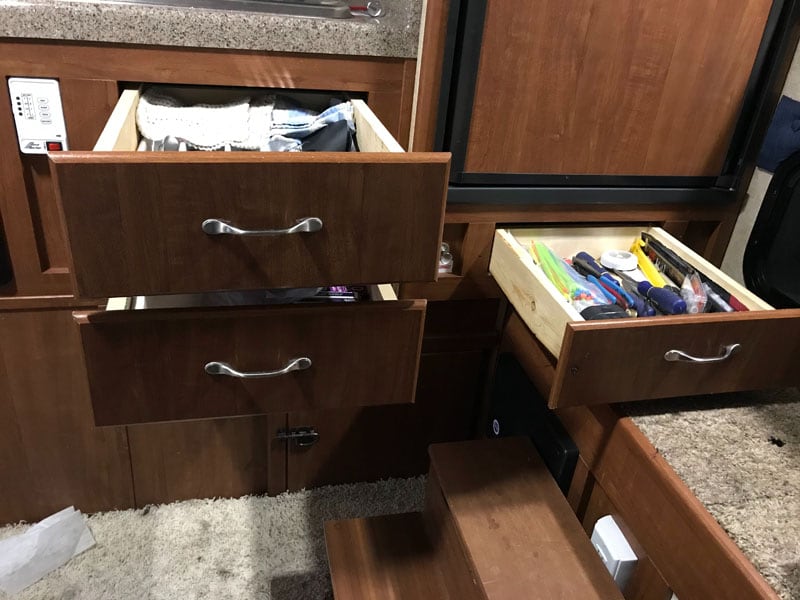 This project also led to relocating the water pump switch to a much more convenient location. It was formerly just off the floor and behind the steps to the cabover. It now is right beside the new drawers.
As we all know, space is at a premium in truck campers and every little bit helps. If my math is right, this added about 40-percent more drawer space with no modification to the basic cabinet.
It was time-consuming to tuck everything neatly in that space. Care must be taken to make sure there is plenty of clearance for everything.
I had the wood for the drawers, so the only expense was for the drawer guides and new pulls. A few pieces of wire were needed to move the pump switch and indicator lights.
This modification has been a definite improvement in many ways. Like I said, it was time-consuming, but isn't that what winter is for?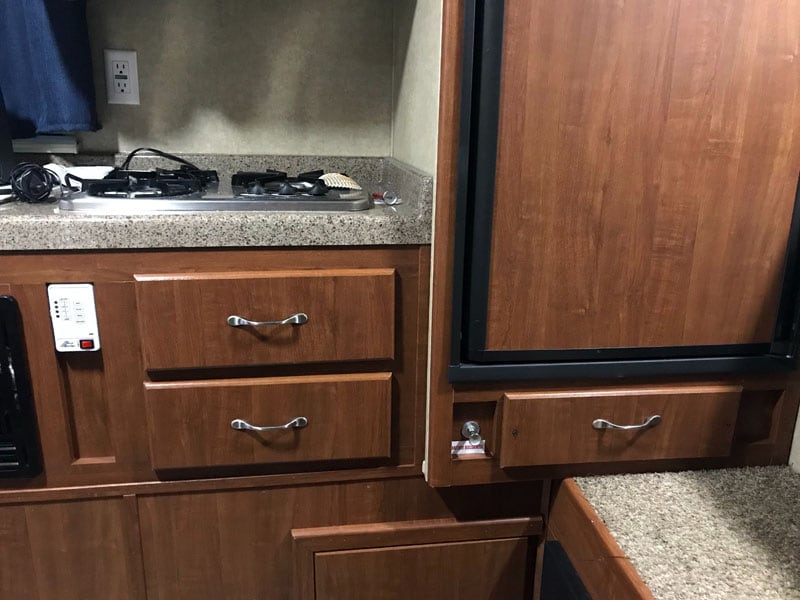 It has been great to have extra drawer space. We now have a small tool and parts drawer that is very handy. Relocating the light panel and pump switch brought to mind the question of, "Do the manufacturers ever use their product?"
It took me ten hours to complete this modification and cost me $50.  I'd call this mod hard because it did include a little cabinet and electrical work.
Disclaimer: The modifications above are submitted by Truck Camper Magazine readers. It is your responsibility to make sure that any do-it-yourself modification project you undertake is safe, effective, and legal for your situation.
Enter Your Mods Now!
If you'd like to enter a modification you've done on your truck camper, click here. You can enter as many mods as you want, at any time.  Good luck mod makers!