Welcome to the third entry in February's Medium Mod Contest.  One Medium Mod will be published in every Email Alert in February.  At the end of the month we'll hold a reader vote to determine February's winner.  Click here for information about the 2020 Mod Squad Contest, including how to enter.
Charles Coushaine, Punta Gorda, Florida
Daytime Running Lights and Sweeping LED Blinkers
2001 Ford F350
2012 Chalet DS116RB
To make my truck more visible and safer, I installed some daytime running lights with sweeping LED blinkers.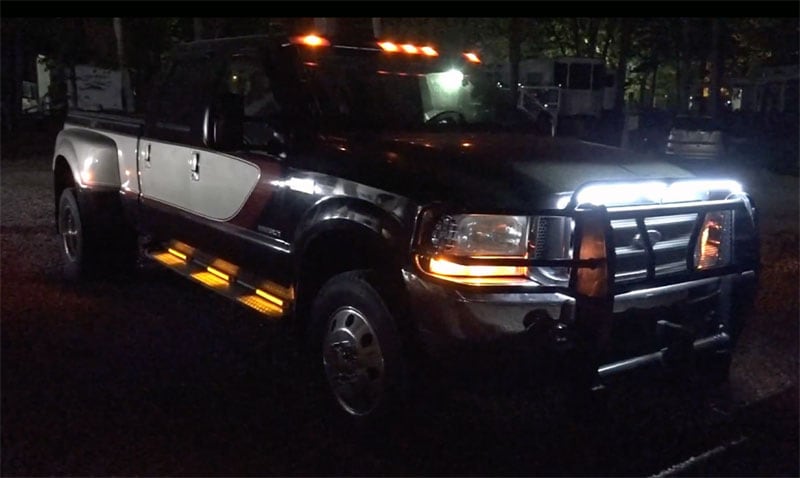 My truck being a 2001 Ford F-350, it did not have any constant-on front lighting which new cars and trucks call daytime running lights.  To complicate matters even further, I usually carry a large scooter on my front hitch which blocks some of my forward lighting.
I had already added some auxiliary driving lights, but noticed that my front blinkers were also compromised or blocked by the scooter.
So, after searching for a solution, I came up with the perfect flexible LED strips that provided both a nice white daytime running light coupled with amber sweeping LED blinkers.  I mounted them up high on the top bar of my brush guard and voila – a spectacular looking and functioning solution to both problems.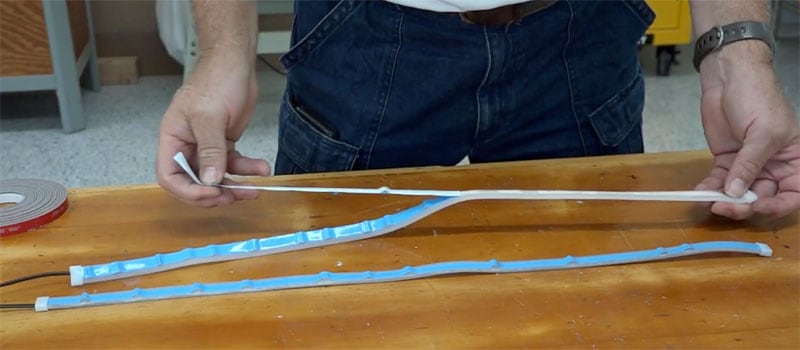 I purchased a specialty set of 24-inch LED strips with built-in electronics.  These strips, when the truck is powered on, turn white (for the daytime running lights).  When the blinker is activated, the white LEDs turn off and a set of amber LEDs sweep from one end to the other making a very distinctive display of your turning direction.
Above: The details of the modification are shown in my video
As shown in the above video, the first thing I did was add extensions to the LED wires to be able to reach the fuse box in my truck.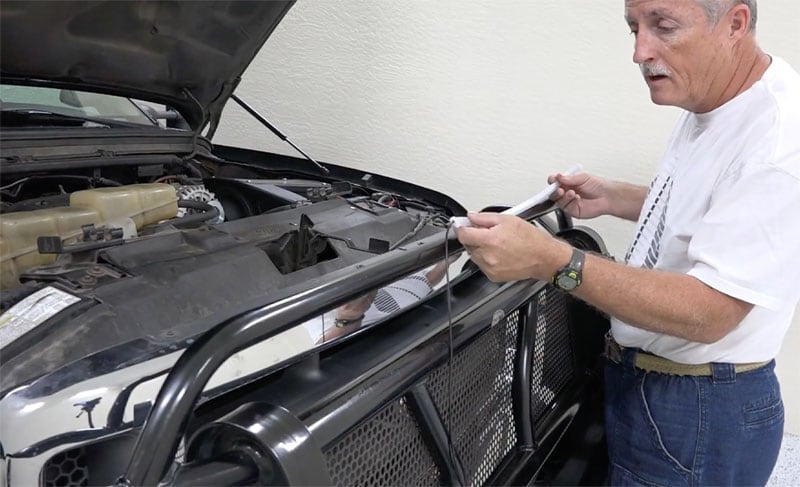 Next I replaced the adhesive tape on the back of the LED strip with a much better 3M VHB permanent tape.
Then, I mounted the strips to the underside of the top bar of my brush guard.  I mounted it there to get the maximum height to get visibility above the scooter I carry.
I then carefully wired the white LEDs to come on when the key was turned on, and the blinker wires to the front blinkers.  I was very careful to route the wires inside flexible cable conduit to keep them protected.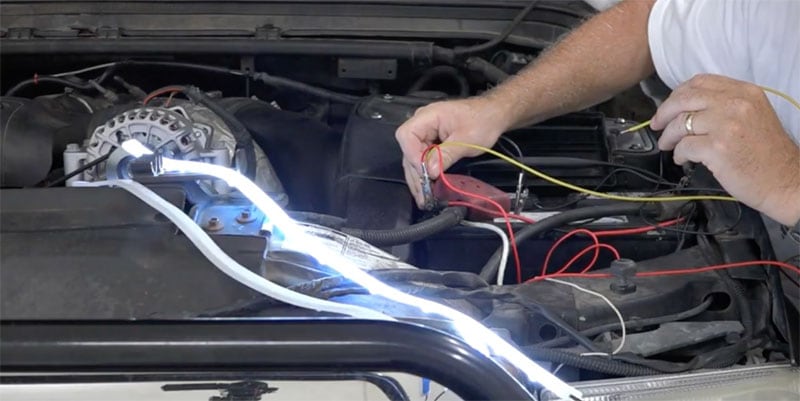 I also did lots of testing throughout the build to make sure my wiring was correct to the proper fuses.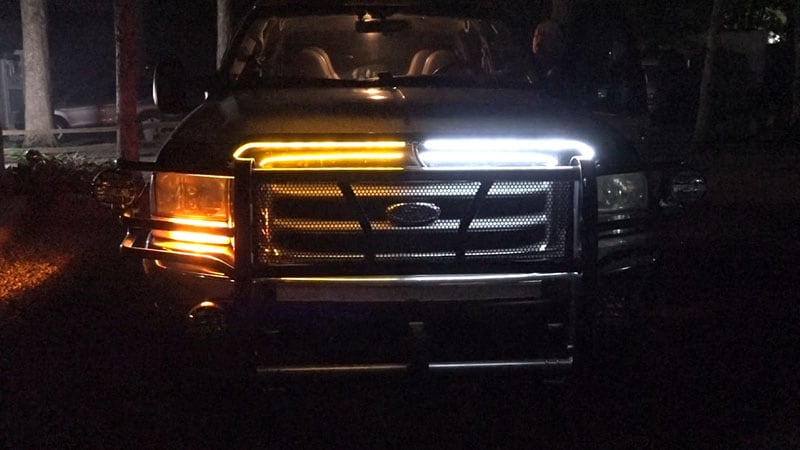 I have driven many miles with this new lighting enhancement and it is spectacular!  The white daytime running lights are on as soon as I power the truck on, and the blinkers sweep either left or right from the center depending on which way I am turning.  I feel very confident that my visibility has been greatly increased and am very happy with this modification!
It took me eight hours to complete this modification and cost me $75.   In my opinion, the skill level of this modification is medium.
Disclaimer: The modifications above are submitted by Truck Camper Magazine readers. It is your responsibility to make sure that any do-it-yourself modification project you undertake is safe, effective, and legal for your situation.
Enter Your Mods Now!
If you'd like to enter a modification you've done on your truck camper, click here. You can enter as many mods as you want, at any time.  Good luck mod makers!