Welcome to the third entry in July's Medium Mod Contest.  One Medium Mod will be published in every Email Alert in July.  At the end of the month, we'll hold a reader vote to determine July's winner.  Click here for information about the 2023 Mod Contest, including how to enter.
Kevin Mooney, Nimpo Lake, British Columbia
Custom Glass and Cup Rack
2022 Ford F-550
2016 Eagle Cap 1200
Our camper has tons of storage and cupboards, but none that were really good for holding glasses or cups. The cupboards are plenty large, but we found that we needed some sort of dividers to keep stuff in place.
For breakable things, we had to be extra careful that they didn't get jostled about. Lori used to keep our wine glasses in some socks that were kept in a clothing drawer just to make sure they didn't get broken. We had tried using plastic cups and glasses in the past, but somehow they just didn't feel as nice as using glass, so it was time for another mod.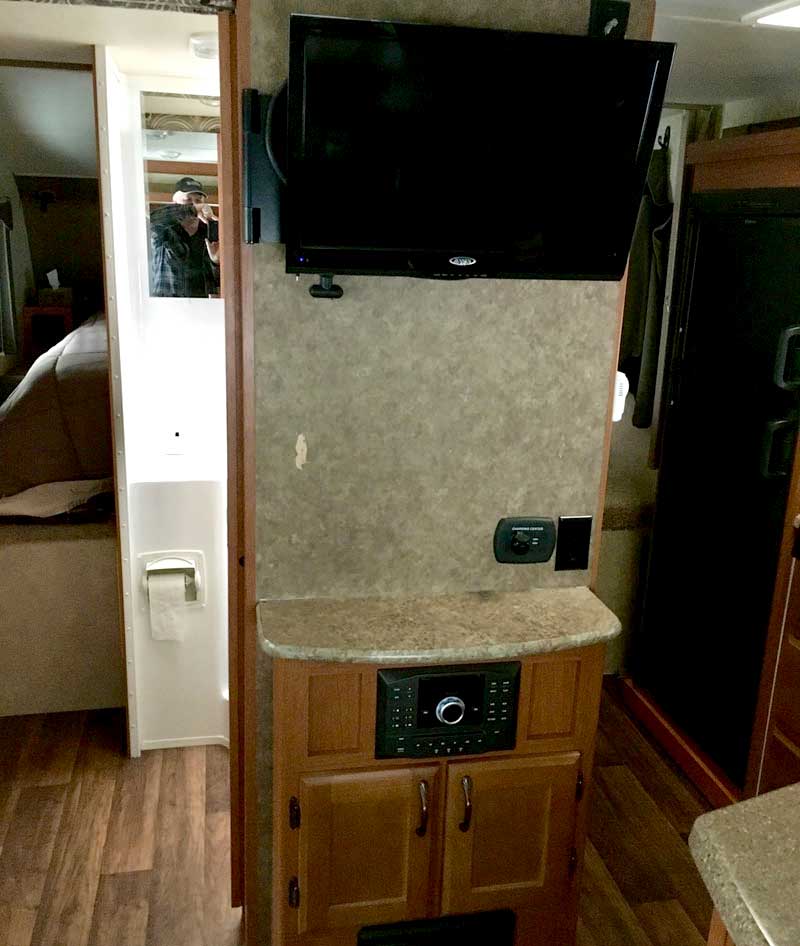 Our Eagle Cap has a center section under the television that is wide open and begging for something to go there. Plus it had a tear in the wallpaper from a previous magnetic knife rack and it didn't look very nice. I had already swapped out the 32 inch television for the 24 inch one in the bedroom. It stuck out on either side and I was constantly hitting it with my shoulder, so we had a little extra space to boot.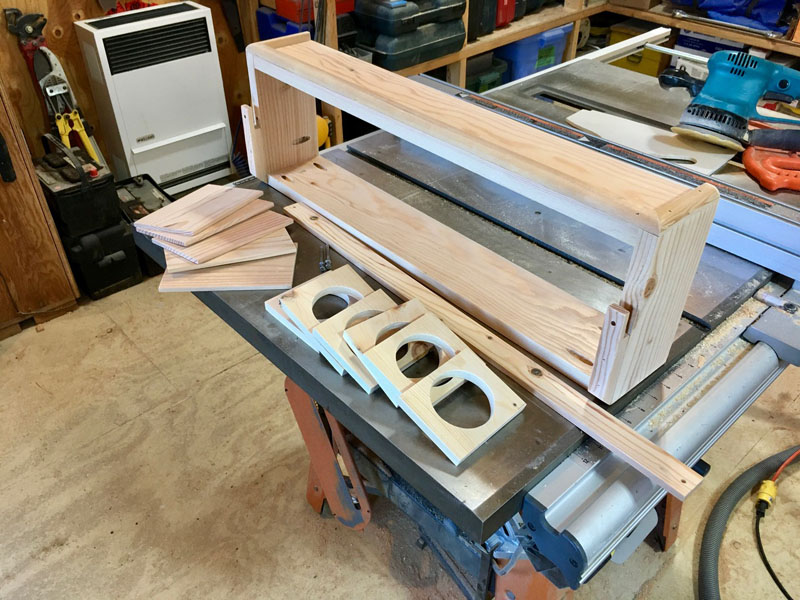 I measured the maximum amount of wall space I had available, designed the rack to something that met my wife's expectations, and then laid out the glasses and cups we were using to see if everything would fit.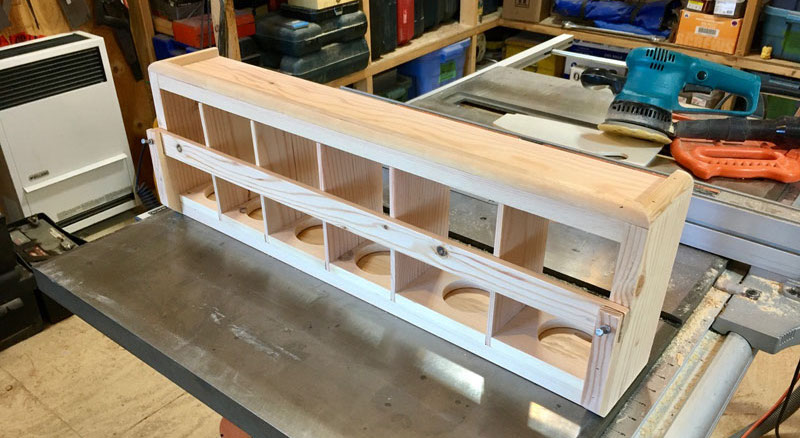 Then I adjusted the spacing between them so that I could also fit a 1/4 inch piece of wood to prevent any possible contact when we are traveling off-road. I also designed a simple locking bar mechanism that prevents anything from falling out. I used some large hole saws to make the bottoms and each was slightly different. They can fairly easily be removed and made to fit a different cup or glass should we ever need to change them.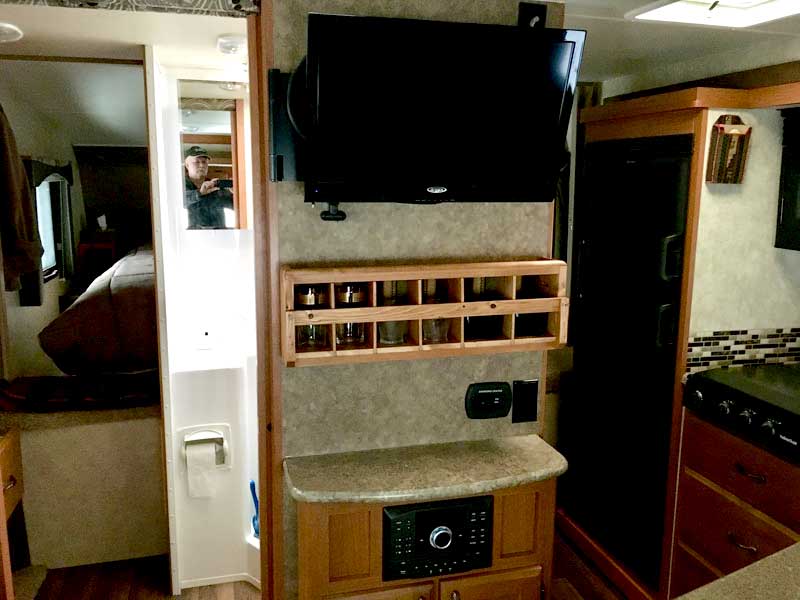 This is so much nicer to use. We never have to worry about anything getting broken or chipped. It's also very central and handy. It also frees up some extra space in the cupboards for less fussy items. The top of the rack has a lip going around it, so I use the top for charging my iPhone or I put my keys there. It's good for anything that we want to set down for a bit and not roll off of a counter. And it looks pretty nice, too.
The wood is some leftover Fir that I had kicking around. I had planed it down to 3/4 inch. The holders are 1/2 inch and the dividers are 1/4 inch. All of this could be purchased at a lumber store. I glued and screwed the frame together.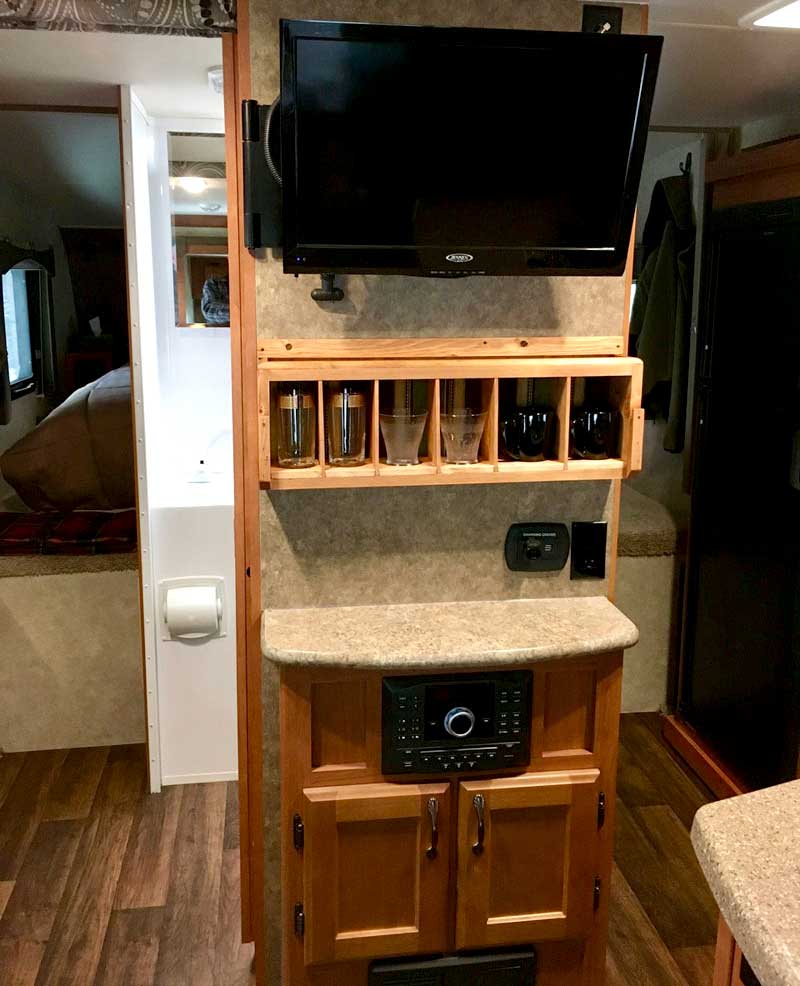 The holders and slats were fastened with a brad nail. The bar on the front is set into channels on the front of the rack and simply held in place with a couple of duplex nails that I cut down to about 2 inches. The holes were drilled at a slight downward angle to prevent the nails from coming out. So far, so good.
It took me three to four hours once I figured out what I wanted to do. It cost me maybe $20 in materials. In my opinion, the skill level of this modification is medium.
Disclaimer: The modifications above are submitted by Truck Camper Magazine readers. It is your responsibility to make sure that any do-it-yourself modification project you undertake is safe, effective, and legal for your situation.
Enter Your Mods Now!
If you'd like to enter a modification you've done on your truck camper, click here. You can enter as many mods as you want, at any time.  Good luck mod makers!