Welcome to the second entry in November's Medium Mod Contest.  One Medium Mod will be published in every Email Alert in November.  At the end of the month, we'll hold a reader vote to determine November's winner.  Click here for information about the 2023 Mod Contest, including how to enter.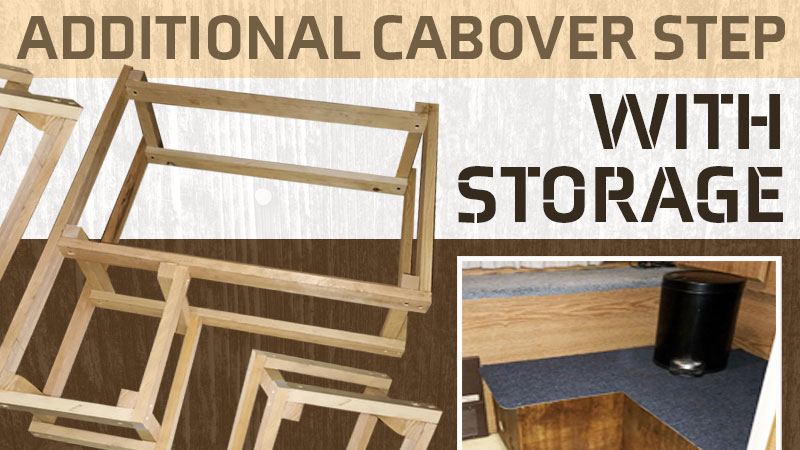 David Sponable, Plattsburgh, New York
Additional Cabover Step with Storage
1990 Chevy R-3500
1995 Lance Lite 195
I used to put my Coleman Stove on the floor in front of the refrigerator and wardrobe and use a folding step stool to access the cabover. It wasn't a practical use of space. I would use the step stool to reach into the freezer and help with access to items in the wardrobe, as well. I have seen other step and storage modifications on TCM and decided to design and build my own.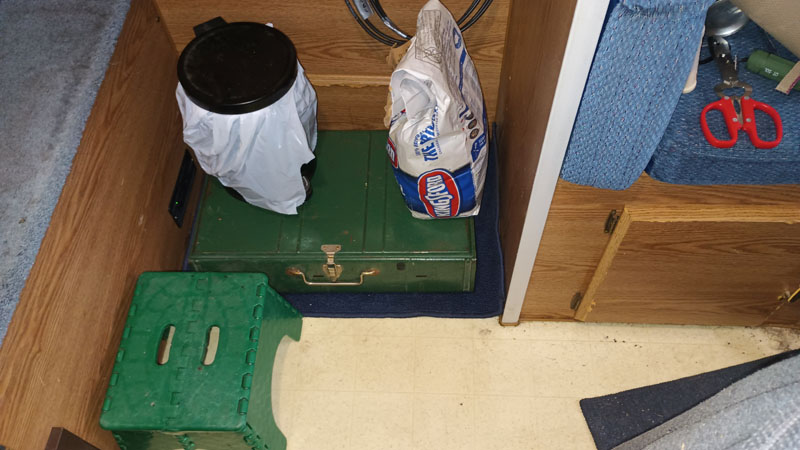 I looked around my garage/shop and identified materials that I could use to make a frame, a flat top, and edge enclosures for a step. I had some leftover pieces of 1" x 4" pine that had been ripped in half lengthwise and some 1" x 1" (actual size) pine that I used for the frame.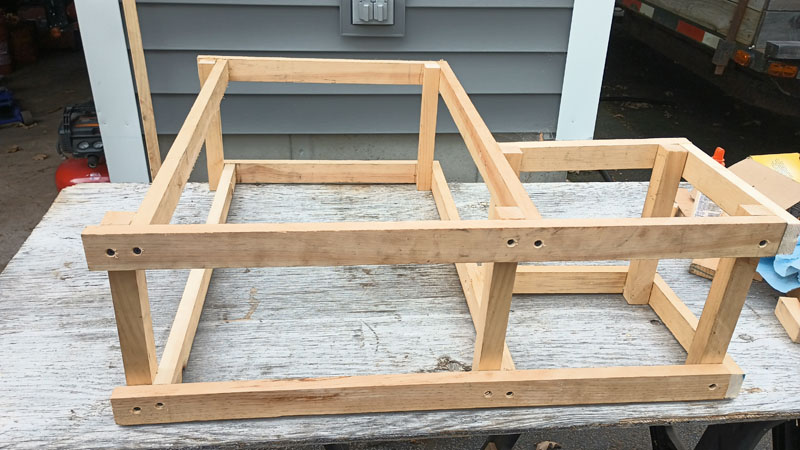 The top is made of 3/8″ plywood and the sides are 1/4″ Luan plywood pieces that I had from a previous project. I always have screws, glue, stain, and other miscellaneous materials. It was perfect because I didn't need to buy anything!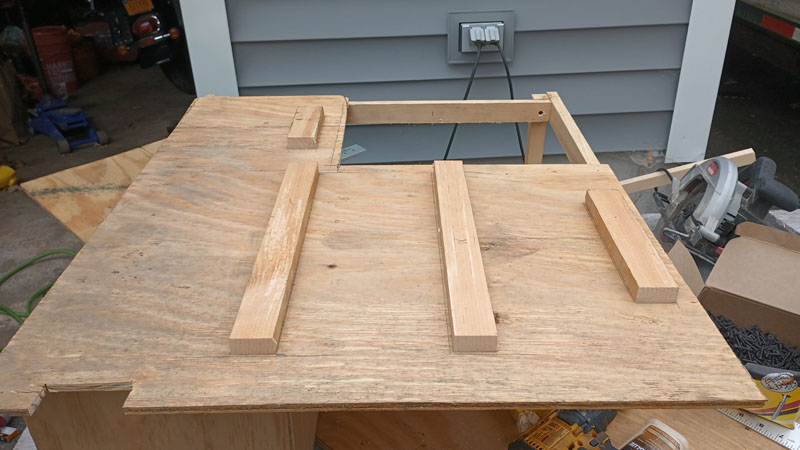 It took about an hour to measure and figure out what shape and how big to make the storage step. Using a miter saw, I cut the frame pieces to length and then used glue and screws to fasten the pieces together. I then cut the 3/8″ plywood top to fit and used cleats on the bottom to hold the top in place on the framework and add a little strength. The sides were cut from the Luan and attached to the frame with glue and brad nails.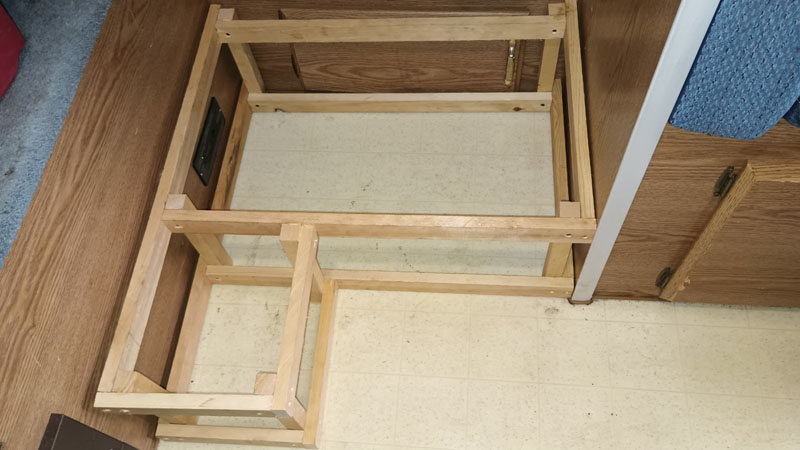 There was one issue that I needed to work around. The propane leak detector is located in an area that will be covered by the step (see picture below).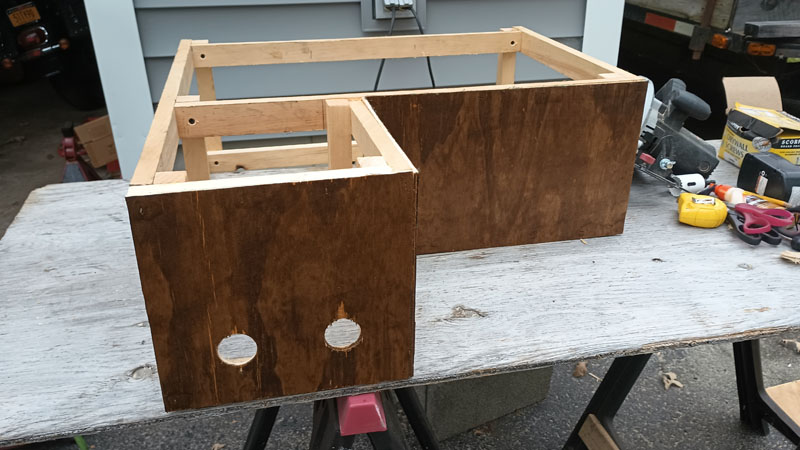 I made sure to cut some vent holes in the top step and the sides of the enclosure so that if a leak occurs, the detector will sound. The system is held in place by friction and a fairly tight fit. The top comes off for easy access to the storage areas and the frame is removable so that the truck bed access door can be opened, if need be. I cut a piece of carpet runner to fit the top to give the step a finished look. No holes were drilled, or screw holes made into the camper itself, so the mod is completely reversible.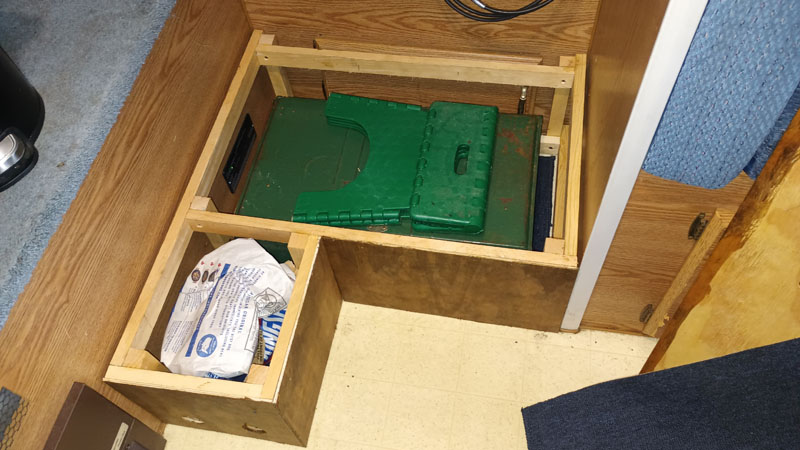 The mod is working well! I have a better step up to the cabover, I can easily reach into the freezer and wardrobe, and the storage space is perfect for the Coleman stove, step stool, and a small bag of charcoal or other items. The storage area is easily accessed, as well.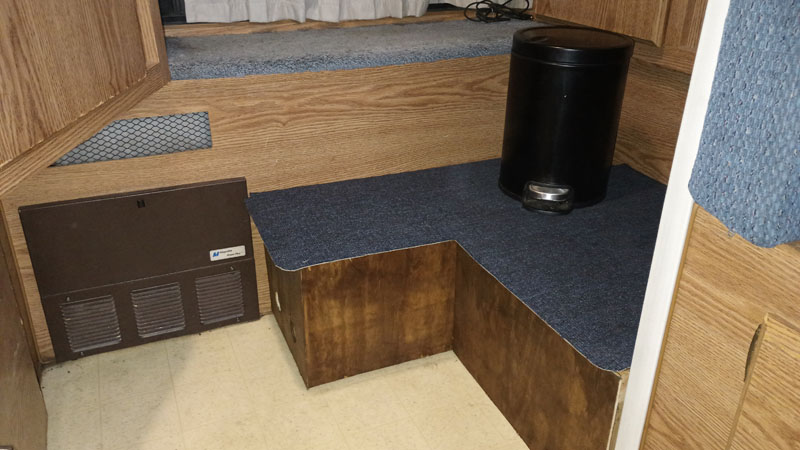 Materials are available at any home improvement store:
1 – 4′ X 4′ sheet of 3/8" plywood (for the top and sides)
3 – 1″ X 4″ X 8 ft. pine boards (Ripped in half lengthwise)
1 – Small container of wood glue
1 pound of 1 1/4″ sheetrock screws
1 – 32″ by 36″ carpet runner
It took me five hours; one hour to engineer, four hours to construct. It cost me nothing because I had all the materials in my shop. If someone needed to buy the materials, I would say $50 would cover it. In my opinion, the skill level of this modification is medium.
Disclaimer: The modifications above are submitted by Truck Camper Magazine readers. It is your responsibility to make sure that any do-it-yourself modification project you undertake is safe, effective, and legal for your situation.
Enter Your Mods Now!
If you'd like to enter a modification you've done on your truck camper, click here. You can enter as many mods as you want, at any time.  Good luck mod makers!