Tracy and Steve Schuster, 2017 Super Mod Cup World Series Champions, share 28 of their best storage mods from throughout their Lance Camper.  Fellow mod-maniacs, this is the mod-er load!

What better way to kick off the 10X10 Mod Tournament than with an all-out s'mod-gasbord (Swedish for a gluttonous mod buffet) from none other than Tracy and Steve Schuster?  That's right mod fans, the 2017 Super Mod Cup World Series Champions have sent in a bonafide mod-ley for your mod-spiration and mod-joyment!  Okay, I'll stop.  In a mod-minute.
Seriously folks, the Schusters are master mod-makers and have put together one heck of a presentation – camper room by camper room – featuring darn near everything they've done to improve the storage in their truck camper.  It's a mod-el of what's possible.  Dang it!  Did it again.
Camper Storage Mods Gone Wild
by Tracy and Steve Schuster
The Cabover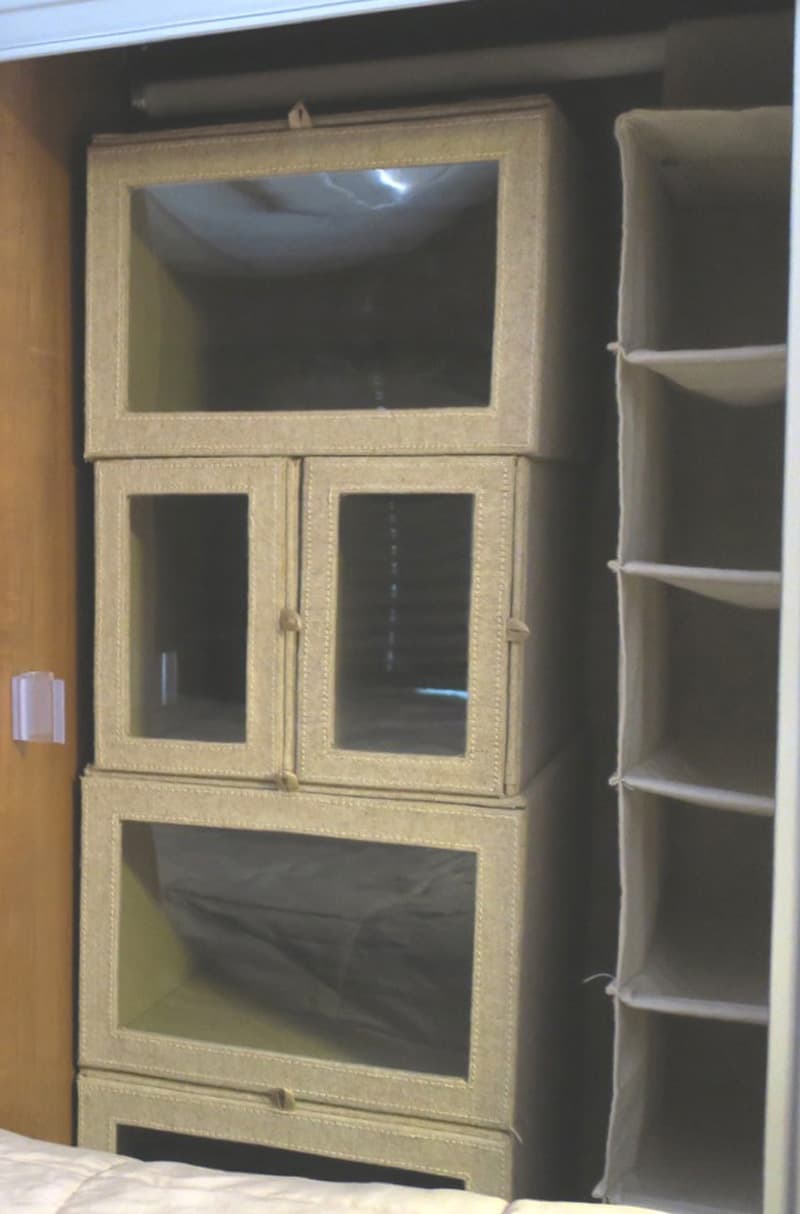 Mod 1: I installed closet organizers in the cabover wardrobe.  We took some fabric covered storage boxes with flip-down lids from the Container Store and screwed them together.  They are configured in a way to fit the wardrobe closet as well as meeting our different clothes storage needs. This season we're adding plastic baskets that fit perfectly inside each box (also from the Container Store).  Our clothes will be easier to access, especially those illusive t-shirts you put on the bottom or to the back of the pile, but just have to wear that day.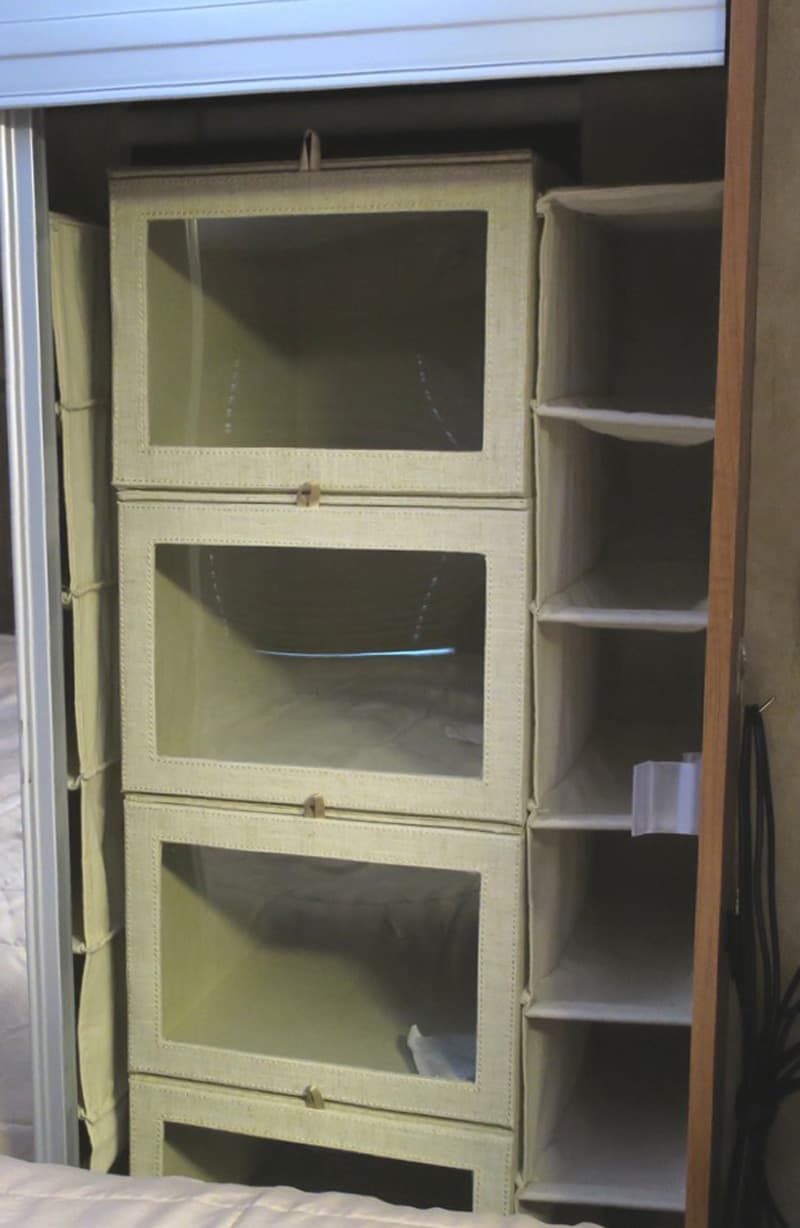 Mod 2: We also added hanging fabric shoe caddies on to the hanging bar to hold socks, undies, and other smaller items. These too will get their own form-fitting bins this year.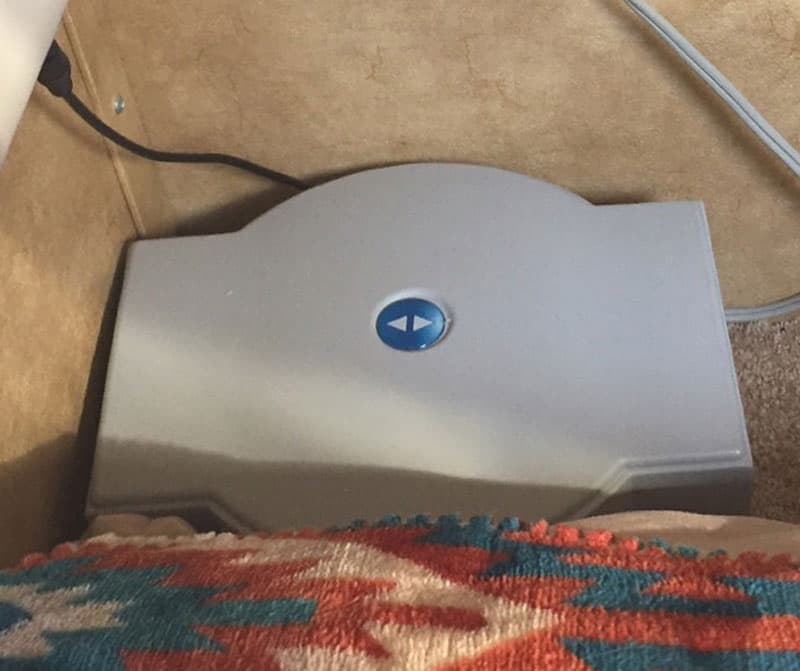 Mod 3: We took out the mattress and put in a Sleep Number mattress.  It makes sleeping in the camper even better!  We never have to leave the sleeping comforts of home.  We just set our sides like we do at home and we're sleeping like babies from night one.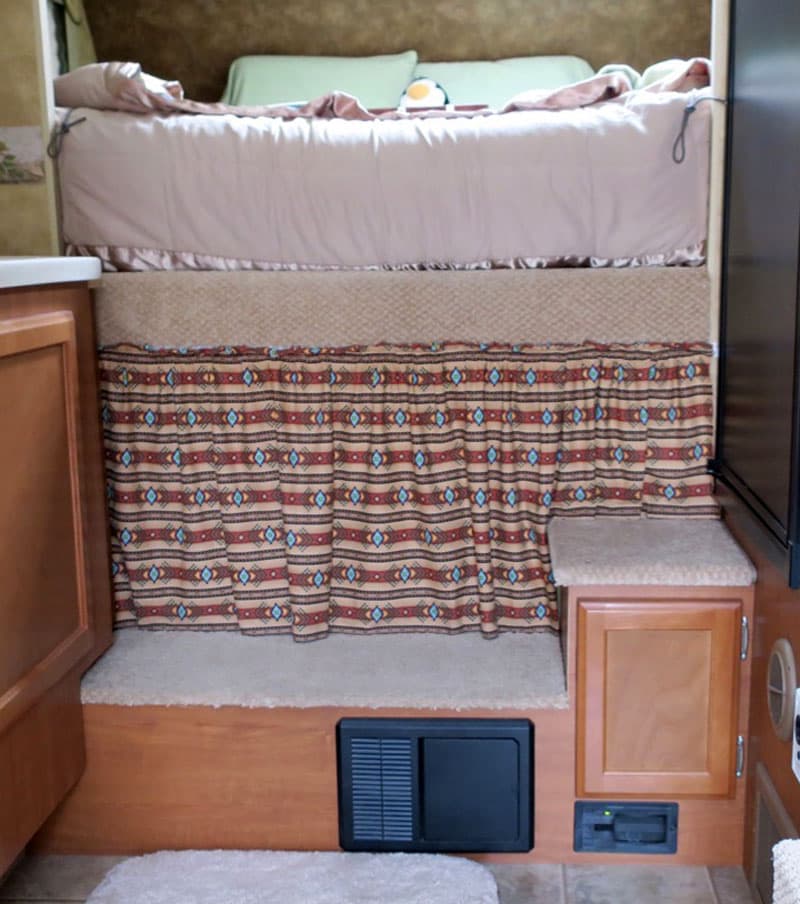 Mod 4: We added a curtain all the way across the wall to hide the window and replace the curtain that was offset in the wall.  The fabric matches the headboard that we also recovered to be more to our liking.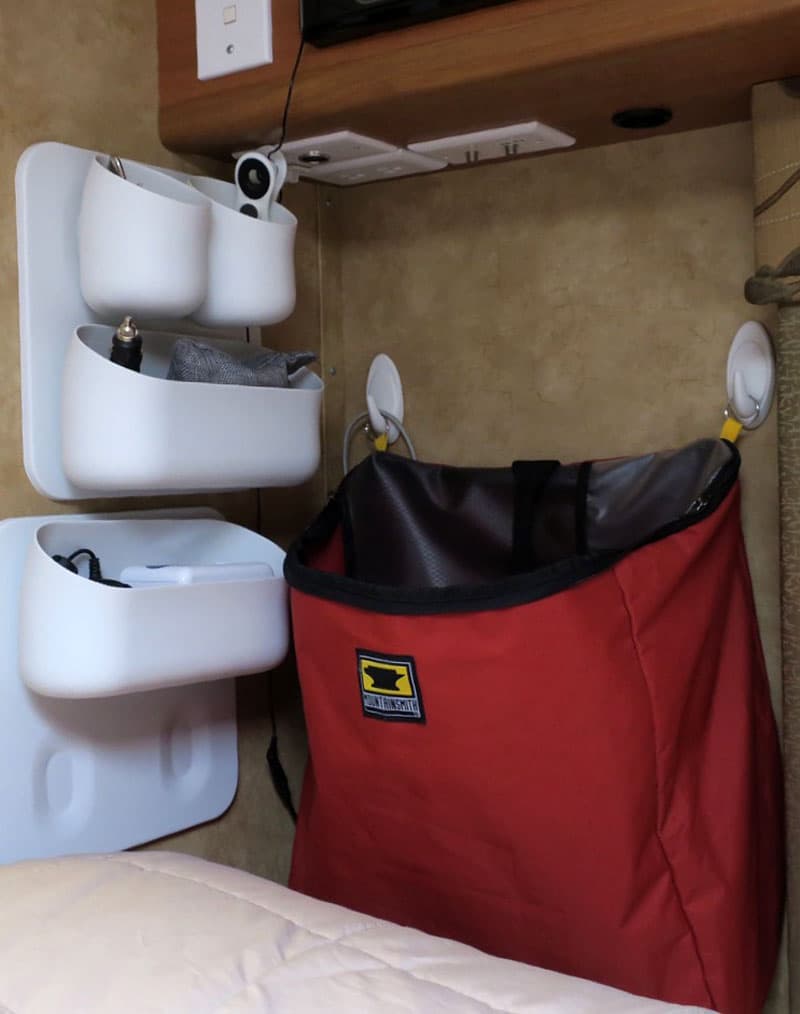 Mod 5: Command adhesive heavy duty hooks hold up the Mountain Hardware canvas bag that already comes with hoops on each end so it's perfect for hanging.  We keep extra huge-sized ziplocks in the bottom of the hamper for sealing our dirty clothes in, and empty the hamper every couple of days.  There are no smelly dirty clothes and no mess!
Mod 6: We also took out the tiny television and added a set of highly adjustable magnetic cubbies for holding small items and spare cords, etc.
The Kitchen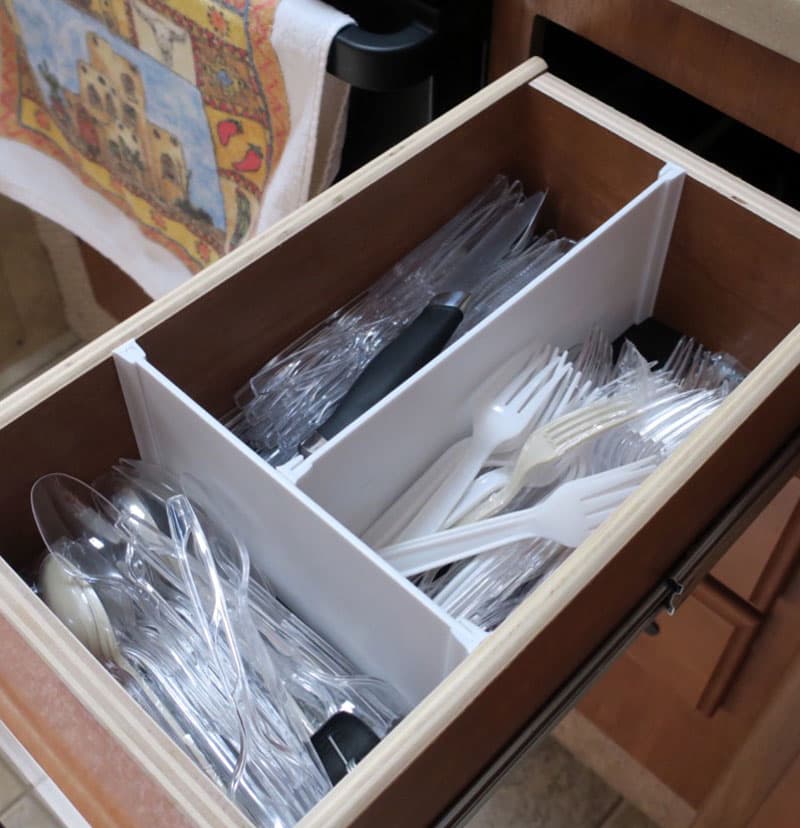 Mod 7: No silverware or other divider set fit the drawers or our utensils well so we added plastic dividers that you cut to fit in any configuration you want.  Then we attached it to the inside of the drawer.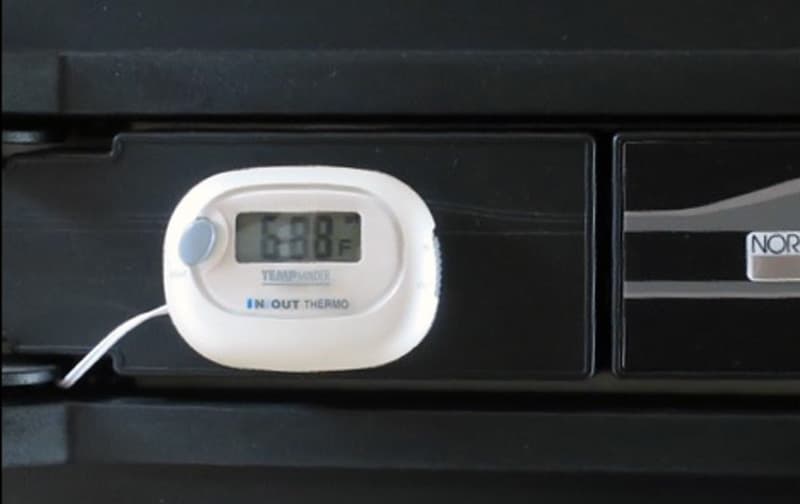 Mod 8: Our refrigerator gauge is just a cord that runs from the gauge to the inside of the refrigerator.  It's an easy and very cheap way to keep track of any temperature threat to our food.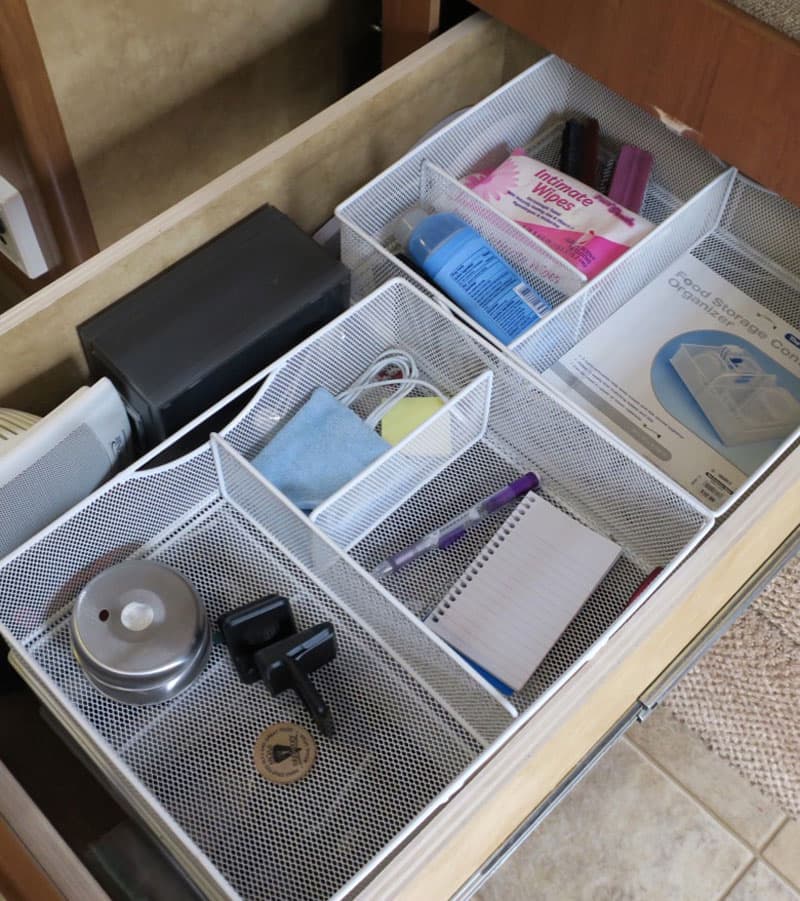 Mod 9: I found four metal bins that are divided into three different-sized sections.  They fit stacked two-high in the under dinette drawers.  Two stacks fit with room to spare.
The bins hold anything and everything from shoes to make-up, cords and electronics, extra supplies, and food.  Whatever needs a place is organized and out of the way.  The second layer of storage has created a glut of storage for us.  Whoever thought that'd be said about a truck camper?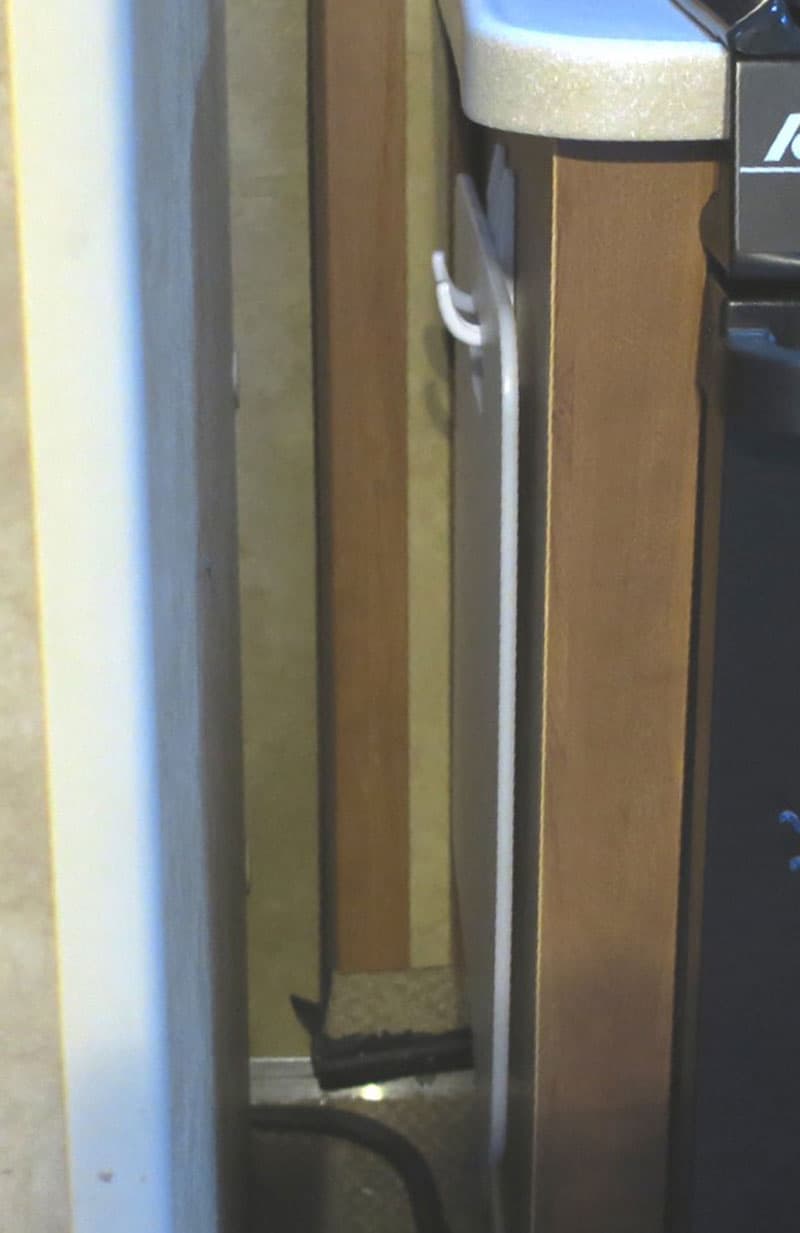 Mod 10: With just two Command adhesive hooks, our sink cover/cutting board is out of the way yet easily accessible.  It's also secure during travel.  It's a very minor yet very helpful modification.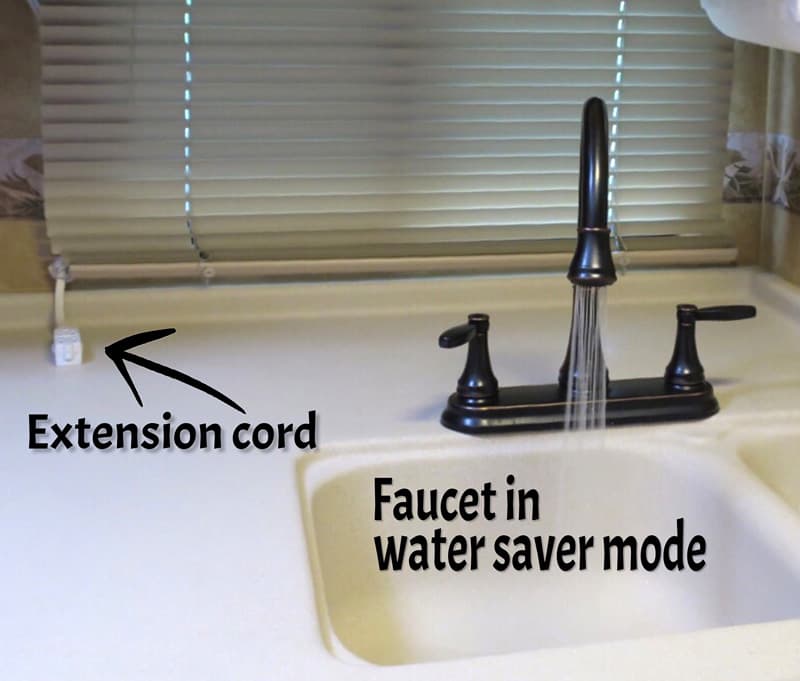 Mod 11: Adding all new faucets last year was a challenge.  We were not happy with the plumbing and the holes for the kitchen sink were also strangely offset.  We had a lot of searching and re-plumbing that we didn't anticipate.
We found this very attractive high-rise faucet that also has three spray modes – regular, lower-flow fan, and high-flow fan.  It's been a favorite addition.
Mod 12: We also added an extension cord to the kitchen for our K-cup maker, toaster, breakfast sandwich maker, etc.  Originally the only outlet was up above the stove (under the microwave) way in the corner.  No cord is that long!  And we didn't want a cord just cluttering things up.
We drilled a hole in the first overhead cabinet, strung an extension cord over to it and then it goes down behind the window's blind.  We put the excess cord into the hole in the cabinet.  After tacking it up with cord holders, it is not visible until it lands on the kitchen counter.
The Dining Area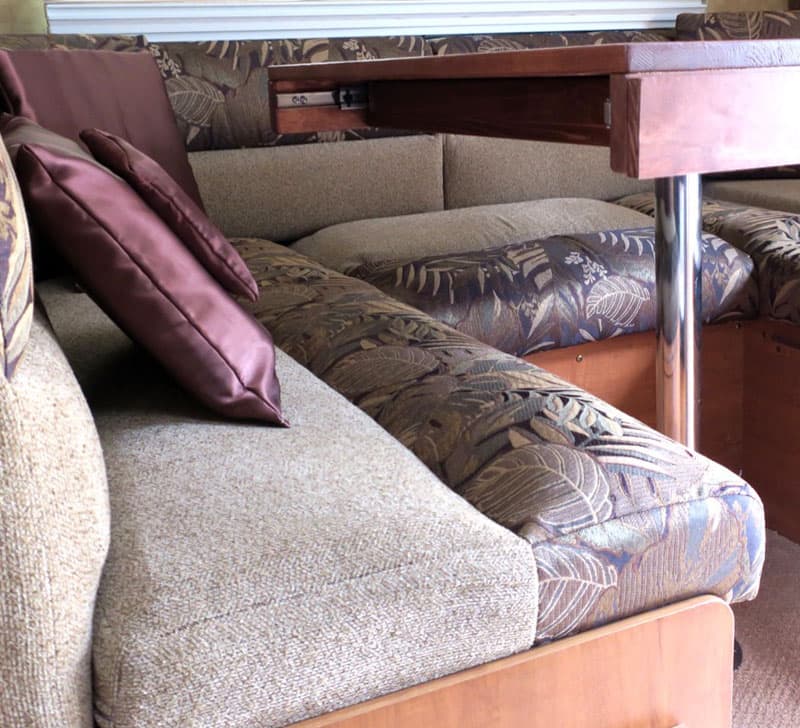 Mod 13: We added memory foam in dinette seats and seat backs to end Numb Butt Syndrome.  I got the foam from Wal-Mart and cut it up to fit.  Stuffing it in the cushions was quite an interesting challenge, but well worth the workout.
Editor's Note: Numb Butt Syndrome (NBS) has been officially added to the Truck Camper Magazine approved Glossary of Terms.  Good one, Schusters.
We have a ton of keys since we tow a 20-foot enclosed trailer and have a RZR side-by-side.  We might also bring our motorcycles or a race car along with us.  We also, like everyone, have a ton of things to remember to do.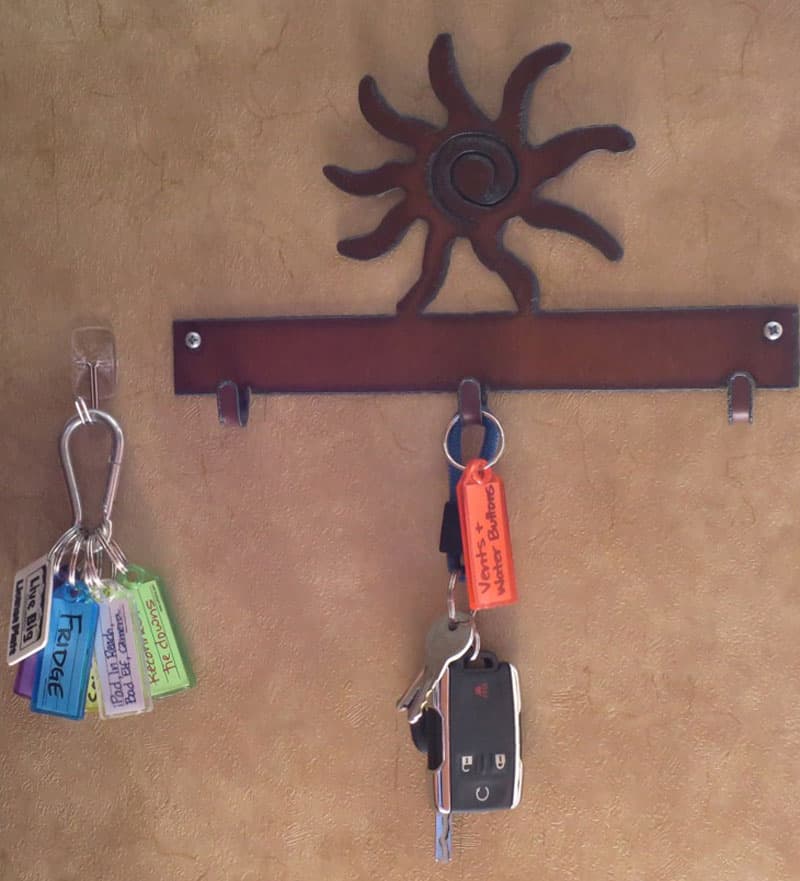 Mod 14: That's where the tag system comes in.  I got multicolored key tags from Home Depot and wrote things on them like Fridge or Fans/Water Pump or License Plate.  When we need to remember something, we take the appropriate key tag and hang it over our truck or car or RZR keys so we can't take the keys unless we see the reminder.  It has worked great!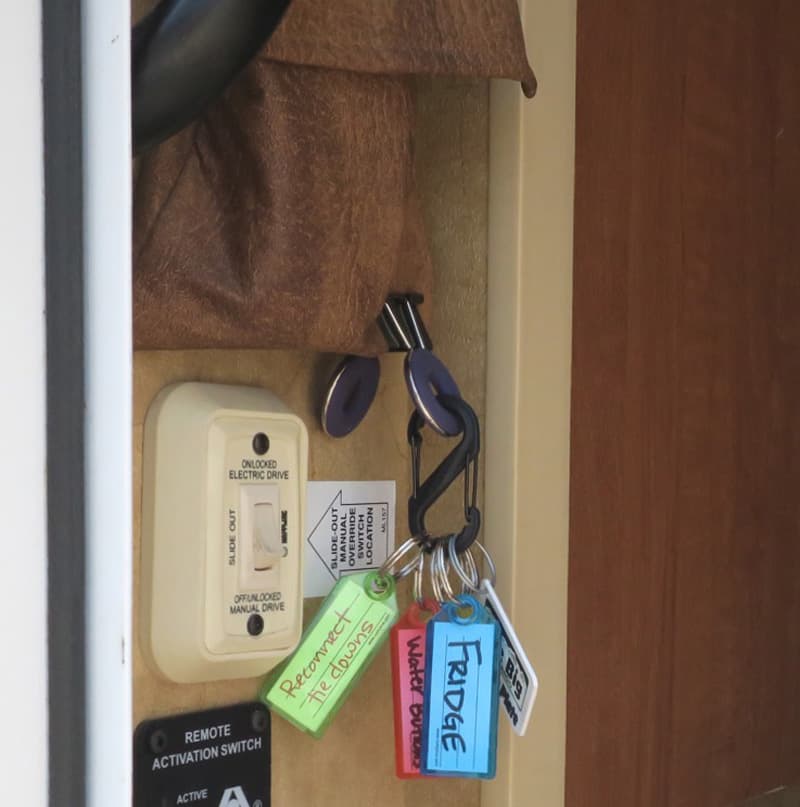 Mod 15: We also added a binder clip and a carabiner to the pouch that holds the jacks/slide remote.  That way the pertinent reminder tags can hang there as needed.  An example is when the camper is in storage and we don't want to forget the refrigerator is hanging open.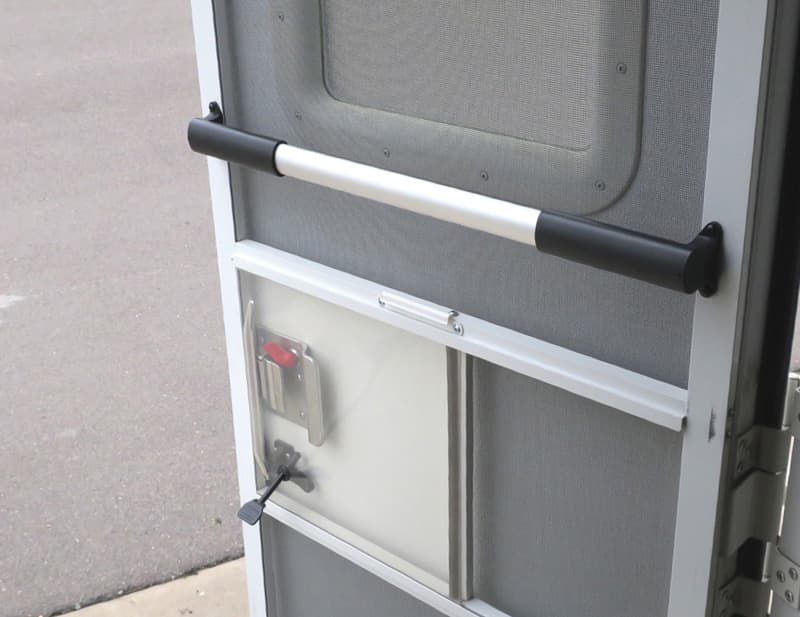 Mod 16: A screen door stabilizer/handle and screen door opener from Camco were added.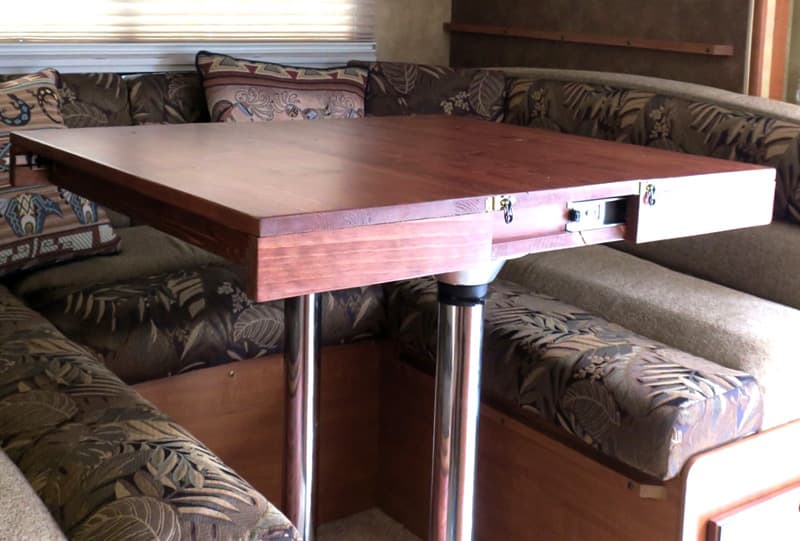 Mod 17: We also designed our own adjustable/sliding dinette table with inside storage.  We were the winner of the Truck Camper Magazine's 2017 Mod Contest with that modification.  We were honored!  Thanks for liking our work.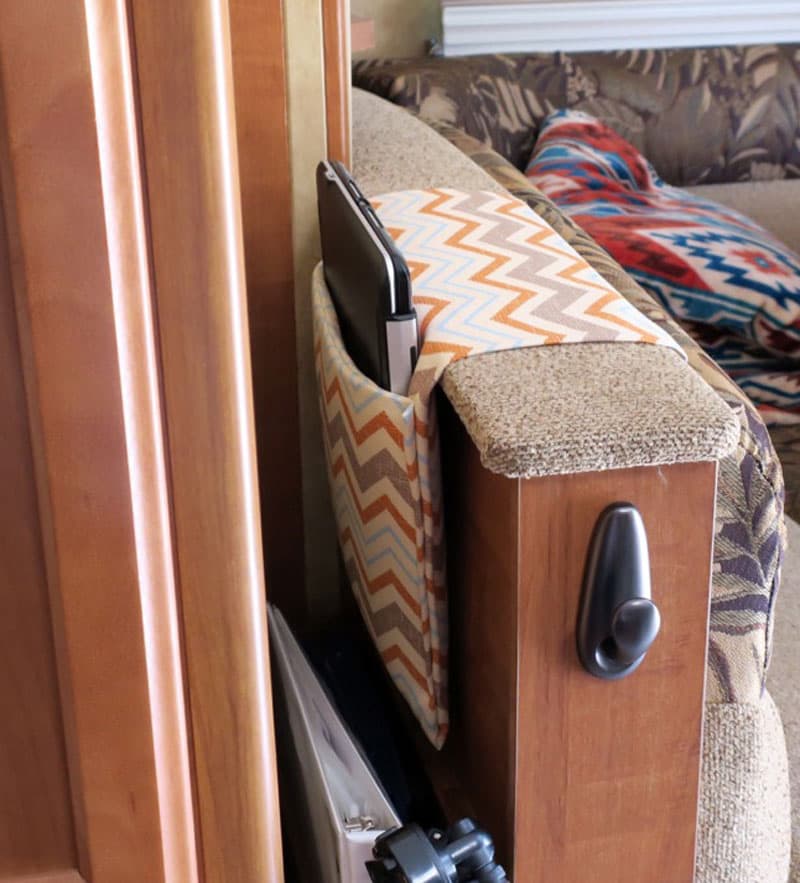 Mod 18: Our iPad holder fits over the dinette seat's edge and is held in place by the cushion.  We love these since our iPads kept getting in the way.  If we put them in a safe place, they were never where we wanted them, especially for a quick answer or to check a map.  The holder doubles as a padded carrying pouch as well.
The Bathroom
The bathroom door locks in place by being lifted slightly and pushed into the clasp. That's great when you're outside, but when it locked when you were inside, you were basically locked in.  I did live through the experience, but barely made it through my husband's continual chiding afterward.  We didn't want to do major modifications of the door mechanism, and didn't want to drill more holes in our door.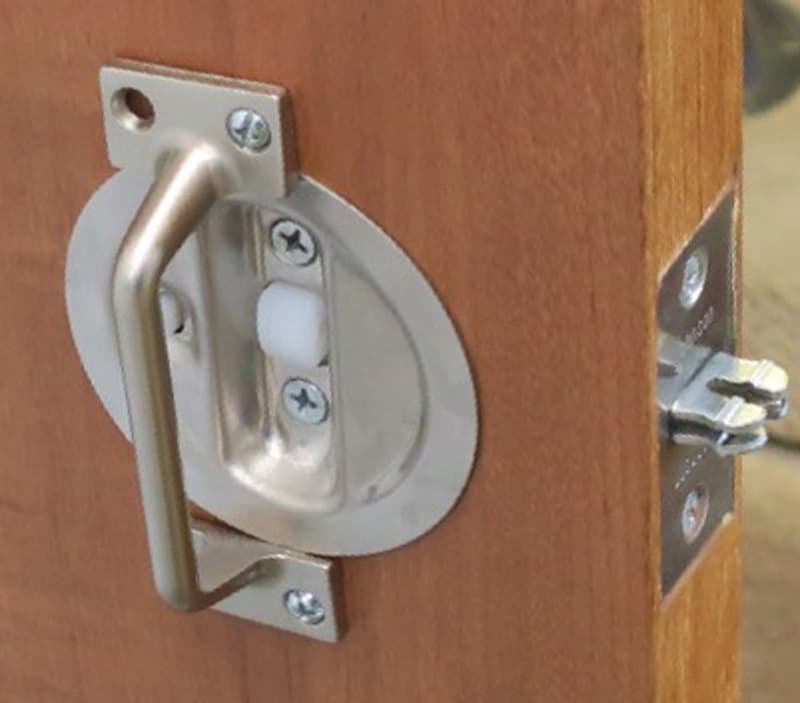 Mod 19: Luckily, we found a handle that had holes that matched those of the outside handle.  We got slightly longer screws and added the inside handle.  Every time we're accidentally locked in, it's a really nice thing to have!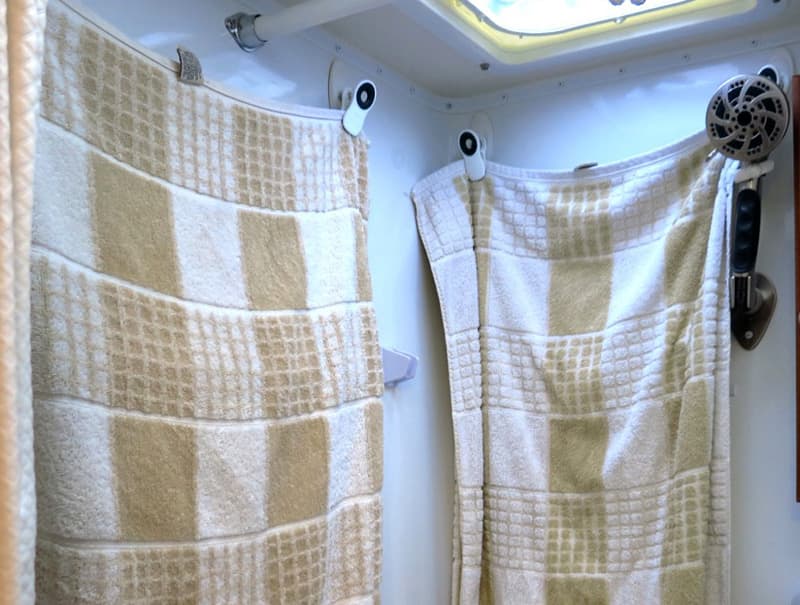 Mod 20: We tried suction cup hooks, but they never held on.  We then moved to large Command Adhesive hooks to which we hung clips from the Container Store that have large holes.  The hooks never fall off and the clips can be added or removed.
This allows us to dry the towels or any other items without the worry of finding them piled up on the bathroom floor.  We also can place the hooks anywhere, using different locations for different items.  We just have to move or add clips.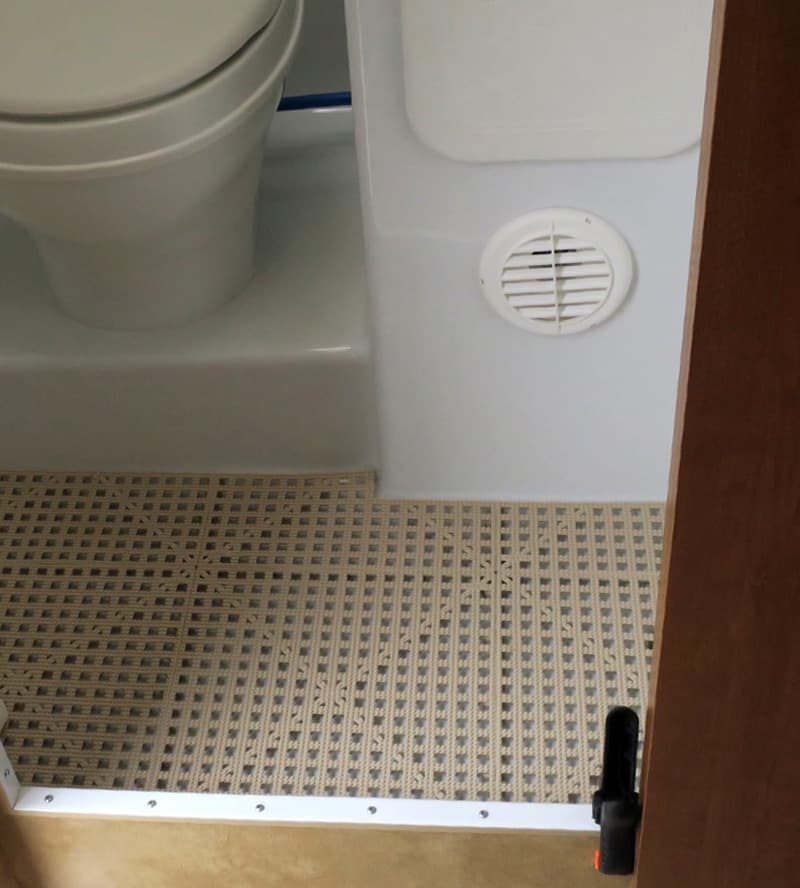 Mod 21: After reading about it in a TCM article about wet baths, we added marine flooring to the wet bath floor.  It's called Dri-Dek.  It's easy to work with and clean, removable as needed, comfortable enough for the feet while adding traction, and a custom-looking install is a breeze!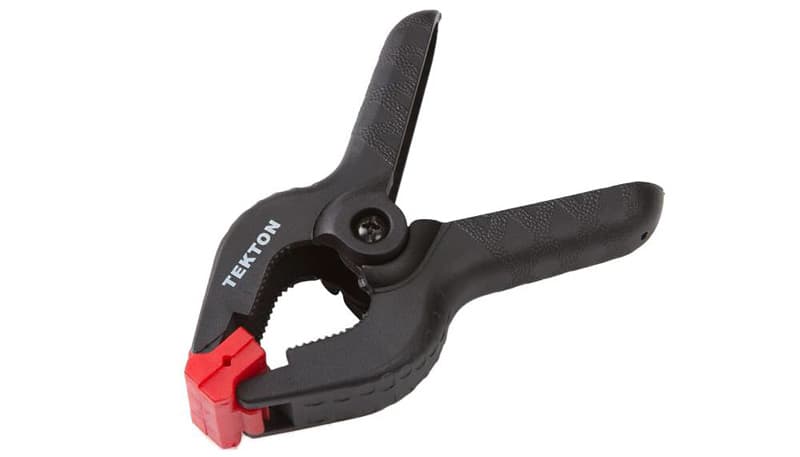 Mod 22: We have a very sloped driveway so keeping the sliding bathroom door open during cleaning and loading was a pain.  A plastic clamp has worked wonderfully, and can also serve other purposes around the camper as needed.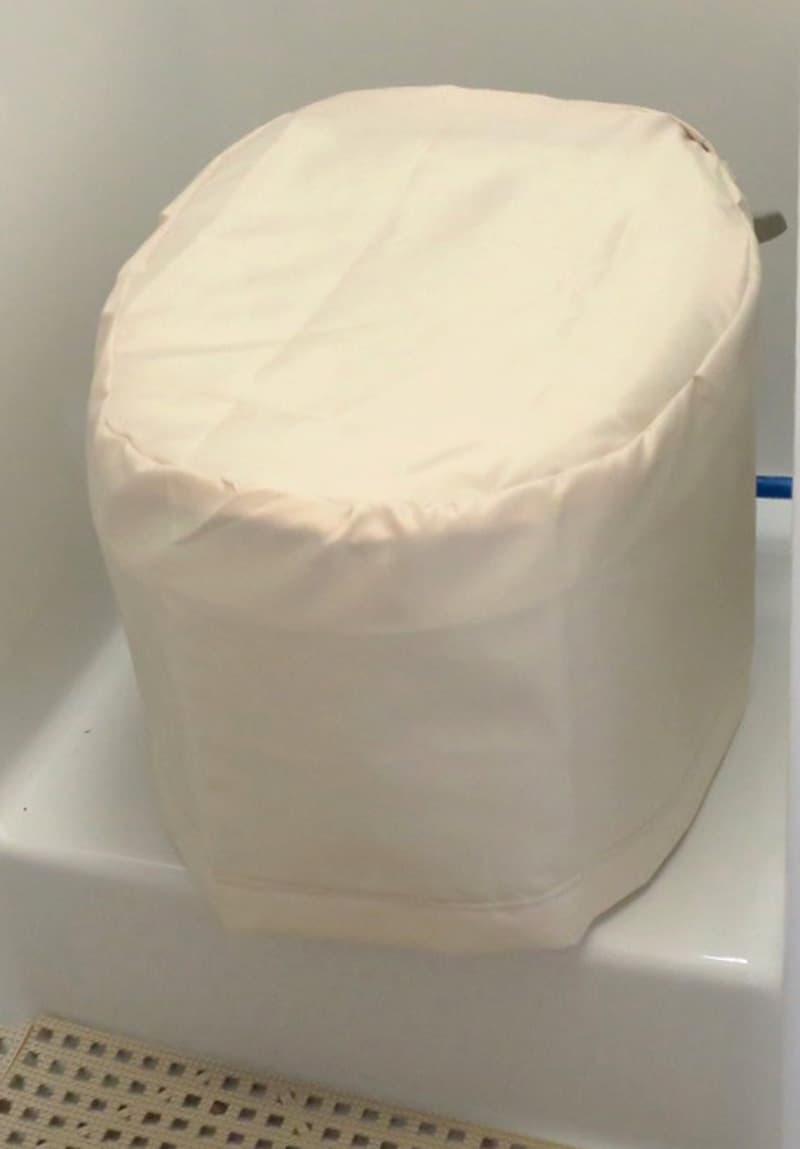 Mod 23: This is another item inspired by a TCM reader.  I used an old anti-mildew shower curtain and added a layer of vinyl shower curtain under it.  We cover the toilet when we shower. It has made clean up time much quicker and has also eliminated surprise encounters with a still-wet toilet seat later on!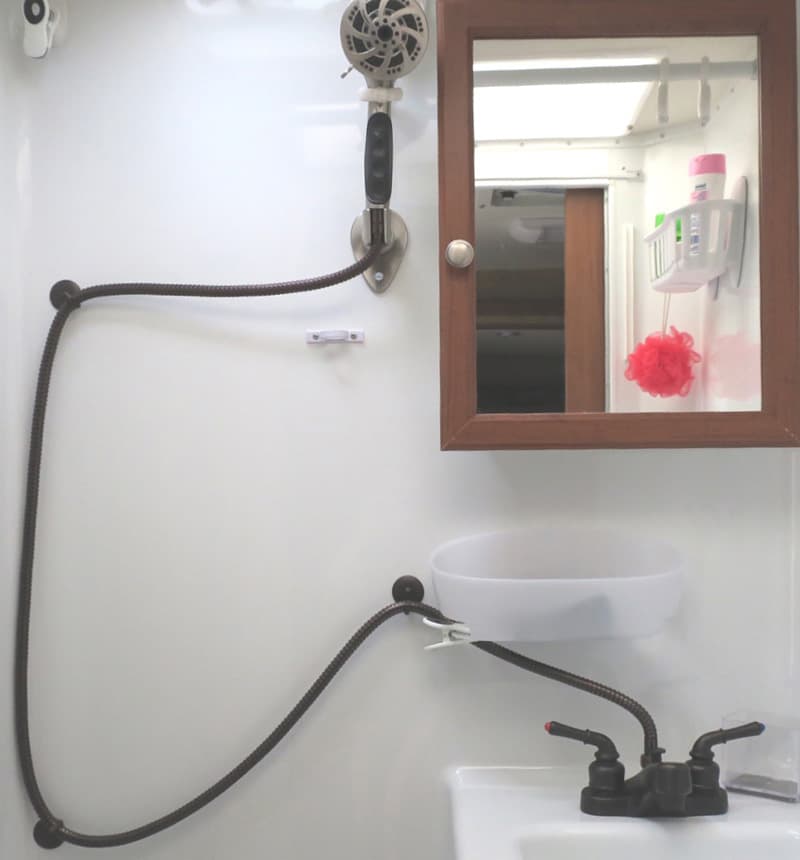 Mod 24: If you've ever used a camper's shower head, you know it's actually better to just stand outside and wait for it to rain.  With the Fury shower head, air is pushed out with the water to increase the water pressure, and the spray pattern is perfect.  It doesn't use extra water, it just feels like it.
Mod 25 (above): We also put a flexible hose on it so we didn't have to fight the hose and added matching hooks to organize/secure the hose along the back wall when not in use.  Other baskets from Command Adhesive round out our changes to make it a much more useable wet bath (Mod 26 below).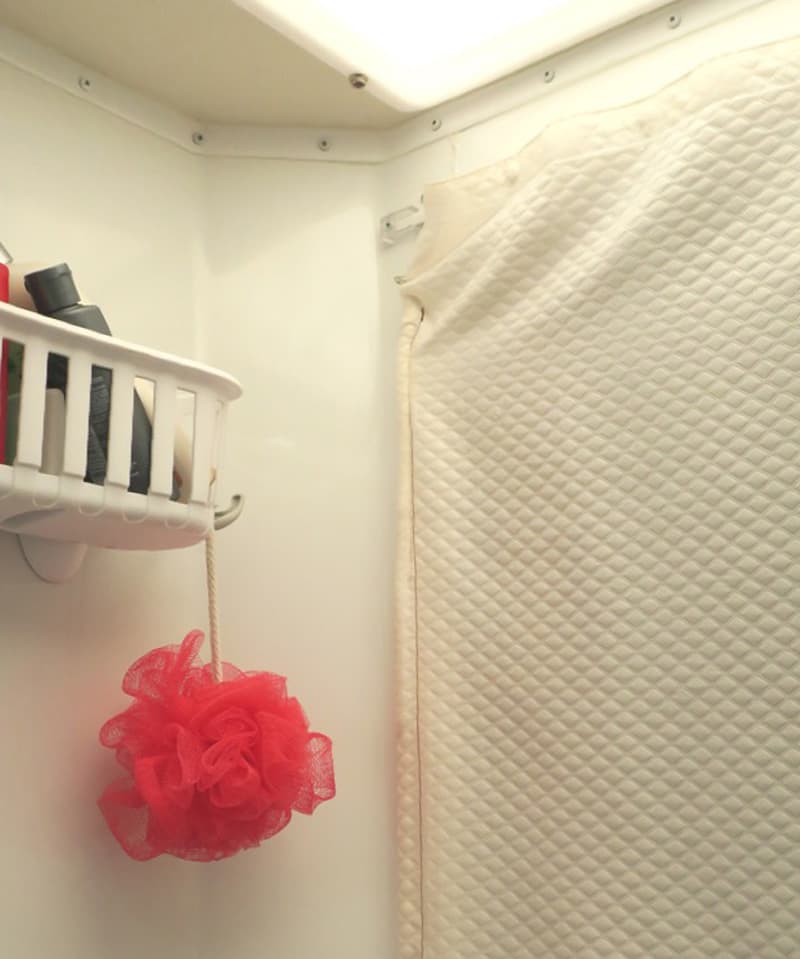 Mod 27: Our shower curtain system has been a game changer!  We looked and looked to self-manufacture a way to adhere the shower curtain to the wall when we showered so it didn't attack us.  We tried hooks and clips, and that was okay, but this solution has been perfect!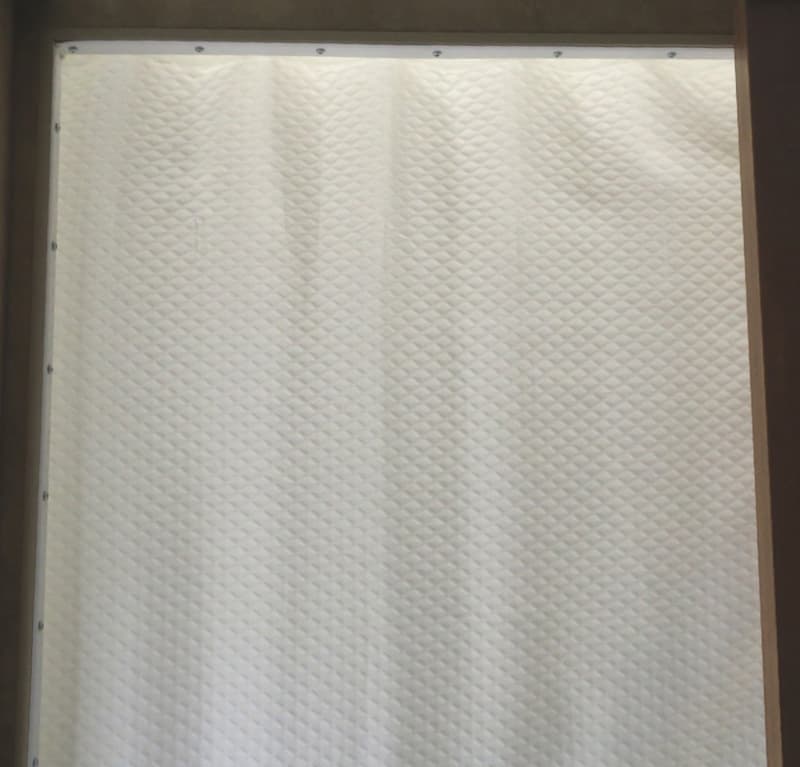 It is made by a company called StayDry and comes in a kit.  It has two long rubber tubes, six plastic channel pieces, a curtain and hooks.  We didn't need the hooks or the curtain (which I repurposed as the fabric for the toilet cover) because I just used the original curtain from the camper, seamed in a channel to hold the rubber tube on each side, and then adhered the stick-on plastic channels to either side of the door.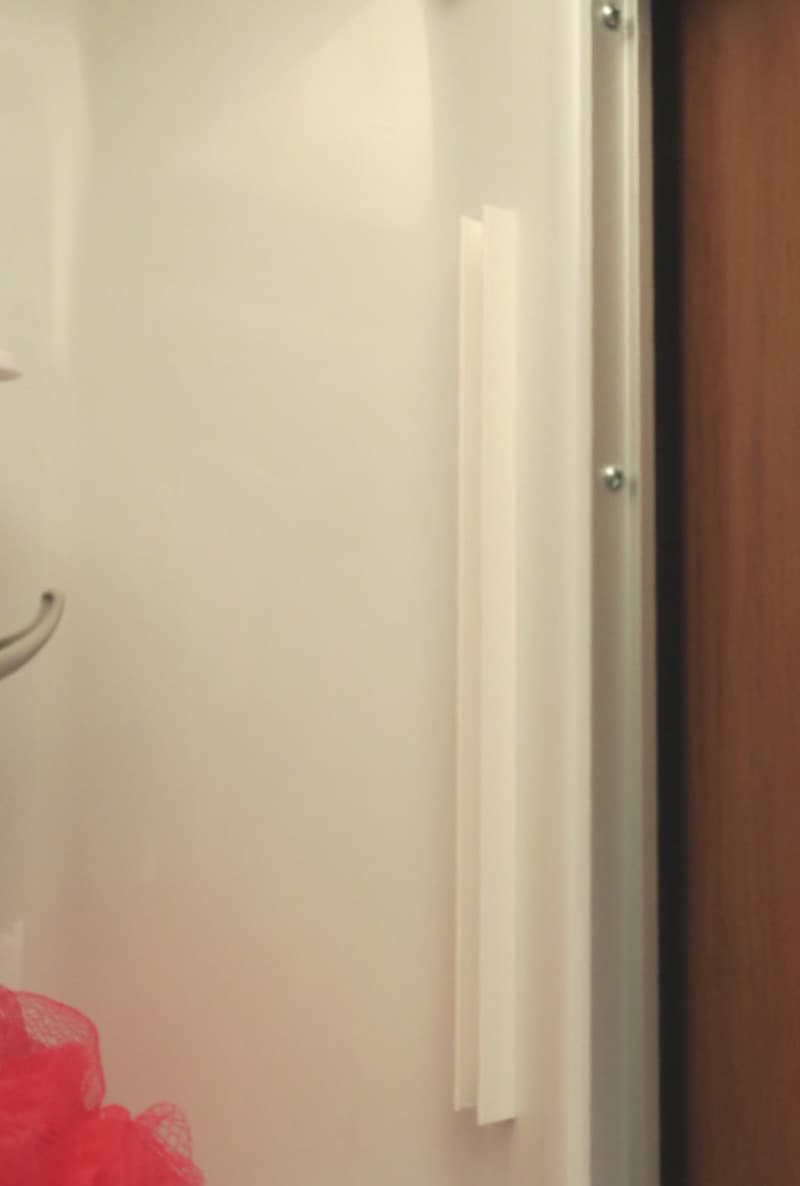 The rubber tube-filled curtain edges easily pop into the plastic channels and the curtain is taught, straight, and stays put while you shower.  Awesome!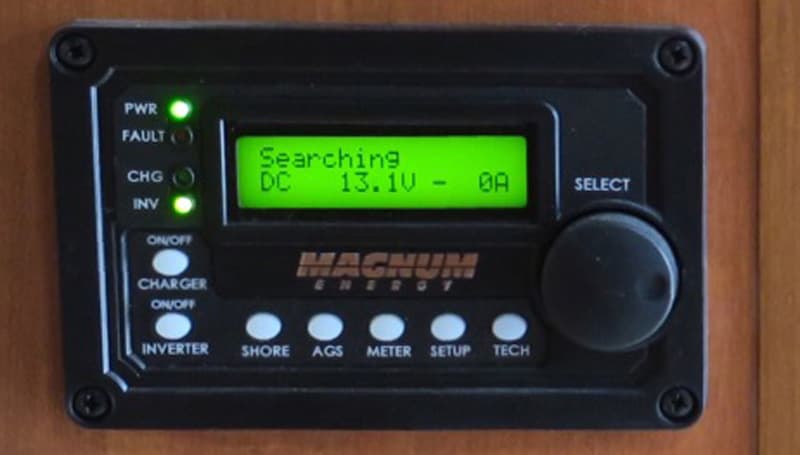 Mods 28 and beyond: We have added other things for off-grid camping like having a 130-watt solar system with two Group 27 AGM batteries.  We have a 2500-watt inverter/charger with upgrades of our wiring throughout.  It's a fabulous way to brew a K-cup of coffee or heat up a meal in the microwave without bothering any fellow campers with the generator noise.  Plus, there's no need to plug the camper in to get the 120-volt household-type outlets to work.
To see more truck camper mods, visit our Camper Mod section.  Click here to enter the 2018 mod contest.