Storage gets spicy, cords velcroed, turnbuckles covered, beds divided, grey tanks expanded, and cabovers gripped. These 10 mini-mods are so easy that even a truck camper can do them!
Welcome to the second 10X10 Mod Tournament.  Please review the following ten mini-mods and vote for your favorite.  We will announce the winner next week.  For more information about the 10X10 Mod Tournament, including how to enter, click here.
Click here to vote for your favorite three mods from this month's contest.
1. Kathy Dresbach, White, Georgia
Easily Accessible Spice Jar Storage
2015 Ram 3500
2016 Eagle Cap 1165
I wanted a place to put my spices in our Eagle Cap 1165 triple-slide truck camper. I first tried to put them in the cabinet and they slid around.  Then, I bought teak storage boxes that are intended for utensils. You can get teak storage boxes at any kitchen supply store.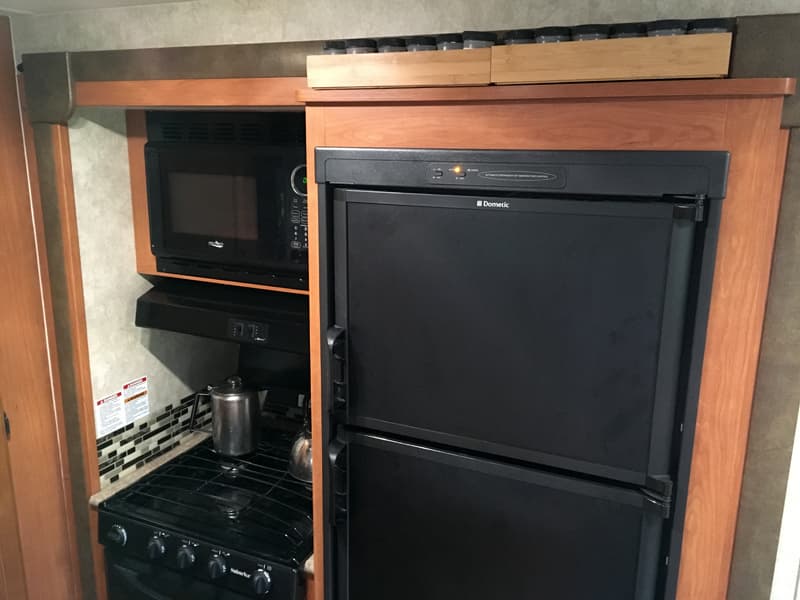 I used velcro on the shelf and on the bottom of the box. They just sit up there. If I want to take them down, I simply pull them off.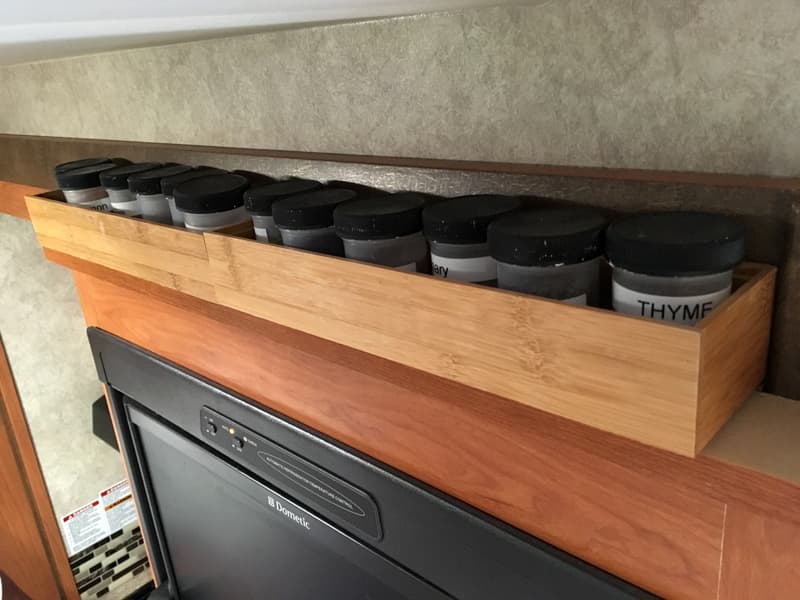 I bought six spice jars at Hobby Lobby for $2. Then I painted the lids black to make the jars less obvious, and labeled them.  Now the spice jars are easily accessible and never move when we're driving. They also don't interfere with the slide room.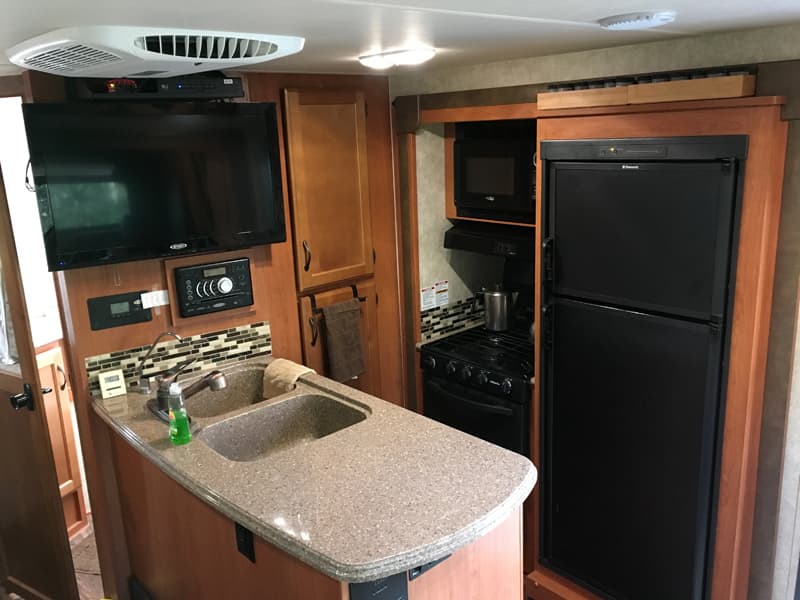 It took me one hour to paint the lids and label them. The mod cost under $10. I grow my spices, so I don't have to pay for those either. In my opinion, the skill level of this modification is easy.
2. Bruce Allison, California
Velcro Holder for Camper's Umbilical Cord
2017 Ram 3500
2012 Adventurer 910FBS
When we get to a campsite, we release our Torklift Fastgun turnbuckles and level the truck camper with the jacks. We also disconnect the 12-volt seven-pin power cord connecting truck camper to the truck.
The 12-volt seven-pin power cord would hang down from the truck camper and very often end up under the camper when we loaded the camper back into the truck.  While loading, we would have to pay careful attention to the cord. One of us would have to pull it to the side and out of the way while the other worked the jacks.  Inconvenient!
If we ever forgot, we would run the risk of cutting or chaffing the small gauge wires in the power cord, ruining our holiday and causing an expensive repair.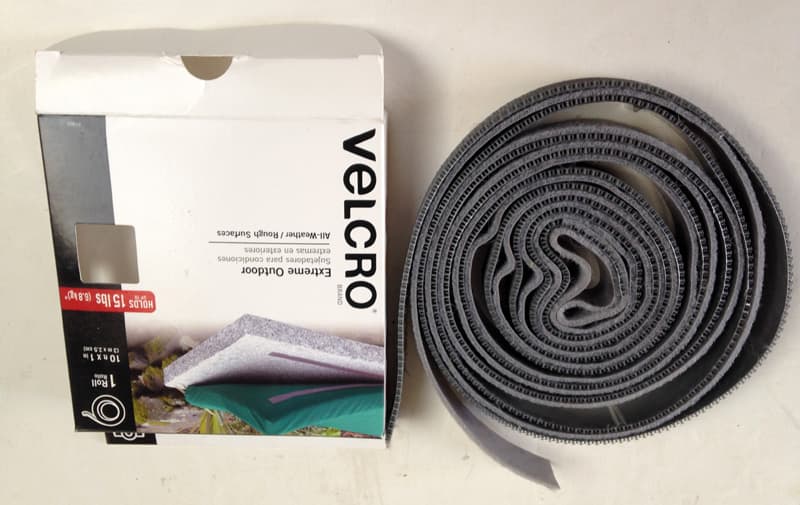 To fix this problem, I purchased some heavy duty velcro and stuck the cord to the side of the camper in the truck bed.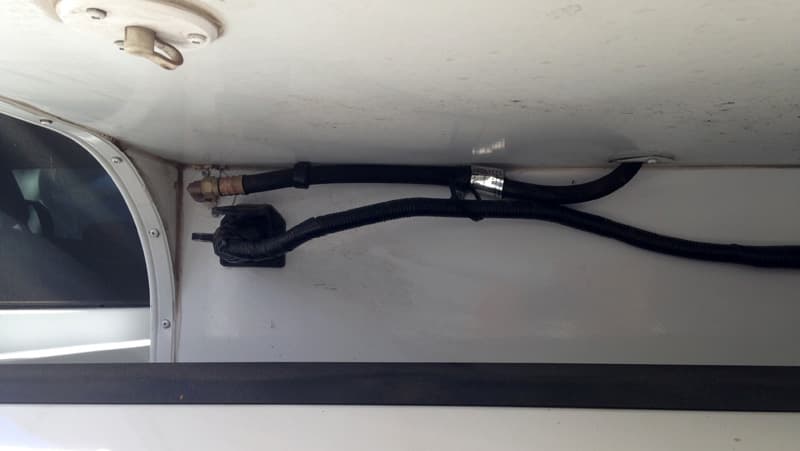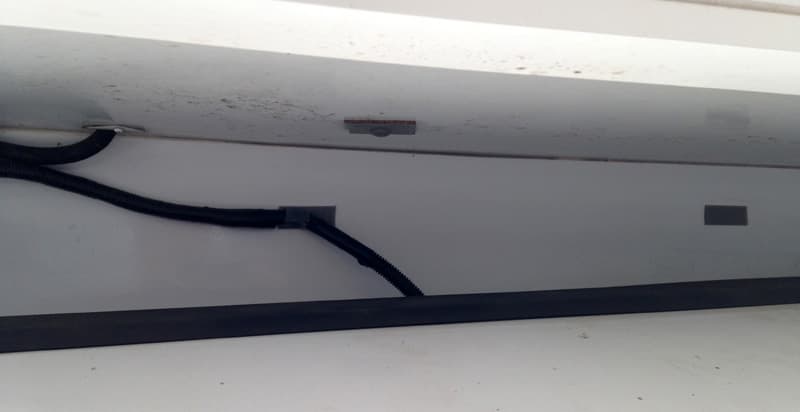 It is high enough to clear the inner wheel housings and it's off the truck bed. Now we don't have to pay attention to the cord, and it's safe from possible damage.