Stop the table wobbles!  Quiet the range fans!  Clear the door windows!  These 10 Medium Mods mean serious business.  Pick your three favorites and vote now.

Welcome to the tenth 10X10 Mod Tournament.  Please review the following ten medium mods and vote for your favorite.
We will announce the winner next week.  For more information about the TCM Mod Contest, including how to enter, click here.
Congratulations to Kevin Mooney (#7) for winning this month's contest!
1. Tim Zeh, Simpsonville, South Carolina
Dinette Caddy
2005 Chevrolet 3500
2007 Arctic Fox 1150
We like to keep items on the table and not have to put them away. These items include napkins, salt and pepper, playing cards, paper, pens and even reading glasses.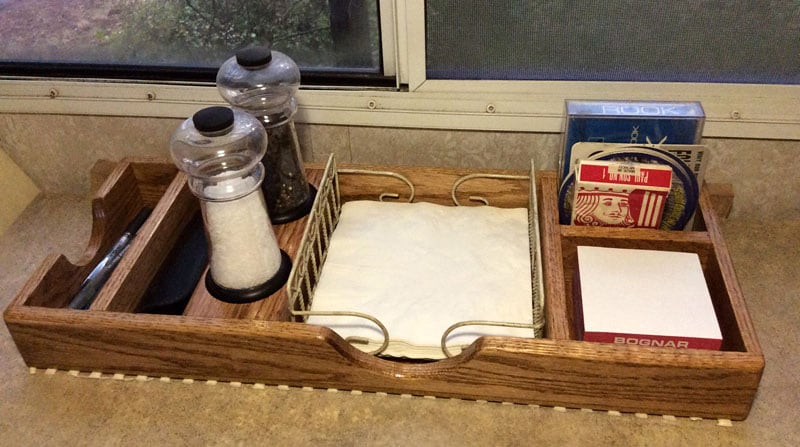 We tried the non-skid pads. They work pretty well when new, but the dust from all the gravel roads we travel eventually make them ineffective.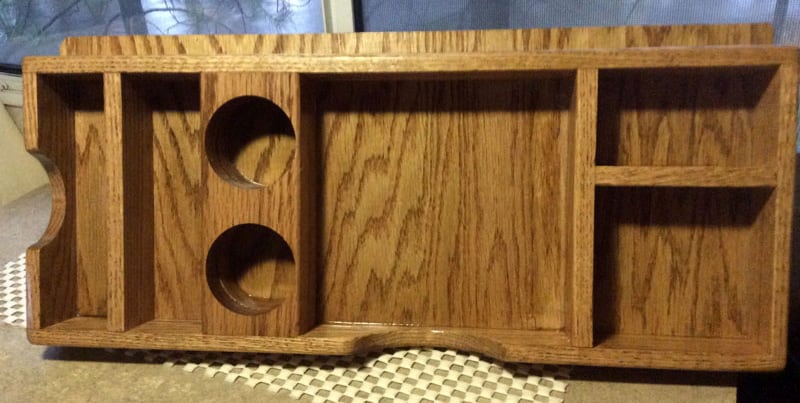 I had some left over oak from a wood working project and built a caddy that hooks between the table and wall. Our 2005 Arctic Fox has the dinette which attaches to the wall. I made the cleat so the caddy between the two table brackets.
I planed down the wood to 1/2-inch and glued it together. With a little stain and poly, it looks like it was part of the original camper. I also added a piece of non-skid shelf liner to keep it from marking the table.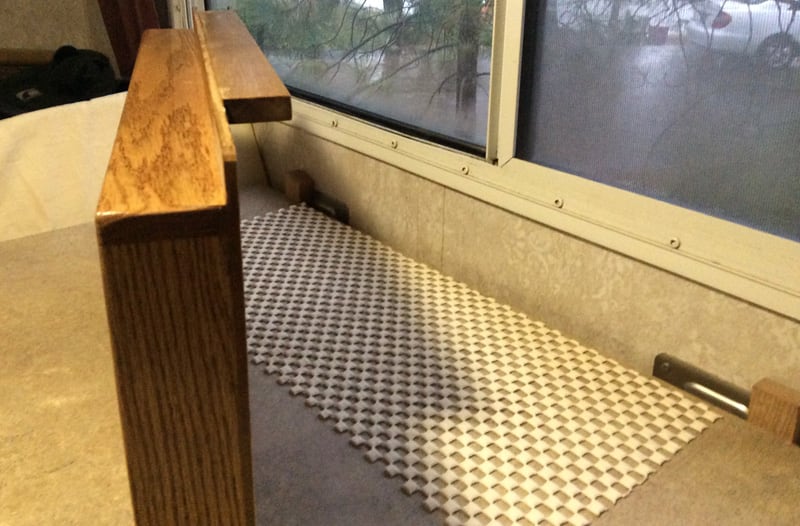 The dinette caddy works great! We've been out six weeks now. Even when everything else is on the floor, our caddy keeps everything in place. We could have made it bigger!
Also, we had lots of problems with salt clumping from all the humidity. The solution was to buy a salt grinder. It works!
It took me three hours to complete this modification and cost me $0.  In my opinion, the skill level of this modification is hard.
2. Rhonda Nicholas, Polk City, Florida
Stable Dinette Table and Storage
2016 Dodge 3500 Ram
2014 Palomino HS-8801
The original dinette table in our Palomino was too wobbly. We modified the table to make it more stable and created more dinette area space in the process.