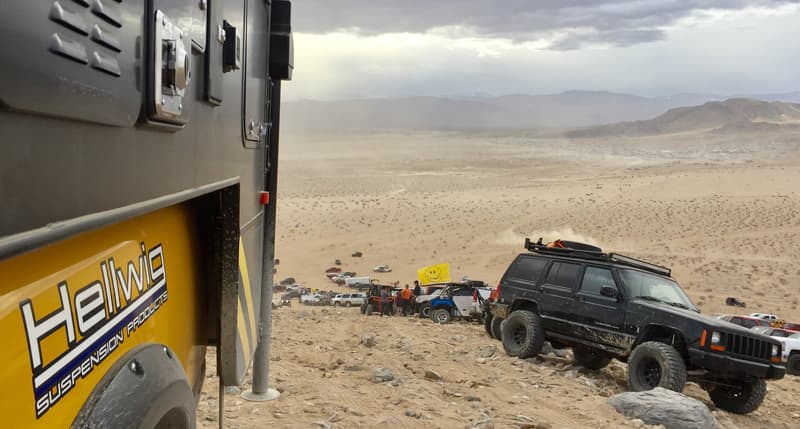 Above: Chocolate Thunder Viewing Area, King of the Hammers
Then I took it off-road for a test and photo shoot.  During that experience, I took the Rule Breaker half way up Chocolate Thunder viewing area, which is a very steep hill.  I stopped where the hill leveled out and had a barbecue with beverages.  The rig gave people a shaded place to eat and drink while they watched the King of the Hammers race.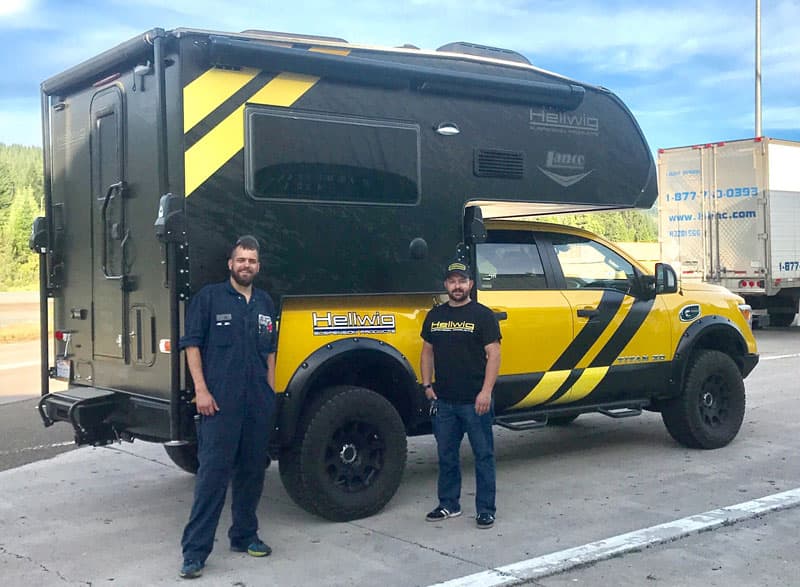 Above: Meeting up with a friend near Mount Shasta, California on the way to the Northwest Overland Rally in Plain, Washington
TCM: That sounds like a total blast.  How much time are you able to spend camping in the Rule Breaker?
Mike: The longest I've been able to camp in the Rule Breaker is two weeks.  That was for a trip to the Northwest Overland Rally.  For the rally, I traveled from Lancaster, California to Plain, Washington – a 19 hour drive.

Above: Hellwig/Ninkasi Happy Hour at the Northwest Overland Rally, 2017. Not breaking the rules and bringing the beer!
I was at the event and then hopped on a plane to Las Vegas for the SEMA Exhibitor Summit.  Then, I flew back, grabbed the truck and went back to California.
On the way to NWOR, I slept on the side of a freeway because of bad accident.  I was able to crawl in the back, take a siesta, and go down the road the next day.  I could see the wow of people's faces while they were sitting frustrated in traffic.  With a camper, anytime you need to, you can sleep, get food, shower, etc.  It's all right there.

Above: Nisan Titan press drive 2017, somewhere off highway 40 in Arizona
TCM: We've had several experiences like that over the years.  Bad traffic, weather, or construction forces us to pull over, relax, eat lunch or dinner, and maybe take a nap.  Tell us about your experience with Nissan in the Grand Canyon.
Mike: For Overland Expo we partnered with Nissan and went on a press drive.  We took the Rule Breaker to the bottom of the Grand Canyon with five other Nissan trucks including Nissan's Project Basecamp build.  The Project Basecamp truck is supported by Hellwig Big Wig air springs and our adjustable rate rear sway bar.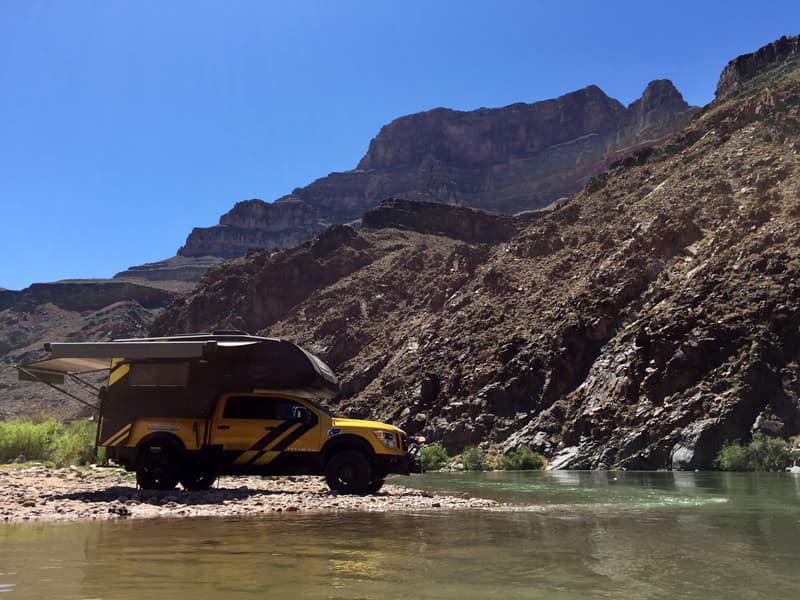 Above: Day camping next to the Colorado River at the bottom of the Grand Canyon. Part of the Nissan Titan press drive before Overland Expo, 2017.
We four-wheeled it down there, put out the awning, and had lunch.  Then, we went back to the Overland Expo and showed it off for the next three days.  We created a video of our experience.
TCM: When we first saw images of the Rule Breaker, we knew our readers would be very interested in the build, but we had no idea how much attention the rig would get beyond the truck camper market.  It's been incredible.