What happened to the most famous truck and camper rig of 2016?  Mike Hallmark of Hellwig Products is driving it around as his daily driver, mobile office, and adventure vehicle.  This is no museum piece.  It's a workhorse.

When I was a kid growing up in the early 80s, I went to the annual Philadelphia Auto Show with my dad and always went bonkers over the concept cars.  These presumably drivable visions of the future stirred my imagination in those pre-internet days.  Dad, let's get that one!
For those not steeped in auto-culture, concept cars are usually one-off prototypes designed and built to showcase radical forward-thinking designs, cutting-edge materials, and state-of-the-art technology.  Building and testing these concepts allows automotive manufacturers to experiment with fresh ideas that might later trickle into production cars, or inspire new directions in design.
Marketing teams use concept cars to generate excitement and publicity about a brand and gather feedback about which design elements inspire the most interest.  All of this information and feedback is then fed back into research and development to make future production cars not only better, but also more appealing.
Wouldn't it be fun if the truck camper industry built and debuted concept truck campers?  How about a carbon fiber frame or an aluminum body shell?  How about showing us the most radical floor plans, cutting-edge appliance systems, and off-grid technologies?  I for one would love to see visions for where truck camper design might be going.
If building a full-size camper is too much time and money, how about a scale model, or a computer rendering?  Truck Camper Magazine could make these concepts a front page story and get the readers to send their feedback.
The Tale of Two SEMA Rigs
Over the past two years, Lance Campers and Hellwig Products have produced two stunning full-size concept rigs for SEMA.  Taking a page from the concept car concept (say that three times fast), Lance and Hellwig designed and developed the 2016 Lance 650 Overland Edition for SEMA 2015, and the Rule Breaker truck camper rig for SEMA 2016.
These one-off rig concepts were built to showcase the current possibilities in truck and camper combinations, after market enhancements, and design flare.  The materials and technology were squarely in the present, but the wild SEMA aesthetic of these units surpassed anything we had seen before in the truck camper sphere.
The 2016 650 Overland Edition was a success at SEMA and a strong article for Truck Camper Magazine, but nothing compared to the Rule Breaker.  Debuting in Truck Camper Magazine on November 1st, 2016, the Rule Breaker went on to be the number one Truck Camper Magazine article of the year.  To date, the Rule Breaker article has been read over 75,000 times and attracts another 700 readers every week.
We were surprised to learn about what happened to the Rule Breaker after SEMA 2016.  Where the 650 Overland Edition was shown to the press and then sold to a lucky consumer, the Rule Breaker stayed with its chief architect, Mike Hallmark, the Marketing and International Sales Manager for Hellwig Products.
Mike didn't roll this media magnet on wheels into a garage far from the prying eyes of the public – oh no.  He's out there driving the Rule Breaker, using it for work and off-road adventures.  Is he using 100-percent of the camper features and functions?  Sure is.  Has it been scratched?  You bet.  Does he get a lot of attention in this not-so Mello Yello beast?  Quite rightly!
To get the full story of what's happened with the Rule Breaker since SEMA, we talked to Mike Hallmark, Marketing and International Sales Manager for Hellwig Products.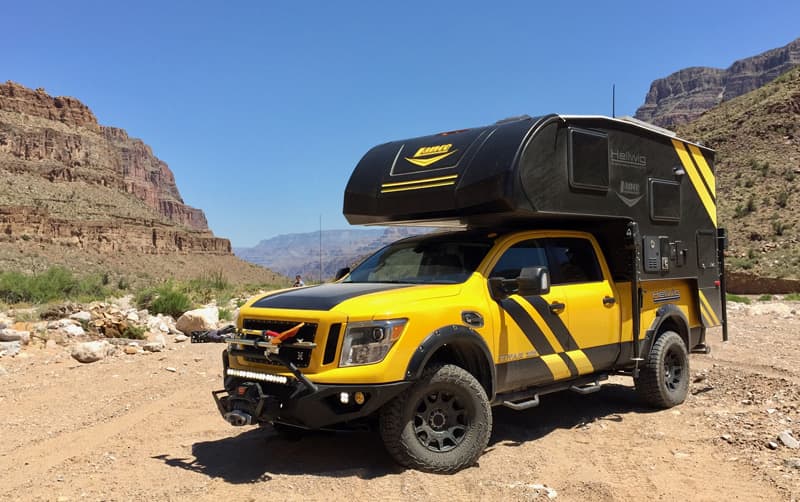 Above: Nissan Titan press drive 2017, posing in the Grand Canyon, all photos courtesy of Mike Hallmark unless specified otherwise
TCM: What happened with the Rule Breaker in the days after the SEMA debut?
Mike: After SEMA I worked with our PR team, Kahn Media, to reach out to media outlets.  We told them that we had a one-off vehicle that they were welcome to experience on and off-road.  So far we've had Car and Driver, Outside Magazine, JP Magazine, Autoweek and Automobile test drive the Rule Breaker.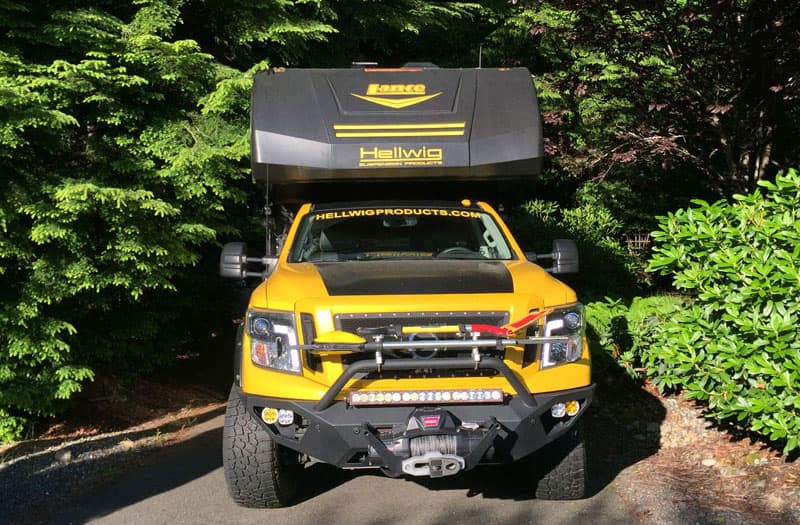 Above: Rule Breaker in its natural environment, poised to handle the road ahead