Retired Veteran, Jeff Intemann, tows a fully-restored World War II era Willys Jeep to military meets and reenactments across the United States.  His transport of choice?  A Ram 3500 and Adventurer 86FB truck camper.  Roll out!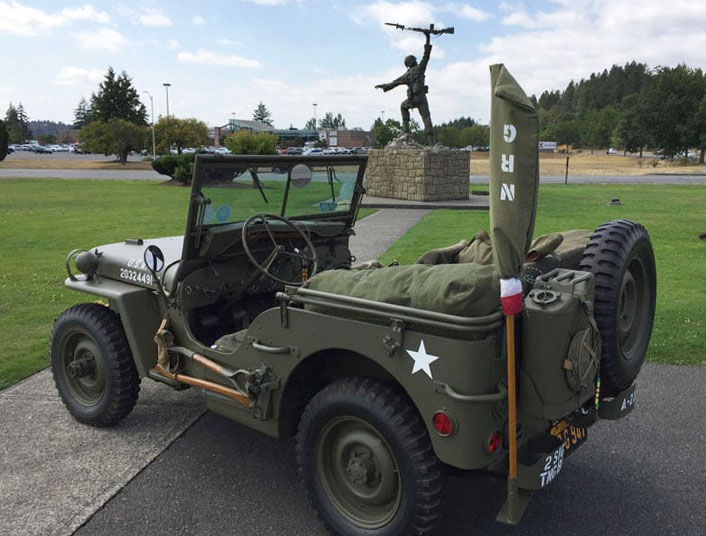 Above: Jeff's 1943 Willys Jeep at a memorial for the troops at Fort Lewis, Washington
If you want to travel off-road, camp off-grid and tow anything from boats to ATVs to snowmobiles, nothing beats a truck and camper set-up.  As we like to say to folks looking to pursue a more active outdoor lifestyle, "Truck campers are simply the right tool for the job."
When we talk to people who don't identify with a more-active and outdoor lifestyle, we use a different saying; "Truck campers are the Jeeps of RVs".
Perhaps more than any other brand, Jeep has embodied the active outdoor lifestyle.  Everyone we've ever explained the, 'Truck camper equals Jeep of RVs' immediately gets what we're talking about.  Suddenly, truck campers make sense.
The funny part about comparing truck campers to Jeeps is just how many Jeeps we find towed behind truck camper rigs.  Truck campers and Jeeps go together like, well, trucks and campers.  It only makes sense that someone who wants to go anywhere might tow a Jeep to go even further.  "Beyond anywhere?"  Hey Jeep, there's your new tagline.
Perhaps nobody better personifies the truck camper and Jeep relationship better than retired veteran, Jeff Intemann.  First, he has a 2015 Ram 3500 and a matching 2015 Adventurer 86FB truck camper.  Second, he tows a fully-restored 1943 Willys Jeep to military meets and reenactments around the USA.
And if that's not enough, he also has a 2018 Jeep Wrangler that he takes four-wheeling in California.  That's two awesome Jeeps spanning nearly the entire history of the revered brand.  To find out how one person can have this much truck camping and Jeep fun, we talked to Jeff Intemann.
Above: Jeff's 1943 Willys Jeep at the 75th Anniversary of the Travis AFB, California get together
Where did your interest in Willys Jeeps come from?

I am retired from the military.  I'm also a big World War ll history buff.
A friend of mine had a Willys Jeep and I really liked it.  In 2013 I started attending military meets and reenactments.  In 2014, I bought a 1943 Willys Jeep that I now use for military re-enactments.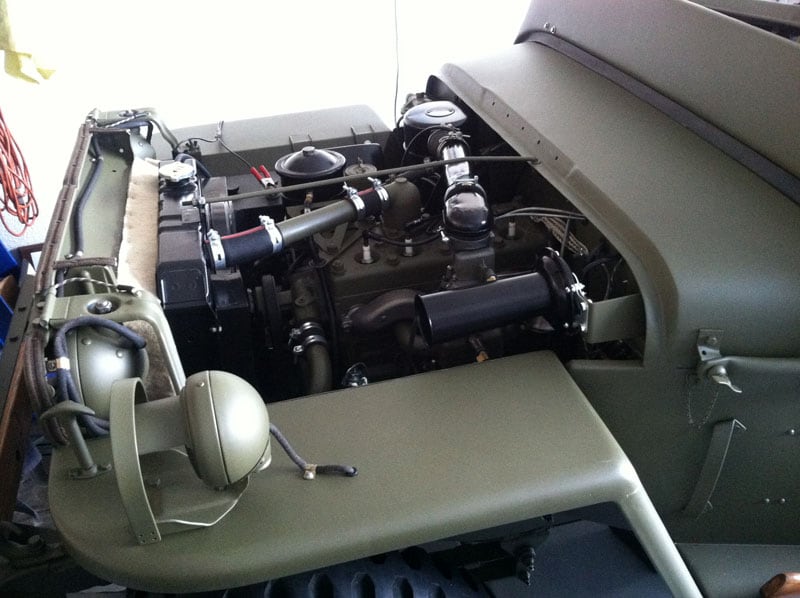 What was the Willys Jeep like before you restored it?
It was in pretty good condition, but not up to my specifications.  I wanted it to be like it was during World War II.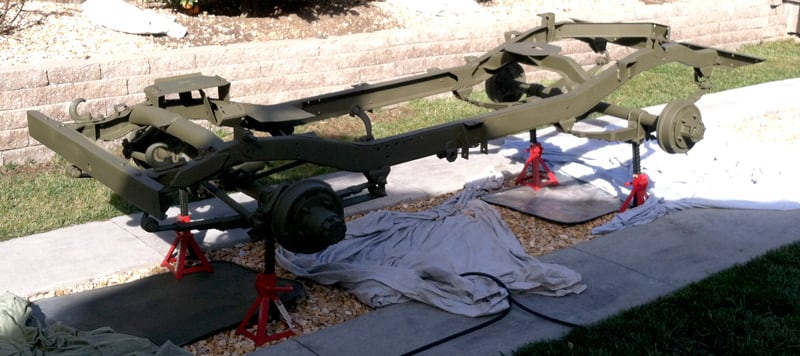 I took apart and put it back together.  There were metric parts on the Jeep, which made it challenging.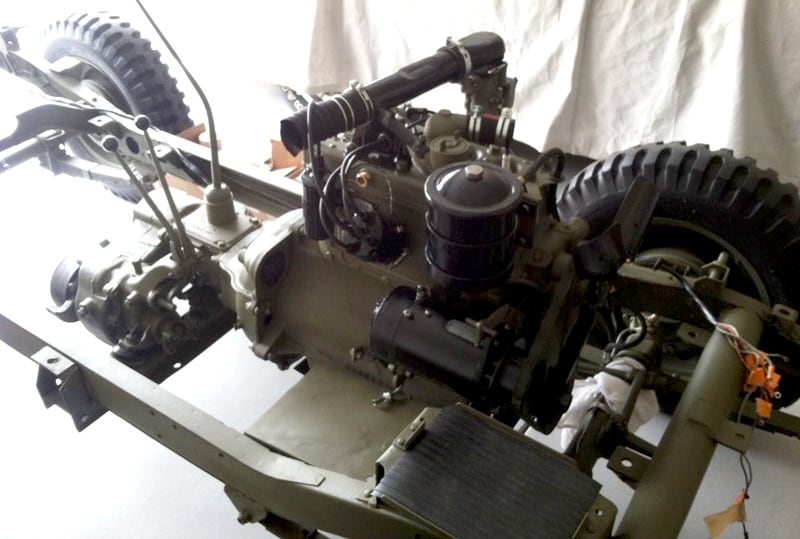 A friend from Oregon helped.  I got the parts I needed, and restored it to 1943 military specifications.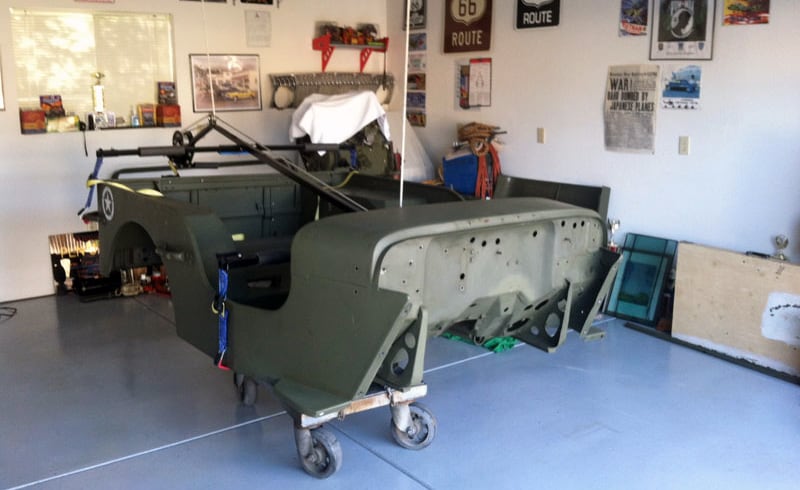 The restoration took about a year.  I was retired and able to spend every waking moment on it, so it was pretty easy.  I am very mechanical.  I have worked on automobiles and aircraft.  This is the fourth vehicle I've restored.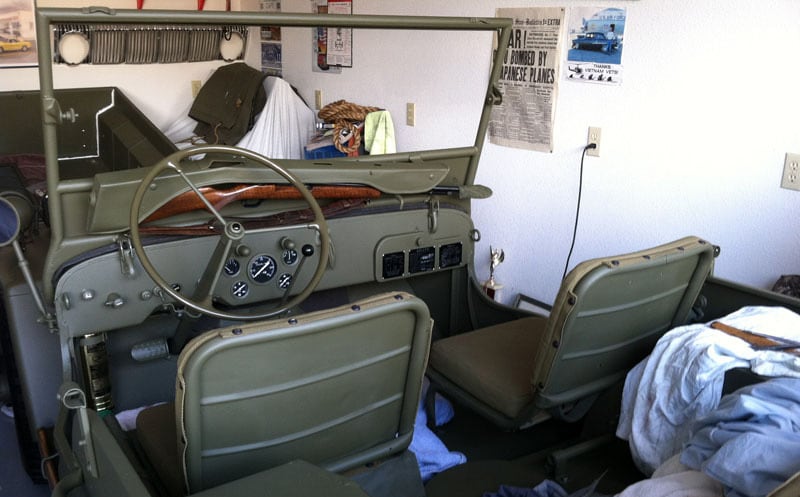 For authenticity, I read about Willys Jeeps and watched television programs that featured Willys Jeeps.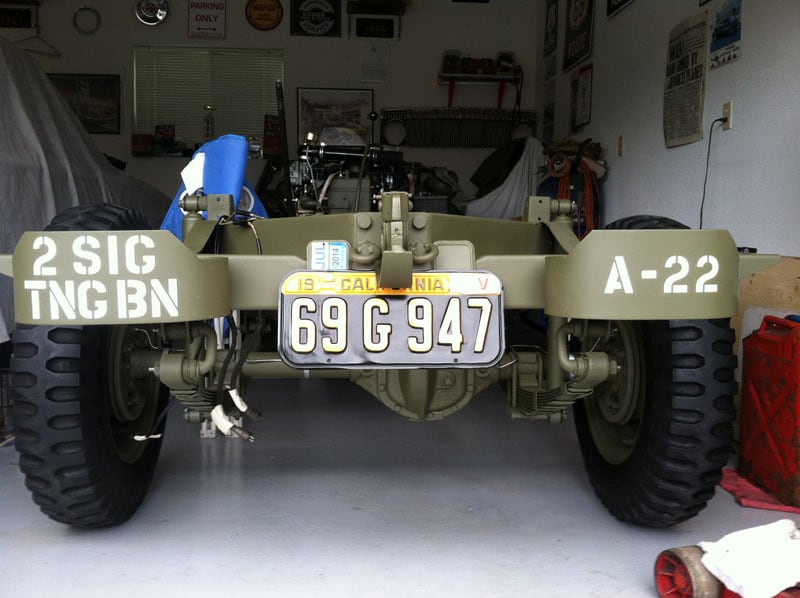 I did the restoration in honor of my Dad who was an Army Signal Corps Vet from World War II.  The uniform I wear during the reenactments is in remembrance of my uncle who was an Army Air Force aircraft mechanic on B-17, B-24 and C-47 airplanes.  I was a C-130 mechanic in the USAF in Vietnam.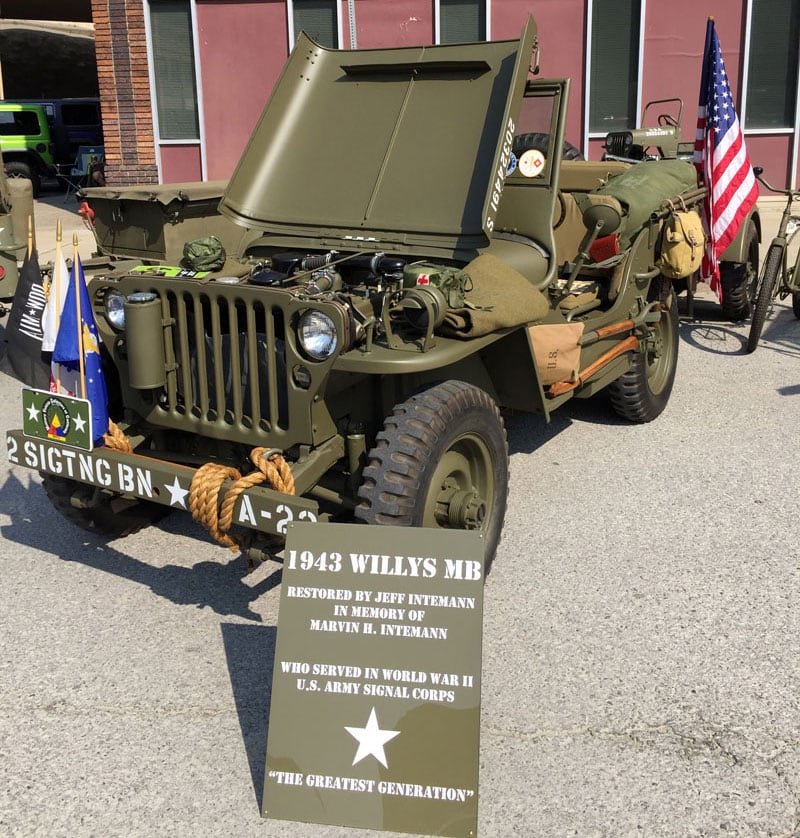 Above: The Willys on display at a Jeep meet in Wallace, Idaho
Tell us about the military meets and reenactments.  Are there groups one can join?
Yes, there are national and local groups.  The Military Vehicle Preservation Association is national.  I am also part of the Military Vehicle Collectors of California.  That's our local chapter.  They have meets all over the western states.
If a Truck Camper Magazine reader is interested in being part of a Military Vehicle group, there are clubs in every state, plus the Military Vehicle Preservation Association that is national.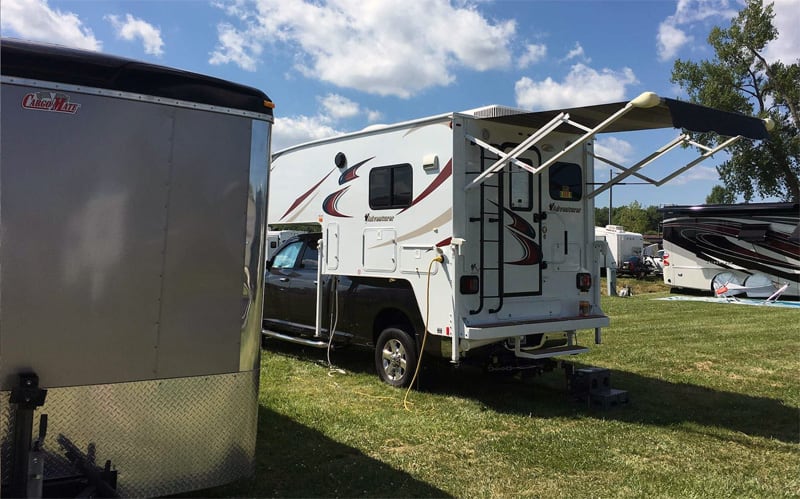 Above: Dry Camping At The Oshkosh Fly In, Wisconsin
Are you allowed to stay in your truck camper at these events?
Yes, we camp on site.  It's dry camping.  People from the area are tent camping, so the public is welcome.  Of course you should call ahead and check before planning to camp at a military meet or reenactment.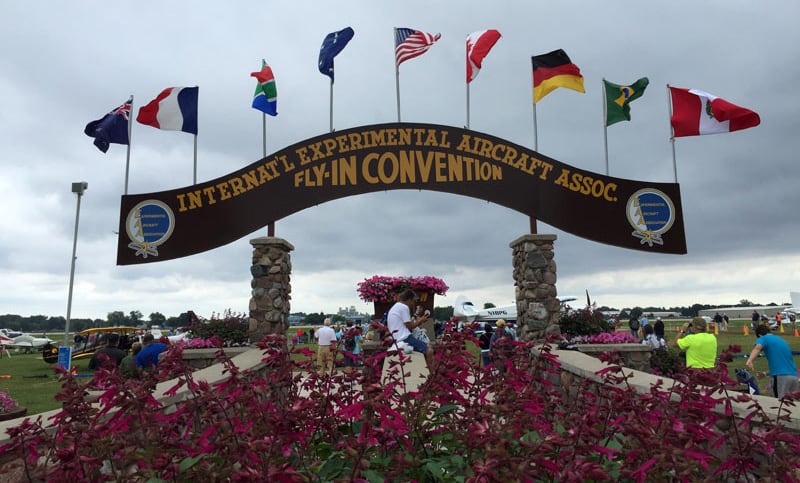 Which military meets do you attend?
Every year I go to a local meet in southern California and one up north in Sacramento that's really good.  There is a wonderful camaraderie when we get together at the California events and reenactments.
We go to four or five meets a year all over the country.  Last year we went to the Oshkosh Fly-In in Wisconsin.  It is an event that's held every year and it had been on my bucket list.  It's the largest air show in the world.  There's an area where all old planes and old vehicles are displayed, so I wanted to go there.
After the Oshkosh event in Ohio, we happened to run across the 75th Anniversary of the Jeep in Toledo.  I was driving along in the Jeep finding out where to go.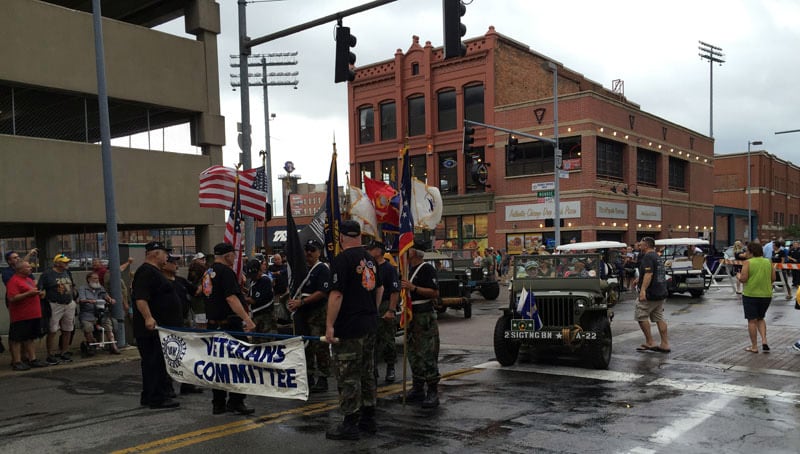 Above: 75th Anniversary of the Jeep parade in Toledo, Ohio
The organizer asked me to be first in line in the parade because I had the oldest Jeep there.  I actually felt bad going in front of hundreds and hundreds of other Jeeps.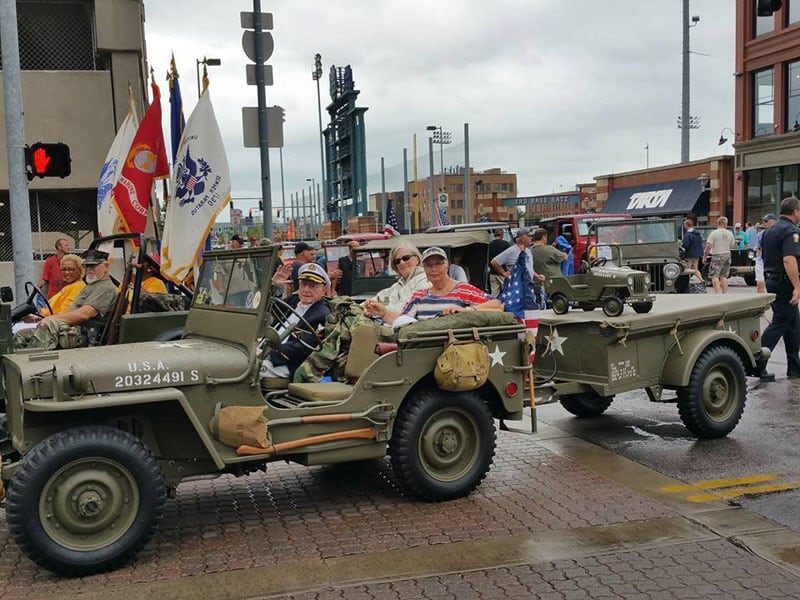 Above: First in line at the 75th Anniversary of the Jeep parade in Toledo, Ohio
At the parades, when the military Jeeps go by, people will salute and clap.  It makes me proud that people support the military and what we do.  Sons, daughters, and granddaughters of veterans come up to us and share stories of their loved ones.  We love to hear them.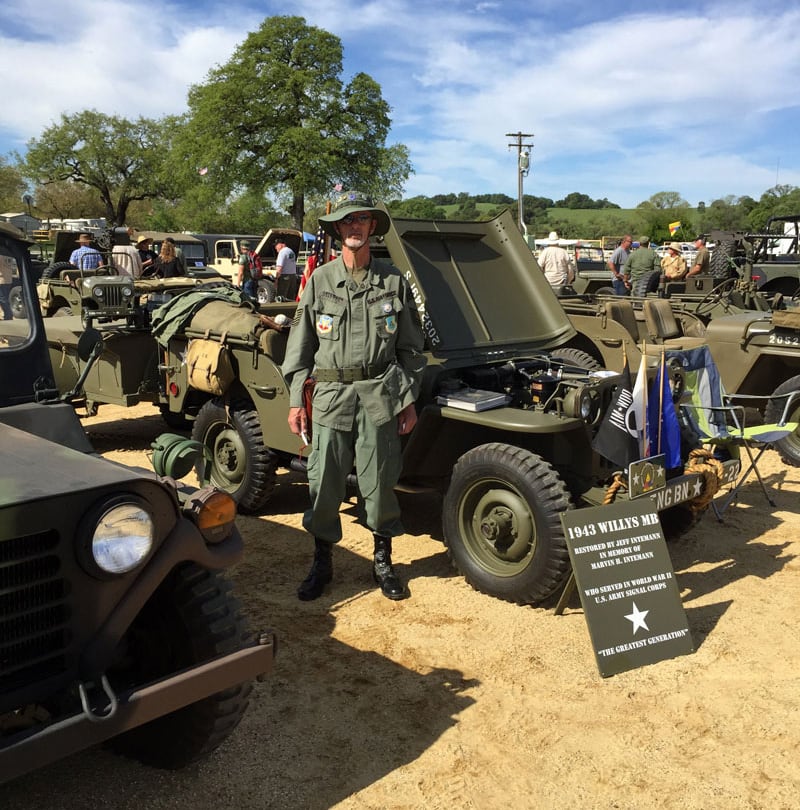 Above: Jeff in uniform with his 1943 Willys Jeep
In addition to the meets, we go also go to Veteran's day, Memorial day, and Fourth of July celebrations.  I'll usually wear my uniform from when I was in Vietnam, and sometimes a World War II uniform.  If there is a show, a parade, or people getting together, I may put a uniform on just to walk around.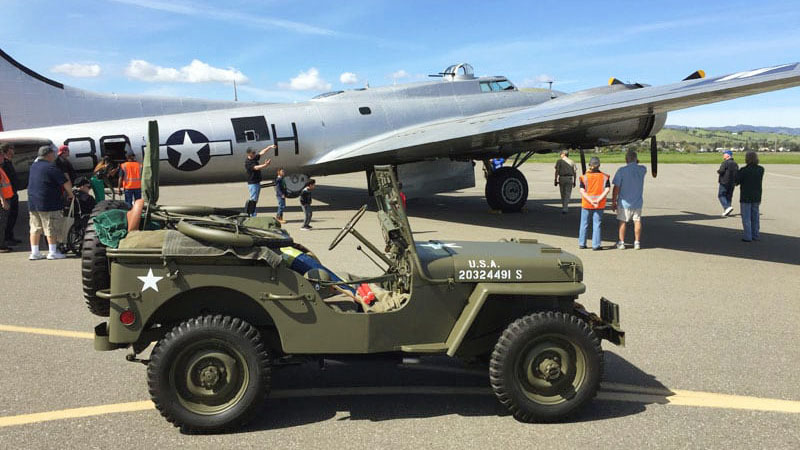 Above: Nut Tree Airport in Vacaville, California next to a B-17 plane
Did you always have a truck camper for these military events?
My wife, Karen, and I actually started in a 20-foot enclosed car hauler that was also used for the Willys.  We had an air bed in the trailer.  The car hauler trailer has electricity and cable for TV.  We also had a stove, water jugs, little ice chest, and a generator.  It was basically a fancy enclosed tent.  When it was hot, I brought along a portable air conditioner.  When we were camping in it, the Jeep was outside.
"We have never looked back. It is one of the best things we have ever done."
Above: Their Adventurer 86FB at Lake of the Pines, California to go mountain biking
So what led you to get a truck camper?
One of our friends had an Adventurer truck camper at a military meet.  My wife said, "It would be nice to get out of the car hauler".  After that we went to many RV shows.  We researched and viewed many truck camper brands, and kept going back to the Adventurers.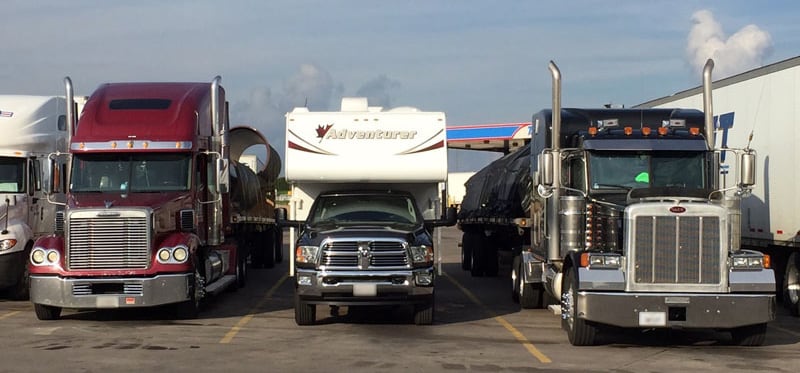 Above: Toledo, Ohio parked with the big rigs at a fuel station
The next thing I knew we had a brand new Adventurer 86FB camper and a Ram 3500.  We have never looked back.  It's one of the best things we've ever done.  We love to be able to go anywhere, anytime off-grid or in parks.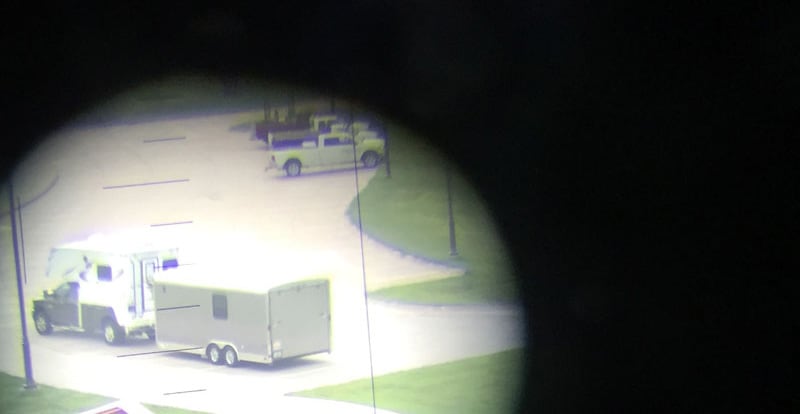 Above: Looking at his rig through a submarine periscope at the Military Museum at Camp Dodge in Iowa
The Adventurer 86FB fits all our needs.  I also like the 86FB because of its length and weight.  The wet bath in our camper is really nice.  Getting a dry bath and a slide would be way too much weight.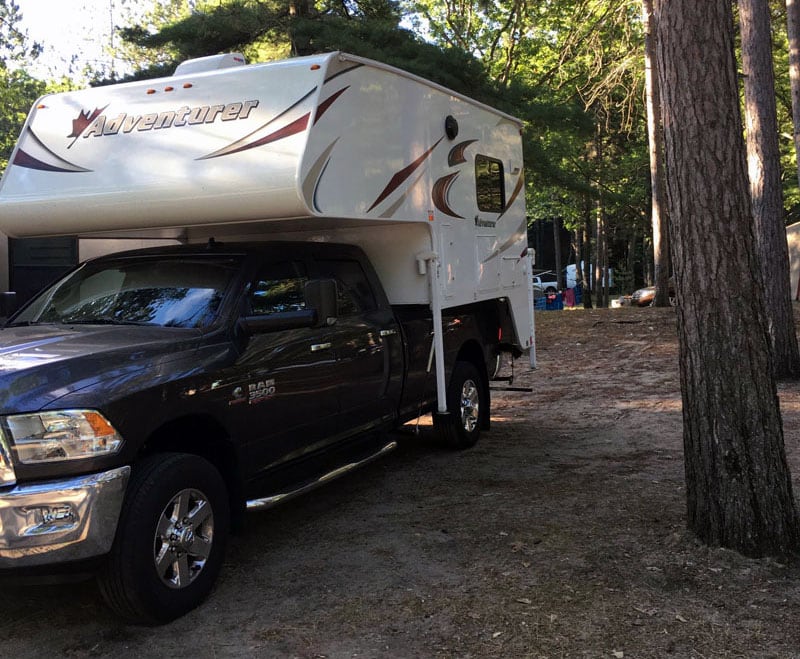 Above: Burts Lake, Michigan camping
We tow a 20-foot enclosed car hauler trailer and sometimes a travel trailer for the grandkids.  We have a Torklift SuperHitch Original 20K, Torklift SuperTruss hitch extension, Torklift StableLoads, and Torklift Fastgun turnbuckles.  We also have a Hellwig Big Wig sway bar and Air Lift air bags.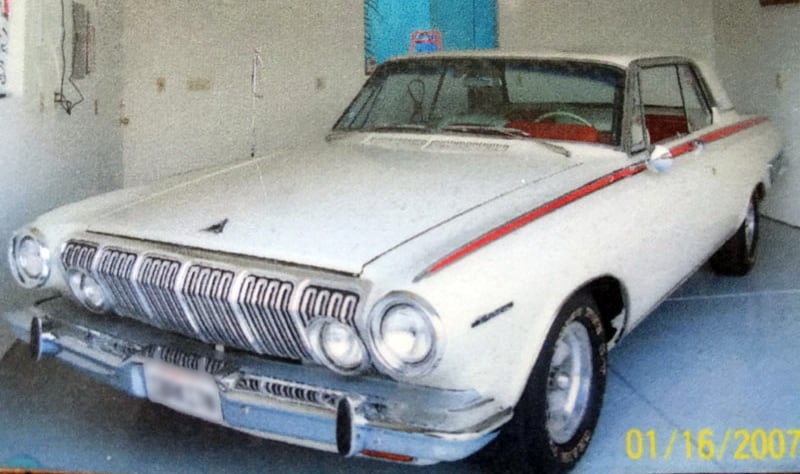 Above: His 1963 Dodge Polara that he takes to car shows
How did you decide on using an enclosed car hauler and not an open trailer?
At one time had an open car hauler trailer, but I didn't want to have the weather getting to my restored Willys Jeep – especially during rain storms.  Plus, before our truck camper set-up, we wanted to have the living area of the enclosed trailer.
I also have a 1963 Dodge Polara that we take to classic car shows with our truck camper.  My grandparents bought the Dodge Polara new, and gave it to me in 1975.  I restored it in 1998.  It just goes out for burger runs or car shows, so I no longer drive it every day.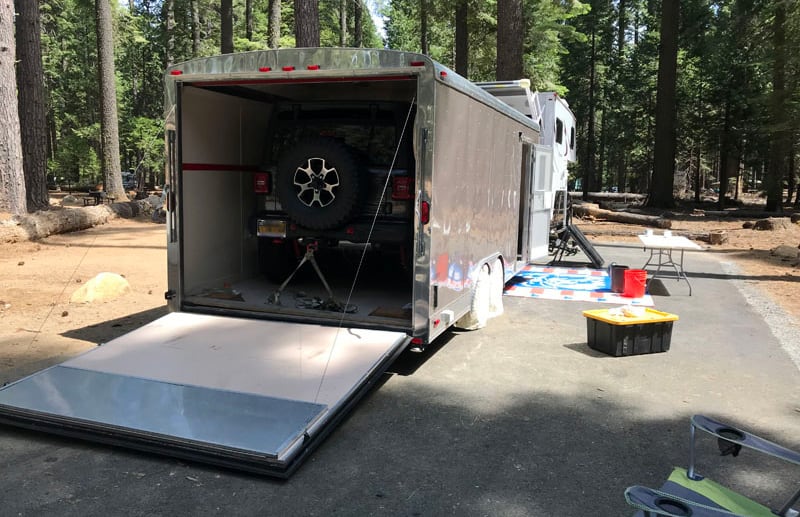 Above: They also tow a 2018 Jeep Wrangler in their enclosed car trailer to go even further off-road
What else do you enjoy doing with your truck camper?
We love that it affords us the ability to travel long distances and have a home on wheels.  It's so convenient and I actually get better gas mileage with the truck camper than I get with just my travel trailer.
A couple years ago my wife said, "Let's take a run to Disney Land".  In an hour we had the camper on the truck and the rig loaded with our stuff and we were gone.
We also attend the Sea Otter Classic in Monterey.  We've gone with our son, daughter-in-law and their three kids.  It's so easy, especially when there are no worries about pulling anything.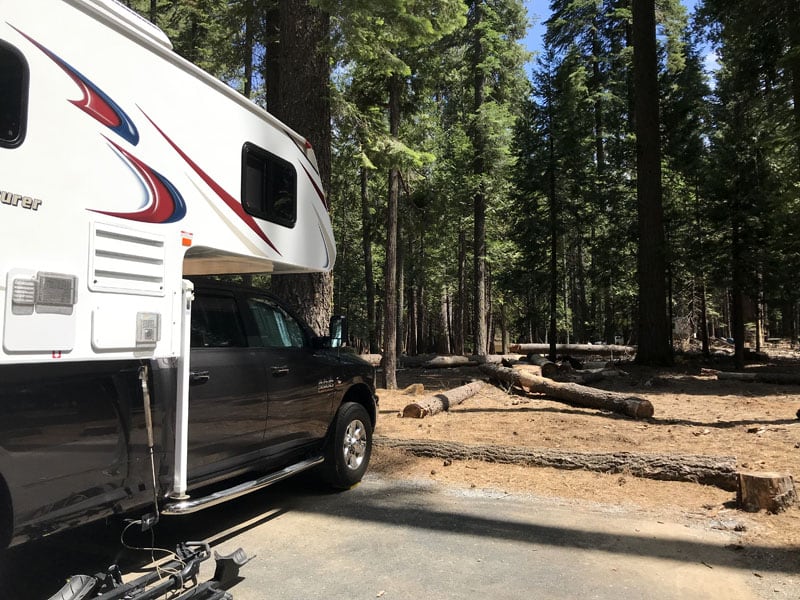 Above: Dry camping in the El Dorado National Forest, California
We visit places between military meets.  We really enjoyed Mackinac Island.  There are no cars there, so we took our cruiser bicycles with us and rode around the island.  On that trip we enjoyed a week on the Upper Peninsula of Michigan.  We left the trailer and went off sightseeing with the camper.
In addition to our 1943 Willys Jeep, we have a 2018 Jeep Wrangler that we use to go four-wheeling.  In August, we threw it in the trailer and went fishing and four-wheeling.  That was in the hills north of Sacramento in the Rubicon, one of the most famous off-road trails.
"Ever since we got our truck and camper in 2015, our lifestyle has changed 180-degrees. We love it."
What do you have planned for 2020?
We want to take our grandkids to Disney Land and go to more military meets.  We're still planning our big trips.
The people we meet on the road can't believe what our camper has inside.  They just think it's a bed on the back of a truck.  They don't know how great the truck camper lifestyle really is.
The size of the camper limits how much you can take along, but we have never found that to be an issue.  When we're truck camping, we don't want for anything.
I really like that we can get off the beaten path.  Ever since we got our truck and camper in 2015, our lifestyle has changed 180-degrees.  We love it.
Jeff and Karen Intemann's Rig
Truck: 2015 Ram 3500, crew cab, 4×4, single rear wheel, diesel, long bed
Camper: 2015 Adventurer 86FB
Tie-Downs and Turnbuckles: Torklift Fastguns
Suspension: Torklift StableLoads, Hellwig Big Wig sway bar, Airlift air bags