Full-time truck campers, Jessica O'Bryan and Charles Rollins, work hard, make sacrifices, and then surf, climb and explore their bliss – all from their flatbed Four Wheel Camper.  Why wake up in the same place every day?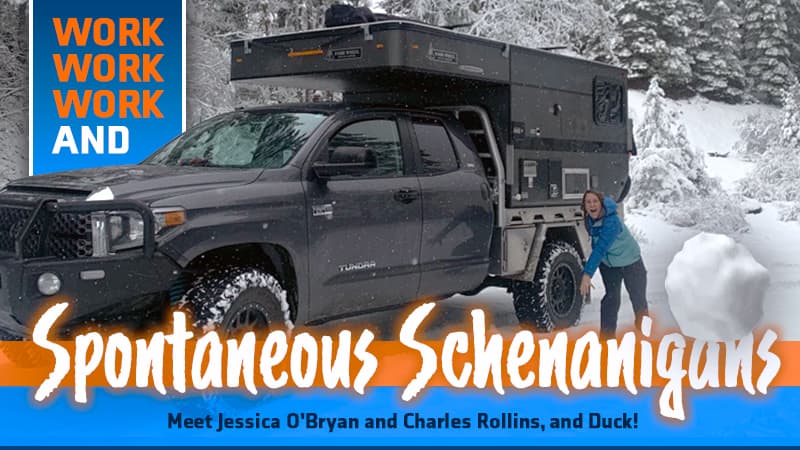 The concept of sacrifice as the path towards achieving one's goals isn't anything new.  Most of us have all sacrificed our time and freedom of location to make money, or to reach our long-term career objectives.  Why else would we drive to the same building, year after year and work for 40 or 50-hours a week?  For that considerable sacrifice, we support ourselves and our families and can have what we need, and hopefully more.
However, sacrifice does not mean the same thing for every person or situation.  For example, if you are willing to sacrifice the need for a house and excess belongings, your options can increase dramatically.  The leaner your requirements, the fewer resources you need day to day, and the more personal freedom you can enjoy.  And it's exactly that freedom, and what it allows, that more and more folks sacrifice for.
Jessica O'Bryan and Charles Rollins are avid climbers, surfers and general high-energy fun-seekers.  A few years ago they decided to sacrifice the trappings of a house and home to be at the exact right places, at exactly the right times, for the best possible opportunities to pursue their passions.  Let's just say the choice rock crags and surf beaches were not in town.
What follows is their story and some mind-bending photos of these two doing things most of us would not dare.  They also share their remarkable discipline to work, earn what they need and stay focused on living their lives to the fullest.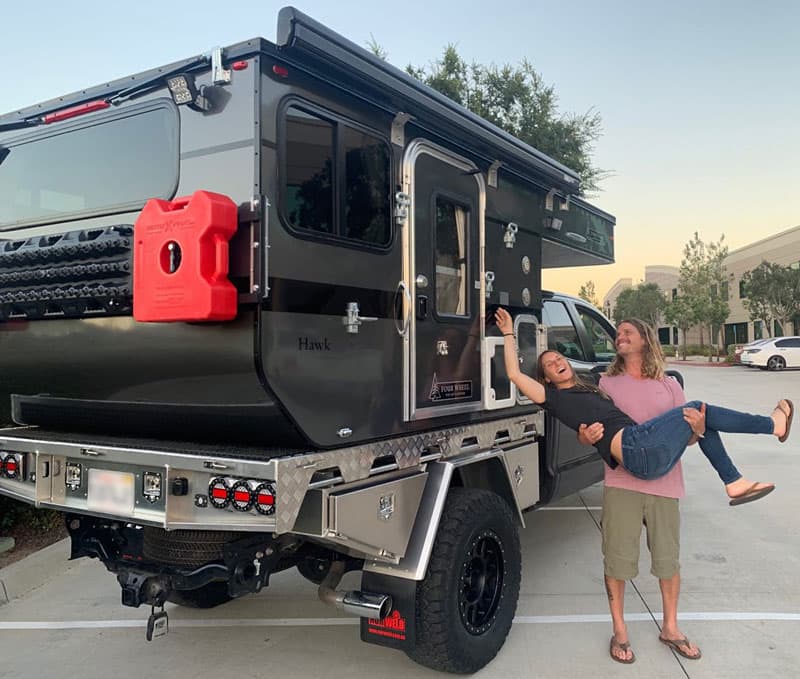 Above: Jessica O'Bryan and Charles Rollins with their Four Wheel Camper rig
How did you guys get into truck camping?
Jess: We both grew up camping, but mainly in tents.  Truck camping became a necessity because we wanted to stay in nature longer and have all of our climbing and surfing gear available with us.  We want to be prepared for whatever spontaneous shenanigans we could get into.
Our first truck camper was a hard side model.  We chose a hard side because it was the closest to having all of the amenities of home, on the back of a truck.
Charles: Jess had just lost her Great Dane and couldn't bring herself to stay at her place, so we started sleeping in the camper and never stopped.
Jess: We learned quickly that a hard side truck camper couldn't stand up to the rugged four-wheel drive adventures we wanted to pursue.  That first camper almost flipped over several times when traveling down unknown roads in Baja.  We were traveling down very bumpy roads to reach rock climbing crags and surfing locations.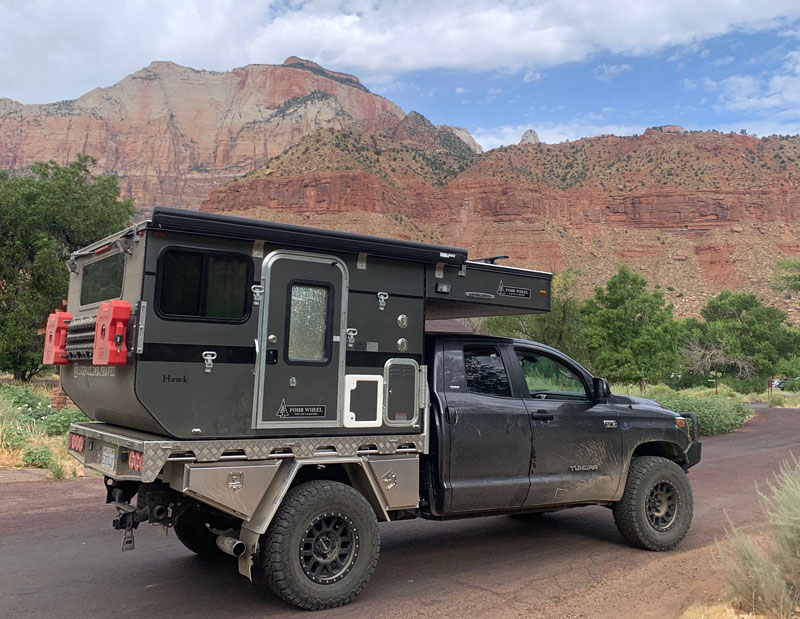 Is that when you decided to look at pop-up campers?
Charles: Yes.  We did a lot of research before choosing our Four Wheel Camper Hawk flatbed pop-up model.  One of the things that pushed us toward Four Wheel Campers is the compactness and the durability of their models.
Our Hawk came with everything we need and doesn't skimp on anything.  It definitely turns tent camping into glamping and keeps things simple.  We no longer need to constantly chase camper issues.
Jess: We had the idea of traveling south to the tip of South America.  We researched what truck camper could handle four-wheel drive roads and the unknown.  We needed to be able to trust our truck and camper.  It had to be durable and not fall apart on really bumpy roads, especially when we don't know what's around the corner.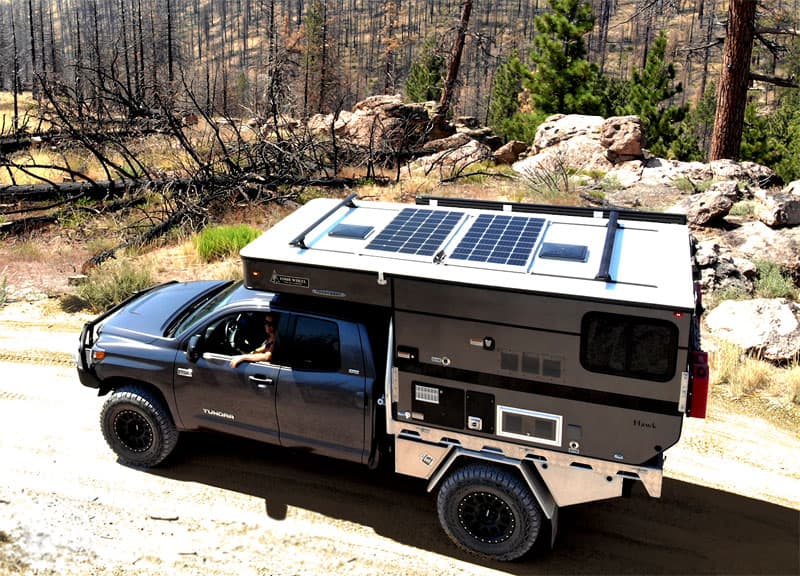 We are avid surfers and climbers and are constantly looking for camping spots that are out of the way.  So we don't know what we're going to run into.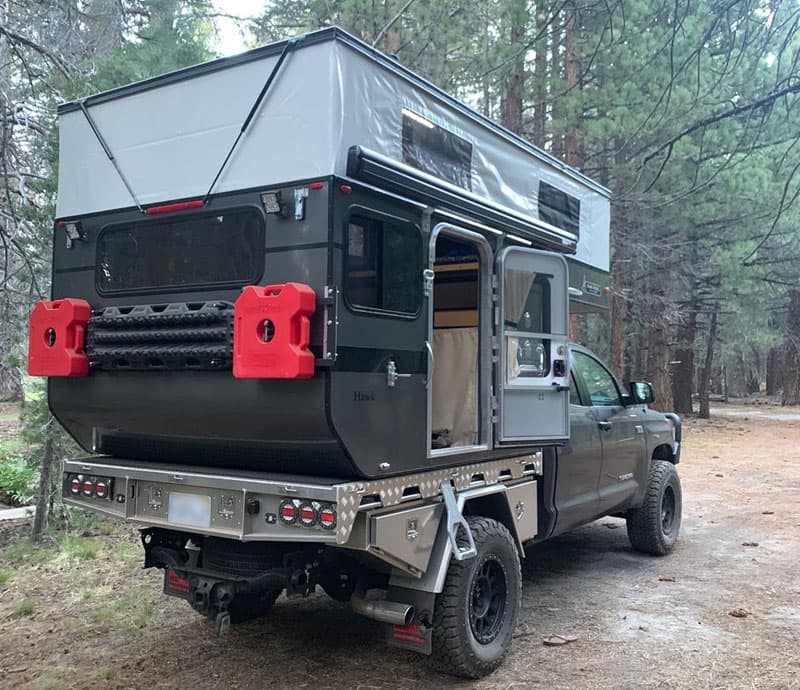 Why did you go full-time?
Jess: We went full-time because we were never really home.  We are always chasing the next fun thing to do.  We were off at the climbing gym and then surf spots the next morning.  At that point, it didn't make sense to have a house.  Every weekend we were off traveling somewhere.
Your rig has an incredible amount of storage in the flatbed.  Tell us about that.
Jess: We made a sacrifice in storage by choosing a pop-up camper instead of a hard side, but we make up for it with the Norweld Tray.
There is a huge four to five-foot drawer in the Norweld Tray that no one ever sees.  You flip the latches, pull it out, and fill it with gear.  We are able to store our wet suits, fly fishing rods, hatchets, outdoor gear, and more.
Charles: Four Wheel Campers recommended the Norweld Tray for their Hawk and Grandby flatbed models.  They import them from Australia.  A Norweld Tray is an expensive option, but they are aluminum, extremely durable, and well built.
Jess: Our Norweld Tray is custom-built for Four Wheel Camper flatbed models with an additional 20-gallon water tank, a small grey tank, three extra storage compartments, and a massive pullout drawer.
Charles: We also have 20-gallons of fresh water in the camper itself, a cassette toilet, and a 380-watt GoPower solar panel system on the roof.  We never run out of power.  We've even partially covered the panels with our surfboards, and we're fine.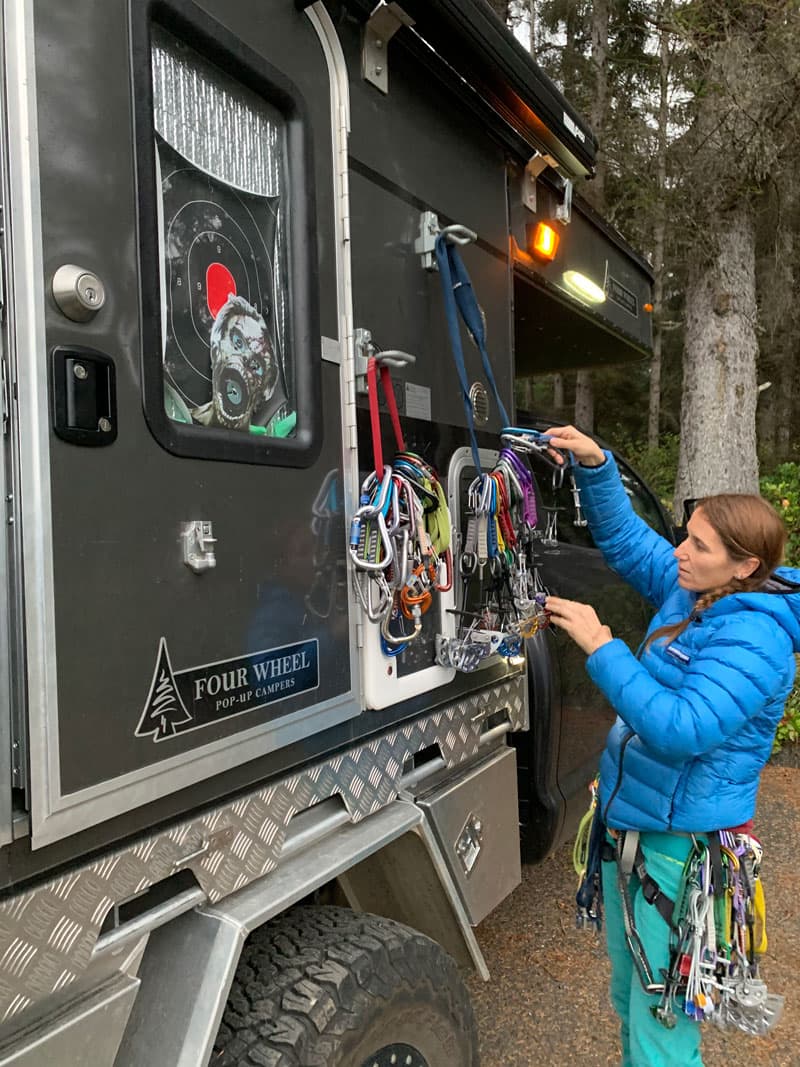 How did you get into climbing?
Charles: I did a small amount of climbing before I met Jess; bouldering and inside gyms.  At the time, I wanted to advance my skills, so that required ropes, harnesses, and cams.  When I met Jess, she was immersed in radical climbs.  She helped me learn new skills and have more fun with it.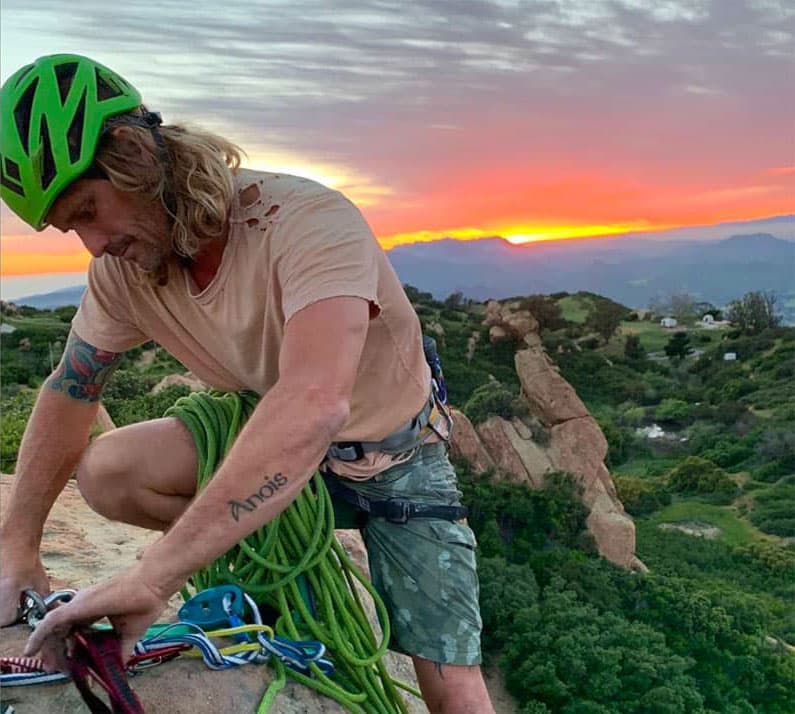 Jess: I have been surfing since I was a kid.  I grew up in San Clemente, California where our high school surfing team was more popular than our football team.
I met a lot of surfers who also climbed.  Seven years ago I started climbing and fell in love with it.  We are primarily into traditional climbing.  We prefer places that no one can go to unless you climb.  We'll eat lunch while hanging from a rock with a view no one else can have.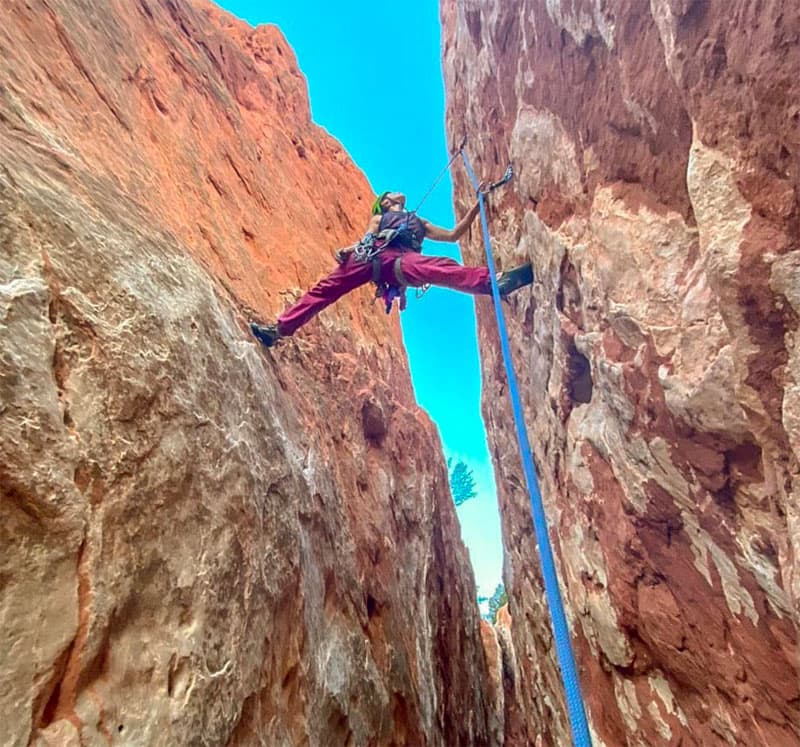 Through the years, I've had a lot of good friends who have taught me the ropes of climbing.  They were patient and talked me through how to climb safely, and how to calculate risk.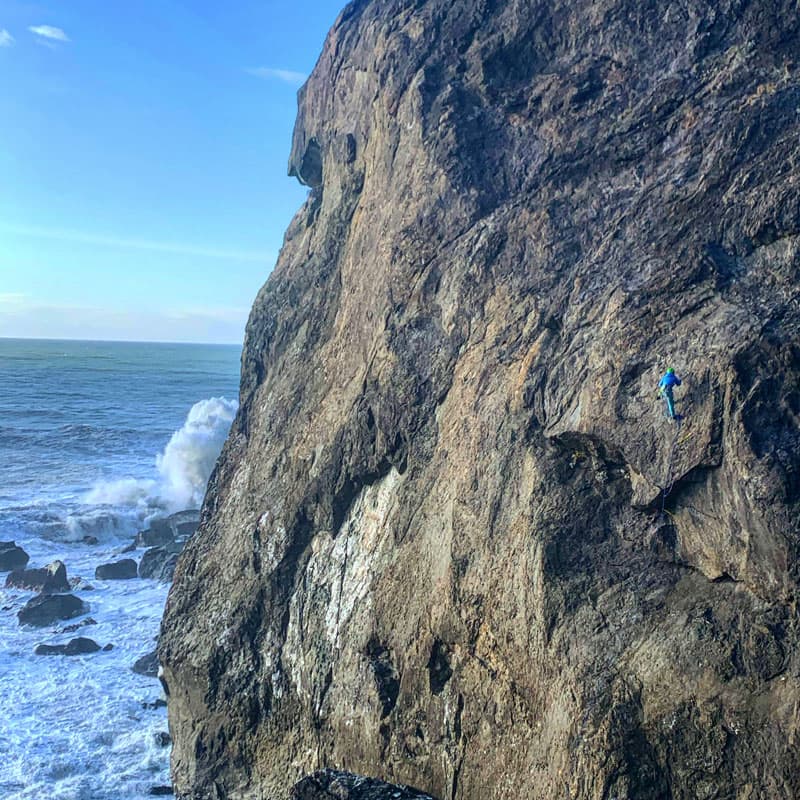 When did you get into surfing?
Charles: I moved to Los Angeles in 1993.  The first summer I was there I bought a board and had no idea what I was doing.  I taught myself how to stand up and do a little trimming.
Eventually, surfing went to the wayside, and then I got into motorcycle racing because that was more fast-paced and fun.  But in Santa Monica, the ocean kept calling to me, so I kept surfing.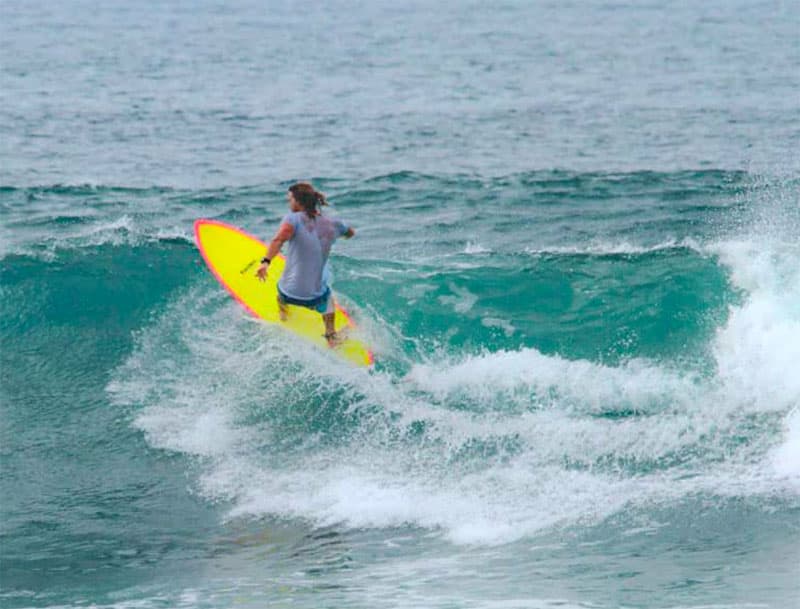 Then I went through a divorce.  For the next four years, I was constantly surfing.  It was a place to find peace and comfort a couple of times a day.  I started coaching the local surf teams and working with Surf Academy.  I coached for five years.  Surfing took me around the world.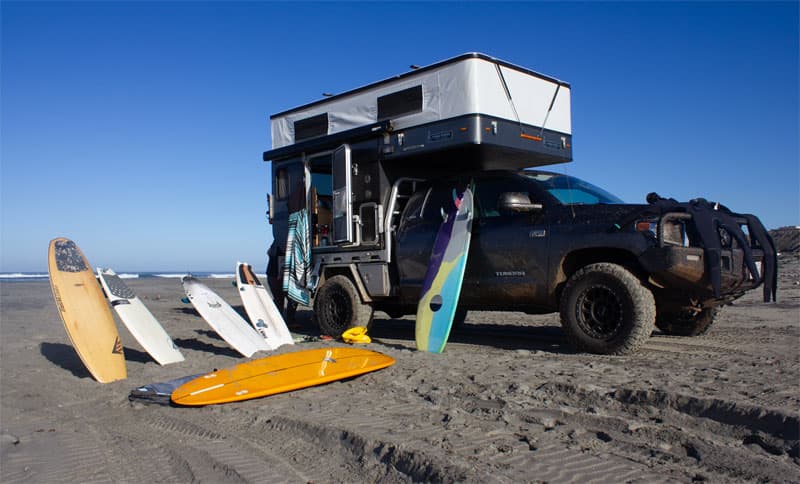 Surfing has always been a passion.  That's why we started going to Baja to get away from the crowds.  We'll pull up on the sand with the camper and no one is around.  It's magical.  The camper gets us right to the source.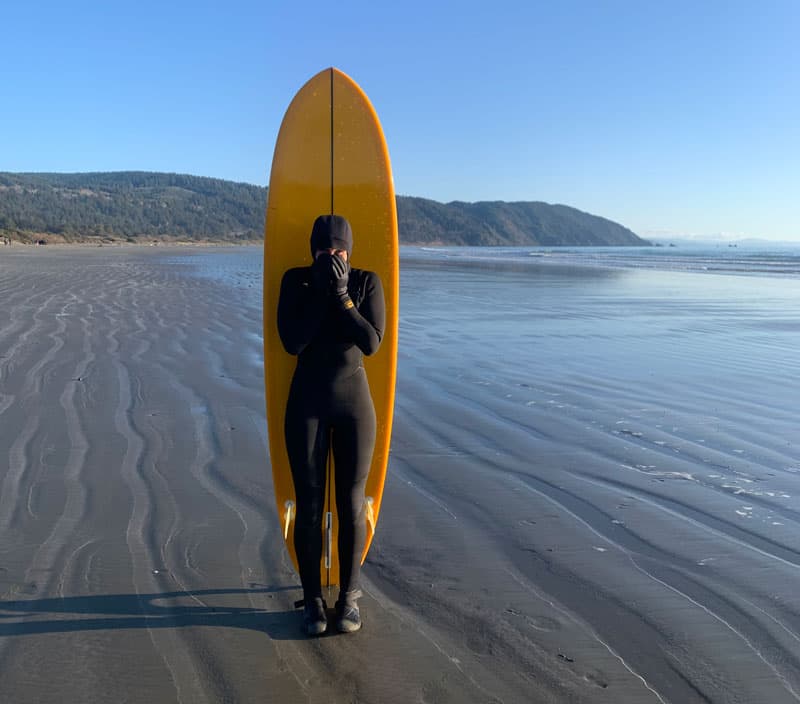 Jess: A lot of people are into van life right now and live on the road.  Van life is intriguing, but if you like to surf in remote spots, you need higher clearance, a lower center of gravity, and a real four-wheel drive vehicle.  Most vans cannot offer that.
Charles: I had a Sprinter van when I met Jess because I'm an electrician.  We had toyed with the idea of converting my van into a camper.  We took it to a place near Yosemite and it was too tall.  It was not conducive to where we wanted to go.  We had to walk places instead of driving in further.
Jess: From the outside, a van looks bigger, but a truck camper's bed is over the cab of the truck.  With our flatbed, we have more space than a van.  Plus, you can't get a new Sprinter camper van for less than $100,000.  You can get a truck camper for less than that, and it's more capable.
The surfboard rack on your rig is unique. Where did that come from?
Charles: That's a new concept that Four Wheel Campers is developing.
Jess: I met their engineers while they were designing and building it.  The first prototype was put on our rig.  It's been developed for long and shortboards.
The board rack attaches to the jack brackets.  With the design, it is quick and easy to attach and hook your boards onto.  There's also a way to lock your boards to protect against theft.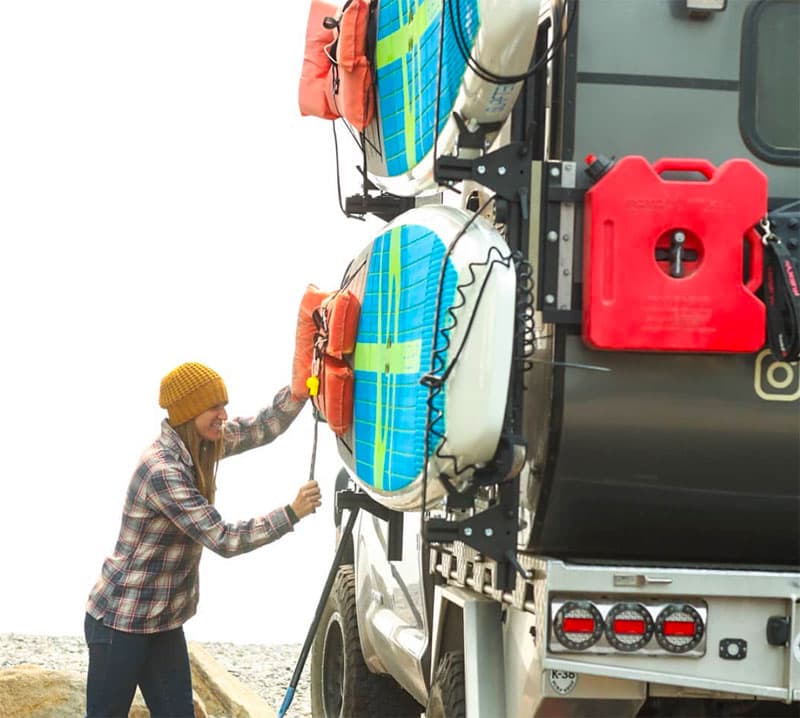 It's easier to mount boards on the side of the camper than the top.  With the boards on the side, we can grab our boards and go.  The process is much slower and involved if the boards are on the roof.
Charles: You can also hang other items on the rack.  If you want, you could hang off of it.  It's that well built.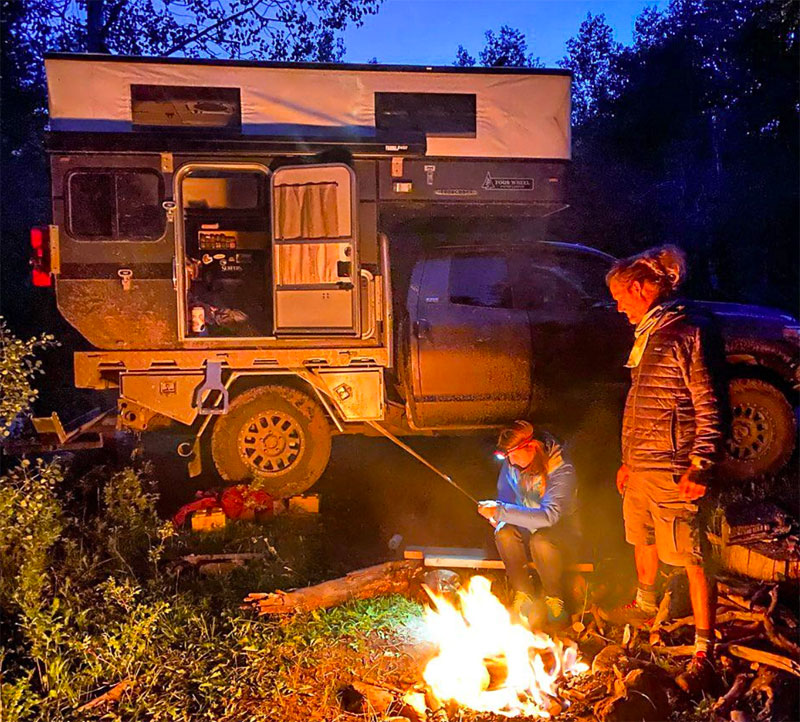 Do you work from the road?
Charles: Yes, we both work.  I am a traveling electrician.  When we're on the road, we go into the coffee shops and make friends.  I'll mention that I do electrical work and tell them that if they know anyone who needs help, I'm available.
I also know the owners of a company in San Diego that has pickup work.  I tell them when I'm going to be in the area and they give me jobs to do.
Jess: I'm a threat hunter for Viasat, a satellite internet provider.  I look for hackers on networks who are trying to target our residential, commercial and government customers.  People are always trying to hack into networks to steal money and data.
We actually had the opportunity to bring a Viasat test satellite dish with us.  I could hook up to the internet wherever we went.  We take advantage of WIFI spots and have a hot spot with our cell phone company as well.
We also have a WIFI extender so we can sit in nature and pick up signals.  In Wyoming, we found a marina with WIFI and used an ALFA extender while sitting in a field.
One time I was in a video meeting for work and a fox came up behind me.  It's been a beautiful experience to work from anywhere.
Technology is making strides.  Viasat is building satellite infrastructure so that people can work from anywhere.  It's an exciting future for remote working on the road.  With a satellite connection, you can work from anywhere by pointing a dish to a satellite.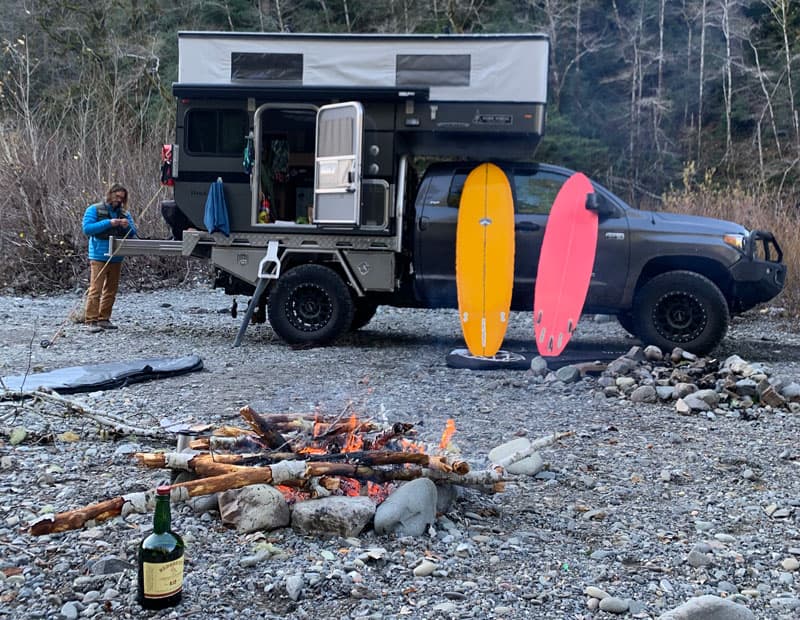 How do you balance work and play?
Jess: That's an important thing to talk about.  People sometimes say, "You must be trust fund babies" or, "It must be nice".
I work 40-hours a week.  Charles works long hours for months so that he can be free for a couple of months.  We don't just have money sitting around.  We have to make a living.  We use our free time around our work schedules to get outside.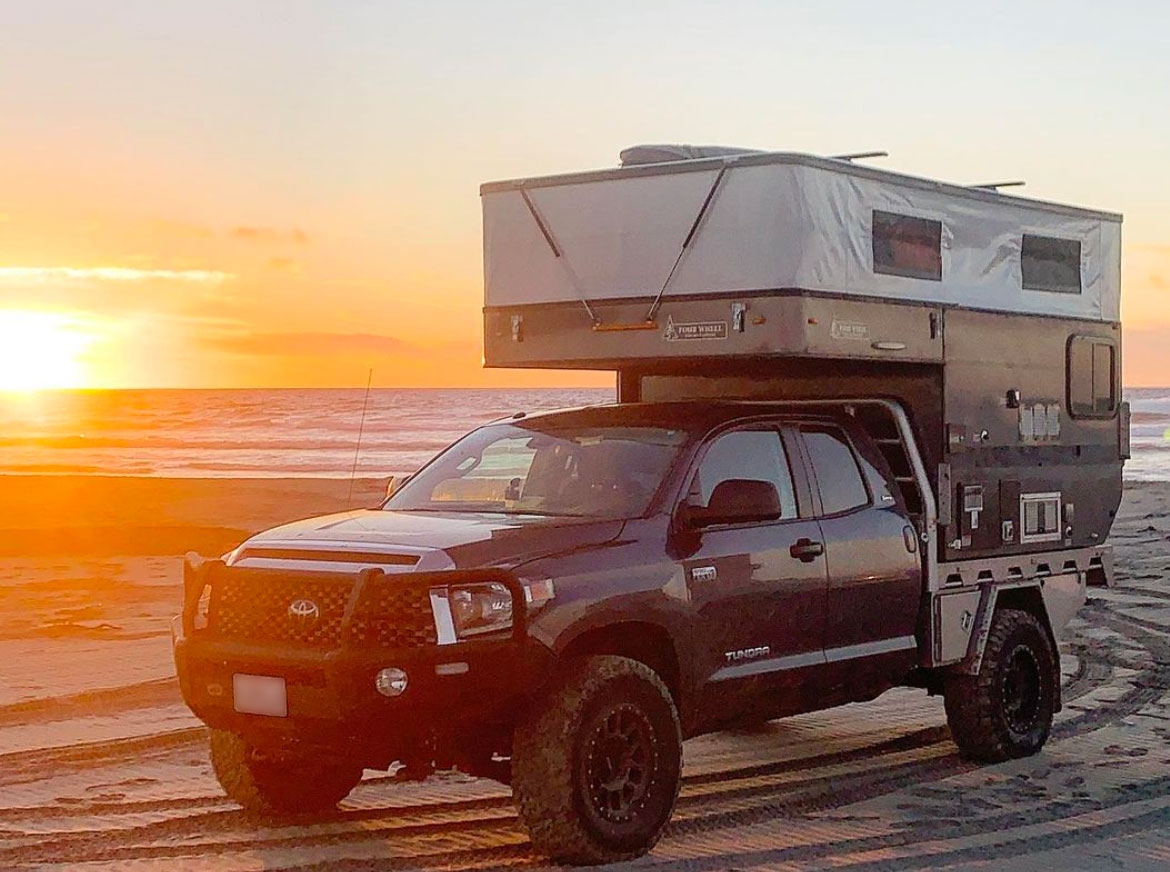 Charles: The difference is that we can work at the beach.  After work, we're right where we surf.  Our home and workspace are with us, so we can do that.
When you're in a house, it's easy to come home from work, plop on the sofa and watch TV.  If you are living in nature, it is enticing to keep moving.
We might surf in the morning, work during the day, and then go climbing at the gym at night.  On the weekends, we might take trips to Baja or Joshua Tree.
We also make sacrifices.  You don't see the sacrifices on our Instagram page because most people wouldn't be interested in it.  People are interested in the quick fix.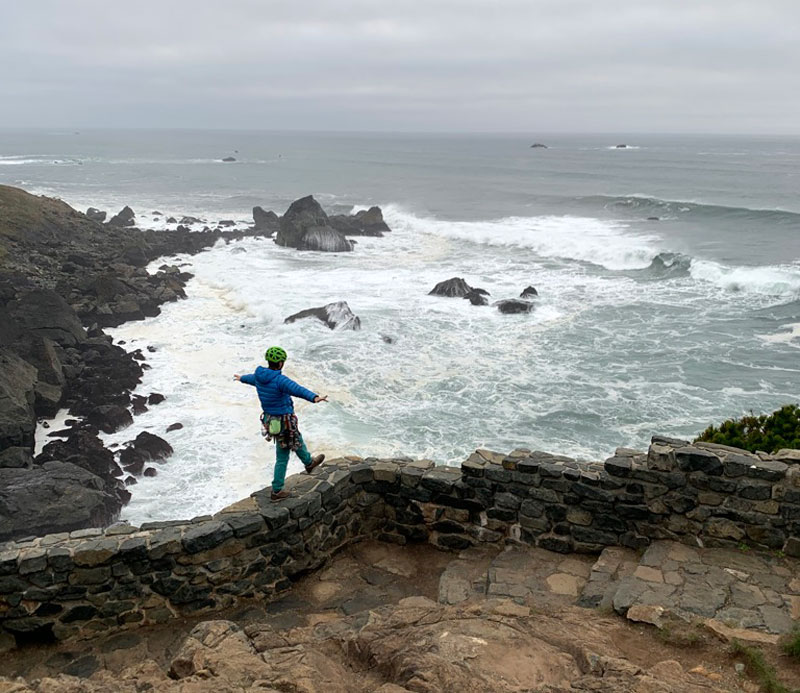 You were full-timing when Covid restrictions were placed.  What was that experience like?
Jess: We were in southern California when Covid hit.  That area was especially strict.  Our climbing gym shut down and the office I was working at when we weren't traveling also shut down.  Those were our primary places to take showers.
Also, National Parks were shutting down and BLM land was being more strict and shutting down.  It pushed us out into more remote places.  We couldn't live in the city because it was not sustainable.  The normal places we'd camp at were all shut down.
Charles: We found good places in the desert out by Joshua Tree.  We were fortunate to find climbing opportunities there as well.
We were definitely very nervous about getting water.  We have a portable cassette tank where we can go into a restroom and dump it.  It's good we had a cassette toilet because dump stations in the parks were closed.
We stayed out that way until things got too hot.  For a few weeks, we went to Big Bear and then eventually went to Santa Cruz, Utah, Wyoming, Montana, back to Wyoming and now Colorado.
We found camping opportunities in remote areas.  We felt guilty because we weren't quarantining the same way as everyone else was, but our camper was our house, so we had to be in it.
Jess: We had to stay somewhere.
Charles: During the pandemic, people who full-time still have to wash clothes and do the dishes.  I think every American should be forced to live in a camper for four to six-months to better understand conservation.  People will learn to not waste power.  You become more environmentally conscious.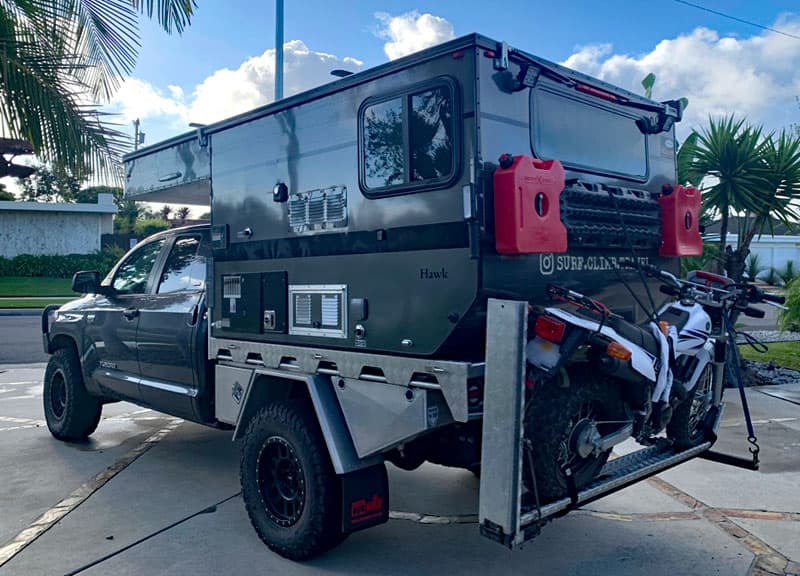 That is very true.  Have things changed on the road since then?
Charles: We bought a house.  I went back to Los Angeles to do some electrical work.  While I was there, Jess and our friend, Dayna, stayed in Colorado.  While I was in LA, Jess called and said, "You're going to think I'm crazy, but I met some friends who live in the forest down a dirt road and they told me that the lady next door is selling her house, and it's magical".
Jess: I think it's wise to have a way to make extra money.  We still dream of driving to South America.  We don't want to jump on PanAm and blast down.  We can rent the house when we're not here and not have to put heavy pressure on working.  We have a house to put our resources and, one day, we will see the return.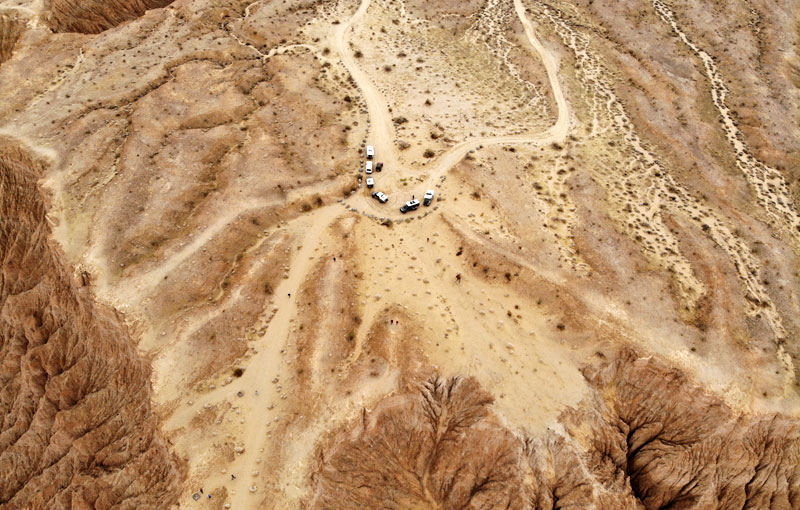 A lot of full-time truck campers put down roots during the pandemic.  Tell us about the camper rallies you've attended.
Jess: Four Wheel Campers puts on rallies for their customers.  They are fun.  They send out a notice, and if you own a Four Wheel Camper, you can camp with them.
The rallies include overlanding trips (pictured above).  We all have radios and we follow each other down trails.  I think there were 50 campers at the rally we attended.
Charles: The rally was genuinely awesome.  The Four Wheel Camper team came around to each camper and asked if there was anything that was wrong or anything we wanted to tell them about.  They were fixing things and answering questions.  It was the nicest customer service I've ever experienced.
Jess: They offered seminars about getting out of overlanding situations and how to fix flat tires on truck camper rigs that are heavier.  There was lots of educational information.  They have built a great community.  Four Wheel Campers puts together something that feels like family.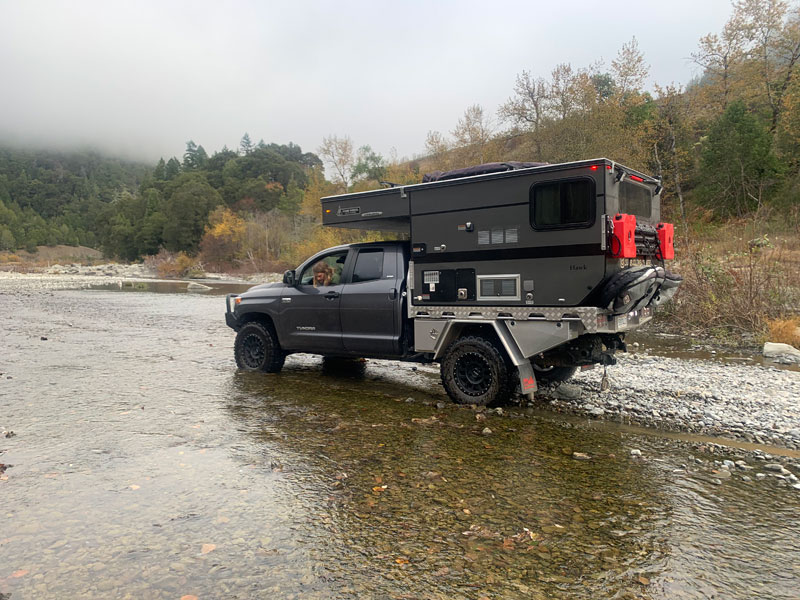 Tell us about the PopUp Life videos. What's that about?
Jess: The PopUp Life videos were a collaboration with FatTire, OneWheel, and Four Wheel Campers.  It was like a thirty-day trip and there were multiple legs of the trip where a cinematographer, editor, and photographer were interviewing people in truck campers.
We were hanging out with professional athletes, snowboarders, and skateboarders caravanning from one location to another.  Everyone had Four Wheel Campers.  We were called to be on the trip.  Unfortunately, the fires were going on in California at the time, so I had to split before being interviewed for the film, but I had the opportunity to hang out with Four Wheel Camper sponsored climber, Jonathan Siegrist.  That was a treat.  He is a great guy and a fantastic climber.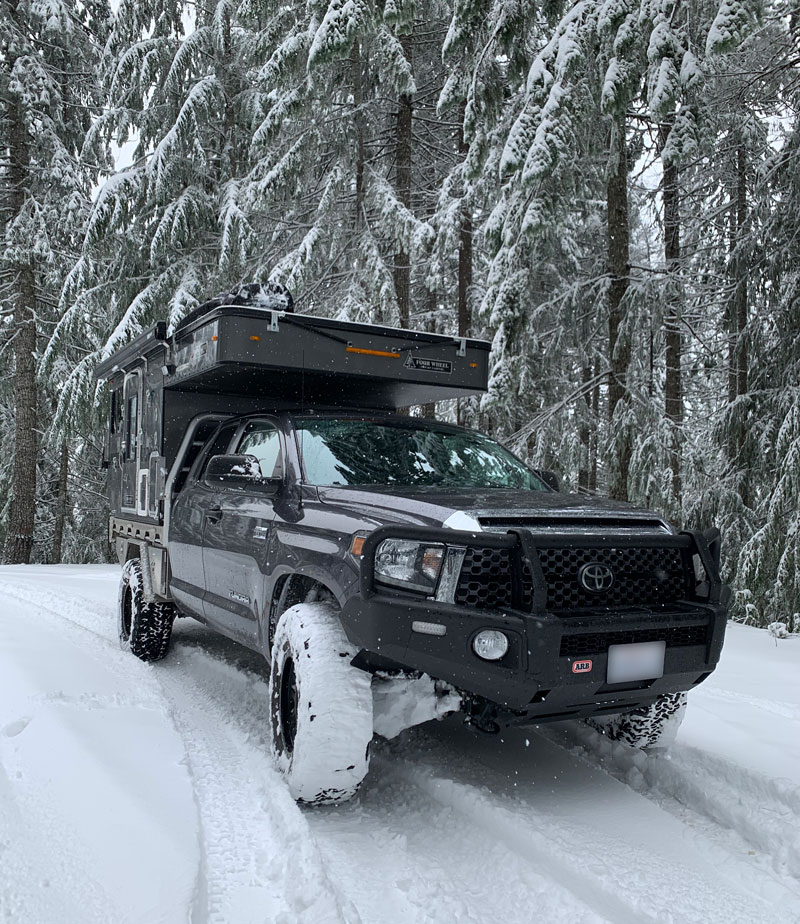 We've been close enough to wildfires to change plans and directions a few times.  It's part of camping in The West.  Is there anything else you'd like to add to your story?
Jess: We are planning on traveling from California to Argentina over a two-year stretch.  We hope to climb and surf as we try to stay off as many main roads as possible.  We're not sure when that will happen.  It's definitely something we will do.
Charles: Living in a small space expedites the process of learning about each other.  You learn the weird-isms of the other person.  You are farting and pooping and doing everything with this person.  If you want to find out if someone is compatible, move into a truck camper together.  You'll find out real quick.
Jess: A lot of people who read your magazine are looking to get into the truck camper life.  They are wondering if it is something they could get into.  It's intimidating.  You've just got to do it.  You will never be prepared.  You're never going to be ready for it.  There's not a preparation list, but everything will work itself out.
Charles: If you sit around and keep waiting, the good times are going to pass by.  The main thing is to get out there.  This is honestly the best life.  We have to let go of so many things that we didn't need.  Jess and I can't imagine settling down in one location because there is so much to see and do.  Why wake up in the same place every day?
Follow Jess and Charles on Instagram at surf.climb.travel.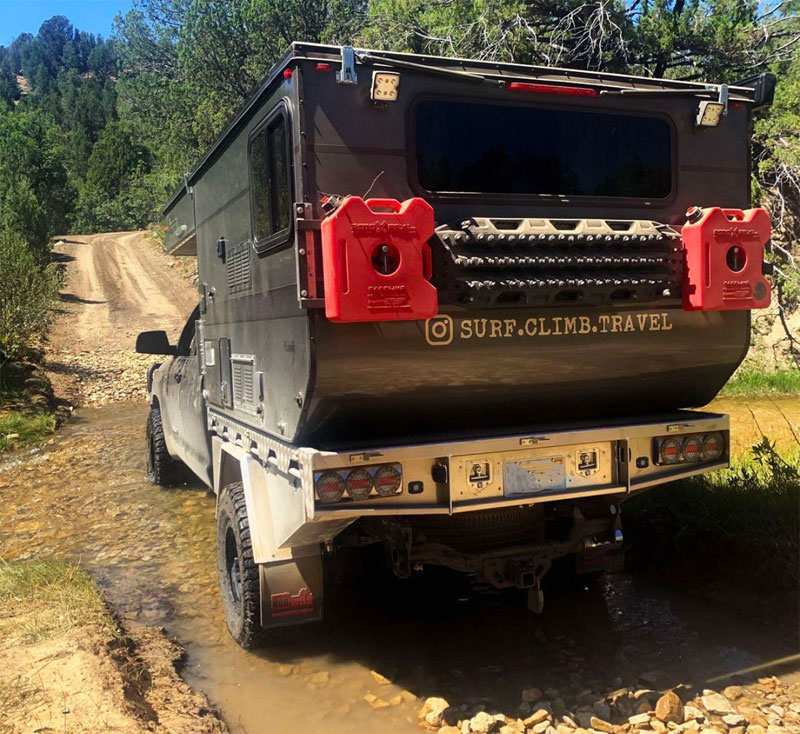 Charles and Jess's Rig
Truck: 2018 Toyota Tundra, 4×4, single rear wheel, gas
Camper: 2019 FWC Hawk Flatbed with Norweld Tray and GoPower Solar
Tie-Downs and Turnbuckles: none