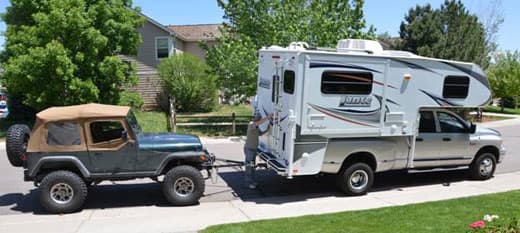 "We tow a modified 1994 Jeep Wrangler.  We go camping and four-wheeling.  We live in Colorado so we like to go to Aspen, Marble, and Leadville.  We have also gone to Moab, Utah and Wyoming.  This year we are heading up to Glacier National Park, Grand Teton National Park, and Dubois, Wyoming." – Denise and Gary Patton, 2008 Dodge Ram 3500, 2011 Lance 950S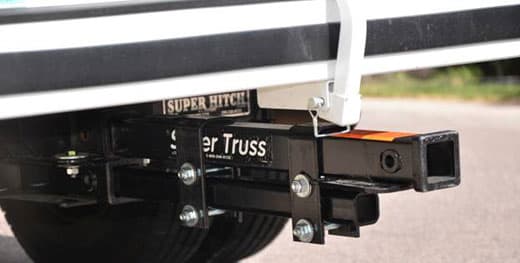 "It all starts in the winter with the snowmobiles behind us.  During the spring, summer, and fall, I tow my 18-foot Duckwater boat.  I'm fishing with it in the spring and summer.  I go duck hunting throughout northern New England and New York state in the fall." – Rich Chiocca, 2011 Ford F-350, 2008 Eagle Cap 850
"We at times flat tow a 1989 Jeep Wrangler, a small 8.5'x12' aluminum trailer loaded with Snowmobiles or ATV's depending on the season, and a 7,000 pound trailer loaded with either the 1989 or a 1992 Jeep Wrangler.
When flat towing, we are usually headed for a remote area of the country to camp and explore the back country staying off of the beaten path as much as possible. When towing the Snowmobiles or ATV's, we are usually headed for one of the country's many off-road parks and trail systems to ride for the weekend.  When towing the 7,000 pound trailer, we are usually headed for one of the many areas in the North East for trail riding and rock-crawling in one of our two Jeeps modified for this purpose." – Jason Schreckengost, 1986 Chevrolet K30, 2012 Palomino Real-Lite (Maverick) HS-1806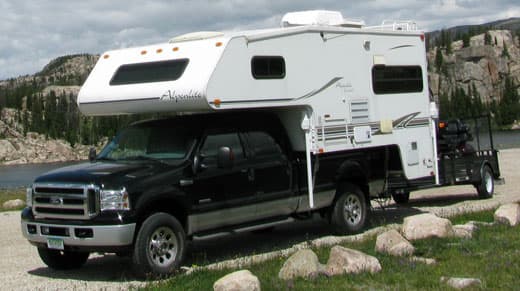 "There is nothing like the feel of the road under you on a motorcycle.  The sky is bigger and the air is fresher as all of nature unfolds around you in a more vivid and poignant way with each turn in the road.  We rode our Gold Wing on a three week, 5,000 mile trip to Canada.  As a passenger, it was the greatest adventure of my life, but not without its physical challenges.  I love to ride with my husband, but I'm not very tough when it comes to the challenges of weather and endurance!  Staying in hotels and eating out was wonderful, but very expensive.  As a couple, we want to bike tour new long distance places without the physical demands and expense of getting there on the bike.
A truck camper was our first logical consideration.  However, it did not seem to be an option with the floor of the camper at a 4'8" vertical climb from ground level.  My knees are painful as it is.  So, we got a travel trailer, but we were sad because our first love is motorcycle touring and tandem towing was not an option for us.  Then we were enchanted by the tow your own house and garage toy hauler fifth wheels.  Our Gold Wing rode and stored securely in the 12' separate garage.  When hitched from bumper to bumper we were a triple axle 58' foot long nightmare of a rig, about the size of a semi!  It was so stressful!   This love affair ended quickly upon returning home from our first trip out of state.  The Home Owner Association was complaining about storage and we realized that we couldn't go camping to our favorite places anymore.  We just didn't fit in a typical campground!  So our rig, affectionately named "The Semi", went up for sale.  Undoubtedly, a truck camper was our best option along with the blessing of our HOA, as well!
So, our wonderful Alpenlite is now the base camp for our adventures.  Surprisingly, my knees do just fine as long as I back out of the camper.  When we stay for more than one night, we just take the camper off the truck.  We tow our Gold Wing to our long distance destinations and launch on day trips from there.  On the way, the only cost is our fuel since we take advantage of free overnights at our favorite Wallyworld RV Parks.  While in transit, if Dan is in the mood to take off and ride on a beautiful day then I just follow him driving the truck camper in the background.  Once we arrive, our water and two holding tanks, 34 gallons each, give us three nights of camping with showers, if we are careful.  Our Honda generator boosts our batteries for the duration.   In the twilight of the day's riding adventures, we pull back in to our campsite with our truck camper inviting us to enjoy a campfire and popcorn.  We have our own sheets and healthy food; it's the best of both worlds from my point of view.
Now, for the mechanics of it all.  Fuel mileage improved by more than five mpg in comparison to the toy hauler.  The hitching system that we use is the best and safest method of extension towing in the industry.  The Rancho shocks made a dramatic reduction in the camper sway.  The Firestone airbags properly inflated reduces the truck sag to less than three inches for this equipped four thousand pound camper.  It also allows adjustment for leveling side to side.  And, we are safely within the payload limits of our hefty truck load capacities." – Dan and Julie McKee, 2005 Ford F350, 2005 Alpenlite SanteFe 1150
"Three or four times a year we find ourselves going to a farm equipment auction that lasts more than one day.  It is too far for a one day trip.  We have a 16-foot dual axle, steel deck equipment trailer.  I have a (beefed up) extended hitch that I welded myself which we use in conjunction with a heavy two and one-quarter inch hitch with load stabilizers and sway controls.
We also frequently attend goat auctions which needs us to lay over the night before.  Then we tow a 16-foot dual axle double decked stock trailer.  With the extended hitch and a two and a half inch ball, it tows easily behind, even with over sixty goats inside.  I guess you could say it is business mixed with truck camping pleasure.  The equipment and the goats come back to our farm." – Jerry and Janice Bonneau, 2002 Ford F250SD, 2000 Lance 1130
"I have a 1976 Jeep CJ5 that I have completely rebuilt.  We go four wheelng with our Jeep club in Maine.  On our vacations we go to Provincetown, Massachusetts out on the beach with the Jeep and camper." – Jeffrey, 2000 Ford F350, 2001 Bigfoot 25 C10.6B
"We tow a 1981 Jeep CJ-8 that we flat tow.  We love to boondock in our camper as far away from everything as possible.  We can stay out for five to six days before needing to dump tanks and resupply water.  We build a base camp, then use the CJ-8 to haul our gold mining equipment.  We go out deep into the desert and the mountains to our mining claims.
We will run across a bunch of Jeepers and they are fascinated about how far out we can get our truck and camper.  Once we hit the dirt, my wife will drive the Jeep behind me until we get to our base camp.  We have recently purchased our retirement home in Nevada.  When we go up to the house, we stay in the camper while the house is being renovated." – Jim Leonard, 2009 Dodge 3500, 2009 Lance 861
Click here to go to Truck Campers Tow Anything: Part 2.