With our Jeep Wrangler, we enjoy the great outdoors and going off-road. We have taken this Jeep to may rallies and off-road events as well as going to many remote places to explore.  As an example, we traveled to Moab, Utah for the annual Easter Jeep Rally.  We have also been to Colorado, Arizona, New Mexico, Texas, North Carolina, Tennessee, Wyoming, and Florida.
Our Cherokee is taken to places/events that are not designated for off-road activities.  As an example, we have taken this Jeep to Charlotte and Talledga for NASCAR events.  It has also been taken to North Carolina, South Carolina, and Florida for touring and exploring the areas.  Both Jeeps are easy to tow behind our truck and Lance Camper.  Both Jeeps have been setup with custom tow brackets so we can use a common Draw-Tite tow bar.  Each Jeep has been wired and adapted to used the vehicle lighting systems with a standard four wire plug." – R. Warne Todd, 2000 Ford F250, 2006 Lance 981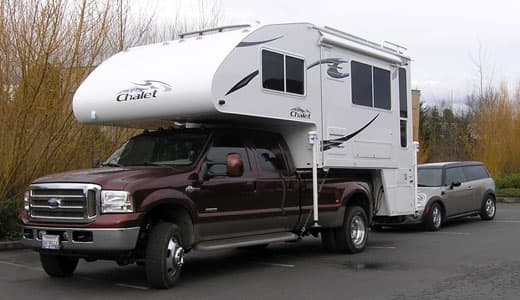 "We tow a 1973 Ford Bronco for off-roading trips, a 2011 Mini Cooper Clubman for day trips from base camp (35+mpg), and a 2004 Carson 18-foot enclosed trailer.  Inside the trailer we have a 2003 Honda Goldwing for paved scenic ride areas, a 1996 Honda XR600 for desert camping, and a 2004 Suzuki LTZ 400 Quad which is my wife's ride in the Southern California deserts." – Scott Elliott, 2007 Ford F350, 2013 Chalet TS116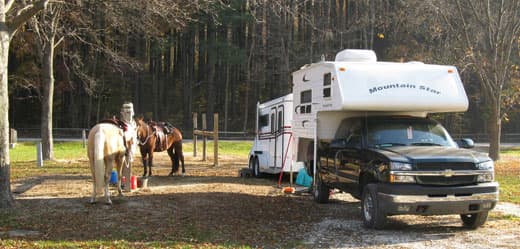 "We tow a 1999 Gore Horse Trailer with horses and all of the horse stuff.  We go camping and trail riding a lot in Indiana, Ohio, and Kentucky with the other members of the Cincinnati Horsemen's Club." – Don Norris, 2003 Chevy 2500HD, 2008 Travel Lite 800SBX
"We have a 10-foot utility trailer with an ATV and additional supplies for mountain elk hunting with camper on the truck.  We also have a thirty-four foot Newmar Kountry Star fifth wheel for extended trips.  We tow a sixteen foot Starcraft with our camper for fishing getaways and a 16-foot flatbed for building supplies/transport of garden tractor with snowblower for driveway clearing services of my home based business.
We use the camper and boat for lake fishing, the fifth wheel for extended in state and out of state trips, the camper and utility trailer for deer and elk hunts, and the flatbed trailer for snowblower transport for business services." – Monte Dahlman, 2006 Dodge Ram 2500HD, 1995 Skyline Weekender
"We pull a 7'x14' Homsteader (Hercules) enclosed trailer.  We choose this trailer type as it has a heavier construction then many other enclosed trailers out there on the market (our opinion).  It is a dual axle, with Alko rubber torsion suspension, and electric brakes on both axles.  When we pull this trailer behind our truck camper, we use load distribution bars because we do not have a SuperHitch on our truck.
With the camper on board, we need an eighteen inch extension to get the 2 5/16 inch ball back far enough to hook the trailer.  This puts a lot of stress on the hitch, therefore, the distribution bars.  We transport our 2005 Harley Davidson Trike in the trailer, plus, we use the trailer to take extra stuff along.  And, we all know, when we travel in a truck camper, we are always looking for a place to put our stuff.
The number one reason for purchasing a trailer like this was to protect our trike and stuff during our three and a half month excursion to the Arctic Circle.  There were what could be called a few rough roads along the way, and our combination between truck and trailer worked out perfect.  We did not take the trailer and trike the entire trip. It worked out perfectly for us when we decided to place the trailer and trike in storage for a while during the trip.  We also like to take our Harley along when we attend truck camper rallies.  We will have it along when we see you in a couple of weeks at the Mid-Atlantic Truck Camper Rally in Virginia." – Gary and Cinda Whistler, 2004 Dodge 3500, 2005 Lance 915
"I tow a 1984 BMW 318 dedicated track car.  Everything that doesn't make it go faster has been removed (the poor man's approach to the power to weight ratio).  The inside is basically a shell with a full cage, light weight seats, and five point harness.  It has an M3 motor and running gear.  It's nickname is Dimples, because it was stuck on a trailer during a hail storm, but I say that makes it go faster like a golf ball.
I occasionally instruct in driving schools for the BMW and Porsche car clubs in the southeast.  Most tracks will let you camp.  Besides reducing costs, it's nice to have a place to get out of the weather.  It's also really nice to be able to roll out of bed just in time for the drivers meeting!  It's similar to the rallies you have covered.  We have friends that we only see at the track once or twice a year.  The camper also facilitates enjoying some really good food, which is way better than the track concession stand!" – Charles Phy, 2010 Eagle Cap 1160, 2011 Dodge 5500

"We tow a 20-foot enclosed car hauler.  We are principally hauling vintage road race 1966 Alfa Romeo, and secondarily a 1953 M38A1 Jeep.
We vintage race the Alfa at places like NASNI in Coronado, California, Watkins Glen in New York, Road America in Elkhart Lake, Wisconsin, Mid-Ohio in Lexington, Ohio, the Virginia International Raceway in Danville, Virginia, and Waterford Hills in Michigan.  I've owned and raced this Alfa since 1983 and have gone to exhibit/parades at the M38A1 MVPA (Military Vehicle Preservation Association) events and July 4th/Veterans Day parades.  Although recently acquired, based on Battalion markings, I drove this exact Jeep over four decades ago." – Wil Painter, 2007 Dodge Ram 3500, 2011 Host Cascade
"We tow a 2007 Crestliner 1800 Sportfish with a 4.3 liter V6 Minn Kota tolling motor on a single axle trailer.  We go all over the Province to different fishing destinations." – William C. Steger, 2005 GMC 2500HD, 1995 Kodiak SC83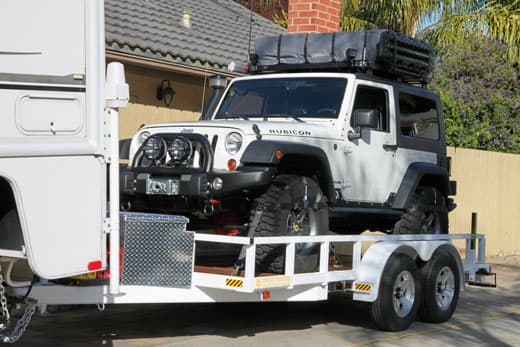 "I tow an 18-foot dual axle utility trailer that I had custom made by Texas Trailers for my 2009 Jeep Rubicon.  We go anywhere where we can drive off-road.  We made a trip in January to Sedona, Arizona and went earlier this month to the TDS Desert Safari in the Truckhaven Hills area near the Salton Sea, California." – Rex Carroll, 2004 Ford F350, 2006 Alpenlite 950 Cheyenne