After September 11th, Angela and Ralph sold their Maryland horse farm and hit the road full-time.  Now they shoot across the country in a 2018 RAM 5500, Douglass Truck Body, and 2017 Arctic Fox 1140.  Don't miss Ralph's cowboy action – with SASS!

One of the universal experiences of truck camping is a wonderful feeling of freedom.  There you are on the road, out in the world, and able to determine where you go and when you get there – in real time.
"That looks interesting."  You park and look.
"Let's stay here a while longer."  You stay a while longer.
"I think it's time to move on."  You point the truck and hit the accelerator.
Then you return home.  The mail has a few surprises.  The kitchen disposal isn't working.  The water heater has a leak and needs to be replaced.  And a rather large groundhog has evidently chewed its way under your enclosed porch (it happens).
"Wait a minute!  This isn't the life we want!  Let's sell everything and hit the road!"
For Angela Klinger, this thought was loud and clear on September 11th, 2001.  For years, Angela and Ralph had set out on adventures in their Lance truck camper.  They had endured the usual welcome home surprises, but were nowhere near selling the farm and hitting the road – until that fateful day.
As the unforgettable images on television seared into Angela's mind, the urge to radically change course and was overwhelming.  Three years later, the horses, the farm, and the stuff – nearly everything she dreamed of as a young girl – were sold.
Fast forward 17 years.  Today Angela and Ralph live a full and wonderful life in their 2018 RAM 5500, Douglass Truck Body, and 2017 Arctic Fox 1140.  They go where they want to go.  They do what they want to do.  Something looks interesting?  They park and look.
Then Ralph draws two single-action revolvers, one pistol-caliber lever-action rifle, and one side-by-side shotgun.  Ladies and gentlemen, this story is cocked, loaded, and just getting started.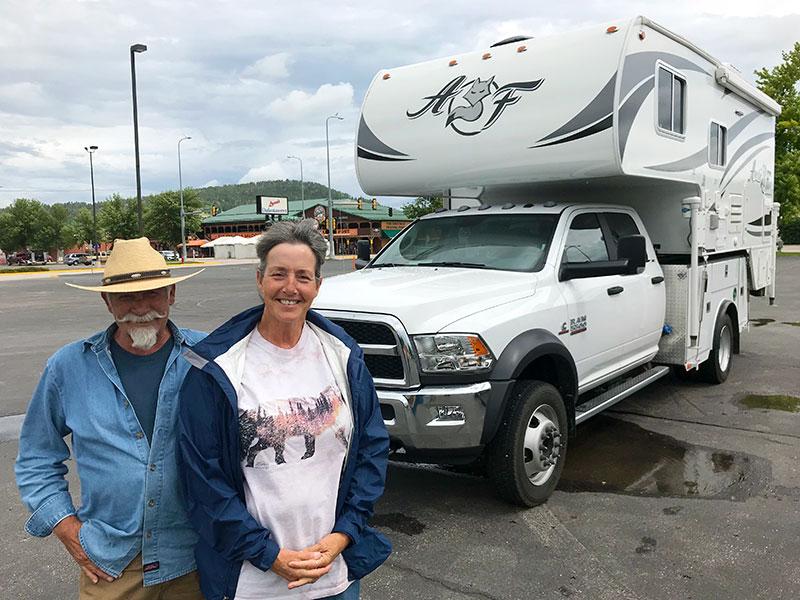 Above: Ralph And Angela with their Arctic Fox 1140 and Ram 5500
Tell us the story of how you were first introduced to truck campers.
Angela: My loving parents and my sister, Florence, got me into tent camping. We eventually graduated to a Skamper tent trailer and then to a Holiday Rambler bumper-pull trailer.
I was always a horse crazy child and never outgrew my dream of one day having my own horse farm. I landed a good job soon after graduating high school. I found 30-acres of land in Frederick County, Maryland and started working on my dream.
Years later I met my sweetheart, a wonderful farm boy named Ralph. We both had a common interest in horses and country life. We bought a 1992 Lance truck camper. Our 1992 Dodge 3500 diesel dually carried our Lance camper while pulling our bumper-pull horse trailer. In the 14-years we owned this set-up, we took 132 horse camping trips.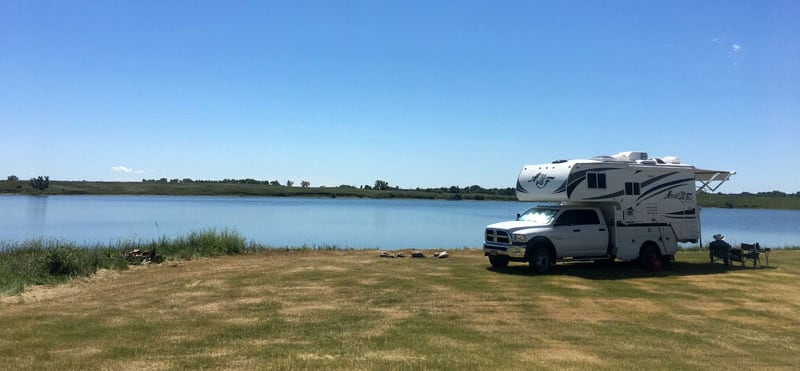 Above: Dry camping at Lake Holmes in Turtle Lake, North Dakota