With a telescope and two kayaks, Lee and Bonnie cross the country in their Four Wheel Camper searching for night sky, a place to paddle, and the sounds of nature.

As the new millennium arrived, and with our approaching retirements, Bonnie and I thought about how nice it would be to get away from the darkness, gloom, and rain of the Pacific Northwest and spend our winters in the deep Southern California deserts where she grew up.  Bonnie remembered an earlier quarter-century of camping in her VW Westfalia – one of those 1970s avocado-green ones – and was shocked at how much similar Class B motorhomes cost only three decades later.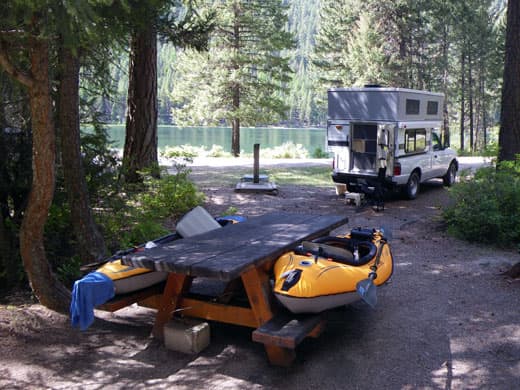 Looking at other options, Bonnie came across Four Wheel Campers and their line of pop-up truck campers.  A close look at Four Wheel Campers at a show in Tacoma sealed the deal.  They were beautifully designed and attractively priced.
On the right truck, a Four Wheel Camper meant that we could both drive, spelling each other during long days on the road.  We could even take the rig out separately, with friends or grandchildren, if either she or I were elsewhere at that time.  In other words, a Four Wheel Camper and truck is a rig that an individual can handle with ease.
Once our decision was made, we set out to find a truck to carry the Four Wheel Camper.  Around Thanksgiving, 2004, a Seattle Ford dealership had a special we couldn't refuse: a new Ranger with the 2.3 liter Mazda motor and five-speed transmission.  We went to the dealership and, while Bonnie worked out purchasing details, the dealership let me phone Four Wheel Campers in California.
I needed to ask if a mere 2.3-liter motor was sufficient for the Four Wheel Camper Eagle model; or did we need a larger engine?  Four Wheel Campers assured me that the 2.3-liter engine and five-speed transmission would be perfect with their Eagle with 695 pounds, dry weight.
Our budget for the truck and camper rig was $30,000.  We were able to meet that budget by getting a new Ford Ranger and a new Four Wheel Camper while forgoing many of the extra features.  About half of the budget was spent on each component; truck plus helper springs, and camper plus all the accessories we wanted.
Editor's Note: Ford has discontinued the Ranger in North America, and deals like the one Lee and Bonnie scored on the Ford Ranger are almost unheard of from the direct competition; Toyota Tacoma, Chevrolet Colorado, and Nissan Frontier.  Entry-level work truck models from those brands start at around $16K for the Colorado, $18K for the Tacoma, and $21K for the Frontier.  Naturally, the used market offers even more affordable options.
Now, let's talk about the fun we get from this modest expenditure for a first-rate truck and an incomparable pop-up.  The truck routinely got thirty miles per gallon before the camper was installed and when we drove the Ranger down to the now "old" Four Wheel Camper factory in Woodland, California.
After the camper was mounted, the rig averaged twenty-seven miles per gallon.  When the original P-rated passenger tires were replaced at 50,000 miles, we went to Light Truck (LT) tires with mud and snow (M/S) treads.  With the LT M/S tires, the rig mileage dropped further, to twenty-four miles per gallon.  However, in the ensuing 35,000 miles, we have had no flats and have not gotten stuck in snow and gumbo as we did with the P-rated tires.
We think the drop in mileage is well worth the extra safety, given some of the rough forest service roads we have taken.  And let's face it, twenty-four miles per gallon is something most RV owners would die for.  Of course, we rarely drive over sixty miles per hour and downshift when going up hills, which also helps the mileage.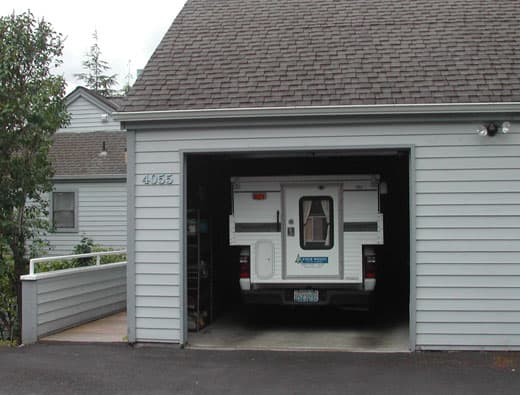 With pop-top down, the entire rig fits nicely in a standard garage.  After all the use it has received since June of 2005, it still looks new because the rig does not "weather" when stored in the garage.
Although this truck is only two-wheel drive, the weight is over the rear wheels and the resulting traction is very good, especially on its LT M/S tires.  The turning radius is very short so we can squeeze into narrow lanes and tight spots.
With the top of the camper down, we stick to the road like glue and never have trouble with high winds the way some high-profile vehicles do.  In fact, we once rolled into Yosemite National Park without reservations the day after a major storm went through the area.  We figured that a lot of big rig owners had to cancel with the bad weather and thus left some sites available to people like us who can go almost anywhere in any weather condition.
In 85,000 miles of truck-camping over the past seven years, we have gone to mountain-tops in British Columbia, up and down the West Coast, across the northern United States to Minnesota to visit friends and relatives, down through Iowa, Missouri, and Arkansas, and then back west through Oklahoma, New Mexico, Wyoming, Arizona, and, of course, to old stomping grounds in Southern California.
We have been in desert heat, snowstorms, heavy rains, and winds of up to eighty miles per hour.  The eighty-mile-per-hour wind required us to put the top of the camper back into "travel" position to keep it from being damaged, but we have not had any repairs or issues with either the camper or the truck, so far!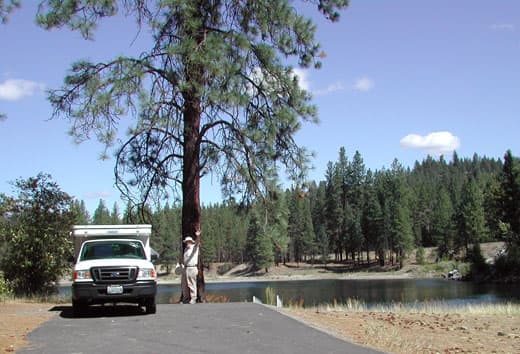 We are especially keen on high mountain forest service campgrounds, in no small part because we often have them to ourselves and can listen to nature in all its beauty. These sites are best left to tenters and truck-campers.  One of our pet peeves in more crowded campgrounds is that Class A and Class C "hippos" can be a nuisance if they cannot feed on hook-ups: 
Un-Solitude
One cannot fathom how a mere machine
Shatters the silence of a sylvan scene:
What turns calm campers into RV-haters? –
The unrelenting noise of generators.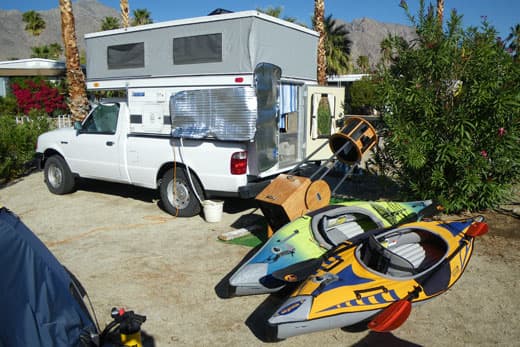 Besides calling attention to our truck camper's ability to go to high and remote places, we should also commend the interior design of the camper and its ability to carry our toys: our telescope and two inflatable kayaks.
As you may see, the telescope is quite impressive with a mirror of 12.5".  It fits perfectly at the cab-end of the aisle, just under the Queen-sized bed in its stored position.  The kayaks, each 10' 5" long when inflated, are carried in suitcase-sized bags.  With telescope and kayaks in our "Aisle of Delights," there is still room near the back door to store more items in the aisle.
It really is a very efficient design: stainless steel stove, sink, plus fridge – all reminiscent, as Bonnie says, of her old VW Westfalia – and thus very familiar.  The absence of an on-board toilet is supplied by a porta-potti.  Other than that, on our longest trips, we camp for the better part of three months at a time and do not feel compromised.  People ask how we can stand each other in our compact quarters, to which I reply, with considerable honesty, "Well, I basically live outdoors!"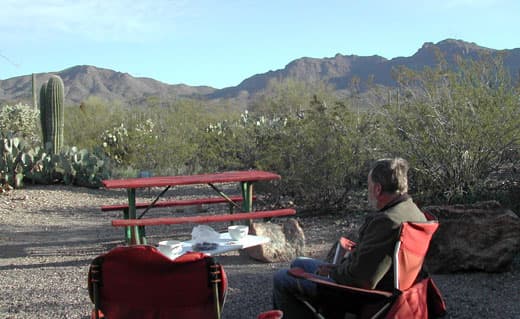 Our truck camper combo puts us into a somewhat different mode, compared to folks with big Class A and Class C motorhomes.  They need fancy campgrounds with hook-ups and, once in place, tend to stay there.  By contrast, we leave any campground where we are based and head off to adventures in nature.   We seek out dark skies for our telescope and look for seas, lakes, and rivers for our kayaks.
Our favorite mode is to stay at least two nights at any given site where there is a "water feature" so that we can have plenty of time to go out in our kayaks.  We have found that nature is best seen from the water, rather than from dark paths on land.  When we return to a campground, we regale our stay-in-place friends with photos and stories of our adventures.  They tell us how they spent their time in yet another "happy hour".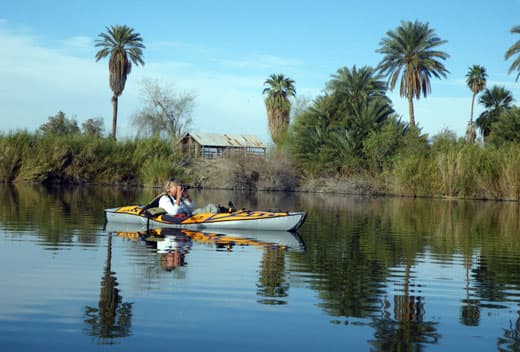 Attached are two more photos that give examples of the sort of thing we do.  One is of Bonnie on the Pacific Flyway at a wildlife refuge in Southern California using her binoculars to get a good look at the thousands of pelicans, herons, cormorants, egrets, and the like that winter there.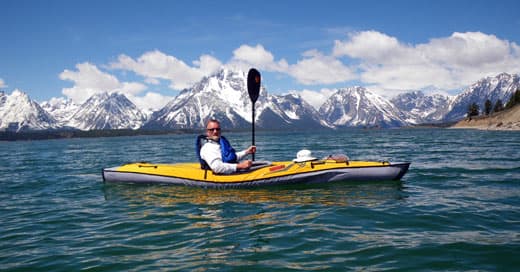 Another is a photo Bonnie took of me in my 13' kayak on Jackson Lake in the Grand Tetons.  We use a waterproof camera that's about the size of a deck of cards.  It has a flotation strap in case it's dropped overboard.
It is difficult to convey how our little pick-up truck and pop-up camper has enriched our lives, and at such a modest outlay of expense.  We have looked at a lot of other units.  I especially like old Airstreams, for example, but nothing else would give us the flexibility and versatility that we already have.  We would have to give up too much to be stuck in place with a big rig.
We agree with General Patton who said, "Fixed fortifications are monuments to the stupidity of man".  We are on the move, always.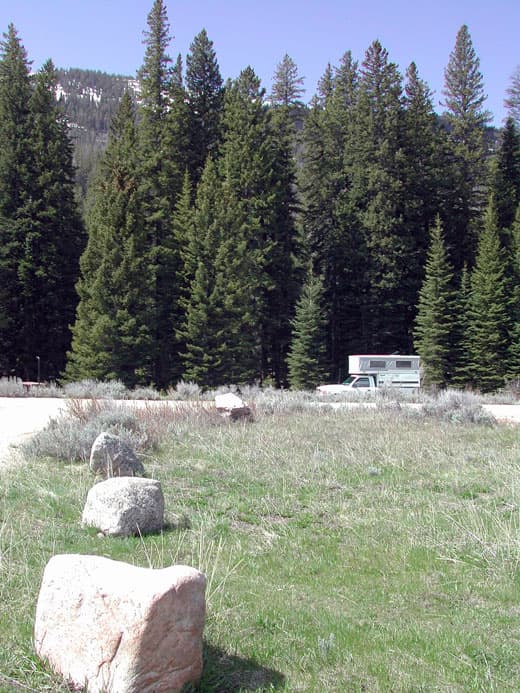 To visit the Four Wheel website, go to fourwheelcampers.com. Click here for a free Four Wheel brochure.
Lee and Bonnie's Rig
Truck: 2004 Ford Ranger, 2.3 Liter 4-cylinder, regular cab, single rear wheel, short bed, 4×2, gas
Camper: 2005 Four Wheel Camper Eagle
Tie-downs and Turnbuckles: Internal turnbuckles
Suspension Enhancements: Rear Hellwig Helper Springs
Gear: No extra gear but heater/fan, propane heater