From his Capri truck camper parked at NASA's Kennedy Space Center, multi-media maven, Ryan Chylinski, is busy capturing SpaceX rocket launches in breathtaking 4K, 8K, and 3D – Falcon 9 after Falcon 9.  Oh, and Elon Musk himself has taken notice.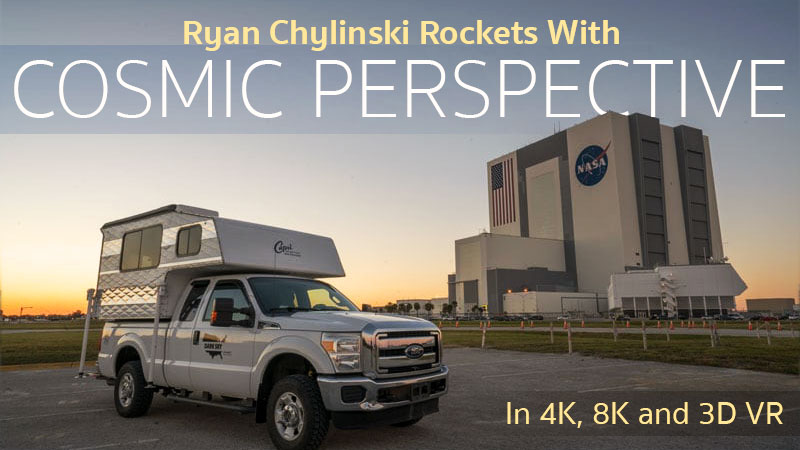 Two years ago we published, "For The Love of Space" featuring full-time truck camper and rocket launch multi-media creative, Ryan Chylinski.  Ryan lives in a custom Capri truck camper and uses his versatile off-road ready rig as a base of operations while documenting NASA and SpaceX activities.
In the 24-months since his Truck Camper Magazine feature ran, NASA, SpaceX, and the entire space-industry have been launching rockets at a blistering pace.  SpaceX alone has launched a dozen Falcon 9 rockets in 2020 with and twenty more launches currently planned.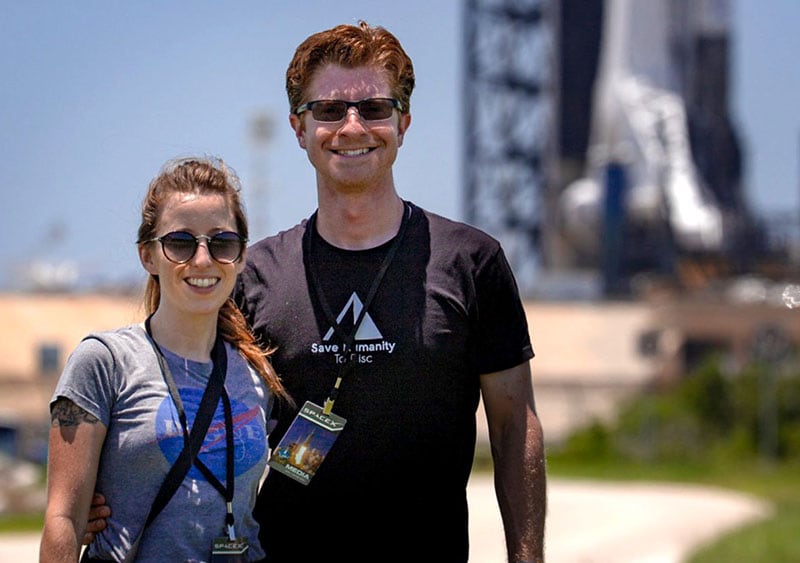 Above: Ryan Chylinski and MaryLiz Bender, Co-Founders of Cosmic Perspective.  All images courtesy of Cosmic Perspective.
This increasingly busy mission schedule has given Ryan more opportunities to record launches.  On his Cosmic Perspective website and social media channels, Ryan has posted a myriad of absolutely breathtaking images and videos.
Elon Takes Notice
This update was prompted by a Falcon 9 launch video Ryan posted to Twitter that got picked up by major media, and Elon Musk himself.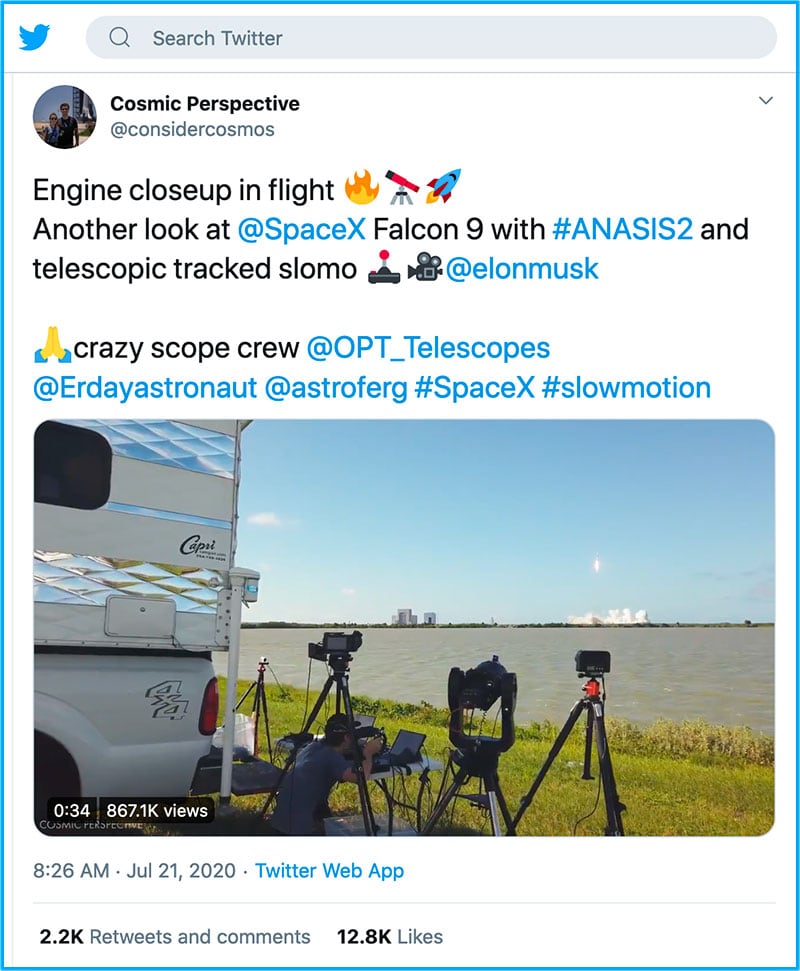 The video happens to feature a glance of Ryan's Capri Camper, and one heck of a SpaceX Falcon 9 rocket launch.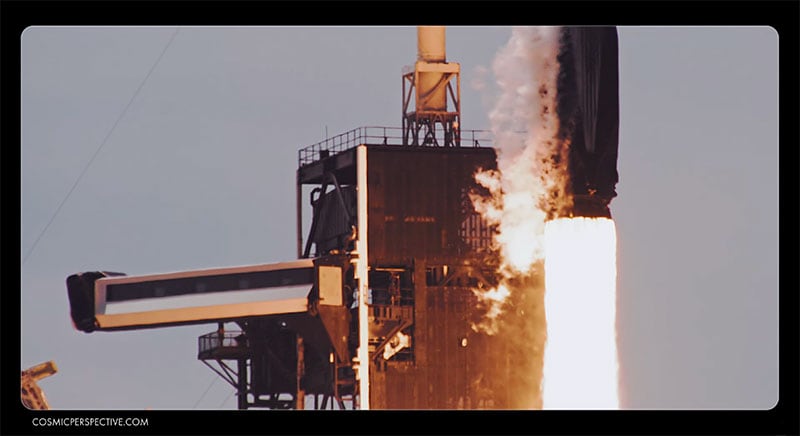 What makes Ryan's video particularly amazing is how he managed to smoothly track the rocket close-up as it ascended.  That earned him a tip of the hat from the head SpaceX'er himself, and captured space lover attention from around the world.
Click the video above to watch Ryan's Falcon 9 launch film shot in stunning 4K in late April.  Note the Capri Camper nosing into the shot behind a Tesla around 45-seconds in.
Cutting Edge Picture and Sound
I understand just enough about professional video to grasp how challenging (and fearless) Ryan's approach to video production truly is.  In a nutshell, he's using near state-of-the-art equipment at the very edge of its technical specifications.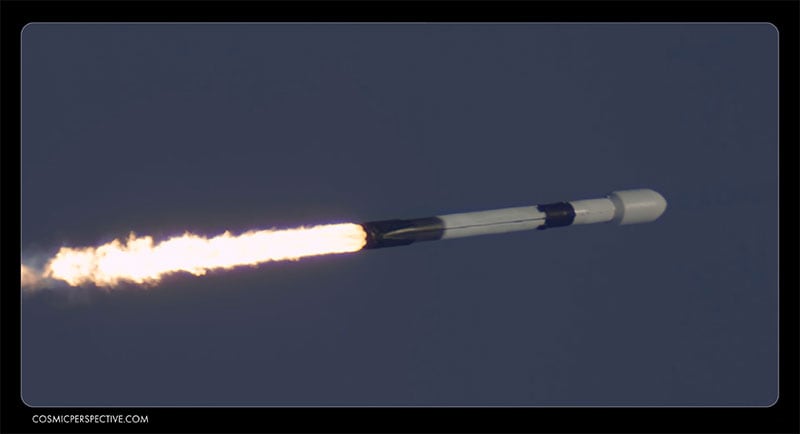 This wouldn't be quite so impressive if Ryan had access to cost-no-object cameras and gear.  He's working with real world budget constraints and pushing relatively affordable cameras to their absolute limits.
When I say limits, I mean high-speed 4K, 8K, stereoscopic 3D virtual reality, binaural audio – and that incredible tracking.  Over the past year or two 4K video has gone mainstream in professional video production, but 8K and 3D VR remain fringe technologies at Ryan's end of economic reality.  Heck, most Hollywood motion pictures are filmed in 4K.
What this means is Ryan is leaving no room for human error, technical glitches, or something as simple as overheating.  If he needs to sneeze during that tracking shot, he can't.  Add to this the fact that Ryan is recording once-and-done events.
It's not like Ryan can call Elon on his cell and say, "Ah, Elon? Yeah, it's Ryan.  Can you bring that Falcon 9 back and launch it again?  I had the camera's ISO set incorrectly and the high-speed footage loaded the memory card before the rocket launched.  I missed the whole thing.  Thanks, Elon!"
Given the, right-now-or-never nature of rocket launches, it would make perfect sense for Ryan to employ the safest and most reliable camera gear and video capture strategies possible.  But what's the fun in that – right Ryan?  You don't want it to be easy!
Ryan must be inspired by the incredible people and technology he is documenting.  After all, if Elon can start PayPal, Tesla, and SpaceX (among many other businesses) surely Ryan can track a rocket launch in 8K.  If NASA astronauts can sit atop a 229-foot Falcon 9 rocket with 190,000 pounds of thrust, Ryan can record the experience in 3D virtual reality.
Well done, Ryan and MaryLiz.  We are watching.
For more information about Ryan Chylinski and Cosmic Perspective, visit cosmicperspective.com.  For more information about Capri Campers, visit their website at capricamper.com.  Click here for a free Capri Camper brochure.