Ryan Chylinski has camped under the SETI dishes at Hat Creek Radio Observatory, parked at the Vehicle Assembly Building at Kennedy Space Center – during a launch, and boondocked near the VLA in New Mexico. Get ready to camp with SpaceX.

Before career.  Before mortgage.  Before marriage.  Before kids.  Before the traditional path of life takes hold – there is a moment.  Money is still required for living expenses, but just your living expenses.  In this moment, you can choose to embark on a traditional life path, or you can dare to take a road less traveled.  A lot less traveled.
Enter into this moment the concept of a truck camper.  Go anywhere.  Camp anywhere.  Extended off-grid camping.  Free BLM and national forest camping.  With the internet providing ample work opportunities, the options are only as limited as your imagination, and courage.  It's no wonder that so many are turning to this concept; both before a traditional life path takes hold, and after it winds down.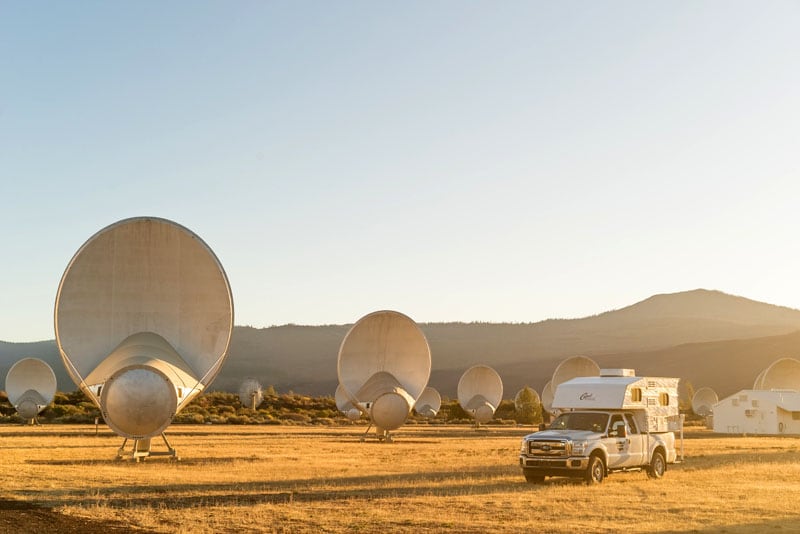 Above: Ryan Chylinski's Capri Retreat at Hat Creek Radio Observatory in California
Imagine you're in your mid to late 20s, and you've decided to take this leap.  You're done with high school and perhaps college, but you're not yet ready to commit to a career, house, spouse, and children.  You bought a truck and camper, and found online work to pay the bills – from anywhere.  And then you hit the big question.  The really big question.
What do you want to do?
Meet Ryan Chylinski, a young visionary with a love for science, space, photography, and travel.  With a 2012 Ford F250 and 2017 Capri Retreat, Ryan lives full-time on the road, funding his lifestyle with freelance work and side projects he provides and creates online.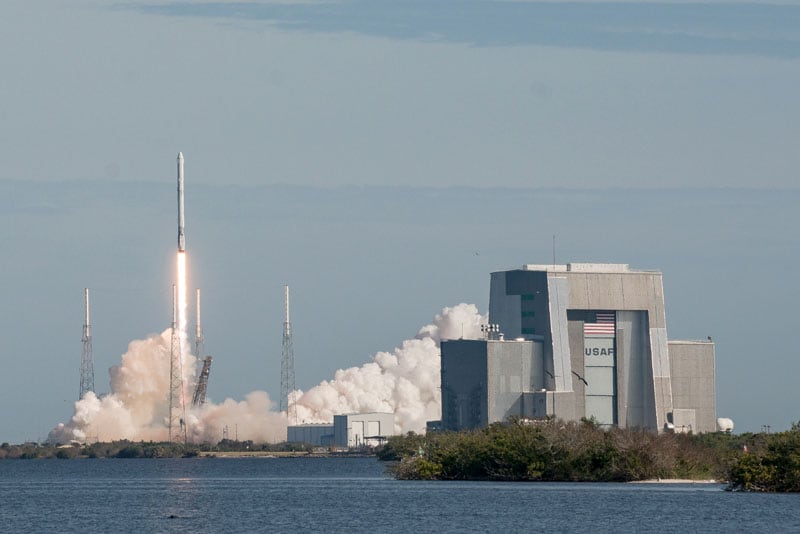 Above: Ryan specializes in launch photography
But that's not the story here.  You see, Ryan has turned his passion for science, space, photography, and travel into incredible opportunities.  Imagine press access at Kennedy Space Center during multiple SpaceX launches.  Imagine camping under Hat Creek Radio Observatory with the SETI team.  If that doesn't impress you, his time-lapse photography during these experiences will.
Forget holding onto your socks.  They're about to rocket!
How did you decide to get a truck camper versus any other type of RV?
Finding the right type of RV was an extended project. Mobility and ease of travel were my top requirements. Conversion vans and truck campers were on my list for consideration, but I enthusiastically decided on a truck camper – mainly because of the ability to demount the camper from the truck. I needed to use my truck for other purposes. That was huge.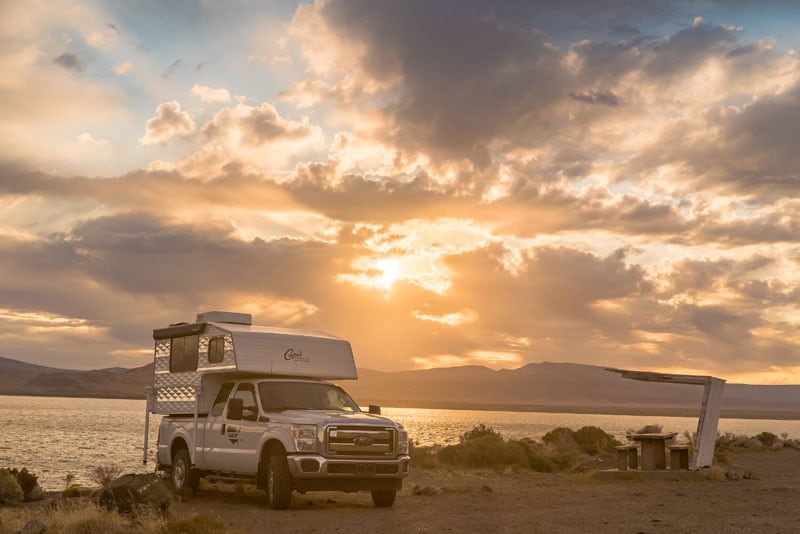 Above: Ryan's Capri Retreat at Pyramid Lake, Nevada
Once I decided on a truck camper, everything came together. I bought a short bed truck with four-wheel drive. Then I discovered Capri truck campers. With the camper decision made, I contacted Pete and Tyson at Capri Camper and started the custom ordering process.
"A wood interior may seem like a small feature, but every time I enter my camper, it makes me happy."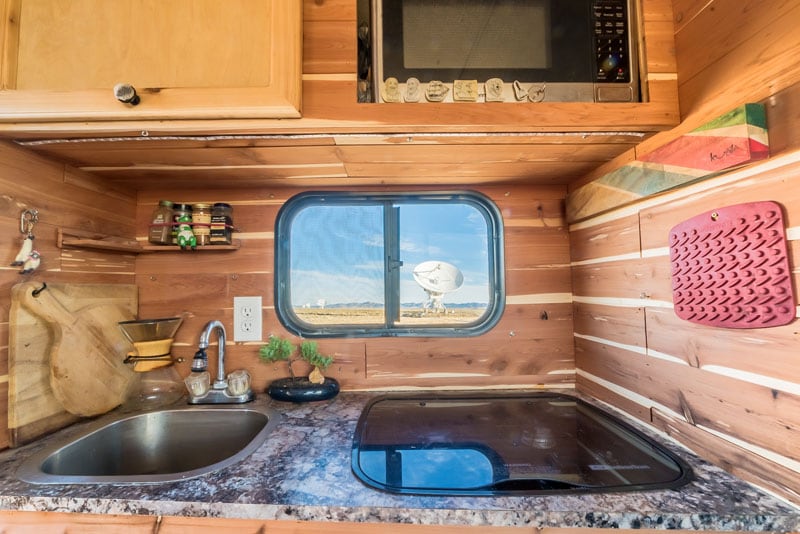 Above: Not your typical kitchen dish
What was it about Capri that attracted you?
Capri's style caught my attention. They were willing to work with me to customize my camper. The minimalist wood interiors feel open and homey. A wood interior may seem like a small feature, but every time I enter my camper, it makes me happy. Capri has a different feel from other campers on the market. I fell in love with that.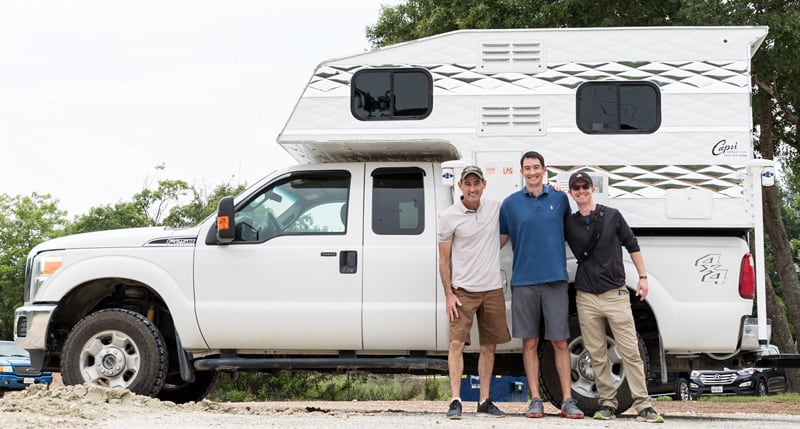 Above (left to right): Pete and Tyson D'Acosta of Capri Campers, and Ryan Chylinski
How did decide to live on the road full-time?
The genesis of living full-time in a truck camper started about a year ago. I was taking time-lapse and night sky photography on the road. Online I teach about time-lapse and have written a book on time-lapse photography.
I have always wanted to do a lot more travel. There was an opportunity for me to downsize and put my house up for rent. I can work remotely, so I went for it. As this plan developed, I cobbled together this grand adventure that continues to evolve.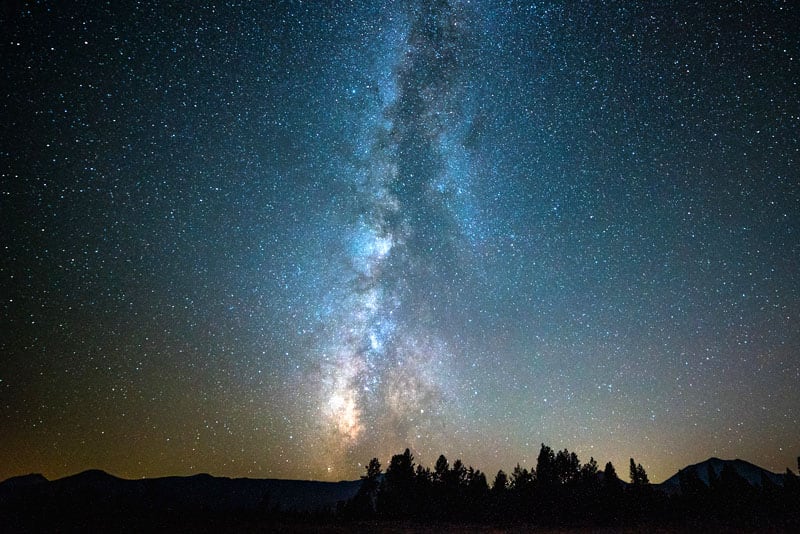 Above: The Milky Way from the Hat Creek Radio Observatory in California
Are you able to make a living with time-lapse photography and teaching?
I also do freelance work and other projects for different organizations. My income is augmented through freelance opportunities with science journalism organizations. There is also a company that I worked for in Michigan that I continue to work for on the road.
How did you get hooked up with Kennedy Space Center, NASA, and SpaceX?
I started volunteering for SpaceFlight Insider, a website that covers the space industry from all angles. SpaceFlight Insider helped with my credentials on recent launches.
The launches are the big events, but I have been to other events covering the space industry. For example, I was at the Kennedy Space Center visitor complex when they held the United States Astronaut Hall of Fame inductions and unveilings.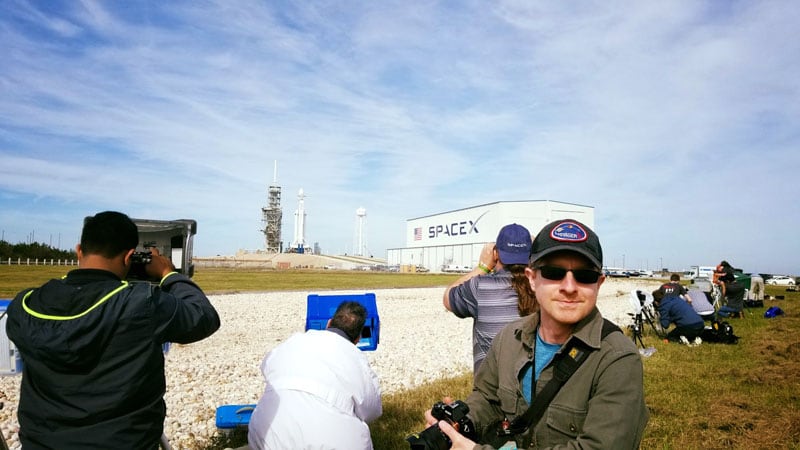 Above: Ryan and fellow photographers and journalists await a SpaceX launch
I can apply to launches, however, there is an accreditation review process for individuals. Being part of a media organization or a special project with a history and readership is generally required.
Space has always been an interest of mine. It's incredible to witness and experience what I believe is an exciting rebirth of the space industry.
For each launch with a science payload or space station resupply mission, they put out an opportunity for different influencers in all industries to witness a launch. You get to tour the facility, go behind the scenes, participate in press events, and photograph the launch.
People from a wide variety of industries and communities attend; fashion, science, travel – you name it. Everyone who attends presents a unique perspective. I had a chance to do that for SpaceX CRS-5 in 2015; a resupply mission for the International Space Station. It was incredible to see a rocket up close. That experience planted the seed to film the rocket flames.
Your slow-motion rocket flame videos are spectacular. How do you do that?
No one can be near a launch pad during a launch. I set-up my camera with a sound-activated trigger. It will start filming at a certain time, or it can be triggered by sound.
It's been difficult to figure out how to get the videos right. I had a lot of failures before I got the results you see now. It's still challenging, but I now have things aligned and it works out.
"For the rocket flame images, there is a three second window. If I fail, I have to wait for the next launch. That creates a lot of anxiety."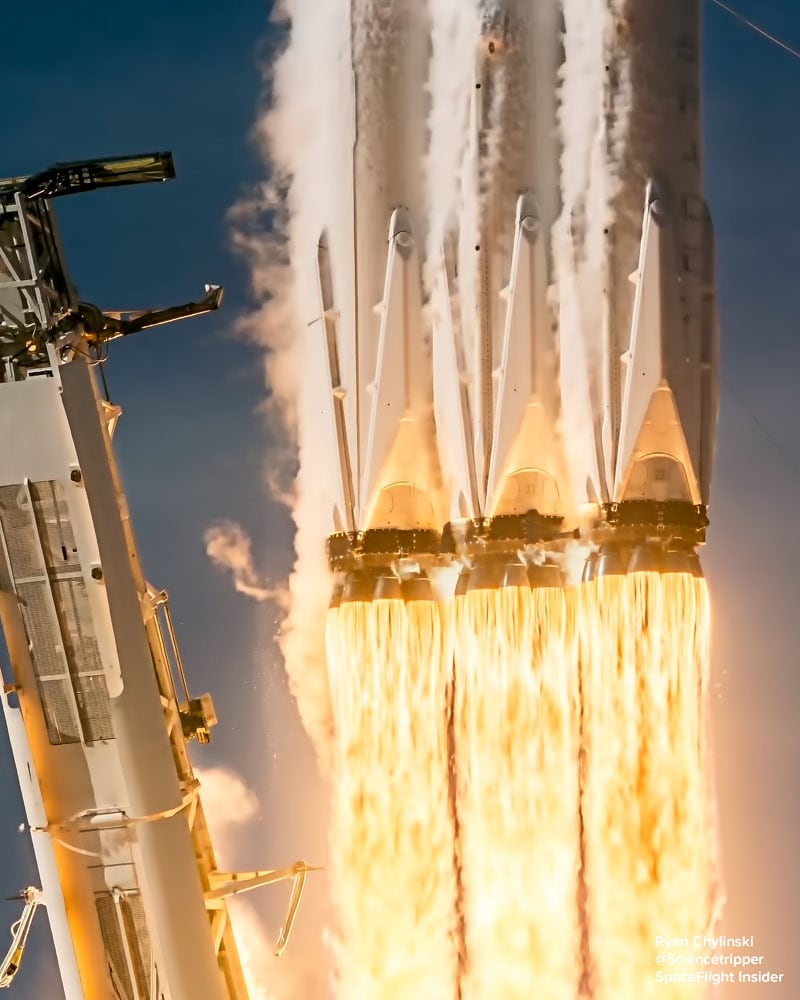 One of your photographs of rocket flames really stands out. Tell us about that image.
That photograph was taken from a remote camera – just like the slow motion videos. It took a lot of strategy and trial and error to get that photograph. That image sparked a lot of interest in my work.
Tell us about what it's like to photograph at these events.
SpaceX typically escorts media to the launchpad for remote camera set up the day of the launch. There's a considerable gap of time between setting up the camera and when the launch happens. Cameras need to be set up totally independent of humans. They also need to be able to withstand the elements including rain and intense sun.
Rocket launches don't always happen on schedule. Battery life needs to last 24 to 48 hours. Most photographers use sound triggers. The camera goes to sleep for a day and then starts photographing or filming with a sound trigger.
The trick is to set the sound trigger to start with the sound of the rocket launch, not a truck driving by. If it triggers when the rocket launches, it takes as many photographs or video as the camera battery or memory card allows.
There is a lot that can go wrong because of the weather, launch delays, and set-up miscalculations. Fortunately, you can bring more than one camera to increase the odds of success, and get multiple views.
For the rocket flame images, there's a three-second window. If I fail, I have to wait for the next launch. That creates a lot of anxiety. Time on the launch pad goes incredibly fast, and we usually only have a few minutes to set up each camera.
You have to pack everything ahead of time, ride the bus, and set up the cameras. Then the media hosts try to corral the herd back to the bus. There's extra pressure which adds to the moment.
In one of your videos (see above) you show a slow-motion lift off of a SpaceX Falcon 9 launch. What is the story behind that video?
There are two sides to the coverage of every launch; the internal side for the company that's launching the rocket, and the public media side. The company responsible for the launch has the best cameras, the best people, the best access, and everything is filmed with state-of-the-art technology. Some of that coverage is released to the public or used during the live launch webcast and some is kept internal.
I've always been fascinated with pushing the limits of consumer technology, combining systems and experience with visual capture. The high-speed rocket slow-motion system I've developed is a result of that passion.
The next frontier for me is ultra slow-motion, high-detail flame video using high-speed cameras. I want to push the technology with more dynamic range. This video was my attempt at high-speed video capture of a launch. In the future, I will be pushing my way deeper into this technology, and improving upon it.
"Seeing a launch is like nothing else. It's really cool to watch the crowd's reaction. People are cheering and going crazy. People are even crying."
SpaceX is owned by Elon Musk, the inventor and serial entrepreneur behind Tesla, Neuralink, and many other future-focused companies. Have you had any interactions with Elon?
When we post a SpaceX rocket photo, there's always a chance Elon will see or share it. Some of the rocket photographers I've worked with have been retweeted. I have received one Instagram heart from Elon.
Elon's social media reach is just phenomenal. He sometimes retweets or posts a photo from an up and coming photographer who covered a SpaceX launch. Elon's retweet or post instantly creates a wave of people who will follow and like him/her.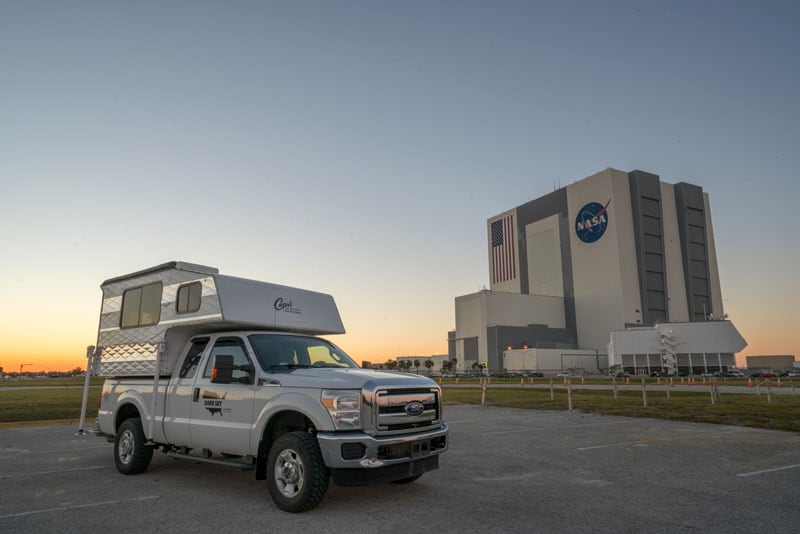 Above: Ryan's Capri at the Vehicle Assembly Building, Kennedy Space Center, Florida
Where do you camp when you're at the launches?
I wish we were able to stay overnight at the Kennedy Space Center, but that is not permitted. The press site has certain hours. Those hours are pretty long because of the launch, but are not indefinite. They post hours credentialed media are allowed to be on campus. They check you at the gate and have certain areas you can visit. Sometimes I'll catch a sunrise or sunset at the Vehicle Assembly Building.
From the parking lot, I can see the countdown clock outside my camper's window and I'm looking at the Vehicle Assembly Building while I make coffee. It's surreal. It adds to the already incredible surreal moment. To have your home there with you is incredible.
Depending on the launch and crowd size, the media is typically able to go to a launch view location. They allow us to drive our vehicles or they bus us out. Then we park and wait. I can photograph the launch from a civilian close location. It's a couple miles away, but we can hear and feel the rumble and see the brightness.
Seeing a launch is like nothing else. It's really cool to watch the crowd's reaction. People are cheering and going crazy. People are even crying.
What cameras and lenses are you using to get those amazing photos?
A Sony a7S and Sony a7R II are my workhorse cameras. They allow me to get a large megapixel image so that I can crop certain views. I can blow up the picture to a big size. It has challenges with big file size and low speed. I don't have a huge camera budget, so I rent cameras like the new Sony A7R III.
I fell in love with Sony cameras four to five years ago. That's when I switched from Canon. I love the dynamic range of Sony's sensors. I do a lot of low light photography like the night sky. These rocket photos are like shooting a mini sun. A lot of times that's what gets blown out. With the Sony cameras, I have more dynamic range to balance the exposure.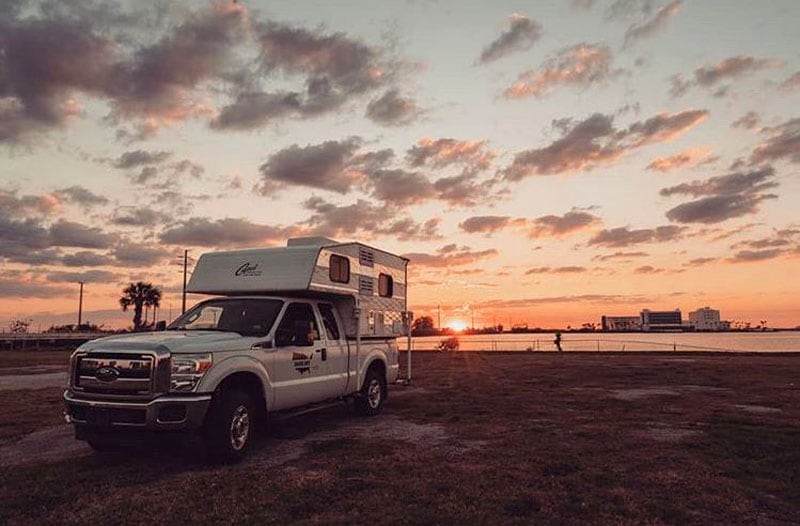 Above: Sunset at Cocoa Beach, Florida – close to Kennedy Space Center
I try to underexpose. That's risky because I also need a cool foreground. I also want a strong composition. I'm really shooting for the flames. During the launch, the whole scene is lit up with rocket flame light. That light paints the picture without much noise. That's the challenge area I'm working on.
I have a telephoto lens because it allows me to zoom into the engine. I set it up to get close and hope my exposure strategy works out. There are only a few seconds of opportunity to capture something when you're zoomed in. Sometimes you only get one or two composed shots in that window.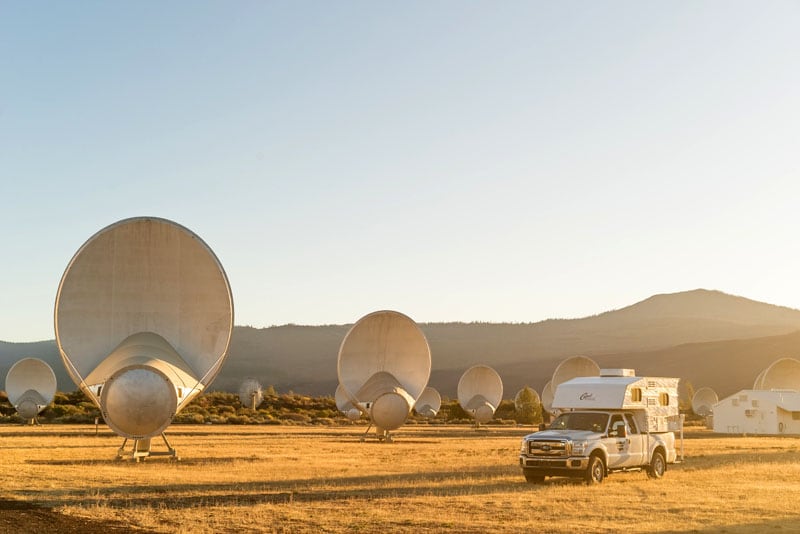 Above: Boondocking at the SETI Array, Hat Creek Radio Observatory, California
The time-lapse of your camper at the Hat Creek Radio Observatory is simply amazing. Tell us about that experience.
That was so cool!  It's also another example of reaching out to an organization and hoping I could get a hold of somebody.  I emailed the folks at SETI Institute (Search for Extraterrestrial Intelligence) and showed them some of my work.  I threw out the idea that I could do a time-lapse at the Hat Creek Radio Observatory.
The facility is open to the public, so it was okay that I was there.  However, being able to stay overnight was the question.  I linked up with an astronomer who was working there overnight on a weekend.  He invited me to stay.
As long as I wasn't interrupting their work, they allowed me to park the rig in the dish field.
"It was awesome to see the dishes move as they tracked an object, to see the Milky Way rise over the dusk, to see planes and stars, and then the morning light again."
I only had one camera at the time.  Luckily I had a Goal Zero battery to extend the battery time of the camera.  I wish I could have started the time-lapse earlier in the day, but I was touring the facility.  Then I got set up, had dinner, and talked about astronomy with the astronomer who invited me out.  After that, I walked back up to my camper and enjoyed the night.
I was able to capture a day-to-night and back-to-day time-lapse.  It was awesome to see the dishes move as they tracked an object, to see the Milky Way rise over the dusk, to see planets and stars, and then the morning light again.  It was an amazing experience.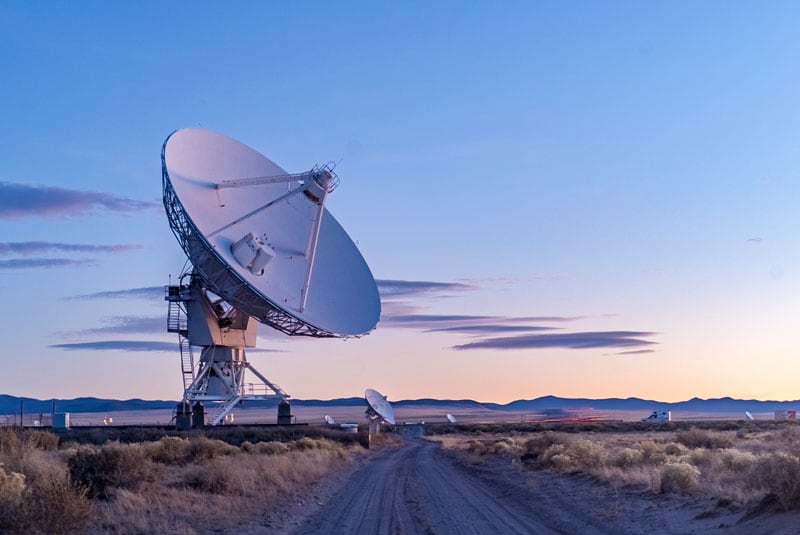 Above: Karl G. Jansky, Very Large Array, New Mexico
Have you visited any other space or science facilities during your travels?
I have been to several observatories as a visitor for their night sky programs.  I will volunteer to help with projects they are working on.  There are a couple in California that have photographer nights.  They have a ticket system that's a little expensive and selective.  I would love to do that, but the timing has not worked out yet.
Above: Very Large Array, New Mexico
I spent a couple days at the VLA, or Very Large Array.  It's a radio telescope array in New Mexico.  That is an experience that anyone can have, which I highly recommend if you are mobile and in New Mexico.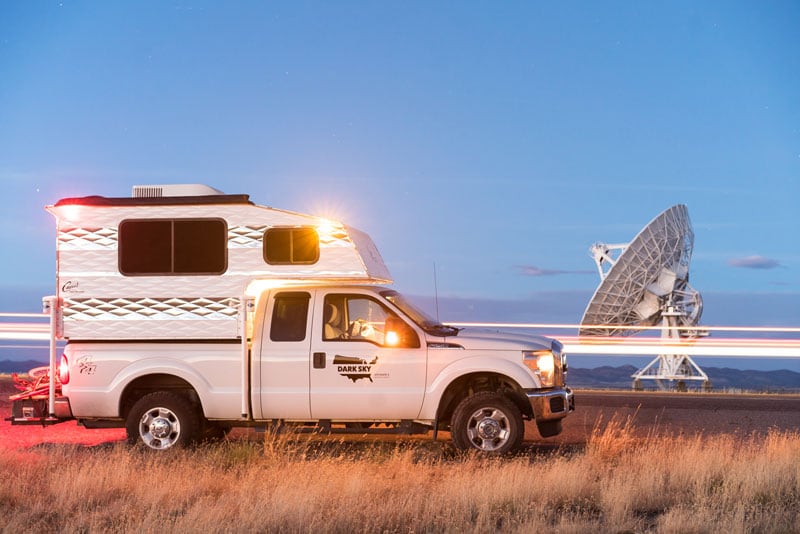 Go out and see the VLA facility and take the public tour.  Also, there is a turnoff there where you can stay the night.  Being out there late and watching the Milky Way is awesome.  The dishes are huge and create a totally cosmic perspective.  If you are into space, the night sky, photography, and science, it's a great free destination to visit.
It's great to be able to stay in my truck camper in remote locations.  For night sky lovers, a lot of states have off-grid areas including BLM and national forest.  Being mobile and having your home with you gives you the flexibility to do those things.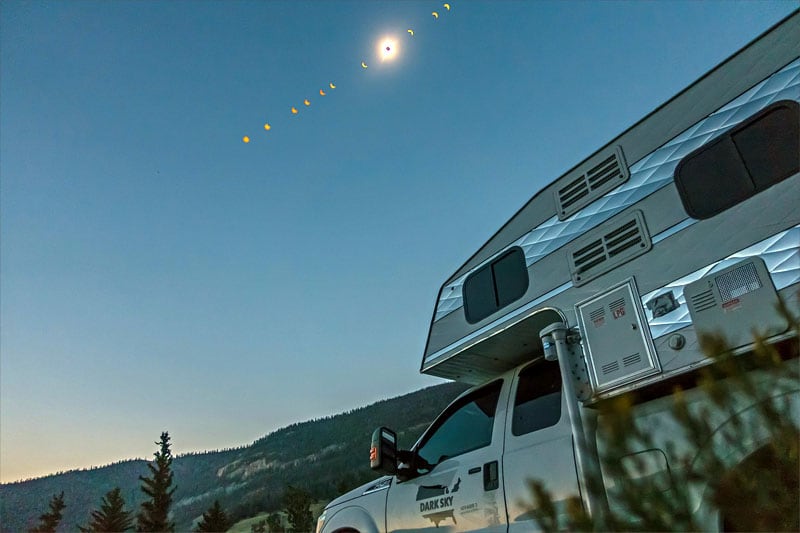 What was it like to photograph the eclipse?
Going to the eclipse was mostly for personal reasons.  I wanted to experience it and then capture and share it in a unique way.  I took time-lapse and video.  I got some killer images of my Capri.  I wanted to show the truck camper with the eclipse at a certain angle.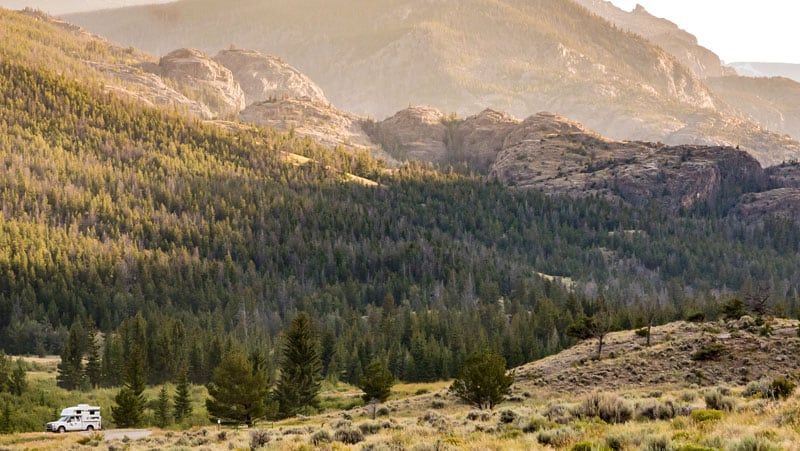 I lucked out finding a place on BLM land near Debois, Wyoming for the composite photo with my truck camper in it.  I looked at satellite photos of the area and used apps to find out where the sun would be at that time.  I found a particular spot and got there a couple of days before the eclipse.
There were lots of people there, but the spot I picked out was isolated.  People were funneling into the lower parking area.  I had a really good spot to myself for most of the time.  With my camera, I was able to get a low wide-angle view of my camper and took it using a solar filter during intervals.  I combined the intervals into a single photo.
The light on the camper and foreground is the light of the eclipse.  I used that as the base.  I added in the shots of the sun as it went through phases before and after totality.  It worked out really well.
How do you plan where to go next with your full-timing lifestyle?
It changes from month-to-month and week-to-week.  Sometimes I'm focused on remote web work that I can do from practically anywhere.  That work has low location pressure.  If I'm happy where I am, I stay and get to know it.  I even find favorite coffee shops.
Then there are location-specific events that require planning to attend.  Recently that's been rocket launches.  Sometimes these opportunities dictate a bigger travel adventure.  The SETI opportunity is a good example.
"Now that I've taken some risks, I have had some amazing experiences. Traveling like this feels like home and my Capri Camper makes that possible."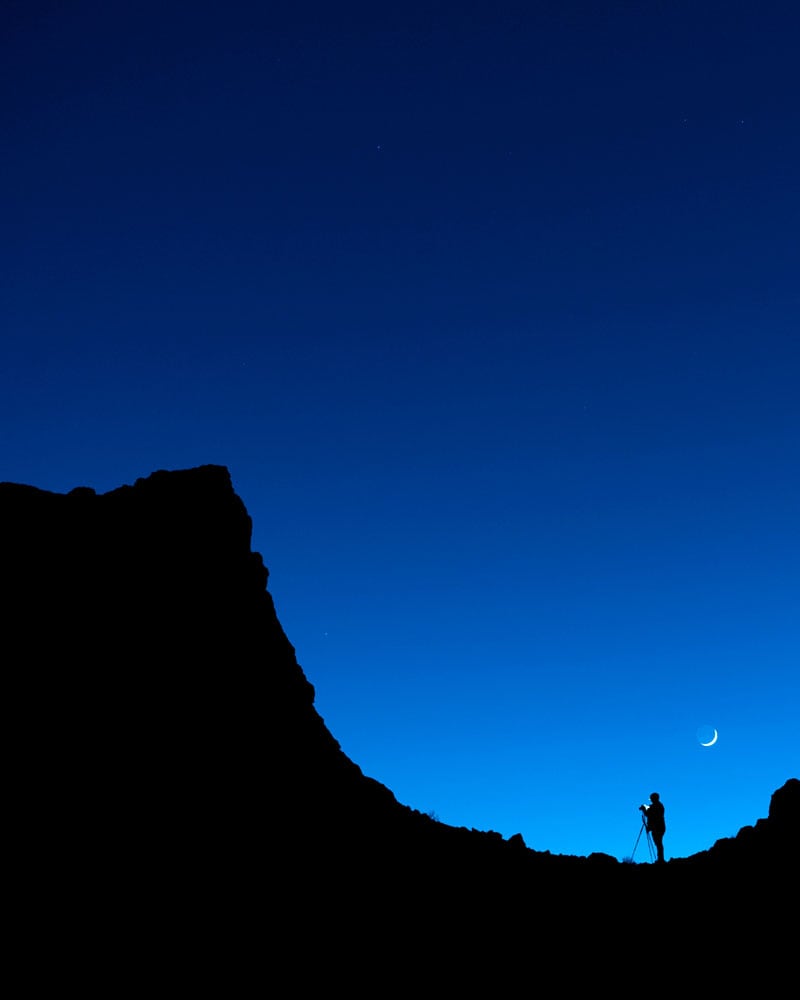 Above: Trona Pinnacles Ridge, California
It sure looks like you're living your dream.  Is there anything else you'd like to add?
I have learned a lot since I've started living on the road.  I have learned technical skills like installing solar panels and doubling my battery capacity.  I've made some mods to my truck. I had not done this type of work before going full-time.
I have met a lot of great people, even in Starbucks.  I have had great conversations with the people I've met.  I have learned about places to visit. Being open has opened me up to people even more.  I feel free to engage others to learn about them.
I am not sure where the end will be.  I can't look too far out.  There are times of anxiety where I think about where to go next, but I try not to do that. I focus on what I can see because things change so much.
The opportunity to travel like this has always been there for me.  I always felt I couldn't do it for one reason or another and I was always making excuses.  With creativity and hard work, those excuses melted away.  Now that I've taken some risks, I have had some amazing experiences.  I have met incredibly interesting and talented people, especially in the space and science community.  Traveling like this feels like home and my Capri Camper makes that possible.
Follow along with Ryan on Instagram @sciencetripper.  For more information about Capri Campers, visit their website at capricamper.com.  Click here for a free Capri Camper brochure.