Eddie and Pat Hayden take their Palomino pop-up truck camper deep into western Canada and the national parks of The West to capture the wildlife, landscapes, and stars.  Stunning photos ahead.

As a magazine, we have worked our fair share of RV shows.  Talking to attendees all day, you quickly learn that the general RVing public wouldn't go truck camping if you paid them.  They look at truck campers as too small and old fashioned to even consider.  That's why the RV industry invented travel trailers, fifth wheels, and motorhomes.
Then there are the truck camper folks.  They practically run toward the truck campers on display and couldn't be more excited to talk all-things trucks, campers, and truck camping.  They think they won the lottery just thinking about all the freedom and adventure they'll be having.  In fact, if they won the lottery, they would just immediately buy a truck and camper, or two.  Their enthusiasm is truly infectious.
Where does this excitement come from?  Why do some people avoid truck campers and others celebrate them?  It all comes down to the unique versatility of truck campers and how they allow you to fully pursue your outdoor passions.  Put another way, the "go anywhere, camp anywhere, tow anything" capability of a truck camper rig amplifies outdoor hobbies and interests into dreams come true.  Want a few hundred compelling examples proving this theory?  Start with our Lifestyle Stories.
One of the latest, and perhaps best, examples of a hobby amplified by truck camping is the story of Eddie and Pat Hayden.  For the Haydens, their passion for wildlife, landscape, and night sky photography was taken to an entirely new level with the addition of a Palomino pop-up camper.
The Haydens' "go anywhere, camp anywhere" rig puts them on location, at the right time, to capture images that are going to roll your socks up and down.  In fact, you may have already voted for a few as winning photographs of the Truck Camper Magazine calendar contest.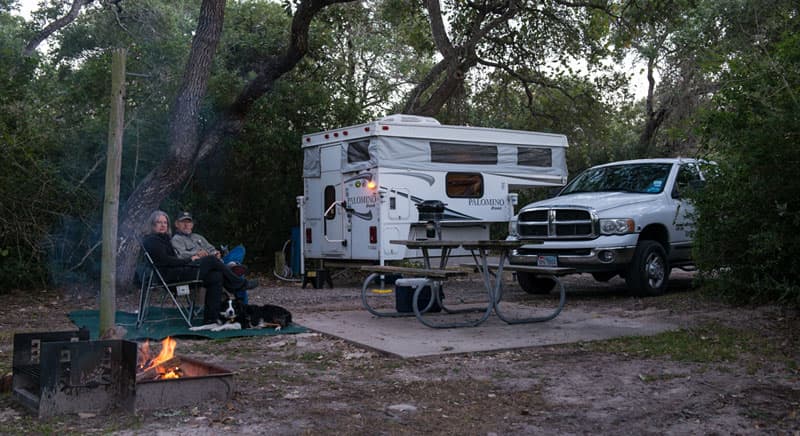 Above: Eddie and Pat at Goose Island State Park in Rockport, Texas
TCM: What brought you to truck camping?
Pat: When we were young, we both tent camped with our families.  When we married, we bought a fiberglass camper shell for our truck and used that for a camper.  Towards our retirement we decided to drive more, and fly less.  As we researched the different types of RVs, we knew we did not want to pull a trailer.  Eddie always had a truck, so a truck camper was a logical choice.
We have a very nomadic style of travel.  If we see something, we want to be able to go there without hesitation.  A pop-up truck camper seemed to best fit our needs.  We selected the Palomino Bronco because of the price and the low profile.  We went with a lower priced model because we also do international travel and did not want to spend all of our money on the camper.
TCM: What do you enjoy doing while truck camping?
Pat: Our number one hobby is photography.  We also like exploring the National Parks, bird watching, and hiking.
Eddie: We're very nomadic.  If we stay at a spot more than two to three days, the photography must be exceptional in that area.  Our camper life gets us closer to the places we want to go for photography.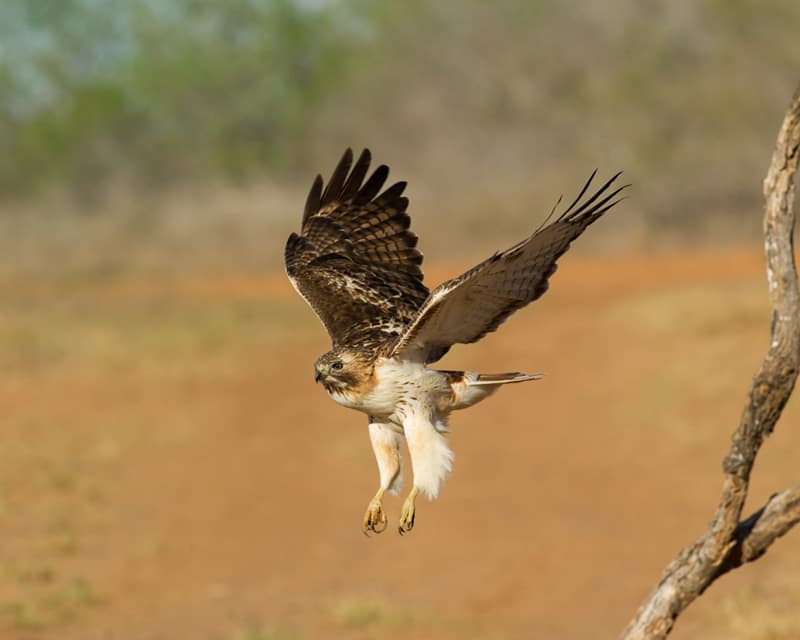 Above: Laguna Seca Ranch near Edinburg, Texas
TCM: Do you both enjoy photography?
Eddie: Yes, we do.  I started photography in high school, continued for several years, burnt out, and got away from it.  About seven years ago when we started contemplating retirement, I convinced Pat she needed a hobby.  I led her towards photography and she took the bait.  She got excited and involved.  That also drew me back to it.
I've been using Nikon equipment since early 1970s.  Today we carry professional Nikon DSLR cameras and lenses designed for the types of photography we enjoy.