Jodie: With narrow roads and low bridges, especially in New England, it's easier without the camper.
Chuck: The side entry on the DS116 is quite high when the camper is on the truck.  With the camper off the truck, you just need the four steps to get in and out.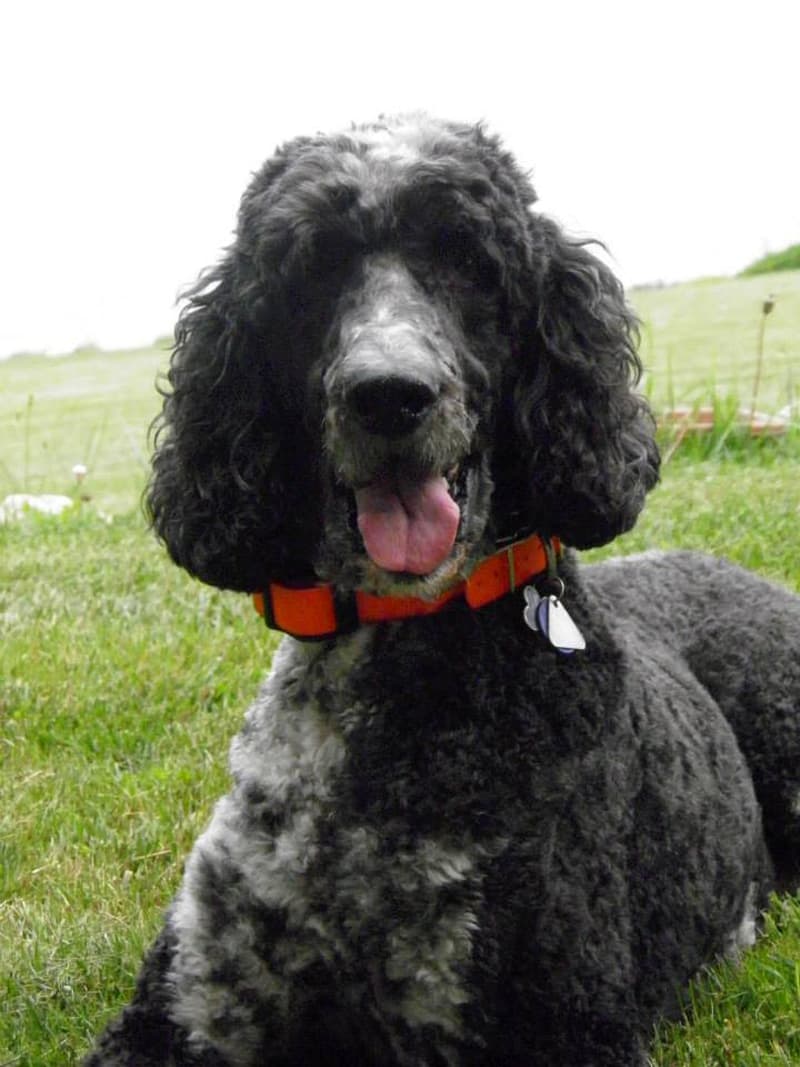 Above: Rugby, their Standard Poodle
TCM: Tell us about traveling with your Standard Poodle, Rugby.
Jodie: Rugby has been camping with us since we got him as a pup.  When we're in our fifth wheel, Rugby uses a crate to lie down.  Since there's no room for a crate in a truck camper, we thought we'd have him use the area under the table for his space.
Unfortunately, when we wanted to sit at the dinette, there wasn't enough room for Rugby and our legs.  Rugby solved that problem.  The first time it happened, he came out from under the table, looked at us, and then climbed into one of the two recliners.  Needless to say, Rugby now uses a recliner more than we do.
We did encounter an issue with Rugby while traveling this past year.  He caught a toenail in the drain hole on the camper's steps.   We ended up spending a week near Jasper National Park while a local vet attended to Rugby's injury.  We also made sure we put carpet pads on the stairs so we wouldn't have a repeat of that type of injury.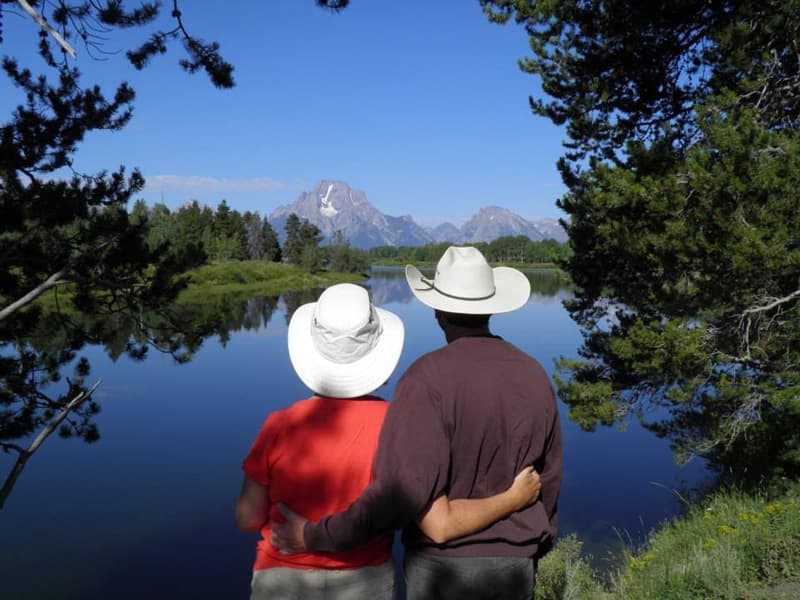 Above: Oxbow Bend, Snake River, Grand Tetons National Park, Wyoming
TCM: Poor Rugby!  And a good tip for fellow dog owners to use carpet pads on their steps.  Do you plan to go back to a house one day?
Chuck: We've talked about it from time to time.  I've said to Jodie, "If I die, what would you do?". Jodie told me that she would travel with the truck camper and have a park model somewhere.
Jodie: While we are blessed with good health, the fifth wheel and truck camper will stay in the picture.  We realize there will be a day when our lifestyle will need to change, but I don't see us rushing out to get a stick and brick house.
When we first bought the truck camper, our thinking was that we'd use it for the Alaska trip, and then sell it when we got back to the Lower 48.  Now we split our time between our two campers, the fifth wheel being our snowbird nest in Florida for half the year, and the truck camper for travel the other half.
Truck camping has been a great experience.  I wish we had known about truck camping and how much fun it can be earlier in our RVing life.
Chuck and Jodie's Rig
Truck: 2012 Chevy Silverado 3500, Crew Cab, 4×4, Diesel, Dual Rear Wheel, Long Bed
Camper: 2014 Adventurer 116DS
Tie-Downs/Turnbuckles: Torklift Fastguns
Suspension: Torklift StableLoads, Firestone Airbags
Gear: N/A