Jodie: Looking at the areas we travel throughout the United States and Canada, our annual circuit looks a giant wheel.  The center of that wheel is South Dakota.  If we have to get back to a state, South Dakota is relatively convenient.
Chuck: There is no state income tax in South Dakota, which is a huge bonus.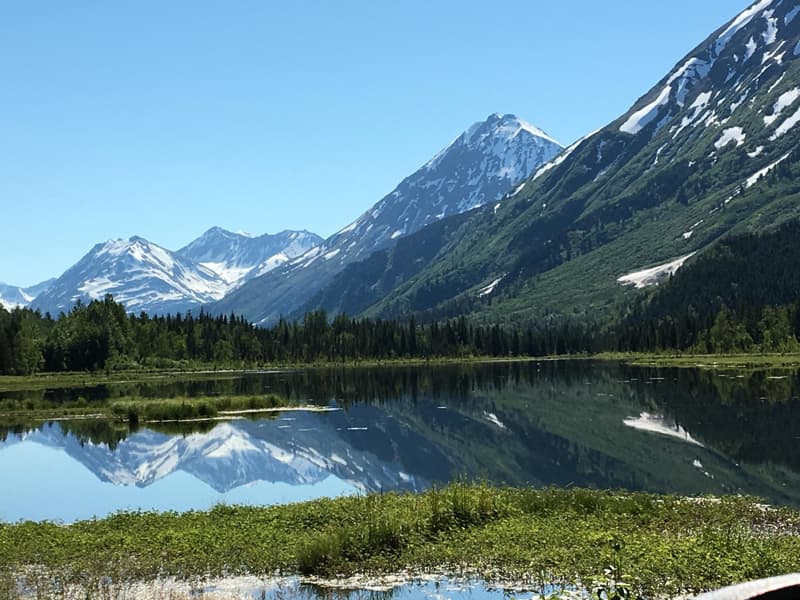 Above: Tern Lake at the junction of Sterling and Steward Highways, Kenai Peninsula, Alaska
TCM: Being on the road full-time is very different than going on a two week truck camping vacation.  How is your traveling different now that you're full-time?
Chuck: Typically we drive about 250 miles a day, find a place to camp, and then decide which direction to go.  Since there are no time constraints and no home we have to get back to, there is no need for a set plan.  In general, we try to stay off the interstates and instead drive the roads that parallel the interstates.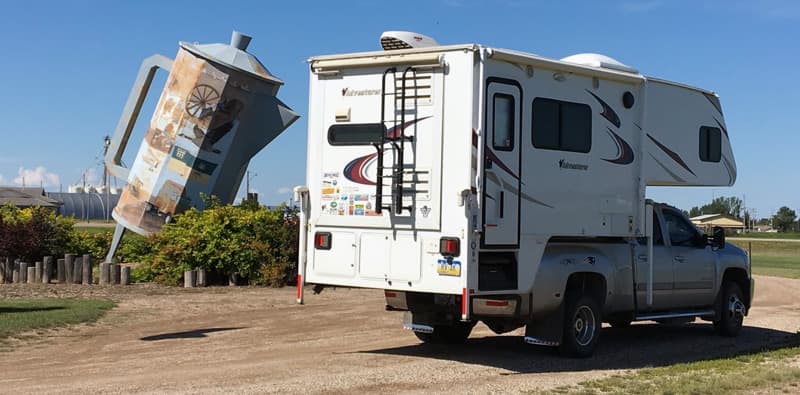 Above: Coffee Pot Hwy 11, Davidson, Saskatchewan
Jodie: Because we're taking the roads less traveled, we came across places like the biggest coffee pot and the largest frying pan.
The truck camper has made traveling easier than traveling with the fifth wheel.  That's especially true in the national parks.  Good luck getting into the national parks during high season with a 35-foot fifth wheel and no reservation.
Campgrounds seem to always have spot for smaller vehicles, so it's easy to show up when we get there.  We call ahead that day and ask what's available.  We like that we can be more flexible.  With our truck camper we are also more likely to dry camp in a shopping plaza or off the beaten path.
Truck camping is a fun lifestyle if you have the right mindset to do it.  Some people need everything planned out and go campground to campground.  That's not us.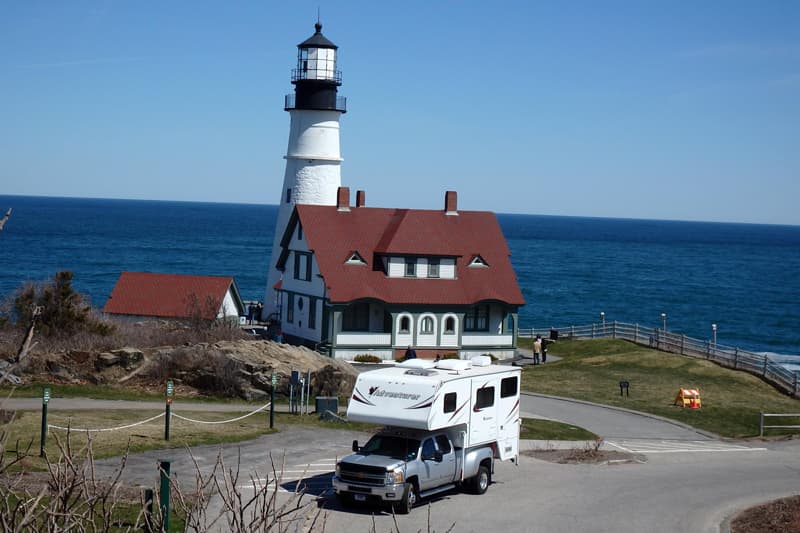 Above: Portland Head Lighthouse, Cape Elizabeth, Maine
TCM: Have you modified your truck or camper to better suit your full-time needs?
Chuck: We travel in excess of 20,000 miles a summer and our truck's standard 36-gallon fuel tank capacity dictated that we stop daily to refuel.  We replaced it with a Titan 62-gallon fuel tank.  This also helped with our concerns about finding fuel stations across Canada and Alaska.  They can be few and far between.
We also travel with a Cobra 25LTD CB and Wilson Trucker Antenna in the truck.  We listen to truckers as we travel, getting information about slow downs, issues along the road, and alternate routes.  When we were on the Dalton Highway, we used the CB to advise truckers of our location.  That helped all of us as we could climb hills faster, but they had faster downhill speeds.
On our front bumper we have attached Bores Manufacturing Bumper Guides and have them wired into our lights.  They are two stainless steel bars that bolt on the bumper, and come up above the hood.  There are LED lights on them so that you know where the front end of your vehicle is located.  Plus, they look cool.
Finally, we removed the rear seat in the truck to accommodate tools, chairs, and items that we want access to whether we have the camper on the truck or not.