Full-timers Chuck and Jodie Ramsey snowbird six-months in Florida in their fifth wheel, and then take off to explore America in their Adventurer 116DS truck camper.  Full-time RVers, half-time truck campers, and totally, wildly free.

How would your truck camping lifestyle change if you didn't have a home to return to?  No worries about getting back to mow the lawn, or get your taxes done.  No concerns about the heating system failing in February, or rodents gnawing into the garage in August.  Just you and the road, with anywhere to go, whenever you please.
To put this idea into full resolution, imagine preparing your house for sale, purging most of your belongings, and then selling your house.  Once the papers are signed, you get up from the closing table, pickup your keys, and walk out to your truck camper rig.  In it is everything you own, minus a few boxes in storage.  You are now totally, and wildly free.
As you read the above paragraphs, were you horrified, or excited beyond belief?  Does the idea of not being tied to a house and home and all of your belongings liberate your spirits, or shake you to the core?  For most of us, the reaction is likely mixed.
Chuck and Jodie Ramsey made the full-time leap in 2011.  They started out in a fifth wheel, and then discovered truck camping.  Today they can be found in Florida for the colder half of the year, and then just about anywhere on the American continent during the warmer months.  They take full advantage of their full-time freedom, and have discovered an incredible lifestyle for themselves.
What follows is the story of why they did it, and how.  They also share what their experience has been like, and offer tips to anyone who might want to follow similar tire tracks.  By the final paragraph, you may find yourself wondering just what your house is worth, and how much stuff you really need.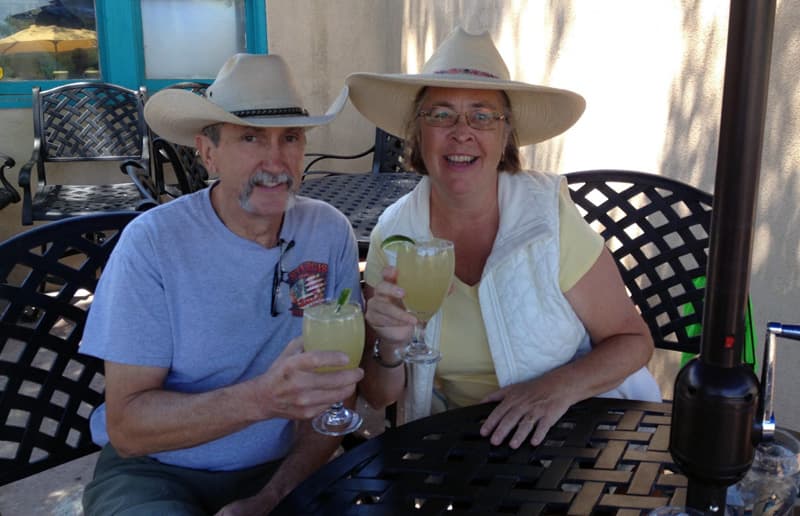 Above: Chuck and Jodie in Albuquerque, New Mexico
TCM: Tell us about your camping experiences and lifestyle over the years. Did you go tent camping or RVing when you were growing up?
Jodie: Growing up, Chuck went tent camping with the Boy Scouts and I did cabin camping with youth organizations.
About twelve years ago, we talked about camping and decided to rent an A-frame trailer for a week for a trial run. We parked it in our backyard for the first three nights and then ventured to the closest campground for the next three nights.  This trial run pointed out features we focused on when we bought our first trailer.
Over the next four years we purchased newer trailers and fifth wheels, each one a bit bigger than the last.  With a job 200 miles from our house, I was using the trailers for about five months a year.  I'd return home to check the mail or mow the lawn.
Chuck's job had him overseas for three to four months at a time.  During this time, we discussed early retirement, selling the house, and living in the RV.
In February of 2011, we bit the bullet and put our home in Maine on the market.  Two months later we moved into our fifth wheel.  Our plan was that Chuck would drive the pickup and tow the fifth wheel while I would drive the SUV and tow a utility trailer with all our toys (bikes, kayaks, motorcycles).
This initially worked well as we stayed stationary for the summer.  However, as we moved south for our first snowbird season, we quickly realized that taking everything all the time was not going to work.  Fortunately our winter campground provides storage during the summer if we have a reservation for the next season so now we leave the toys behind until we return.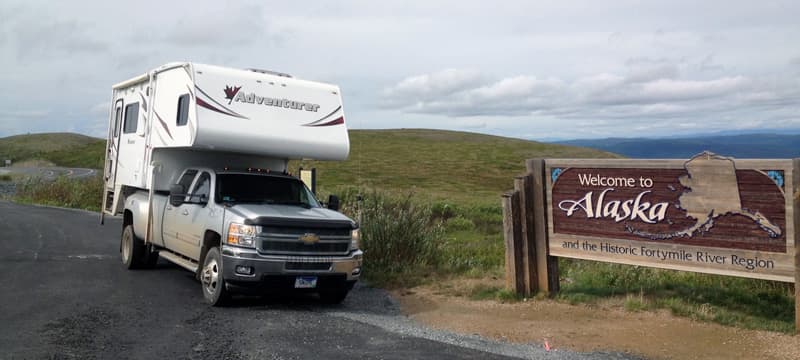 Above: Kusklana Bridge, McCarthy Highway, Alaska
TCM: So what brought about your interest in truck campers?
Jodie: We wanted to go to Alaska.  We talked about concerns of taking our fifth wheel over the Yukon and Alaskan roads, and the possible structural issues after such an arduous journey.