Full-timers Chuck and Jodie Ramsey snowbird six-months in Florida in their fifth wheel, and then take off to explore America in their Adventurer 116DS truck camper.  Full-time RVers, half-time truck campers, and totally, wildly free.

How would your truck camping lifestyle change if you didn't have a home to return to?  No worries about getting back to mow the lawn, or get your taxes done.  No concerns about the heating system failing in February, or rodents gnawing into the garage in August.  Just you and the road, with anywhere to go, whenever you please.
To put this idea into full resolution, imagine preparing your house for sale, purging most of your belongings, and then selling your house.  Once the papers are signed, you get up from the closing table, pickup your keys, and walk out to your truck camper rig.  In it is everything you own, minus a few boxes in storage.  You are now totally, and wildly free.
As you read the above paragraphs, were you horrified, or excited beyond belief?  Does the idea of not being tied to a house and home and all of your belongings liberate your spirits, or shake you to the core?  For most of us, the reaction is likely mixed.
Chuck and Jodie Ramsey made the full-time leap in 2011.  They started out in a fifth wheel, and then discovered truck camping.  Today they can be found in Florida for the colder half of the year, and then just about anywhere on the American continent during the warmer months.  They take full advantage of their full-time freedom, and have discovered an incredible lifestyle for themselves.
What follows is the story of why they did it, and how.  They also share what their experience has been like, and offer tips to anyone who might want to follow similar tire tracks.  By the final paragraph, you may find yourself wondering just what your house is worth, and how much stuff you really need.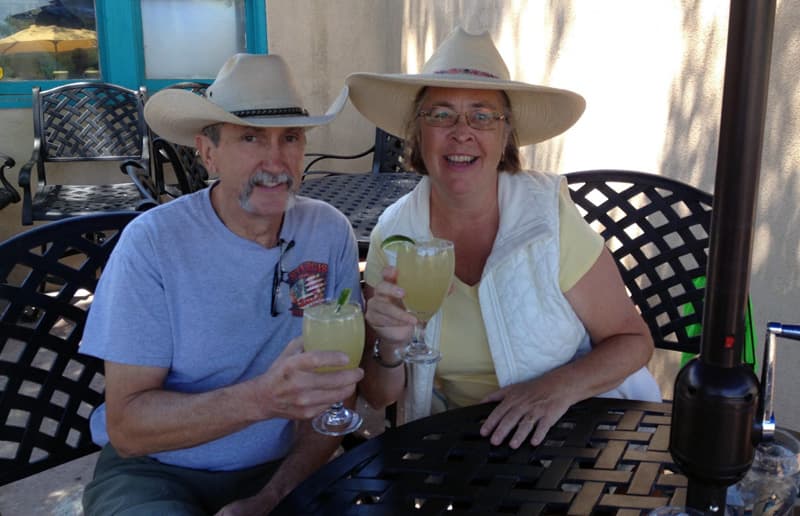 Above: Chuck and Jodie in Albuquerque, New Mexico
TCM: Tell us about your camping experiences and lifestyle over the years. Did you go tent camping or RVing when you were growing up?
Jodie: Growing up, Chuck went tent camping with the Boy Scouts and I did cabin camping with youth organizations.
About twelve years ago, we talked about camping and decided to rent an A-frame trailer for a week for a trial run. We parked it in our backyard for the first three nights and then ventured to the closest campground for the next three nights.  This trial run pointed out features we focused on when we bought our first trailer.
Over the next four years we purchased newer trailers and fifth wheels, each one a bit bigger than the last.  With a job 200 miles from our house, I was using the trailers for about five months a year.  I'd return home to check the mail or mow the lawn.
Chuck's job had him overseas for three to four months at a time.  During this time, we discussed early retirement, selling the house, and living in the RV.
In February of 2011, we bit the bullet and put our home in Maine on the market.  Two months later we moved into our fifth wheel.  Our plan was that Chuck would drive the pickup and tow the fifth wheel while I would drive the SUV and tow a utility trailer with all our toys (bikes, kayaks, motorcycles).
This initially worked well as we stayed stationary for the summer.  However, as we moved south for our first snowbird season, we quickly realized that taking everything all the time was not going to work.  Fortunately our winter campground provides storage during the summer if we have a reservation for the next season so now we leave the toys behind until we return.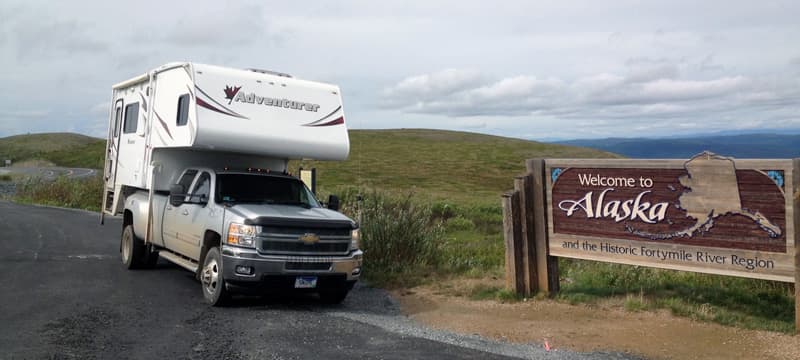 Above: Kusklana Bridge, McCarthy Highway, Alaska
TCM: So what brought about your interest in truck campers?
Jodie: We wanted to go to Alaska.  We talked about concerns of taking our fifth wheel over the Yukon and Alaskan roads, and the possible structural issues after such an arduous journey.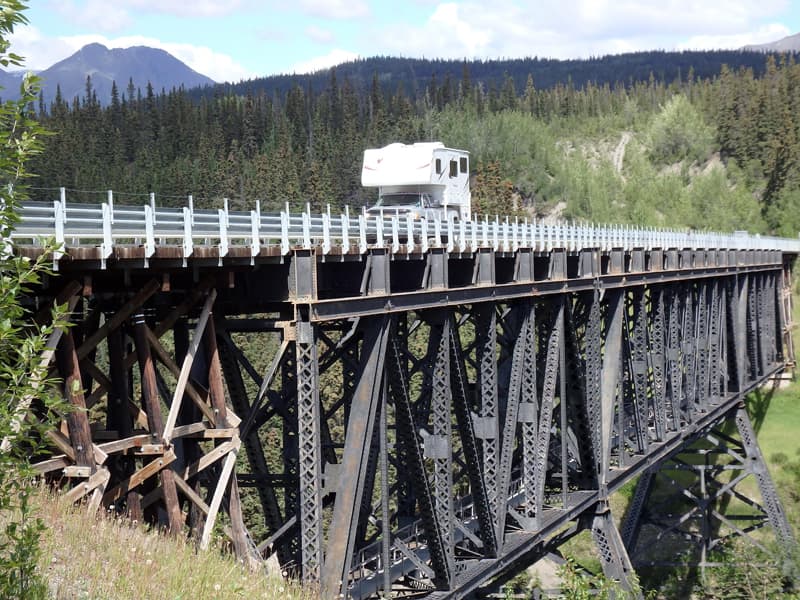 Above: Kusklana Bridge, McCarthy Highway, Alaska
As we prepared for a journey to Alaska, we spent a summer work camping in New Hampshire.  On our off days, we'd visit RV dealers looking at smaller trailers and Class Cs, none of which wowed us.
Then we visited Truck Camper Warehouse and looked at truck campers.  A truck camper immediately made sense for our Alaska trip.  We returned to Truck Camper Warehouse several times trying to decide on what features we really needed and wanted versus what was available.  After returning to Florida for the winter, we decided on the unit we wanted to purchase and headed back to New Hampshire to pick it up.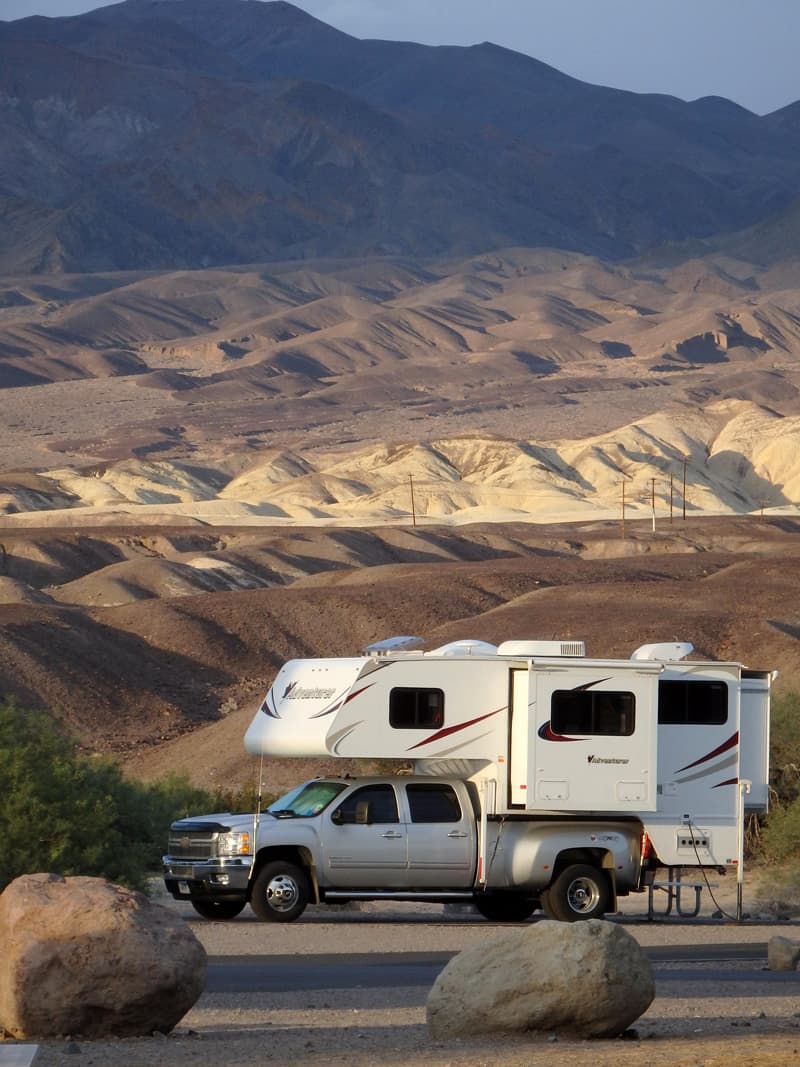 Above: Their Adventurer 116DS camper in Death Valley National Park, California
TCM: After all your research, what made you decide on an Adventurer 116DS?
Jodie: There were three things that swayed us to purchase the Adventurer 116DS; the recliners, the wet bath height (Chuck's over 6-feet tall), and I loved the kitchen layout.
Other features that were also part of our decision were the light interior color and the large windows that brought in lots of natural light.  Knowing we were going to be in the truck camper for five months, we wanted plenty of room to move about, and lots of storage space for supplies.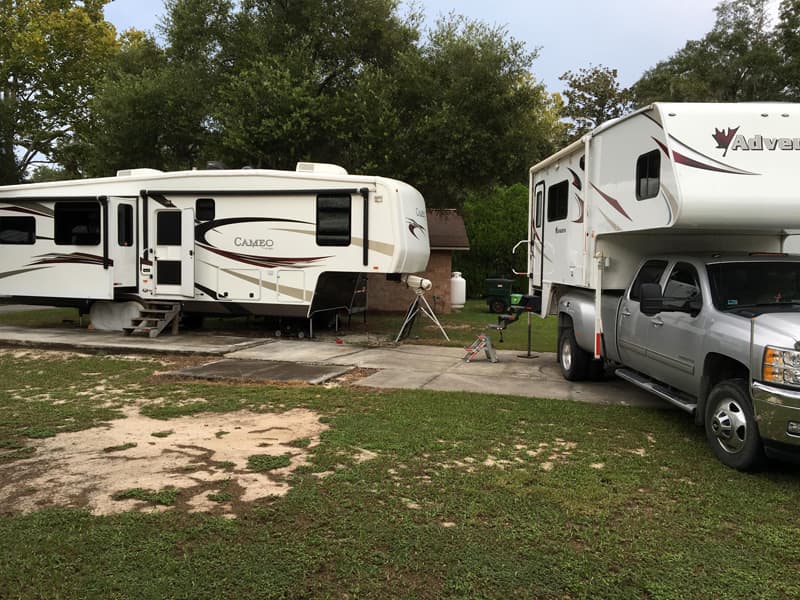 Above: Chuck and Jodie are full time RVers; traveling in the fifth wheel or truck camper
TCM: How was it going from living in your house to moving into a RV full-time?
Jodie: We changed our terminology.  Our fifth wheel is our house.  We thought of our furniture and knick knacks as stuff to break our emotional ties to it.  This is grandmother's victrola, how do I give that up?  We had to readjust our mindset.
Chuck: It's just stuff, so it's not a big deal.  I had tools.  I used to do work on cars, but haven't for a long time.  I just kept the tools I needed and put the rest up for sale.
We sold the house and everything in it.  We have a dozen plastic boxes with LP records and pictures, and stuff we couldn't bring ourselves to get rid of.  It has been at my dad's house and we haven't looked at those boxes in six years.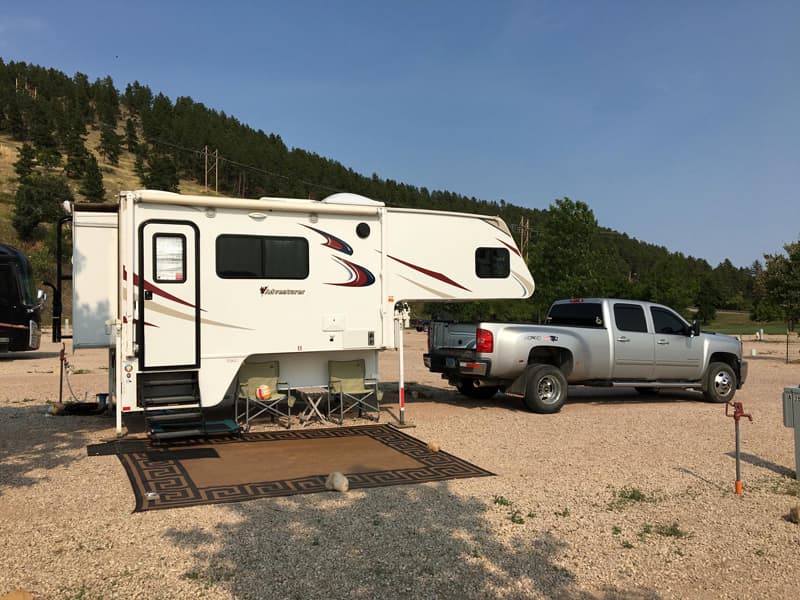 Above: As full-time RVers, Chuck and Jodie are South Dakota residents, Sturgis, South Dakota
TCM: We hear that lesson about stuff from so many folks who go full-time.  You now have a South Dakota address.  Why South Dakota?
Chuck: While researching full-timing six years ago it seemed some states require you to bring your vehicle to the state for inspection.  We also understood you needed to spend a certain amount of time in those states to prove residency.
With South Dakota, we can fly in, stay overnight at a campground or hotel, get a receipt with our name on it, go to the DMV, get our drivers license, and we are residents.  All you need is an address.  I set up the mail forwarding service through the My Dakota Address service prior to going out there.  After that, it was simple.
Jodie: Looking at the areas we travel throughout the United States and Canada, our annual circuit looks a giant wheel.  The center of that wheel is South Dakota.  If we have to get back to a state, South Dakota is relatively convenient.
Chuck: There is no state income tax in South Dakota, which is a huge bonus.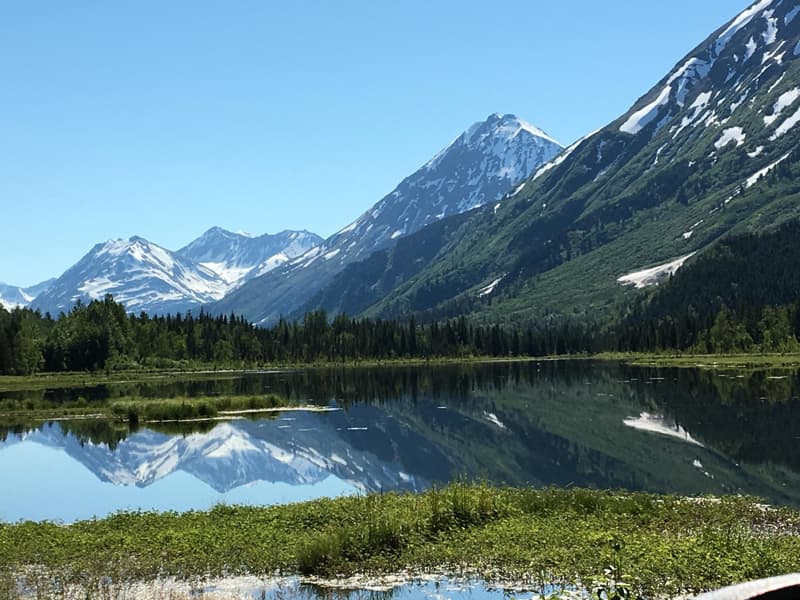 Above: Tern Lake at the junction of Sterling and Steward Highways, Kenai Peninsula, Alaska
TCM: Being on the road full-time is very different than going on a two week truck camping vacation.  How is your traveling different now that you're full-time?
Chuck: Typically we drive about 250 miles a day, find a place to camp, and then decide which direction to go.  Since there are no time constraints and no home we have to get back to, there is no need for a set plan.  In general, we try to stay off the interstates and instead drive the roads that parallel the interstates.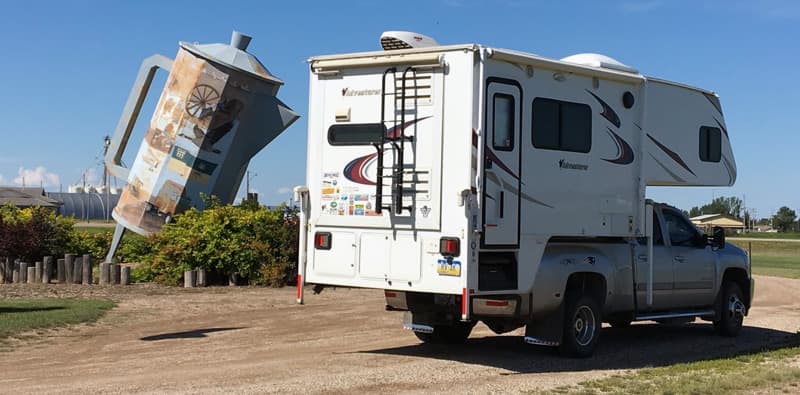 Above: Coffee Pot Hwy 11, Davidson, Saskatchewan
Jodie: Because we're taking the roads less traveled, we came across places like the biggest coffee pot and the largest frying pan.
The truck camper has made traveling easier than traveling with the fifth wheel.  That's especially true in the national parks.  Good luck getting into the national parks during high season with a 35-foot fifth wheel and no reservation.
Campgrounds seem to always have spot for smaller vehicles, so it's easy to show up when we get there.  We call ahead that day and ask what's available.  We like that we can be more flexible.  With our truck camper we are also more likely to dry camp in a shopping plaza or off the beaten path.
Truck camping is a fun lifestyle if you have the right mindset to do it.  Some people need everything planned out and go campground to campground.  That's not us.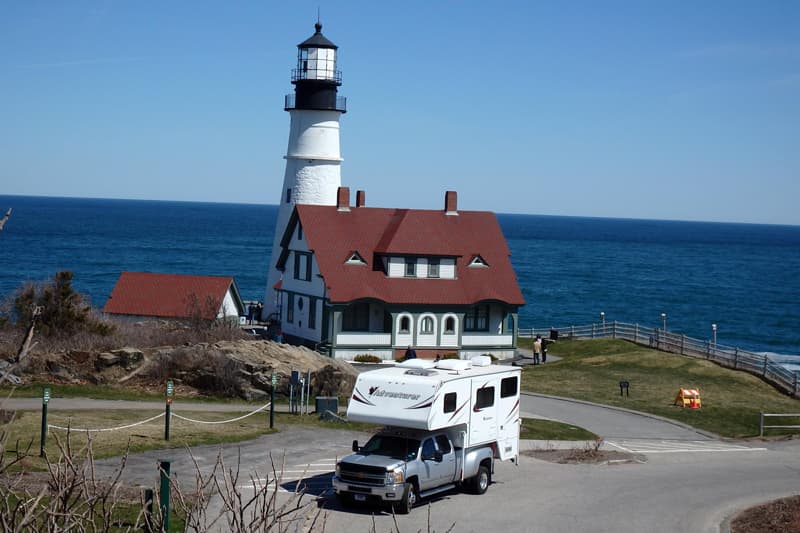 Above: Portland Head Lighthouse, Cape Elizabeth, Maine
TCM: Have you modified your truck or camper to better suit your full-time needs?
Chuck: We travel in excess of 20,000 miles a summer and our truck's standard 36-gallon fuel tank capacity dictated that we stop daily to refuel.  We replaced it with a Titan 62-gallon fuel tank.  This also helped with our concerns about finding fuel stations across Canada and Alaska.  They can be few and far between.
We also travel with a Cobra 25LTD CB and Wilson Trucker Antenna in the truck.  We listen to truckers as we travel, getting information about slow downs, issues along the road, and alternate routes.  When we were on the Dalton Highway, we used the CB to advise truckers of our location.  That helped all of us as we could climb hills faster, but they had faster downhill speeds.
On our front bumper we have attached Bores Manufacturing Bumper Guides and have them wired into our lights.  They are two stainless steel bars that bolt on the bumper, and come up above the hood.  There are LED lights on them so that you know where the front end of your vehicle is located.  Plus, they look cool.
Finally, we removed the rear seat in the truck to accommodate tools, chairs, and items that we want access to whether we have the camper on the truck or not.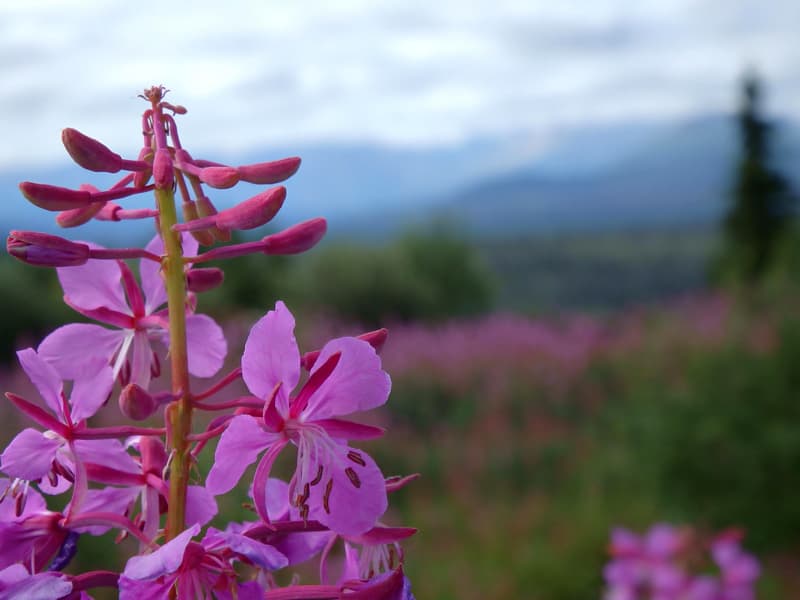 Above: Fireweed along the Haines Highway in British Columbia
TCM: What do you enjoy doing while truck camping?
Jodie: Besides the chance to travel the road less taken, we enjoy exploring national and state parks, visiting with family, and just enjoying the beauty of North America.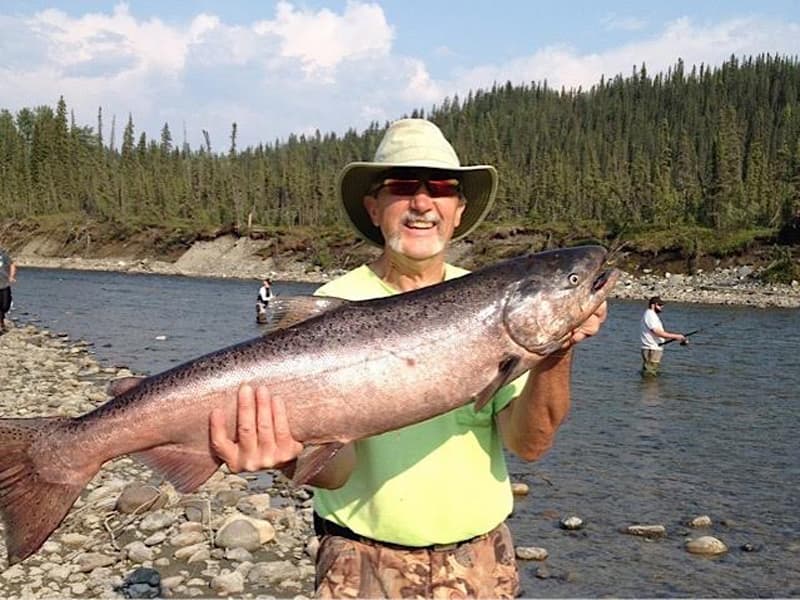 Chuck got hooked on fishing after he landed a beautiful King Salmon in Alaska.  I am a hobby photographer and use an Olympus Stylus SP-100EE digital camera to capture my images.  Birds, flowers and sunsets are among my favorite topics.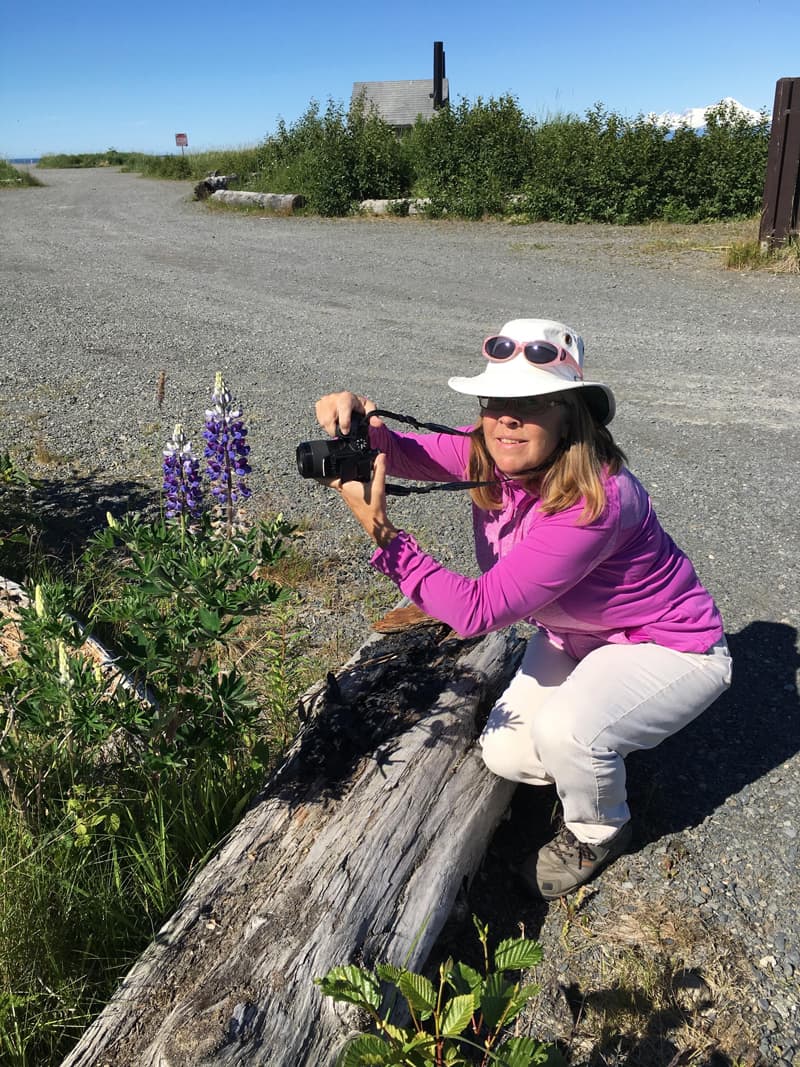 When I learned about TCM's Calendar Contest I started taking photos of our rig.  We are honored that the readership has voted us a winner both years we've entered the contest.
On several occasions we have joined forces with Habitat for Humanity's Care-A-Vanner program, spending two weeks each time working with a local affiliate building new homes.
TCM: Tell me a little bit about Habitat for Humanity's Care-A-Vanner program.  How did you get involved?
Jodie: Before we sold our home, our church did a mission trip where we worked for a week refurbishing homes.  When we went to being full-time on the road, I wanted to do volunteer experiences along the way.
With an internet search I found Care-A-Vanners.  On their website they list different builds in the USA and Canada.  Go to habitat.org, and put RV into the search bar.  That pulls up the RV Care-A-Vanners.  Go to "Find A Build".  You'll see that there are lots of choices out there.  I'll start looking in January and February for the summer.
I get a monthly email with the the builds coming up.  Right now they have builds as far out as December 2017.  So, you have lots of builds to review.  Signing up for a build may be the only reservation or commitment we have for the six months we are traveling during the summer.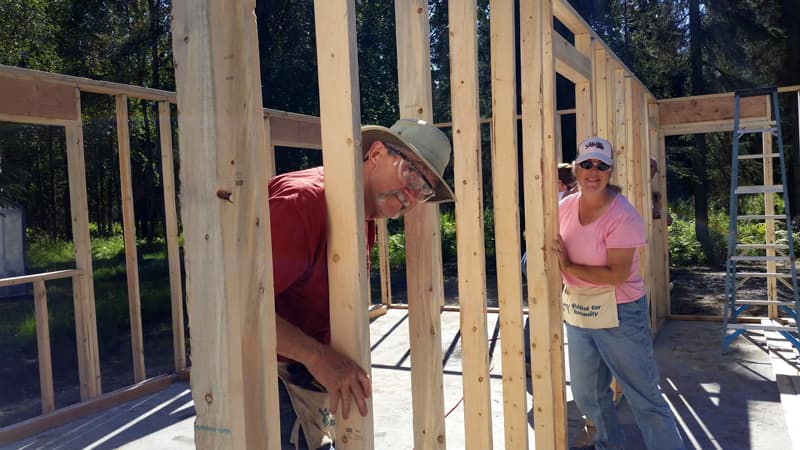 Above: Habitat for Humanity, Care-A-Vanners, Kenai, Alaska
TCM: Do they provide accommodations?
Jodie: They are looking for self-contained rigs.  The local Habitat affiliate makes arrangements for free or discounted camping with minimal services.  You might get water or electric and maybe a sewer pump out once a week.  You might be at a nearby campground and have to commute.  Each affiliate has different set-up.
The habitat in Alaska was $30 a night and we were in a campground, but the regular campers were paying $80.  That was on the Kenai Peninsula.
TCM: What kinds of things are you doing for these volunteer projects?
Jodie: We have been on three builds where the lot has been cleared and the foundation has been poured.  We worked on the exterior siding and framing out the interior walls.  The roof trusses were up when we were finished.  Other Care-A-Vanners might be doing interior construction; putting up dry wall and finish work.
Chuck: You don't have to know anything when you go.  They will teach you anything they want you to do.
Jodie: There is a local contractor who oversees the project and there is a team leader who does safety instruction.  The leader tells you what you're going to do for the day and teaches you what to do.
Chuck: Each experience we've had has been different.
Jodie: Since we no longer own a home, this was a reminder of the maintenance required for a stick and brick home.  We also get to use nail guns and saws by building a house for someone else.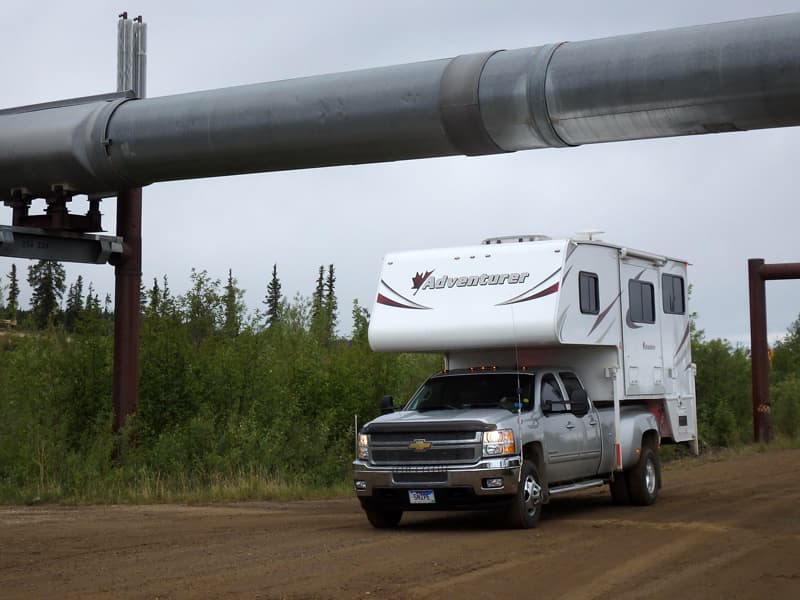 Above: Alaska pipeline at Yukon River Crossing, Dalton Highway, Alaska
TCM: Where have you been with your truck camper so far?
Jodie: We have traveled from Florida across the southern United States to the west coast.  We've been up to Canada and Alaska, back to the northwest United States, across the northern states to New England and the Canadian Maritimes, down to the US Gulf, and back to Florida.  We've even been through the solar system.  Every place we've been, we've enjoyed.
TCM: Through the solar system?
Jodie: Have you ever driven Route 1 in Maine?  I had read about driving the solar system in Yankee magazine.  Maine has a solar system model and the scale is 1 to 93 million.  It is the largest 3D model of the solar system in the world.
In Houlton, Maine, on I-95, there is a visitor's center.  There is a plaque with a 1 inch wooden ball that represents Neptune.  We sent you a picture with Saturn.
Chuck: All the planets are to scale and the distances apart are to scale.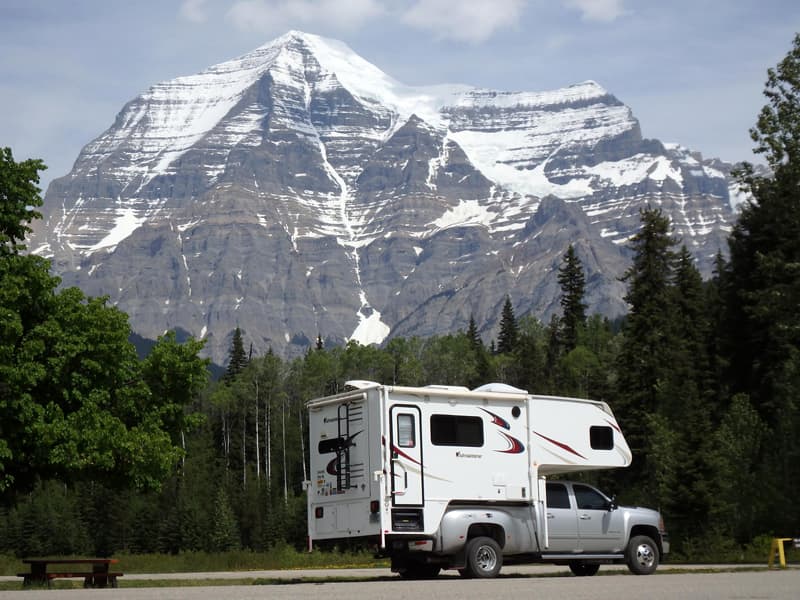 Above: Mount Robson, Highway 16, British Columbia
TCM: That sounds out of this world, literally.  Being that you're full-timers and can go any place at any time, do you have a bucket list?
Jodie: Chuck wants to go skydiving with the Flying Elvis's in Vegas.  I don't know if they will actually take people with them or not, but he's joked about it.  My dream was to find Jodie, the town.  We like to go to towns that share our names.
Chuck: A balloon ride in Albuquerque would be fun.
Jodie: We have a map on the side of camper with states and provinces we've visited.  We don't fill in a state until we spend a night in the camper.  We still need three US states; Kentucky, Missouri, and Hawaii.  Until they build a bridge, Hawaii will be empty.  In Canada we need to visit Newfoundland/Labrador and the Northwest Territories.
This year we are going up the East Coast and visiting the Maritime provinces of Labrador and Newfoundland.  We know that's our end destination.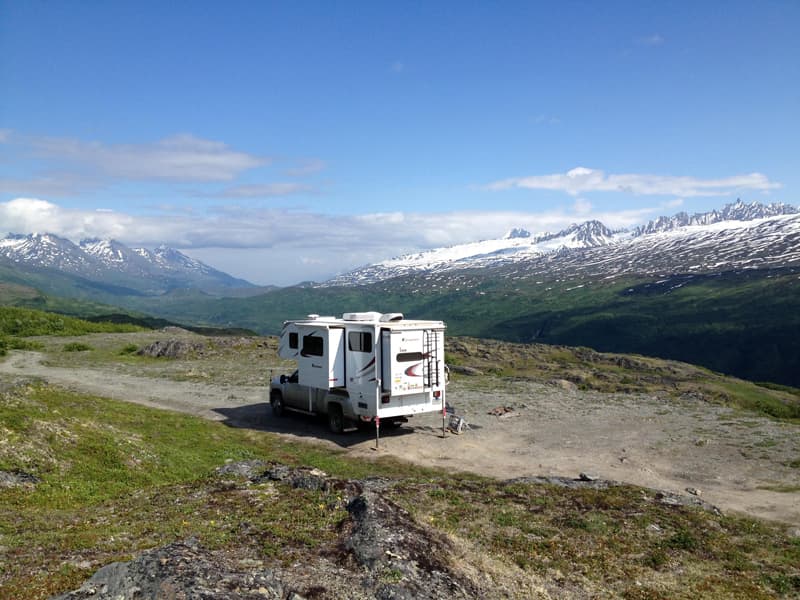 Above: Thompson Pass, Richardson Highway outside Valdez, Alaska
TCM: It's amazing that you've been to all those states in your truck camper in just three years.  You must be on the go all the time.
Jodie: During the first six months we owned our truck camper, we traveled 21,000 miles.    That's still the longest trip we have done.  Prior to that, we had not been to the west coast, so that explains some of the distance.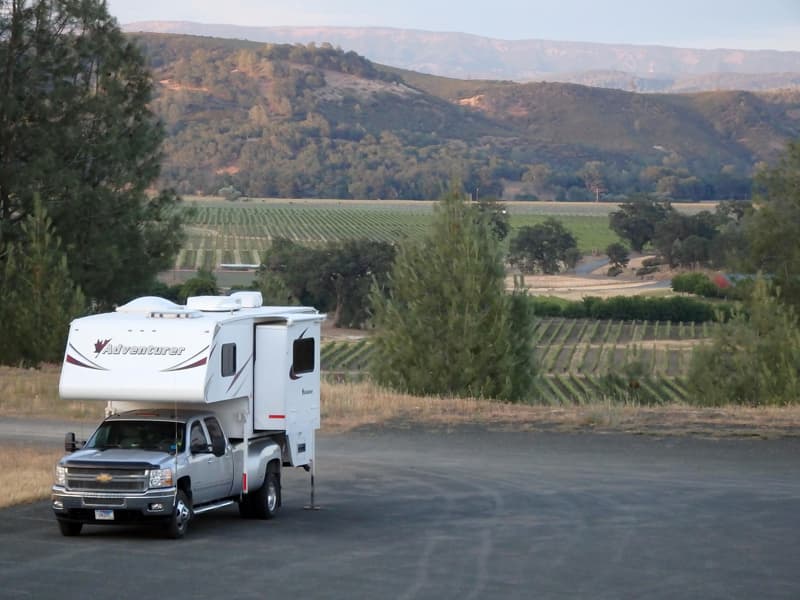 Above: Harvest Hosts camping in California
TCM: Being on the road constantly, how do you find good places to camp, especially during peak season?
Chuck: We've used Harvest Hosts close to a dozen times.  That's how we were able to go to some of the New England states during peak season.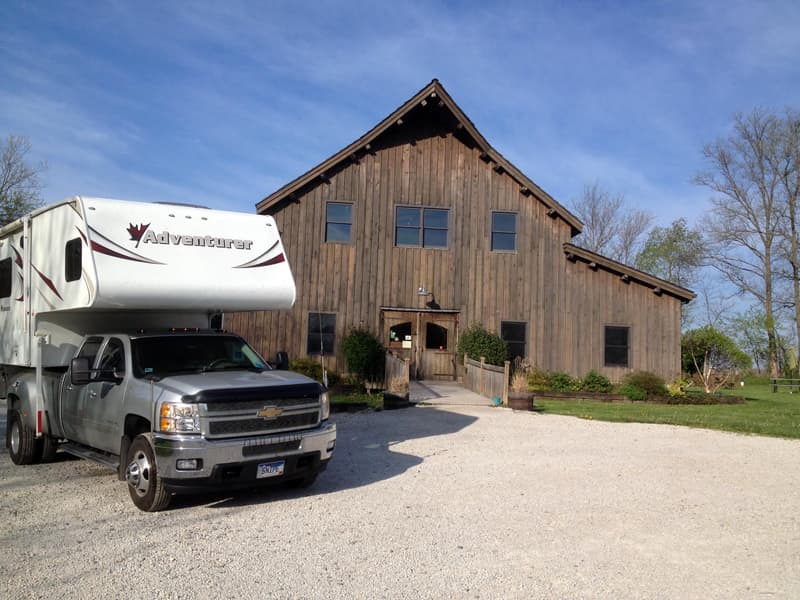 Above: Harvest Host Winery in Illinois
We have family on the east coast, so we go back once a year to see our parents, children, grandchildren, and cousins.  We also use Passport America and the Casino campground website; casinocampgrounds.com.
Jodie: If you stay at the casinos, you can go to the buffet if you don't want to gamble.  That website is nice because people write about their experience staying at the different casino parking lots.
We don't camp in the major national parks during peak season.  For example, Acadia National Park in Maine during July, August, and September is so hard to get into.  We will stay inland, like near Trenton and travel in for the day.
In Yellowstone National Park we stayed out about twenty miles from the gate.  In Denali National Park, we didn't stay in the park either.  We would just go in for the day.  In the peak season, we stay farther away from the main tourist attractions.
We also stay at Walmart, Cracker Barrel, and Cabelas.  On the Cabela's website it will tell you if they have a dump station.  Boondockers Welcome is another option.
TCM: One problem we have experienced while long-term truck camping is avoiding the summer heat.  Where do you go in the summer?
Jodie: We stay north with the truck camper.  One issue is that you have sunlight through the night that far north.  You're only getting a few hours of dark.
We also stay close to the coast so that we get sea breezes.  We have an air conditioner and a generator if needed.  We can run the air conditioner to keep our dog cool.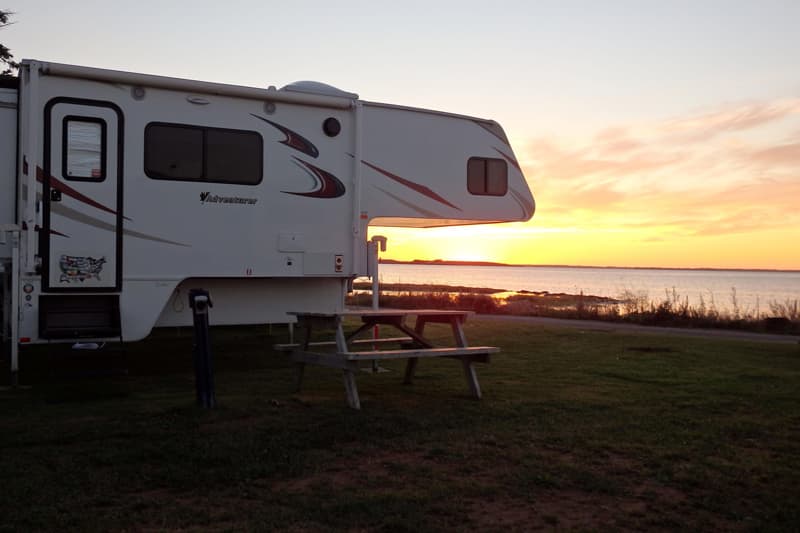 Above: Camper off truck, Malpaque Bay, Prince Edward Island
TCM: I see that you have your camper off your truck in a few pictures.  Do unload your camper often?
Chuck: If we are going to be three to four days or more in a spot, unloading the camper allows us to wander off and sightsee without the camper.  In Alaska we stayed at places two to three weeks.
Jodie: With narrow roads and low bridges, especially in New England, it's easier without the camper.
Chuck: The side entry on the DS116 is quite high when the camper is on the truck.  With the camper off the truck, you just need the four steps to get in and out.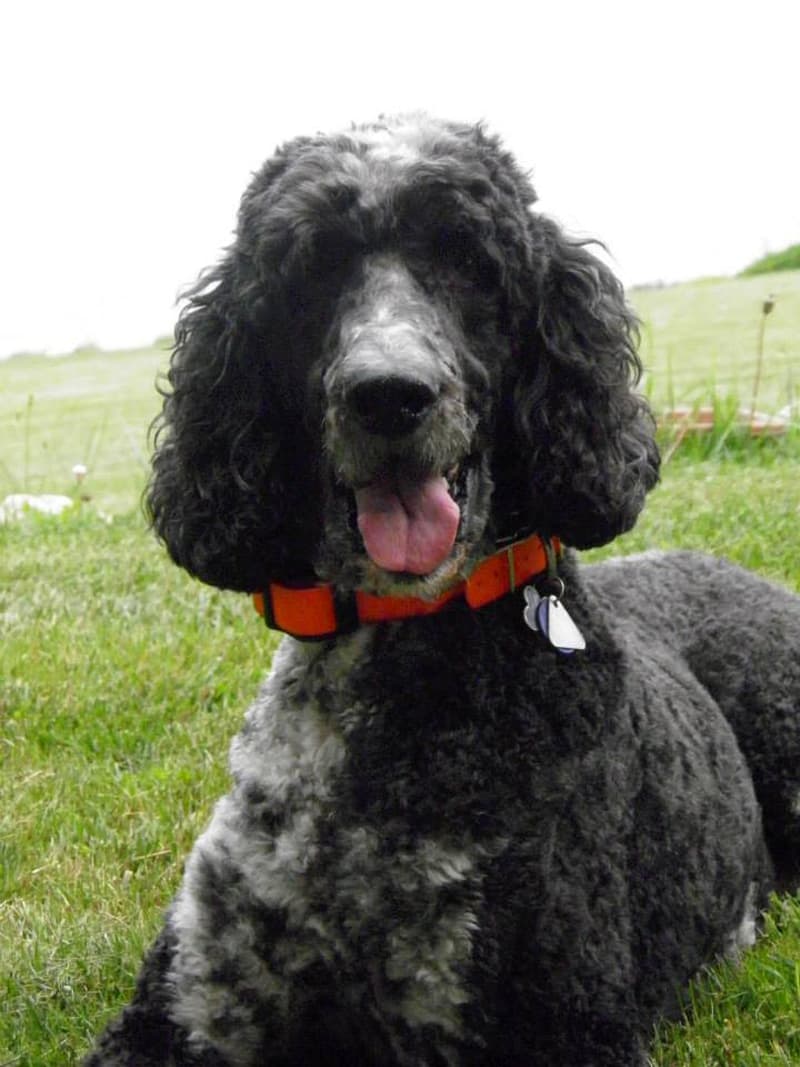 Above: Rugby, their Standard Poodle
TCM: Tell us about traveling with your Standard Poodle, Rugby.
Jodie: Rugby has been camping with us since we got him as a pup.  When we're in our fifth wheel, Rugby uses a crate to lie down.  Since there's no room for a crate in a truck camper, we thought we'd have him use the area under the table for his space.
Unfortunately, when we wanted to sit at the dinette, there wasn't enough room for Rugby and our legs.  Rugby solved that problem.  The first time it happened, he came out from under the table, looked at us, and then climbed into one of the two recliners.  Needless to say, Rugby now uses a recliner more than we do.
We did encounter an issue with Rugby while traveling this past year.  He caught a toenail in the drain hole on the camper's steps.   We ended up spending a week near Jasper National Park while a local vet attended to Rugby's injury.  We also made sure we put carpet pads on the stairs so we wouldn't have a repeat of that type of injury.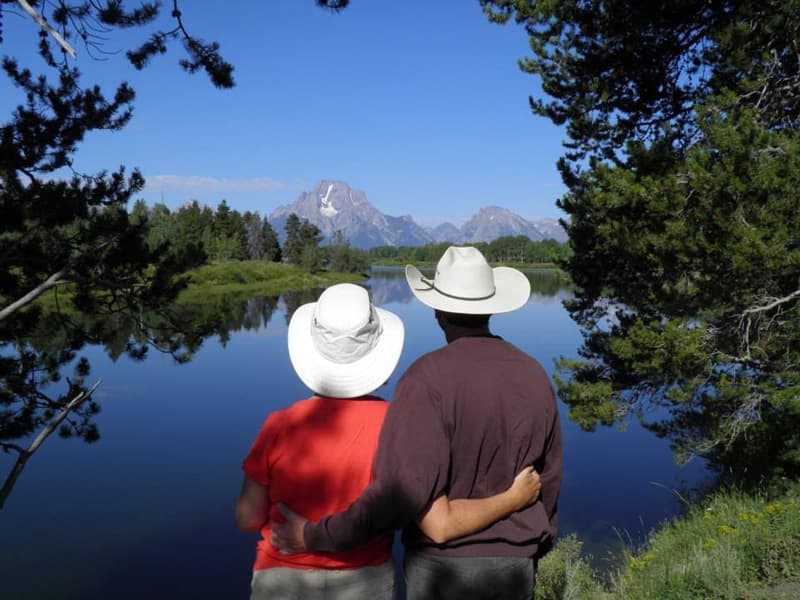 Above: Oxbow Bend, Snake River, Grand Tetons National Park, Wyoming
TCM: Poor Rugby!  And a good tip for fellow dog owners to use carpet pads on their steps.  Do you plan to go back to a house one day?
Chuck: We've talked about it from time to time.  I've said to Jodie, "If I die, what would you do?". Jodie told me that she would travel with the truck camper and have a park model somewhere.
Jodie: While we are blessed with good health, the fifth wheel and truck camper will stay in the picture.  We realize there will be a day when our lifestyle will need to change, but I don't see us rushing out to get a stick and brick house.
When we first bought the truck camper, our thinking was that we'd use it for the Alaska trip, and then sell it when we got back to the Lower 48.  Now we split our time between our two campers, the fifth wheel being our snowbird nest in Florida for half the year, and the truck camper for travel the other half.
Truck camping has been a great experience.  I wish we had known about truck camping and how much fun it can be earlier in our RVing life.
Chuck and Jodie's Rig
Truck: 2012 Chevy Silverado 3500, Crew Cab, 4×4, Diesel, Dual Rear Wheel, Long Bed
Camper: 2014 Adventurer 116DS
Tie-Downs/Turnbuckles: Torklift Fastguns
Suspension: Torklift StableLoads, Firestone Airbags
Gear: N/A