With their Northstar Camper, Travis and Angie Zbornik tow a roll-caged Chevy Pre-Runner to tackle the most dangerous off-road races in North America.  When they're not tempting fate, they have a box full of adventure toys to keep boredom at bay.  Meet Travis, Angie, and Truckee McTruckface.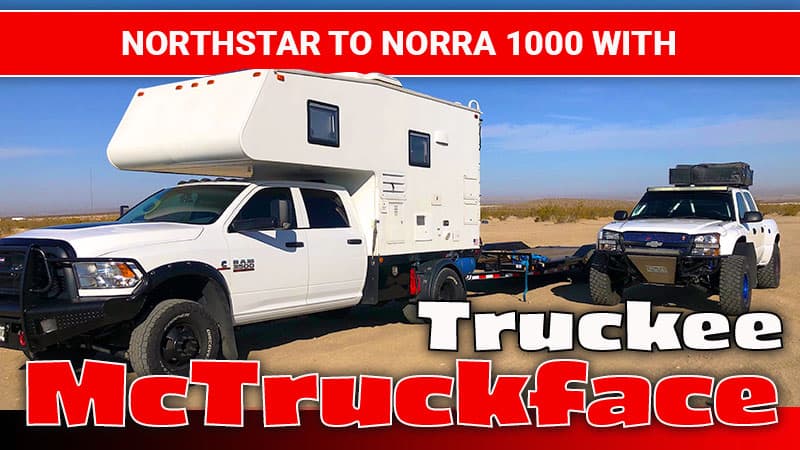 Travis and Angie Zbornik raced over 1,000 off-road miles in Mexico – through punishing terrain, blinding dust, and intense heat – for the notoriously dangerous NORRA 1000.  When we say dangerous, we mean people literally die every year.  Angie calls the more precarious spots, "Death Falls".
Travis and Angie's basecamp of choice is a full-size, flatbed Northstar 900 Escape Pod.  Along with a Ram 3500, they use their rig for off-road races in Mexico and the United States, and to tow their radically re-built Chevy Pre-Runner truck.  If there's anyone who doubts that we have a couple of fun-loving thrill-seeking adventurous characters in our midst, I offer the name of their pre-runner; Truckee McTruckface.
When they're not pushing the limits North or South of the border, Travis, and Angie have a treasure box of adventure toys they tow.  Inside can be a Willy's-Jeep (they have at least two), off-road motorcycles from BMW, Husqvarna, or KTM, and, naturally, a couple of kayaks and/or paddleboards.  I don't think these two get bored often.
For the whole dust-eating, bone-rattling, driving off-road like a bat out of bananas story, we talked to Travis and Angie Zbornik.  Have a seat, strap on your five-point harness, put on your helmet, and hang on.  Death falls ahead!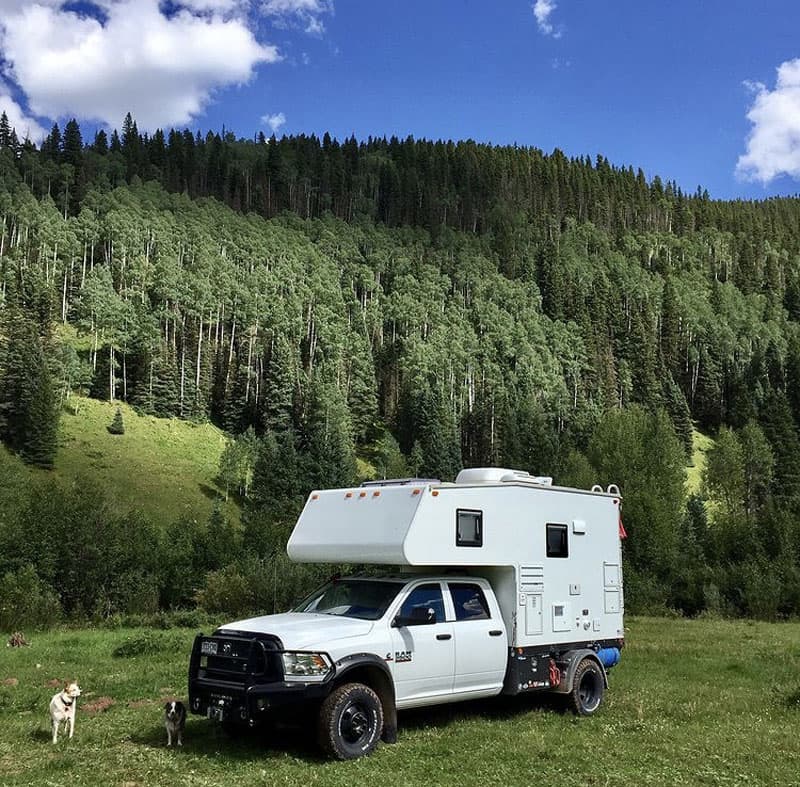 Above: Camping in Weminuche Forest, Colorado
Tell us the story of how you were first introduced to truck campers.
Angie: We needed a versatile rig for traveling to Alaska and back.  In 2006, we bought a Bigfoot truck camper and used it on a truck as well as a gooseneck.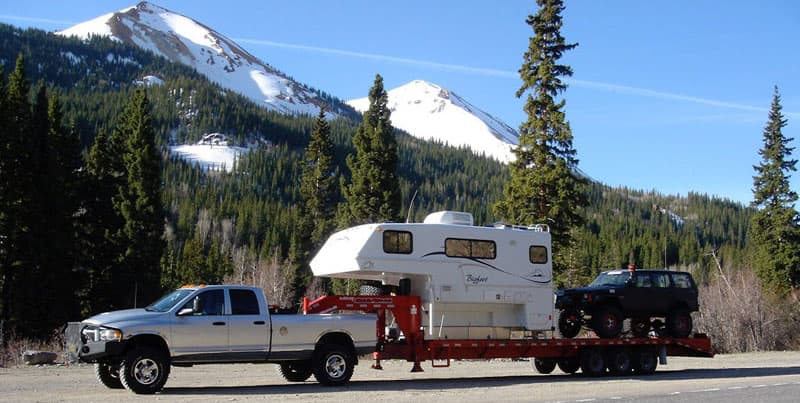 The Bigfoot was great.  We lived in it for three-and-a-half years while we were building our house in Colorado.  Eventually, our needs changed and we sold the Bigfoot to friends of ours.
After selling our Bigfoot, we tried a toy hauler and a Class A motorhome, but we missed the flexibility and ease of adventure a truck camper provides.  That's when we started searching for a new camper to match our lifestyle.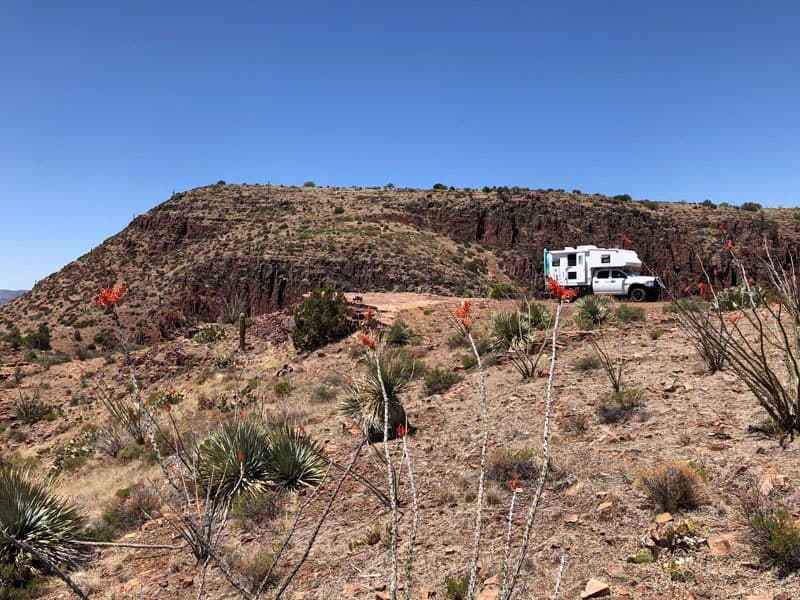 Above: Heading south to Roosevelt Lake
Travis: During that time we ran into Rex Willett at an RV show.  He teased me about not owning a Northstar.  I later found out he was the owner of R.C. Willett Company, aka Northstar Campers.
Later, I researched Northstar and discovered their Escape Pod model.  I was immediately interested in its flatbed floor plan and design, European thermal pane windows, cassette toilet system, and relatively low weight.
Angie: After reading many Truck Camper Magazine articles, we contacted Rex at Northstar with a few more questions.  From talking with Rex, we knew the Northstar Escape Pod was the perfect camper for us.  The side door entry, the rear galley, the queen size bed, the considerable storage, and the overall open and roomy design was what we were looking for.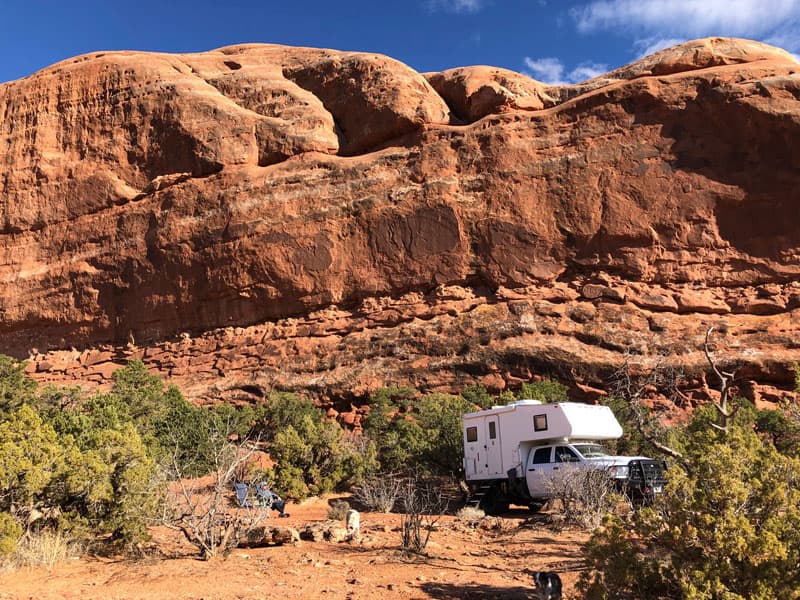 Above: Moab, Utah near Behind The Rocks
We camped in a Northstar Escape Pod in 2011 and were impressed with its design and interior space.  Did you have your Ram 3500 converted to a flatbed?
Travis: The Ram pickup we had with the Bigfoot kept breaking down.  At one point, my wife said, "It would be nice to go on vacation, and not to the Ram dealership."
We already had another Ram truck, but it had a lot of options and we thought it was too fancy for camping.  We traded in that truck for the Ram 3500 flatbed we have now.
Angie: I negotiated with the dealer to get a Ram work truck fleet dually.  We ordered a 9-foot flatbed box and didn't install the headache rack.  The headache rack would have pushed the center of gravity back about 6-inches.
Travis: I put the storage boxes on the flatbed myself.  I originally couldn't figure out where to get fenders, so I fabricated fenders out of a galvanized tank for horses.  That solution lasted a long time.
I also widened the stance of the dual rear wheels by putting a wheel spacer between the dual rear wheels.  On a regular dually truck, the rims are often sandwiched close together.  There are spacers of different widths that you can put in between and then put the outside wheel back on.  The spacers make the rig even more stable.
"It's easier to get further out on forestry roads and trails with a 7-foot camper width.  We do a lot of backcountry travel with our truck camper to get to stellar spots."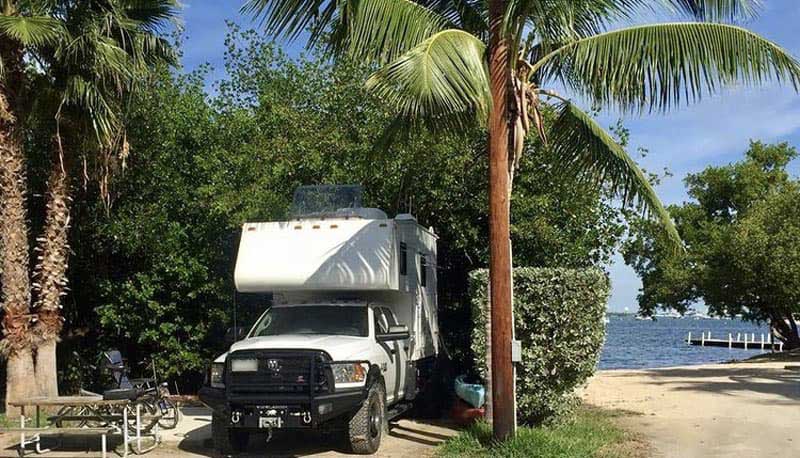 Above: Stock Island, Key West, Florida
Angie: The Northstar Escape Pod is 7-feet wide.  That slightly narrower width makes the truck and camper more streamlined.  It's easier to get further out on forestry roads and trails with a 7-foot camper width.  We do a lot of backcountry travel with our truck camper to get to stellar spots.
Travis: You can literally run without the mirrors extended because the camper is not as wide as a typical truck camper.  That helps with the stability of the truck and makes it narrower to fit through things.  It's worked quite well on the trails we like to drive on.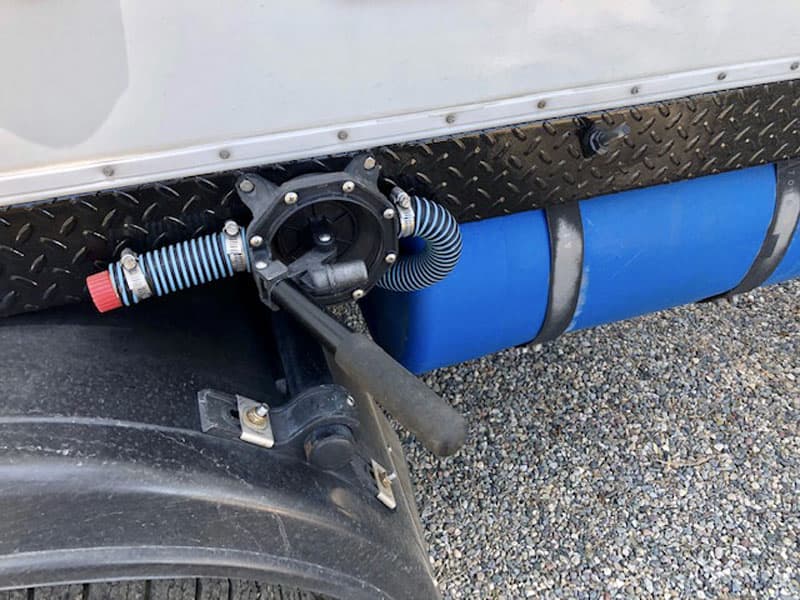 Other than the flatbed, did you make any truck modifications?
Travis: We made several modifications to the flatbed.  We added 17-gallons of extra water with a hand bilge pump for easy refill.  We now have 50-gallons of water between the camper and truck.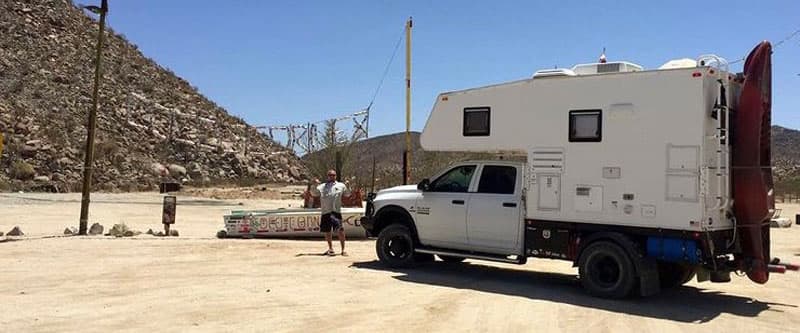 We have under-storage boxes for leveling blocks, charcoal, grill, tools, recycling (we have a can crusher on the side of the truck), a 2.5-gallon jerry can for gasoline and a 5-gallon jerry can for diesel.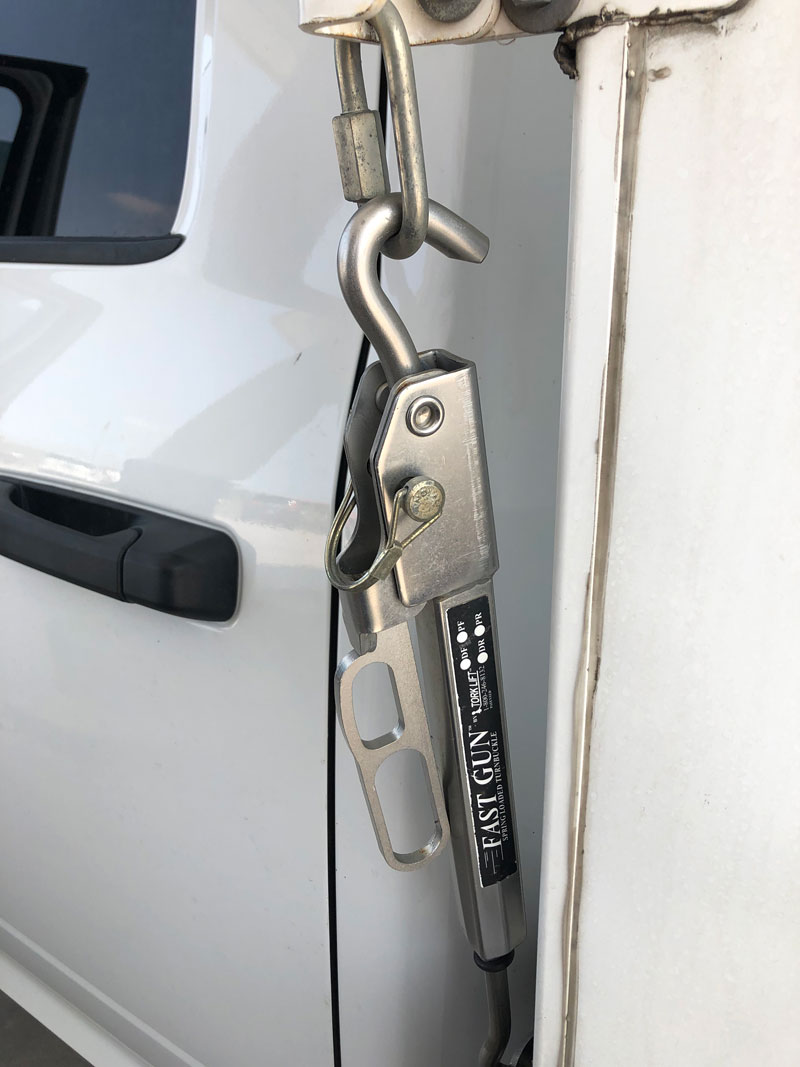 For tie-downs, I use a locking link which is basically a chain link that you can thread open and closed.  On those, I attach the Torklift Fastgun turnbuckles.
Angie: The Torklift Fastgun turnbuckles are an excellent product that has changed our lives.  The old-style turnbuckles would fail, so we'd have to carry extra sets.  They also loosened and let the camper move too much.  The Torklift Fastguns don't fail and don't allow the camper to move.
We also take the camper's jacks off because they get caught on things.  When we need to remove the camper, we have manual jacks and count cranks on each side.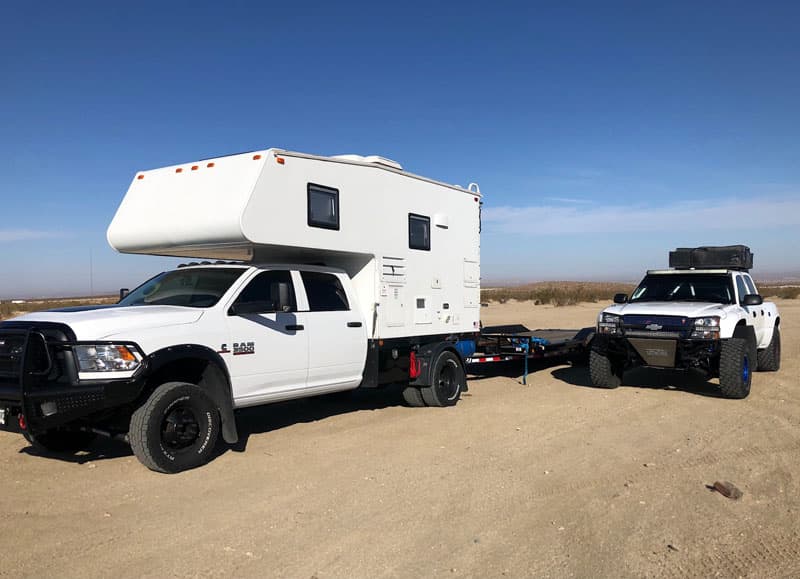 Above: Outside of Barstow, California during a suspension test for the Pre-Runner
Everyone is patiently waiting to hear about what you tow.
Angie: We tow an 18-foot PJ buggy trailer with a Chevy Prerunner that we call Truckee McTruckface.
Truckee McTruckface?  Where did that name come from?
Travis: That's the name of our truck.  I wasn't part of social media until my wife started an Instagram account.  That is our handle.
At the time we got our Prerunner, the kids in Australia were naming a research vessel  Boatee McBoatface.  Then, I laughed because Horsee McHorseface ran in the Kentucky derby.  So, I decided to name our truck Truckee McTruckface.  Now, because we go to Mexico to run the NORRA 1000 race, it's Senor Truckee McTruckface.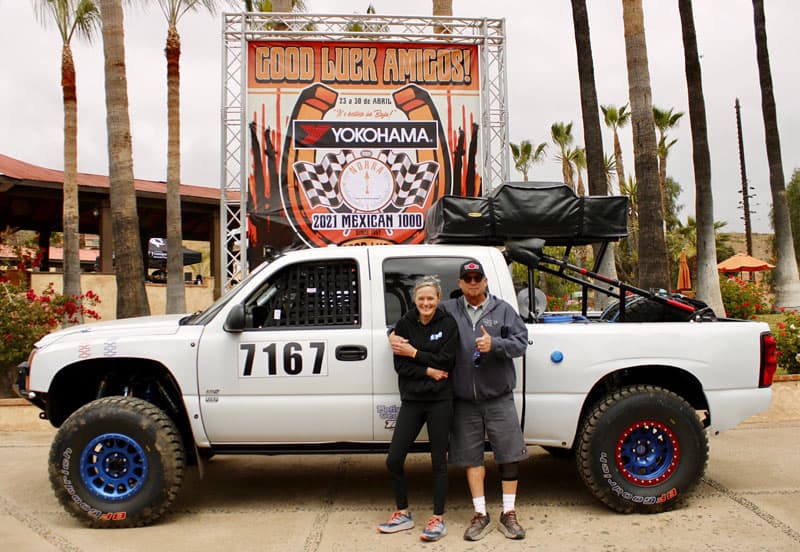 What is the NORRA 1000?
Travis: There are two different off-road races in Mexico; SCORE International (Southern California Off-Road Enthusiasts) and NORRA (National Off-Road Racing Association).
Angie: We have been pre-runners for the SCORE race and we've driven in the NORRA race with our own Chevy Pre-Runner.
What is a pre-runner?
Travis: The term "pre-runner" refers to both the truck and the person (or team) who drives an off-road racecourse before the race to scout the terrain, and then shares that information with the racers.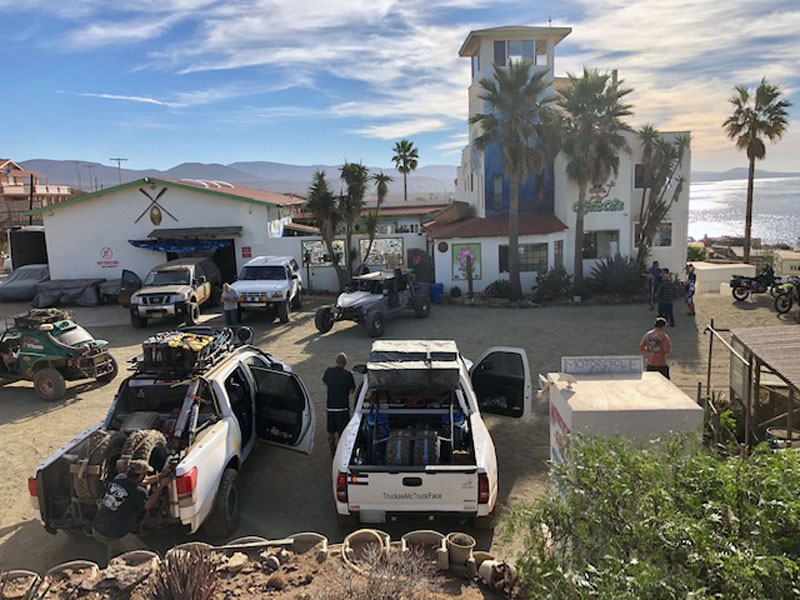 Above: The legendary Coyote Cals in Erendira, Baja while pre-running the SCORE 1000
So you and your truck are pre-runners for the SCORE race?
Travis: Yes.
And you actually race in the NORRA 1000?
Travis: Yes.  We race the NORRA 1000, with our Pre-Runner truck.
Okay, I think we got that straight.  Did you build your Chevy Pre-Runner?
Travis: Yes, I built it from the ground up.  There are quite a few guidelines for a Pre-Runner.  For example, the roll cage needs to be a certain diameter and have window nets.  It takes a while to build a truck for a race like the NORRA 1000.
I built a Chevy Pre-Runner because it can be hard to source Mopar parts in Mexico.  I have seven Jeeps and three Ram Cummins trucks, so we're basically a Mopar house.  If you have a Ram or Toyota in Mexico, if you're looking for parts, they can be hard to find.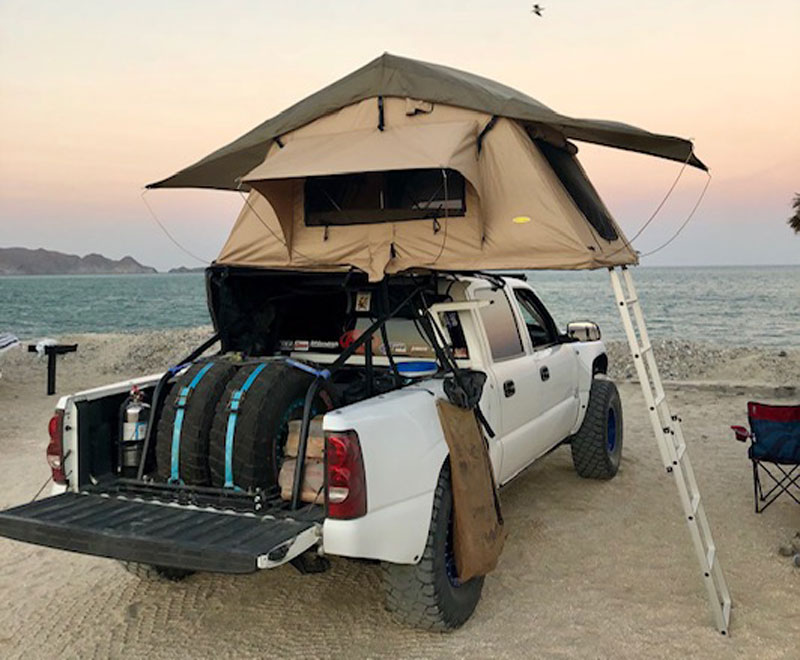 Above: Truckeemctruckface camped at Gonzaga Bay while pre-running the SCORE 1000 in Baja Mexico
That's funny when Ram trucks are built in Mexico.
Travis: Yes, it is.  Our Pre-Runner is actually street legal.  It has a refrigerator, running water, and a rooftop tent. We also carry tools and parts because we don't have a chase crew.  Don't be fooled into thinking we're on a camping trip.  We go down to chase a trophy.
When Angie retired, she lined up all the technology in the truck.  Since then the truck is much faster and more capable.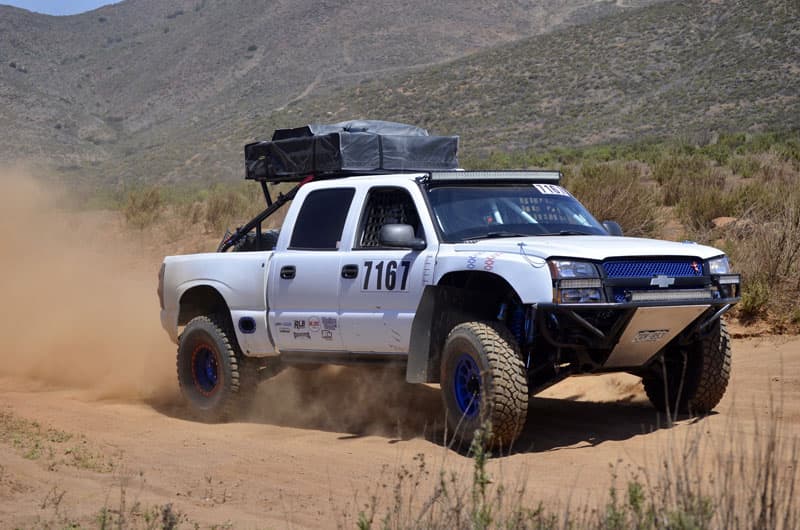 Tell us about the NORRA 1000 race.
Travis: The NORRA 1000 is a 1,000-mile race.  The course itself alternates between Ensenada to La Paz, to a loop that starts and finishes in Ensenada.  The Ensenada to La Paz race is actually longer than 1,000-miles.
The NORRA is around 200 miles a day for five days.  It runs through cities and unmarked trails.  The race organizers put a Stella satellite tracking device on your vehicle that tracks your location and speed.
Angie: If we drive into a town with a 20-miles-per-hour speed limit, we really watch the speedometer.  If you speed, you get docked points.
Travis: We literally have to drive our race truck through Ensenada to get to where the race starts.  We saw UTVs and trophy trucks in rush hour traffic in the morning.  It's organized chaos.
At the beginning of the race, they put your vehicle into a category and class.  When you go in for the tech inspection, they look at your horsepower and come up with a lineup for the class.  Once the race begins, each class starts with each vehicle's starting time staggered apart, followed by another class of race cars a short time later.
When you come across the finish line each day, your time is registered. The start times are then announced early the next morning.  In the evenings we work on the truck, fix broken stuff on the truck, set up camp, and pass out.  The next morning you need to be at the starting line on time.
Angie: In the end, it's like a chess game.  You have to have be in the right place, at the right speed, and get a good time or you have points removed.
Travis: The satellite tracking device they place in your vehicle checks the fast and slow zones.  Every time you are speeding, they ding you points.  In NORRA races, only 30-percent of the racers make it to the finish line.  They are tough.
Above: Road Books for challenging 2021 Mexican 1000 race course developed by Eliseo E. Garcia, Rally Director, National Off-Road Racing Association.  From NORRA: Unlike other Baja races, there are no markings out on the course.  Every competitor has to navigate their way through every special, and transit stage.  No matter how seasoned in rally type competition one is, navigation can be tricky.
"I use a road book and navigational skills, and then I study the course.  There are 114 death falls, which are places we could die."
You said some of the trails are unmarked.  How do you make sure you're going to exactly the right place, at exactly the right speed?
Angie: I use a road book and navigational skills, and then I study the course.  There are 114 death falls, which are places we could die.  I go through every turn, curve, and drop off and I mark it with a highlighter.
Wait.  Death falls?
Travis: People die running these races.  It makes me nervous, which is why I built my truck with a roll cage.
When I'm racing, Angie will talk to me in my helmet giving me directions and speed instructions.  The helmets have built-in voice-activated microphones and headphones.  I can hear her and we can talk back and forth.  We can also talk to other race crews.
During the race, I keep track of the gauges and I have a GPS of trails that she puts in for me to follow.  Our whole life is based around adventure.  With a race like this, we get out and away from people and we see beautiful things.
Angie: The NORRA 1000 has a long history and a great camaraderie.  It is dangerous, but it's also a lot of fun.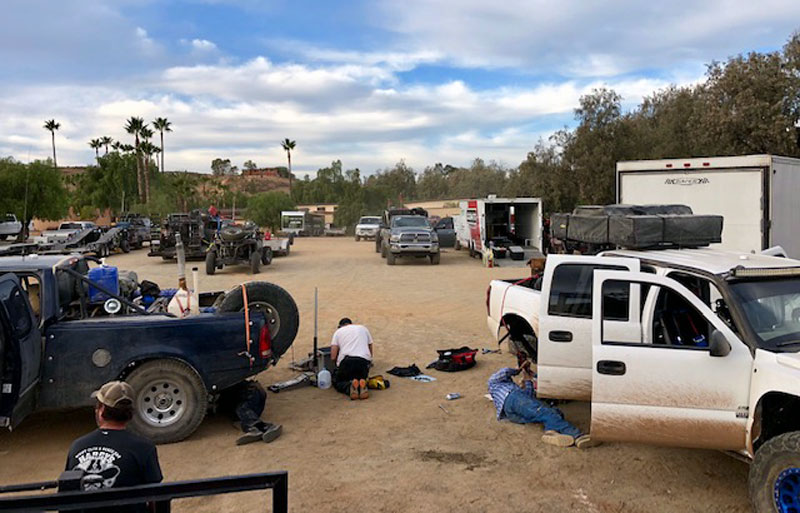 Above: Fixing broken pre-runners at Horsepower Ranch in Ensenada after a particularly grueling section
Tell us about being a pre-runner for other races.  How does that work?
Travis: As pre-runners, we run the course ahead of time.  During that run, we mark strategic locations for the driver we're working with.  We may point out a nasty spot 100-miles in and station ourselves there during the race.  In the chosen locations, we'll set up a temporary pit.  We can hear the race car as it approaches and we get ready.
Angie: A pre-runner also supports the driver with water, extra tires, and tools.  We are going to be pre-runners in another race this fall.
Travis: Since we are carrying extra tires and tools, I'll swap out things and get them back on the road.  The race may be in remote locations where they could get stuck.  We help keep them going during the race.  We live out of our Pre-Runner truck during the race.  For SCORE races, it is 24/7 for two days straight; fuel-up, load-up, tortillas, and repeat.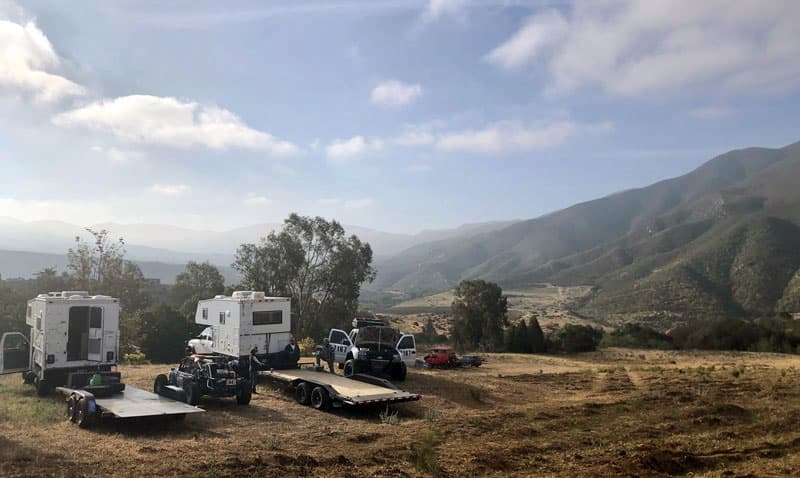 Above: Horsepower Ranch in Ensenada, Mexico with friends, Ned and Kat Bacon, preparing for the 2021 NORRA 1000 Race
How are you able to use your truck camper at these race events?
Angie: It's our basecamp.
Travis: At the NORRA 1000 race, we were originally going to put our camper at the end of the race.  With Covid, the camper and trailer had to stay in Ensenada where it was secured at a ranch.  We ran the race and then came back to our camper.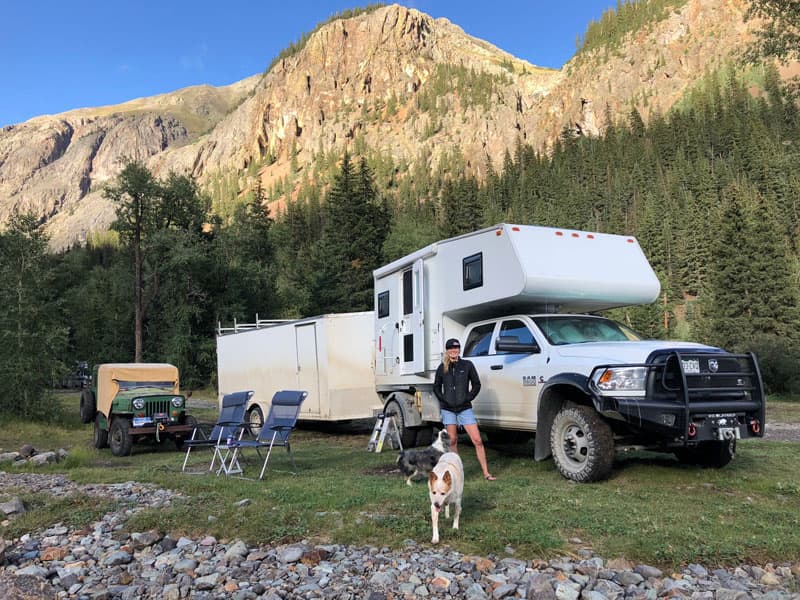 Above: Getting ready to explore passes in Silverton, Colorado with the CJ3B
Our truck camper is a great tool.  I'm a retired railroad engineer, and I have had enough motel rooms for a lifetime.  Also, I really like the cassette because it's quick to dump.
We also do more with the camper than just the NORRA 1000 races.  We tow an 18-foot covered toy trailer for a variety of toys.  We have a 1946 Willys-Jeep CJ-2A, 1953 Willys-Jeep CJ-3B, Harley-Davidson Road King, BMW R1200GS Adventure, Husqvarna FE 501/S, KTM 650, Perception kayaks, paddleboards, firewood, and other supplies.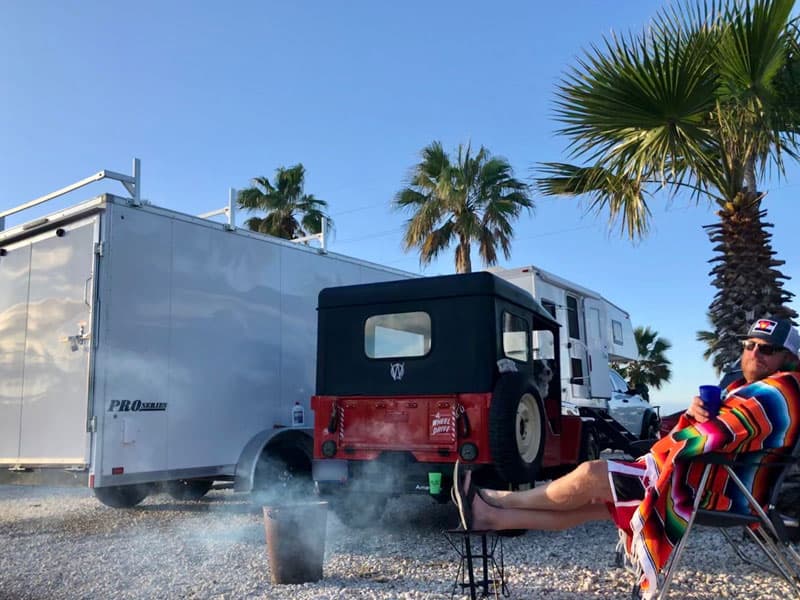 Above: Chilling and grilling in South Padre, Texas with CJ2A
Wow, you have a lot of toys and hobbies!  I see in one picture you have a paddleboard on the back, in another one it looks like you have a kayak, and in another a motorcycle.  When do you bring what?
Travis: It depends where we go.  We went to Monterey for a music festival.  We paid for the festival and camped there.  We attached our motorbike on the back, skipped a day of the concert, and went out on the motorcycle.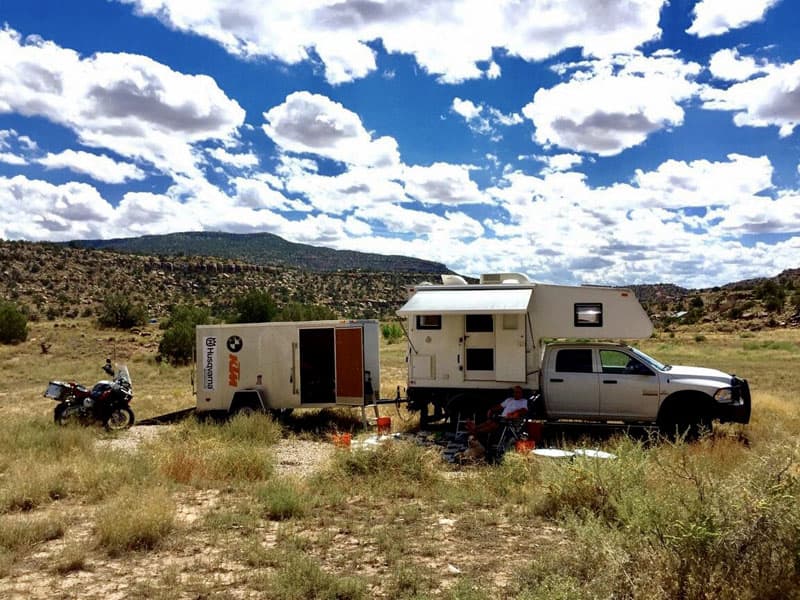 Above: Moab, Utah with BMW GS Adventure Bike
When we go to Moab, we take two dirt bikes.  If we're going to Florida and we are not taking the trailer, we will bring along one motorbike and a water vessel.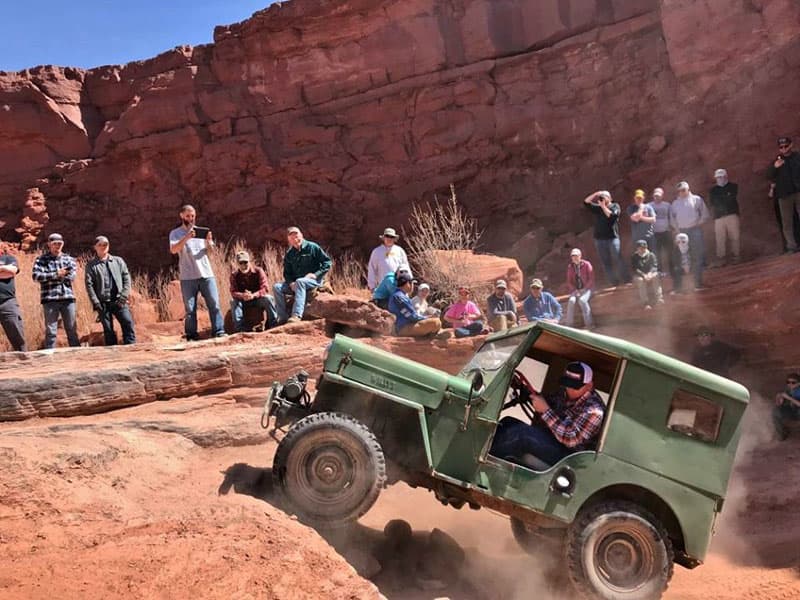 Above: 1953 CJ3B Willys on Flat Fender Friday during Easter Jeep Safari
We have a closed trailer with a rack on the top.  When we're going east to see my mom and Angie's parents, we'll bring the trailer.  Inside we will have two street legal dirt bikes and the 1946 Willys.  Our kayaks and paddleboards are on top.
We'll take our parents out to lunch with Jeep, and then go north to do trails with the dirt bikes and water vessels.  Our rig is like Marge Simpson's hair.  We are always pulling things out of it.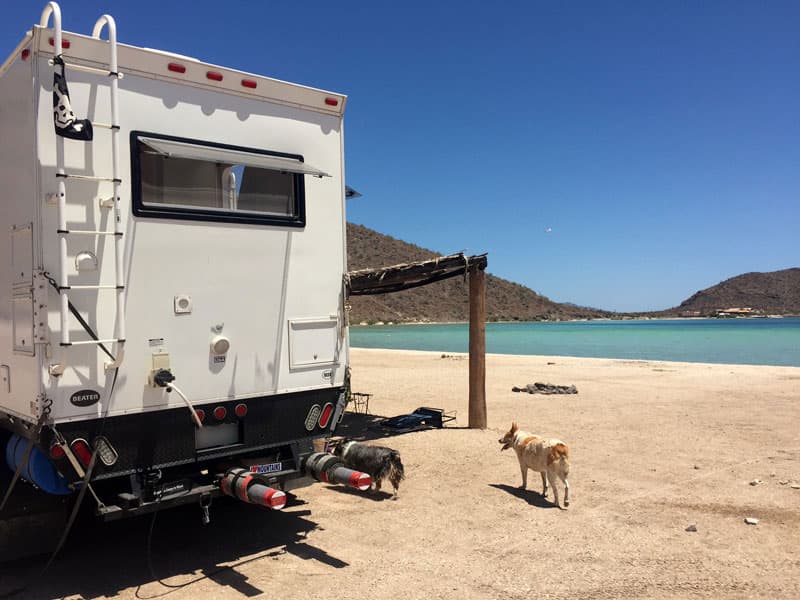 How are you attaching and securing all these items for travel?
Travis: There's a straight bumper on the back with a receiver in the middle.  On each side of the bumper, I welded two more female receivers.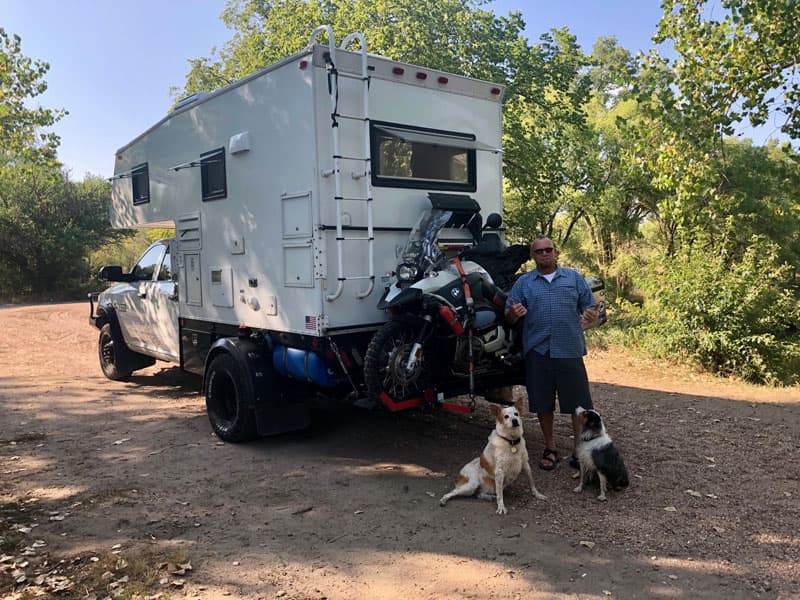 If I put on the Harley or BMW adventure bikes, I install my 2-foot by 2-foot Joe Hauler that goes in the center.  The Joe Hauler can hold up to 600 pounds.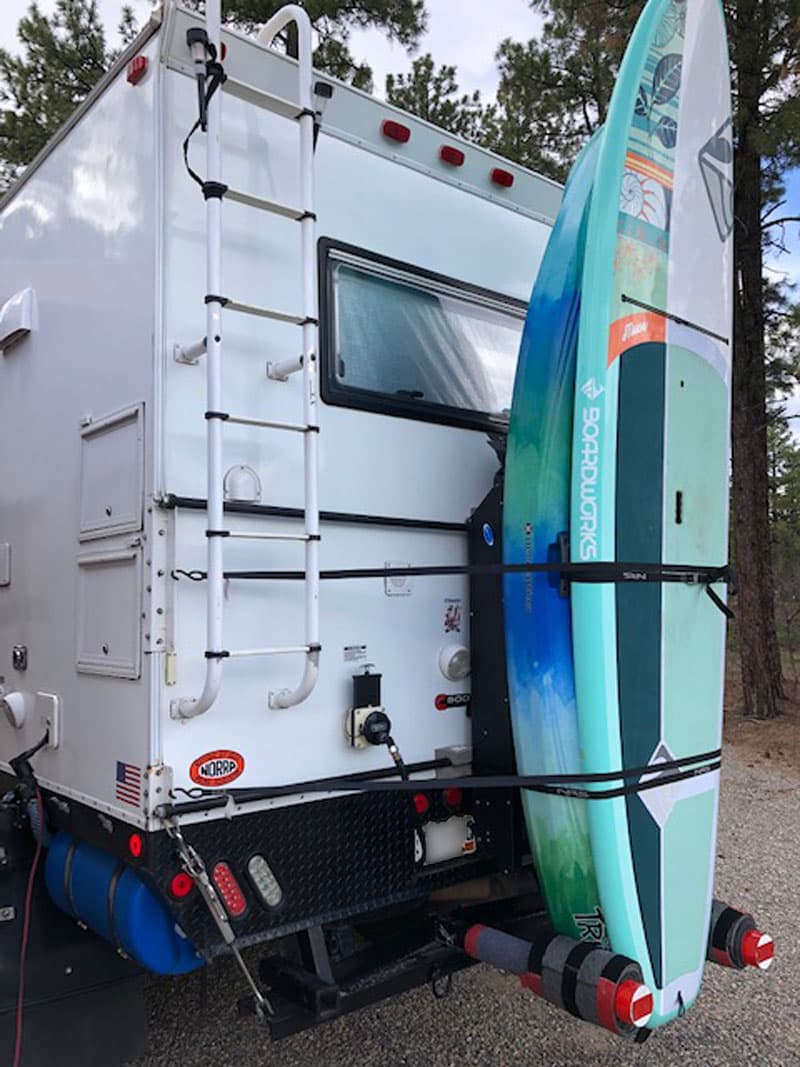 We modified Yakima rails to haul watercraft on the back like two kayaks or a paddleboard and kayak.  There are two pieces of square pipe that go into the female receivers.  I slide them into the center receiver and use a hitch pin with a locking pin.  I mimic that with two pieces of heavy pipe which are under the Joe Hauler.  If I pull the Joe Hauler out of the center, I can put one tube in the center receiver.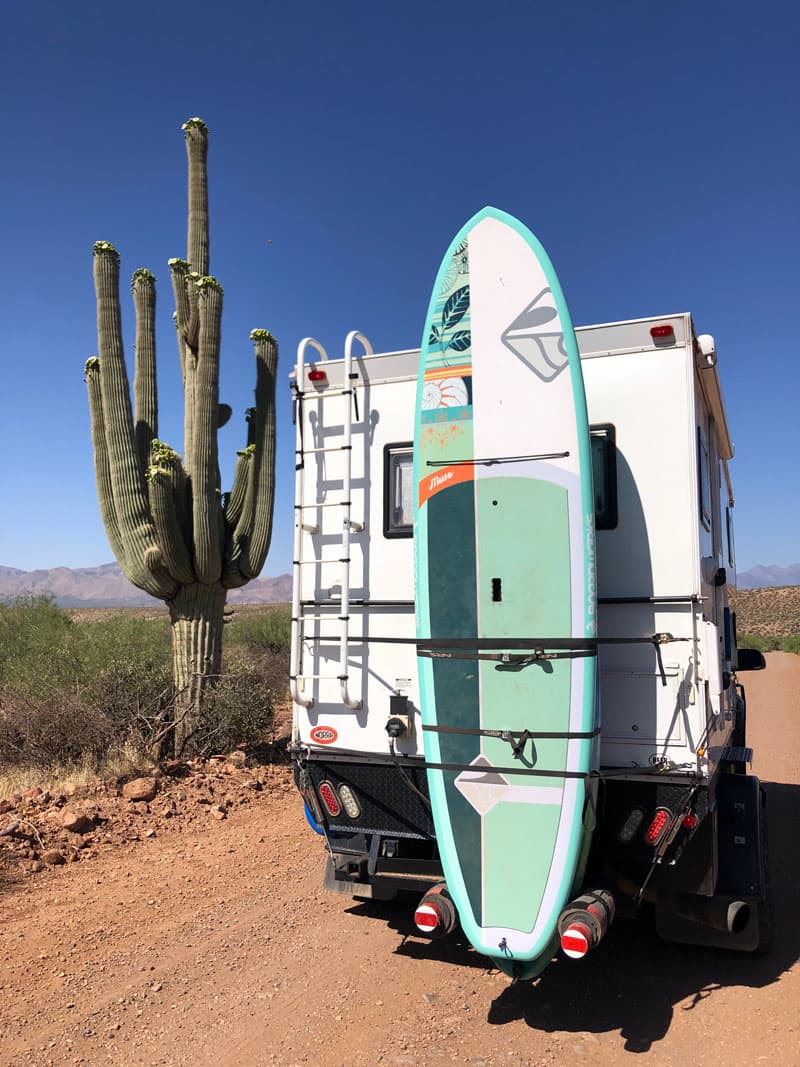 For the kayaks and paddleboard, I used steel square stock posts in the two right receivers at the bottom and tied them to modified Yakima rails attached to the jack brackets.  I cut the bracket and fit it under the back window.  The lower one is where the posts attach.  That's what the boats sit on.  It's like they're sitting on the roof, but they are on the back of the camper.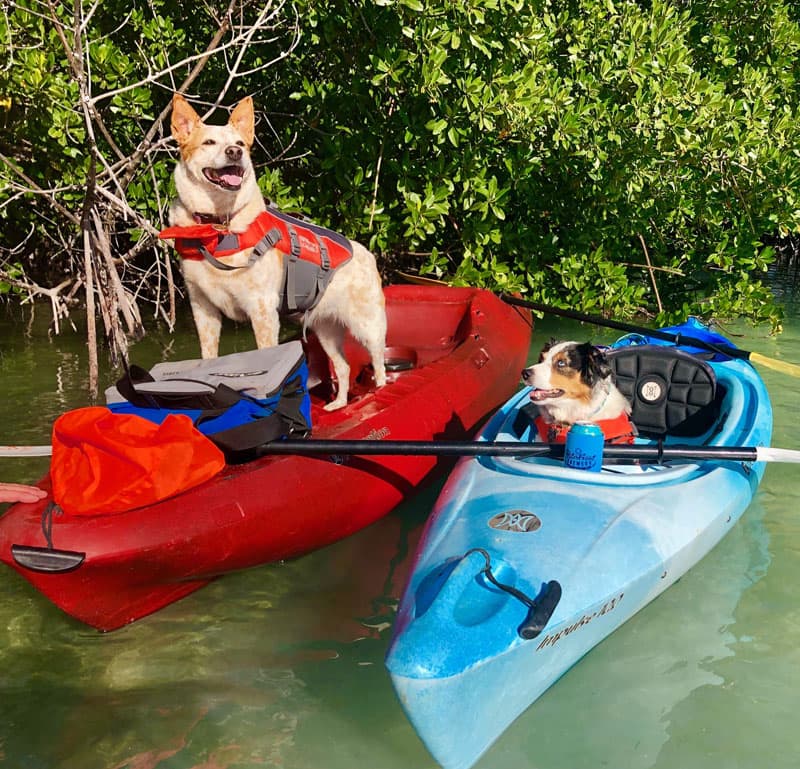 Above: Pepper And Tabby on Gin Clear Water in Key West, Florida
You travel with two dogs and a cat.  Have you made any truck or camper modifications for your pets?
Travis: In the crew cab, we took the back seat out and made a platform.  There are two lawn chairs, a table, and travel bicycles or inflatable paddleboards.  When we open up the door there are two dog kennels that are butted together.
Angie: Our dogs are Pepper and Tabby.  They love to travel and go kayaking with us.  Maisie, our cat, travels with us everywhere.  We slowly got her used to a harness and leash.  Now she wears it while we travel. It is a great way to keep her from bolting out of the truck when she gets scared.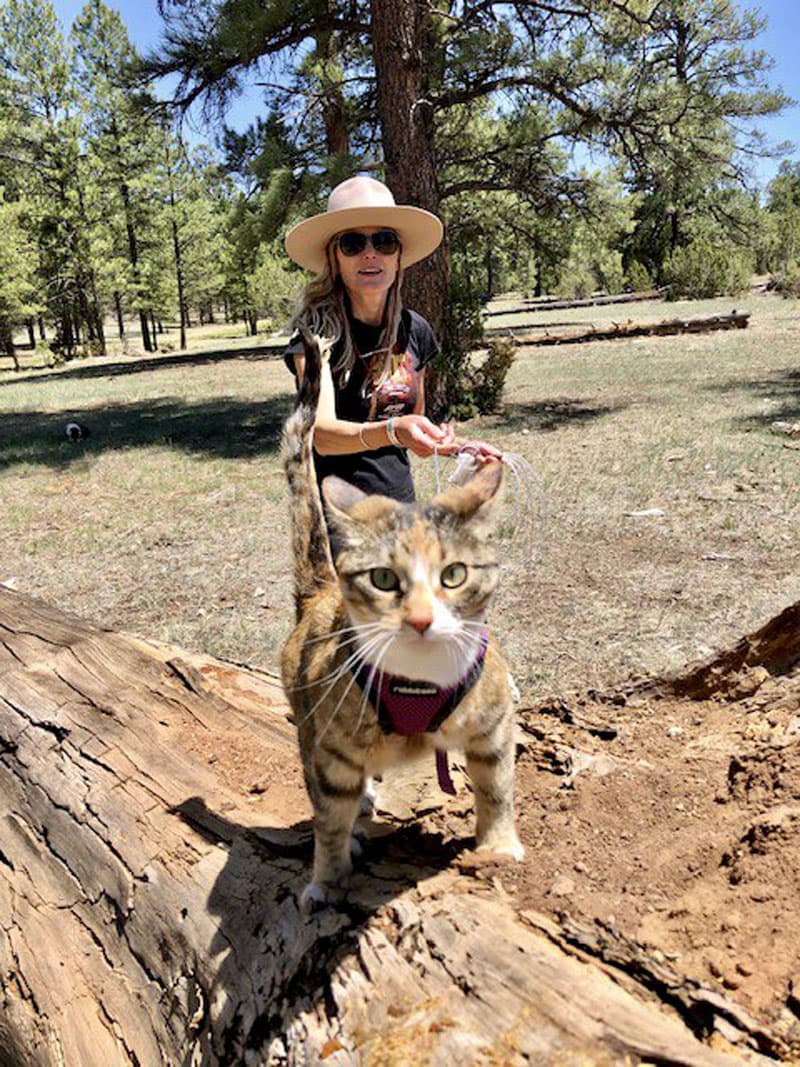 Above: Maisie in the backcountry of Arizona
Travis: Two years ago my father went into hospice, and we took a break to go to Wisconsin to see Angie's folks.  There were two kittens there in the barn.  We took one of them.  That's how we got Maisie.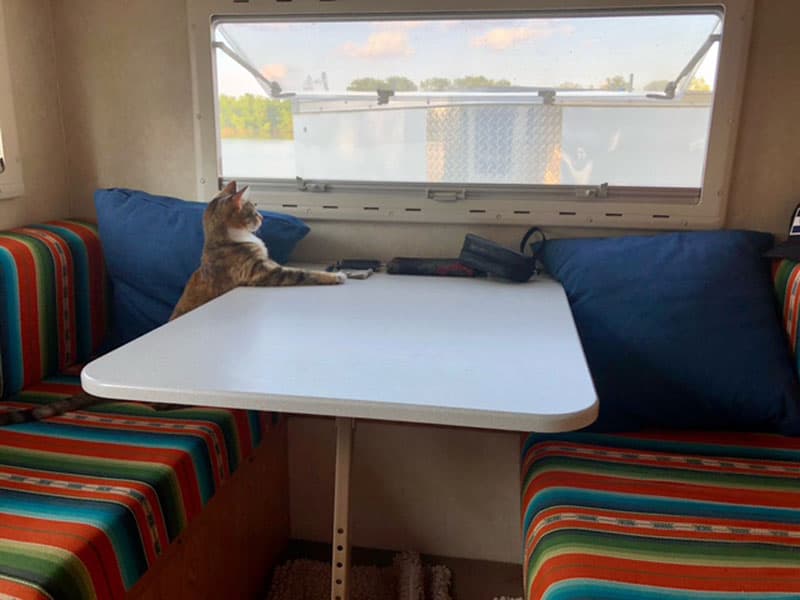 Your dinette cushions are really fun.  Did you do that?
Angie: Yes, we redid the dinette cushions. We found fabric that looks modern and festive.  We love all the colors of Mexico.
Travis: You can't refinish furniture with actual Serape because it will fall apart, so it's actually an upholstery that looks like it.  I bought a memory foam mattress and sliced it to fit the space that fits our dinette seats.  When guests visit, they are actually sleeping on memory foam cushions.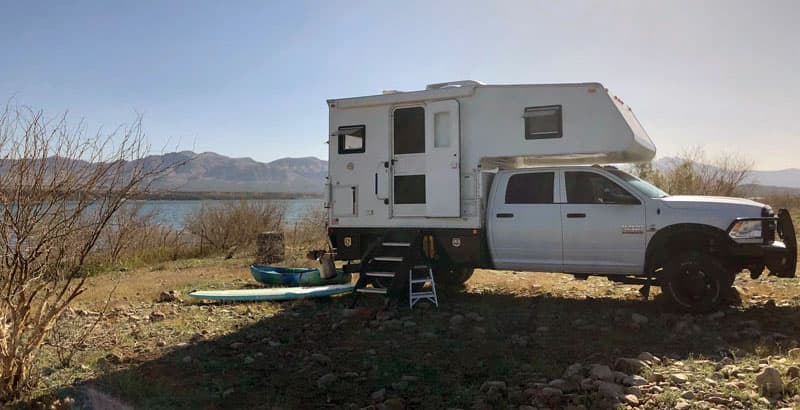 You use a Kenworth step and Nextstep with your camper.  How does it work?
Travis: The Nextstep bolts on the Kenworth threshold step at the door's opening, like a fifth wheel.  It comes out and down to the ground.  Then the door can be closed.  When it's in use, the step is attached to the flatbed.  I installed brackets for that.
While we are on the road, the step is hooked on the back of our truck in between the taillight and license plate. It is mounted to hooks that are attached in four places under the step.  I made it out of aluminum, so it's light.  I slide it over when we have stuff mounted on the back.
I also cut a step hole in the fender to get in, and we have a two-step ladder for quick stops.  The Nextstep is great, but it's not fast to install and uninstall.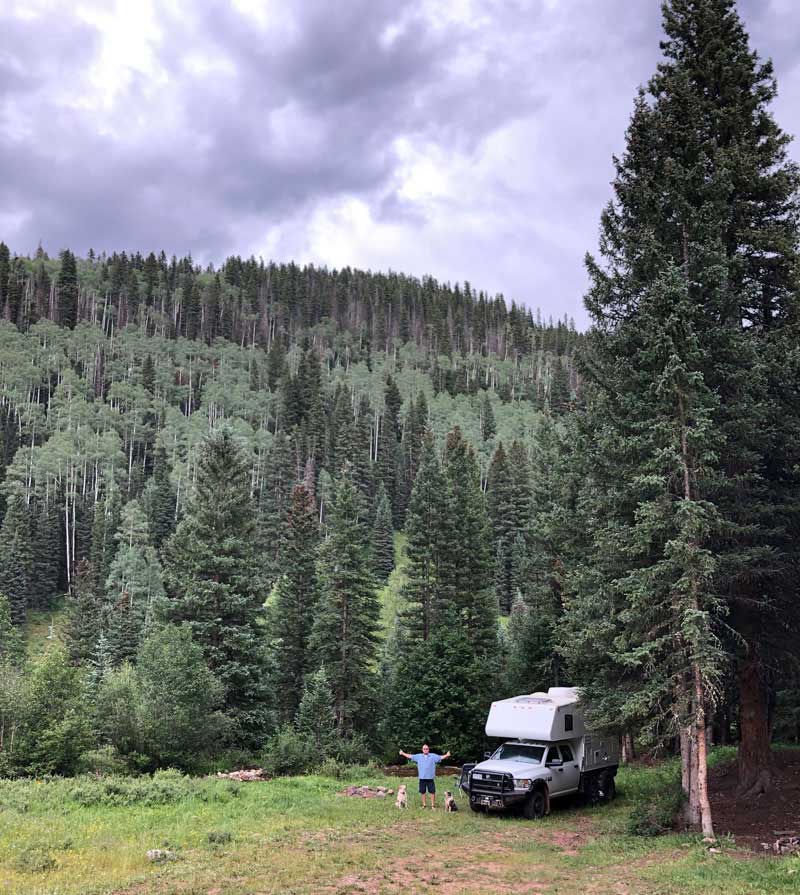 Above: Weminuche Forest, Colorado
Is there anything unique that you'd like to share about your truck camping lifestyle?
Angie: We love how our camper fits in one parking spot and, when we tow a trailer, in two spots.  Having a light truck camper allows for more towing power.
Travis: Our camper is our ticket to freedom!  We were in Portland, Oregon in the pearl district.  We pulled in, paid the meter, took a shower, got dressed, went on the town, and came back.  With our truck camper, we can park in a normal spot, which means we can park in the middle of a city and no one bothers us.  We have parallel parked in New Orleans and St. Augustine.  Our door is curbside, so we can safely get in and out.
"Having a truck camper makes pretty much anywhere we stop a great place to camp."
I'll see a great big 40-foot fifth-wheel and think, "Way too big".  I think being able to park anywhere and be more maneuverable is more important.
Angie: We are able to stealth camp in cities and check out nightlife more easily with a hard side camper.  Having a truck camper makes pretty much anywhere we stop a great place to camp.  Northstar has everything we wanted including a long history, good reputation, and top-quality materials.  We're very happy with our camper.
Check out Angie and Travis' website at truckeemctruckface.com.
Angie and Travis Zbornik's Rig
Truck: 2013 Ram 3500, dually, crew cab, 4×4, Cummins, 9′ flatbed
Camper: 2014 Northstar 900 SD Escape Pod model
Tie-Downs and Turnbuckles: Torklift Fastguns
Suspension: 1.5-inch leveling kit on the front, rubber blocks that engage helper springs to remove side to side list
Gear: Motive Gear locker, cold air intake, 11,000-pound winch, and heavy-duty bumper