Michael and Jay Roth take their Alaskan Camper, Ram 3500, Haulmark trailer, and motorcycles to bike events across the country in search of fun, adventure and the ultimate onion rings.  Look what you inspired, Grandma!

As adults, it's hard to imagine the impact our interests and hobbies can have on the children around us.  A short Sunday ride in your restored 1964 Ford Mustang can ignite a life-long passion for vintage muscle cars, and a career in automotive design.  A shared Roman coin collection can stir a relentless appetite for history, and a five decade professorship in archeology.  Life changing sparks happen.
From our many lifestyle story interviews, we also know how taking a kid truck camping can lead to a life of travel, adventure, and a deep appreciation for nature.  It's incredible how many readers tell us that their truck camping story started with their parents, grandparents, or a family friend taking them truck camping as children.  Want to know how to peel those kids and grandkids away from their electronic devices?  Take them camping.
Michael Roth's path to truck campers dates back to the late 1950s when his grandmother took him on incredible truck camping adventures in Utah and Colorado.  These early childhood experiences created an unshakable desire for the outdoor wonders of The West, and an unquenchable thirst for the road.
Building on Grandma's inspiration, Michael took to two wheels roaring into national and state parks across the American west.  He has also enjoyed attending motorcycle rallies for over four decades.  Sturgis in 1969?  Michael was there.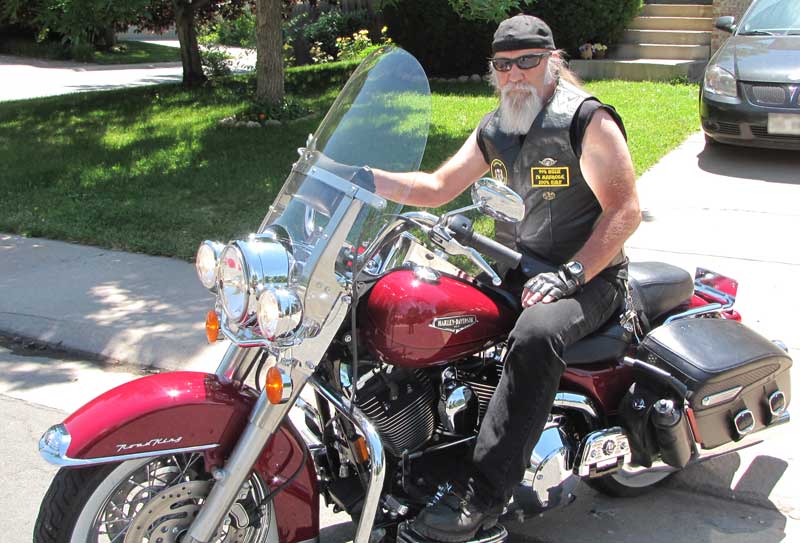 Above: Michael with his Harley Davidson Road King Classic
TCM: Tell us the story of how you were first introduced to truck campers and camping.
Michael: I spent the summers with my Grandma and moved to Utah when I was ten years old.  She worked for a mining company and would take me with her to check on all the Uranium mine claims throughout southeast Utah and southwest Colorado.  The mining company furnished her with a truck and camper.
Grandma was a rock hound as well, and an amateur explorer/Indian historian.  She took me to Lake Powell before it was a lake and Mesa Verde before it was a National Park.  We checked out all the Indian ruins.  We would also take trips to the mining company's main office in Denver and camp all over Colorado.
My mom and I moved to Los Angeles in 1965 and then I moved to Denver at 19 years old.  I was a machinist, so I ended up in Denver for work.  When I had children of my own, I built my own camper and carried on the tradition my Grandma had instilled in me.
Both my daughters were born while we were living in a 32-foot fifth wheel at the Boulder, Colorado KOA.  We lived in many friends' driveways, acreage, and campgrounds for eight years until I was able to purchase a home.
After my marriage ended (another story) and the girls moved out, I met a woman from Canada online and we discovered that we had quite a few things in common.  Camping was one of them.  We have been married for ten years and are enjoying life.
"I was at a beach surfing because girls like surfers.  Then I heard a distinct rumble as twenty motorcyclists rode up the boardwalk with all these good looking women and ugly guys. I thought, "I could do that!"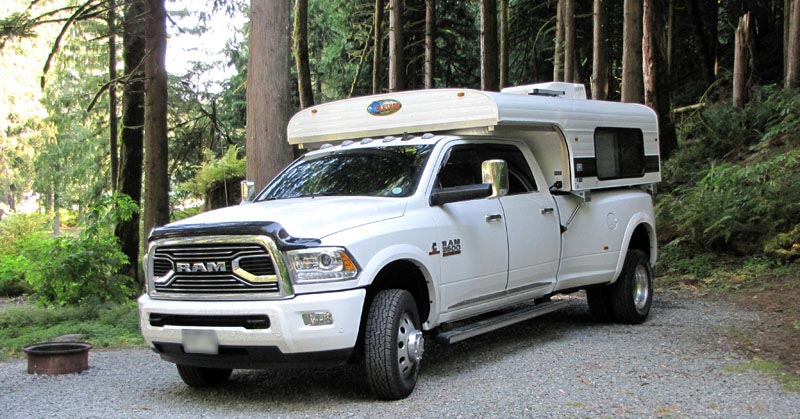 TCM: Why did you decide to get an Alaskan pop-up truck camper?
Michael: When we were able to make this major purchase, a pop-up camper was our first choice, mainly because we wanted to explore and get better gas mileage.
My wife is not too keen on the canvas of a typical pop-up camper because of bears.  We live in Colorado and travel all over bear country.  It also gets cold at night around here, and we wanted to camp comfortably all year long.