Michael and Jay Roth take their Alaskan Camper, Ram 3500, Haulmark trailer, and motorcycles to bike events across the country in search of fun, adventure and the ultimate onion rings.  Look what you inspired, Grandma!

As adults, it's hard to imagine the impact our interests and hobbies can have on the children around us.  A short Sunday ride in your restored 1964 Ford Mustang can ignite a life-long passion for vintage muscle cars, and a career in automotive design.  A shared Roman coin collection can stir a relentless appetite for history, and a five decade professorship in archeology.  Life changing sparks happen.
From our many lifestyle story interviews, we also know how taking a kid truck camping can lead to a life of travel, adventure, and a deep appreciation for nature.  It's incredible how many readers tell us that their truck camping story started with their parents, grandparents, or a family friend taking them truck camping as children.  Want to know how to peel those kids and grandkids away from their electronic devices?  Take them camping.
Michael Roth's path to truck campers dates back to the late 1950s when his grandmother took him on incredible truck camping adventures in Utah and Colorado.  These early childhood experiences created an unshakable desire for the outdoor wonders of The West, and an unquenchable thirst for the road.
Building on Grandma's inspiration, Michael took to two wheels roaring into national and state parks across the American west.  He has also enjoyed attending motorcycle rallies for over four decades.  Sturgis in 1969?  Michael was there.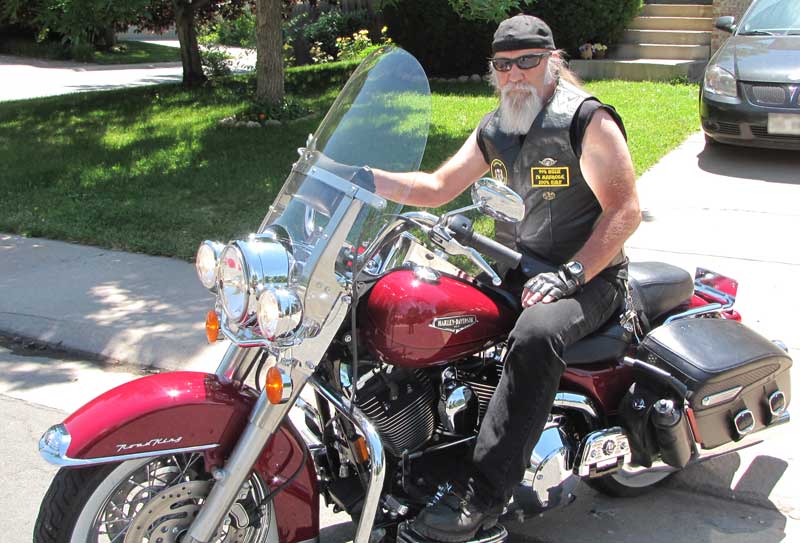 Above: Michael with his Harley Davidson Road King Classic
TCM: Tell us the story of how you were first introduced to truck campers and camping.
Michael: I spent the summers with my Grandma and moved to Utah when I was ten years old.  She worked for a mining company and would take me with her to check on all the Uranium mine claims throughout southeast Utah and southwest Colorado.  The mining company furnished her with a truck and camper.
Grandma was a rock hound as well, and an amateur explorer/Indian historian.  She took me to Lake Powell before it was a lake and Mesa Verde before it was a National Park.  We checked out all the Indian ruins.  We would also take trips to the mining company's main office in Denver and camp all over Colorado.
My mom and I moved to Los Angeles in 1965 and then I moved to Denver at 19 years old.  I was a machinist, so I ended up in Denver for work.  When I had children of my own, I built my own camper and carried on the tradition my Grandma had instilled in me.
Both my daughters were born while we were living in a 32-foot fifth wheel at the Boulder, Colorado KOA.  We lived in many friends' driveways, acreage, and campgrounds for eight years until I was able to purchase a home.
After my marriage ended (another story) and the girls moved out, I met a woman from Canada online and we discovered that we had quite a few things in common.  Camping was one of them.  We have been married for ten years and are enjoying life.
"I was at a beach surfing because girls like surfers.  Then I heard a distinct rumble as twenty motorcyclists rode up the boardwalk with all these good looking women and ugly guys. I thought, "I could do that!"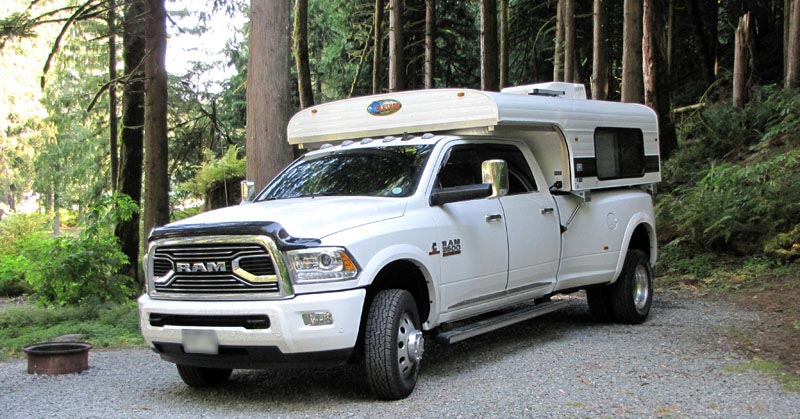 TCM: Why did you decide to get an Alaskan pop-up truck camper?
Michael: When we were able to make this major purchase, a pop-up camper was our first choice, mainly because we wanted to explore and get better gas mileage.
My wife is not too keen on the canvas of a typical pop-up camper because of bears.  We live in Colorado and travel all over bear country.  It also gets cold at night around here, and we wanted to camp comfortably all year long.
The articles I read on Truck Camper Magazine about Alaskan Campers stuck in my head.  Your Alaskan Camper review in 2016 taught me a lot.  I was impressed by their history as well as longevity.  I actually saw my first Alaskan Camper in 1958 in Moab.
Then I remembered Grandma.  Let me put it like this.  I grew up on red meat and real butter, and it has served my family well.  I really don't want to switch to tofu and margarine.  I'll stick with what has stood the test of time.  We drove to Washington in favor of tradition and old fashioned craftsmanship.
When my mom and step dad passed away, I inherited some money.  That was when I bought a camper, truck, and trailer.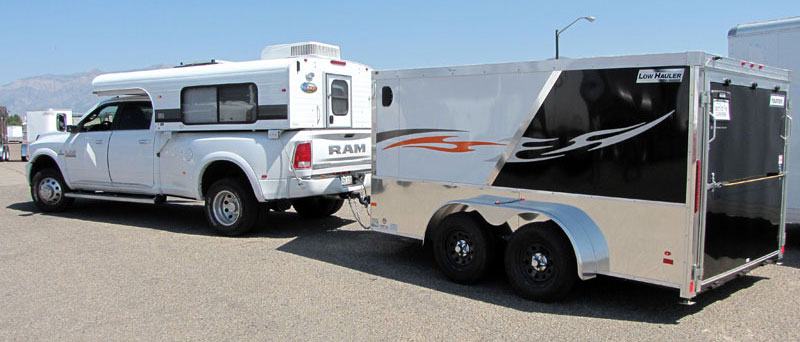 TCM: You tow quite a trailer behind your Alaskan Camper.  What are you towing?
Michael: We tow two very nice motorcycles around the country visiting various motorcycle shows and rallies.  One of the main reasons we picked the 8-foot Alaskan Camper model is because I wanted to use my rear tailgate camera for hooking up our 14-foot Haulmark Low Hauler V-Nose Motorcycle Trailer.
The loaded weight of the camper and trailer is why I wanted a Ram one-ton, four-wheel drive, turbo diesel, dually truck.  Our 2016 Ram 3500 came with the best-in-class tow rating and payload rating.  The 6.7-liter Cummins diesel engine also puts out 900 pound-feet of torque.  It works for me.
I wasn't looking for a dually at first.  Growing up, I dreamed about a big truck but was not able to afford one.  I thought they looked cool.  Everyone wants to have cool toys.
After deciding on an Alaskan, I started looking at pictures of Alaskan Camper rigs.  Alaskans are quite wide, and make single rear wheel trucks look skinny.  They look better on dually trucks.  When I went truck shopping, a dually popped up and I couldn't beat the deal.

TCM: How did you get into riding motorcycles?
Michael: That started when I was living in Los Angeles.  I was at a beach surfing because girls like surfers.  Then I heard a distinct rumble as twenty motorcyclists rode up the boardwalk with all these good looking women and ugly guys.  I thought, "I could do that!"
A friend of mine had a Harley and took me for rides.  He had a basket case Indian motorcycle, so I bought it.  He helped me put it together.  I was 16 years old and I have been riding ever since.  I am constantly building new bikes.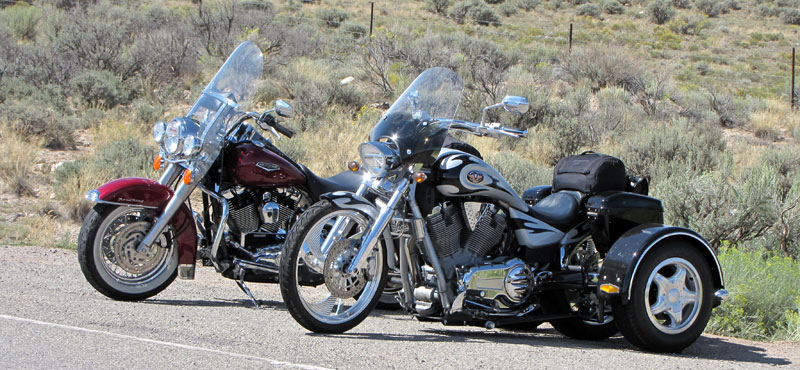 TCM: Tell us about your motorcycles, Olivia and Chester.
Michael: I bought a new Harley right after I got divorced twelve years ago.  I wanted a brand new bike so that I didn't have to put a wrench on it all the time.  Olivia is a 2006 Harley Davidson Road King Classic.  I've done some modifications, but nothing major.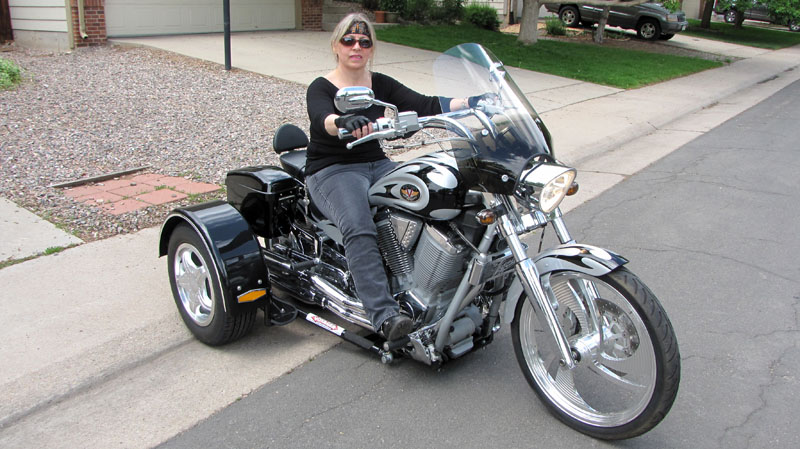 Above: Jay and Chester, her 2003 Victory Vegas
Chester is a 2003 Victory Vegas.  I bought a Voyager trike conversion kit for Chester and my wife, Jay, loves it.  I have pictures of Chester towing a trailer and that's how we used to go camping.  It is so nice to not put up a tent anymore.
TCM: Do your truck and camper also have names?
Michael: We call the truck The Beast.  I love driving it.  With the 6.7L Cummins diesel and Allison transmission, it has all the bells and whistles.  I didn't know about DEF prior to purchasing the truck, so I'm always spending extra money on that.
Jay calls the camper Ally, which is short for Alaskan.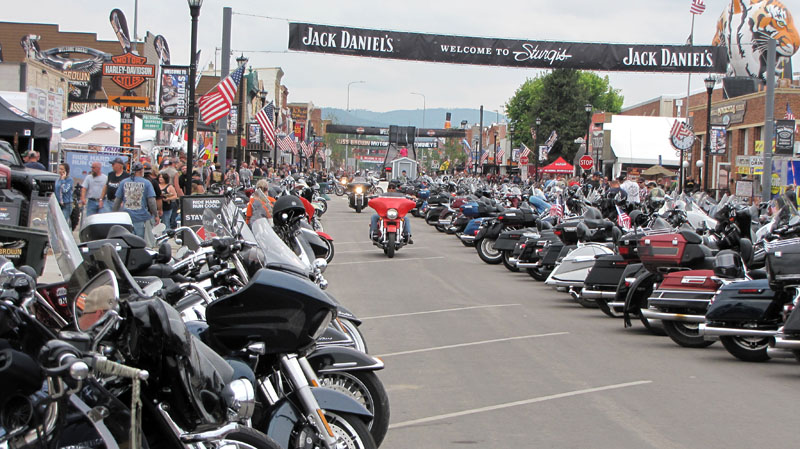 TCM: In your emails you stated that you've been going to the Sturgis Motorcycle Rally since 1969.  Have you gone every year?
Michael: I don't go every year.  I'd go crazy if I went every year, but I've been quite a bit.
The main reason people started going to Sturgis was for an annual race.  Today, the most fun thing to do at Sturgis is people watch.  It's like a circus.  There are also a couple bars in town that bring in bands and a famous act each year.
"Bikers are a funny bunch.  A lot of them abuse drugs and alcohol, get stupid, and think it's cool to fight.  Like anything, there's a good side and a bad side."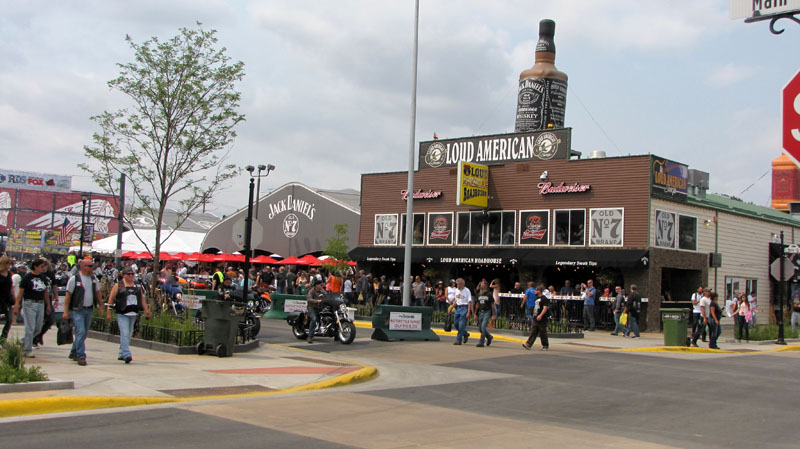 There are a lot of great places to visit near Strugis including Mount Rushmore, Deadwood, and the Badlands.  And there are mountain towns to take motorcycle rides.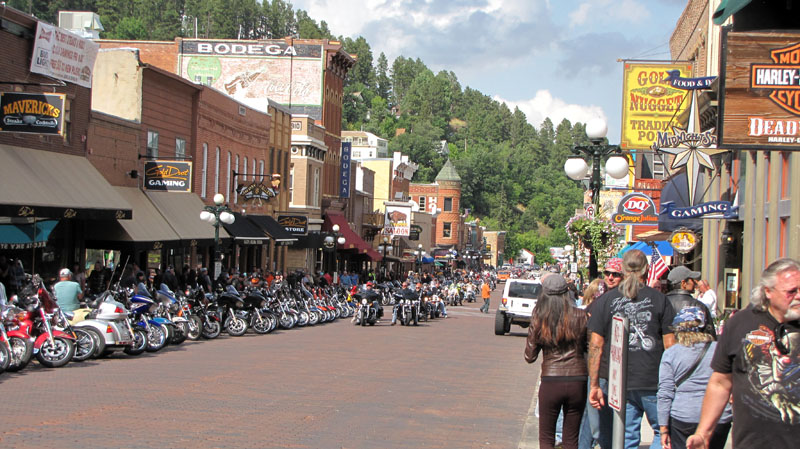 Above: Deadwood, South Dakota
I am a machinist and I worked at an aftermarket motorcycle parts business.  We made parts and took them to rallies around the country.  I spent four or five years in a row going to Sturgis selling motorcycles.  I took pictures and did graphics for the company.  I got burnt out going that much.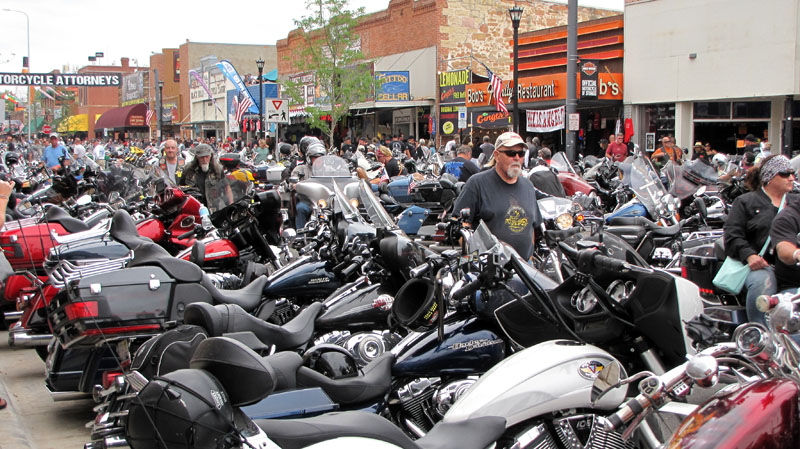 Jay loves riding, so we have gone to Sturgis a few times together.
TCM: You take your Alaskan Camper, trailer, and motorcycle to a number of motorcycle rallies.  Tell us about these rallies.
Michael: On the East Coast, Bike Week in Daytona, Florida is best.  We are looking to go to Daytona next year.  There's also the Bikes, Blues & BBQ in Fayetteville, Arkansas and the Lone Star Rally in Galveston, Texas.  There's also one up in New Hampshire called Laconia Motorcycle Week.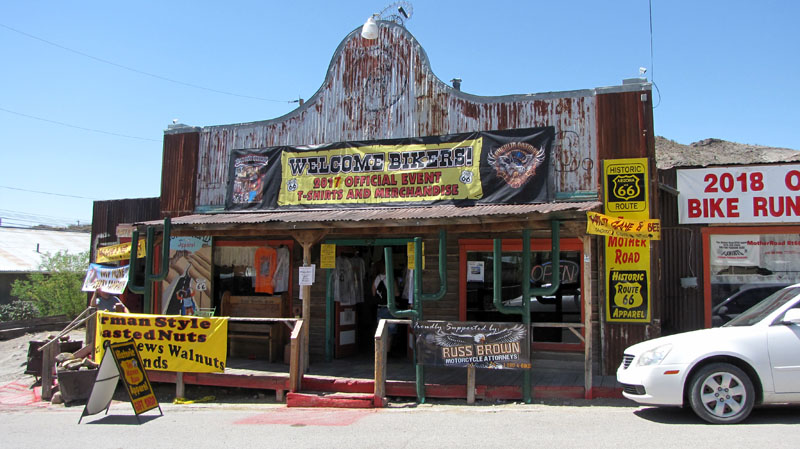 The Laughlin River Run in Laughlin, Arizona is a motorcycle rally with a nearby ghost town called Oatman on Route 66.  In Oatman, the donkeys/burros walk through the town.  We're going to go check that out.
The camaraderie at the motorcycle rallies is what I like.  I sometimes run into people I haven't seen in years.  Bikers are a funny bunch.  A lot of them abuse drugs and alcohol, get stupid, and think it's cool to fight.  Like anything, there's a good side and a bad side.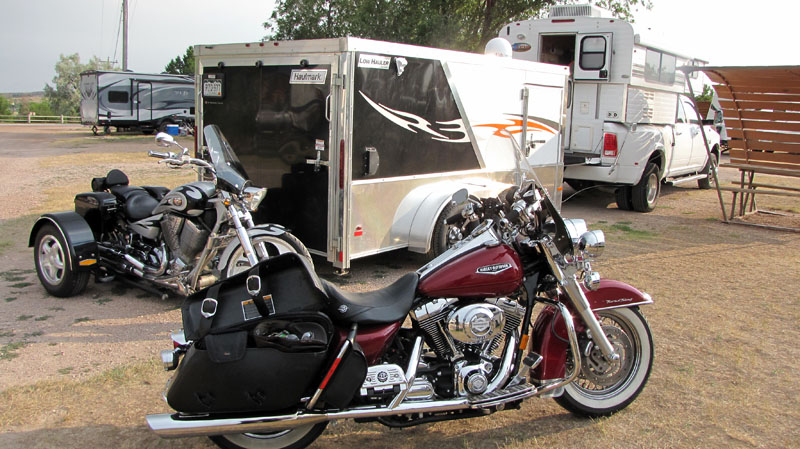 Above: The Rapid City KOA is close by
TCM: Is there camping at the motorcycle rallies?
Michael: Yes, there are places designated for camping at the events.  It's outrageous because they'll charge up to $400 a night.  We stay in Rapid City at Sturgis, which is twenty minutes away.  The KOA does not charge outlandish prices.  It might be an extra $10 or $20 because of the event.
If you plan ahead, I have found the state parks to be some of the best places to stay.  They have electric and are only about $20 to $25 a night.  I have a yearly state parks pass in Colorado.  That gets me into the parks for free.  I only have to pay for camping.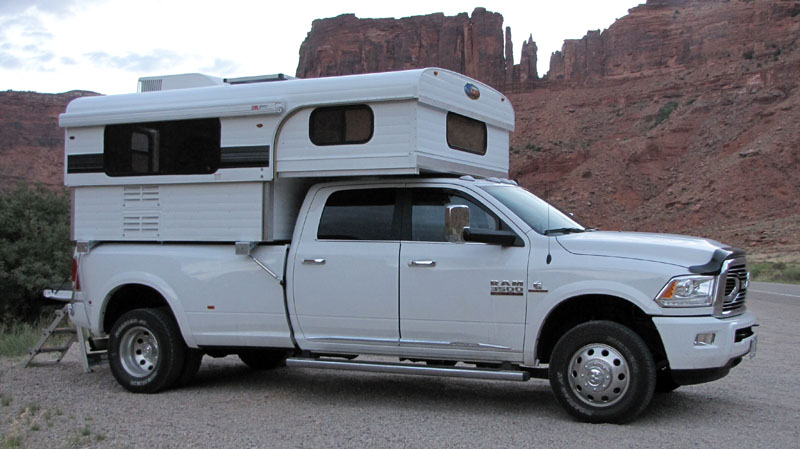 Above: Camping in Moab, Utah
TCM: You said that you often camp in the Rockies.  Where do you like to go?
Michael: My favorite place to go camping is Moab, Utah.  That's mostly for sentimental reasons and to visit grandma's grave.  I also like the boondocking aspect there.  We camp along the river.  There's a backroad that follows the Colorado River right into Moab.
One of prettiest places in Colorado is Steamboat Lake State Park in Steamboat Springs, Colorado.   You'll need to make a reservation at least a month in advance.  We also go to Yampa River State Park.  There's good fishing there.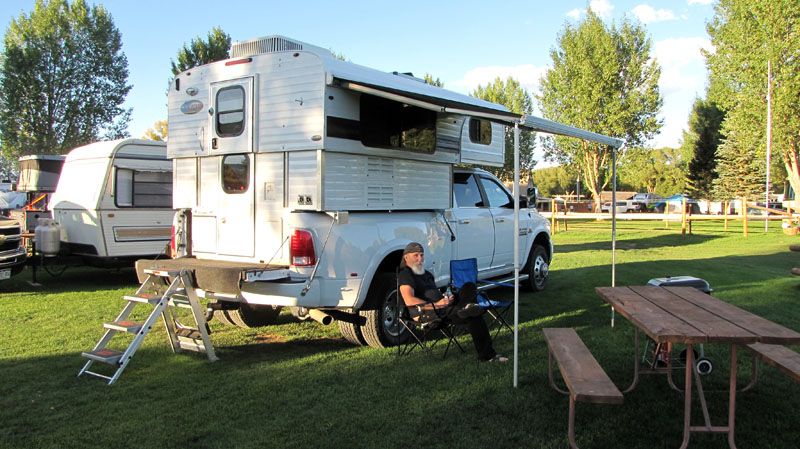 Above: The Gunnison KOA in Gunnison, Colorado
Gunnison, Colorado has one of the nicest KOAs we've ever been to.  It's close to a lot of things to do and it's really pleasant there.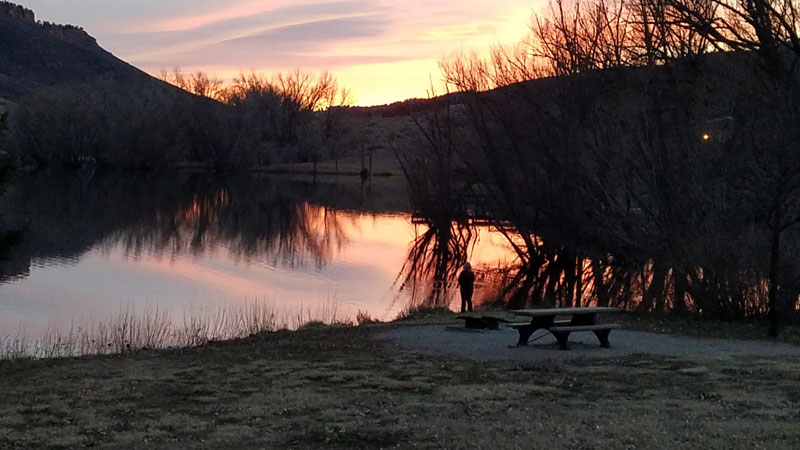 Above: Flatiron Reservoir, Colorado
We also enjoy Flatiron Reservoir and Carter Lake.  They are county recreation spots.
We like to camp close to home because we just like hanging out in the camper.  We go Cheyenne Mountain State Park.  At night you can see the lights of Colorado Springs from campground.
The Colorado state park system does a good job in keeping camping available year round.  Except for the parks way up in the mountains, all the parks are kept open.
"I added an outside shower, a weBoost cellphone booster antenna, and an inverter for running 110-volts off of my two Group 31 AGM batteries.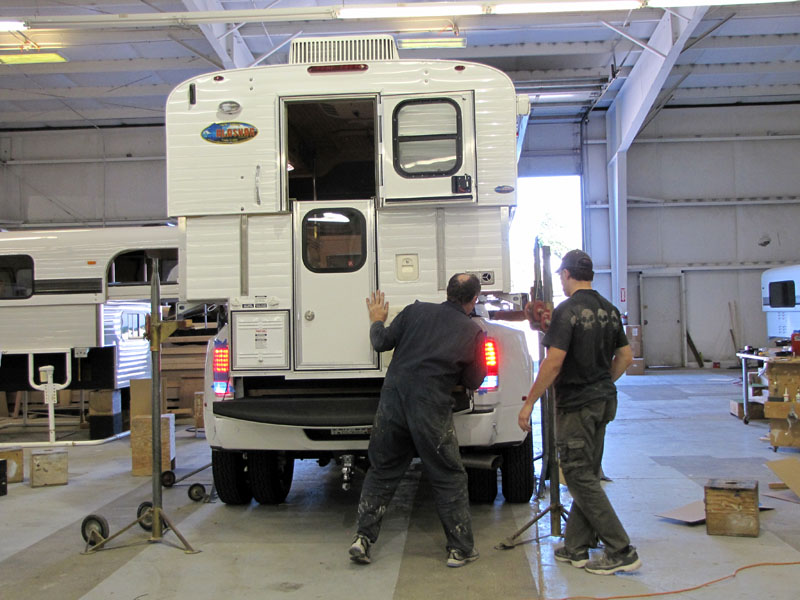 TCM: In your video, you said that you went on a trip to surprise your step-daughter.  Tell us about that trip.
Michael: We drove to Washington to pick up our Alaskan Camper and got the bright idea to travel through Canada on our way back to Denver.  We went to British Columbia and it was beautiful.
Jay's daughter is living in a campground and working on a construction site in Winnipeg, but we didn't exactly know how to find her.  I kept asking Jay how we were going to find her and she assured me that she knew about where she was located.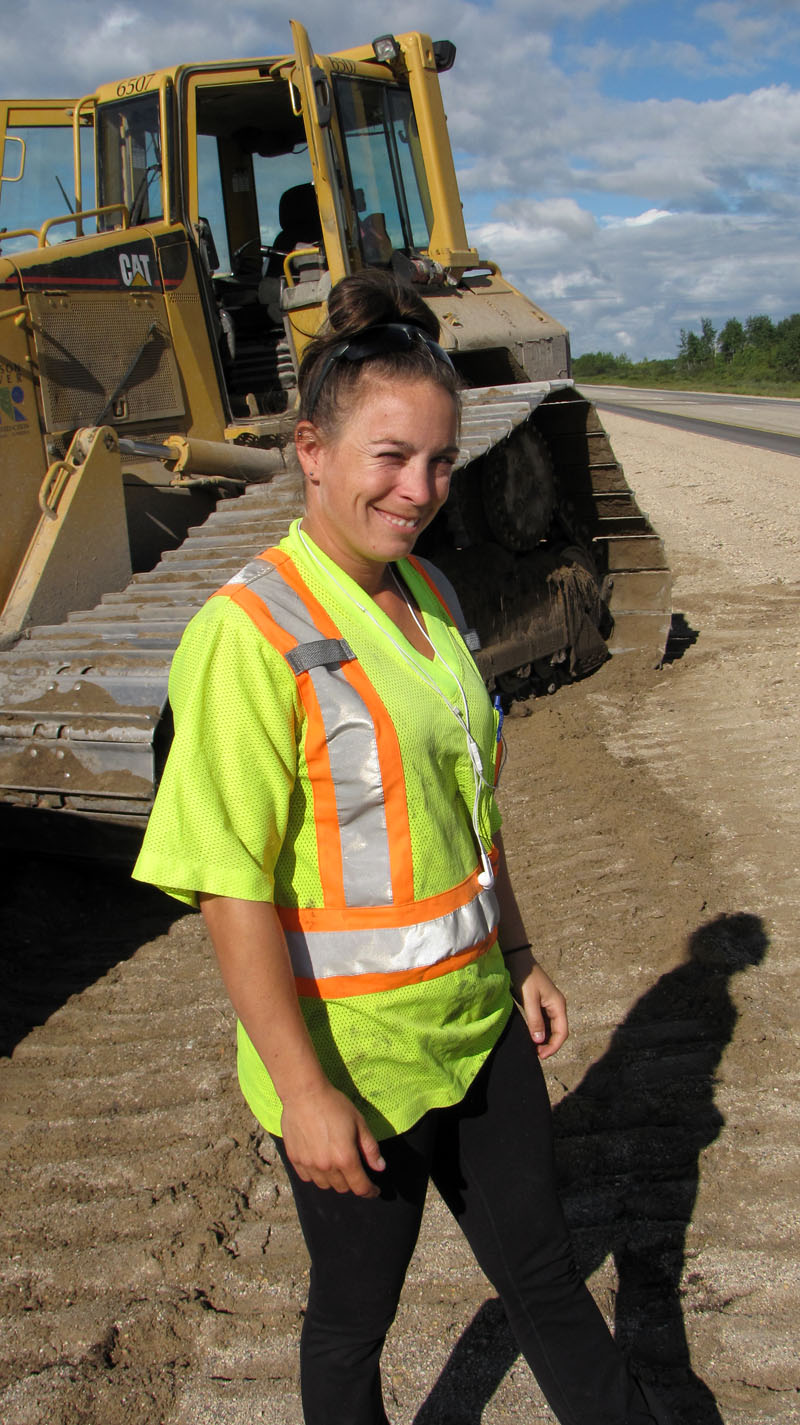 Above: Jay's daughter on the construction site in Winnipeg
We were on Highway 1 and saw a construction area.  The first bulldozer we saw wasn't her.  We passed four or five construction sites in ten miles.  We went past one and there she was, so I pulled over on the highway.  My wife got out of truck and ran to see her.  It was pretty cool because we surprised her and we hadn't seen her for awhile.
We only stayed a couple nights because Jay had to get back to Denver for work.  She's not retired yet.  She reminds me of it every morning.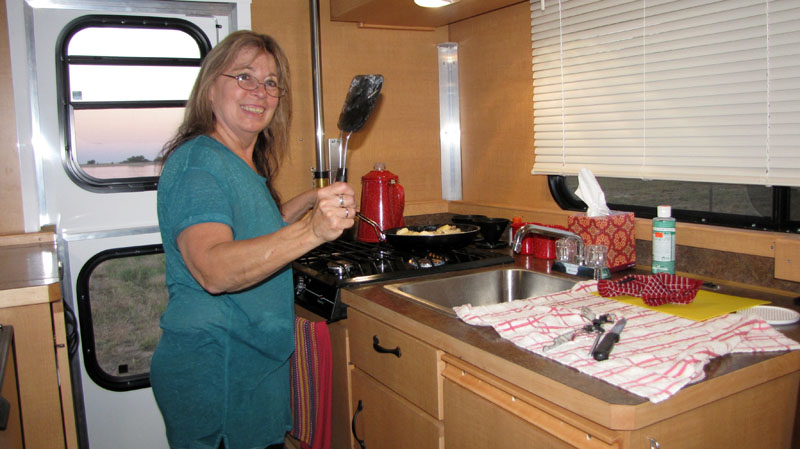 TCM: Have you made any modifications to your truck or camper?
Michael: I added an outside shower, a weBoost cellphone booster antenna, and an inverter for running 110-volts off of my two Group 31 AGM batteries.  The batteries are charged by my 160-watt Zamp solar panel.
I am also in the process of installing a rear awning.  We chose the water heater option instead of the oven.  We carry a Coleman collapsible oven with us.  We have a satellite dish, Samsung Smart TV, and a compact Whirlpool microwave as well.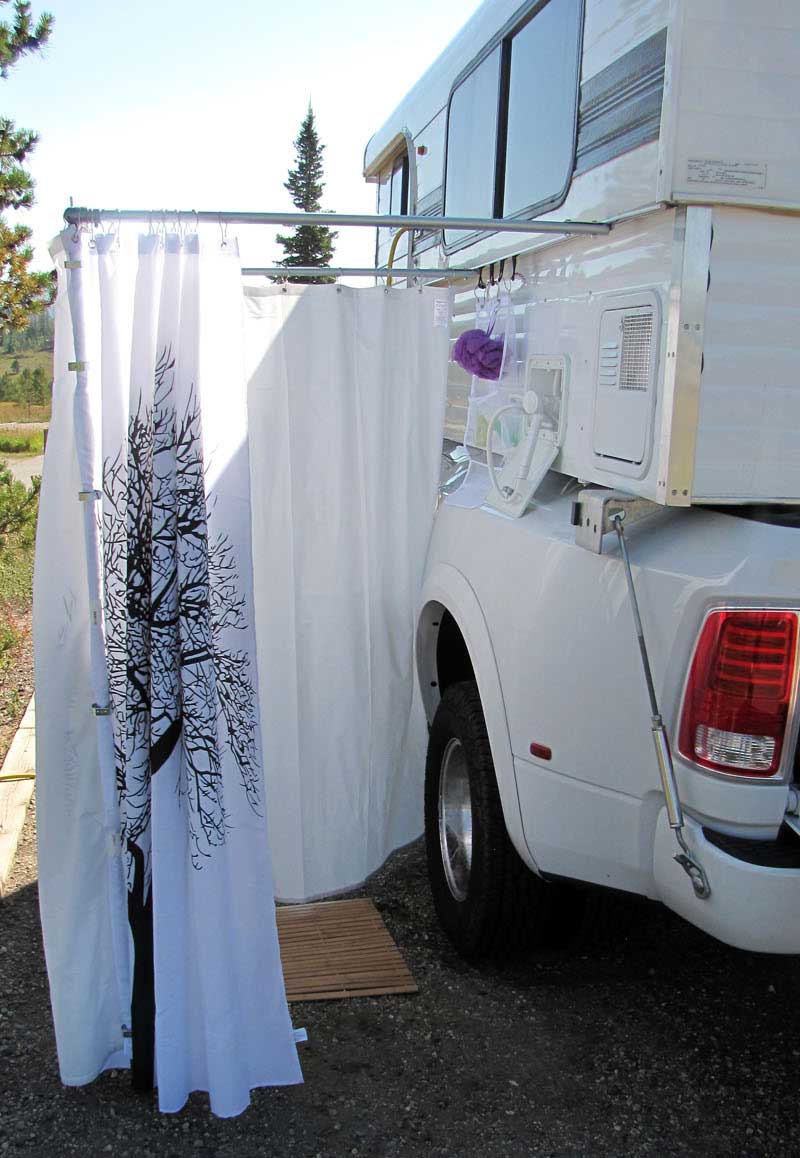 TCM: Your outside shower mod caught our attention.  How did you build that?
Michael: Our outside shower can be made with parts at Home Depot.  I bought 4-inch hinges.  The round part of the hinge slides into the awning rail that is already on Alaskans.  I bolted the hinges to two sides of conduit.  Across the front there are two corner connectors for the shower curtain.  It comes apart easily.
I have a roll-up teak wood platform that we can stand on.  I also added a hanger to put shower supplies in.  I bought a four foot bag for everything to fit in.  When we're in transit, I throw it on top of the ladder.  The outside shower only takes a few minutes to set up.  It gives us privacy and works great.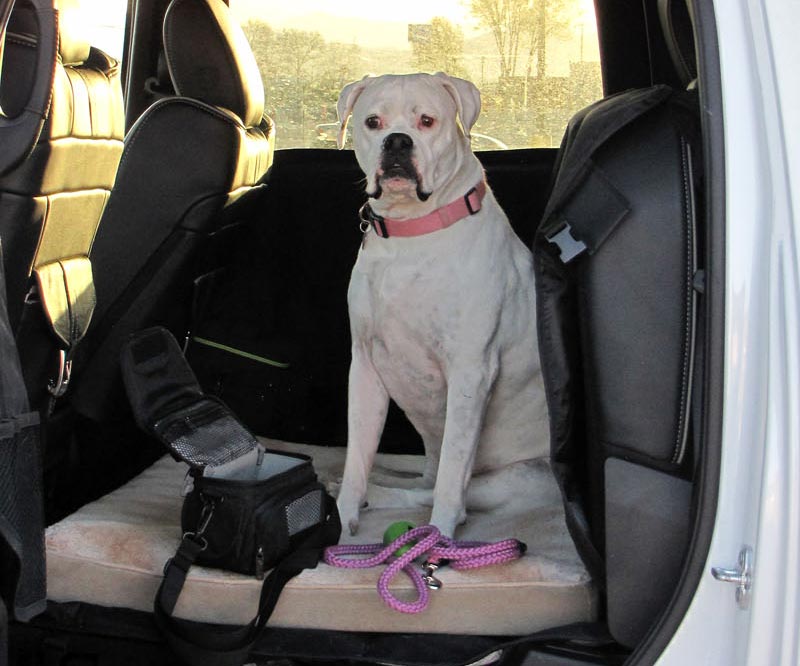 Above: Rosie, their boxer, loves to go camping
TCM: Beyond motorcycling, what do you enjoy doing while truck camping?
Michael: My wife loves fishing.  I used to, but I got really tired of never catching anything, but I still go.
We try to take lots of pictures, but sometimes we're too busy looking at everything.  I've been doing graphic arts for awhile, so I love photography.  We are shopping around for a new camera and a video drone for the upcoming season.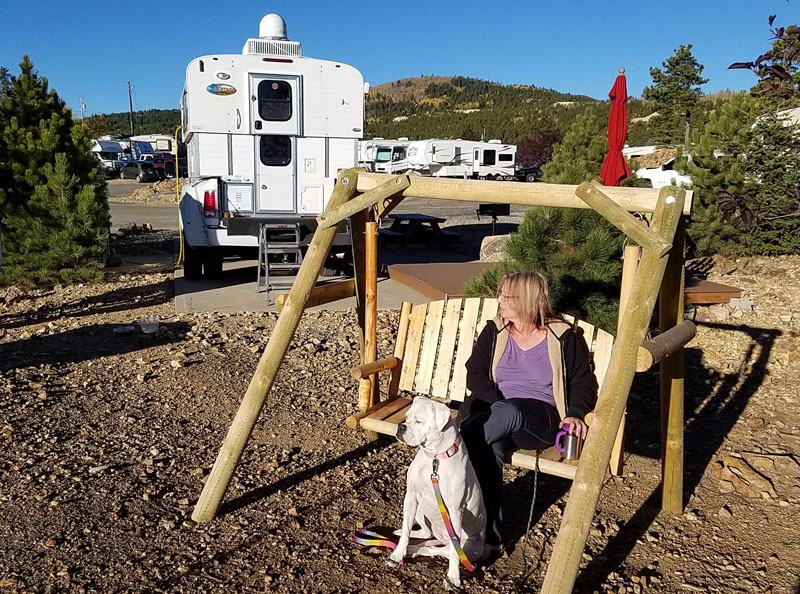 We're looking for a side car for our boxer, Rosie.  Then she can come along when we go on motorcycle rides.  Rosie belonged to a friend who passed away.  When he was alive, we got along well with her.  When my friend was sick, he asked if we would take her.  She goes with us everywhere.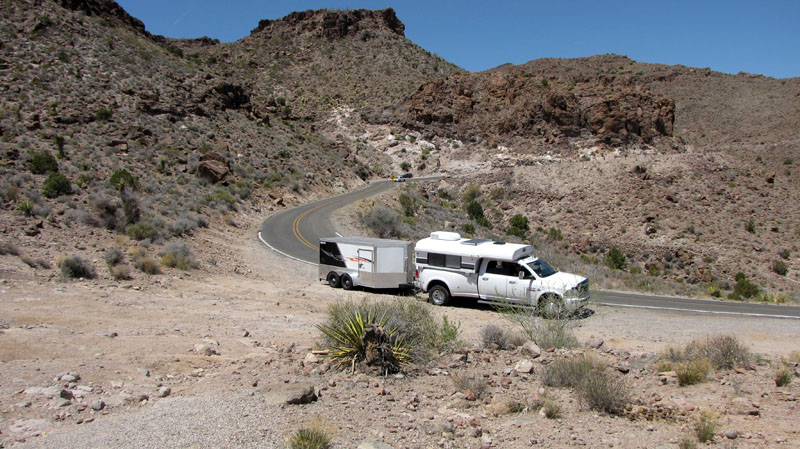 TCM: Is there anything unique that you'd like to share about your truck camping lifestyle?
Michael: I am on a quest to find the best onion rings.  So far Red Robin has the best.  There are a couple of local places I like, but I'm still looking for the best.
With truck camping we are able to combine so many of our interests.  We take our motorcycles, we meet new people, see new places, try different foods, visit friends and relatives, and spend quality time together.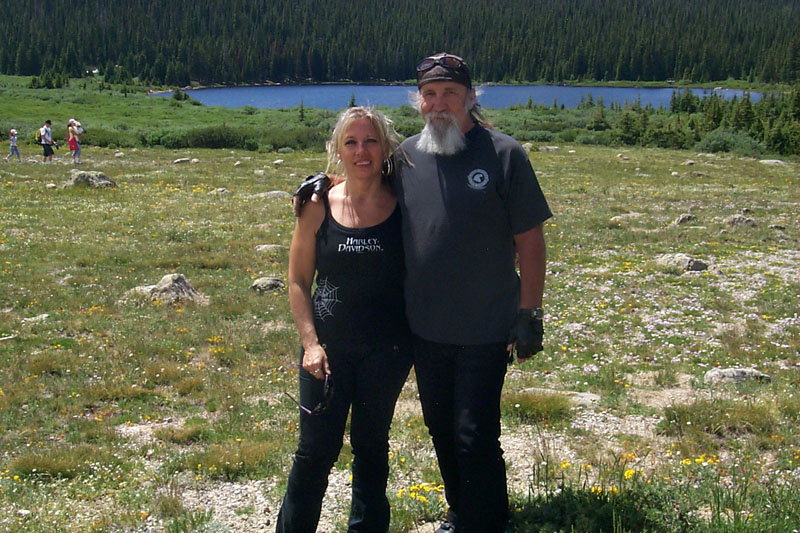 I like spotting a road, wondering where it goes, and taking it.  Google Earth takes some of the fun out of it though.
The best part about this lifestyle is getting out of dodge, road tripping and relaxing.  I love to drive and see new places.
Michael and Jay Roth's Rig
Truck: 2016 Ram 3500, Dually, 6.7 Cummins Turbo Diesel, Crew Cab, Long Bed, Four Wheel Drive
Camper: 2016 Alaskan 8ft Cab Over 36″ Front Dinette
Tie-Downs and Turnbuckles: & Box Extensions, Happijac Tie Downs & Turnbuckles
Suspension: Factory Installed Air Suspension with Tow Haul Package
Gear: Rieco-Titan Removable Jacks