NFL Panthers Defensive Tackle, Matt Ioannidis, wanted an off-road, off-grid, all-weather game plan for off-season hunting and tailgating. Here's how a 6'5" 300-pound pro football player chose Capri Campers, and the adventures he's tackling next.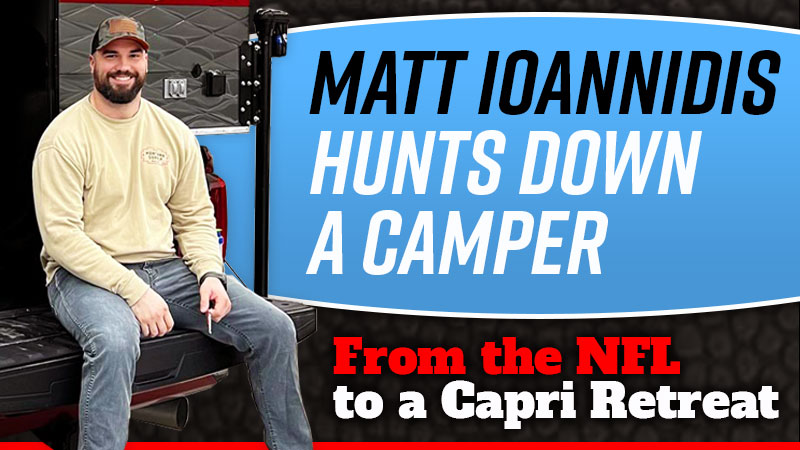 Capri Campers is on something of a roll. Not only do most current and past world rodeo champions use Capri Campers, but their Retreat model has been prominently featured on Paramount's phenomenon television series, Yellowstone, and gained not one but two of its stars as Capri Camper owners; Ryan Bingham and Jen Landon. If that's not impressive enough, Capri also won 2022's Reader's Choice Awards for Best Truck Camper of the Year with the Lone Star.
All of this is why we thought someone at Capri Campers was surely punking us with the news that a professional football player was now among their ownership ranks.
How in the world would a pro-NFL player cross paths with a Capri Camper? And what would compel him to want a Capri Camper of his own? Okay, Pete and Tyson – you almost got us this time. You can't possibly be serious, right?
Once again, they were. And the story behind how NFL Panthers Defensive Tackle, Matt Ioannidis, discovered Capri Campers is surprisingly down to earth; much like the man himself. In short, he fell in love with hunting and realized he needed a way to travel and stay comfortable during his off-road, off-grid, and often off-weather excursions. We may not all be hunters, but Matt's path to truck campers is something many of us can certainly relate to. The best part is that he really didn't know about truck campers until he realized he needed one.
What follows is one of the most amazing interviews we've ever done; and not just because of Matt's career. He's definitely one of us.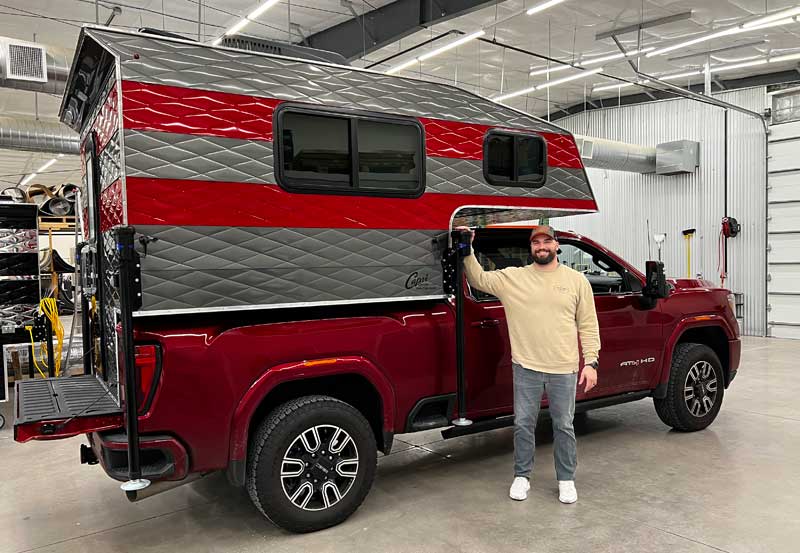 Above: Matt picking up his new Capri Retreat at the Capri Factory
This is the first time we've had the opportunity to interview a fellow truck camper in the NFL. How did you get into truck campers?
I grew up in rural New Jersey. Truck camping is not exactly common there. I played college ball at Temple University in Philadelphia and then for the Washington Redskins. It was with the Redskins that I linked up with some pretty serious hunters. After the NFL season, we'd go to Texas and hunt. I flew in for those hunting trips but wanted to drive for the past few years. That led to the idea of a camper. I could drive to Texas, camp off-grid, be independent, and take my time.
At the time I was driving a Chevy Trail Boss 1500, and figured that it should be able to haul just about anything. I started Googling 'truck campers'. During my research, I saw the big names, but they were all too heavy for my Chevy 1500. That's when I found Capri. They were making lighter campers than everyone else and they were customizable. That's when Pete D'Acosta and I connected.
A friend of mine has a pull-behind trailer. He constantly feels like he's fishtailing on the highways in the wind. I've driven behind him and I could see it. I like that anywhere my tires go, my Capri Camper is with me. I like that with a truck camper you are mobile, versatile, and can go overlanding.
You are 6'5″ and 308 pounds. Is a Capri Camper big enough for you?
I'll tie the thought back to my Chevy 1500. My original payload was about 1,500 pounds. I found Capri when I was looking at their Cowboy models. Ultimately, I sold the Chevy 1500 and got a GMC 2500 with 3,000 pounds of payload.
Then I upsized my camper decision. With the Capri Retreat, I can stand up straight. The bed is good in that I lay flat and don't touch the walls. Pete actually recommended upsizing to the Retreat for my height and weight. It made sense to get a bigger truck.
Had you seen a Capri camper before you picked it up?
Only on the internet. I don't remember ever seeing one driving down the highway. After I bought mine, I see them more frequently. I recently saw one in Pennsylvania.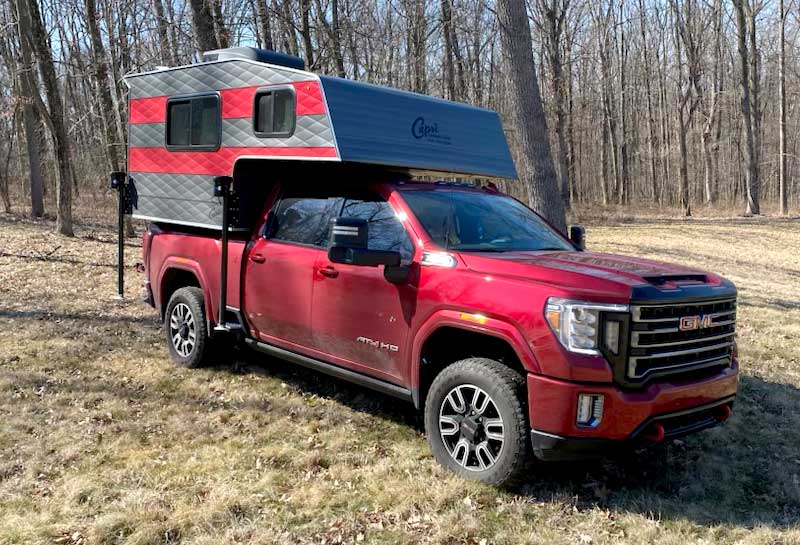 Your first trip was coming back from Texas to your house in Pennsylvania. How did your first truck camping road trip go?
We left Capri and went to East Ranch down near the border. Then we traveled up the coast; Houston, Shreveport, southern Louisiana, Alabama, and wrapped our way north.
My buddy and I traveled together as a caravan. It took us a day to travel south of Houston to Shreveport. That night we were looking for a place to park. My buddy wanted a shower. I was content to camp. We found a campsite, woke up in the morning, and almost made it to Atlanta. A friend of mine found a spot for us. Then, I hit some trees trying to park it. That's when I made a note to avoid cities if I am going to be carrying the camper around. Landscaping isn't expecting a camper in town.
When I first bought the camper, I was having trouble braking. It is heavier than I am used to and I was rolling into stops faster than expected. My friend said to turn on my diesel exhaust brake and braking became easier once I figured that out.
Other than overhead clearances, my camper only takes up the dimensions of my truck. My buddy had to parallel park his trailer. It's easy to park the truck and camper.
Most of us have hit a tree limb or two. We frequently recommend that all truck camper newbies measure the height of their rigs and put that number – in feet and meters – on their dash.
I keep meaning to measure the height. Overall, the camper has been a breeze. All the systems couldn't be easier. Turning on the furnace for heat, using the Fantastic Fan, and the air conditioner are all super simple.
The part that I think anyone new to truck camping has trouble with is loading the camper. Unloading it is much easier. While loading, getting the angles exactly right is a challenge. I have done it twice now. My wife helps me; "Left, left, right, right." It's like assembling furniture with your spouse.
Above: Matt went to the 50 For The Fallen event with his camper
Oh, we know. We tell new truck camper owners to prepare for interesting language and hand gestures the first time they load. Thankfully, it gets better. You recently traveled to Atlanta with your camper to help a Military non-profit. What did you do there?
Chad Conley invited me to participate in his non-profit organization, 50 For The Fallen; a 50-mile, 18-hour ruck to benefit veterans in need. I have great respect for the military and everything they've done for us.
I could have flown down, but it was a good solo trip in the camper. I am super grateful I took the camper because it rained. It was cold and wet and my camper was a dry basecamp for me. I could go in and warm up. I later went to an LA Fitness, showered, dressed, and crashed in the camper.
My wife knows that I can be impulsive. She is generally okay with me buying things if I put them to use. My friend has a dollar-aware rule; buy anything you want, but you have to wear it as much as it's worth. So, if it's a $50 t-shirt, wear it fifty times. I don't know if that rule applies to campers, but I'm going to try to get my money's worth out of this thing.
You play for the Carolina Panthers and you live in Pennsylvania. Will your truck camper be a way to get back and forth to North Carolina?
I will definitely use it for that. After I retire, I plan on going hunting beyond Texas. Maybe I'll go to Utah and Canada. That's why it was important to have heat.
Beyond hunting, my wife and I are planning on going to concerts, and she enjoys tailgating at football games. My wife went to West Virginia University, so she's no stranger to tailgating. I think it's the perfect tailgating camper because it fits in a single parking space. There is plenty of room for gear, and then we can unload our chairs and grills and set up.
The camper also gives us privacy. If the kids need to nap, get out of the weather, or any of us just need to decompress, we can easily do that. I also enjoy being off-grid in the middle of the woods. I want to pass on camping and hiking to my kids.
I wish I had started this earlier. I missed out on crucial years of being outdoors. It wasn't something I did much as a kid. Now, I like luxury. Could I get by with a tent on the ground? Yes, but if I am setting up camp, I might as well drive somewhere and sleep in a camper. I'd rather be comfortable than rugged for the sake of being rugged.
Truck campers are definitely a huge step up from tent camping. It becomes a home away from home. Have you visited anyone at their house and stayed outside in your camper yet?
That happened on the way back from Atlanta. After the veteran's event, I wanted to put miles in the rearview, so I stopped in Charlotte, North Carolina. I had stayed in a house in Charlotte and moved out in the off-season. I knew my past neighbors and parked outside their house for the night. They invited me in, but I told them that I'd be okay in the camper. I did that on the way down and on the way back. I stayed in my camper rather than going inside. They offered for me to come in, but I enjoy being self-sufficient.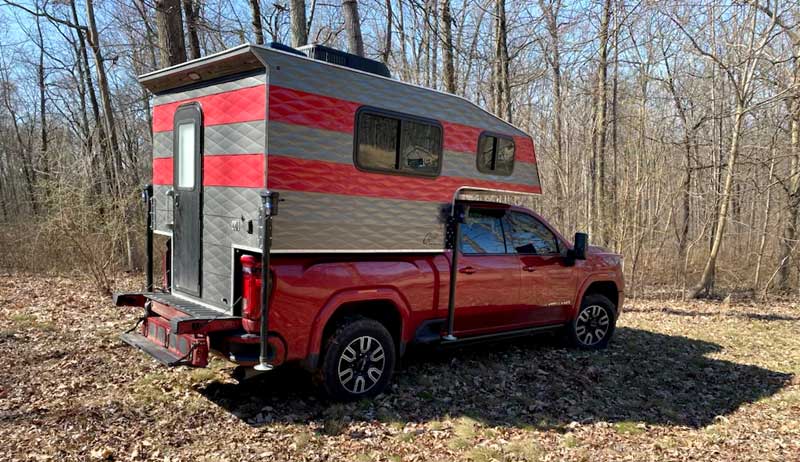 So do we. What have your family, friends, and teammates thought of your truck and camper?
I bought it in the off-season, so my teammates haven't seen it. The people who have seen it in person are curious and want to know what it looks like inside. They want to know if it's comfortable and spacious. People don't know about truck campers and think they are too small. All I know is that the older I get, the less I need.
Will you be able to use your camper during NFL training or games?
The camper does not have a place in my professional career. Even if I wanted to, I couldn't. The Panthers' training camp is at Wofford College in South Carolina. When we are in the dorm, we have to come back every night and stay in the room. They check on us. As far as our games, it's a big truck, and my wife is pregnant. She's never driven a vehicle this size and doesn't feel comfortable with it, so I don't think she'll tailgate without me.
During my research, I found one professional baseball player who lives out of his van. That's the only example I've seen of professional athletes in campers. In Carolina, one of my teammates who used to play for the Ravens pulled a fifth wheel during his rookie contract and lived out of the fifth wheel during the season. As far as truck campers, I haven't seen another in the NFL.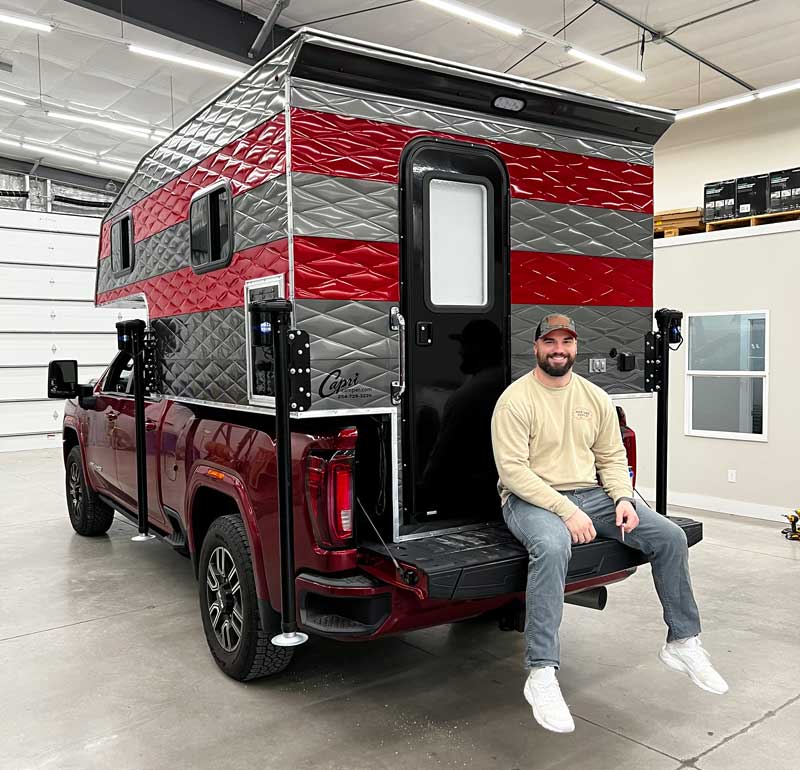 This is certainly the first we know about. What concerts do you plan on tailgating?
We live in central Pennsylvania and the Giant Center in Hershey hosts artists we want to see like Zac Brown, Chris Stapleton, and Hardy. We love going to concerts. I've already seen Third Eye Blind, Zac Brown band, Clutch, Florida Georgia Line, and Thomas Rhett.
After we have our baby, my wife and I are looking forward to the Penn State vs West Virginia games. We'll drive out and do a mom-and-dad weekend for a couple of days.
Being a public figure, do you have any concerns about security when you're traveling?
It's funny. I hadn't given that a ton of thought. I think it is important that you think about where you stay for the night. I'm not sure I'd stay at a Walmart, Cracker Barrel, Loves, or Pilot. I'd rather find a secluded place in the woods.
When I was driving down to Texas without the camper, I was mesmerized by green signs. I was looking for lodging. I'd realize, "Oh my, I'm gassed out. I need to go to sleep". On the way back, I didn't look because I knew where I was sleeping. I just need to find a place to park my truck.
Earlier you mentioned retirement, which is normally an odd topic for someone who is 29 years old. What's your vision for retirement at this point?
I don't know. When retirement comes, whenever that is, I don't know what's in store. I'll take a year off. I will put feelers out to see what I like and don't like while I spend time with my family. I'll travel and make a decision after that. I do plan to travel quite a bit.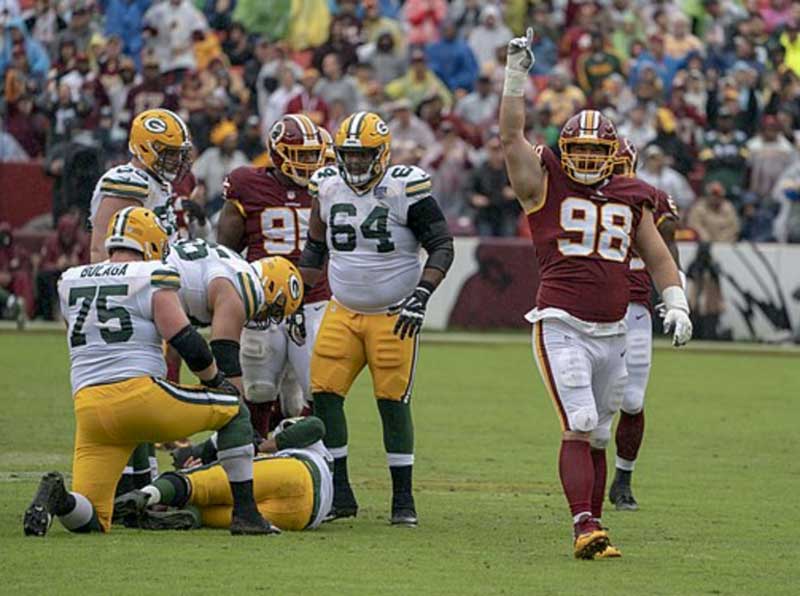 Truck Camper Magazine is obviously not a sports magazine, but if you went back in time right now to before you entered the NFL, what advice would you give yourself that might help the next generation of players?
I would tell my younger self about managing a few things. First and foremost, stress. I didn't manage it well. The stress sword is sharp on both sides. It can keep you focused and feared, but it wears you out. You can burn out from it.
I would also pick a veteran who has been a high achiever and just follow him. I picked Ryan Kerrigan in Washington and followed him like a shadow for a couple of days. As a young player, I didn't know anything. From watching Ryan, I noticed he didn't waste a moment of the day. He ate lunch for 15 minutes, went to the weight room, practiced, and then came back in and do it again. He may unwind and decompress mentally and shoot the @#$%, but I found Ryan to be an efficient person. I don't know when he took care of personal matters. When at work, he was all business. Even a fraction of shadowing him helped me immensely.
I would also tell myself to manage my relationships with people. In professional sports, friends come and go. I make a conscious effort to keep the relationships alive. If you move away, over time you see friends less and less, and then you might not talk at all. I have learned that you need to take care of the people you hold dear. I have a lot of friends, and I have made a conscious effort. Great people helped me out and I am still trying to repay them for the help they've given me.
Follow Matt Ioannidis on Instagram.