When Justin Chatwin isn't on set, you may find him on a remote Baja beach, or in a small village in South America.  On camera or in his Four Wheel Camper, he finds purpose, play, and peace between his two extraordinary worlds.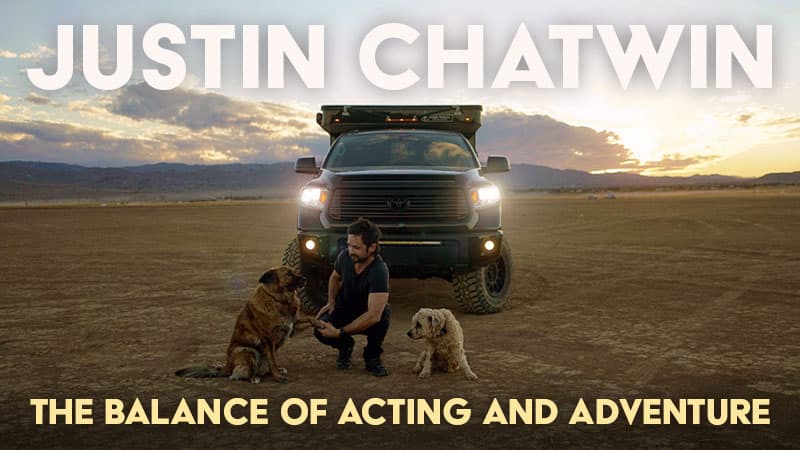 The proverb, "All work and no play makes Jack a dull boy" dates back to 1659 and still resonates, but the next line is equally important; "All play and no work makes Jack a mere toy."
No matter our station in life, we need a healthy balance between work and play to remain centered and happy.  Without this equilibrium, we are often anxious and unsettled.  The proverb remains true, 362 years later.
Reading 38-year old Justin Chatwin's extensive resume, it would be easy to believe he's all work.  Justin has acting credits in over two dozen feature films including Spielberg's War of the Worlds and leading roles in 2009's Dragonball Evolution and 2007's The Invisible.
Justin has also earned success playing Eric Wallace in Netflix's Another Life (2019), Cam Hawthorne in CBS's American Gothic (2016), Jason Kellerman in BBC America's Orphan Black (2015), and Jimmy Lishman in Showtime's Shameless (2011-2015).  He even played superhero for the Dr. Who episode, "The Return of Doctor Mysterio".  That's right, Justin is The Ghost.
And yet, we know of nobody on earth who has achieved a more fascinating work-life balance than Justin.  From a featured star on a film set to an overland explorer in Baja, he continuously pushes his creative potential, scratches his bottomless wanderlust, and dares to play as hard as he works.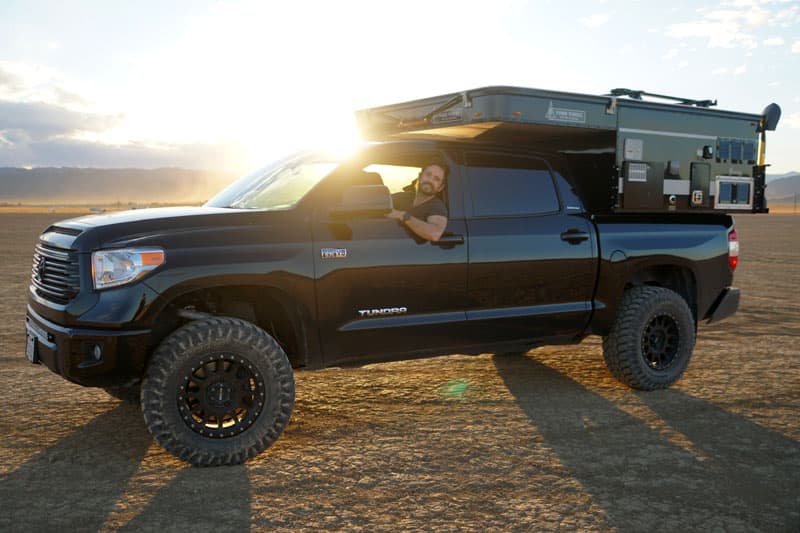 Above: Justin Chatwin driving his Toyota Tundra and Four Wheel Camper Raven
Looking from the outside in, there's a fascinating duality to your life.  Justin Chatwin the accomplished actor, and Justin Chatwin the fearless explorer and adventurer seeker.  Which one is more the true you?
They are both part of me.  I signed up for the Hollywood circus when I was 19.  Acting seemed like a great platform to have adventures, meet interesting people, and learn interesting things.  I love telling stories, being creative, and meeting people on a movie set, but I didn't like living in LA.  I got bored of sitting around in LA bars, talking to other actors, and doing nothing.
Some of the actors I work with are friends.  Some are not.  It's similar to being on the road.  As an actor or an overlander, I'm always moving around.  At the end of the day, my work always takes priority.  But the minute I'm done, I jump on a sailboat or camper or motorcycle and go.
Life becomes magical on the road.  It's not easy, but you are living in the unknown.  It can be scary, but it's a solution for boredom.  For me, the road is also time travel.  Time slows down on the road.  Twenty days can seem like twenty months.  When I spend twenty days in a house I can't remember much of it.
We can relate to that.  It seems like every chance you get you are escaping the trappings of modern society and getting as far off the beaten path as possible.  Is that accurate?
I have a never-ending desire to be outdoors and remote, but I'm not into isolation.  A lot of people thrive on isolation.  I am community and tribe-based.
That's another thing I love about overlanding.  It has connected me to a new world of people.  People who see my Four Wheel Camper want to talk to me about their camper.
With the truck camper comes decades of great stories and communities that spin life into directions you never could imagine.  Somebody will tell me to meet Pepe who makes great goat cheese just over the mountain pass.  To me, that's the ticket I bought with the camper.
Half the battle is finding out what we want.  Once my girlfriend and I said it would be amazing if we had some prawns.  Thirty minutes later, a prawn vendor came to the beach.  Another time we needed a paddleboard and a paddleboard truck showed up.  Things come to us when we know what we want. There's a message there.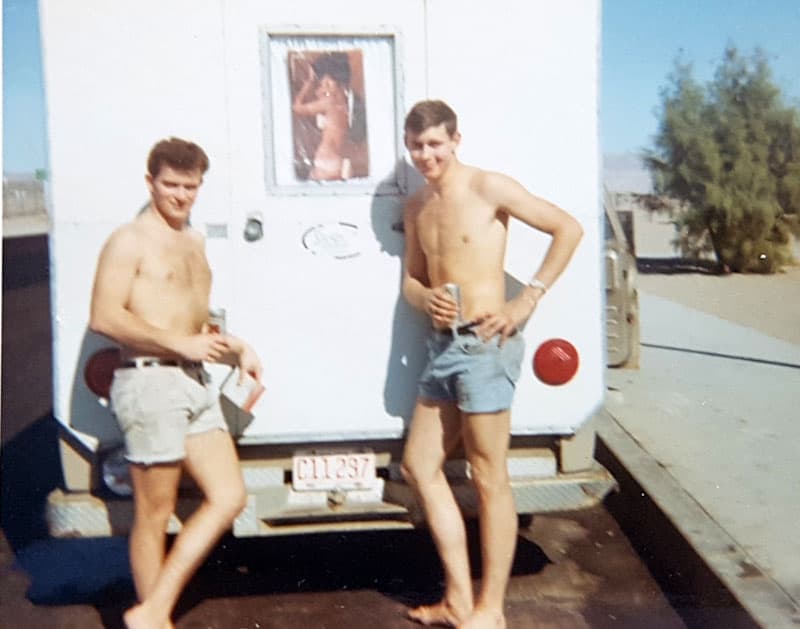 That's so true.  We call experiences like that Road Magic.  How did you first become aware of truck camping?
My dad and a friend took off in 1969 under the influence of Jack Kerouac.  In four months they made a huge loop from Vancouver to Durango, Baja, and back to Vancouver, British Columbia; where I'm from.  They just cruised around.  There's a picture of my dad and his friend with their camper and a Playboy centerfold in the back window.  It was that photo of them that stirred my soul.
My family also took us to Cabo a lot and I remember meeting couples in vans, paragliding off the dunes.  The ease and comfort, and their simplicity of living was something that touched me in a deep way.
Five years ago I took a trip to the bottom of South America on my Harley and it was incredible, but I hated having to find hotels, water, and ice for our coolers.  I just wanted a rig with four wheel drive, onboard water, refrigeration, solar panels, and a comfy bed.
I have also become a pillow princess.  I really do not like sleeping in the dirt on an inflatable mattress.  That's a real problem with motorcycling cross-country for months and months.  I brought a memory foam baby mattress that I rolled up behind my back.  I was made fun of for it, but it was more important to me than a tent.
I was lucky to meet a woman who was okay with digging a hole to poop in the desert.  It's hard to find someone who will do that.  She had a Sprinter Van.  We ran the numbers on how much it would cost to convert her van or sell it, versus the cost of a Four Wheel Camper for my Toyota Tundra.  It made sense to get the Four Wheel Camper. For me, a truck camper was a backstage pass to the universe.
Is the truck and camper stock, or did you make modifications?
When I was stuck in isolation in Vancouver during Covid this past year, my mind was stuck on making an adventure rig.  The Tundra was rigged out by a company that builds vehicles for the Baja 1000.  It has Fox shocks, Method wheels, Grabber tires, upgraded springs, and an air compressor.  When that was completed, I added a light bar because Baja is dark at night.  My Four Wheel Camper is a stock Raven.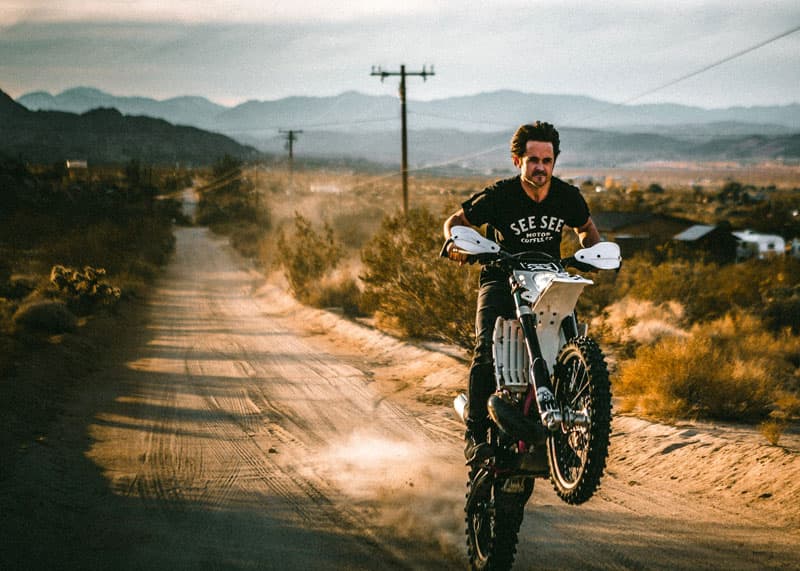 A good portion of your Instagram photos are devoted to your dirt bike adventures.  Is your truck camper a part of that passion?
The Tundra's payload isn't great, so I'm already maxed out with the Four Wheel Camper.  If I were to do this again, starting from scratch, I might get a Ford F-350 and a Four Wheel Camper Hawk or Grandby.  That would be a larger camper, and the truck would offer more than enough payload to haul a dirt bike.  I didn't want to start over from scratch, and we're happy with the Raven.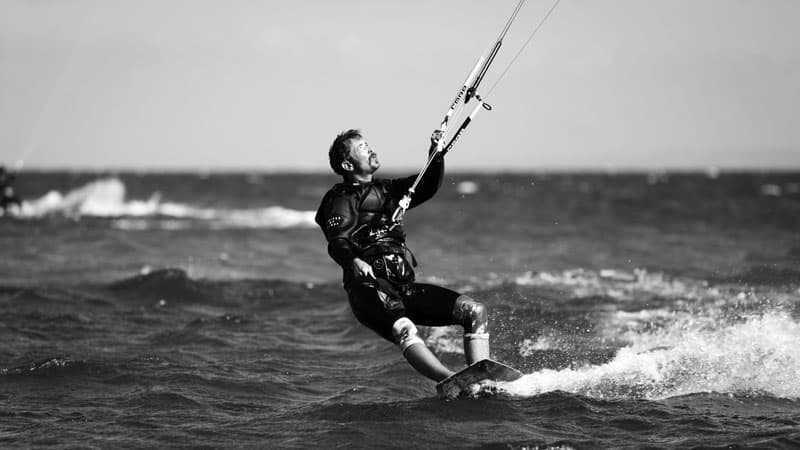 So what are you doing when you are truck camping in Baja and other remote places?
In the beginning, it was just seeing beautiful beaches and sunsets.  After a while, I got bored of it.  Now we choose places that offer the kinds of things we love to do; mountain biking, kite surfing, and spearfishing.
We also love to meet people and hear their stories.  We had a fish fry on a beach with two couples who have been living in their Westfalias traveling around South America living full-time in their van.  So that idea has been percolating in our heads now.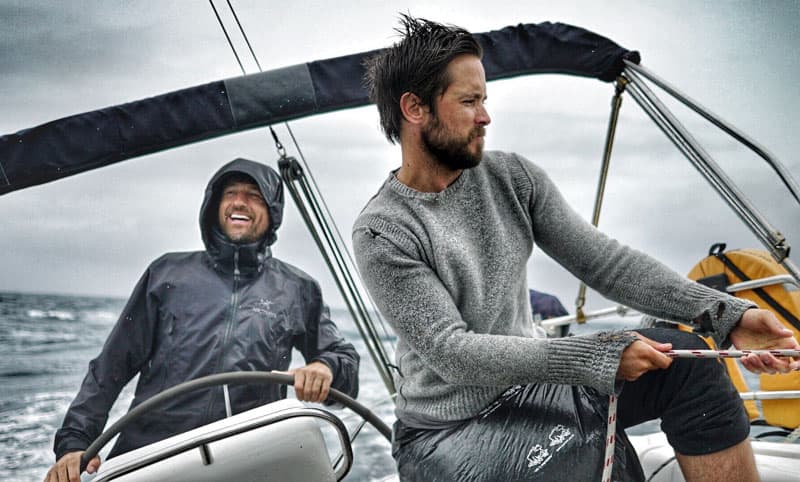 Do you stay connected with the people you meet?
Yes.  We'll go to a beach and there will be six groups of people.  We'll talk briefly to all of them and know instantly who we'll be friends with.  We already met up again with people we've met on this trip.
It's not about truck campers or motorcycles.  It's about adventure and people.  I really struggle with boredom.  I'm also endlessly curious.  What's beyond that mountain?  What's in that country?  What are those people like?  Who are we going to meet?
When I engage with people and other cultures I come home with humility.  In a house, I take water, a dishwasher, a shower, and the garbage collector for granted.  In a truck camper, I'm more environmentally conscious about water and power usage.  I find it refreshing.
"When I get into nature and catch my own food and get back to a simple existence, I'm more grateful.  I like that version of me more."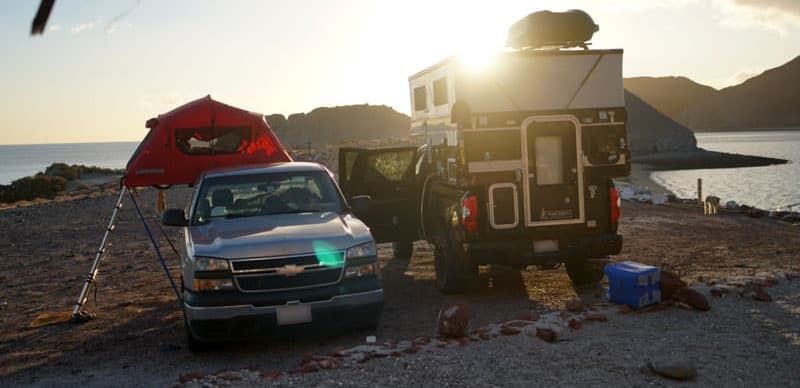 In the camper, we feel like retired people.  We go to bed when the sun goes down, and wake up before the sun rises.  It's more primitive living, and we're more in touch with the natural world.  In a house, I can get addicted to technology and luxuries.  I feel anxious to getaway.  When I get into nature and catch my own food and get back to a simple existence, I'm more grateful.  I like that version of me more.
Do you have a house or home base right now?
I do.  We rent a house in the Pacific Northwest.  I also own an Airbnb in Joshua Tree.  In Baja, we are renting a home base month-to-month.  We travel until it stops being fun, and then we go hole up in a rental house for a couple of weeks or a month.  Because I'm an actor, I need a place and a space to prep, for meetings, and to get into a routine.  Then, when that stops being fun, we get back on the road.
We are not ready to live full-time in the Raven, but we are toying around with the idea.  Right now we're also toying around with shipping the rig to Uruguay or driving to Alaska.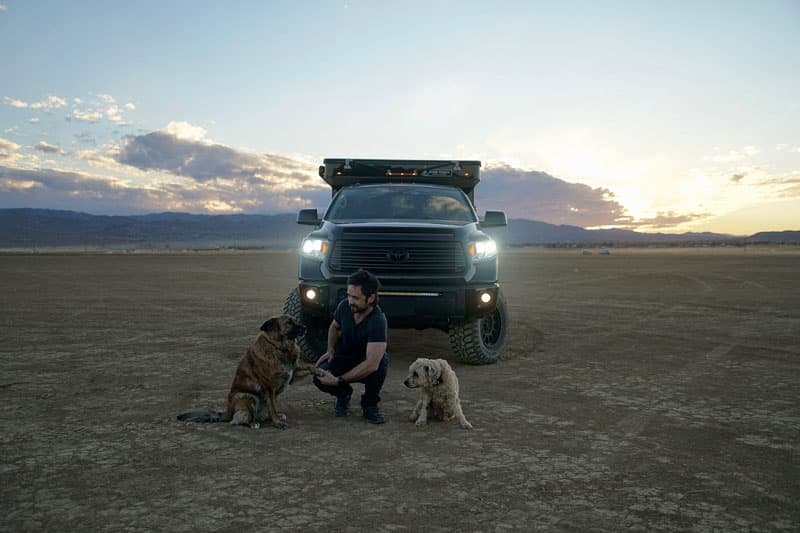 That sounds like a follow-up story, or two.  So where are you more a fish out of water, LA or the middle of nowhere in South America?
Definitely Los Angeles.  I have always felt like a fish out of water there.
We recently visited a friend's mom in Baja and she had a house for us to stay in.  I stayed in the camper, not in the house.  I have such a good sleep in the camper's bed.  I added a 3-inch memory foam topper.  When I get up in the morning, I roll over, click on the propane cooktop and start coffee.  I love the camper.
I have to be mindful of our minimalist way of living. Everything we bring has to have a purpose.  If we don't need something, we give it away.  When I live in a house, things I don't need go into a drawer.  It feels like a big waste.
With all the variables of travel, how do you make sure you don't miss a day on-set?
I give myself plenty of time to drive.  I am not a huge fan of airplanes, especially with Covid.  I'm happy taking two-lane highways through small towns.  I love those towns.
Once, on my way to a movie location, I drove for five days on old highways and slept in the back of my open truck with my dog.  The whole time I was there, we were in a hotel.  I don't like the smell of cleaning agents or being in elevators with other people.
Do you think you could use your truck camper rig on location instead of staying in hotels?
I will definitely use it down the road.  With the camper, I could live, travel and be even more reliable as an actor.  The only bummer is that it's your car and your home.  Every time I need to go to the grocery store, I need to pop-down the camper, secure it and go.  We are toying with the idea of mounting bicycles.  Again a motorbike is a great idea, but the Tundra's payload won't support it.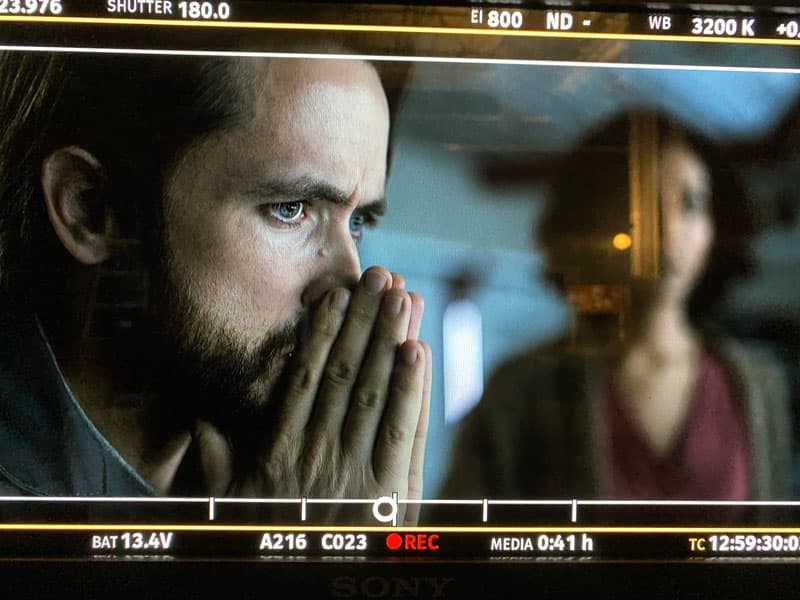 What is it about acting that keeps pulling you out of your camper, off your dirt bike, and back from your travels?
What I do takes me to interesting places.  The next movie I'm in is in Louisiana.  The story is interesting and has a lot of soul.  It's about the systemic racism and the desegregation of school busses in 1974.  I feel part of something when the stories are about something.  I'm looking forward to that.
I really like acting.  It's a safe place to experience feelings and connect with people.  It's not that different than the communities one finds with camping.  Making movies makes me feel like I'm part of a tribe.
Also, the money is not bad. On the road, we hear from people who can't afford this or that.  They are constantly struggling with money.  I want to live this lifestyle, but I want to be able to get a hotel if we need one or enjoy an expensive meal.  After making a movie, I want to binge on kite surfing, beaches, and adventure.
The two balance me out.  If I spend too much time traveling and having adventures, I feel disconnected from my purpose.  If all I do is work, work, work, I need to play.  You guys understand it.  It's about balance.
"If I spend too much time traveling and having adventures, I feel disconnected from my purpose.  If all I do is work, work, work, I need to play.  It's about balance.
What do your fellow actors think of your traveling and adventure exploits?
They have mixed feelings.  Some are disconnected or don't know how to relate.  They don't understand how living in a truck and camper can be fun.  Others are fascinated by it.  I really haven't met a lot of people in Hollywood who have a desire to do it, even some of my best friends.  Most have zero desire to live on the road.
People sometimes ask how to become an actor.  You have to be interested.  If you are living a life in which you are interested, you're going to be an interesting person.  And if you're interesting, you are going to have more to bring to an acting role.
It sounds like you have a good balance between work and play.  Would you want more or bigger television and movie projects if they came along?
I have met actors who have found themselves in high demand and worked, worked, and worked until they were 50 years old.  They often have regrets that they didn't travel and live their lives more during those years.  I like that I can work four months on a television show and then have eight months to wander.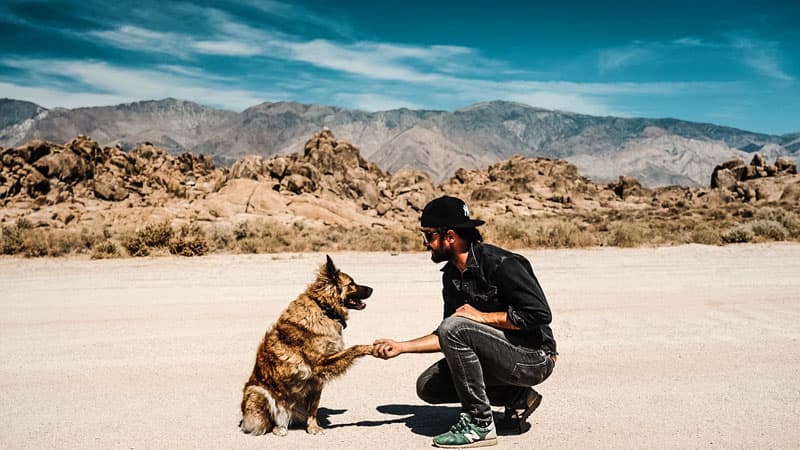 Two people and two dogs is a lot in a Four Wheel Camper.  You make it look easy and ideal in your photography.  Do you ever want more space?
We do struggle with the concept of space.  There are days when we need to do our own thing for a while.  Then, we get together and get back on the road.  We've learned a lot traveling as a couple.
There's also an ongoing list of things that break while traveling.  In Baja, I ripped a shock off in a remote area.  I still don't have it fixed.  Having a truck and camper is like having a boat or motorcycle.  Things break, even new things.  The Four Wheel Camper has been pretty flawless.  Mostly it's been the truck.
I think a lot of your fellow truck campers, us included, can relate to that.  What has been the impact of Covid-19 on your acting and traveling lifestyle?
The Covid experience has been incredible, but also disheartening.  When Covid started I was filming in Vancouver, British Columbia and my girlfriend was in Iowa.
At the time, if I left Canada I would have to quarantine for two weeks, so I stuck around.  Two weeks became three months, and more.  I wasn't excited about coming back to the United States, so I stayed in Canada.
My first plan was to get a boat.  I got my captain's license and was looking into that.  At the same time, I was mountain biking every day and saw mountain bikers with Four Wheel Campers.  They were making epic food and mountain biking in remote areas.  That's when I contacted the Four Wheel Camper rep in Canada and started learning about their products.
I thought, "If we live by the Covid guidelines, we can go wherever we want in the camper".  With our passion for being outdoors in remote locations, we were made for this moment of quarantine.
Covid was also a great time for me to ruminate on the changes I wanted to make in my life.  The whole time in Vancouver I was restless and irritable.
Like a lot of people, I felt depressed not being able to go anywhere.  I decided to join the mass exodus out of Los Angeles and go somewhere where I could do more of the things I enjoy with like-minded people.  I still don't know where that place is.
With our lifestyle on the road, we don't know where we are going next week.  When there's tension with that, I breathe and focus on what's going around me.  It's all about freedom.
"When I was on the road with my Harley, it felt like home.  My first childhood home felt like home. Now my Four Wheel Camper feels like home.
Has truck camping gotten into your bloodstream like acting and motorcycling?
Absolutely.  When I was on the road with my Harley, it felt like home.  My first childhood home felt like home.  Now my Four Wheel Camper feels like home.
It's often cited that travel writer, novelist and journalist, Bruce Chatwin (no relation) is your biggest inspiration.  What is it about his legacy that compels you?
My dad read his books because we have the same last name.  Someone gave me a copy of Bruce Chatwin's book, "In Patagonia" and I started reading it.  From that, I got nuggets of inspiration and began to understand what he was going for.  He died alone; restless and far away in dangerous territory.  That's where restless will bring you and I definitely have that.
The thing I love about him is his theme of nomadic instinct and how movement cures mankind's ills.  Slow-moving tribes around the world from Native Americans to Bedouins move and follow their food.  When a baby cries you rock it back and forth.  About fifteen years ago I became interested in this nomadic instinct and started riding bikes with my buddies.  Now I'm in a truck camper.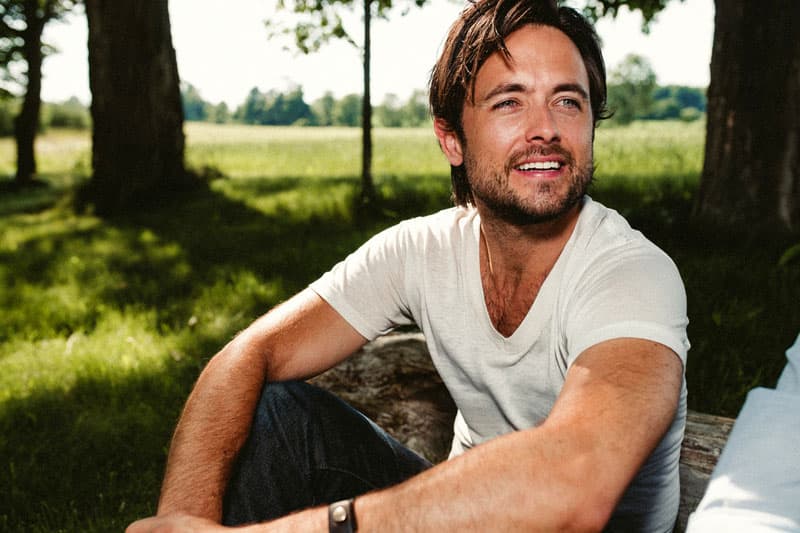 Is this balance between acting and adventure the plan for the foreseeable future?
I don't have a huge bucket list.  We'd like to return to South America and take our time.  We went from Washington down to the tip of Baja in three weeks.  There were several beaches that we wished we stayed longer, but we wanted to go to the next place.  There were places that we should have stayed and appreciated.
There's a road from Turkey to India that appeals to me. However, it's probably sketchy and dangerous right now.   I met someone once on a ferry to Cartegena who took that trip.  I want to go to places that people are afraid to visit.
I also get burnt out from doing crazy stuff and being lost in the world.  That's when I want to write or be on a set or take photographs.  I might be going spearfishing off the coast of Panama or climbing a big mountain when I experience a moment when I want to be creative.  I want to share my voice.  It's all about balance.
Some of my best memories are having soup in a woman's house in Iceland and communicating in broken English, or being in Palestine and having tea with a man and learning what's going on with his family.  It's those moments when I feel most alive.  At the end of the day, I want connection, but I also want that experience and feeling.
I don't know where I'm going to end up.  The constants are motorcycles, being an overlander, and a sailor, but who knows?  Maybe I'll be riding a donkey somewhere.  Or I might be in a house.  I like the idea of having a home base to recharge from the road.  I'd like to go out and spend six months of the year traveling.
Also, family is something we're focusing on.  I am inspired by families living in unconventional ways.  Families that are sailing around the world, or living full-time in campers and spending multiple years with their kids as they travel.
For me, it's not so much where, but how I want to grow up.  Less Peter Pan, more family.  And us finding a way to do it differently, in a more nomadic way.  All I know is that I don't know.
To continue following Justin's truck camping travels, feel free to follow Justin Chatwin on Instagram.