In an age when most of us don't keep a car more than ten years, Jack Purdy has been using the same truck and camper for over thirty-five years.

Let's make this official.  Until we hear otherwise, Jack and Joann Purdy are the current TCM World Record Holders for owning and operating the longest still-in-service truck and camper combination.  There are older trucks and campers on the road, but none have been together anywhere near as long as the Purdy rig.
And it sure is a "Purdy" rig.  In fact, it's so "Purdy" that one of Jack's photographs won the 2011 Truck Camper Magazine Calendar Cover.  Jack's picture was the run away winner with more votes than any other photograph.  After the calendar was announced, we received email after email about the charm of Jack and Joann's camper, the stunning setting, and the overall warmth and character of his photograph.  We couldn't have agreed more.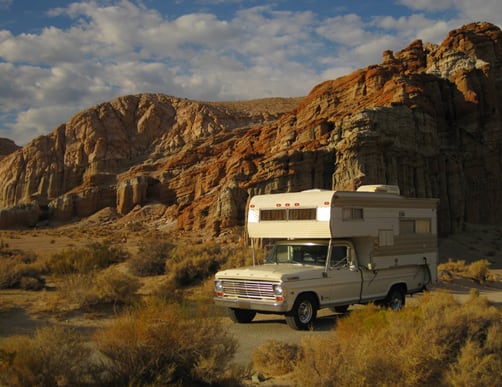 So how does someone keep a truck and camper going for thirty-five years?  And what kinds of stories accumulate from three and a half decades of truck camping adventures?  We went right to Jack and Joann themselves to find out.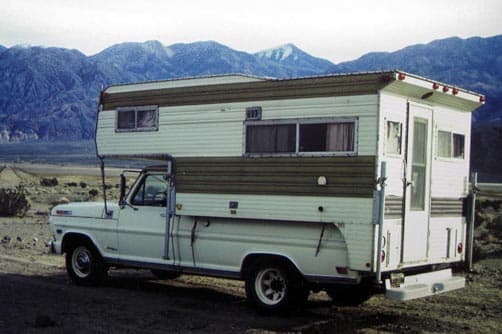 Above: Earliest picture after buying the camper, 1976
How did you get into truck camping?
Back in the early 1970s, I ordered plans out of an outdoor magazine to build your own truck camper.  When I looked over the plans I thought, "This looks like a lot of work"  and decided not to move forward.  Even though I didn't build the camper, that's when the idea for a camper was first set in my mind.
In 1976, when my wife and I were dating, we both loved camping.  At the time, I had a Pontiac station wagon and a tent.  Joann and I soon decided we needed something a little more comfortable, but we didn't know what.
Then we were driving around one day and saw a Roll-A-Long truck camper parked by the road with a "For Sale" sign on it.  "Wow", we thought.  "Maybe this is what we have been looking for"!
We looked at the inside and the camper didn't have any apparent water leaks.  We bought the truck and camper at the same time, so I also checked the truck's engine out.  That was good.  There were no dents in the truck body.  There were a few dents in the back of the camper because the previous owner had a motorcycle trailer.  That was alright with us.  We drove it to check how it drove and we made sure everything was working.  It looked good to us so we bought it.
Other than what I had learned from the camper plans years prior, we didn't know anything about truck campers.  What we did know is that this would be much better than a tent.  As it turned out, we couldn't have made a better choice.  We are still using that same truck camper thirty-five years later.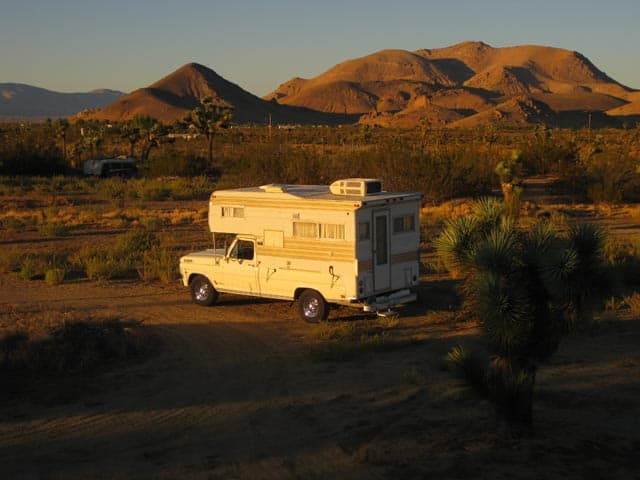 That's absolutely incredible.  When you saw the Roll-A-Long on the side of the road, what was it about it that attracted you to it?
Mainly that we would have a truck to drive around in when we weren't using the camper.  I can haul things with the truck.  Everything is in one unit and it's easy to park places.  It just fit our style.
At that time we bought it, we didn't realize how perfect it was for us.  We like to explore and camp off the beaten path.  We enjoy being able to park almost anywhere a car can.   We certainly benefit from getting better gas mileage than a motorhome.  Plus we don't have the inconvenience of hooking up, towing, and backing a trailer.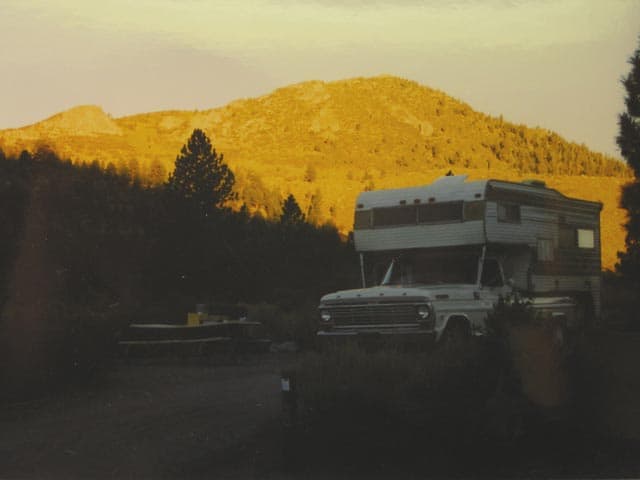 After thirty-five years of truck camping, I'm sure you have some truck camping memories that stick out.