Pulitzer prize winning landscape photographer, Jack Dykinga, is back with more stunning photography he took while boondocking in the desert with his Four Wheel Camper.

Every year we send out hundreds of emails to the truck camper stars we've featured in the electron pages of Truck Camper Magazine to catch up on their truck camping adventures.  The resulting TCM Stars series is a favorite here at TCM HQ and really gets to the core of what Truck Camper Magazine is all about; the truck camper community, and what we enjoy about truck camping.
Speaking of stars, we first featured Jack Dykinga in the Spring of 2009 with his article, "Jack Dykinga: From Pulitzer to Pop-Up".  In his first story with TCM, Jack shared his remarkable history as a Pulitzer prize-winning photographer and gave us some fascinating insights into his creative process, not to mention some stunning images to reflect upon.  He also shared his passion for one of his favorite photographic tools; a Four Wheel Camper.
In response to our latest TCM Star inquiry, Jack sent in a series of desert photographs that, once again, stopped us in our tracks.  As you're about to see, these photographs are, quite simply, sublime.  We replied by asking if Jack would share some further details about the photographs for a future feature story.  He agreed.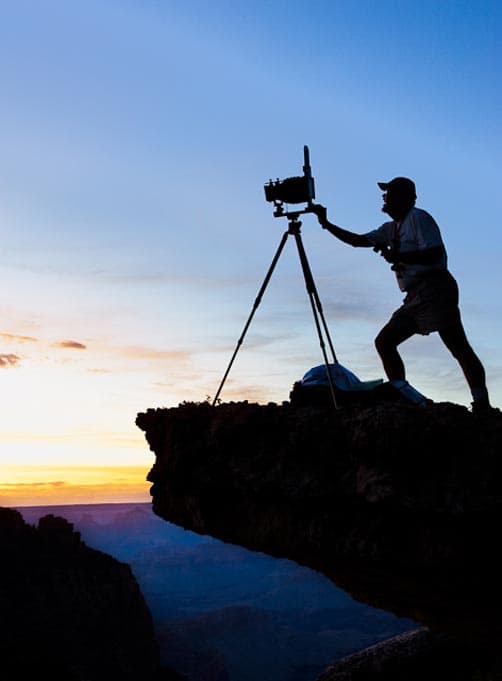 ABOVE: Dykinga in mad rush to capture sunset light at the South Rim of the Grand Canyon.
Jack Dykinga: Images Born in Inclement Weather
by Jack Dykinga
"F/11 and be there".  That's the mantra of photojournalists.  You can't create magic if you're not where the magic is!  It's the same for landscape photography: you need to live there to capture the spirit of the place.
So, when I left the newspaper business to become a landscape photographer in the early 80s, I decided that a camper was as necessary as my Nikons.  I wanted a base of operations I could place in remote locations.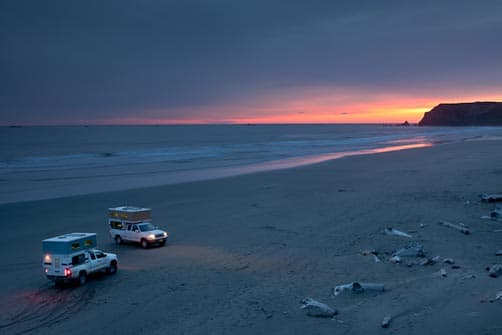 ABOVE: Dinner at sunset on the Oregon Coast, that affords a room with a view.
That means I'm not your typical truck camper with typical truck camper needs.  My Eagle Four Wheel Camper is my base-camp, my home, my office, and refuge from elements.   I'm a professional photographer that specializes in wilderness issues.  It's my work truck.
So, my idea of a camper is one that can go the farthest on a gallon of gas, traverse some of the hottest deserts, the worst terrain, sustain me and get me home unscathed.  In addition, my Nikon digital cameras and Macbook pro, literally drink electricity.  So I need a ready power supply.
My experience in the backcountry with seven pop-top campers has taught me valuable lessons.
1. Smaller and lighter and narrower cannot be over-stated.
2. High clearance and four-wheel drive is essential.  Not so much for getting "IN" …but getting "OUT".  The low range also lets this happen slowly when bouncing over rocks.
3. I need great gas mileage.
4. Finally, I need the durability of a welded aluminum frame camper.
These are opinions forged in real-life experiences.
I remember about ten years ago while negotiating a narrow gorge in Vermont, with maple trees protruding at 45-degree angles from the canyon wall, just out of my mirror's field of vision.  My truck was a very powerful Dodge Cummins diesel.  I had gone too far and needed to back up in order to negotiate a turn.  I checked my mirrors and started in reverse.  The sickening sound I heard was like a combination of a car crash and moaning of bent timber just before snapping.  I had just transformed my wooden framed camper from a rectangle to a parallelogram.
Besides the Dodge Diesels, I've had a couple of Toyota Tundras, but I wanted something smaller.  I chose a Toyota Tacoma SR5 4X4 with a four-cylinder engine.  That's right: a 2.7-liter four-cylinder engine.  My goal was to attain 20 miles per gallon.  The last tank got me a high of 23.3 and a low of 19 mpg.  I added Firestone airbags and heavier adjustable Bilstein shocks.
The Eagle camper is Four Wheel's narrow chassis unit with lessoned cab over-hang.  I can pass through narrow openings in mesquite forests and cruise highways with a high degree of aerodynamics.  It has a power-sipping Dometic Waeco all-electric refrigerator and an 85-watt roof-mounted solar panel.  Lighting is all LED with usual creature comforts (furnace, pressurized water, and stove, and external shower).  My beer stays cold on 110-degree days and I have the power to handle the computer.  Life's good!
Comforts aside, my job is defined by hours and sometimes days of waiting.  I spend my time waiting for the moment of magic.  Endless waiting, then absolute panic as the conditions become perfect.  Wind blasts my camper, snow loads on the roof, or I broil in the summers in the Sonoran Desert.  The beauty of the Four Wheel Camper is that I can break camp in a hurry and run after a storm front.  I may camp and un-camp six times a day.
You ask, why go to all this trouble just to get some solitude?  It's hard to say just when inspiration occurs, but I will say, when I literally live in a place and experience the power of its weather in all seasons, the images I produce are stronger.  I see my photography as a visual language relating a narrative between the reader and me.
My goal is to transmit to the reader or viewer of my work, not only a sense of the place but also what I felt when I was there.  The funny thing is:  every location becomes part of me as well.
So here are images born in inclement weather.  From snow at the Grand Canyon, pre-tornado clouds on the high plains, storm clouds over Arches, icy pre-dawn take-off of sand-hill cranes, a sand storm in Death Valley, and monsoon lightning storms in the Sonoran Desert.   Enjoy!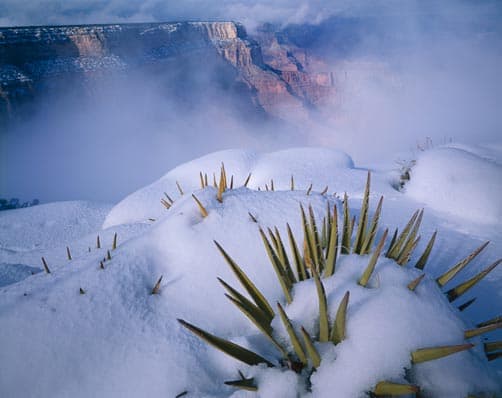 ABOVE: Nestled in a remote camping spot outside the Grand Canyon National Park, Arizona having arrived ahead of the storm, I rise at 5AM to head to the canyon rim as the storm lifts.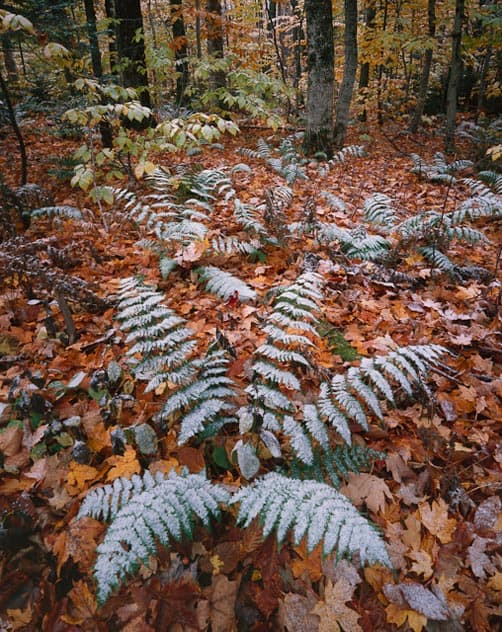 ABOVE: After making the long drive to Vermont's Green Mountains photographing fall color, the unexpected happens and new snow coats the landscape.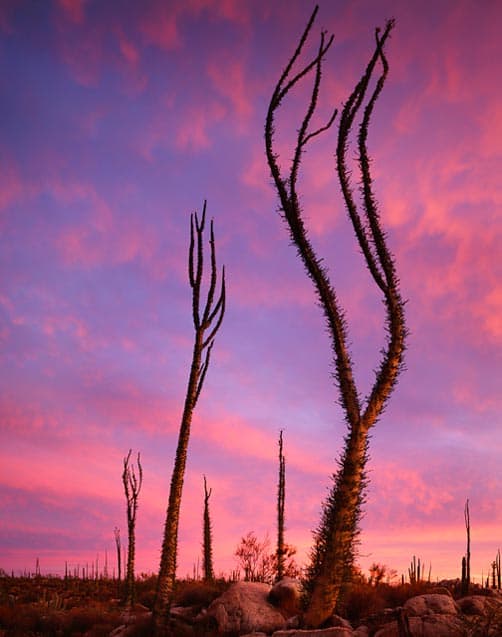 ABOVE: My favorite place in Mexico lies in the Desierto Central of Baja, where boolum trees extend their fingers to the lifting morning fog, colored by sunrise.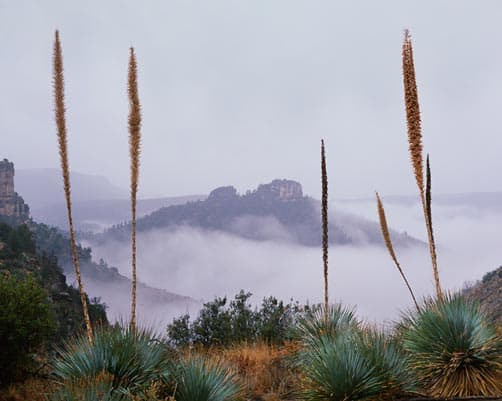 ABOVE: Arizona's Salt River Canyon is the "other grand canyon".  While working on a National Geographic story about Native American land stewardship, I endured a downpour, photographing under an umbrella to record the mesas rising about the lowering, foggy cloud layer.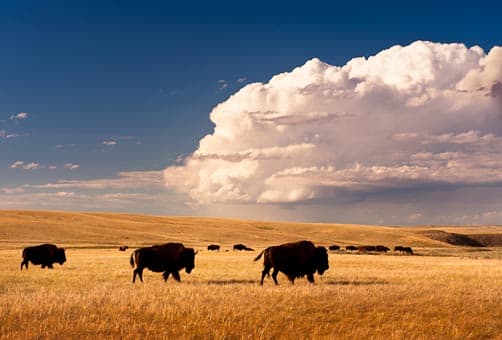 ABOVE: On assignment for the National Geographic, I spent days camping with and driving cross-country with the Fort Peck Assiniboine-Souix tribal bison herd.  Each night I would camp within view of these massive animals.  What I didn't realize, is that they constantly graze (moving and eating) and by morning they were nowhere to be found.  It's amazing how the undulating landscape can "swallow" an entire herd of bison!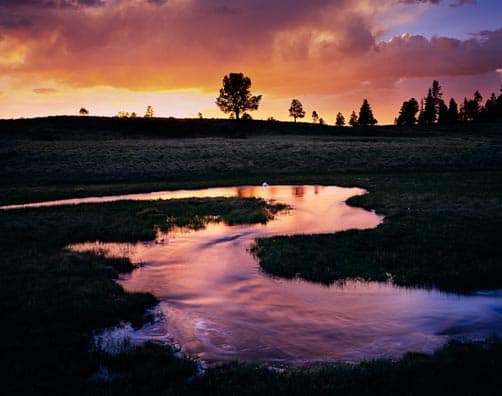 ABOVE: For a story on crossing Arizona using only BLM and Forest Service Roads for Arizona Highways Magazine, I came upon a scene in the White Mountains, Arizona where summer "monsoon" clouds turned blood red at sunset.  I located this scene at mid-day and camped…just waiting for the light, I knew would come.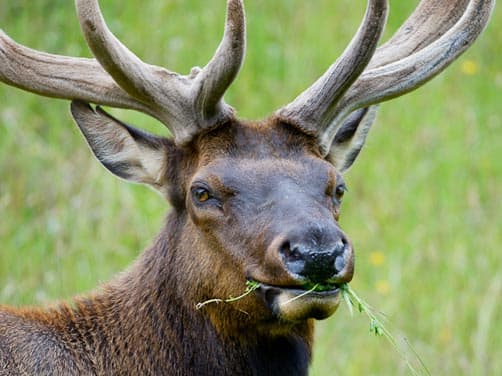 ABOVE: Sometimes just living in the boonies makes you lucky.  A very large Roosevelt Elk grazes a few paces away, and yet from my truck as a blind, I'm able to photograph him in Prairie Creek Redwoods State Park, California.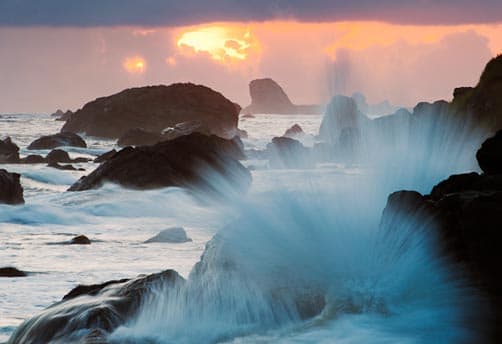 ABOVE: Sea-stacks along California's north coast, is a great place to see the pounding waves crashing against the shore at sunset, near Crescent City.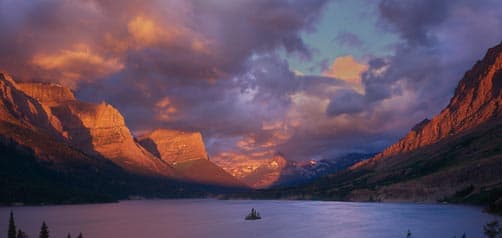 ABOVE: Dawn at Glacier National Park's Wild Goose Island on St. Mary's Lake, Montana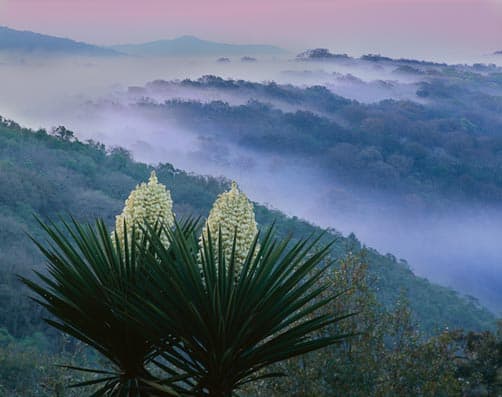 ABOVE: After grinding along for thirty miles in four wheel drive, I managed to reach the summit of the Sierra Tamaulipas, in Tamaulipas State of Mexico.  After a pre-dawn hike to a summit ridge, I was rewarded by flotillas of fog winding through the dry tropical forest below.  I was working on a book to document this very remote area.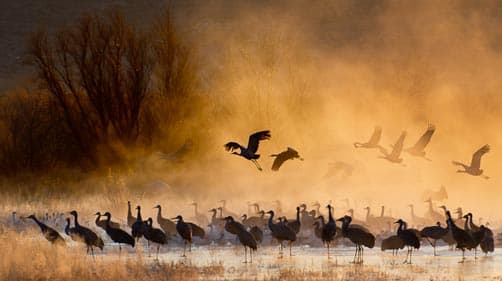 ABOVE: In the bitter cold of Bosque del Apache, National Wildlife Refuge, New Mexico, a miracle happens every winter as massive flocks of Sandhill cranes winter over grazing on the Rio Grande Valley field stubble. If you're planning on going, make sure you bring hand warmers and your camper's furnace is in good working order.  It's REALLY COLD!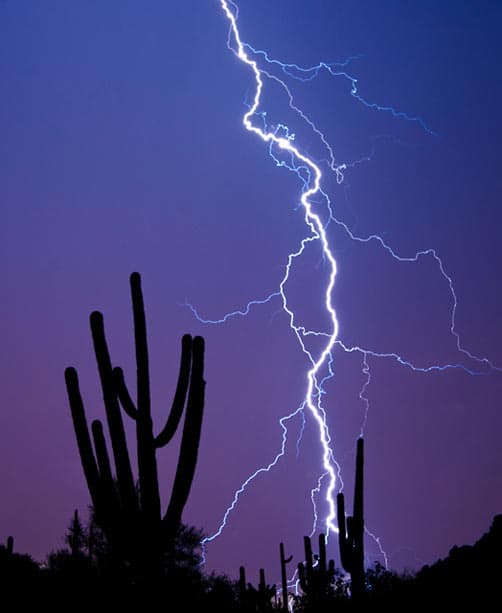 ABOVE: Desert summer monsoon storms are violent and ephemeral.  In order to photograph this one, I chased the storm cell from Tucson to Gila Bend, Arizona.  That combination of good composition and an active storm cell is surprisingly difficult to photograph.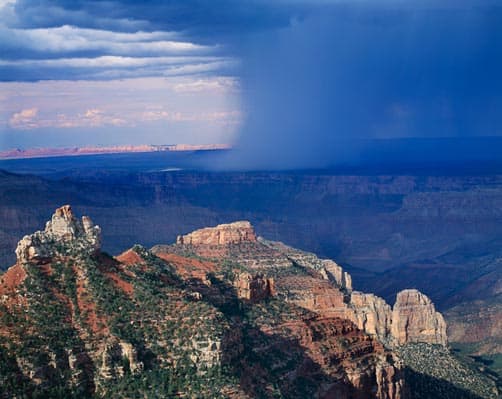 ABOVE: The North Rim of the Grand Canyon is a wonderful place to camp, sit out the storm and view the massive size of the storm cell from a distance that give scale and context.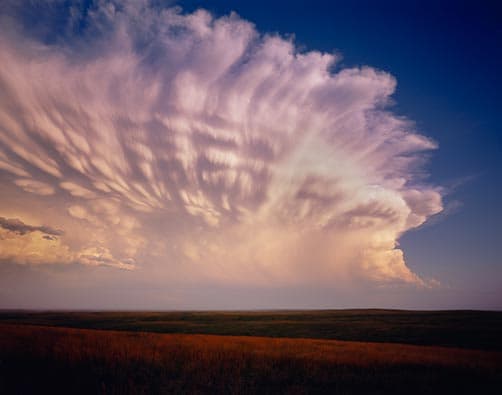 ABOVE: I was camped in the Cheyenne River Sioux Reservation's preserve on the high plains.  My purpose was to record the storm fronts that can sometimes morph into tornados.  Amid buffeting winds and serious nervousness on my part, I waited for the evening light to create magic in the sky.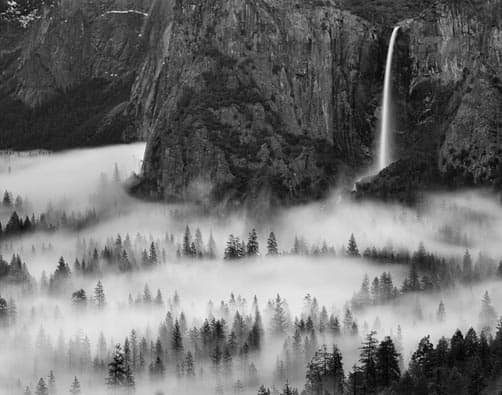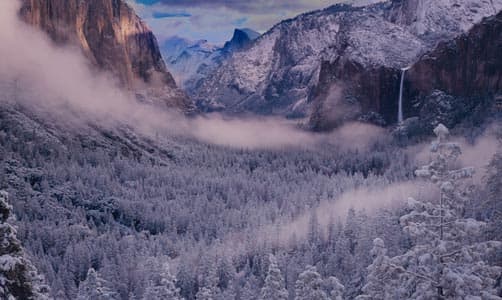 ABOVE: Waiting is everything.  Sitting out a winter storm in Yosemite rewards by providing foggy valley at dawn, with Bridalveil Falls seemingly pouring fog in the valley below.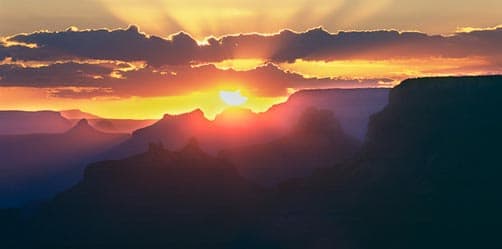 ABOVE: The summer storms at the Grand Canyon's Navajo Point, allow one to peer into an infinity of buttes and mesas toward a setting sun.
To visit the Four Wheel website, go to fourwheelcampers.com. Click here for a free Four Wheel brochure.
Jack Dykinga's Rig
Truck: 2010 Toyota Tacoma, extended cab, single rear wheel, short bed, 4×4, gas
Camper: 2010 Four Wheel Camper Eagle
Tie-downs and Turnbuckles: Four Wheel turnbuckles
Suspension Enhancements: Firestone heavy-duty airbags, adjustable Bilstein heavy-duty road sensing shocks
Gear: PIAA bright headlamps and synthetic oil in all gear and transmission cases