Pulitzer prize winning landscape photographer, Jack Dykinga, is back with more stunning photography he took while boondocking in the desert with his Four Wheel Camper.

Every year we send out hundreds of emails to the truck camper stars we've featured in the electron pages of Truck Camper Magazine to catch up on their truck camping adventures.  The resulting TCM Stars series is a favorite here at TCM HQ and really gets to the core of what Truck Camper Magazine is all about; the truck camper community, and what we enjoy about truck camping.
Speaking of stars, we first featured Jack Dykinga in the Spring of 2009 with his article, "Jack Dykinga: From Pulitzer to Pop-Up".  In his first story with TCM, Jack shared his remarkable history as a Pulitzer prize winning photographer and gave us some fascinating insights into his creative process, not to mention some stunning images to reflect upon.  He also shared his passion for one of his favorite photographic tools; a Four Wheel Camper.
In response to our latest TCM Star inquiry, Jack sent in a series of desert photographs that, once again, stopped us in our tracks.  As you're about to see, these photographs are, quite simply, sublime.  We replied by asking if Jack would share some further details about the photographs for a future feature story.  He agreed.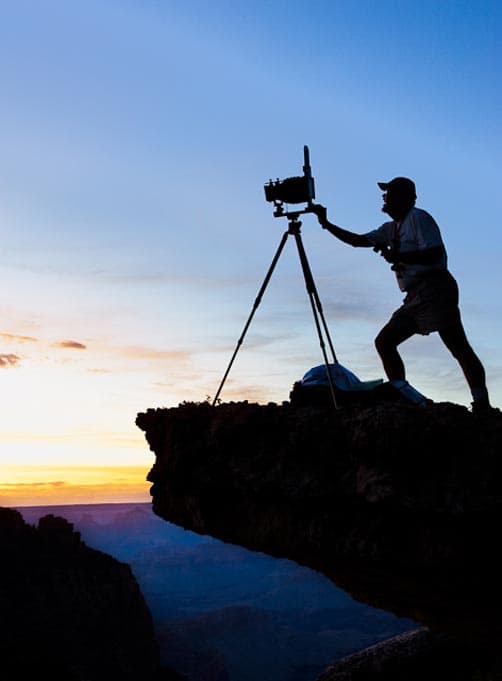 ABOVE: Dykinga in mad rush to capture sunset light at the South Rim of the Grand Canyon.
Jack Dykinga: Images Born in Inclement Weather
by Jack Dykinga
"F/11 and be there".  That's the mantra of photojournalists.  You can't create magic if you're not where the magic is!  It's the same for landscape photography: you need to live there to capture the spirit of the place.
So, when I left the newspaper business to become a landscape photographer in the early 80s, I decided that a camper was as necessary as my Nikons.  I wanted a base of operations I could place in remote locations.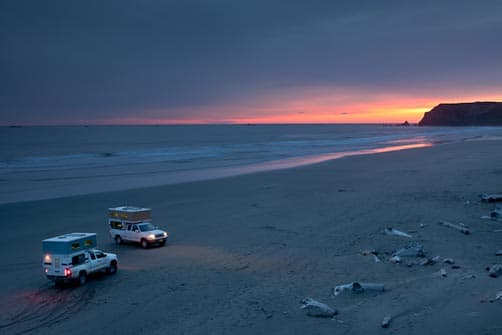 ABOVE: Dinner at sunset on the Oregon Coast, that affords a room with a view.
That means I'm not your typical truck camper with typical truck camper needs.  My Eagle Four Wheel Camper is my base-camp, my home, my office and refuge from elements.   I'm a professional photographer that specializes in wilderness issues.  It's my work truck.
So, my idea of a camper, is one that can go the farthest on a gallon of gas, traverse some of the hottest deserts, the worst terrain, sustain me and get me home unscathed.  In addition, my Nikon digital cameras and Macbook pro, literally drink electricity.  So I need a ready power supply.
My experience in the backcountry with seven pop-top campers, has taught me valuable lessons.
1. Smaller and lighter and narrower cannot be over-stated.
2. High clearance and four-wheel drive is essential.  Not so much for getting "IN" …but getting "OUT".  The low range also lets this happen slowly when bouncing over rocks.
3. I need great gas mileage.
4. Finally, I need the durability of a welded aluminum frame camper.