In the deep cold of Minnesota winter, Ken Barry takes his Four Wheel Camper to frozen lakes and goes ice fishing.  How he stays warm and comfortable is an important lesson for anyone interested in extreme winter camping.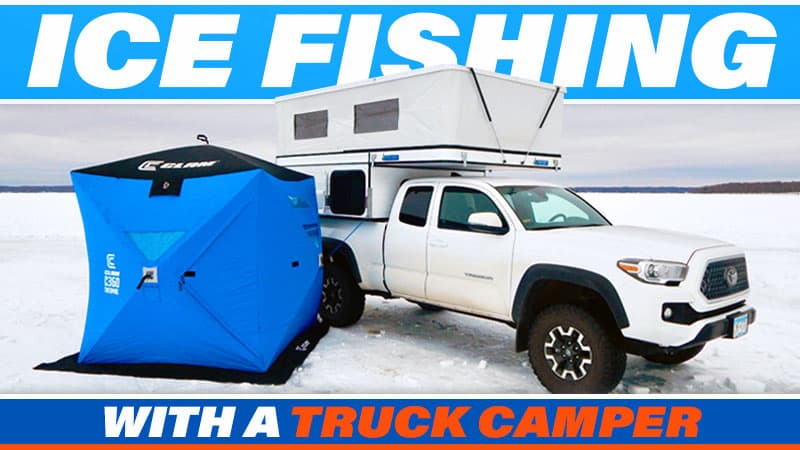 As snowbirds who drive south the moment we smell cold, the mere idea of driving onto a frozen lake to ice fish sends chills through us big enough to set off distant seismographs.
Of course, we weren't always so thin-skinned.  Just a few years ago we lived in Pennsylvania, and we were quite accustomed to the annual wintery onslaught.  What's that weatherman?  Snowmageddon?  Snowpocalypse?  Snow-my-goodness?  Snow-what!  Bring it.
The lesson here is simple.  Be very careful with snowbirding.  Once you fly south for the winter, it's hard to go back to wintering up north.  Even if you have down feathers and aren't one to duck high heating bills, enduring another long and dark winter might become an egg-too-tough crack.
From our warm Florida nest, Ken Barry's extreme cold weather camping and ice fishing stories read a bit like Mark Watney's time on Mars.  Cold, barren, and cold.  Really cold.  How and why would anyone subject themselves to the kind of cold?
The answer, as Ken explains, is two fold.  First, he clearly has a deep and unrelenting passion for the outdoors, and fishing. Second, he explains in great detail exactly how he stays warm and toasty or at least has a plan ready on how he's going to warm-up, and be toasty.
A huge part of Ken's warm and toasty plan is his Four Wheel Camper Fleet.  Parked near or even on the thick ice, it's his changing and recovery room.  And what he wears and his techniques for staying comfortable in these frozen-turkey conditions are useful lessons for anyone who camps in the cold.
Get a hot beverage, a heavy blanket, and a sweater.  This story is chilling.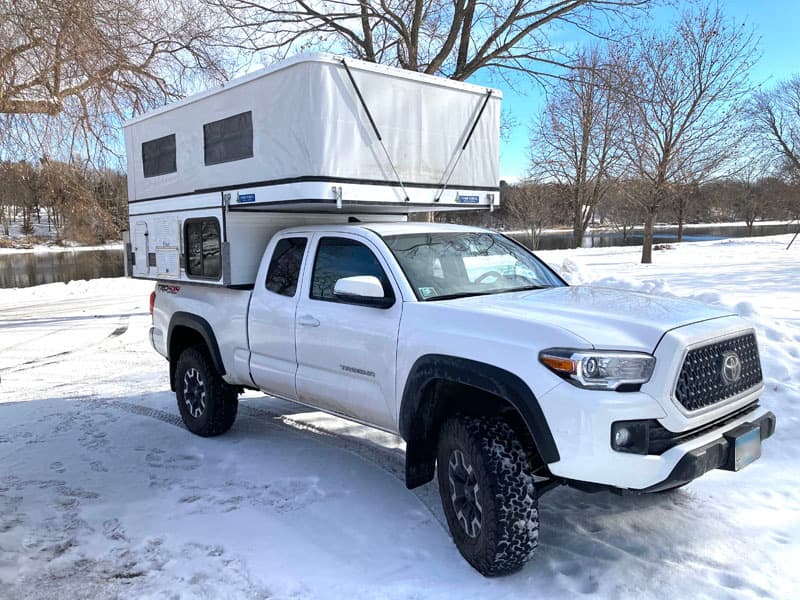 Ice fishing is well known, but not something most of us encounter or see.  How did you get into ice fishing?
I grew up in Massachusetts and I don't remember anyone ice fishing there.  My wife is from Minnesota.  When we went to Minnesota for Christmas, her four brothers thought it would be funny to drag me out on the ice.  They thought I was a city guy.  That's how I started ice fishing.
We moved to Minnesota seven years ago and I started researching ice fishing equipment and getting back into it.  The weather conditions can be brutal, so there's a lot of stuff needed to make it enjoyable.  Fortunately, winter clothing and coats have come a long way and it's easier to stay warm.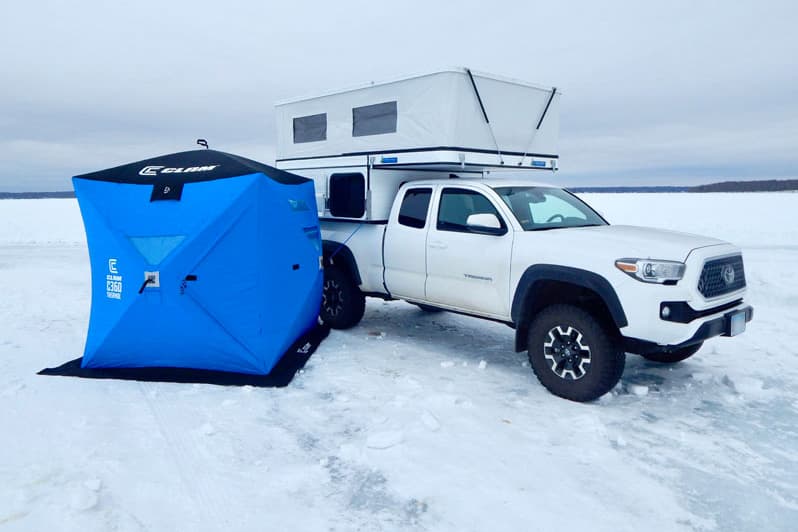 Do you use a shelter when you're on the ice?
Yes, when we're ice fishing on Lake Mille Lacs, we use a portable Clam Hub pop-up shelter.  These shelters are very quick to set up, use heavy-duty poles and hubs and utilize specialized wind-breaking thermal fabrics.  A propane-fueled Big Buddy heater heats the Clam Hub.
How does your truck camper fit into your ice fishing?
I retired in May of 2019 and picked up my Four Wheel Camper that July from Rocky Mountain FWC and Juniper Overland just outside of Denver.  The camper is both a comfortable dressing room before going onto the ice, and a warm recovery room after.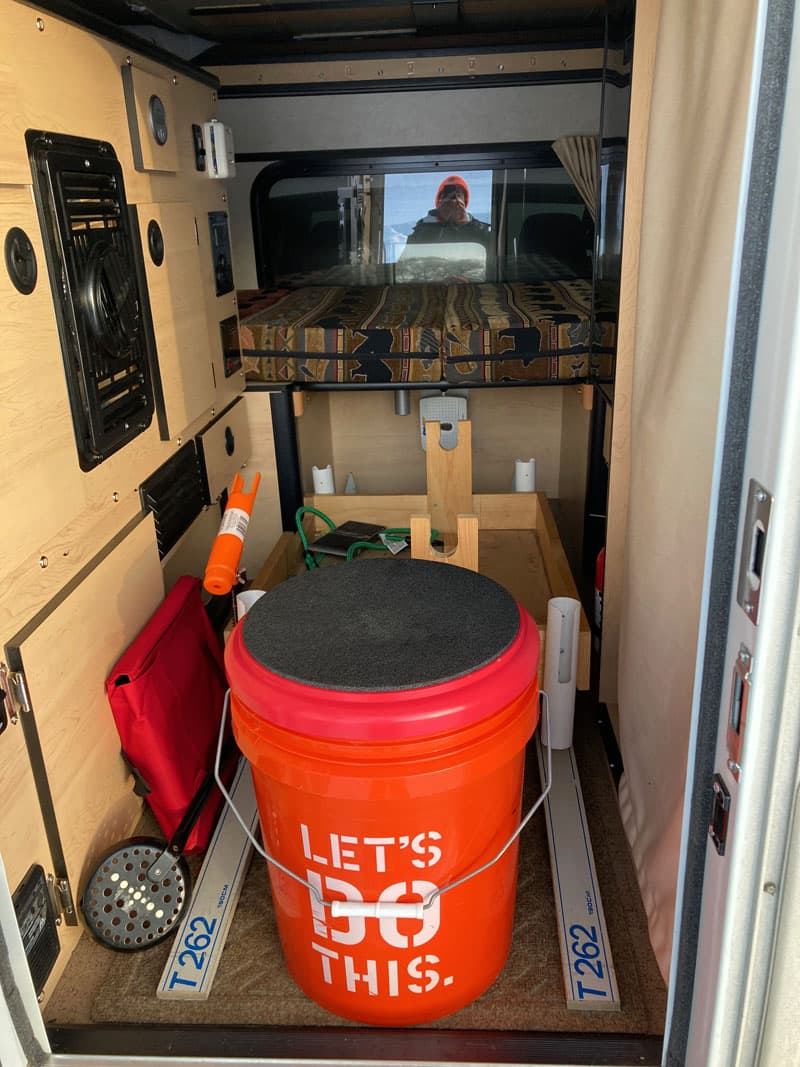 So, do you fish from inside the Clam Hub shelter?
Yes, that's my preferred way of ice fishing on long days.  I use a sled mounted on cross-country skis to get our equipment onto the lake.  I take an auger, a red bucket from Home Depot with a foam lid, fishing gear, and a lot of gloves.
During the winter, the fish move around as the water gets colder.  After drilling a hole, we put a fish finder in to see if there are any fish.  If there are no fish, you can move and drill another hole.  I also fish in the summer and fall, so I know where the fish are during those seasons.  That helps.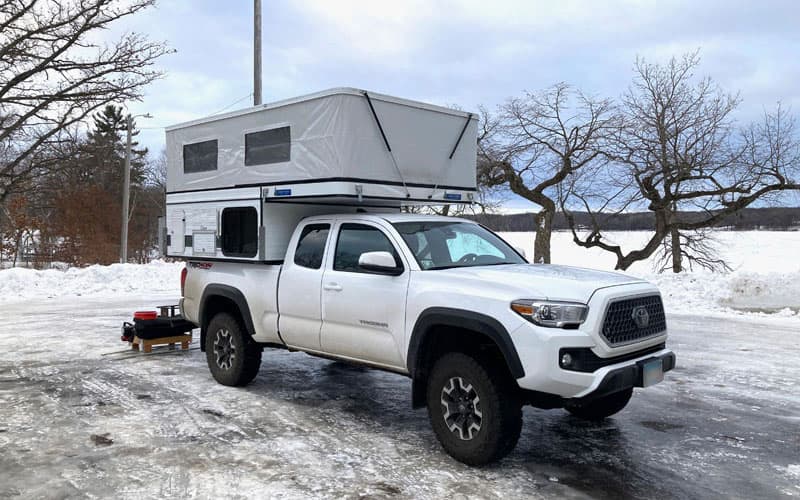 Do you stay out overnight on the ice?
My plan this year was to do some overnighters, but we had a snap of cold weather.  It was down to -35 Fahrenheit (-37 Celsius) in the morning.  That's too cold to camp overnight.  It's something I still want to do, but haven't done yet.
The ice fishing resort I go to is an hour north.  I always check their ice thickness reports to know that it's safe before driving on the ice.  I also want 18-feet of water for Walleye and they point me to a point on a map.
The resort plows roads and a campsite on the ice.  I just follow the map to my spot.  These guys are professionals and the roads are smooth.  The ice roads have names like Walleye Lane and Perch Circle.  It's funny.
The campground is full of campers called ice houses; pull-behind trailers with wheels that come up and have holes in their floor for fishing.  They are often well insulated and some feature a TV, refrigerator, and bathroom.  Ice houses are everywhere in Minnesota.  I can walk down my neighborhood and see six of them.  Some people make them on sleds and pull them with half-ton trucks.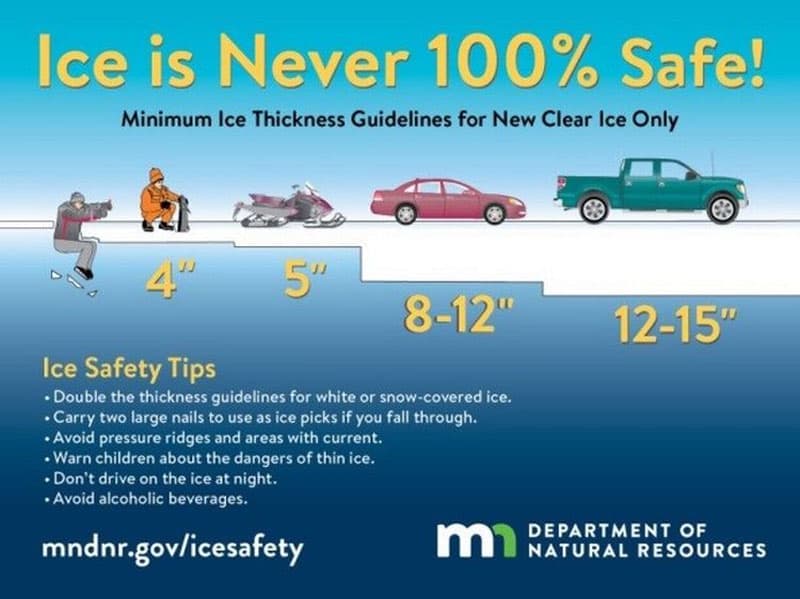 How do you know it's safe to drive out onto the ice?
The Minnesota Department of Natural Resources posts ice thicknesses.  The dangerous time to be on the ice is at the end and beginning of the season.
The resorts I go to tell me when it's safe.  With 5-inch ice, they'll let people go with ATVs and snowmobiles.  I wait until there's at least 6 to 7-inches ice to be on the lake.  To drive a truck on the ice, you need 12 to 15-inches of solid ice.
When the snow is packed, the ice is not slippery.  When trucks drive over it, driving on ice isn't a big deal.  I drive 10 miles per hour on the lake.  March 15th is the pull-off date for anything heavy.  I carry ice spikes for my boots so I don't slip and fall.
You really need to know your lake.  Shorelines form last and go first.  You can fall through around the edges.  There were two stories this year of fisherman getting in trouble; one on Lake Michigan and one on Lake Superior. You need to be careful, listen to the ice thickness reports, and consult the local experts.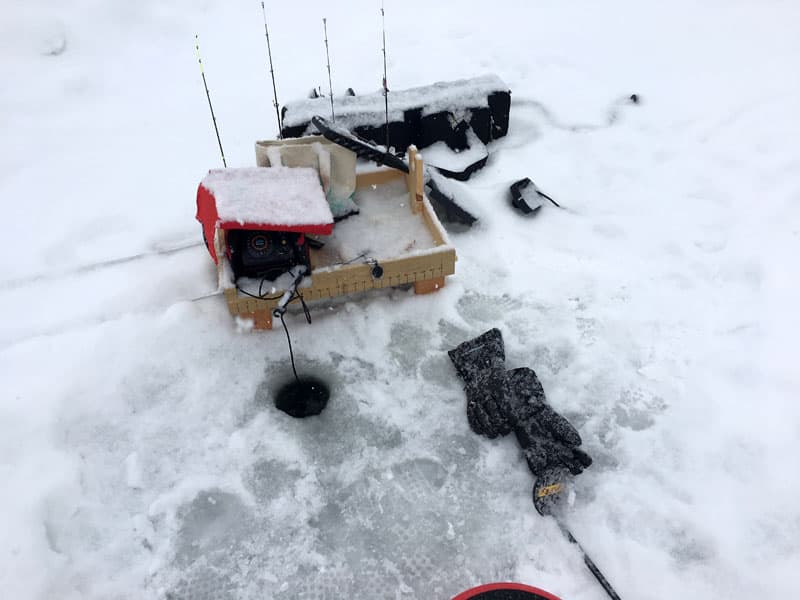 Are you typically in one fishing spot all day, or are you moving around a lot?
Sometimes I'll be fishing in an area I thought would have fish, and then I will see people in a spot I wouldn't think would have fish.  Next time I go out, I might try where they were fishing and land a bunch of fish.  On the ice, you can see where everyone is and usually find their holes.
There are a lot of people there on the weekends, but I'm retired now.  I can go during the week.  Of course, there are always people on the ice.
A big concern now is that some people share their fishing hole sites on social media.  They post on Instagram and Facebook and a lot of fishermen suddenly show up and take the fish.  Local people don't do that because we don't want the crowds or our lakes destroyed.  I actually do catch and release.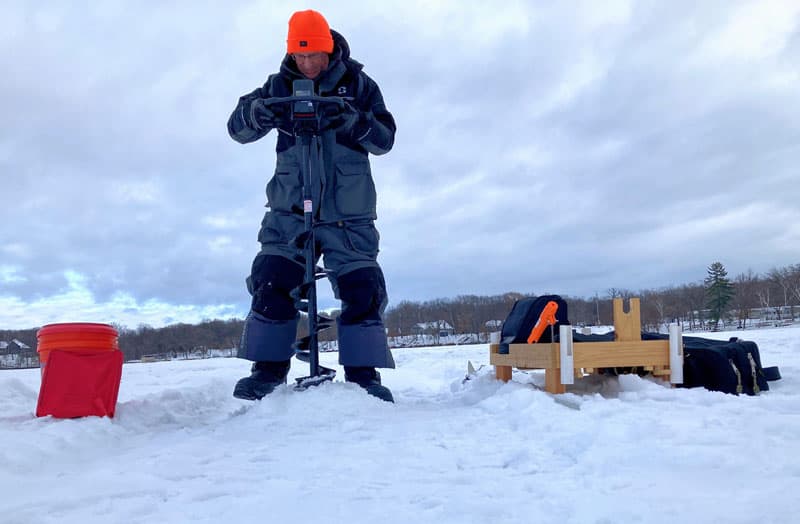 That's a concern we share even with Truck Camper Magazine.  There's a fine line between inspiring people to enjoy the outdoors and exploiting our natural resources.  What's involved in cutting an ice hole for fishing?
I use an electric auger.  Gas engines in cold weather are no fun.  The auger is light at only 12-pounds, which is nice for me and allows me to move quickly and drill more holes.  After drilling a hole, I'm fishing within five minutes.
It takes literally 10-seconds to drill a hole.  My auger has a 24-volt battery, like a weed wacker.  My auger can cut 50-holes in one charge.  I never cut that many holes.  You will see people drilling 40 holes in a grid and using their fish finders to locate the fish.
I have a folding shovel to clear snow away and make the spot cleaner around the hole.  I also have an ice slush scoop.  It's essentially a ladle to pull the ice pieces left behind by the auger.  It has a 14-inch handle with a ruler marked on it for measuring the thickness of the ice.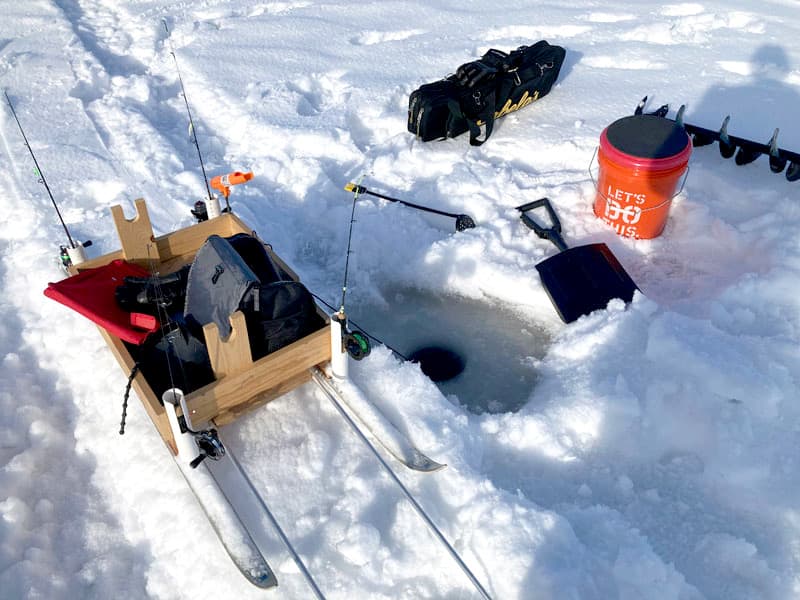 My fishing bag is a long black bag with four fishing rods for different line strengths.  I have them rigged up with lures and jigs so I'm not tying knots on the ice.  I have the four rods ready to go.  The bag also has lures, hemostats to remove hooks, and scissors to cut lines.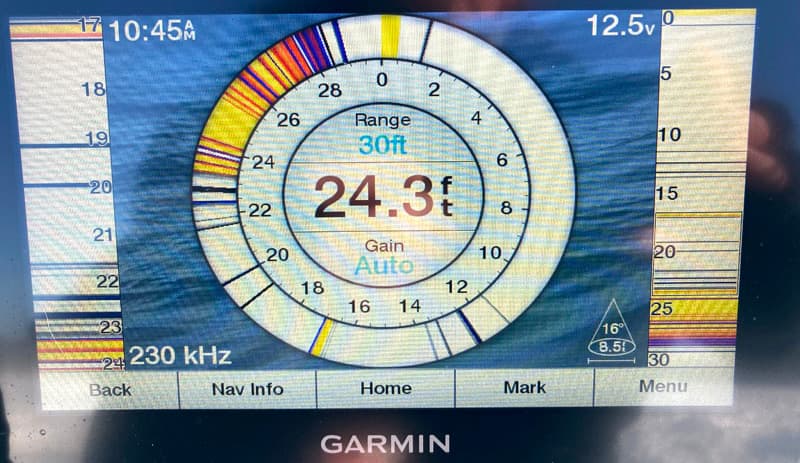 The fish finder is a 7-inch Garmin fishfinder made for ice fishing.  It has an ice transducer and gives an accurate cone straight down to look for fish.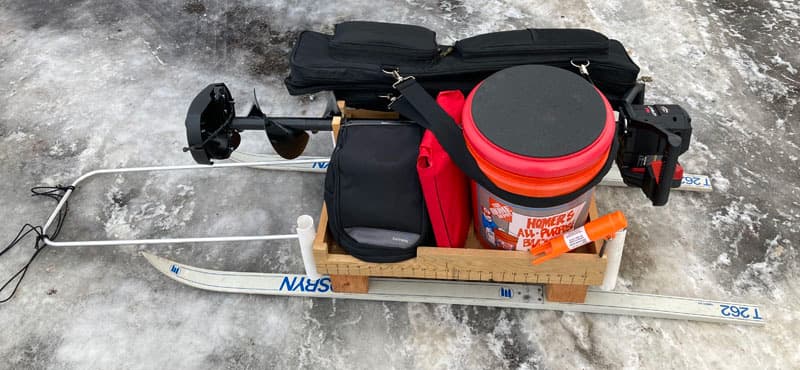 Everything fits nicely in my custom-made sled.  Each item has its own spot on the sled.  Some people have heaters and pop-up tents on their sleds, but I don't want to deal with more equipment.
How long are you out on the ice?
I live close to the lake.  My typical day might be a couple of hours.  In that time I might cut five holes.  Some ice fishermen use underwater cameras to see what the fish are responding to.  They'll cut one hole for fishing and another for their camera.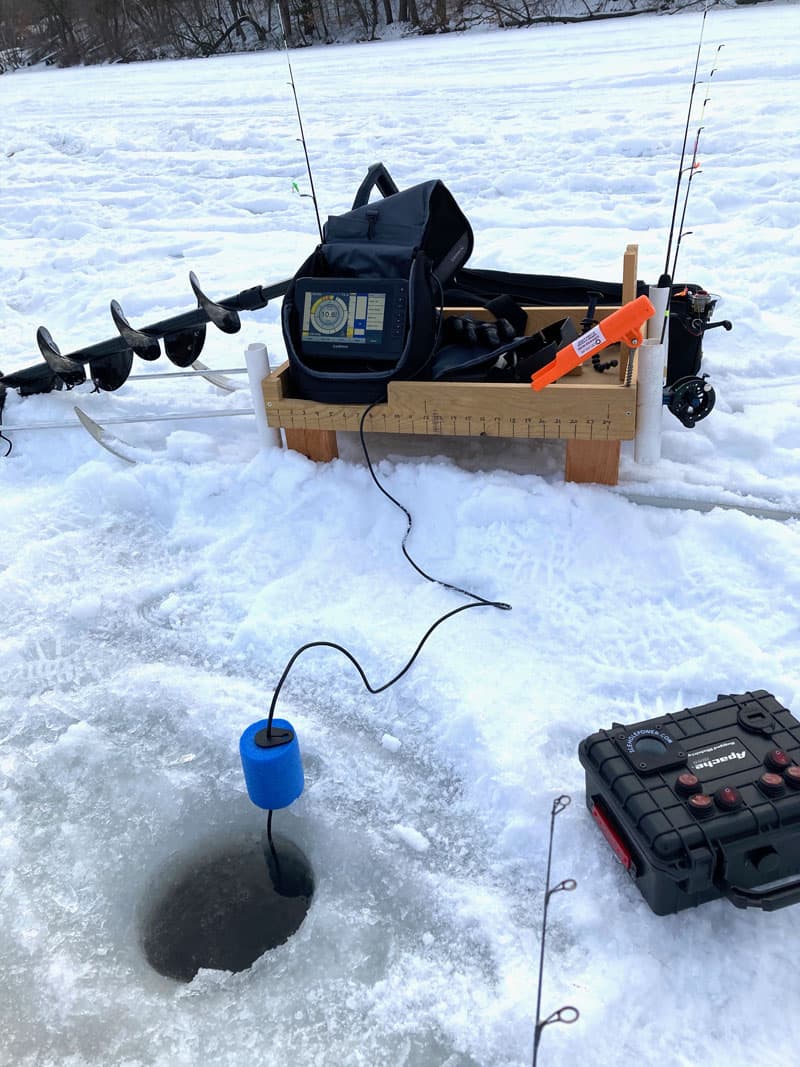 That almost seems like cheating.  What are you wearing to stay warm on the ice in the middle of Minnesota's winter?
I wear flannel lined pants under the bibs, two layers under the jacket, two pairs of socks, and two pairs of gloves.   The bibs and jacket are made for ice fishing and have the additional benefit of being a floatation suit, just in case you fall in.  I have not tested this feature yet. As an ice fisherman, you become very aware of the thickness of the ice.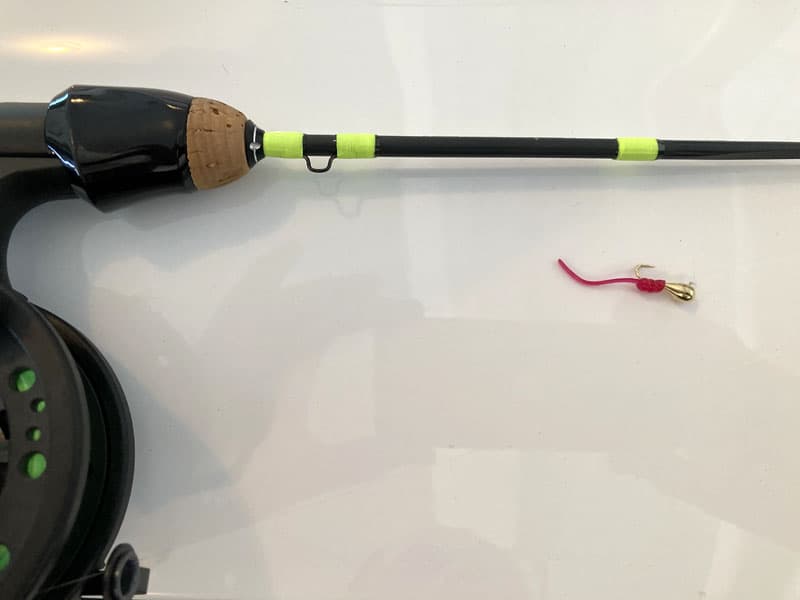 Above: Ken's ice rod with a tungsten jig and microplastic tail.  It is very effective with panfish.
I would think so!  You mentioned you catch and release the fish.
I don't like killing anything.  I even catch spiders in our house and relocate them outside.  I treat the fish well when I catch them.  I believe in treating the fish with respect so they grow up to be bigger fish.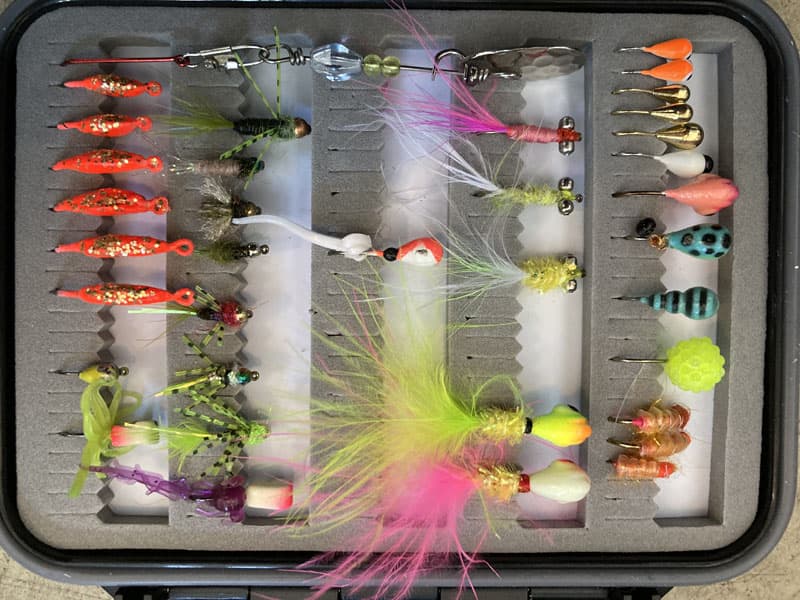 Above: One of Ken's ice fishing boxes
I use barbless hooks and other techniques to minimize stress on the fish.  This includes using stronger tackle to reduce the fight, using barbless hooks, minimizing the depth that I catch fish in, minimizing the time the fish is out of the water, and minimizing handling.  For these reasons, I have very few pictures of fish that I catch, but I grabbed a few last time out for this article.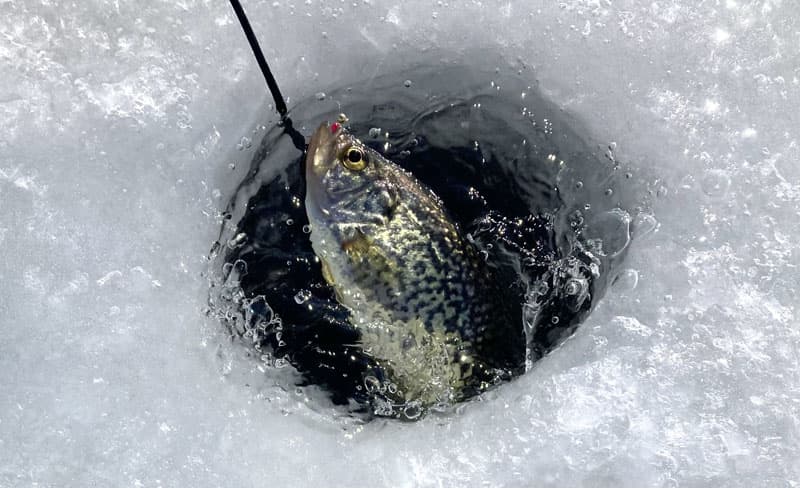 Above: White Crappie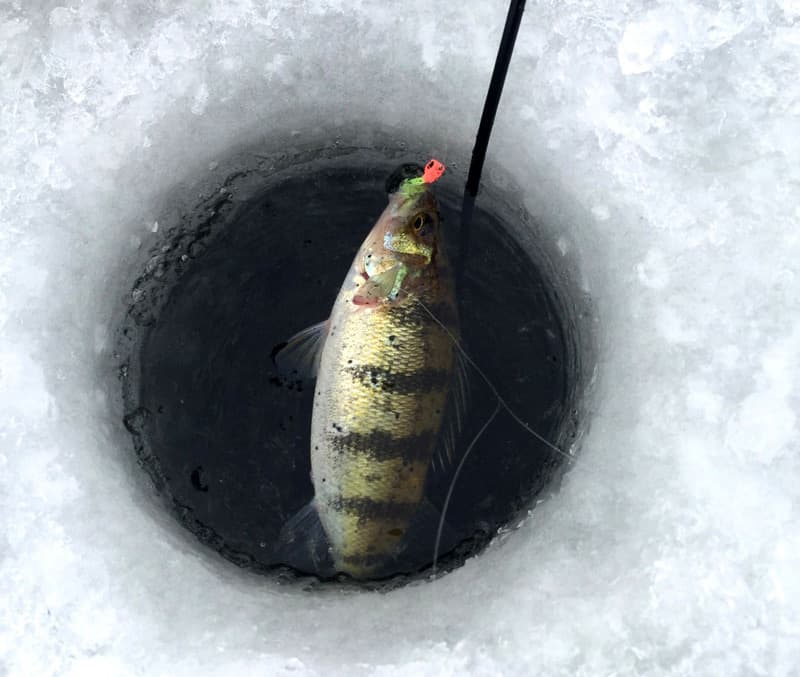 Above: Perch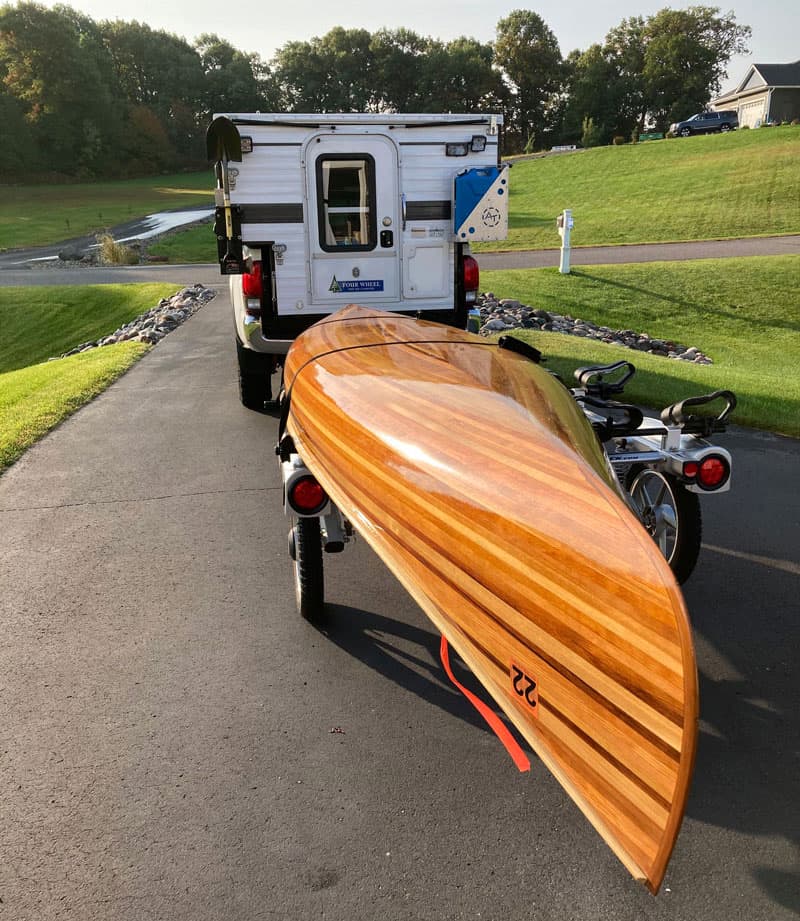 The cedar strip canoe in the photos is beautiful.  Did you make that yourself?
Yes.  The cedar strip canoe is the newest addition to the flotilla.  I finished it last fall.  It paddles like a dream and looks great being towed behind the camper.
I have built two kayaks and now a canoe.  I built the canoe so my wife and I can easily go to the lake and have something to get around.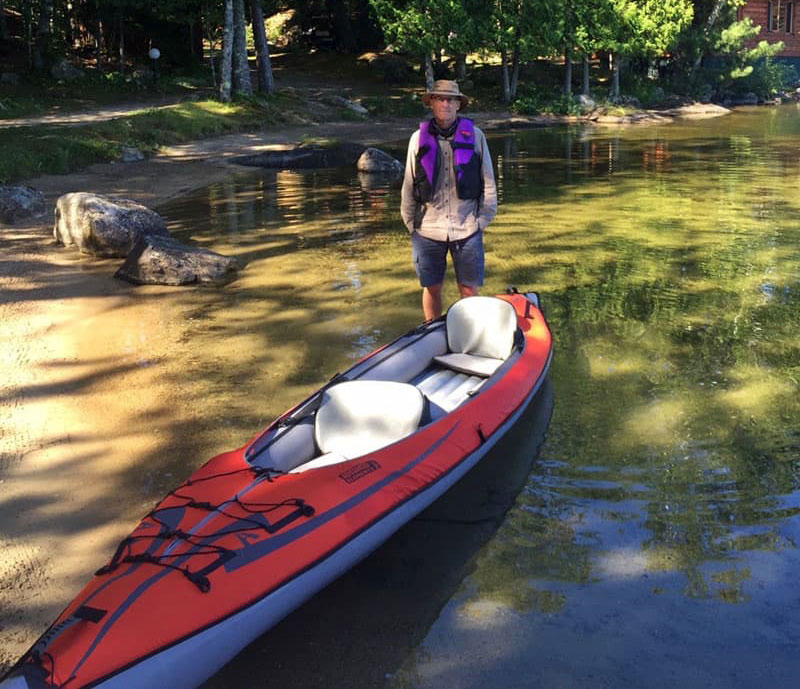 My Bonafide SS107 kayak was designed for fishing and is my primary fishing platform in the summer.  I also have an Advanced Elements inflatable kayak that is used when we travel further afield.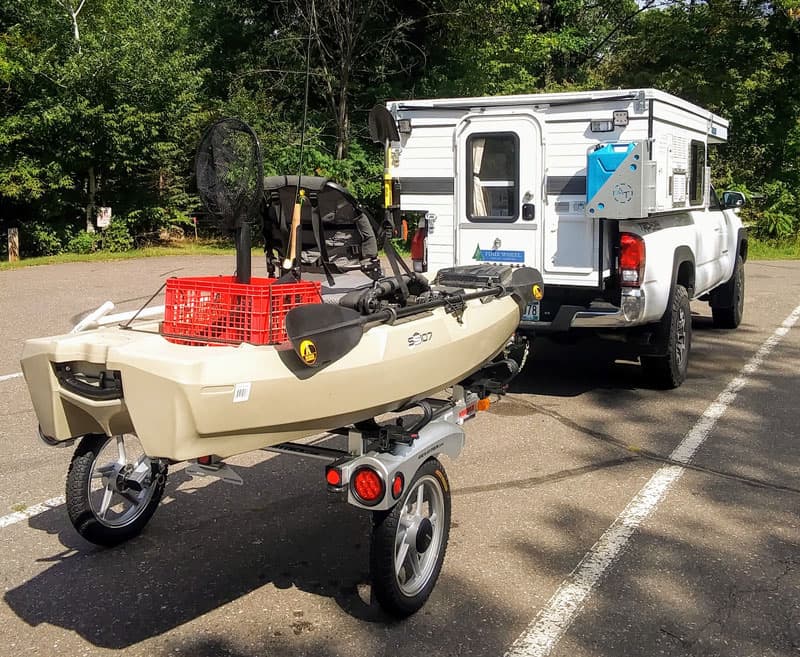 The Bonafide SS107 is my fishing boat.  It has a fish finder mounted on it and fishing rods.  And it's very comfortable.  You can even stand on it.  I can't jump up and down, but it's stable enough to stand.  Fishing with the kayak is more lazy and casual than ice fishing.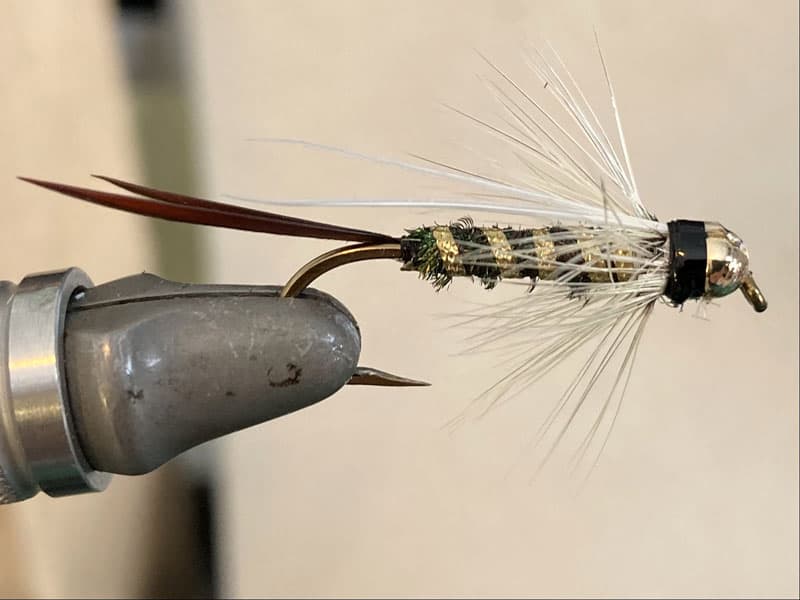 Above: Ken's big innovation in catching Bass fish this year was tying bead head nymphs in larger sizes than used for trout.
A pop-up truck camper doesn't seem like the best solution for cold weather camping.  Why did you select a Four Wheel Camper?
Believe it or not, the Four Wheel Camper is very quick to warm up.  A lot of people winter camp with Four Wheel Campers.  It's nice to have the furnace on when I come off the ice or river.  It's my recovery room.  I can sit back, relax and put my feet to the furnace.  That's really nice before I go home.  And I don't need to rush.
Before I bought the Four Wheel Camper, I was going in a Ford Escape.  I would put the sled in the back of the SUV and just get out and go.  I never had a camper.  I talked about getting one in my 20s but never did.  Now that I'm retired, everything about the truck and camper fits what we want to do.
Do you use your truck camper for anything other than ice fishing?
I also fly fish the Mississippi River around Monticello, Minnesota. This section of the Mississippi is in the top 10 areas for small mouth bass fisheries in the country.  On a typical winter day, there will be five people upstream and ten people downstream, all standing in the river.
The small mouth bass are hard-fighting fish. Bringing one in is an event. When you finally wrestle a 24-inch bass and lift it out of the water to remove the fly, their mouth is so big that you could fit your fist inside it. They're brutes.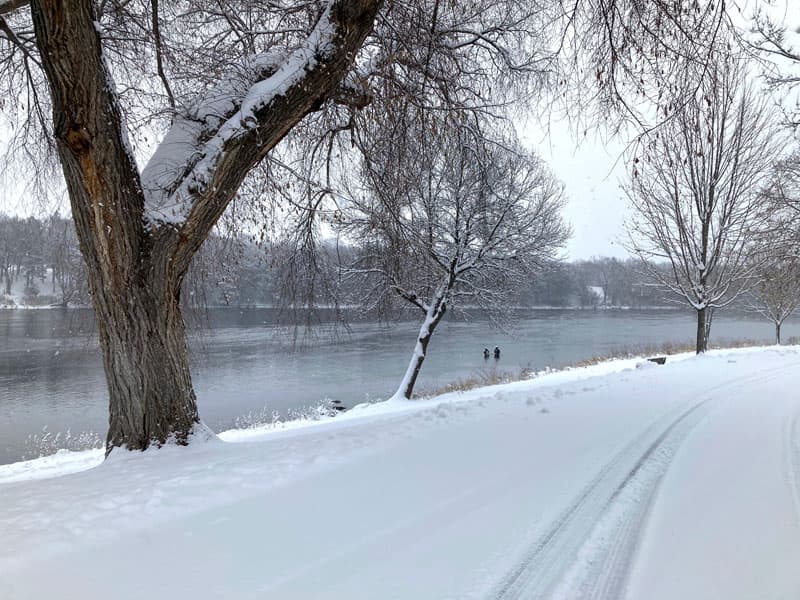 Above: Fishing in the river
Staying warm when wading up to your waist in 40-degree water and 20-degree air is harder than staying warm while ice fishing.  Sometimes it gets so cold that icebergs form in the river.  They can make fishing quite a challenge.
I use three layers top and bottom, two pairs of socks, and neoprene gloves.  Once again, the Fleet is the dressing room before and a much-needed recovery room afterwards.  I am typically chilled to the bone after an hour in the river.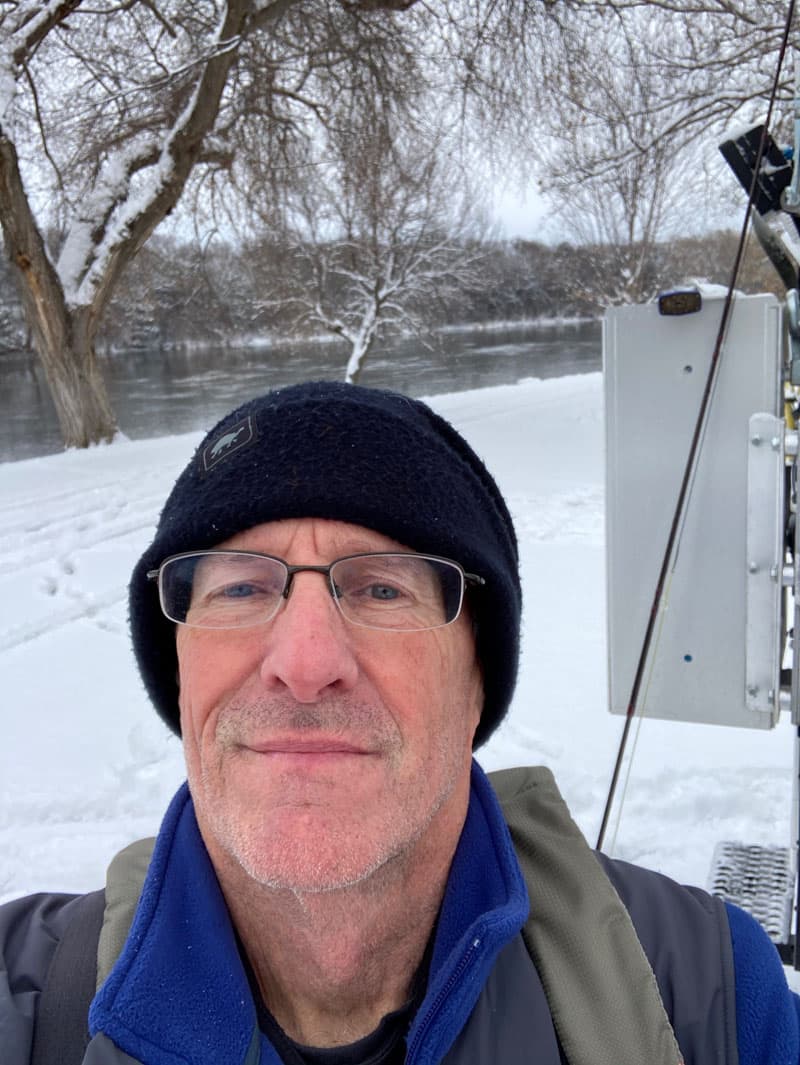 The camper is even more critical for this kind of fishing.  Not being cold when you start fishing is important, so I rig my rods inside the camper before putting on the waders.  I can fit up to a 10-foot rod inside.  As soon as I come out of the river I can warm up with the furnace, take my wet gear off, and put on dry clothes.
Do you use your camper for other activities?
Yes.  The main use for the camper is as a base camp when kayaking, canoeing, birding, and winter sports.  We snowshoe, cross-country ski, and ice skate.  I'm also into photography and, of course, fishing in the warmer months.
The camper is perfect for all that.  The ability to stop someplace and have a sandwich is fantastic.  You don't have that kind of comfort in a car or SUV.  Even better, the rig is my daily driver.  The camper is always on, and it fits in my regular garage.
When Covid happened, bathrooms were shut down.  Having the cassette toilet option in the Four Wheel Camper was very convenient.  I ordered every option except the indoor shower for the Fleet.
Did you say your camper fits into your garage, on your truck?
Yes, the camper fits, on the truck, in our regular garage.  We have an 8-foot garage door.  As a Nuclear Engineer, I measured the truck and camper at least 100 times.  I did the calculations and the truck and camper fit.
I even upgraded to larger tires and the loaded truck and camper still fit.  It's great to be able to keep the rig inside during the winter months.
That's incredible.  When we're not traveling, our camper sits outside with a Cover Craft cover.  That's excellent protection, but nothing beats a garage.  Is there anything else you'd like to add?
I don't think people appreciate how wonderful truck campers are.  They're certainly perfect for what we want to do.
People think ice fishing in Minnesota must be miserable.  It's not if you dress for it.  Of course, it's important to build your knowledge of the local lakes.  I try to go ice fishing every week when the ice is good.