As Hurricane Laura approached with sustained winds of 150 miles per hour, Joe Gotreaux and his family prepared their home and strategically positioned their Bigfoot, Capri, and Alpenlite truck campers.  Two campers survived.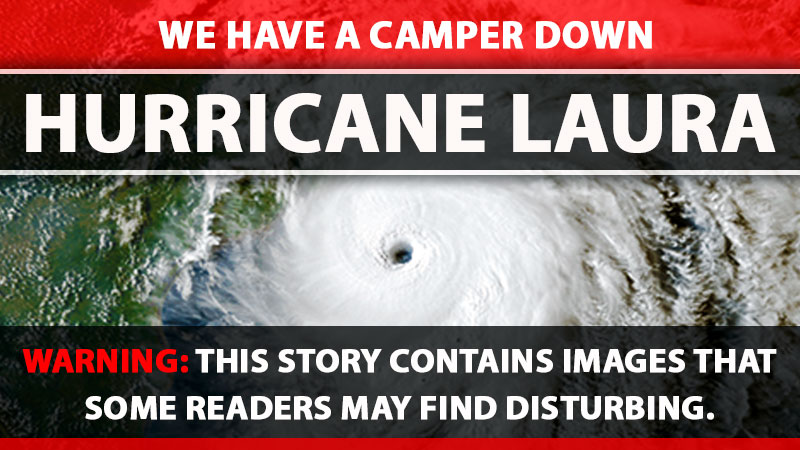 With the horrific fires in the west and catastrophic hurricanes along the Gulf Coast, many fellow truck campers are putting their truck camper rigs to the bug out test.
We have always celebrated the Family Emergency Vehicle function of a truck and camper rig.  It may be their most important feature, especially if you live in an area prone to natural disasters.
In an ideal world, Joe Gotreaux and his family would have known Hurricane Laura would rapidly intensify before landfall giving them the best option to load their campers and head inland to safety.  Unfortunately, there was little warning of Hurricane Laura's strengthening and they were forced to ride the storm out.
Like many who live on the Gulf Coast, Joe knew how to prepare his home and campers for the predicted 100-plus mile per hour winds.  When Mother Nature's wrath arrived in the wee hours of August 27th, Joe's home, trucks, and campers were as ready as possible.  Then the power went out, and the trees started to fall.
This story isn't for the faint of heart.  We have a camper down.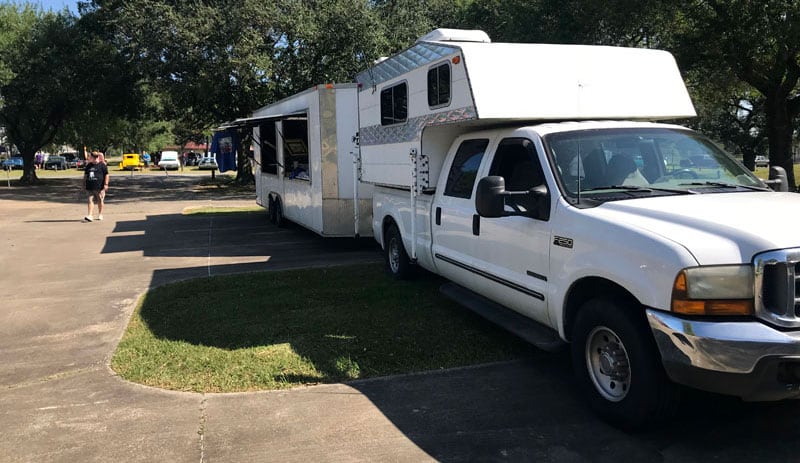 Above: His Capri at one of the events with the print shop trailer in tow
You might be the only person I know who owns three truck campers.  Why do you have three?
Having three campers started out as part of our T-shirt business.  I own a T-shirt shop and have been designing and printing shirts for 30 years.  Part of my business is an onsite printing service.  I'll take my trailer with my printing equipment inside and print shirts at different events.
For example, I attend car shows and youth sporting events.  They want shirts, but they don't know how many. So I'm there on location to print however many they need.  The business has taken off and I have a good customer base.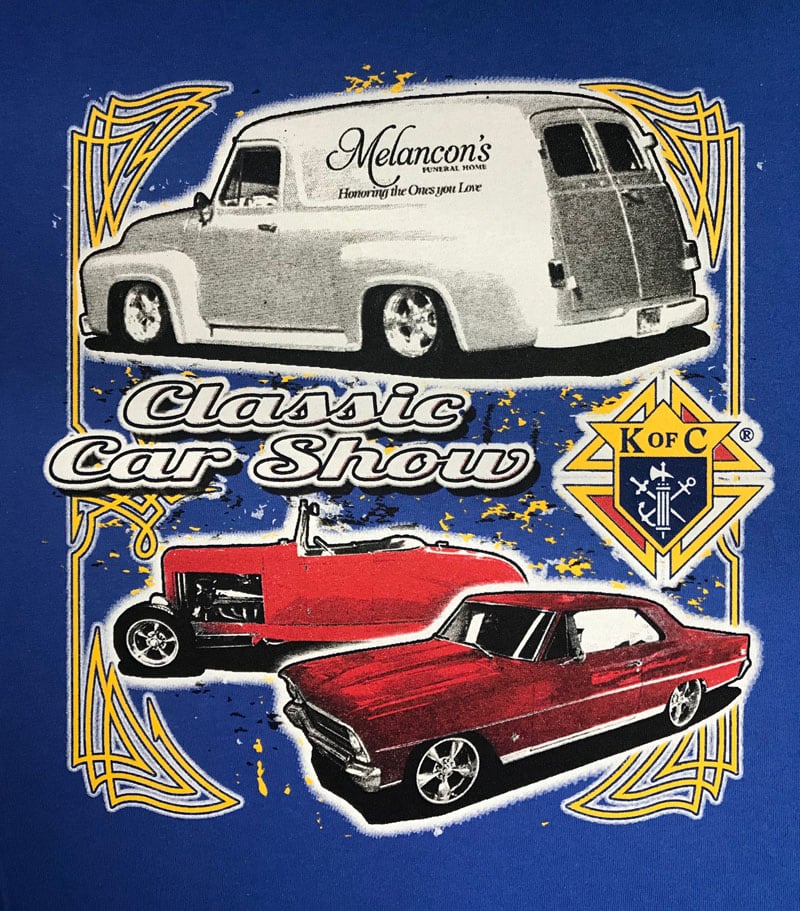 Above and below: A couple of the T-shirts Joe has designed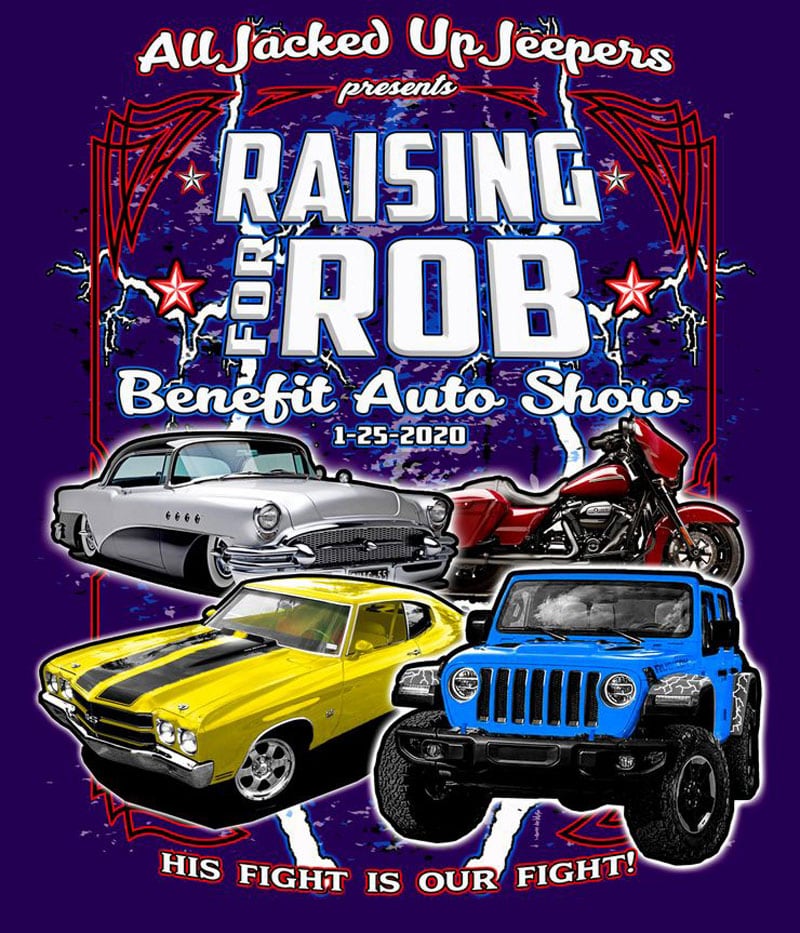 I got into truck campers after a horrible experience at a nice hotel.  After that, I was ready to bring my house with me.  We first looked at large toy haulers and big race car trailers but they were too much to take to the events.  Plus, I didn't want the extra insurance.  It was just too much added expense.
Then I saw a truck camper, and thought, "That's how we can do it".  Truck campers offer an affordable and comfortable place to stay, shower, and relax.  With a truck and camper, I don't have to leave my trailer onsite while we're staying in an expensive hotel.
My business is a family business.  My wife and twin sons work with me.  My sons were in their mid-teens when we got our first camper.  Coordinating at the event and customer service is necessary, so I do the printing and they handle the logistics.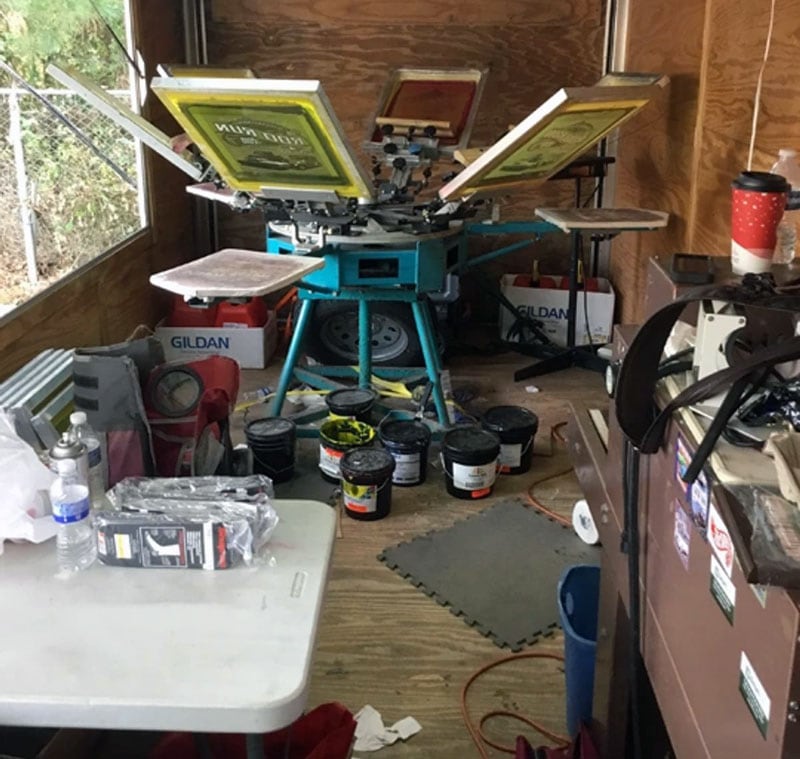 Above: Inside the trailer where T-shirts are made on-site
I found a great deal on a Capri truck camper directly from the Capri factory.  It was barely a year old.  They made us a great deal, so we went and got it.
We were thrilled!  We knew who was sleeping in our bed, and we had air conditioning.  In the Gulf South, air conditioning is important.  The Capri had everything we needed.  We brought a camp stove to cook meals and could stay put and not leave the events.  We were able to be there and not rely on anyone else.
As the business grew, I got a larger trailer and looked for a one-ton truck.  When I found a Ford F-350 that I liked, it happened to have an Alpenlite truck camper on it.  I wasn't buying the truck for the Alpenlite, it just came with it.
Unfortunately, the Alpenlite camper was too heavy to haul with the trailer.  So I unloaded the Alpenlite and kept it at our house.  I figured we would use it as a true camper and not as a towing work machine.
Eventually, I came across a Bigfoot truck camper that was advertised locally.  I told my wife, Sheila, that it was a great deal and, as you know, everyone wants a Bigfoot.
I did my research and it was the right size for my one-ton and could handle towing the trailer.  I made the purchase and really began using the Bigfoot on the one-ton and our Capri on our three-quarter ton.  The two rigs were perfect for working events.
"We did not expect Hurricane Laura to become a Category 4.  Its intensity grew incredibly fast.
When you heard Hurricane Laura was headed your way, what was the plan?
The plan was to load up the two campers we use for our events on to their respective trucks.  The two rigs would be our bug-out vehicles.  If the storm got to the point where we could not stay home, we would take our campers with us.
At first, the storm seemed like it wasn't a big deal.  It was going to get here as a Category 1 or 2.  But, just the day before it hit, it shot up to a Category 4.  That's when I evaluated whether or not to bug out.
We did bug out once before 15 years ago for Hurricane Rita.  Rita made landfall as a Category 3 and was devastating to our area.  When got back from Rita we evaluated the damage and made repairs.  Our kids were small.
The day before Laura struck, we did our final preparations.  That's part of living in a hurricane-prone area.  That said, we did not expect Hurricane Laura to become a Category 4.  Its intensity grew incredibly fast.
Once we saw that the storm had the potential for 100+ mph winds, I parked the truck and camper rigs as close to the house as possible.  If they would start to tip, they could bump the house and come back on all four tires.  I do not believe they ever tipped on two tires.  We watched them intently.
It was the strongest storm we've ever been through.  We were looking through the front door with flashlights.  Several gusts rocked the campers close together.  The suspension of the trucks and the weight of the campers held them down.
Broadside winds made the campers bounce around.  We decided to put the jacks up because it would be better than restricting them.  If the jacks got jabbed into the ground too hard, they might have ripped off the campers.
The trucks shook and shimmied, and got through the storm with no damage at all.
Didn't Hurricane Laura come through your area in the middle of the night?
Yes.  We went to bed with 30 to 50 mile per hour wind gusts.  By 11pm the winds kicked up to tropical storm strength and by 12am to 1am, we heard trees falling.
Not many trees near us are left, so they took the brunt of the wind and might have spared the house.  Now I've got firewood for life.
Hurricane Laura produced winds of 100 to 120 miles per hour for three hours.  It was absolutely the ride of a lifetime.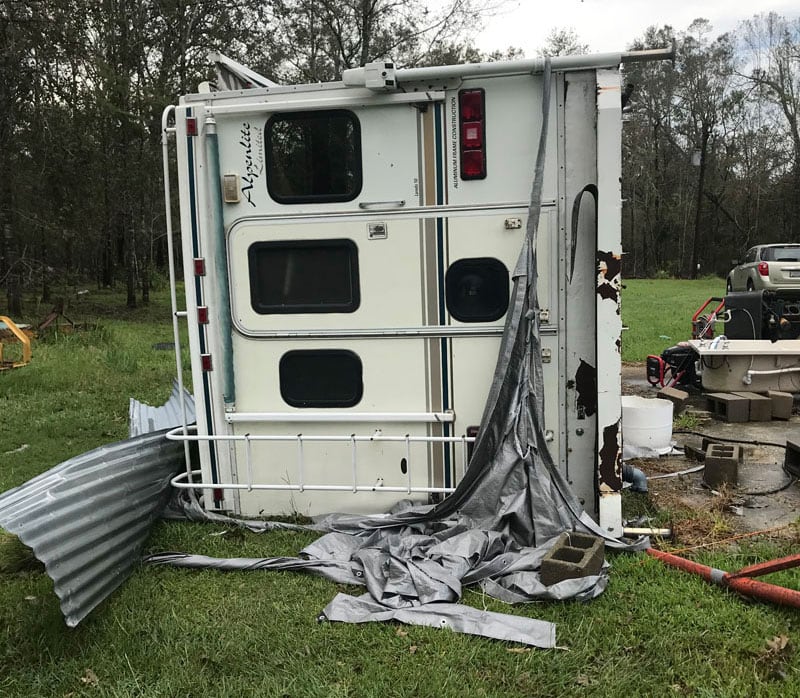 From your pictures, we can see that the Alpenlite didn't do as well during the storm.  Did you see the Alpenlite tip over?
I didn't have another truck to put the Alpenlite on during the storm.  At about 2am we heard a banging noise.  The Alpenlite was lifting up and down and hitting the concrete.
The wind was literally scooping under the cabover, picking up the camper and dropping it down.  At one point I heard a huge thump.  By the time I got to the window, it was on its side.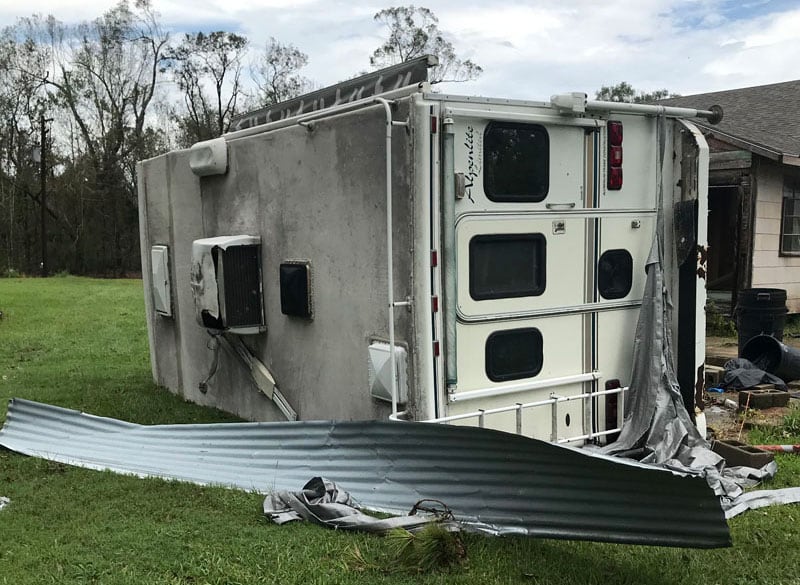 What's your plan now that the camper tipped over?
With the damage it sustained, it's more of a project than I can handle.  My resources are short because Lake Charles, home to much of my customer base, was been greatly impacted by the storm.  As of now, we are expecting our business to be slow for the next year.
If someone wants the Alpenlite for parts, I'll make a great deal on it.  In the meantime, I am also thinking I may build a tiny home.  I could use the stove, sink, and refrigerator from the Alpenlite.  I may try to upright it and recover some of the systems and equipment.  Or I could sell the parts.
I went on Facebook and asked fellow truck campers for recommendations for uprighting it and got some great recommendations.  The one I'm going to pursue is lots of bails of hay.  I can use my tractor and front end loader and let the camper lean on the bails of hay.  Then we can evaluate what we need to do with it.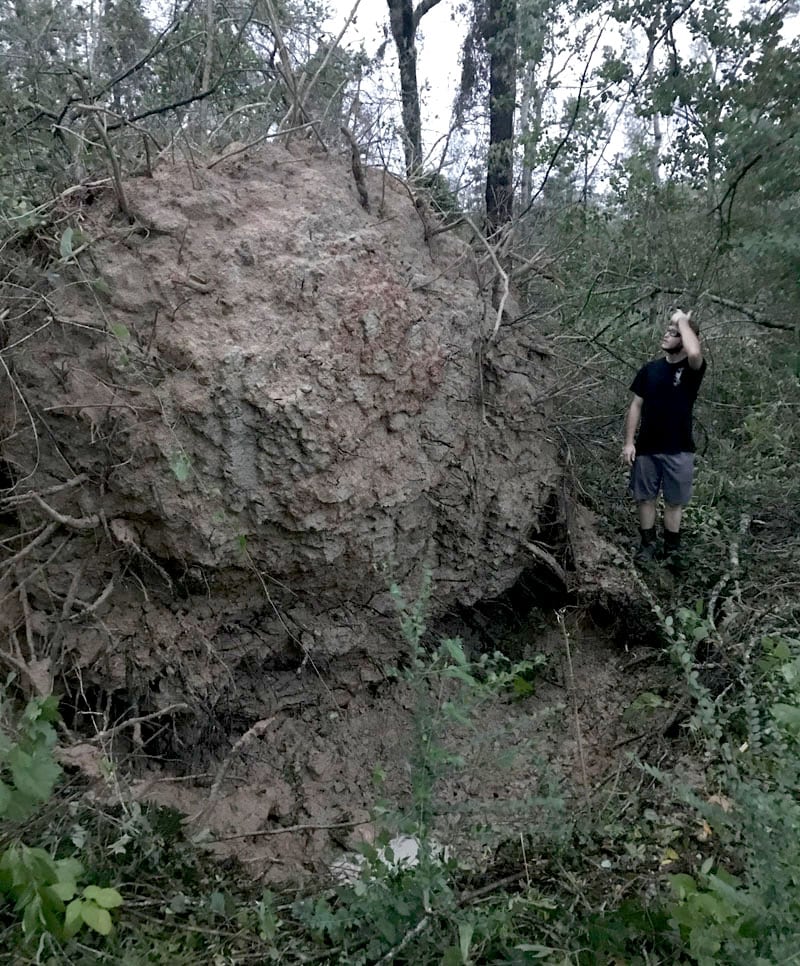 Did your house sustain any damage?
We are absolutely blessed to have no damage to our home and minimal damage to my printing shop next door.  Hurricane Laura was almost Category 5 when it came ashore and I'm only 20-miles inland.  When it hit us, we were on the east side on the edge of the eyewall with three hours of 100+ mile per hour winds.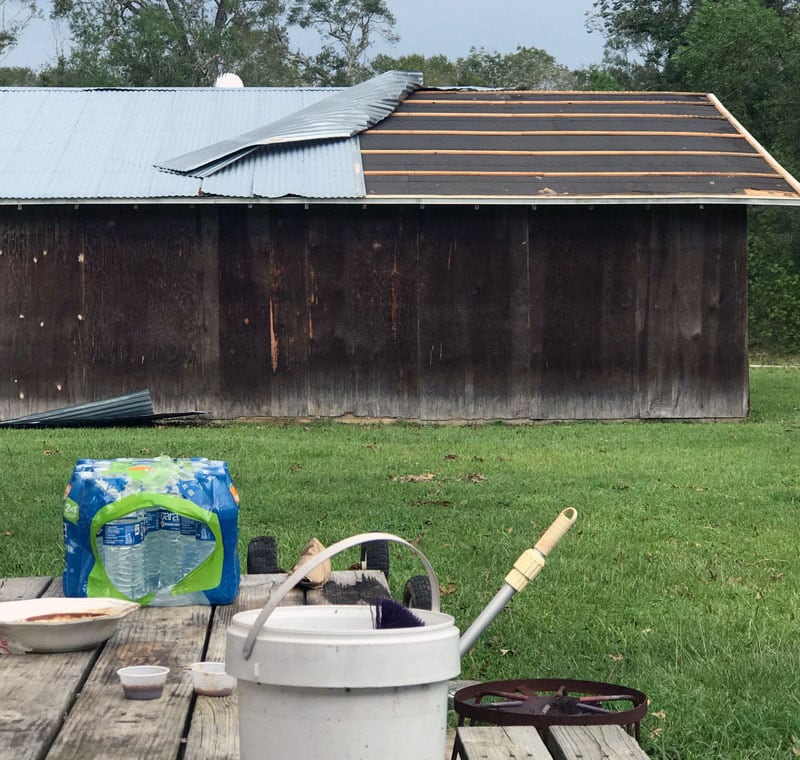 Above: Minimal damage to his printing shop
We live in a house from the 1950s.  Whoever built it made it strong with tongue and grove board on every wall, every floor, and every ceiling.  It's a heavy home.  There is no way it could be blown apart because there is too much structure.  It was built at a time when lumber was plentiful.  Luckily it was not built with the composites that are being used today.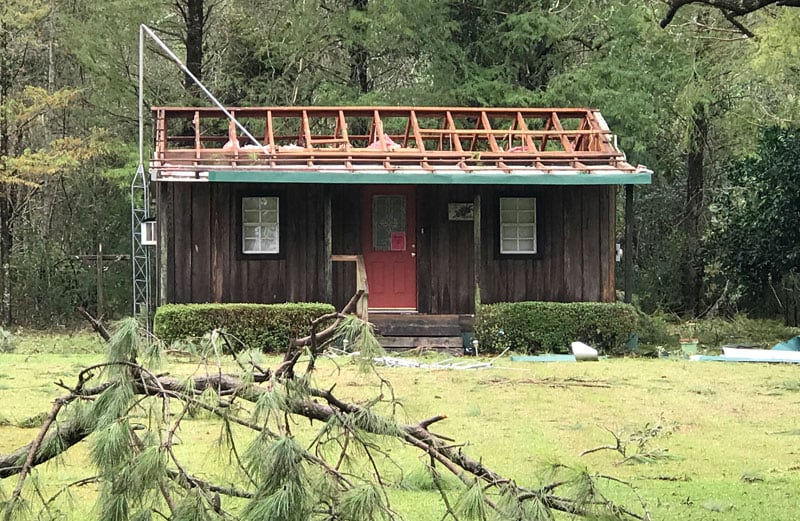 Homes down the road from us had their roofs exposed.  Their ceilings fell in and their drywall and cabinets have swelled up with water.  From the outside, the homes look okay, but the insides have so much water.  It's going to be a lot of recovery for them.
Coincidentally, I got a new roof in March.  It survived with flying colors.  After the storm, I thanked the guy who worked on my roof over and over again.
Tornados spun off near the eyewall.  We are very lucky in that one house nearby was completely destroyed and another is completely gone.  Tornadoes are completely unpredictable during a hurricane.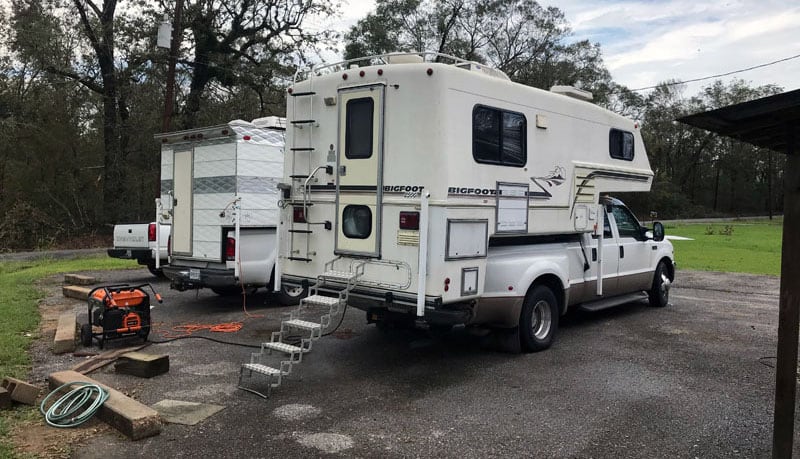 You said that you were able to use the Capri and Bigfoot as places to live after the storm.  How did that go?
After the hurricane, we did not have power in our house.  There was devastation all around us.  With so many trees down just on our property, I knew others were probably in bad shape.
My sons and I started cutting the trees with chainsaws.  We had to clear a lane on our road to get out. As we did that, we exchanged stories with neighbors.
"Our campers were a little piece of normal amongst all the chaos.  They provided us a comfortable place to relax, shower, and sleep."
Some did great, and some did not.  The electrical grid was devastated, so we knew it would be a while before we had power.  We experienced that with Rita and figured it would be about the same.  The damage from Laura was at least as bad, if not worse.
We parked our campers in front of the paved area of the shop.  We have numerous generators for our events to power the trailers.  Before the storm, I ran out and got fuel to sustain our 8,000-watt generator for two weeks.  With that generator, we were able to run both campers with no issues.  One fuel tank of gas gave us about 12-hours of power.
As you can imagine, August in Louisiana is humid and hot.  With air conditioning in both campers, we were able to stay cool.  We also had hot water and we were able to cook.  Our campers allowed us to sustain life as normal, even at a small scale.  We were comfortable.
Our campers were a little piece of normal amongst all the chaos.  They provided us a comfortable place to relax, shower, and sleep.  For many, things aren't going to be the same for a long time.
Now that it's a couple weeks later, how has it gone?
The power came back much sooner than we thought here at home.  There are tent cities set up for workers.  They are being fed and taken care of.  The communities are all pitching in.
There is a great effort in place.  Many people are here risking their lives and are away from their families.  I heard about nearby neighbors washing clothes each night and bringing them back the next day for the electric crews from Mississippi who are restoring poles and lines in our area.
The worst areas are towns like Lake Charles, Sulphur, and Vinton.  The hurricane made a run for Lake Charles.  They are having to totally rebuild the electrical grid because there are very few power poles still standing.
Many of the giant towers that transmit power to municipalities are also down.  It's not like telephone poles.  These are towers are built specifically for the landscape there.  They have to be rebuilt before they are re-erected.
Lake Charles is probably looking at a month before they have power, and some rural areas could be almost to Thanksgiving before they have power.
Heat-related deaths have happened every day.  Many people don't have power or generators to run air conditioning.  It's been really hot here.  Someone 58 years old died from heat the other day.  I'm 57.  That hit home.
"In a storm like this, a truck camper is ideal because it's quick and easy.  A giant RV is not going to do well negotiating over sticks and power lines."
What advice do you have for others who might have to have their campers go through a bad storm?
Having any type of camper gives you options.  You can drive your camper out and use it as a bug-out vehicle.  It is also a vehicle you can live in during or after the storm.  It's a really good option for some sort of normal.
In a storm like this, a truck camper is ideal because it's quick and easy.  A giant RV is not going to do well negotiating over sticks and power lines.
There is debris everywhere.  You need a high clearance vehicle and the ability to easily change flat tires.  A big RV would be so much harder.  You need a vehicle that can go over debris and get through flooded streets.
Since a truck camper is so small it can be driven through almost anything.  We built a path on our road to get out.  It was possible with our camper, but others, with larger low clearance vehicles, would have to find a different route.