On Monday, September 26th, 2022, we packed up our camper and drove north. Less than 48 hours later, our Florida home experienced a direct eye wall hit by a Category 4 hurricane. Hang on.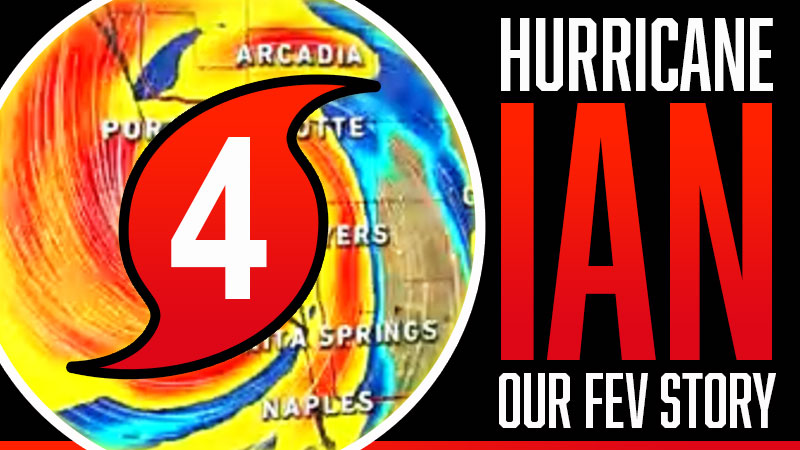 All summer I had been checking the NOAA National Hurricane Center website for signs of trouble brewing in the Atlantic. In late August, there had been nary a tropical disturbance, much less a depression or storm. "Looks like we'll have a quiet hurricane season," I told Angela somewhere on Prince Edward Island.
Note to self: Don't say things like that out loud. In fact, don't even think about it. Not a synapse!
Sometime in mid-September, the notorious atmosphere above Cape Verde, Africa quietly shipped a tropical wave across the ocean. As the wave haphazardly slogged across the Atlantic, it began to morph and organize. After entering the Caribbean Sea, the wave brought heavy rain and wind to Trinidad and Tobago. In a single day, it intensified into a full-on tropic depression. Hours later, Tropical Storm Ian was rotating southeast of Jamaica. In a blink, Ian intensified into a menacing Category 3 hurricane.
"Um, Angela. We might have a problem."
By this point, we had returned home from our summer truck camping trip to Maine and the Canadian Maritimes for a full three days. As many of you know, that's barely time enough to park the rig, empty everything out, and begin to put your life back into sticks-and-bricks home mode.
My natural instinct and mindset are geared toward avoiding avoidable problems. Put another way, I often see worst-case scenarios upfront and start working on Plans A, B, and C to avert them. That's my nature and it's mostly served me well, and probably kept me from a number of rewarding life experiences. Not this time.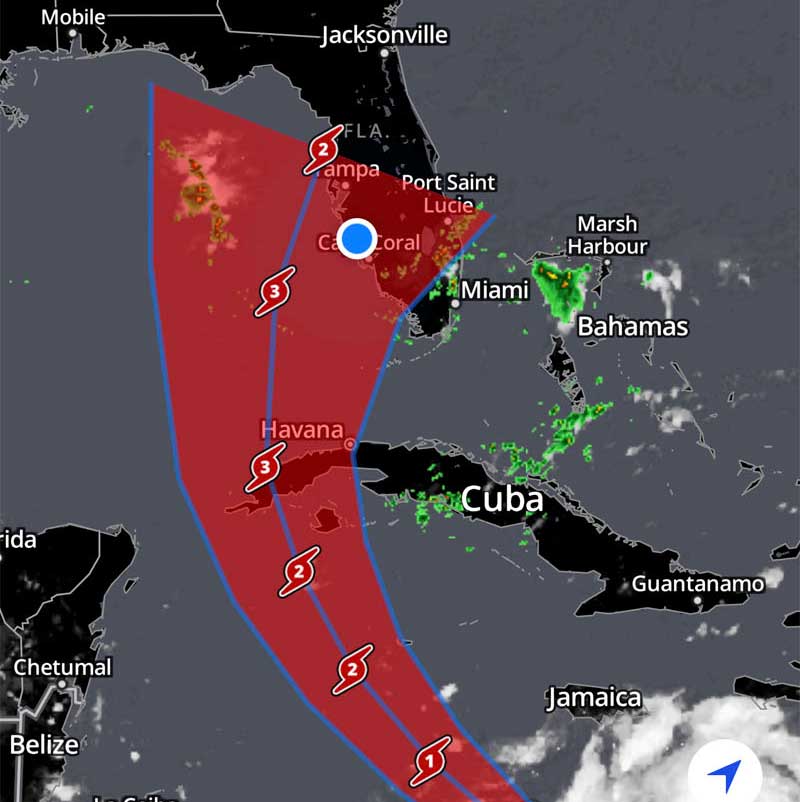 Above: The forecast the weekend before the storm; the blue dot is where our condo is located
By the weekend of the 24th (Saturday), it was plain to see that the growing monster very likely had his sights set on our area. Maybe not a direct eyewall impact, but he was probably coming our way. Thankfully, Angela agreed and we began to prep our home and camper for a possible evacuation.
And the whole time I felt like an idiot. Why? Because – as we locked our storm shutters, repacked our camper, and gathered our most important possessions – the storm was likely/probably coming our way. Not definitely. Even if it did come our way, it might fall apart like so many other storms have. That's why so many people fail to evacuate. Most of the time it's a waste of time. Do that a few times and you can understand why people stay.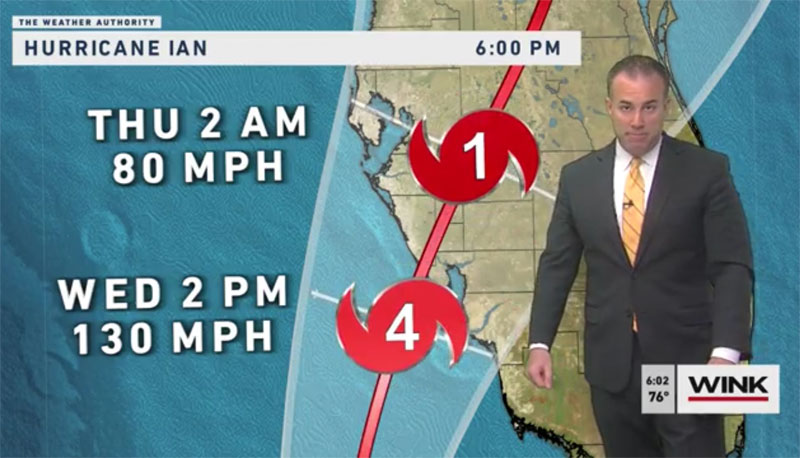 Above: Fort Myers, Florida's WINK-TV Chief Meteorologist, Matt Devitt, breaking the bad news
On Sunday night, September 25th, the local news station showed a radar image and track that told me everything I needed to know. We needed to leave. And if we were going to leave before everyone else jammed the roads, now was that time. On Monday morning, we made our final home preparations, loaded ourselves into our truck and camper, and drove I-75 North. Amazing to me, there was very little traffic.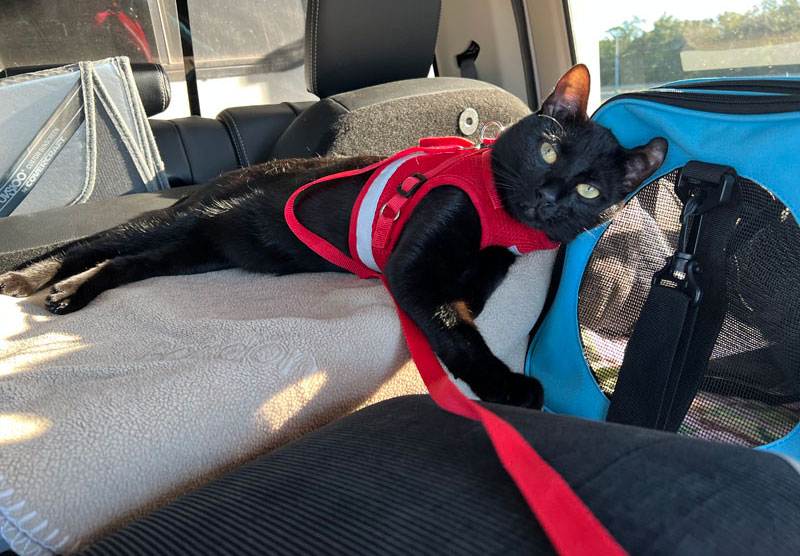 Above: Cosmo enjoying the impromptu road trip oblivious to the impending storm
About six hours later we arrived at D&H RV's Truck Camper Emporium in Jacksonville, Florida. Dave Hofert, President of D&H graciously invited us to ride out the storm inside his building. Even better, the facility had a 14-foot door that fit our entire rig.
Safely out of harm's way, we stayed two nights in Jacksonville keeping ourselves distracted with magazine work and alternatively glued to the local Port Charlotte news via the internet. Oh, and I got to see my first Skinny Guy camper. It was a working evacuation.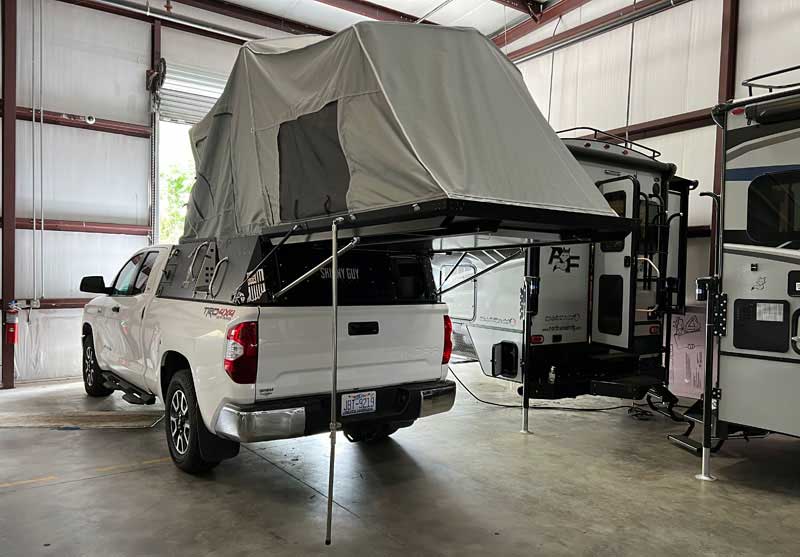 Above: The Skinny Guy 6.5 that we photographed during the hurricane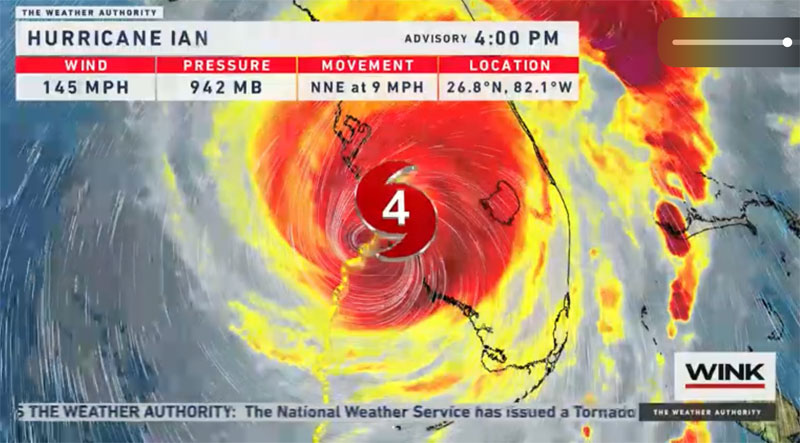 Hurricane Ian intensified into a Category 4 and made landfall in Southwest Florida at 3:00pm on September 28th. Believe it or not, the center of the eyewall passed directly above our condo. And my LP collection. And Angela's quilts. And a few other things that I found myself wishing we had somehow brought with us.
From our Jacksonville truck camper hideout, it looked really bad. Like, "Honey, at least we're okay and have our camper" bad.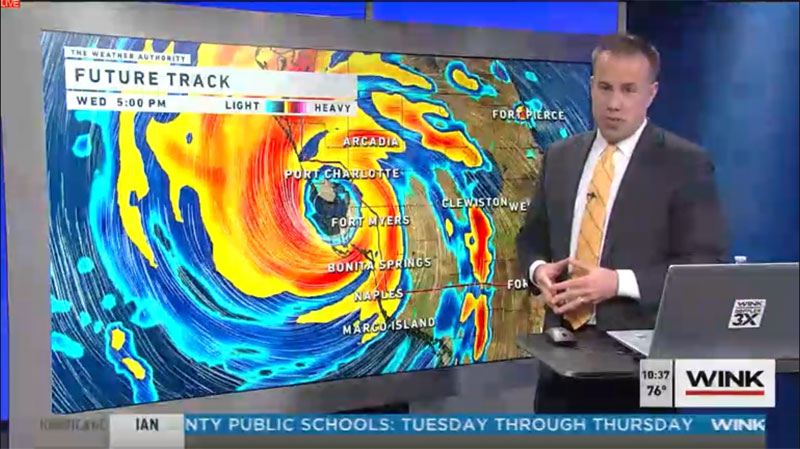 Above: The future track radar the morning of the hurricane
On the 28th, we left D&H and drove about three hours west to a Walmart in Tallahassee. The storm was forecast to cross diagonally to Jacksonville and we didn't want our return to be delayed by a lingering storm. Believe it or not, the wind field somehow reached all the way up where we were and pushed the rig on I-10 West about as strong as any wind I've ever experienced driving a truck camper. And this was hundreds of miles north of the storm!
By this point, the realities of a major hurricane strike were becoming clear and we started to gather supplies recommended for hurricane clean-up; bottled water, dry foods, gas cans, dish detergent, and other cleaning agents, work gloves, towels, trash bags, and so on. In northern Florida, these supplies were still abundantly available.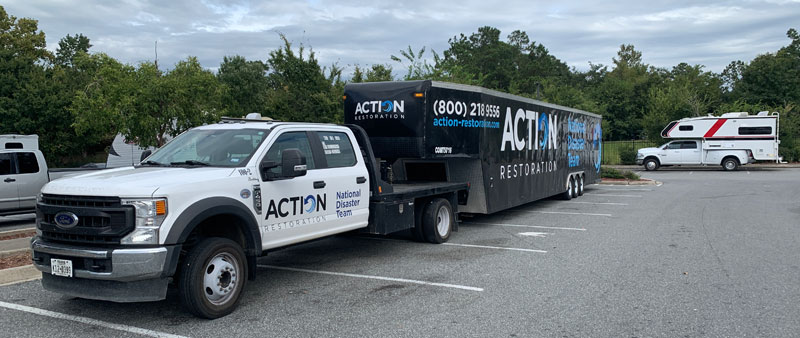 That night Hurricane Ian made landfall as a Category 4. We parked at the Walmart in Tallahassee alongside other RVers and hurricane support vehicles. It was so weird to feel safe in our rig while this massive and powerful storm could be obliterating our home and community. Heightening our concerns, the best Port Charlotte area news station, WINK-TV, suddenly went off the air due to flooding, and local internet and cellular connections failed.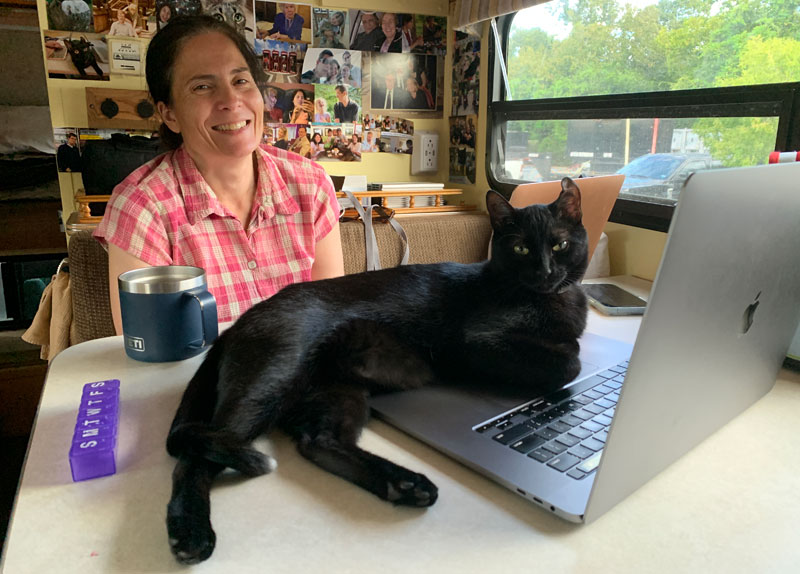 Above: Cosmo and Angela waiting out Hurricane Ian
The next day (September 29th) we continued to collect supplies, and drove to the Live Oak Walmart at the intersections of 10 and 75. What news was available was full of reports of flooded roadways, lights out at major intersections, and widespread destruction. Cell towers remained down preventing us from reaching friends and neighbors who had stayed behind. Needless to say, it was another nerve-wracking night.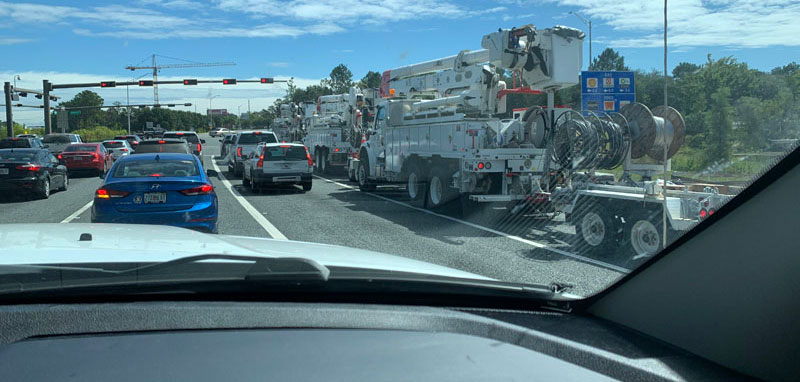 On the morning of Friday, September 30th, we made the decision to go home. By this point, the roadways were loaded with caravan after caravan of electrical utility and bucket trucks from every corner of the United States.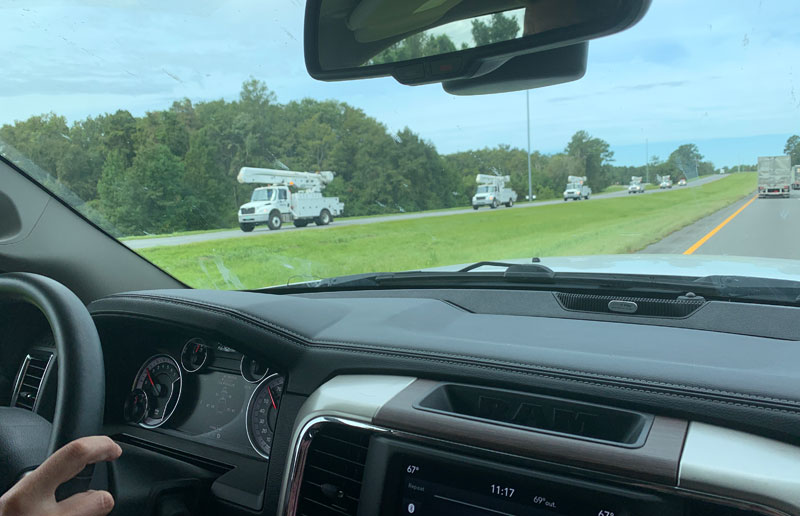 Seeing so many fellow Americans converging on southern Florida from places as distant as Texas, Kentucky and Arizona was one of the most heartwarming things we had ever experienced.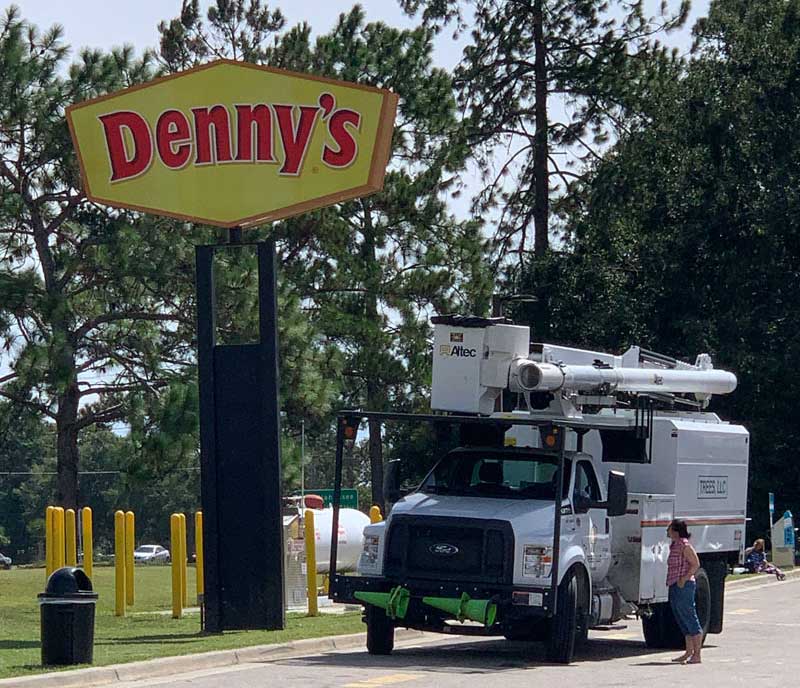 Above: Angela talking to a line worker who drove from New Mexico to help out
We talked to several of them at fuel stations and they were remarkably organized and eager to help. If only the whole United States could be so responsive and focused on the other problems we face.
Angela was tracking which fuel stations still had the magic three ingredients; still intact, power, and fuel. About two hours from home, she had us fuel up. After that, most of the fuel stations were out of commission.
About that same distance out, we began to see signs of the storm. What started with the occasional limb or blown sideways sign quickly descended into devastated trees, ripped apart homes and businesses, and massive flooding.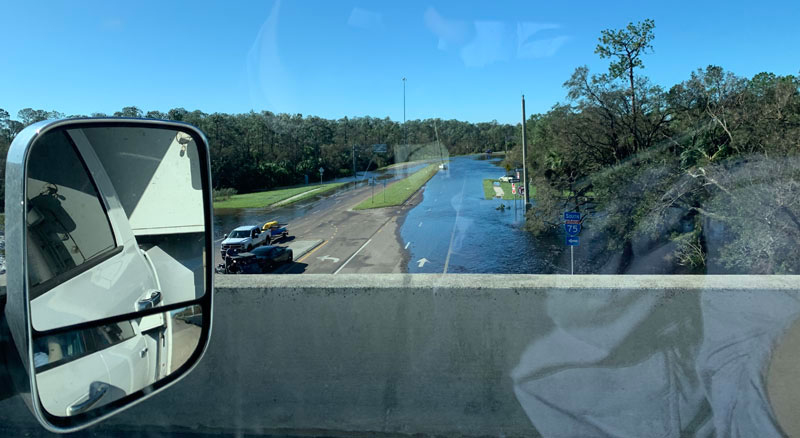 Our normal I-75 exit (shown above) was completely underwater, as were the surrounding homes and cars. Thankfully, the next exit was still open, but every street light was out, and nearly every sign was down.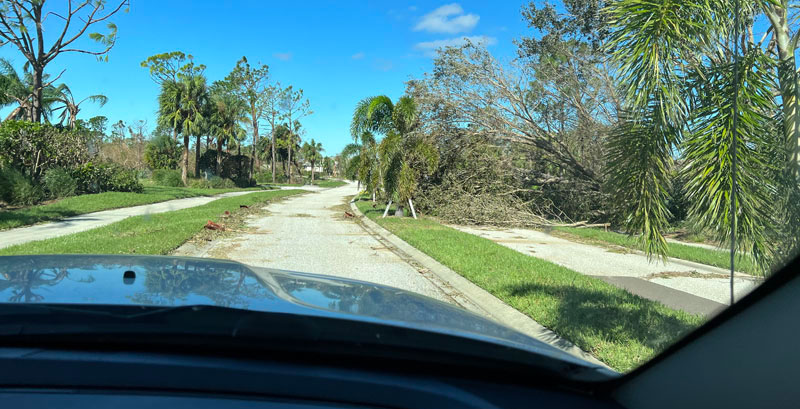 When we reached our neighborhood, we had to enter the exit to avoid multiple down trees. Angela actually walked a few hundred feet in front of the camper to make sure nobody was coming the other way.
Above: The right side of the road was completely blocked with trees
The further in we drove, the more we sighed with relief. Damage to the trees and signage was significant, but the homes appeared in good shape.
When we reached our home, it almost looked like the day we left. There was no obvious damage other than a ton of roof tiles strewn across the ground. Inside our condo, we had a minor leak, but that was really it.
About thirty miles south of us, Fort Myers took the brunt of the storm. Englewood, about fifteen miles to the west of us, also had major damage.  That's what we all saw on the news for weeks.
Sadly, a college friend of ours lost her sister after she had a heart attack during the storm. A resident in our community also had a heart attack and died during the storm. And some of our neighbors had catastrophic leaks that collapsed their ceilings and destroyed their belongings. Overall, we were the lucky ones.
After reading my report above, Angela wrote her own perspectives on our experience.
The FEV Worked: Angela's Take
When you buy a truck camper, you might be thinking, "We'll go fishing every weekend" or, "We're going on a once-in-a-lifetime trip to Alaska" or, "Time go see the national parks". You probably aren't thinking, "This camper is going to keep us safe during a Category 4 hurricane".
From our experience, our truck camper has been so much more than a recreational vehicle. It has been our staging area when we attended my sister's wedding, our accommodations when visiting family, and now it has served as our evacuation vehicle and lodging during Hurricane Ian.
At first, Hurricane Ian was going north of us toward the panhandle. It looked like it might skirt past the west coast of Florida. It also didn't look as intense as it wound up being. Only a few days before it hit, we realized that we had to evacuate.
Without our truck camper, we would have been calling hotels hoping for a vacancy. Neighbors of ours told us that the closest hotel they could find was three hours away. And we would need a pet-friendly hotel.  No, thank you.
By having our truck and camper, we could take our most precious belongings with us. We didn't take the leveling blocks or the camping chairs. We did take our childhood photos and things that – if the hurricane totally eviscerated our home – would be safe with us. Tightly packed in the crew cab of our truck were boxes with our most precious belongings.
As we watched the weather reports and the news broadcasts of Hurricane Ian, we were so grateful to have our rig. We were sitting in our camper, safely watching the storm from afar. We never saw a drop of rain.
I think the importance of having an FEV is underestimated until an event like this happens. To me, it's invaluable. I couldn't imagine not having a truck camper or some sort of evacuation vehicle available to us.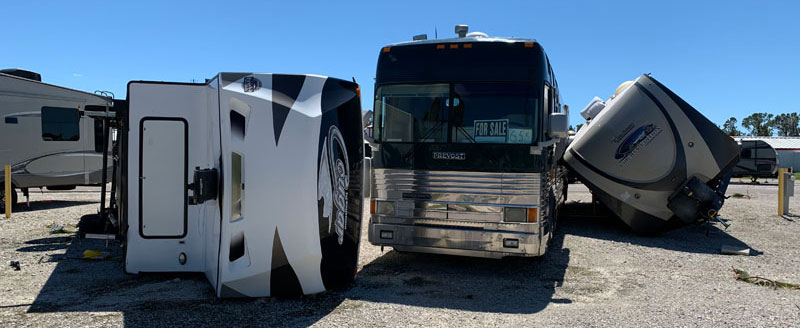 Above: A local RV storage lot in our area after Hurricane Ian
In retrospect, it probably would have been okay if we had stayed, but the reports we've heard from neighbors who did stay make me thankful we evacuated. It also would likely have damaged our camper. And it could have all gone a very different way. Had the storm tracked 30 miles north, our home would have taken the brunt Fort Myers suffered.
I am truly thankful that we had our Family Emergency Vehicle.
For more information on using a truck camper rig during an emergency situation, check out, The Truck Camper Family Emergency Vehicle (FEV).